How to Curl Your Hair for Any Event, According to Wedding Hair Stylists
Pro pointers to help you DIY a flawlessly curled coif like an expert.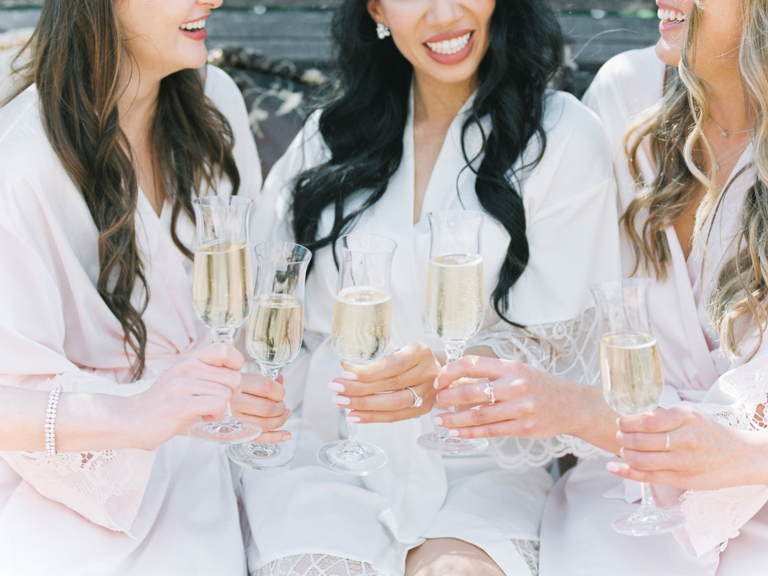 We have included third party products to help you navigate and enjoy life's biggest moments. Purchases made through links on this page may earn us a commission.
If you're looking to level up your skills when it comes to how to curl your own hair as a wedding guest, part of the bride squad or the bride-to-be, you've come to the right place. Because there are so many wedding-related events you might be glamming up for before the actual walk down the aisle, be it the bachelorette, bridal shower, engagement party or rehearsal dinner, whether it's your big day or you're celebrating a BFF or relative.
So, we tapped a few experts who make magical wedding hair happen for more intel– Kindale Godbee of The Heir Salon and The Heir Tie bridal services in Durham, NC, which specializes in natural hair, and Paul Labrecque of Paul Labrecque Salon + Spa, in New York City. Ahead, you'll find the brilliant hair curling techniques, tools and tricks they swear by…and, of course, their top tips for achieving and maintaining flawless curls on your own.

From pointers for pre-wedding hair TLC to get those tresses in tip-top shape to exploring your dream hairstyle options for the big day, we've got you covered, no matter your hair type or length, from the perfect half-up look to a beach wedding-worthy 'do And, if you're looking for vetted pros near you to work their magic for your next big event, be sure to check out The Knot Vendor Marketplace. But first: here's everything you need to know to curl your hair for any event (weddings or otherwise!) like the experts, anytime.
In this article:
How To Curl Your Hair: Getting Started
The main mane goals Godbee sets out to achieve when doing curls for wedding clients are all about detail, and stamina: "When styling curls for your big day, hold and definition are key," explains Godbee. "I always tell my brides we want your hair to look great from getting ready to the last dance of the night." But pro-worthy tendrils aren't a one-size-fits-all process, so read on for how to prep, style and set your curls based on variables like your hair's texture and length, and desired 'do.
Understanding Your Hair Type
The first factor to take into consideration? Your hair type, and what that means for how your mane will take to–and hold–curls, out of a dozen types ranging from 1A (straight, fine hair) to 4C (coily coarse hair) that take into account your hair's natural texture curl pattern-wise (straight, wavy, curly or coily), thickness of individual strands (coarse, medium or fine width), and overall volume (quantity of follicles). Hair type impacts how long it'll take to curl, what curling method(s) are most effective, and how curls stay intact.
For example, fine hair—especially wavy or straighter strands–can definitely be much quicker to curl, but trickier to maintain those perfect spirals (and volume) from the first dance to the last song of the night. For extra volume, Lebrecque recommends holding your head upside down and drying your hair using a blow-dryer with a diffuser. ("You can take advantage of the natural root lift and body this way," Labrecque says.)
Godbee stresses the importance of a trial run with natural, coarser textures, to determine if a clients' coif will be best served by a heat or no-heat approach to curls–and, whether they'll work with natural hair only or extensions. "If my bride wants to do a heat style, I make sure I do a consultation prior to the wedding to see how well the natural hair will stand up, both outdoors and indoors," Godbee explains. "If my client's hair remains intact for at least three days" after the test-run, it's "well suited for the big day," she says. "If the hair can't take the natural conditions and reverts back, I opt to do an extension style that looks as natural as possible," Godbee says.
To get the most out of your curls, many stylists, Labrecque included, recommend blowing hair straight first (even if your hair is naturally curly). Godbee swears by Dyson's dryers, like the Dyson Supersonic, if she's blowing out a client's hair prior to curling it .
Curling Different Hair Lengths
In addition to texture, the length of your tresses can inform how to curl your hair, especially the type of tool(s) that'll work best. For short hair, consider using a flat iron to curl (more on how that works in a moment!) for more control and ability to get closer to the roots than a curling wand or iron (or, if you are using a wand or iron, opt for a small barrel size). Medium-length 'dos tend to work well with a curling iron or wand that has a small to medium barrel width, or heartless rollers for lots of volume. With long hair and extensions, depending on the type of look you're after, opt for a larger barrel curling iron or wand for looser waves or heatless tools like rollers for a bouncy style.
How to Prep Your Hair to Curl
About five weeks before the wedding, Labrecque recommends doing a deep conditioning treatment (an absolute must if your hair is naturally coarse or if it's been heavily processed or colored). The day before, wash your hair with a clarifying shampoo to clear out any product buildup, then condition well. "If your hair's fine, stay away from the roots, but if your hair's thick and coarse, let the conditioner sit a few minutes so it can soak in from roots to ends," Labrecque says.
"Heat protectant is very important if we are doing any heat styling on natural hair or extensions," Godbee explains. "My go-to products for my textured brides are Virtue Labs Curl Shampoo and Conditioner, if we opt for curls," Godbee says, to ensure "a smooth sleek look that will last." For a heavier setting foam or gel, she loves The Doux's Mousse Def Texture Foam "for high definition, textured styles."
How to Curl Your Hair with a Flat Iron
It might seem counterintuitive, but yes, a flat iron can be your secret weapon to scoring your dream coils–here's everything you need to know about how to curl your hair with a straightener.
Best for: "A smooth, sleek look with my natural brides," Godbee says, and when you're going for more relaxed spirals. Instead of a uniform size and shape that a curling iron or wand can create, using a flat iron allows for a looser curl or wavy texture, and lots of shine.
Just be sure to properly condition and protect strands beforehand you're breaking out that flatiron, Godbee underscores: "Anytime I style natural hair straight, I make sure I do a bonding treatment before," she says. "I also use heat protectant and do not exceed 400 degrees to ensure that my clients' curls will bounce back" after the big day, she explains.
Our experts recommend: Godbee loves Babyliss' Titanium Flat Irons; this model has 1.5"-width plates though there are smaller and bigger plate sizes to choose from depending on hair length and type, too.
How to Use a Curling Wand to Curl Your Hair
"Using a curling wand is a perfect way to create uniform curls," Godbee says, which is useful to even out your natural spiral size and shape and blend extensions.
Best for: Consistently-sized curls.
"To match the hair's natural pattern, match the barrel size" to your hair's natural curl texture. "I love using a curling wand to mimic a bride's own curl pattern, to perfect any curls that may be fuzzy or out of place," Godbee says. A curling wand is "a great tool to use to blend natural hair extensions" as well, says Godbee, and she also likes using a 1.5"-wand to achieve "Hollywood waves," she says.
Our experts recommend: Godbee swears by wands from Hot Tools as well, like their Professional Nano Ceramic Tapered Curling Wand.
How to Curl Your Hair with a Curling Iron
If you want to achieve sleek, defined curls, a curling iron is the way to go.
Best for: creating "smooth barrel curls or waves" depending on the width of curling iron you opt for, says Godbee.
In terms of technique, for each section of strands, hold the ends of the hair and wrap the section around the outside of the curling iron (don't clamp down on it). Hold for a few seconds, then gently let go. As you work your way around your head, be sure to alternate the direction of your curl and also the size of the sections you're picking up (it will look much more natural that way). Curling can definitely be time-consuming -- if your arms are aching, consider asking someone in your bridal party to lend a hand, literally!
Our experts recommend: Hot Tools is also Godbee's go-to when it comes to curling irons, like the brand's best selling Pro Artist 24K Gold Curling Irons, which have nearly 30,000 (!) rave ratings on Amazon and come in a wide range of curl sizes.
How to Curl your Hair Without Heat
You can also opt for heatless curls, by using tools like perm and flexi rod sets, as well as flat twist, two-strand twist and three-strand twist sets."They're the perfect way to keep your curls intact without busting out the hot tools," says Godbee.
Best for: Hair that needs extra TLC, so you can get your bouncy dream curls with relatively minimal breakage and stress on strands.
"If heat damage is a concern, there are alternatives," Godbee says. "My pro tip is to make sure that you use a setting foam, and that the hair is 100% dry before taking it down" by setting hair under a dryer, "so we get the best results for their big day," Godbee says.
Our experts recommend: Salon Care's flexible foam Soft Rollers, Salon Care Perm Rods and Kitsch's Satin Heatless Curling Set, per Godbee.
How to Keep Curls in Your Hair All Day or Night
"I love to incorporate a heavier holding gel or foam to make sure the curls last," Godbee explains–her go-to is The Doux "for high definition, textured styles." And to ensure a client's hair looks "perfect and full, 360 degrees around" (...for 12+ hours, too!) Godbee incorporates natural hair extensions.
Labrecque prefers spray shine to hair spray ("I like the curls to be able to move freely," he explains). After a brief spritzing, carefully run your fingers through your curls to separate them and make them look a bit more natural.