49 Stunning Bridesmaid Hairstyle Ideas For Every Type of Wedding
From top knots to loose waves, find your look here.
Chelsea Jo Photography
One of the best parts of the wedding day is getting ready with your best friends before the ceremony. If you're working with a professional hairstylist the day of, all you have to do is choose your look and kick back. But when it comes to bridesmaid hairstyles, the number of options might be overwhelming.
If you have no idea how to wear your hair on your friend's wedding day, start by thinking about the occasion itself. If it's a casual outdoor setting, consider loose waves or a perfectly undone braid. For a more formal occasion, you might want to choose something sleek, like a ballerina bun or an elegant half-up, half-down 'do. You can also use the style of your bridesmaid dress for inspiration. For example, if the dress has a high neckline, you may want to opt for an updo. But if it's a strapless dress, wearing your hair down may be the most flattering. In addition to thinking about the wedding, Keisha Garnett, owner and lead beauty advisor at Beautie Junkie, says you can also turn to online sources like Pinterest for initial inspiration. "Either way, stay true to yourself so you're comfortable and confident while supporting the bride," she notes
Because we know you have a lot of questions surrounding bridesmaid hairstyles, we've answered your most commonly-asked questions regarding the topic. Below, we'll provide you with our top tips before revealing some of our favorite bridesmaid hairstyle ideas. Once you've chosen your preferred look, bring it with you on the actual day. "Your hairstylist will typically only have a short period of time to get to know you, so consider this as our blueprint to your hair goal for the day," says Garnett. "Having a photo and being prepared also helps to keep the professional on schedule."
How should bridesmaids wear their hair?
Bridesmaid hairstyles come down to personal preferences. Sometimes the couple getting married will have opinions about bridesmaid hairstyles, while other couples allow their bridesmaids to choose for themselves. Also, keep in mind that some bridesmaids may feel more comfortable sporting a certain style, such as an updo or downstyle.
Should bridesmaids hair match?
This is up to your guest of honor, so be sure to check with them first. While the bridesmaid hairstyles don't necessarily have to be identical, it does help to have a theme that all of them follow. Maybe your friend wants everyone to don some sort of braid or loose waves, or perhaps they want you all to wear updos.
Do brides pay for bridesmaid hair?
There is no set rule around who pays for bridesmaid hair and makeup, but oftentimes, bridesmaids are expected to cover the cost of their hair, makeup and attire. However, sometimes the couple getting married prefers to cover the cost of the bridesmaids' hair. After all, this is a great way to say, "Thank you!" It's also common for the to-be-wed to split the cost with the wedding party. Be sure to get this information upfront so you're not caught off guard after the fact.
Check out some of our top bridesmaid hairstyle ideas for all the inspiration you need.
1. Half-Up, Half-Down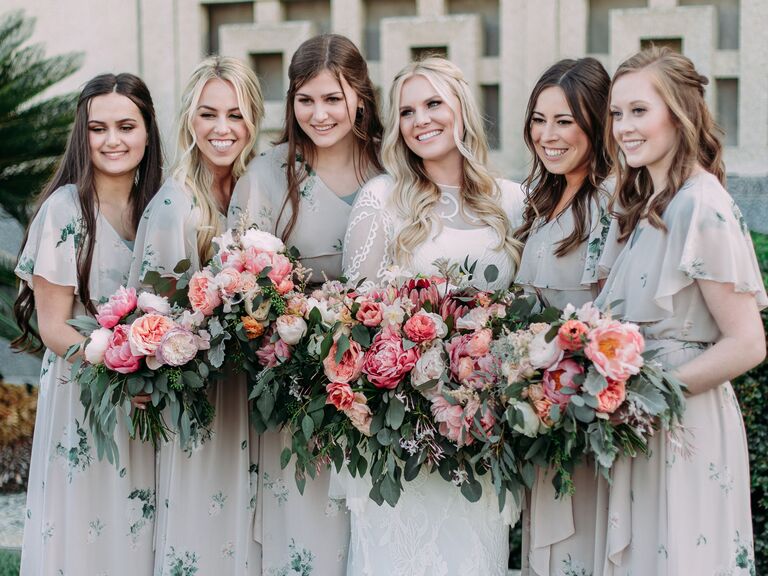 Elevate simple curls by wearing a half-up hairstyle. It still calls attention to your tresses and allows you to showcase your personality. Add in twists, braids, flowers or other hair pieces to this classic look on the wedding day.
2. Loose Bun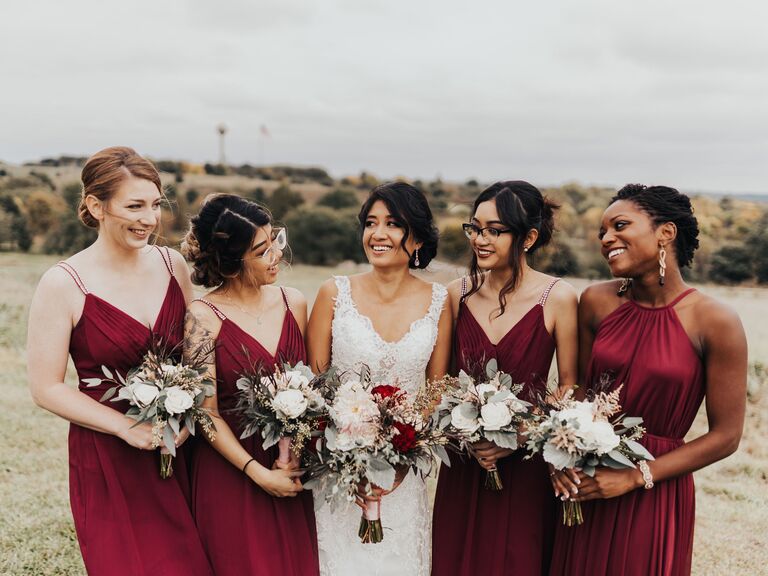 We love this look because it can work for almost any occasion—no matter the wedding's theme or venue. Show off your bridesmaid outfit by having your beauty pro sweep your hair into a low loose bun, and then make it yours from there. Keep some strands out for a romantic, wispy look or pull them back to show off your day of makeup look.
3. Braided Updo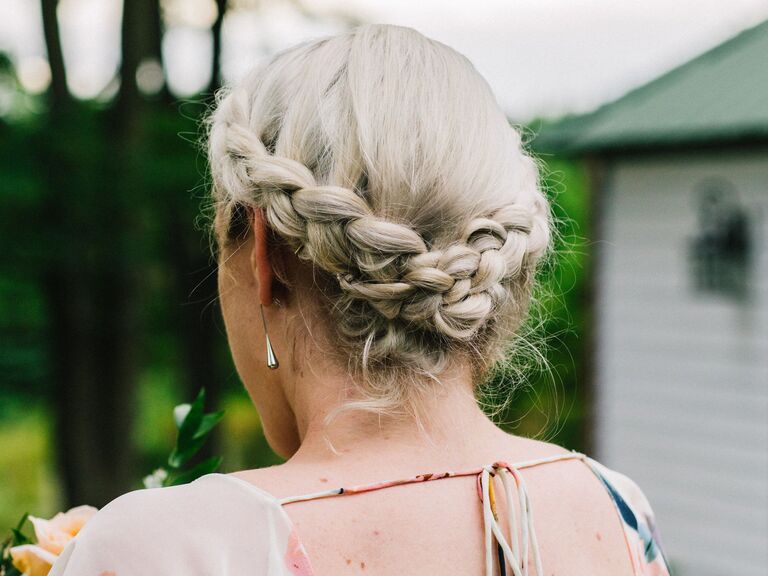 Keep your hair completely out of the way with this gorgeous updo. Have your stylist french braid the sides of your hair and pin them in the back for an effortlessly elegant look that is sure to complement your bridesmaid outfit.
4. Loose Waves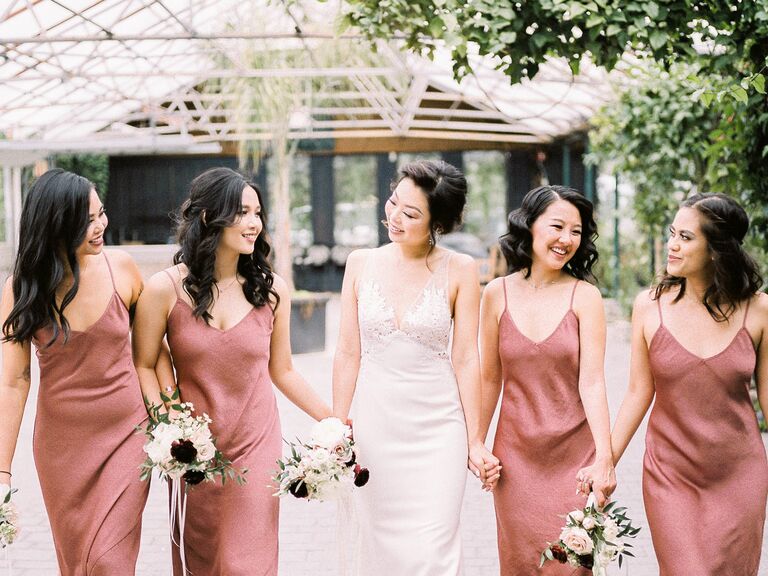 If you're looking for some bridesmaid hair ideas, consider these loose waves. They're simple, but they look absolutely gorgeous—and they'll work with whatever bridesmaid outfit you'll be rocking on the day.
5. Twisted Sides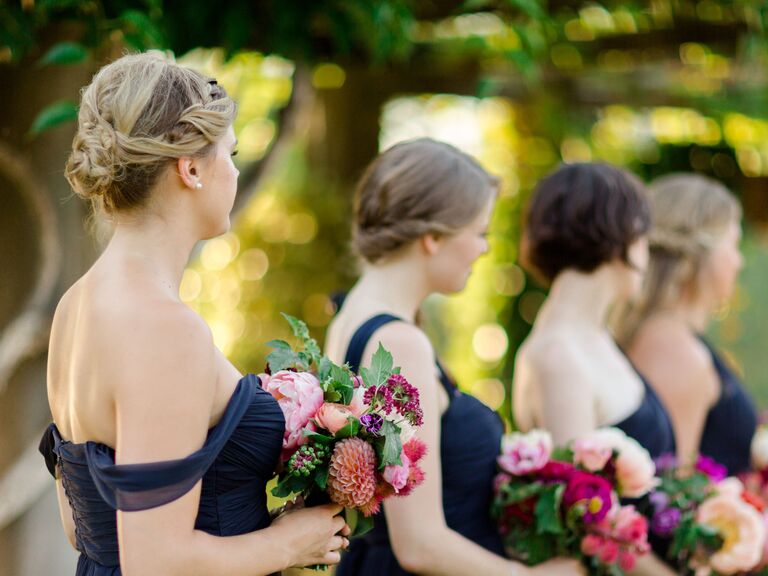 Give the classic low bun style an unexpected twist—literally. The extra twists on the side of your updo will add some texture and drama to your wedding day look.
6. Pulled to One Side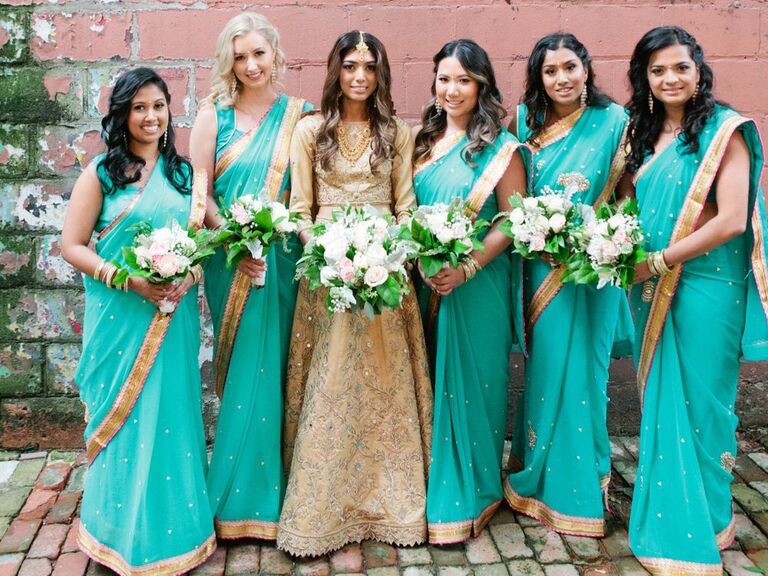 Add a touch of glamour to your loose curls by pulling them to one side of your face. The elegant look is perfect for any formal occasion.
7. Flower Crown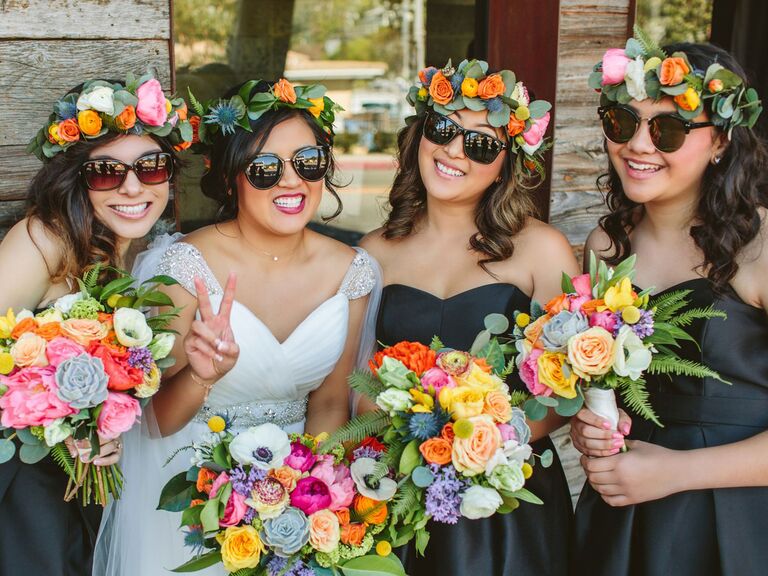 Have some fun on your friend's wedding day by rocking a flower crown over your perfectly blown-out locks. Work with your stylist to make sure it's secure and will stay put during the ceremony. Don't forget to ask your beauty pro how to remove it properly so that you can dance all night long too.
8. Braid Crown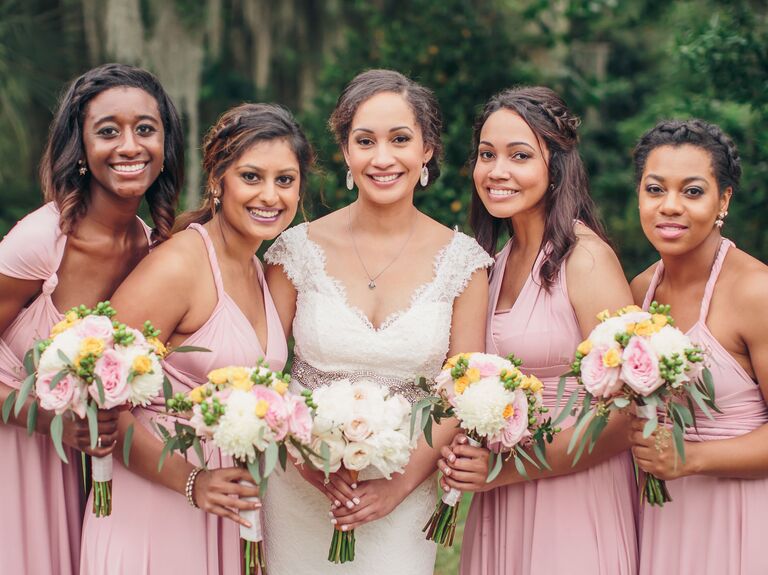 For a totally unique updo, consider a braid crown. It's a stylish way to keep your hair completely out of the way so that all you have to focus on is being the best bridesmaid you can be.
9 Twisted Bun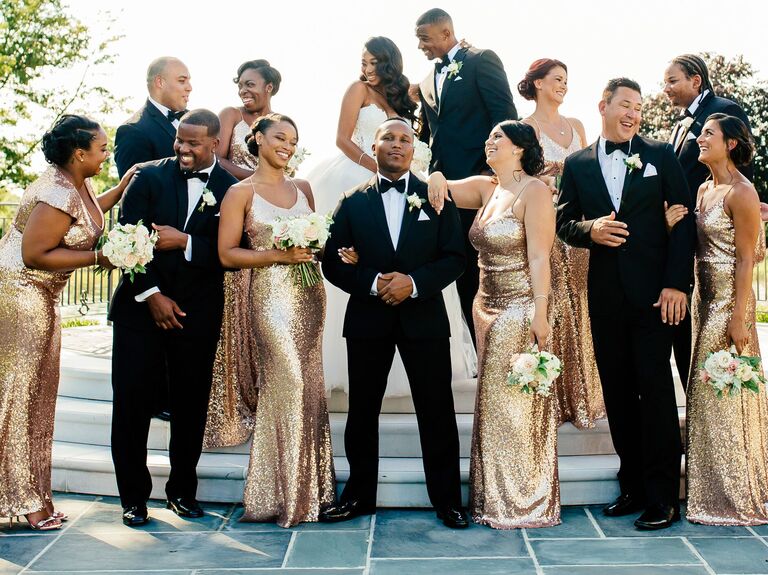 Pull your hair into a low ponytail and then twist strands of hair into a bun for a pretty hair 'do that will show off your wedding day attire.
10. Headpiece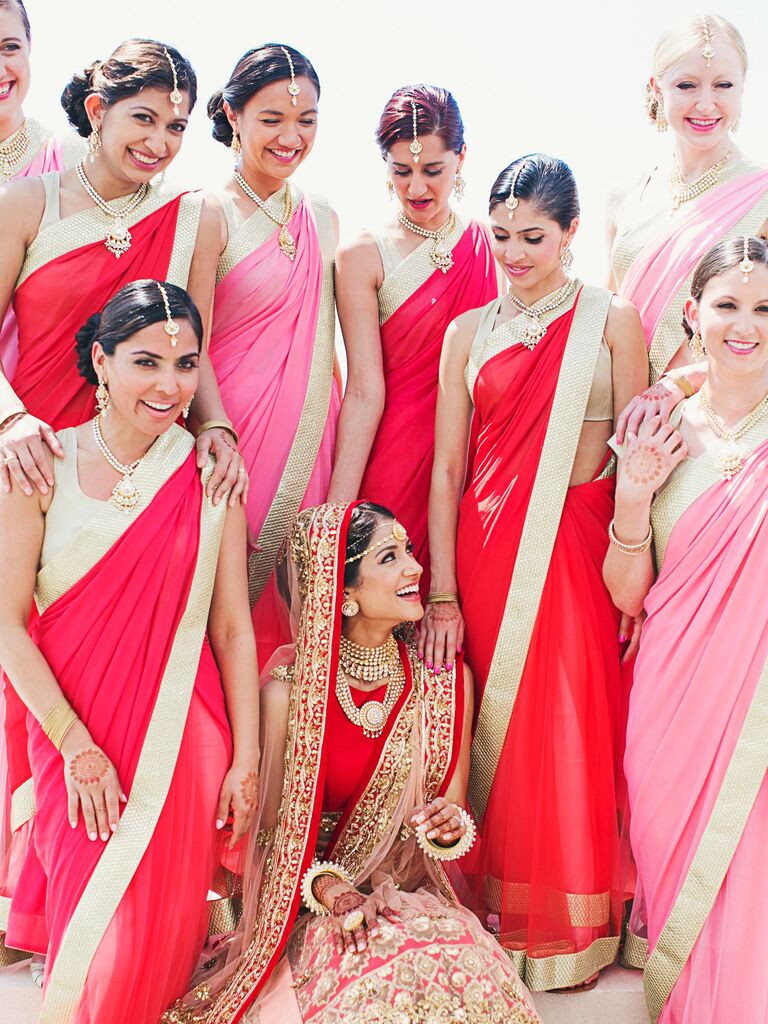 Show off a headpiece by keeping the rest of your 'do simple. Whether that means a sleek updo or loose waves is totally up to you. Not sure what to pick? Consult your beauty pro to get their opinion.
11. Side Bun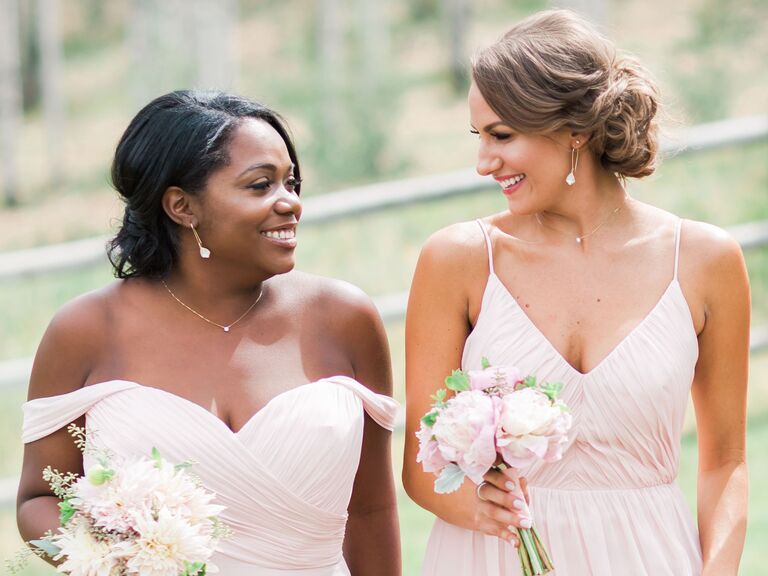 For an extra romantic look, sweep your hair into a low bun on one side of your face. If you're not sure which side to pick, have your hairstylist help you decide. They'll give you their professional opinion so that you'll look your best in all the photos.
12. Straight and Sleek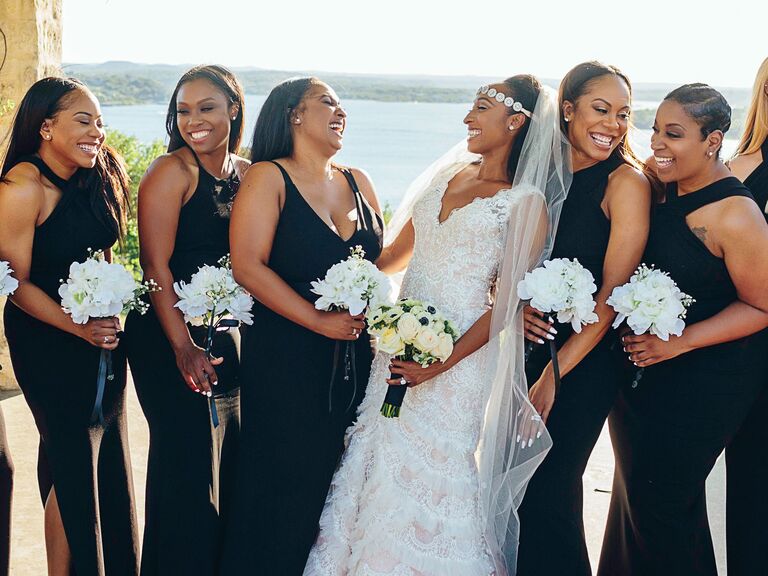 Have your stylist blow out your hair and pass over it with a flatiron. Keep some frizz-fighting product on hand to fight pesky flyaways.
13. Bun With Volume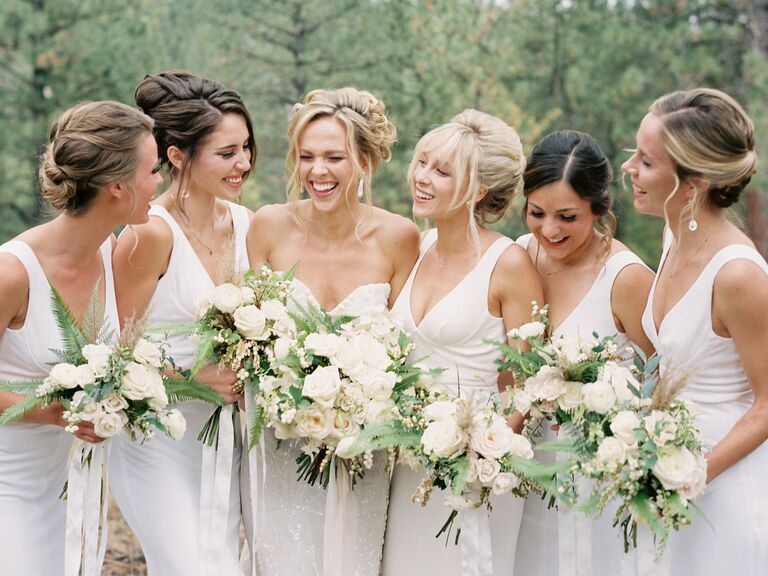 Want to go full glam for your friend's wedding day? Rock a bun with extra volume for a chic and sophisticated look. As an added bonus, the high updo will show off your bridesmaid outfit.
14. Side Ponytail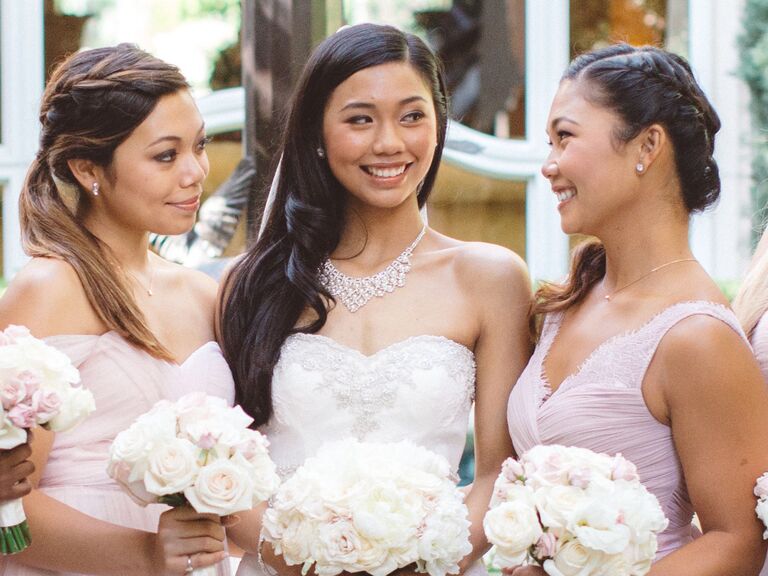 Pull your hair into a low side ponytail for an elegant look that will work for any wedding style (formal, casual, boho, classic—you name it). Feel free to add in braids, twists, flowers or jewelry to make this classic bridesmaid hairstyle your own.
15. Tight Waves
For a more polished take on blown-out waves, consider tighter waves. The small curl adds a touch of glamour to this simply stunning day-of 'do.
16. Loose Waves with Bangs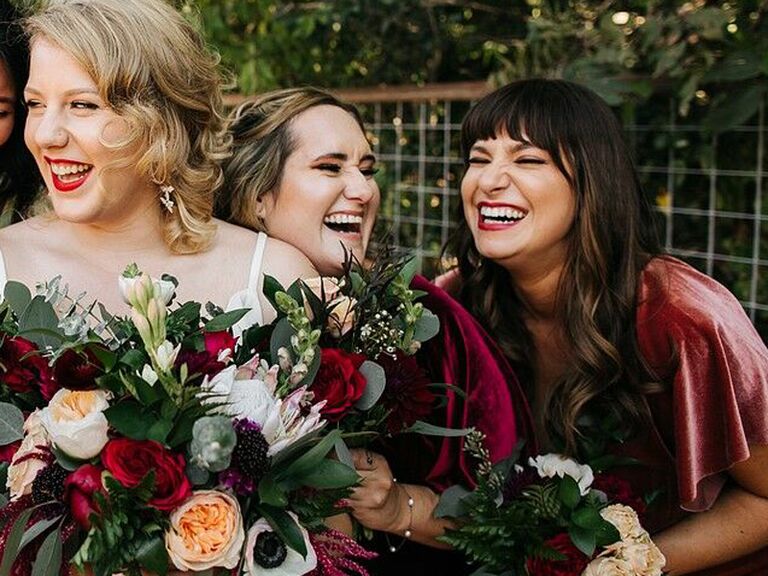 Let your front fringe shine by adding loose waves to your hair. The soft texture will balance your straight bangs for a romantic look.
17. Bright Blooms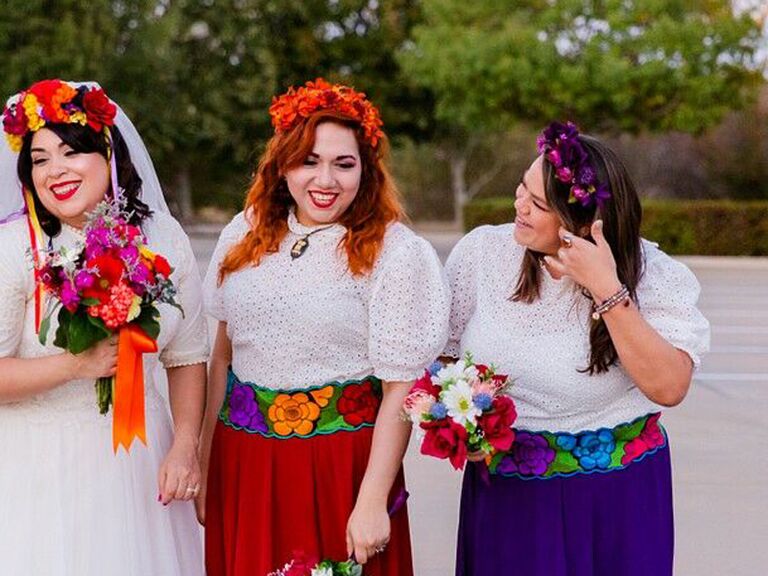 If you're searching for a bold bridesmaid hairstyle, consider this idea. Create a headpiece with brightly-colored flowers for an eye-catching look that will look amazing in photos.
18. Low Ponytail
Equal parts elegant and trendy, a low ponytail is the ultimate cool-girl 'do for bridesmaids.
19. Blown Out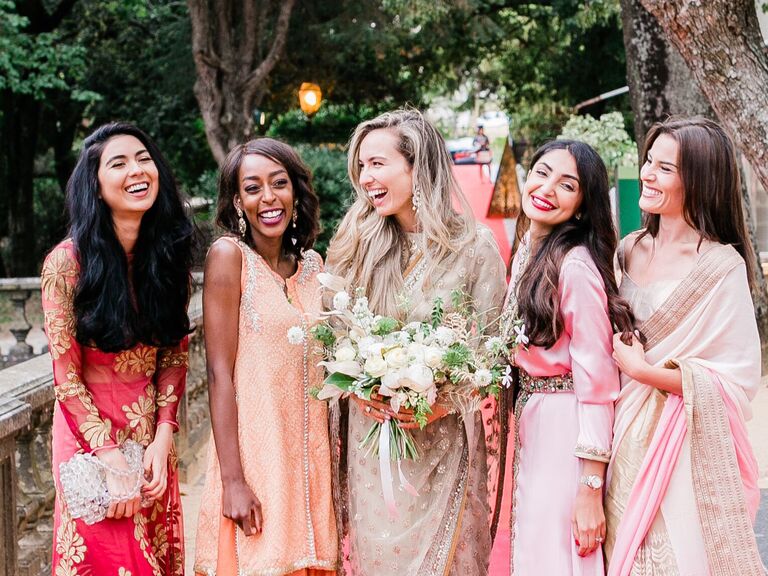 If a sleek and smooth look isn't quite your style, consider a blow out instead. It's the perfect balance of done and undone—ideal for low-maintenance bridesmaids.
20. Half-Up Bun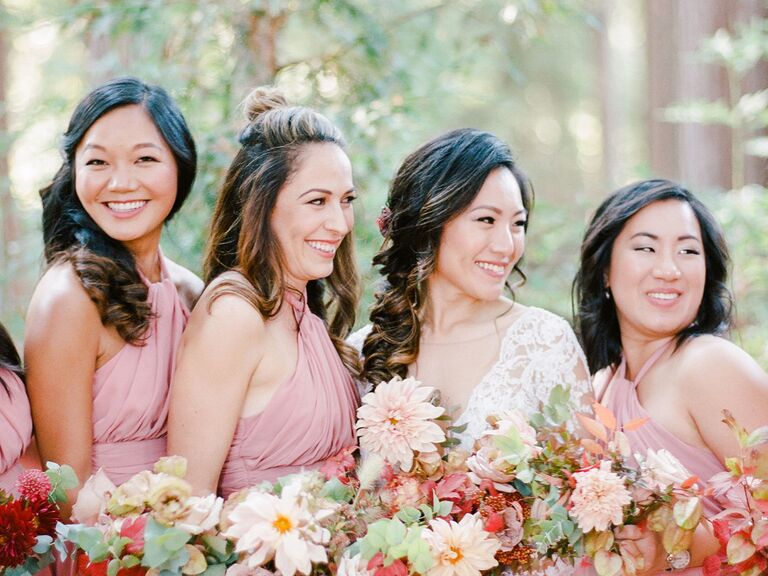 Another cool-girl bridesmaid hairstyle is a half-up bun. Gather your hair from the sides and pull it back into a bun.
21. Bow Bun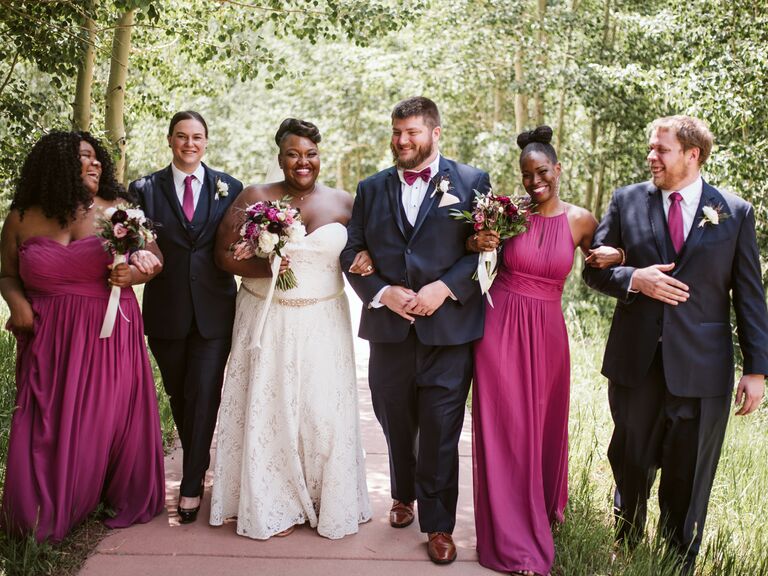 We love this adorable spin on a classic topknot. Have your stylist create a high bun and then wrap hair (or ribbon) around the middle to create a bow shape.
Box Braids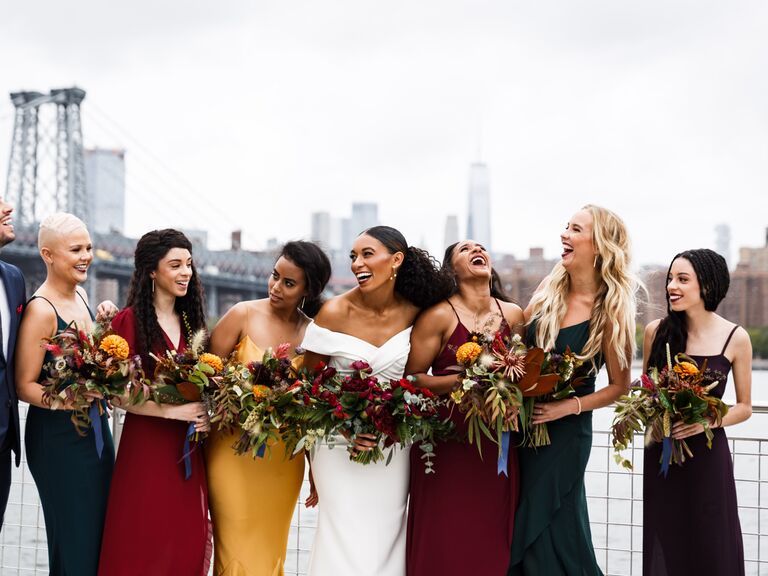 Does the idea of doing your hair on the actual wedding day stress you out? Consider getting box braids before the occasion. The traditional African braids will look absolutely stunning in pictures (and IRL).
23. Side Part With Fringe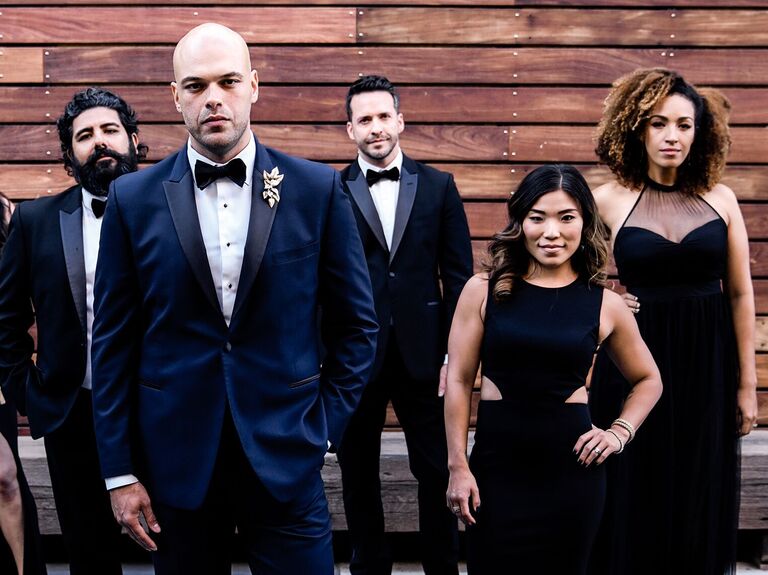 Side bangs add an edgy touch to a romantic side part.
24. Low Bun With Braided Headband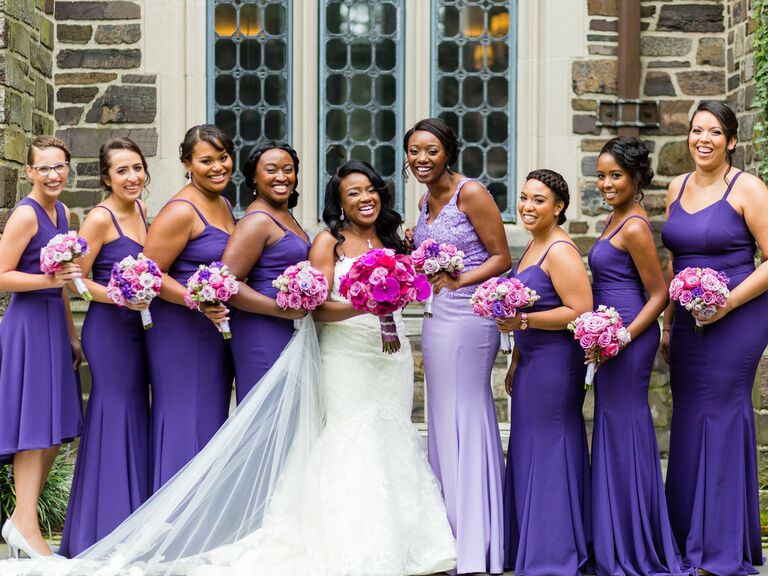 Accent an elegant low bun with an unexpected accessory: a braided headband. It's a simply beautiful bridesmaid hairstyle that will keep your hair off your neck and away from your face.
25. Colored tips
Show off your bold style by dyeing the tips of your hair. It's a simple way to add a pop of personality into your bridesmaid hairstyle.
26. Citrus Hair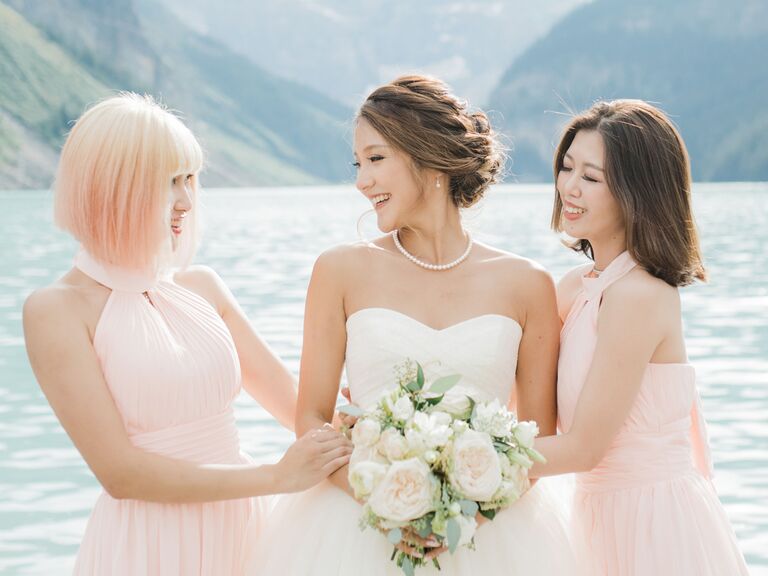 Citrus-colored hair is a massive 2020 wedding hair trend, which makes it the ideal bridesmaid hairstyle for fashionistas. The pretty hue will look especially stunning with pastel-colored dresses.
27. Pulled Back In Front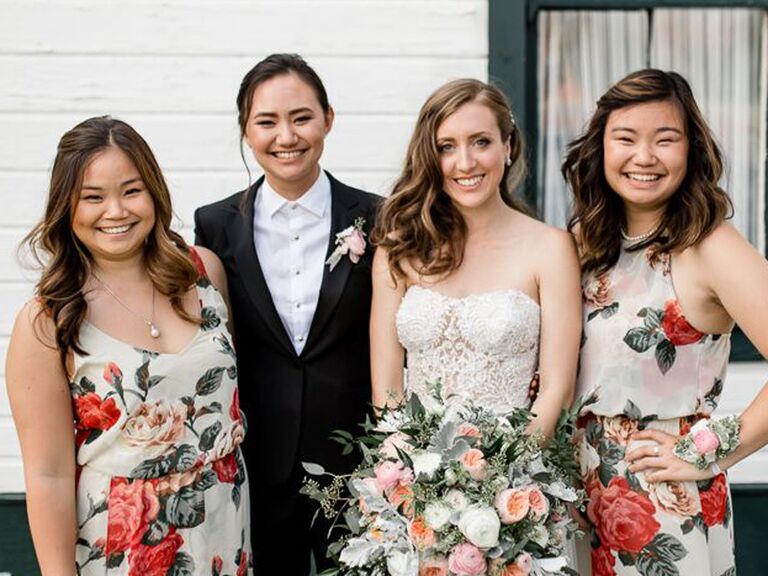 Looking for a fool-proof bridesmaid hairstyle? Try pinning the front of your hair pack. It's a simply sweet style that looks great on anyone.
28. Side Swoop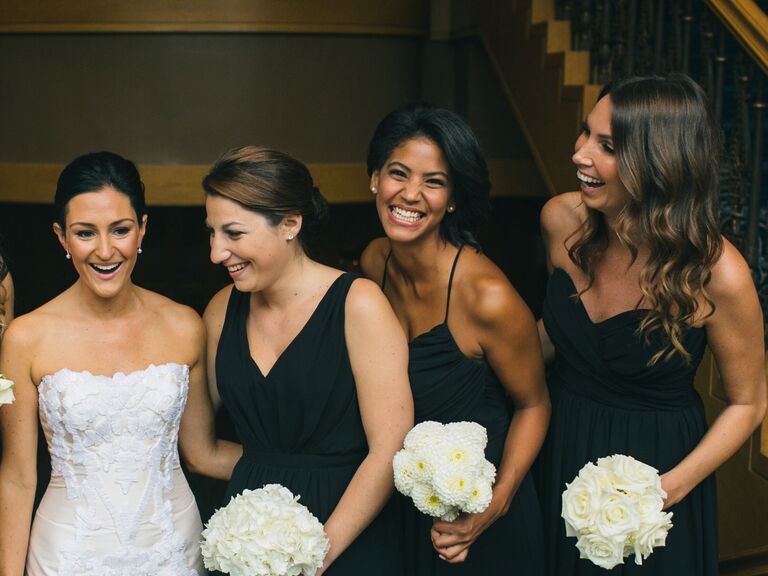 Style your short hair to one side, adding a curl to the ends for an extra-romantic look.
29. Single Flower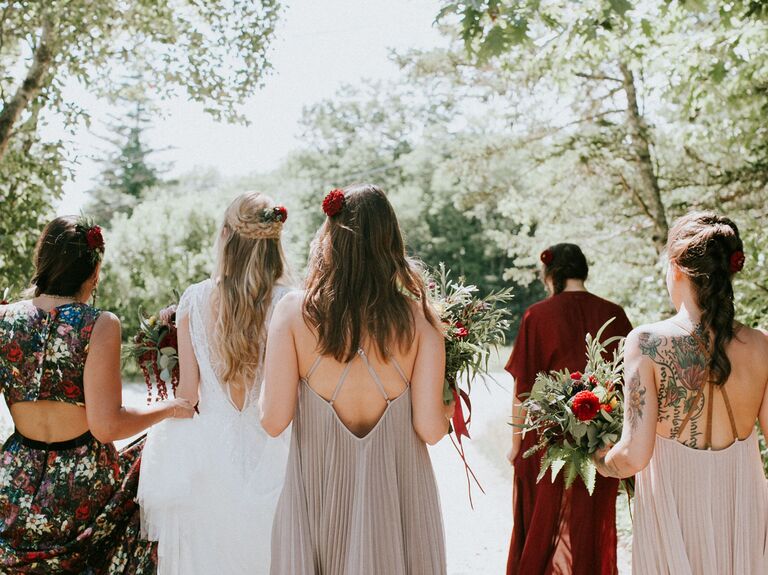 Bridesmaid hairstyles don't have to be complicated. Rock your natural texture and add in a simple flower for a sweet and elegant look.
30. Sparkly Headband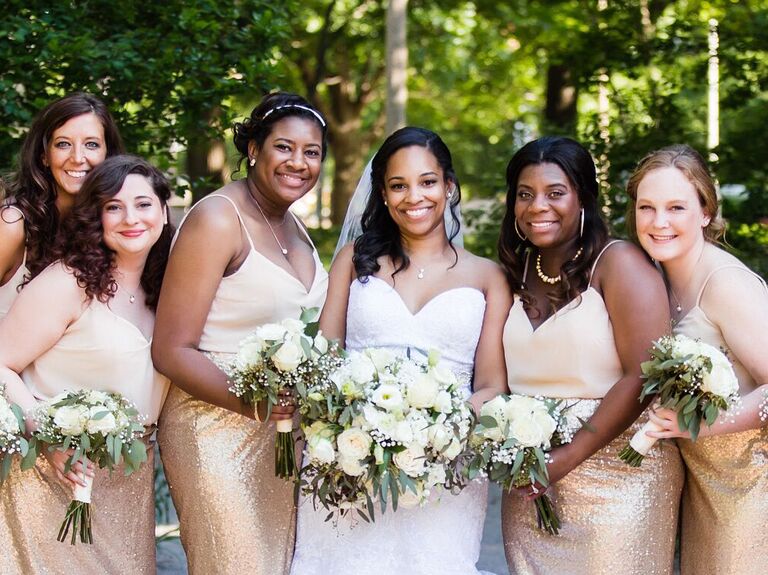 Elevate a low updo by adding a sparkly headband. It's a simple way to make your hairstyle a little more glam.
31. Retro Updo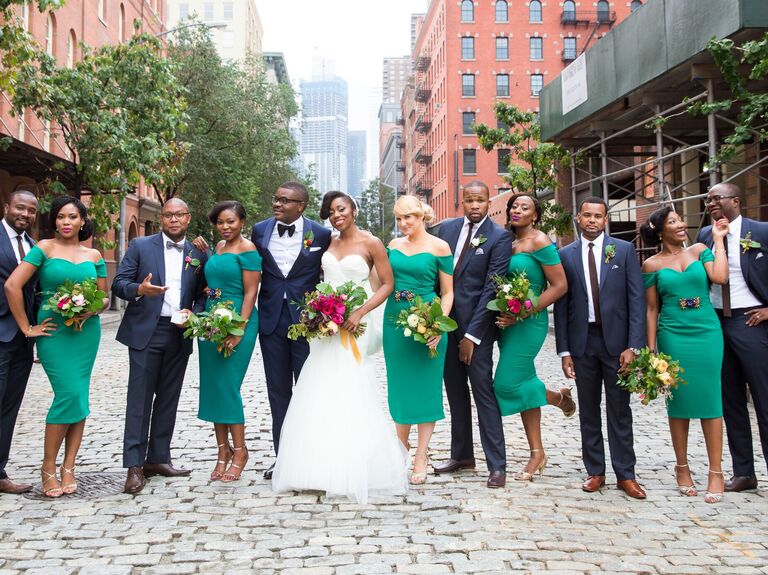 For a vintage bridesmaid hairstyle, sweep your hair into a side part and gather it into a low bun.
32. Braids With Twist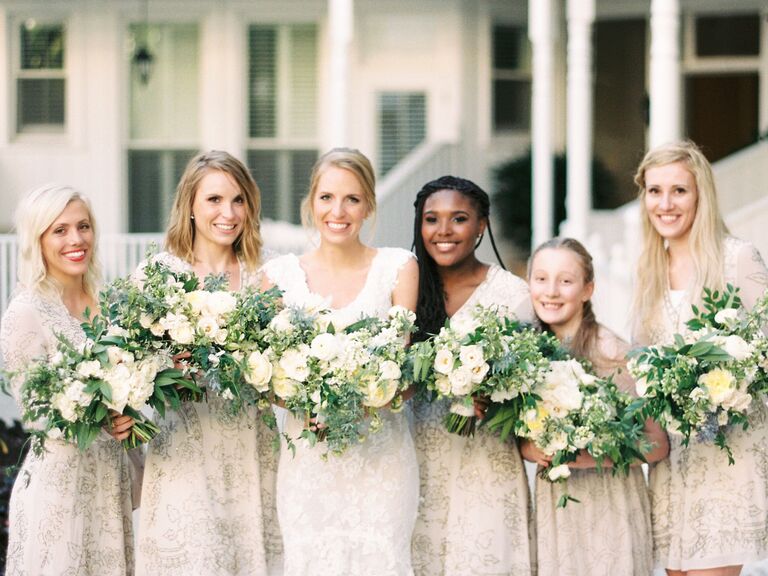 Take your braids to the next level by twisting some back for a pretty and elegant vibe.
33. Top Knot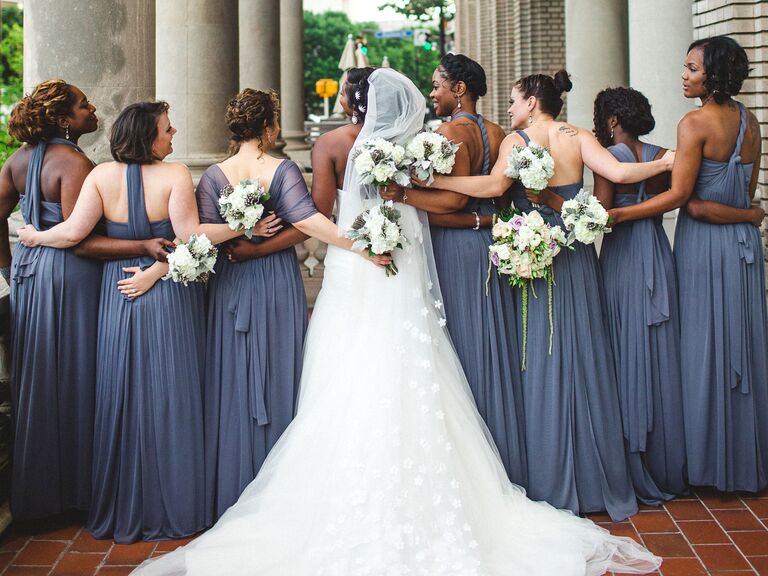 A high bun is a popular bridesmaid hairstyle for a reason. It's chic and polished—and it keeps your hair out of the way.
34. Tucked Behind Ears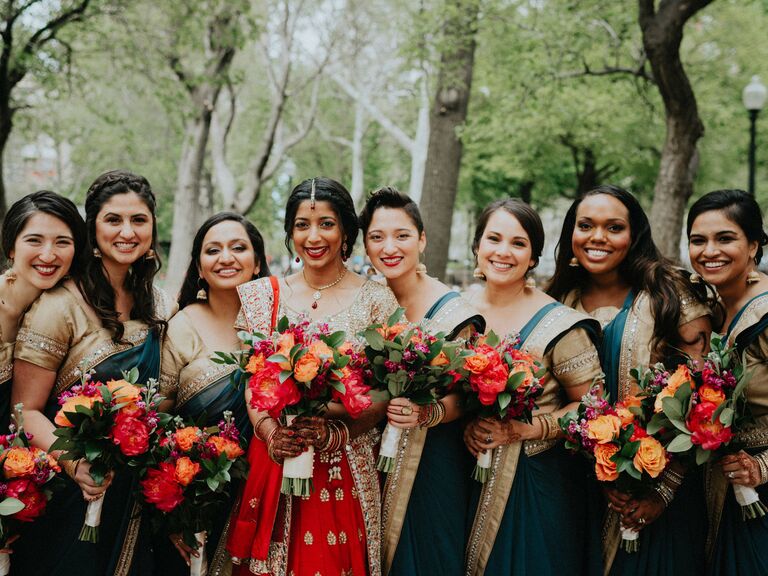 After your pro curls your hair, have them tuck the front strands behind your ears so it doesn't fall in your face during the day.
35. Mini Pouf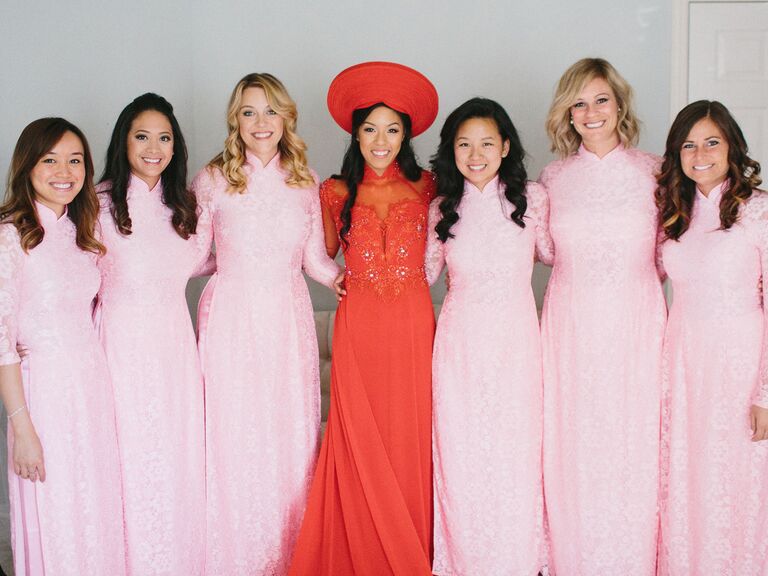 Is your friend's wedding an elegant affair? Rock a mini pouf for a touch of gorgeous volume.
36. Side Shave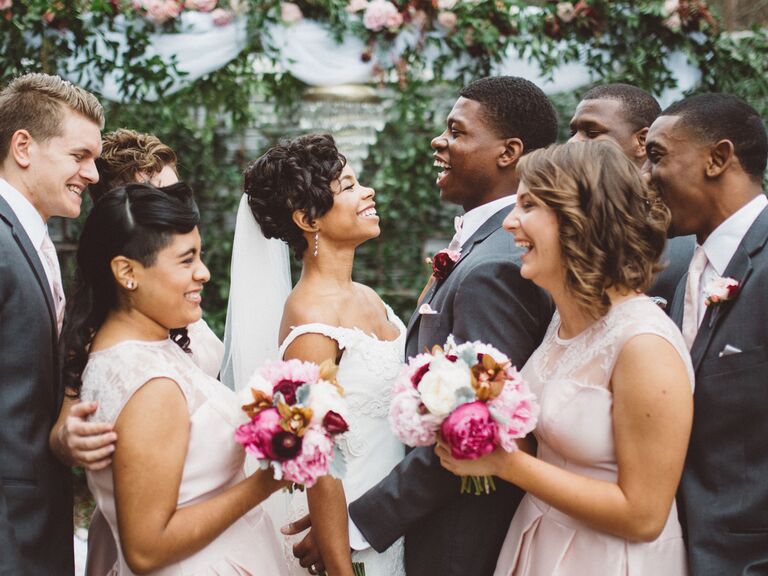 Flaunt your shaved side by curling the rest of your hair and sweeping it to the opposite site.
37. Deep Side Part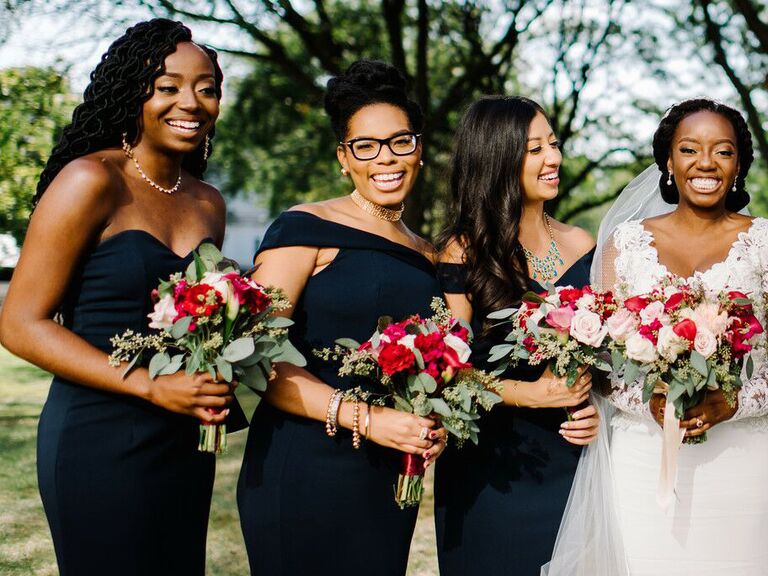 For an extra-romantic bridesmaid hairstyle, part your hair all the way over to one side of your face.
38. Asymmetrical Cut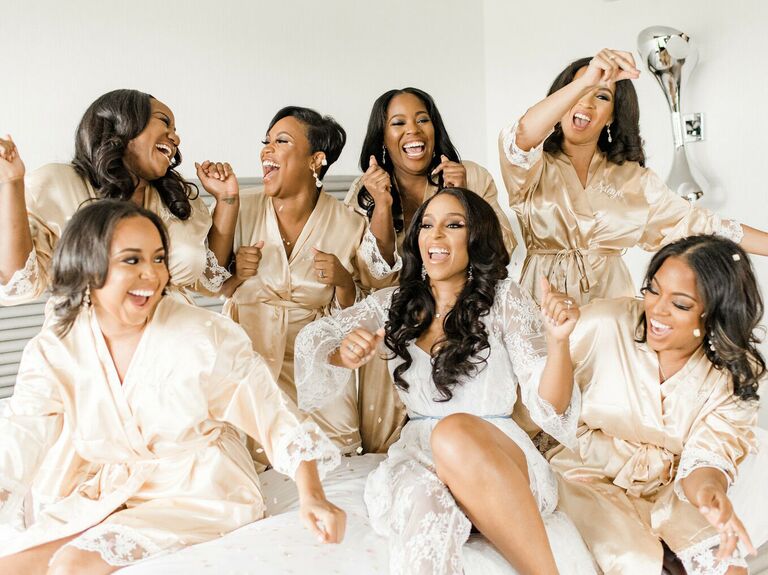 Add some drama to your short bridesmaid hairstyle by making one side a little shorter than the other.
39. Flower Accent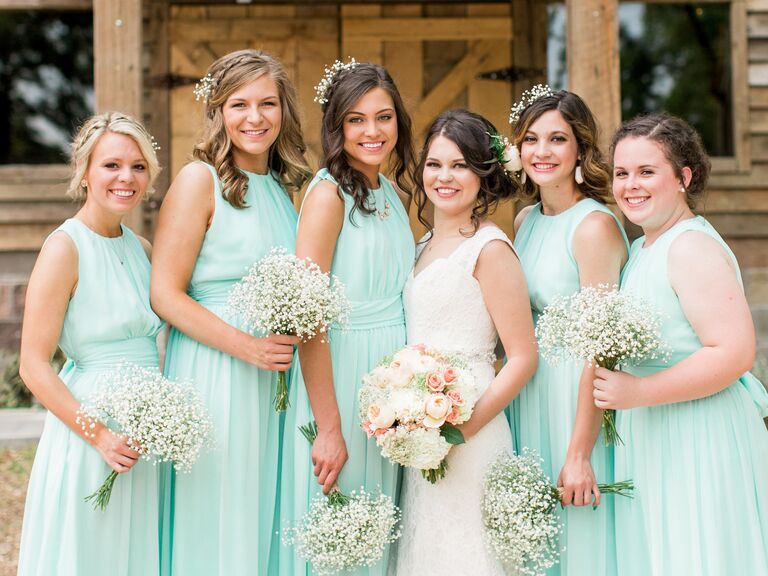 Give your hair 'do a little extra something by adding some flowers to it. For a more understated look, opt for small neutral colored blooms, like baby's breath. If you want a more bold look, consider bigger, more colorful flowers.
40. Slicked-Back Bun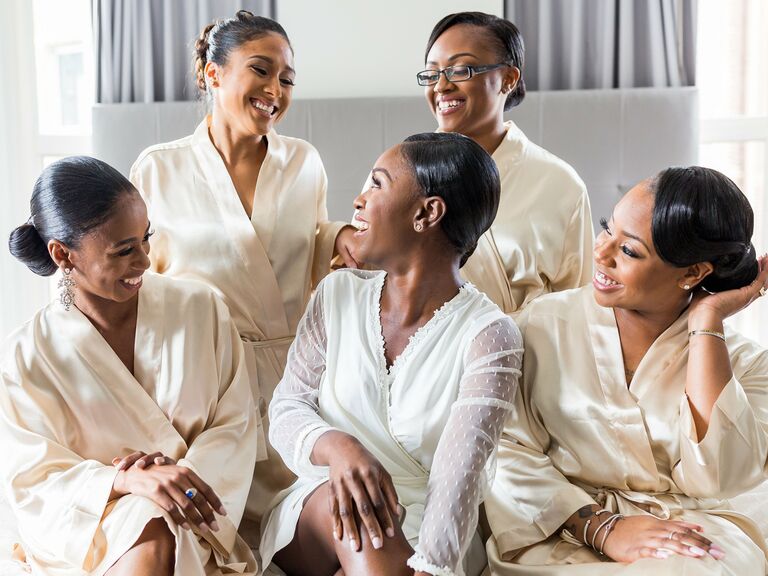 Slicked-back hair is an on-trend look that will look absolutely fabulous on the wedding day. Have your pro top off the style with some gel to achieve this cool-girl style.
41. Curly Lob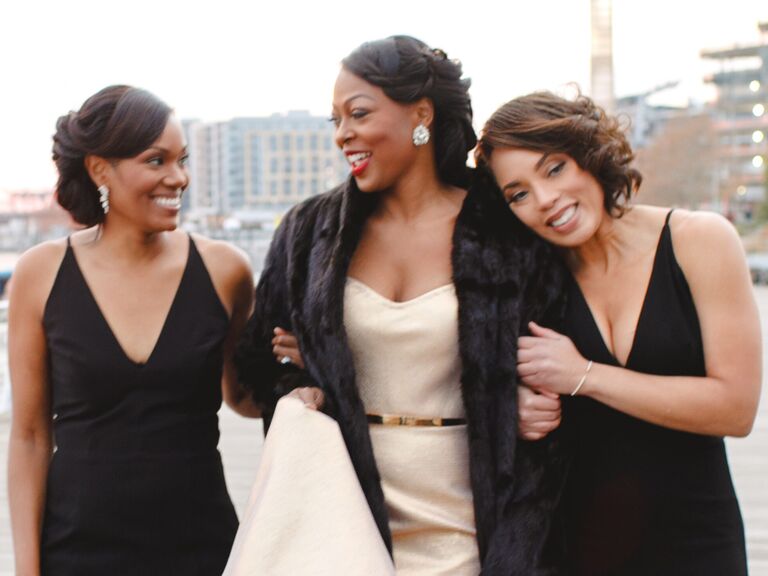 The lob (also known as a long bob) is a great length for bridesmaids who don't want the hassle of a long mane but want some kind of style. Add in some loose curls to your short 'do for a pretty, laid-back look
42. '70s Curls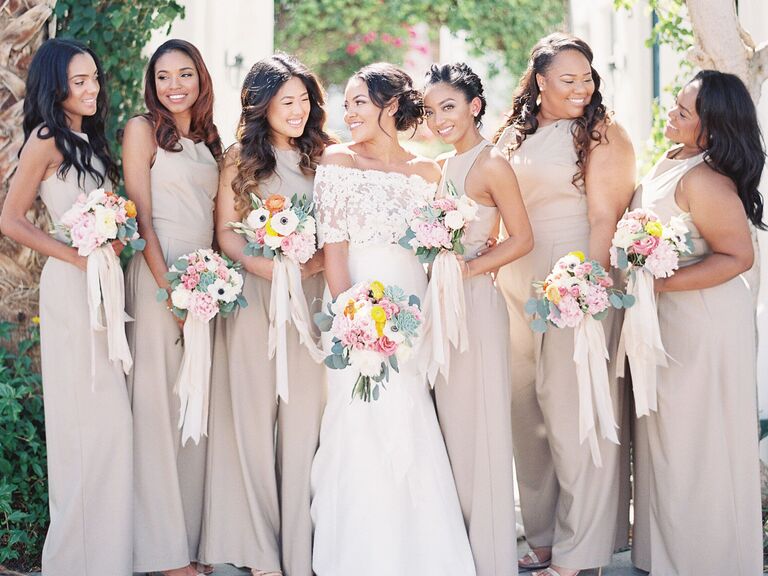 The '70s are back! Have your stylist curl your hair away from your face for a retro-glam look that will look absolutely stunning in pictures.
43. Themed Accessory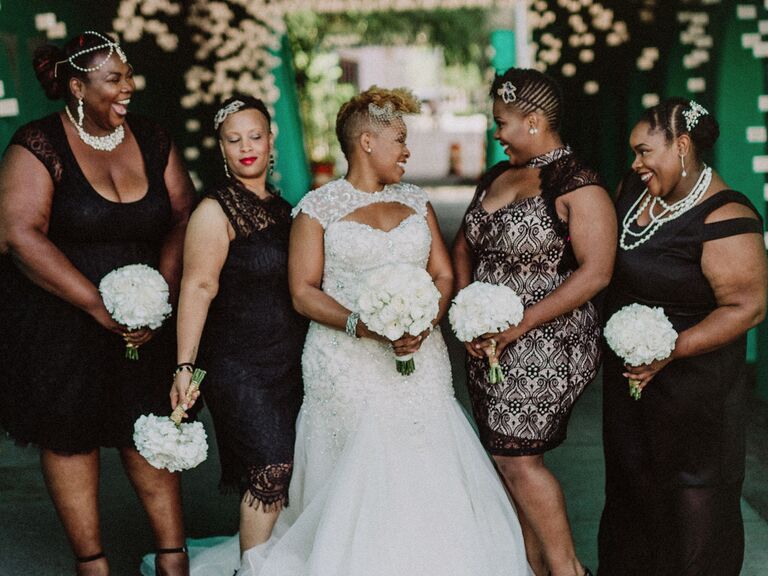 Lean all the way into your friend's themed wedding. Top off your chosen hairstyle with a thoughtful accessory, like this Gatsby-themed headpiece.
44. Piece-y Low Updo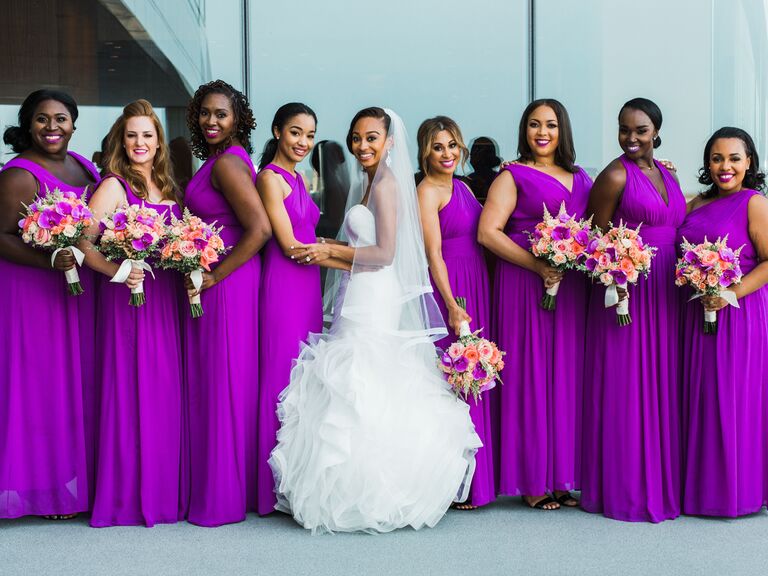 Create a classic updo, but leave pieces out in front for a modern, on-trend look.
45. Half-Up With Volume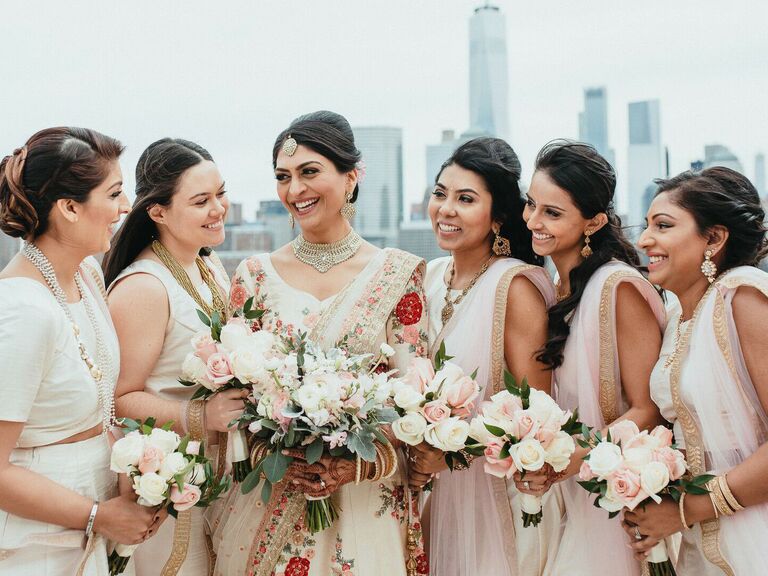 Tease the top half of your hair and pull it back into a half-up, half-down 'do. The end result is a polished, modern style that will complement your outfit.
46. Streaks of Color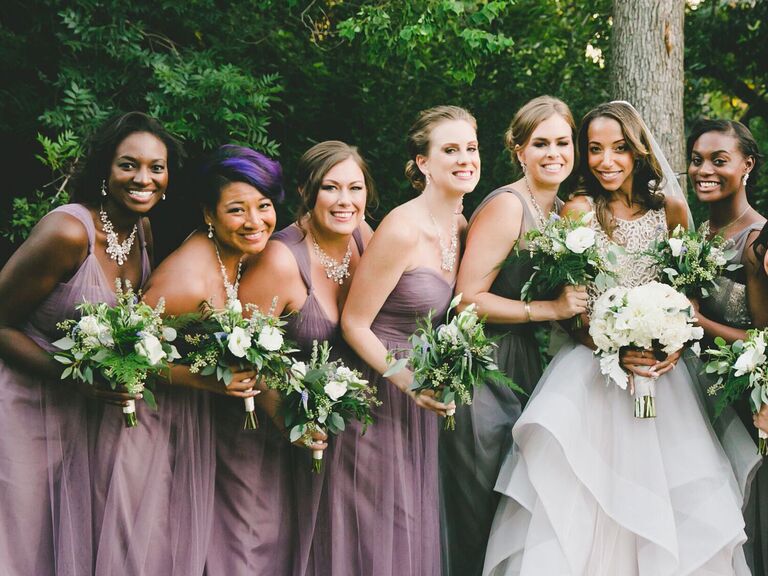 Show off your vibrant personality by rocking colored hair. Add streaks of color to the front of your hair for a look that's equal parts pretty and edgy.
47. Braided Back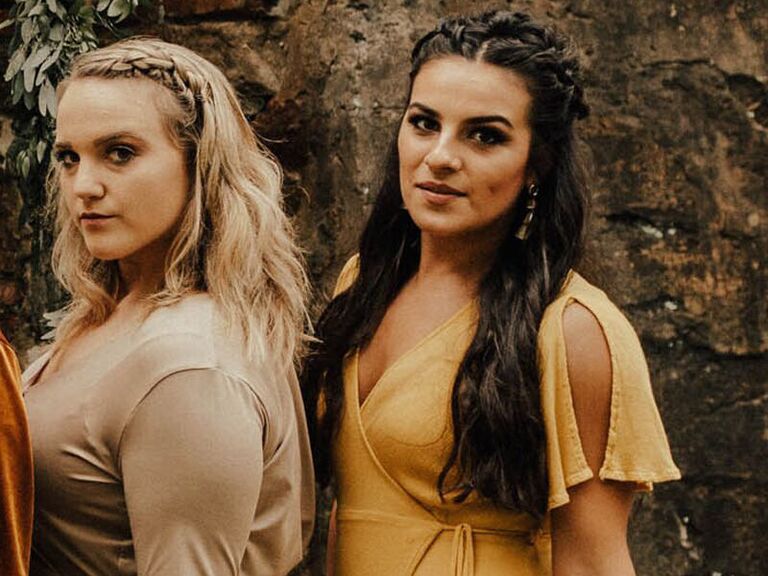 Put an edgy spin on a classic bridesmaid hairstyle half-up. French braid both sides back and secure with hair pins.
48. Braided Low Bun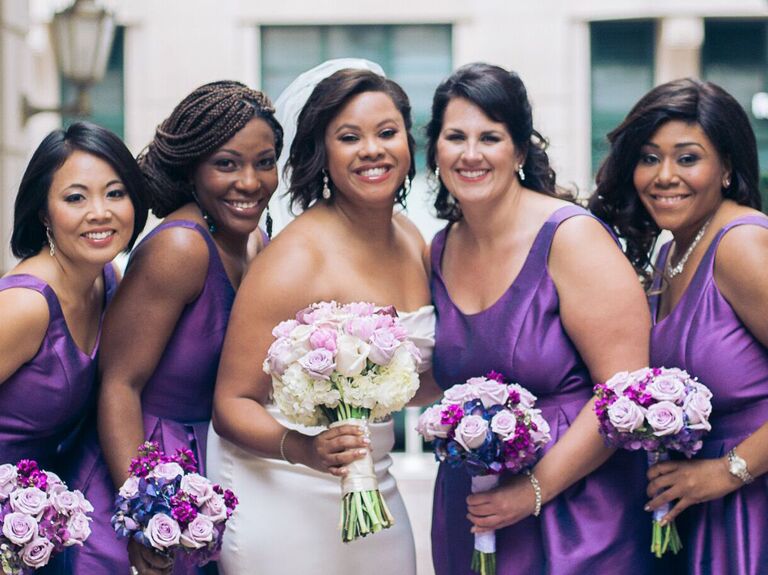 Show off your gorgeous braids by twisting them into a pretty low bun.
49. Fishtail Braid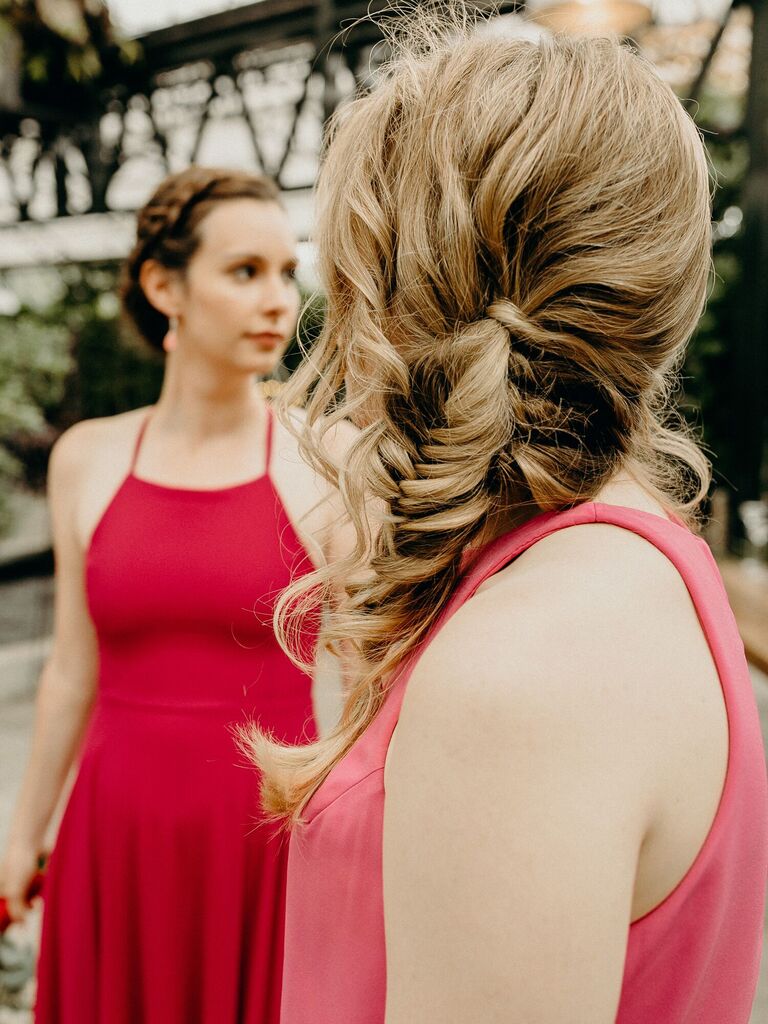 Equal partys edgy and pretty, a fishtail braid is the perfect braidsmaid hairstyle for fashion-forward attendants.