35 Wedding Guest Hairstyles You Can Actually Do Yourself
Prepare for compliments.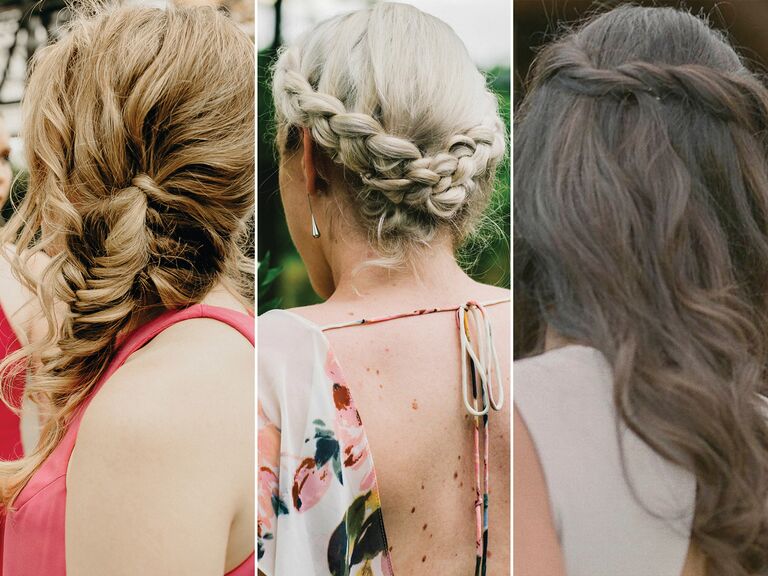 The Billings Photography,BASSOS WEDDINGS,LAURA MURRAY PHOTOGRAPHY
You've likely thought through all the major parts of your friend's wedding, like what to wear or what gift to give them. But even if you have your outfit picked out, you may have forgotten to think about one key part of your look: your hair. To help, we sourced 35 easy wedding guest hairstyles that you can actually do yourself (yes, really). There are short hairstyles for wedding guests, as well as wedding guest hairstyles for long hair—and everything in between.
Here, you'll find updos, half-up styles and style options if you let your hair down. Plus, we included expert advice on how to get your hair looking absolutely perfect. Rock any one of these styles, and you'll have people thinking you got your hair professionally done. (They don't need to know it only took you a few minutes in your bathroom!) See 35 of our favorite easy wedding guest hairstyles, below.
Our Favorite Wedding Guest Hairstyles
Whether you want to wear an updo, braid, half-up style or all-down 'do, we've got hair ideas for everyone.
Loose Waves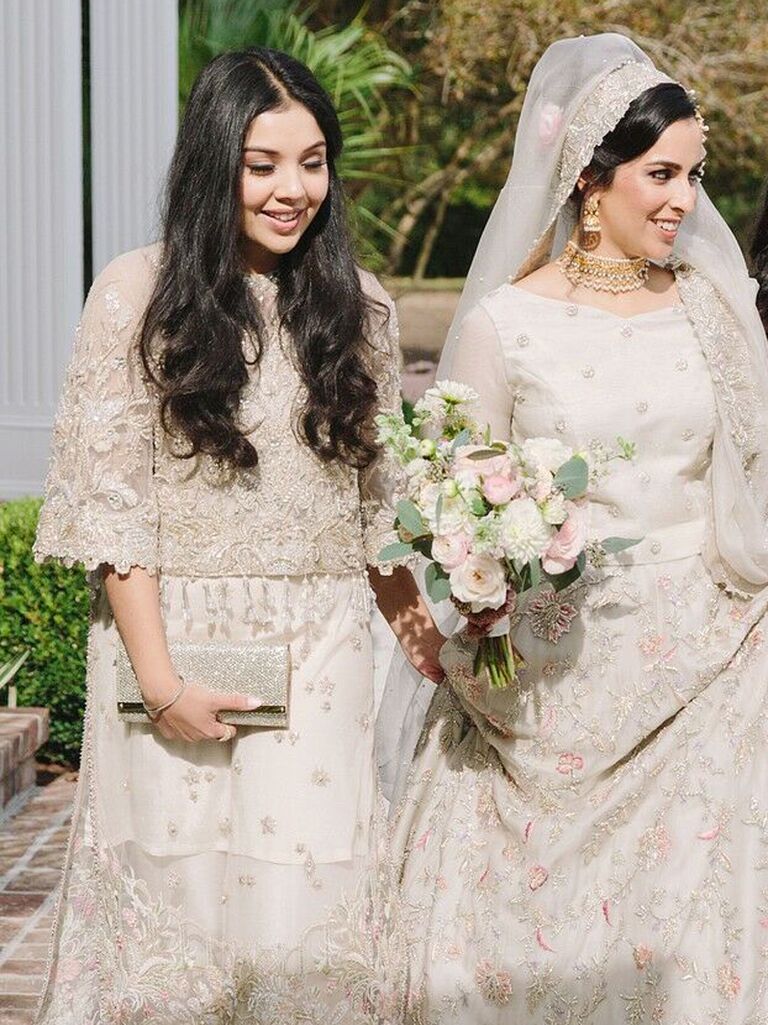 Less is more when it comes to this wedding hairstyle. Loose waves with a center part are the ultimate casual-meets-sophisticated hairdo since it looks effortlessly gorgeous. Ramon Garcia, stylist at Ramirez | Tran Salon, recommends using a ¼-inch curling iron on dry hair, alternating directions (towards your face and away from your face) for added texture. Spray on dry shampoo for added volume (he recommends Authentic Beauty Concept's formulation, as it won't leave residue behind).
Oversized Curls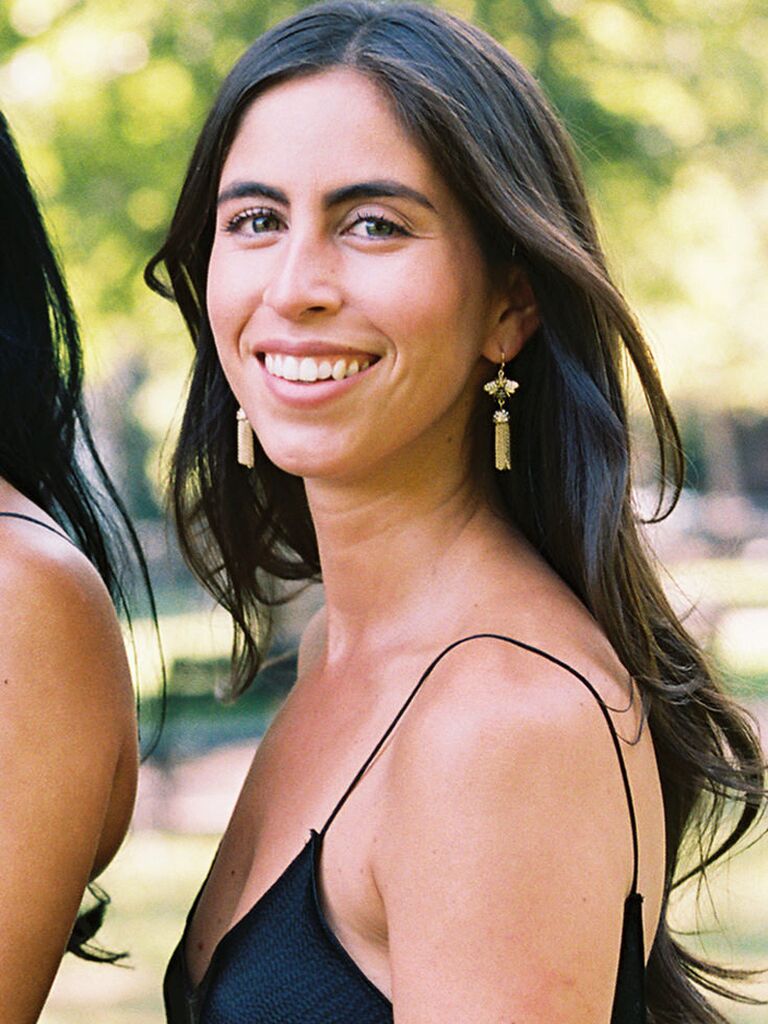 Make loose waves a little more glam. Big, oversize curls look laid-back and also sophisticated.
Half-Up Bun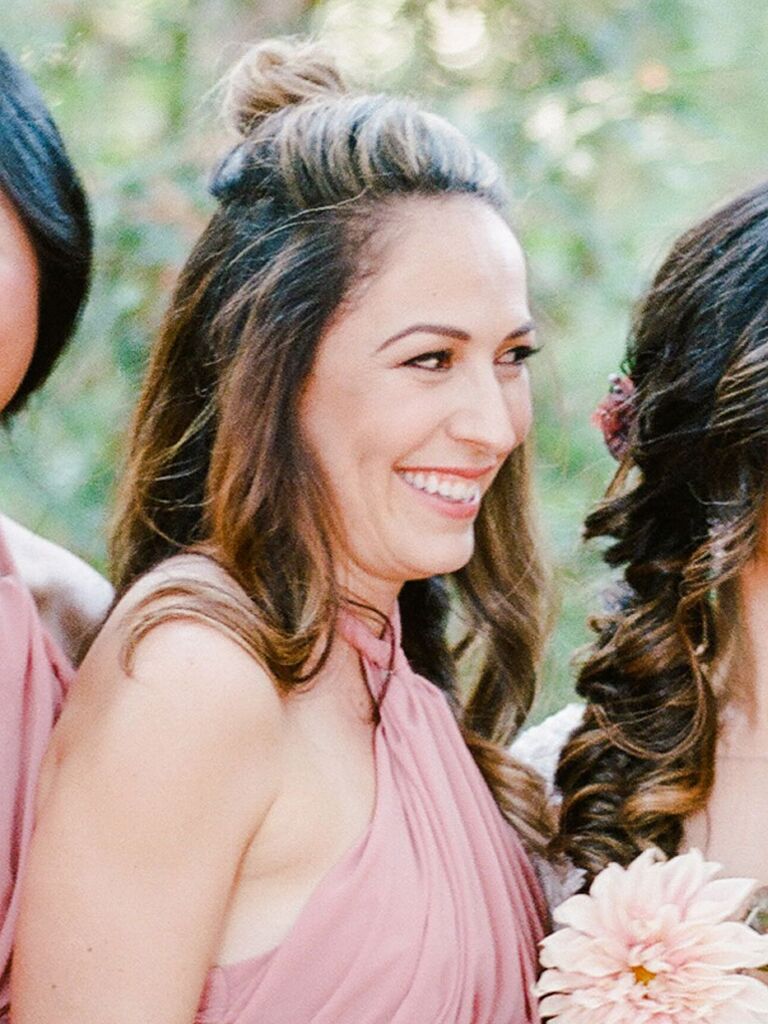 Another one our favorite cool-girl wedding guest hairstyles is a chic half-up situation with a topknot. Gather your hair from the sides of your crown and pull it back into a high bun.
Voluminous Curls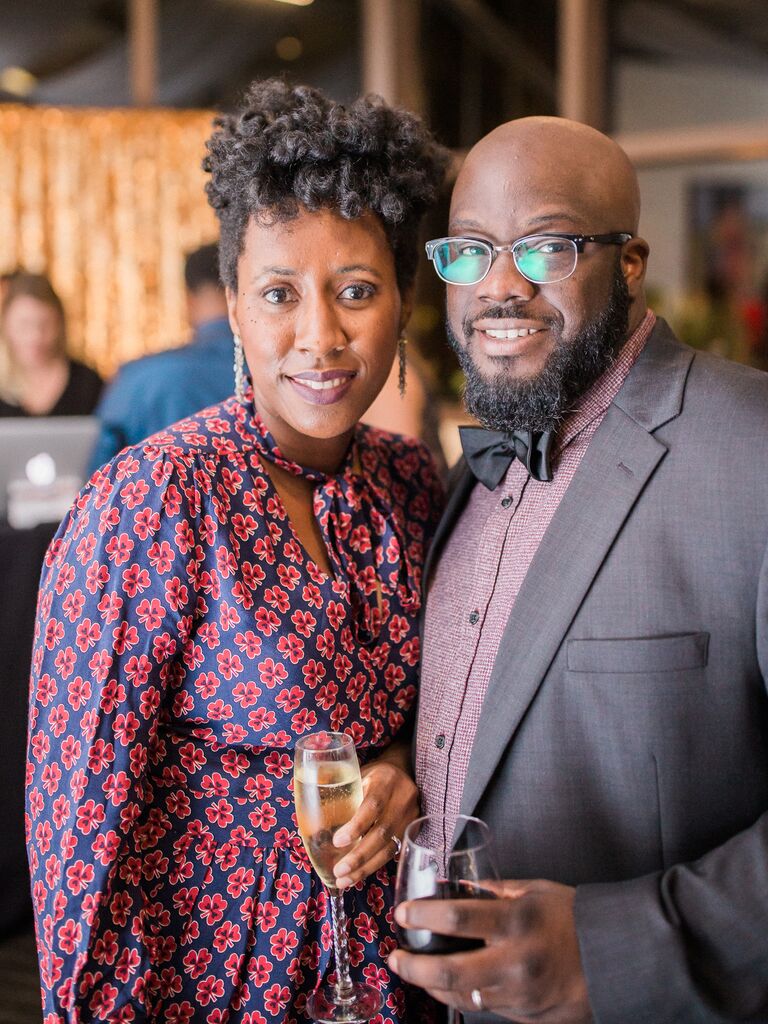 For an edgy, fun look, rock your natural curls and pin the sides back.
Twisted Half-Up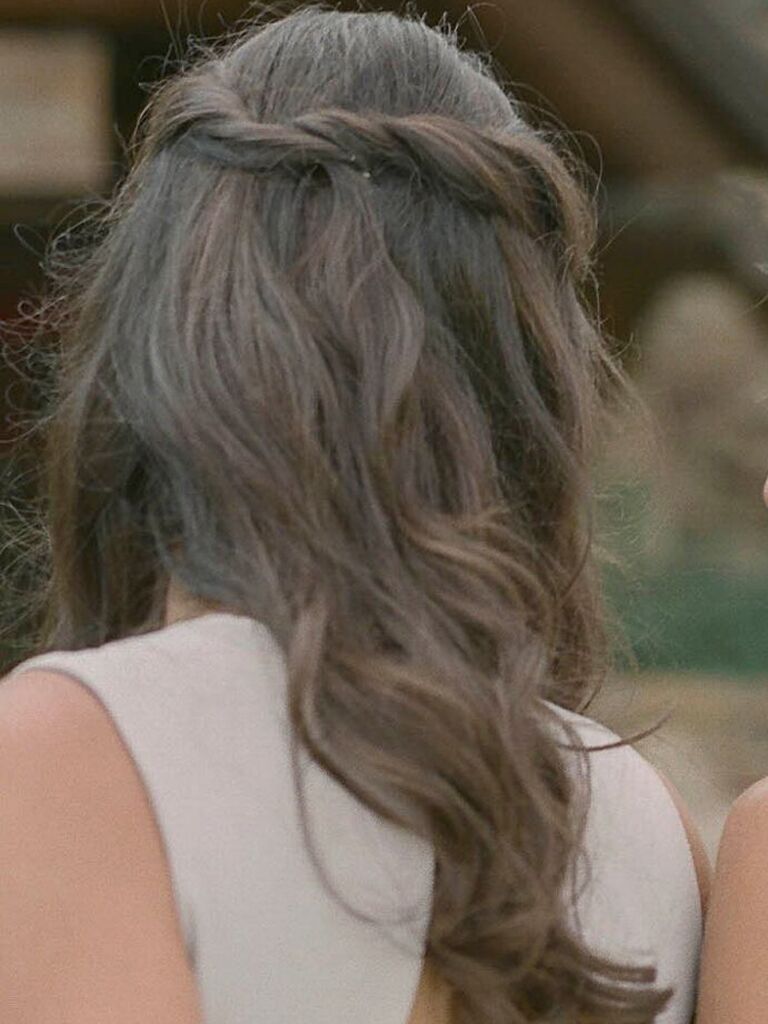 A twisted half-up style is the ultimate wedding guest hairstyle because it looks like you spent a lot of time on it. Take two pieces of hair from the front of your head and twist them. Pin them together in the back of your head, and you're done.
Breezy Hijab
Rock a traditional hijab in a light and sheer fabric for a pretty, modern look.
Waves & Braids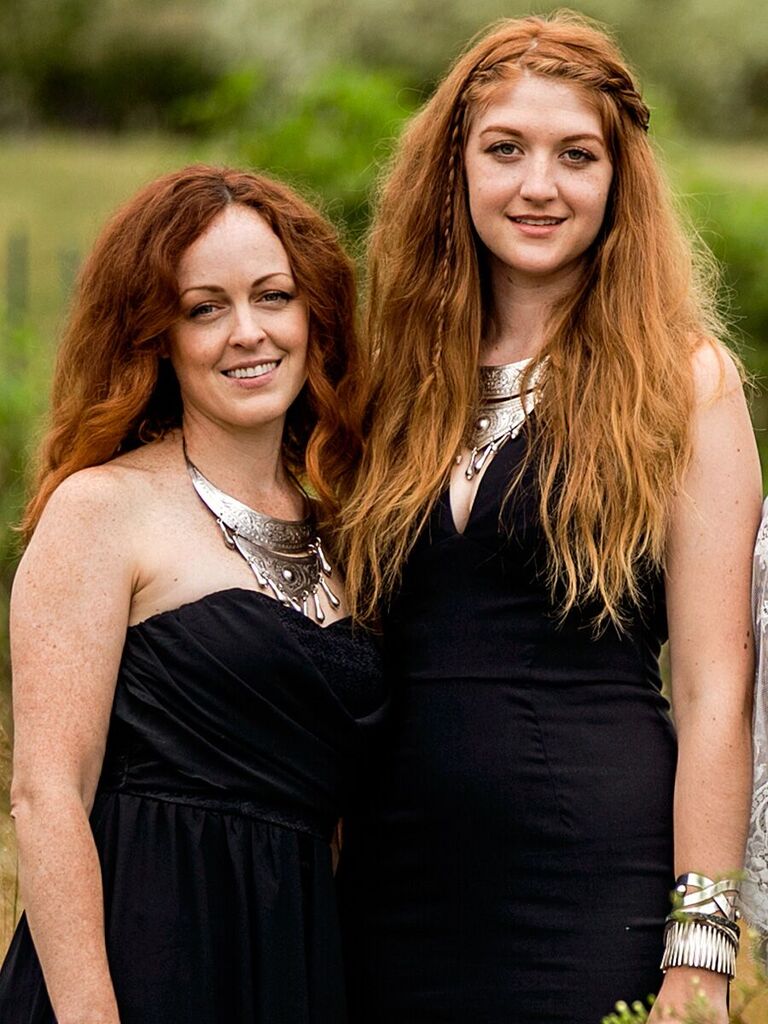 If you're looking for the perfect boho wedding guest hairstyle, look no further. Accent messy waves with a few braids for the ultimate cool-girl effect.
Natural Curls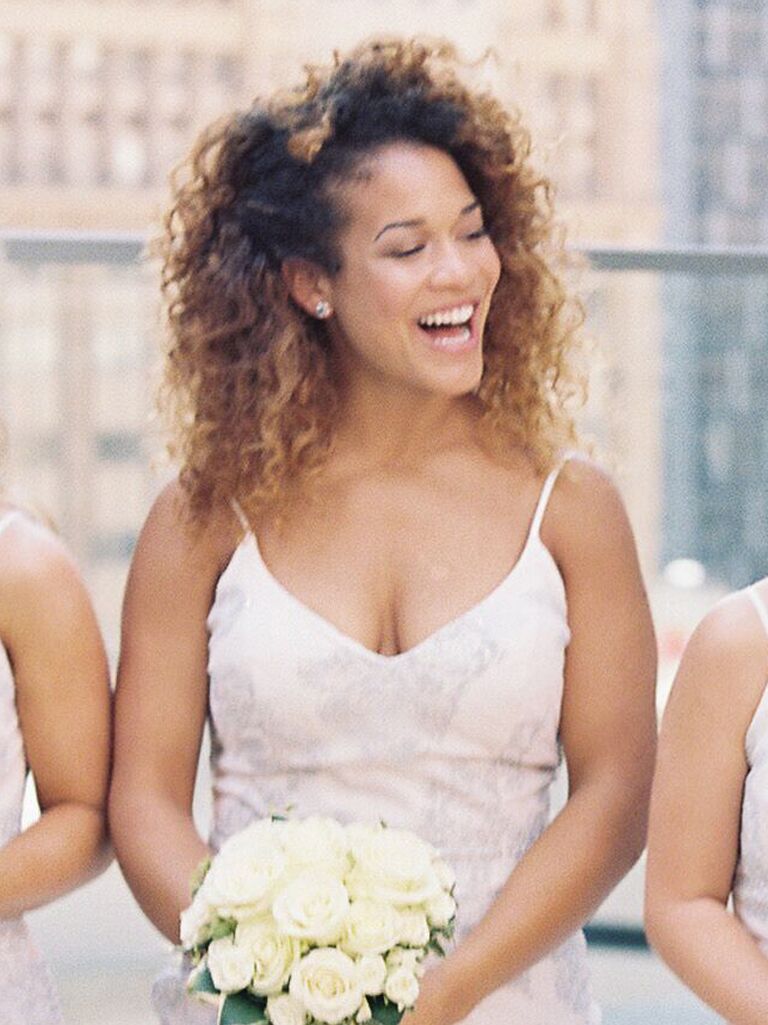 Embrace your curly hair without any extra styling. Apply a styling product (Garcia recommends Authentic Beauty Concept's hydrating lotion) on wet hair and scrunching the ends.
Curtain Bangs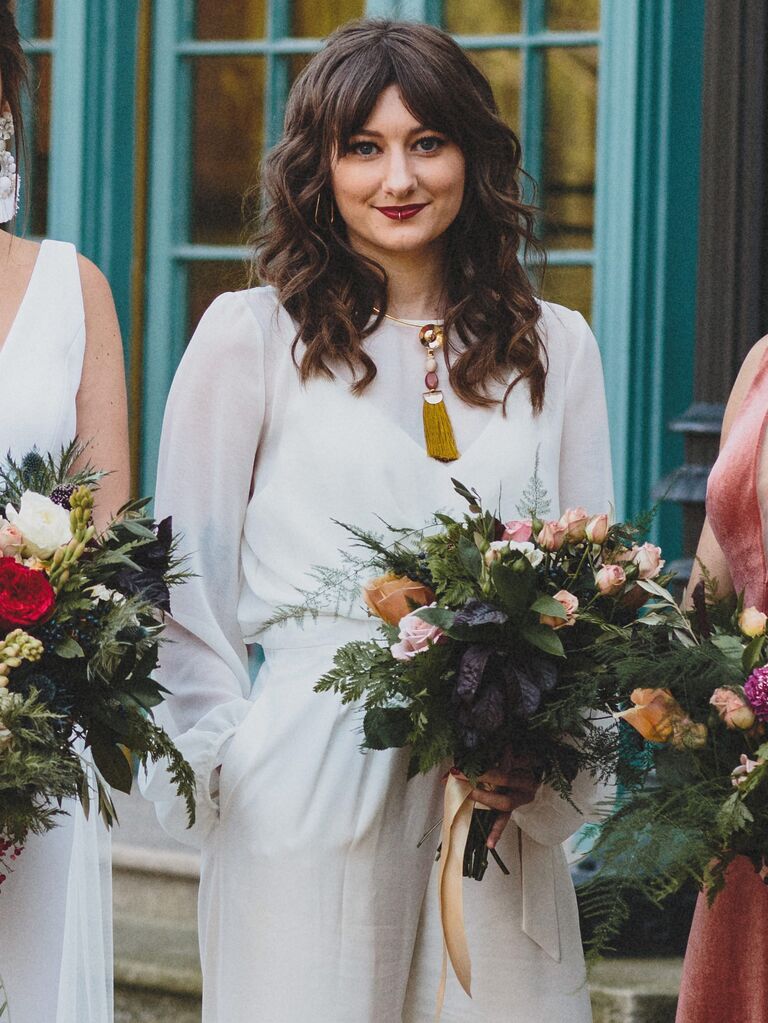 Highlight your gorgeous face. Loosely curl your hair and then part your bangs in the center for a trendy and easy wedding guest hairstyle.
Braided Half-Up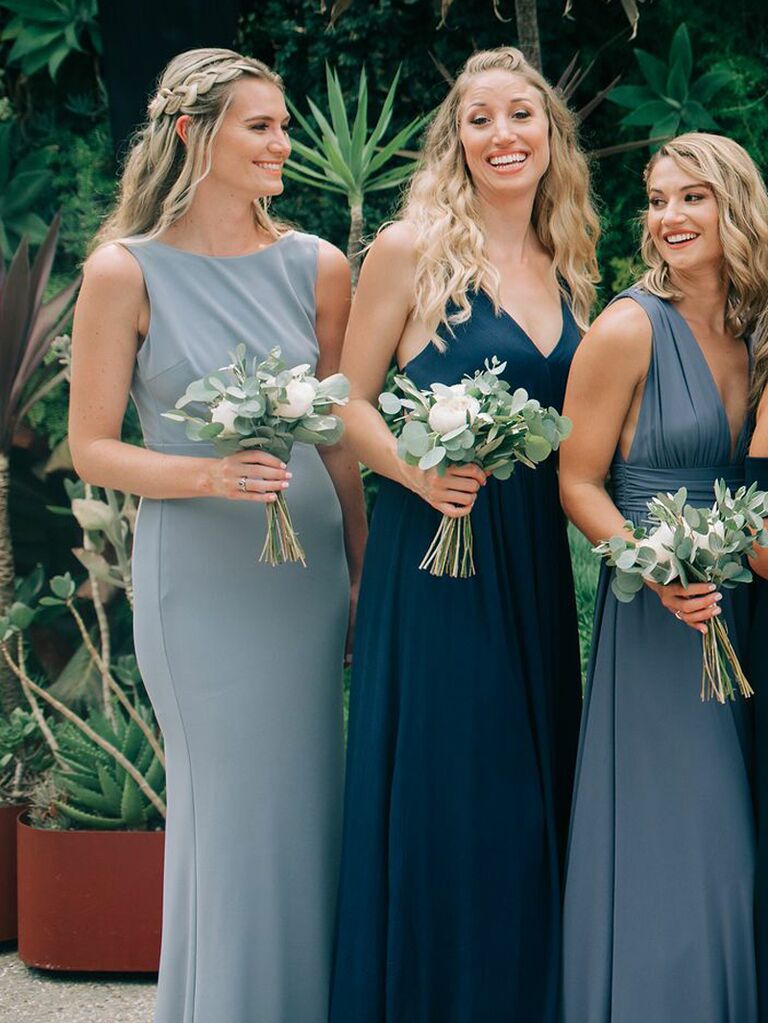 Take the half up 'do one step further by adding a braid. Dutch braid one side of your hair and pin it in the back for a chic and unique style.
Simple Side Braid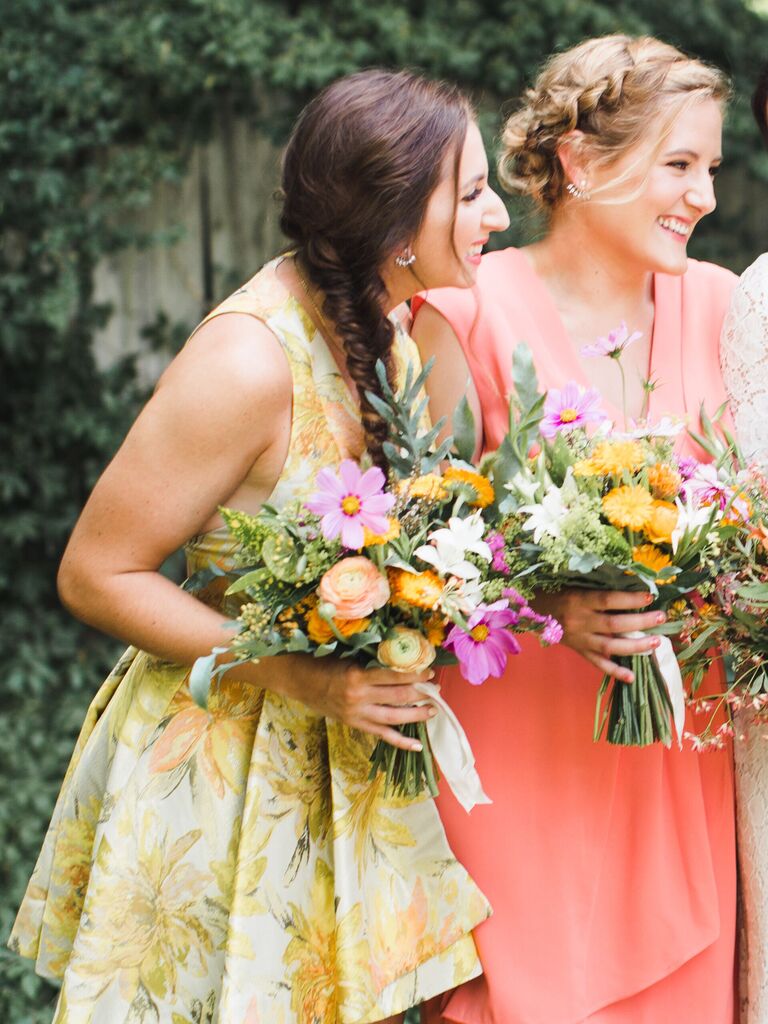 A braid is an easy way to look polished in no time. Gather your hair to one side and begin braiding by your ear. Gently pull out the edges when you're finished for a fuller look.
Citrus-Colored Cut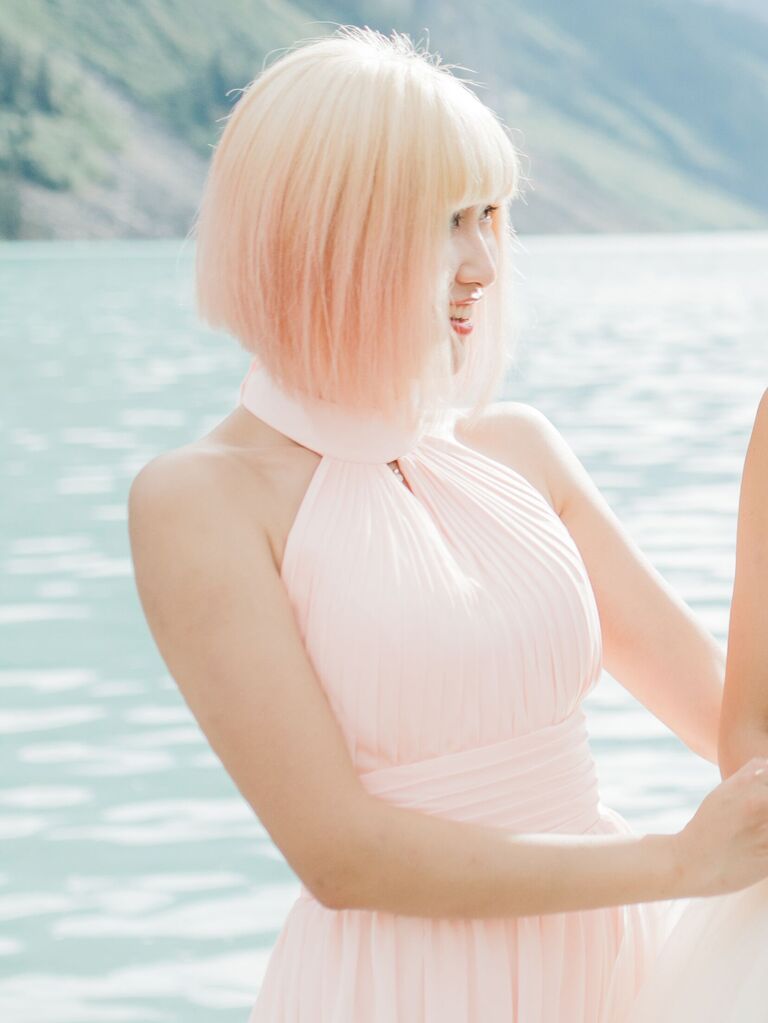 Go bold and rock a citrus hue in your hair (a massive wedding hair trend). Straighten your locks to let the color shine.
Air-Dried Locks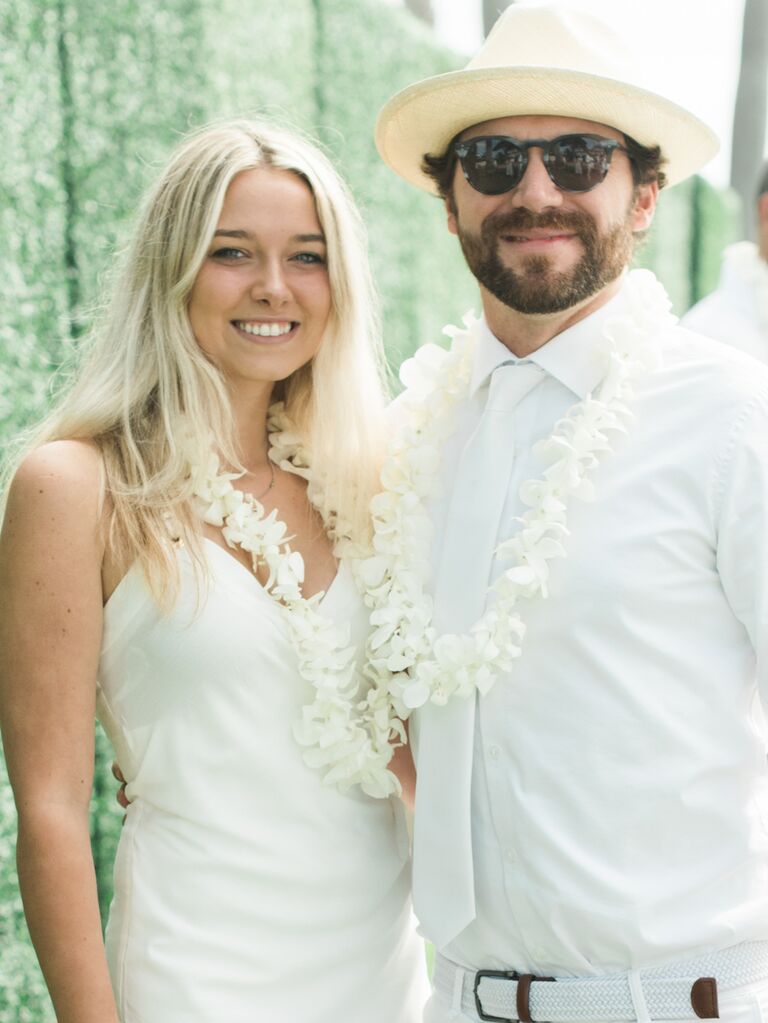 Yes, it is possible to get amazing hair when you let it air dry. Celebrity hairstylist Mara Roszak recommends applying mousse to your damp hair (she reccomends Authentic Beauty Concept's mousse), and then twirling your hair into low pigtail buns until it's dry. Gently take them out and work a styling product (she loves same brand's shaping cream) to hold the structure.
Trendy Topknot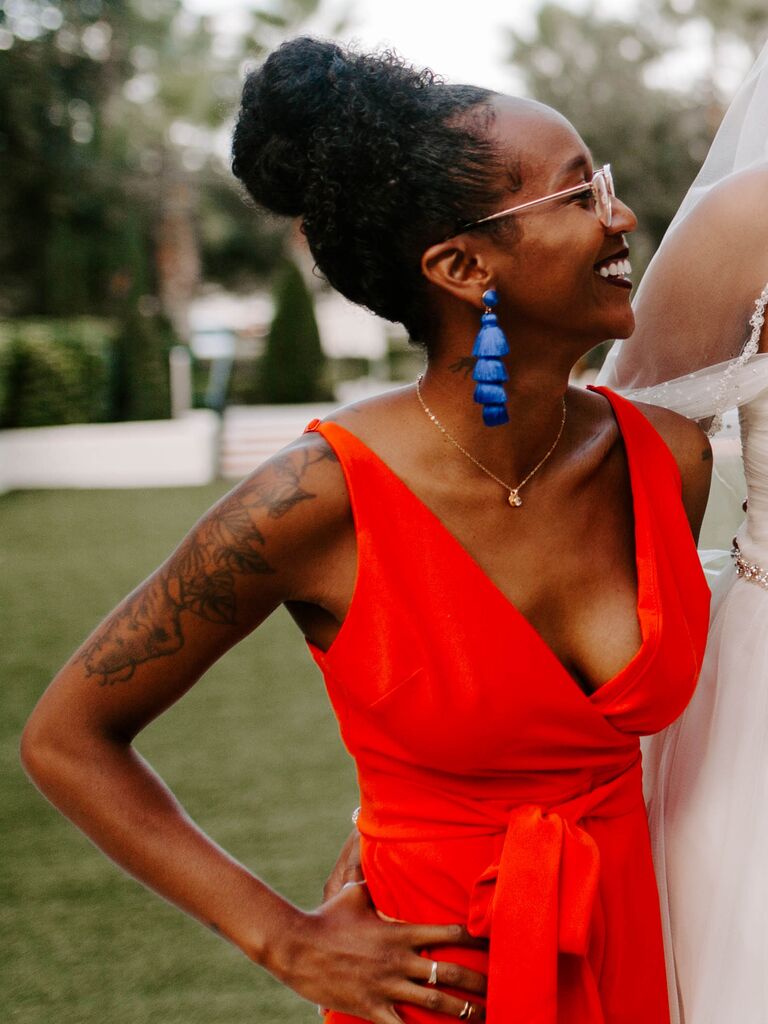 Looking for an easy wedding guest hairstyle? Try a topknot. Not only will it look undeniably chic in pictures, it will also keep your hair off your face and neck so you can dance the night away.
Low Twist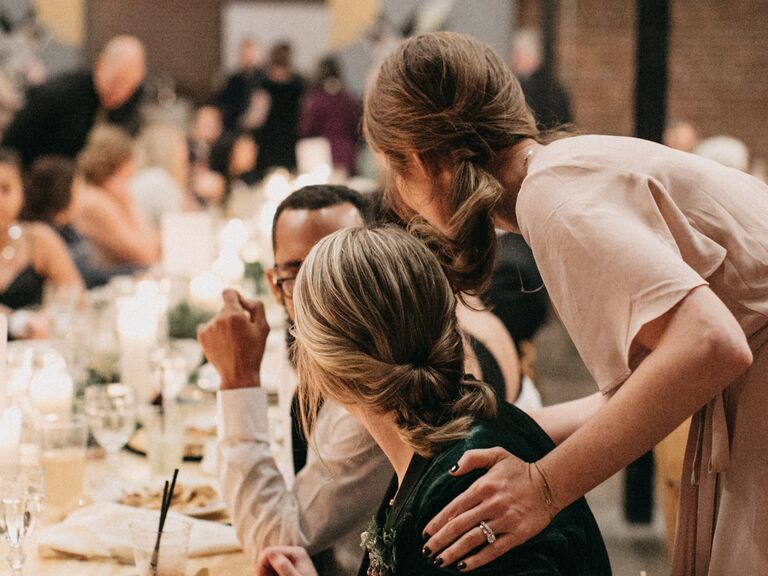 This is a deceptively easy wedding guest hairstyle. Gather your hair in a low ponytail and secure with an elastic. With your hands wrapped around the base of the ponytail, use your two pointer fingers to create a hole above the elastic. Flip the ponytail through the hole and pull gently to secure.
Braided Back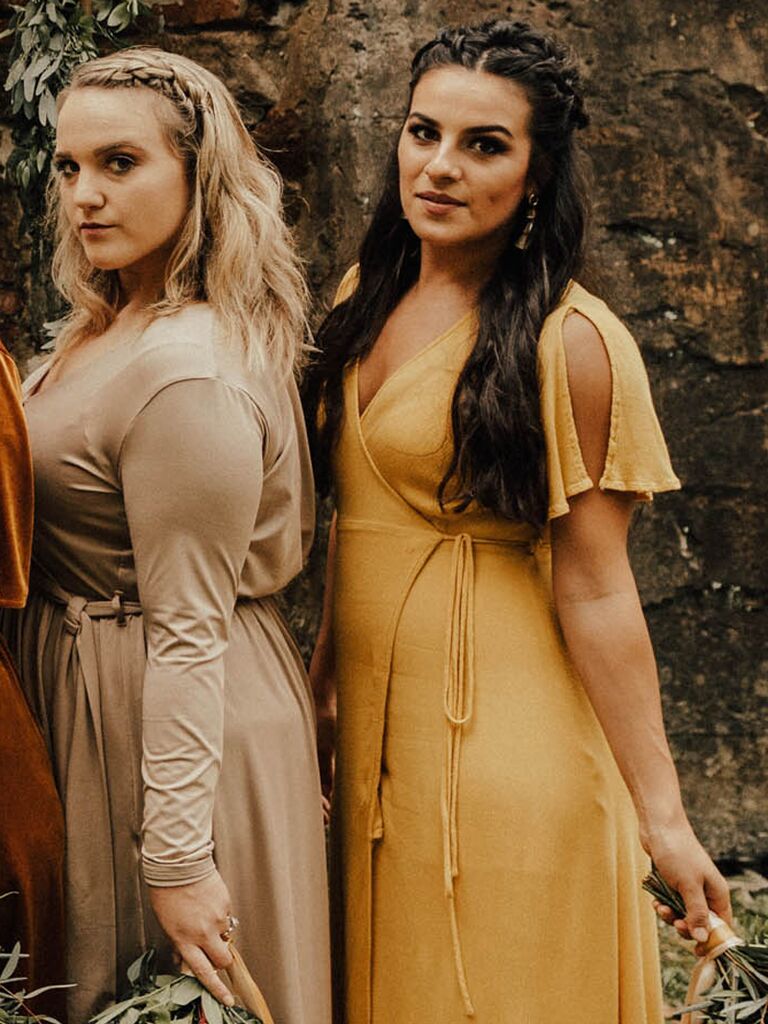 Put an edgy spin on the classic half-up wedding guest hairstyle. French braid both sides back and secure with hair pins.
Low Bun With Twists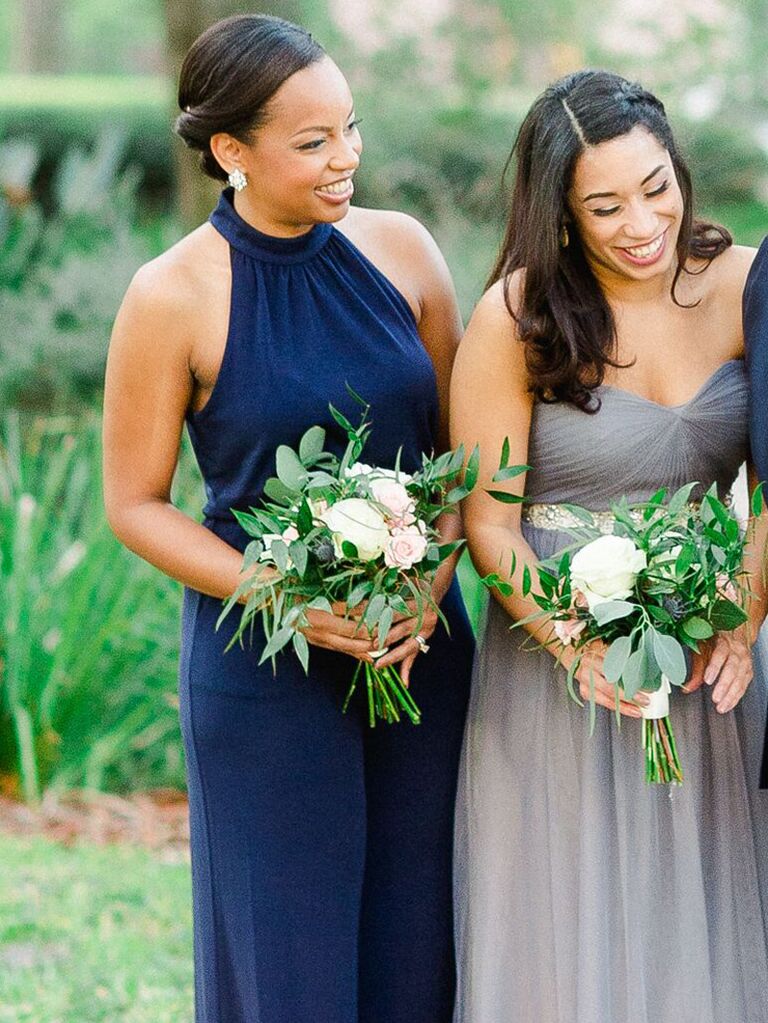 Looking for a quick, polished wedding guest hairstyle? Take two pieces of hair from the front of your face, twist them and then pin them behind your head. Then gather the remaining hair into a low bun and secure with an elastic. All the elegance of a chignon without any of the work.
Braided Side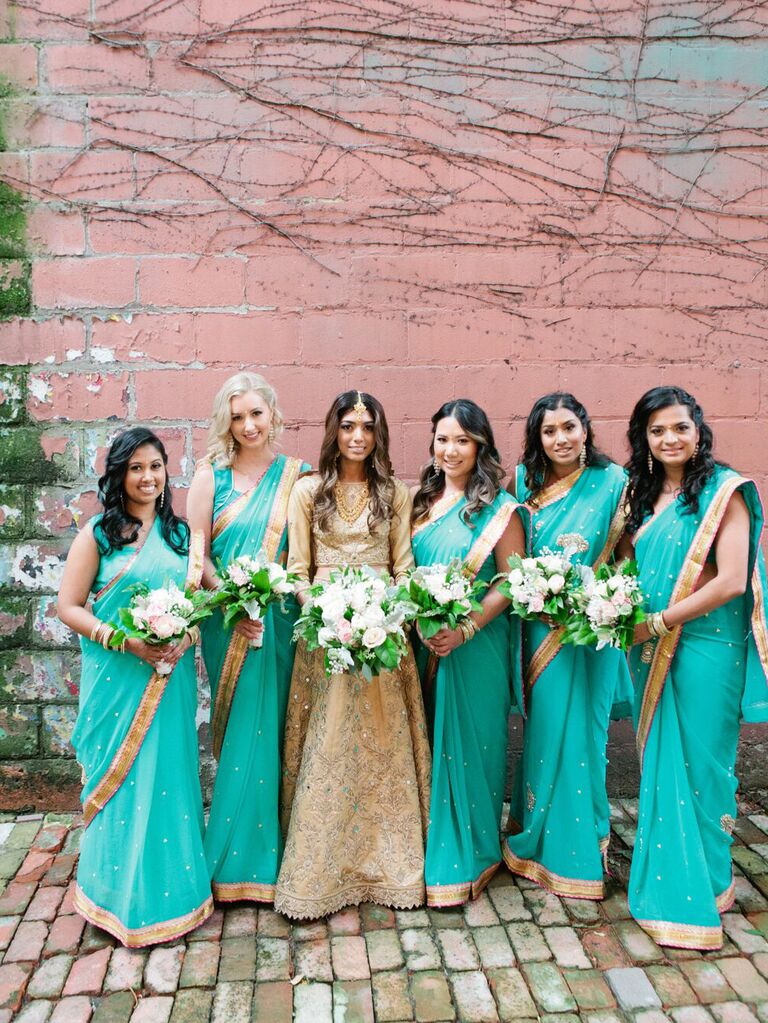 Amp up simple waves by braiding one side and pinning it behind your ear. It's the perfect mix of edgy and pretty.
Flower Accent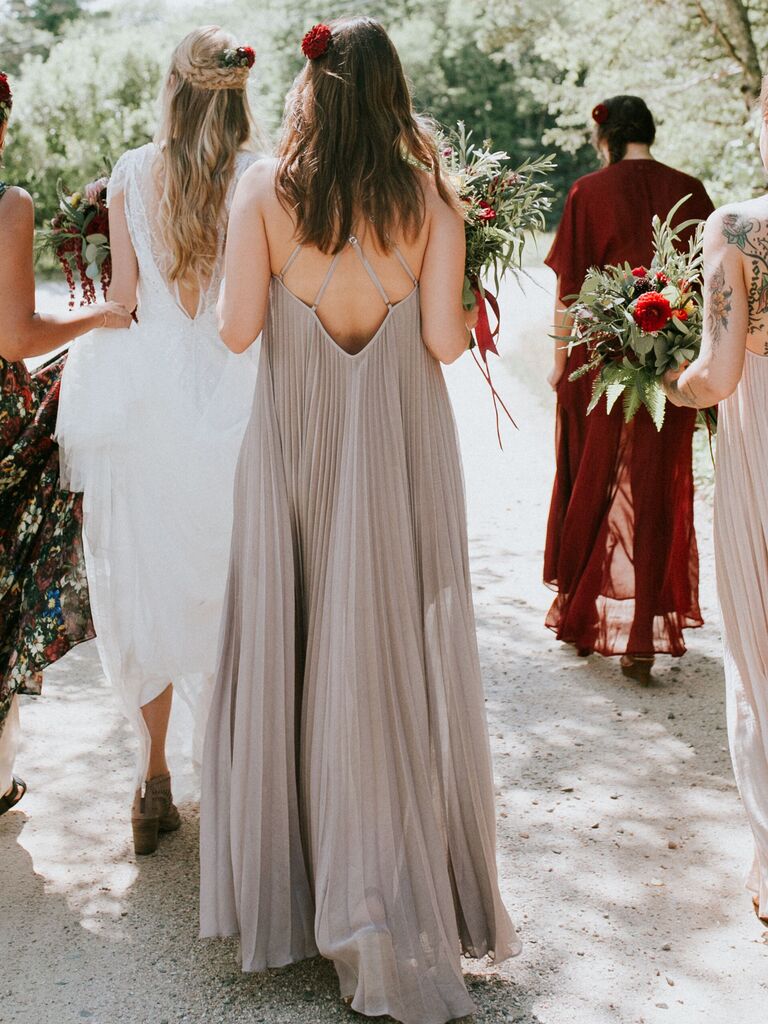 Elevate a simple, air-dried look by adding in a pretty flower accent. It's one of our favorite hair accessories.
Braided Headband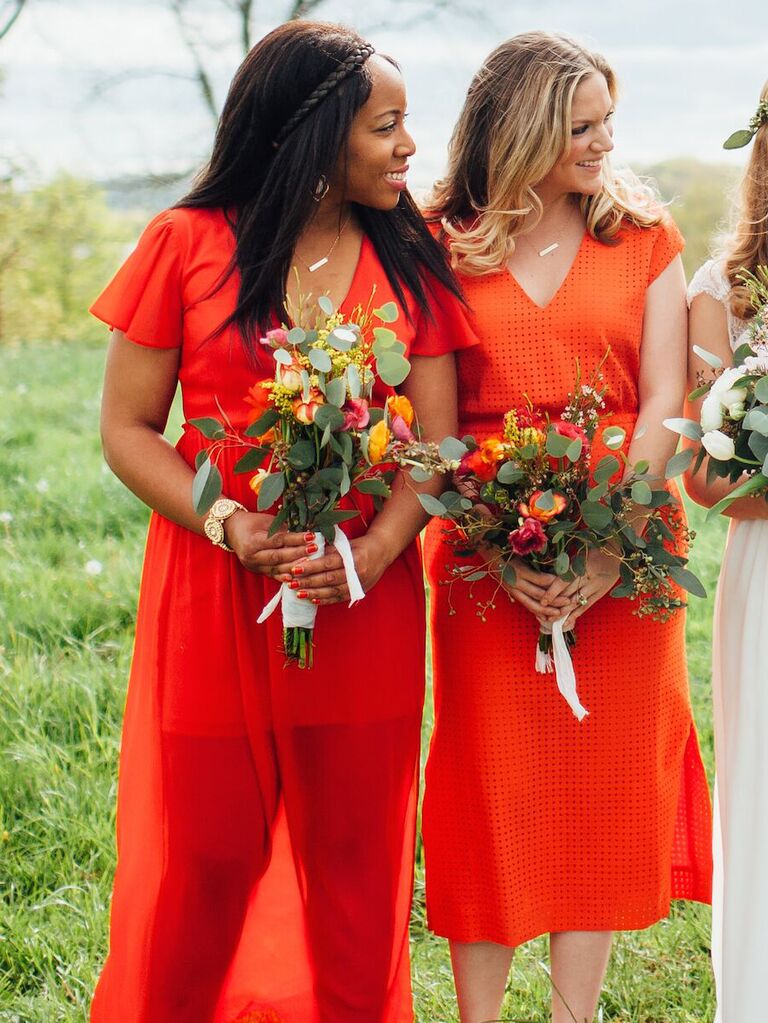 This wedding guest hairstyle seems complicated, but it's totally doable. Take long pieces of hair from behind your ears, braid them, and then wrap them around the top of your head. Secure them with a bobby pin, and you're good to go.
Loose Low Bun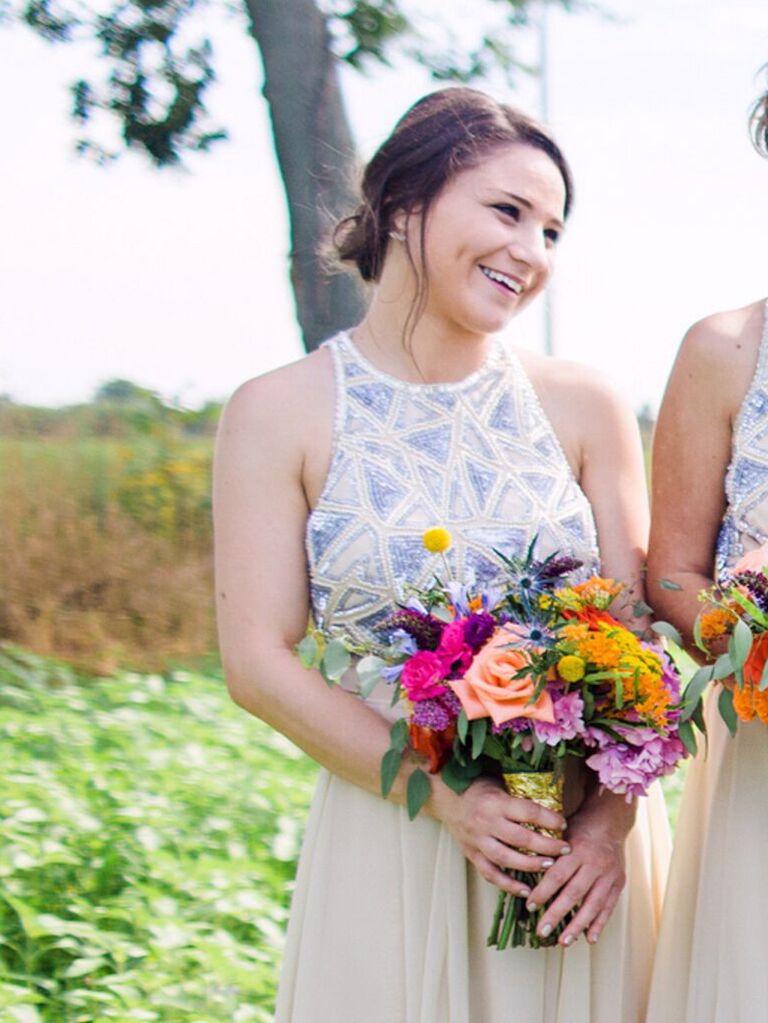 For a perfectly done-yet-undone look, consider rocking a low, messy bun. Gather hair into a low knot, secure with an elastic and then pull out pieces of hair in front.
Loose Fishtail Braid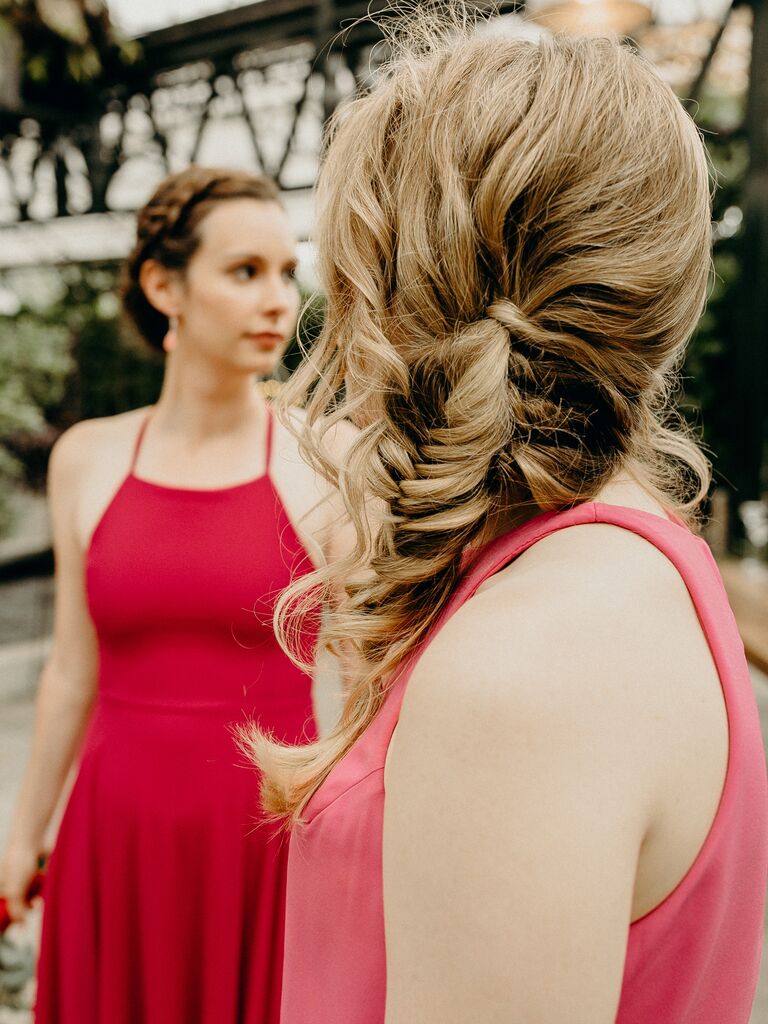 Here's a straight-forward wedding guest hairstyle. Gather hair to one side and fishtail braid your locks. Gently pull on the sides to get that effortlessly gorgeous look. (Psst: we especially love this look for a beach wedding.)
Sleek and Straight
Calling all minimalists: This cool-girl wedding guest hairstyle will look perfectly polished in photos. Don't forget to add hairspray before you head over to the nuptials!
Tousled Curls With Bangs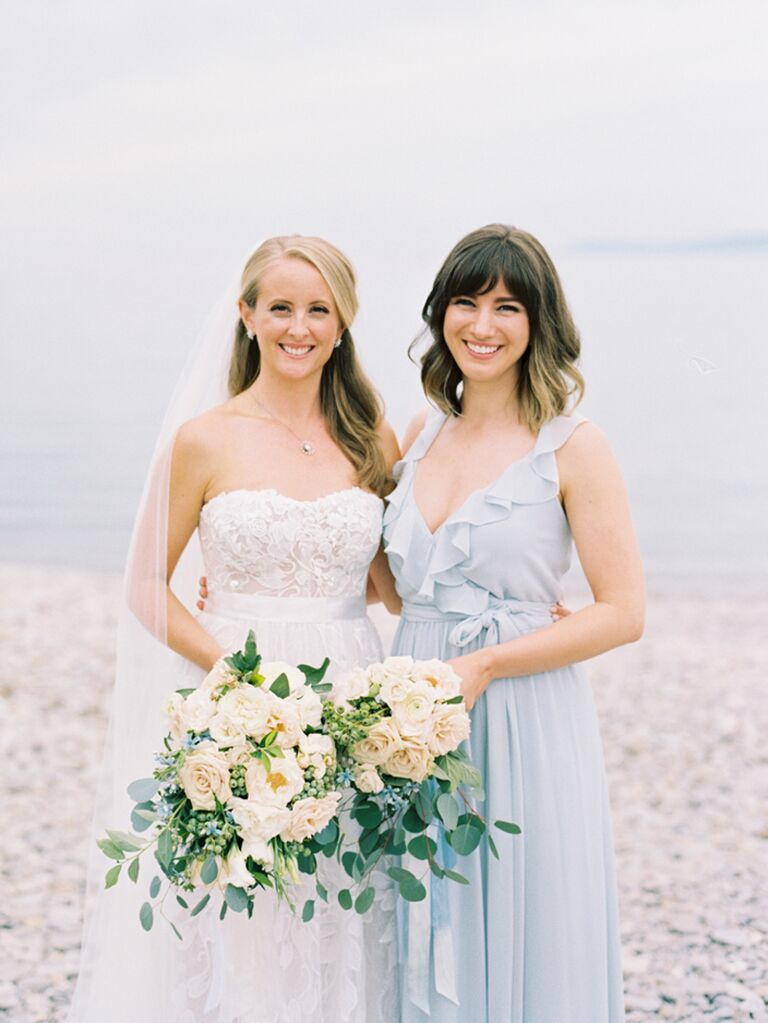 Looking for a laid-back vibe? Curl your hair with an oversized barrel and then brush through to loosen them up.
Polished Ballerina Bun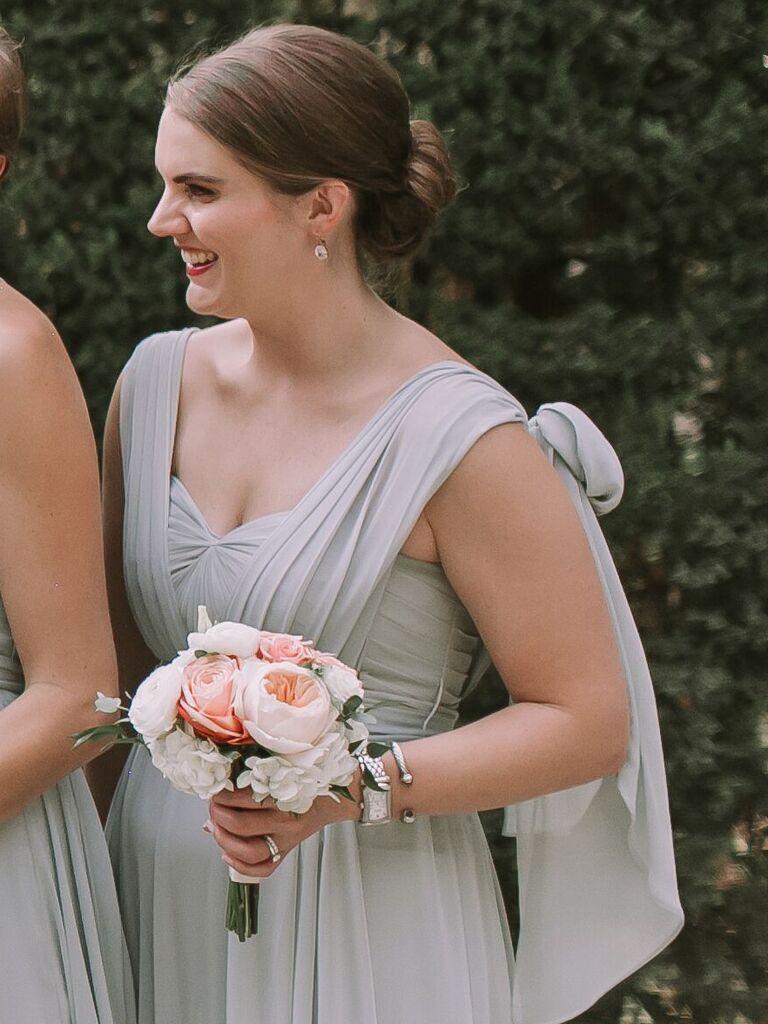 For an elegant wedding guest hairstyle, consider a ballerina bun. Gather hair into a low ponytail, and then use a sock bun tool to get the perfect doughnut shape. Set with hairspray to keep flyaways at bay.
Beach Waves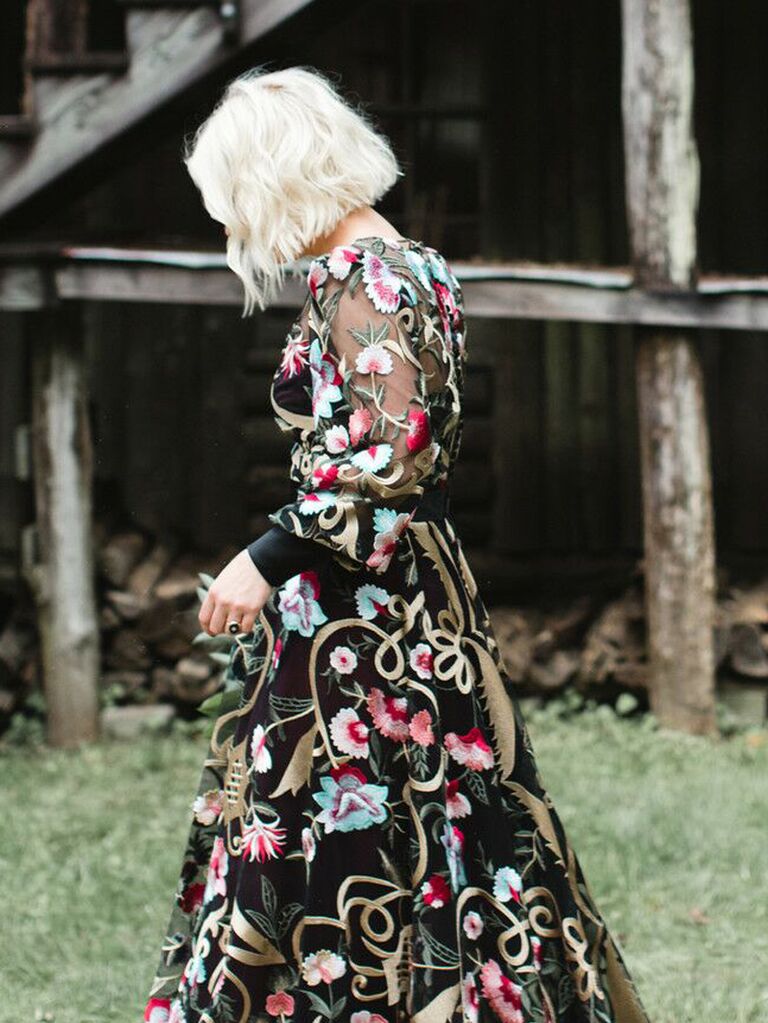 Look for short wedding hairstyles for guests? Try rocking this easy look. Let your hair air-dry and then add in some waves with a curling wand for extra drama. Brush it out with your fingers and comb some pomade through for that chic piece-y look.
Fishtail Braid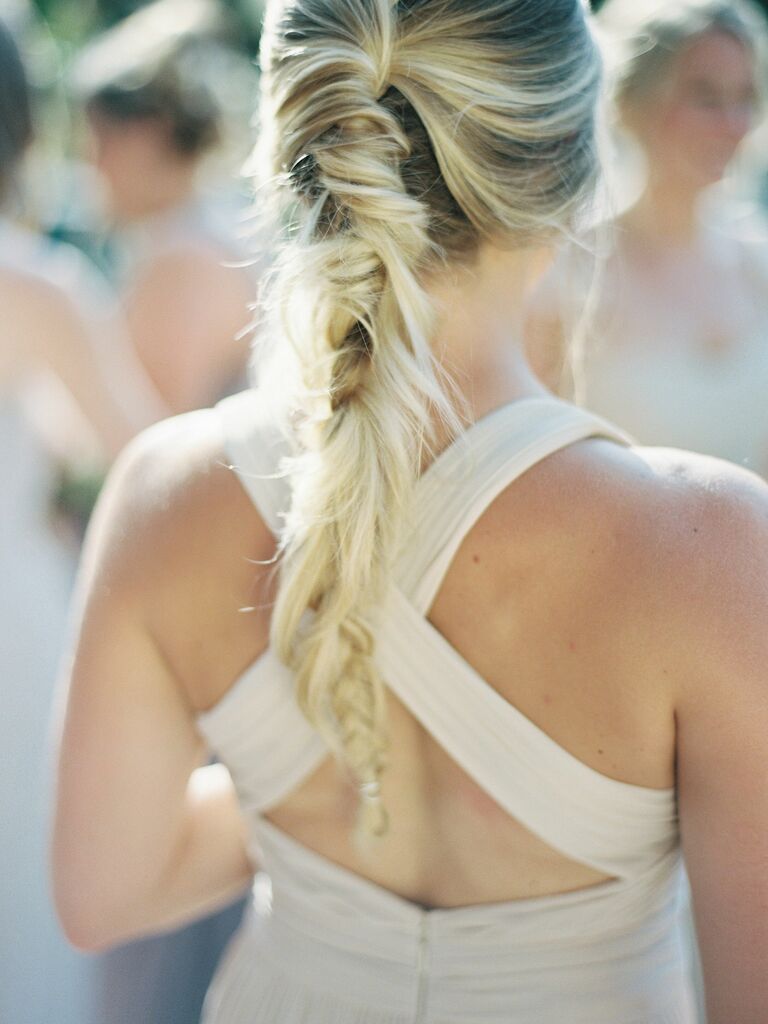 Know how to fishtail braid? Rock this easy wedding guest hairstyle. Simply braid hair back and secure with an elastic. It'll look like you got it professionally done.
Braid Crown
Another easy wedding guest hairstyle is a braid crown. Braid both sides of your starting at the nape of the neck and secure with elastics. Then, gently lift them up and wrap them around the top of your head. Secure with bobby pins, and then take out the elastics for a seamless braided updo.
Short and Sleek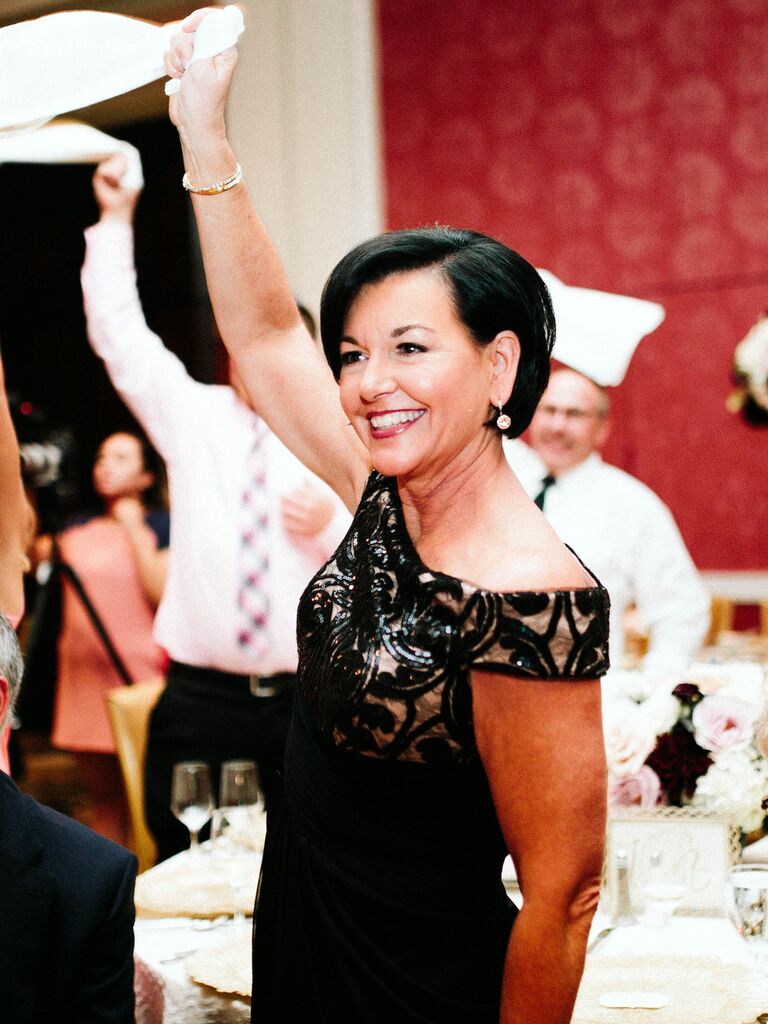 For a modern and classy look, consider straightening your tresses. Add in some hairspray, styling cream or gel to keep everything in place.
Half-Up With Bangs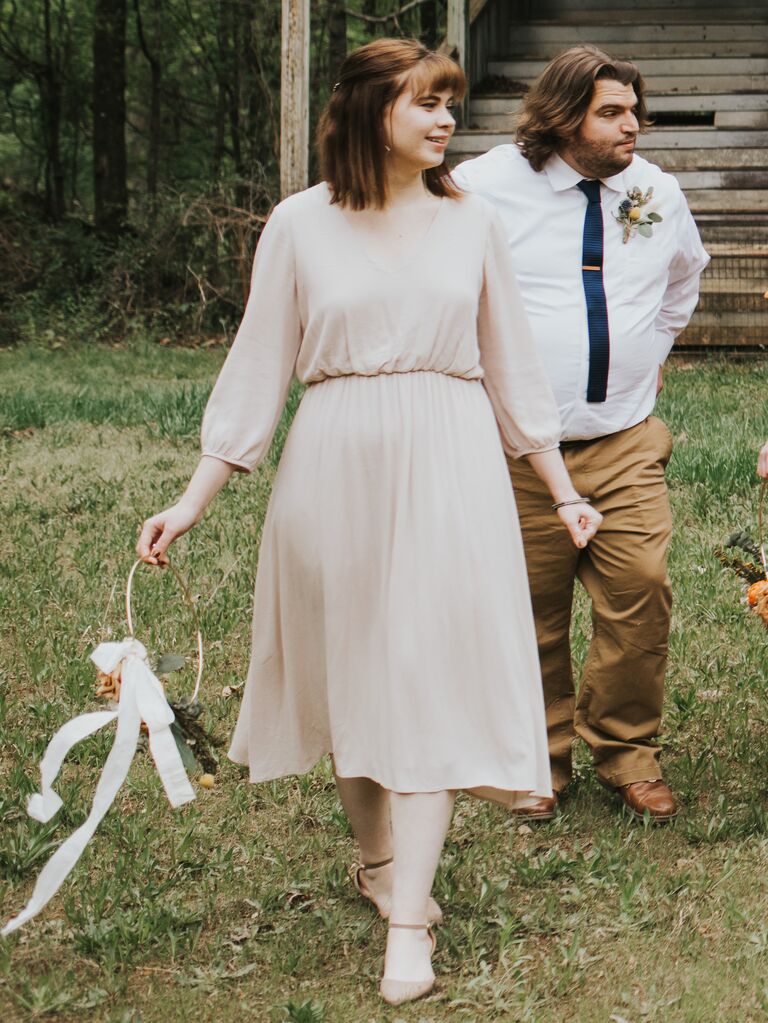 Pin half of your hair back and let your bangs shine. This popular wedding guest hairstyle will only take minutes for you to do.
Short Curls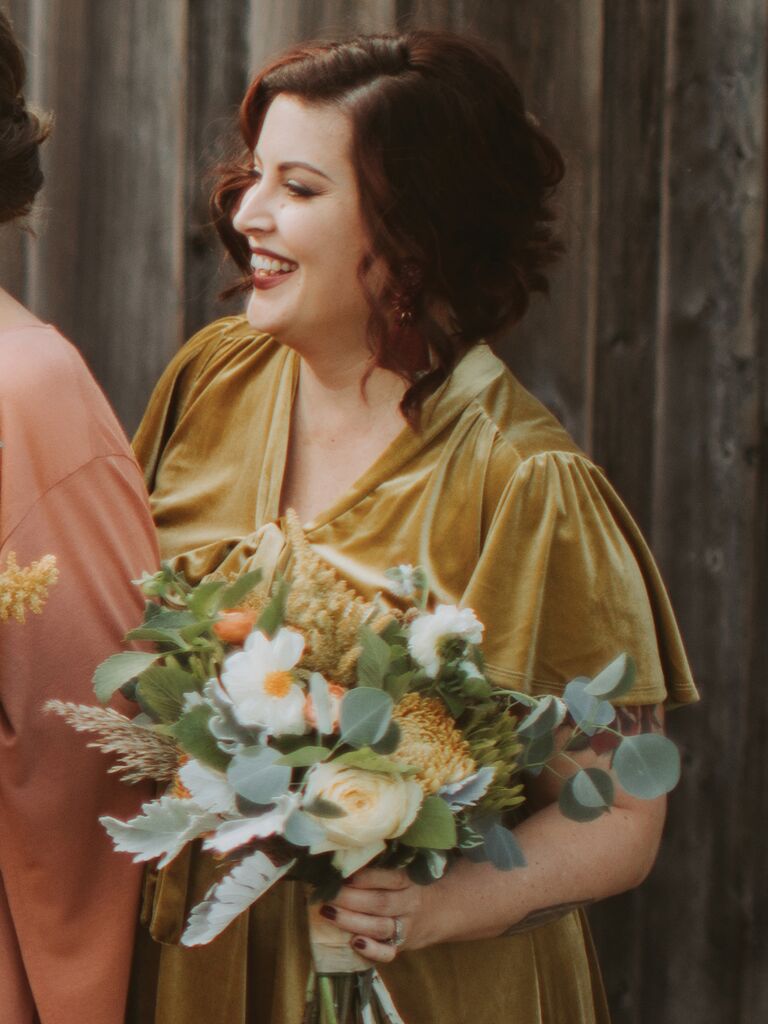 We love beach-blown waves for short hair. Use a small curling iron to add texture and then gently run your fingers through them. Top it off with some hair oil for extra shine and hairspray for extra hold.
Sweeping Bangs
Searching for more short hairstyles for wedding guests? Check out this funky 'do. Use a curling iron to style your bangs in a sweeping fashion, and add in hairspray so it keeps its shape throughout the night.
Braided Low Ponytail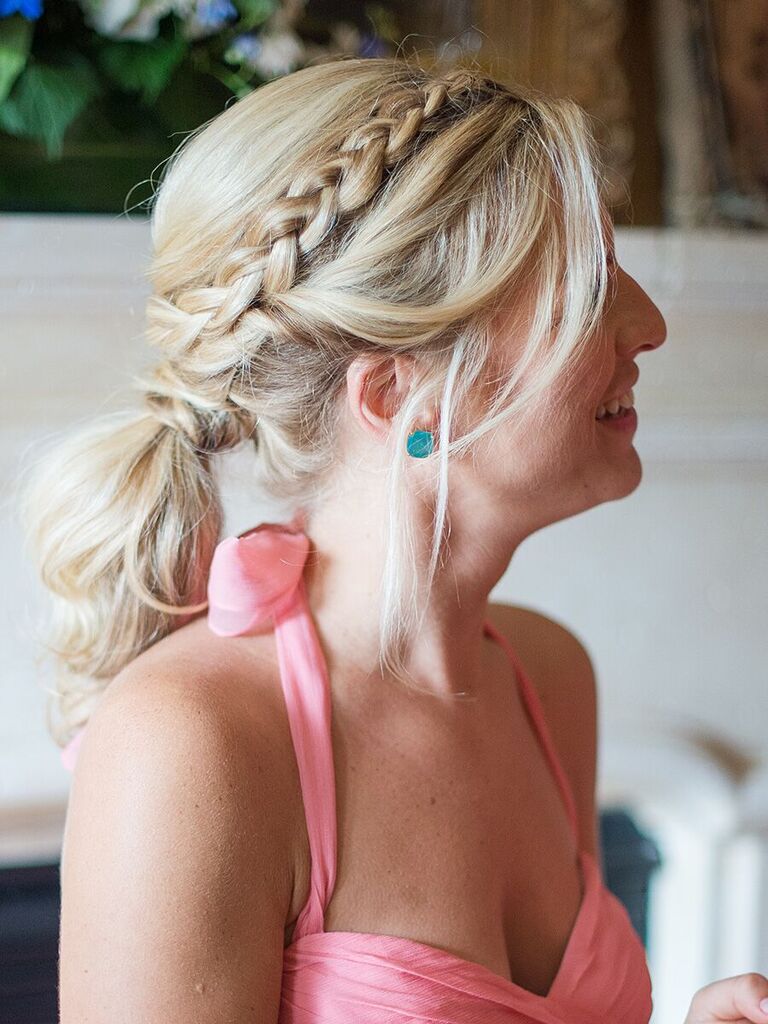 This is a wedding guest hairstyle that looks hard to achieve, but is totally manageable. First, section off a chunk of hair at the front of your head, braid and secure with a small elastic. Pull on the edges to make it look fuller, and then gather it into a low ponytail with the rest of your hair. Take it to the next level by wrapping a piece of hair from your ponytail around your elastic.
Retro Curls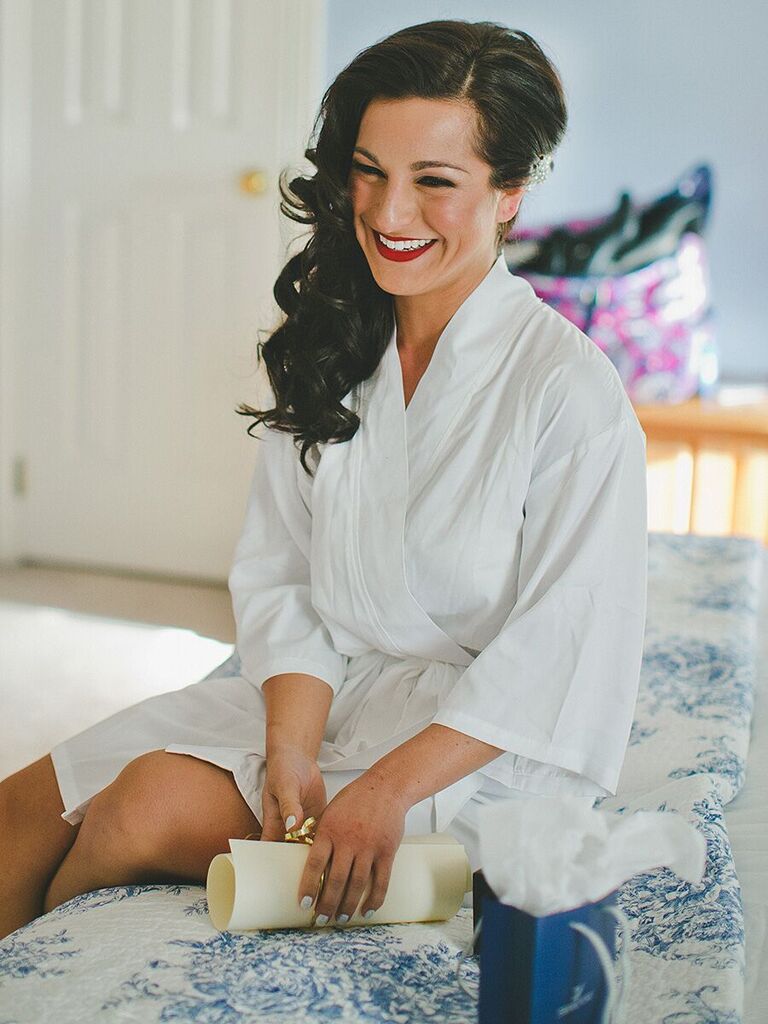 Going to a retro-themed wedding? Rock this vintage wedding guest hairstyle. Create a side part, curl your locks with a small barrel and set with hairspray. Then take one side and pin it back behind your ear with a barrette.
Pinned to One Side
Style your hair in glamorous loose curls and pin one side back behind your ear. It's equal parts edgy and elegant.