47 Bridal Wedding Updos That Will Look Stunning In Photos
From classic to boho, we've got a style for everyone.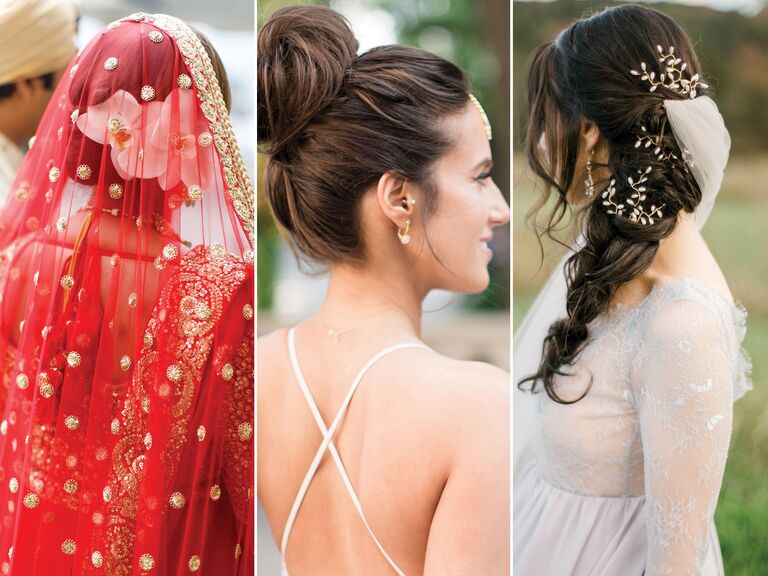 MEEWMEEW STUDIOS,Avery House,KELLY ANNE PHOTOGRAPHY
Wedding updos are a popular wedding hairstyle for multiple reasons. This particular choice marries form and function: they're classic and elegant, but they also keep your hair off your face and off your back. (Key if you're planning on dancing the night away.) If you're thinking of rocking a wedding updo for your nuptials, we rounded up some of our favorite ideas.
With long hair, your wedding updo options are pretty much endless. Braids, buns and chignons galore are all at your disposal. (If you're trying to grow your hair a little longer for your ceremony, here are a few tips.) If you don't have enough length to pull off your dream hairstyle, consider using hair extensions. Your hairstylist can work with you to give you the perfect wedding updo. Don't worry, you can make some of these styles work for short hair too. Work with a professional to come up with a plan.
If you're struggling to choose a style, consider different aspects of your celebration for inspiration. For example, your venue. What's the formality factor: Is it outdoors or in a ballroom? A slick ballerina bun is an elegant choice for the latter, while tousled curls pinned back with flowers would blow beautifully in a beach breeze. Alternatively, look to your wedding dress neckline and veil style to narrow down your hairstyle—some necklines lend themselves better to updos than others. Or, browse through our favorite wedding hair ideas (there are 47 of them), below.
In this article:
Wedding Updos For Every Style
Ballerina Bun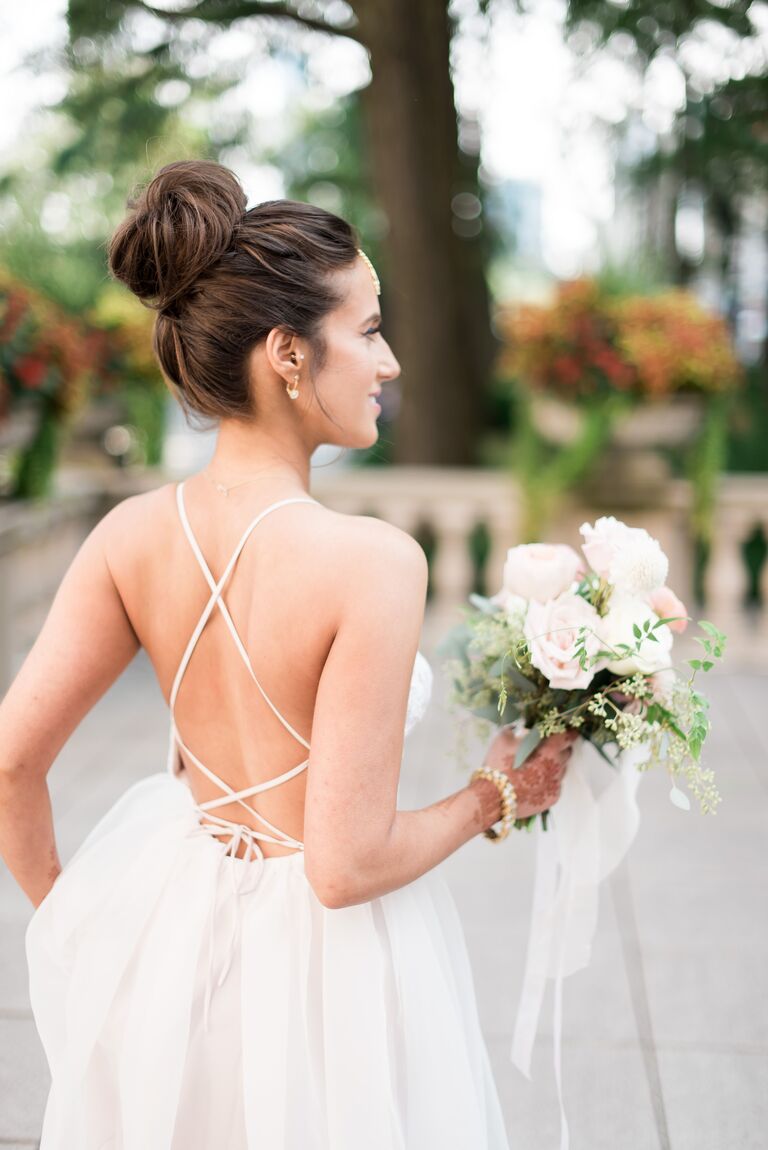 A topknot bun is a fresh, modern twist on the classic chignon. Pull out pieces at your temples for a chic boho vibe.
Messy Pined-Up Bun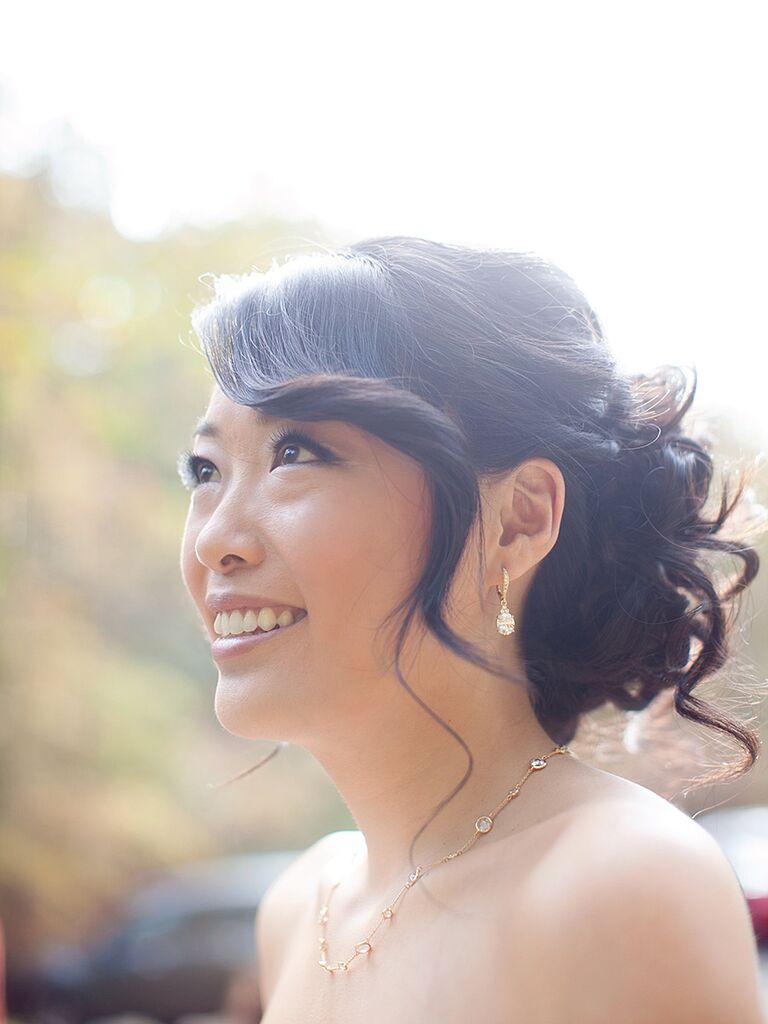 Tousled curls pulled back into a low bun looks chic and put-together, but still has a bit of bounce. (Read: it will look amazing while you dance the night away).
Gibson Tuck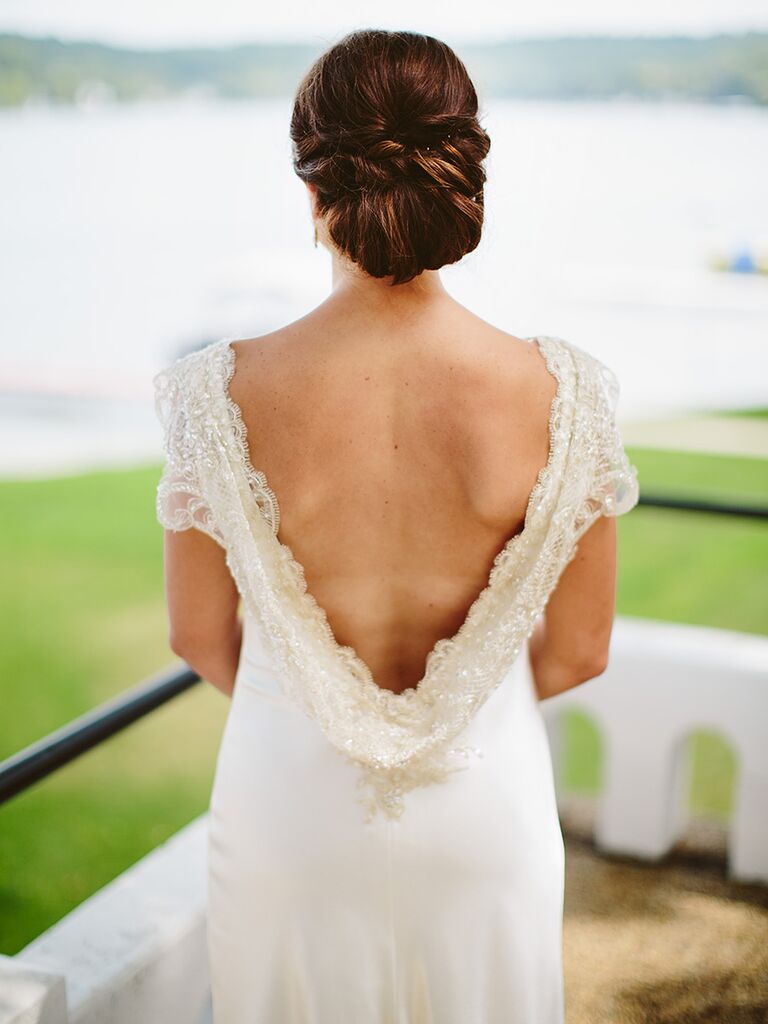 Want to show off an open back? This twist-and-tuck bun will keep all your strands in place.
French Chignon Twist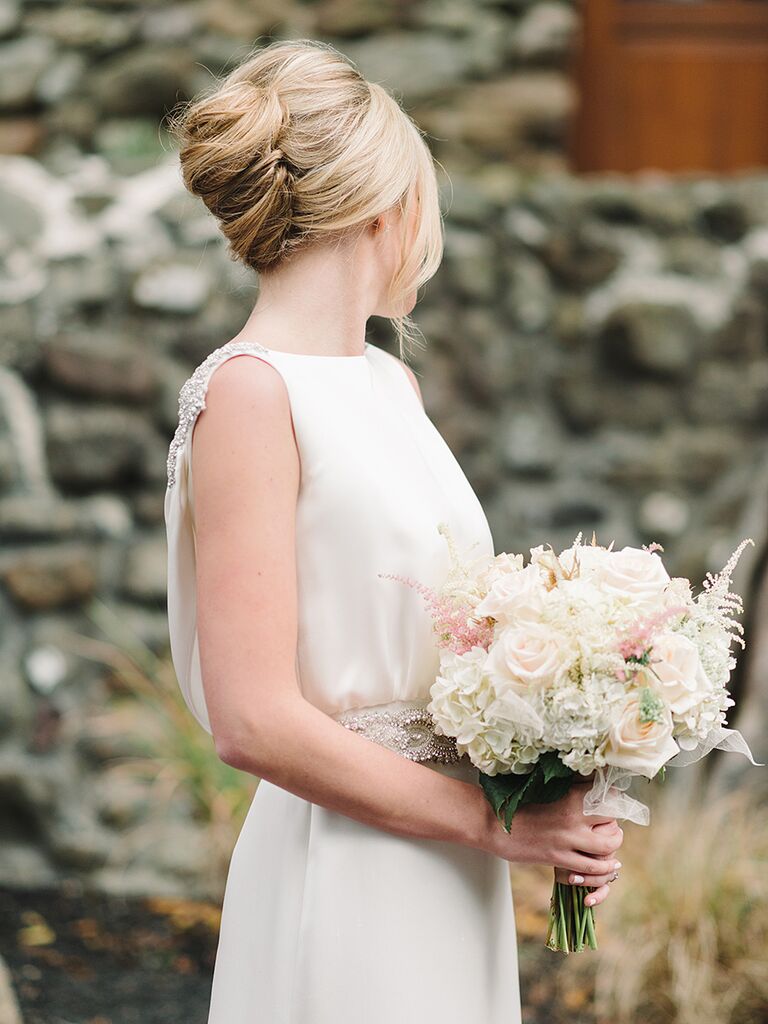 This updo is frequently worn on the red carpet because of its classic sophistication.
Twisted Ballerina Bun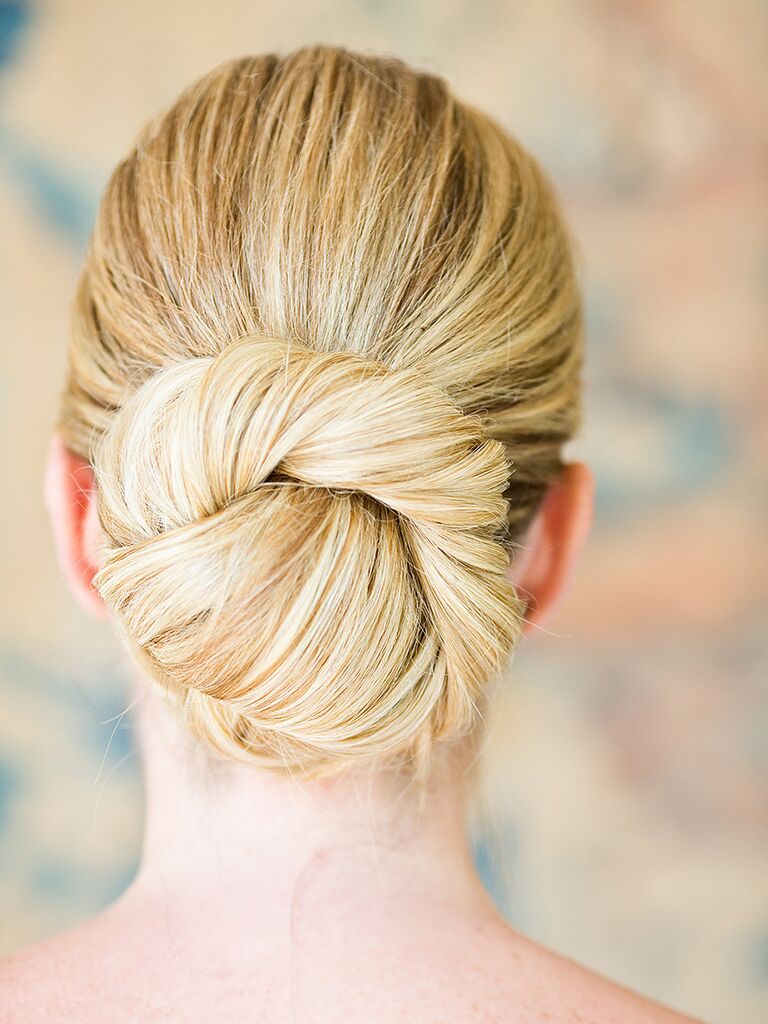 A perfectly polished low ballerina bun. Is there anything more classic?
Sleek Low Bun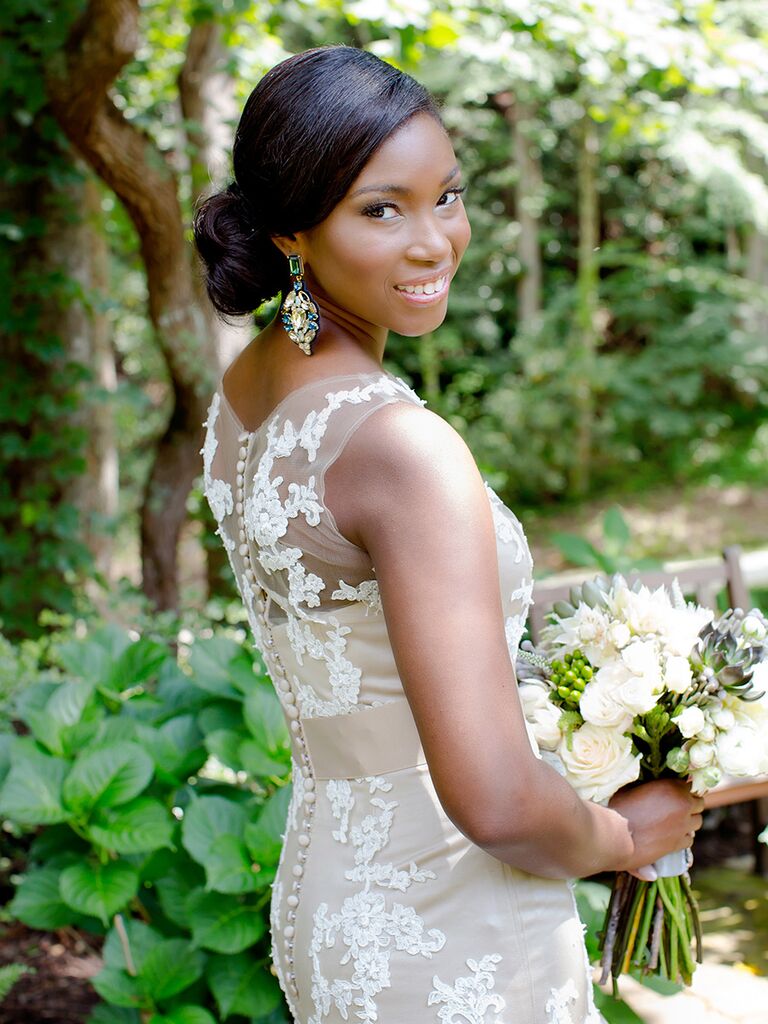 A deep side part slicked back into a sophisticated bun is the perfect style to highlight a gorgeous pair of wedding earrings.
Slick Ponytail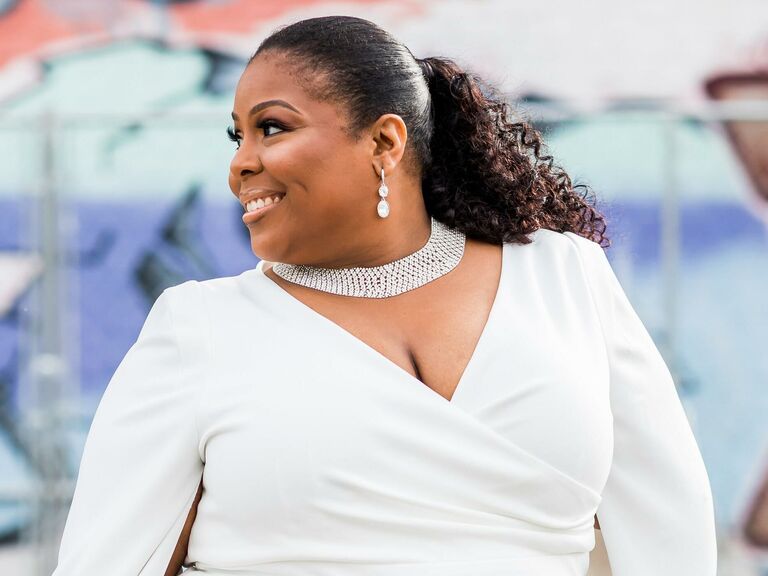 The ultimate cool-girl wedding 'do? A simple, but totally modern, ponytail.
Bouffant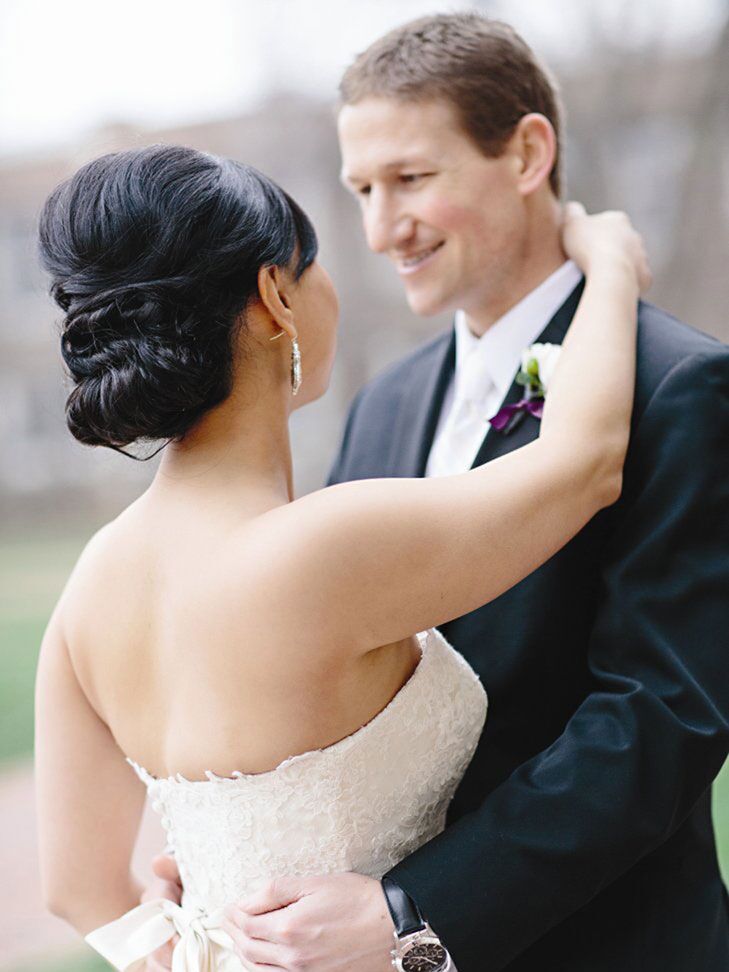 This wedding updo is equal parts elegant and bold. Make it even more dramatic by adding more volume.
Loose Ponytail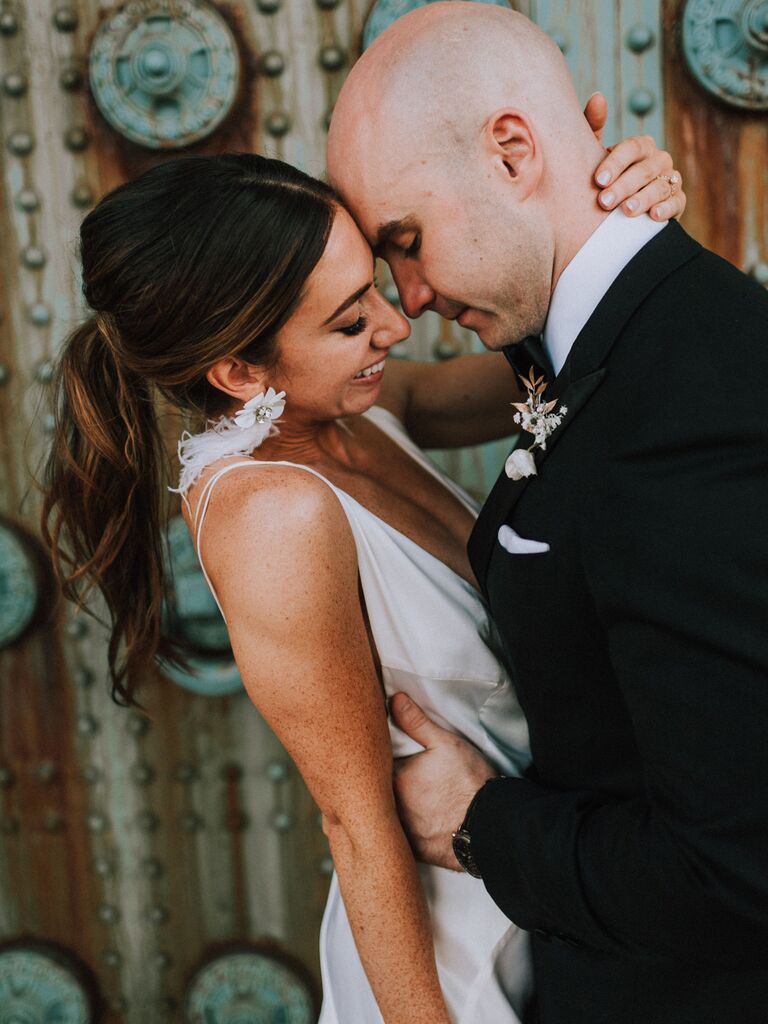 It's no wonder why ponytails are a massive wedding hair trend of 2020. They're effortlessly gorgeous.
Messy Bun
Your wedding updo doesn't have to prim and proper. We love loose wedding updos like this bun, which is equal parts messy and polished.
Rolled Curls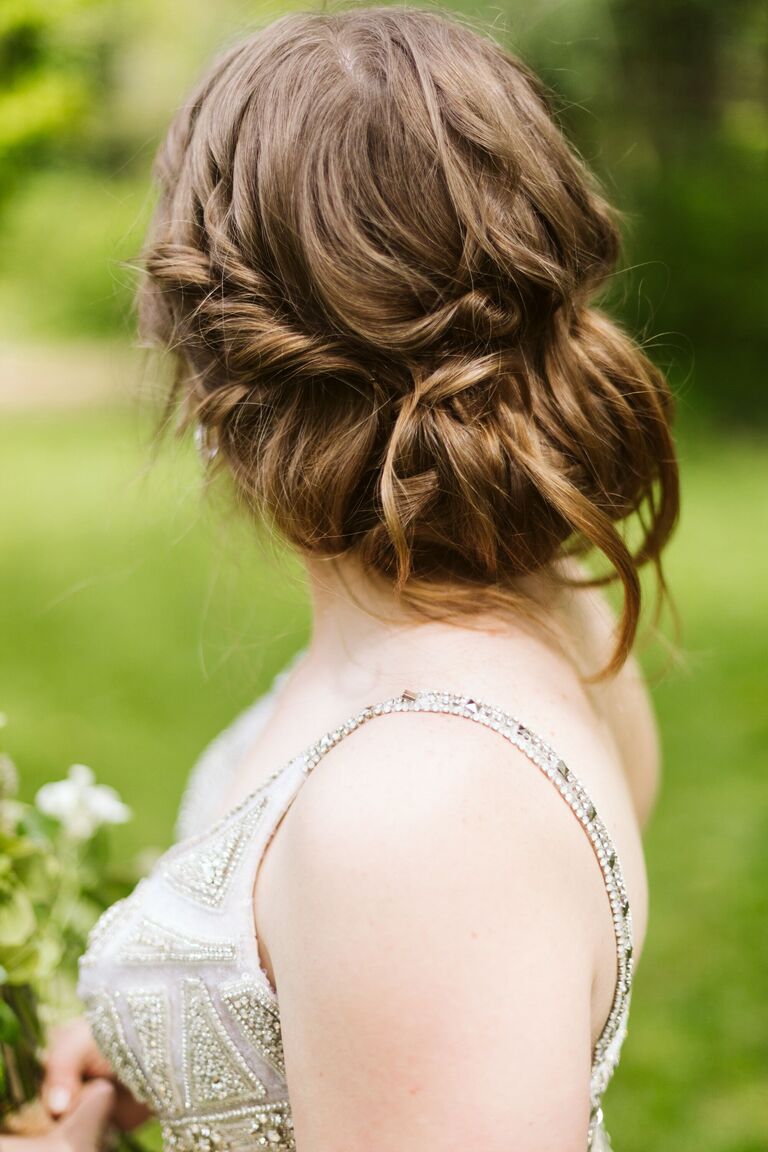 This loose wedding updo is the perfect mix of done and undone.
Side Bangs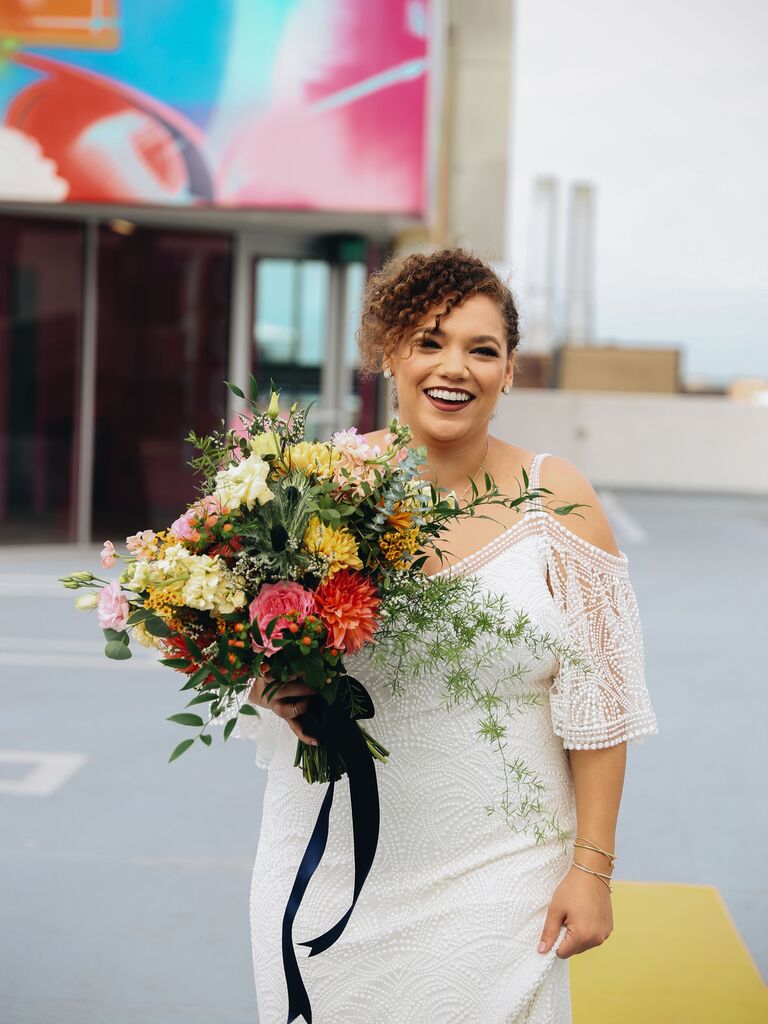 Flaunt your fringe. Pull your hair back into a low bun and let your side bangs shine.
Classic Chignon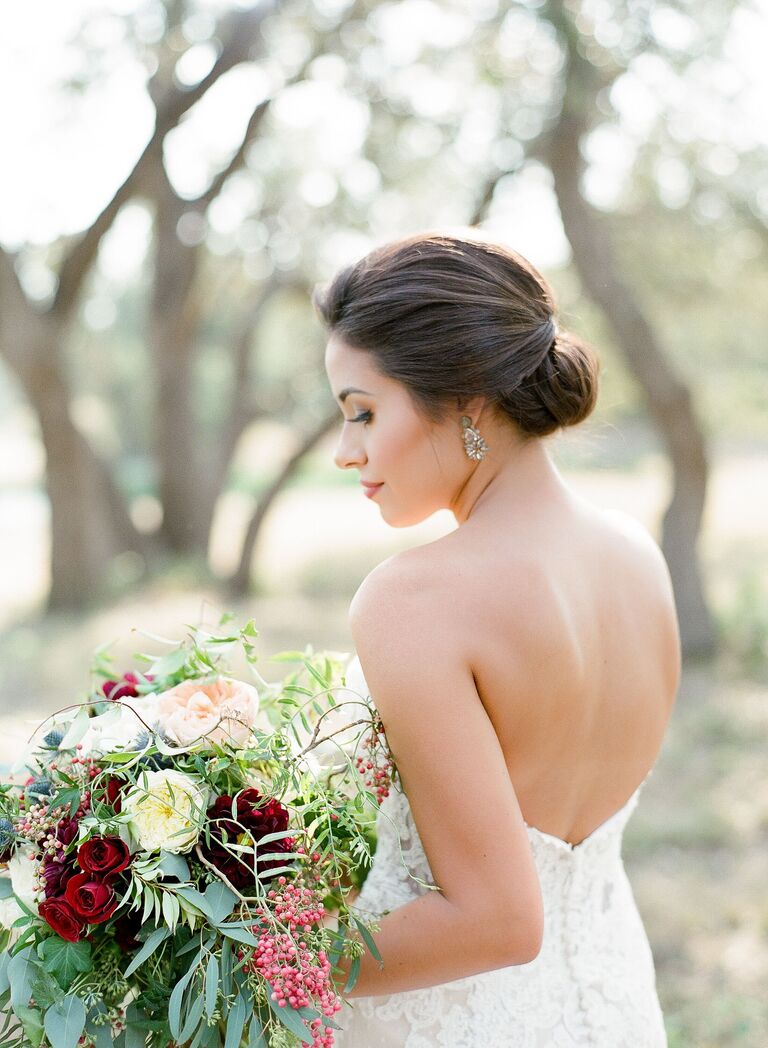 Of course, we'd be remiss not to mention the classic chignon. Psst: it was a massive celebrity wedding beauty trend in 2019.
Pop of Color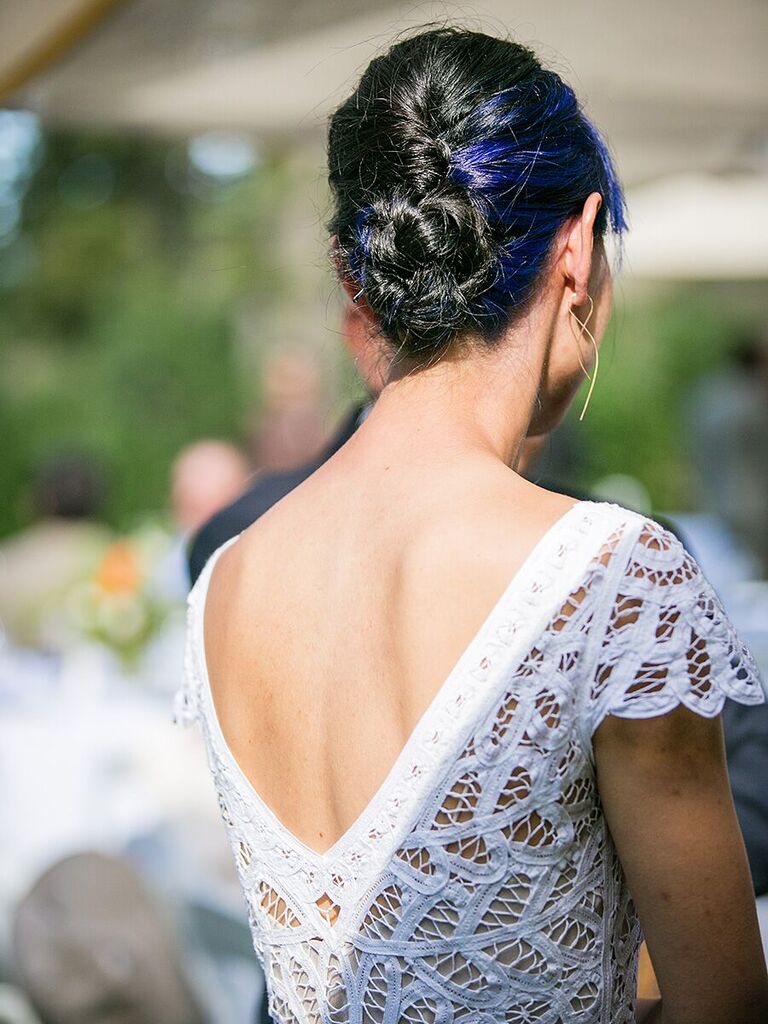 Add dimension and character to your wedding updo by coloring your hair. After all, hair colors like citrus and tangerine are trending this year.
Wedding Updos With Braids
Braided Bun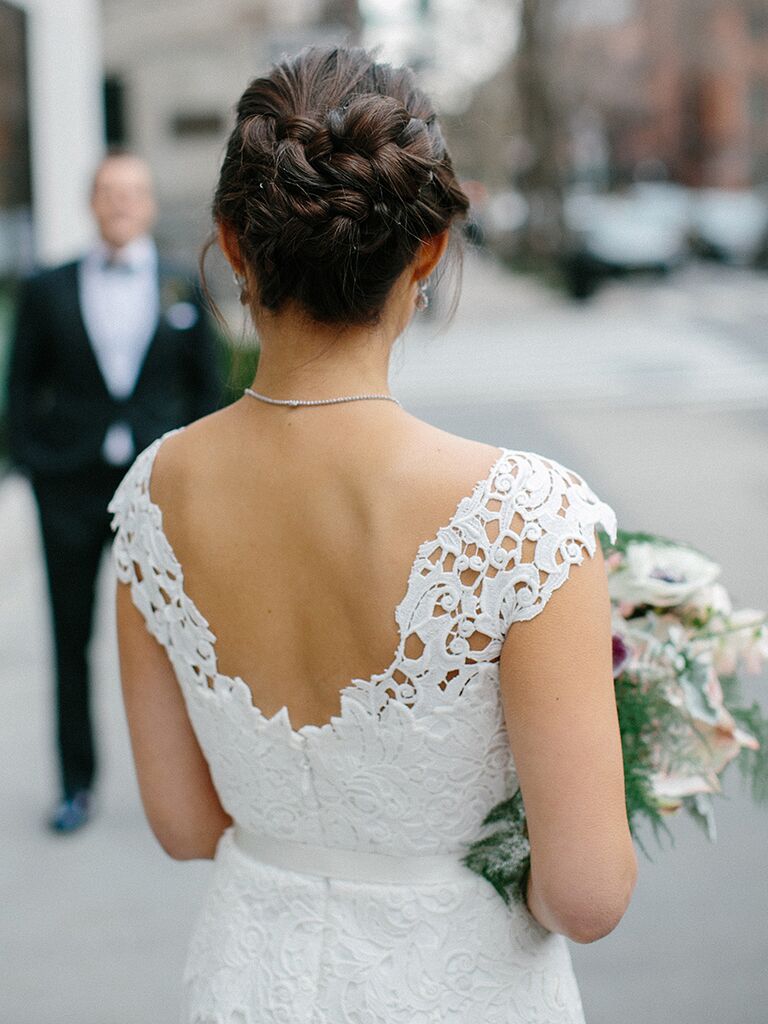 A braided ponytail wrapped into an updo is a fun take on a traditional style.
Loose Boho Bride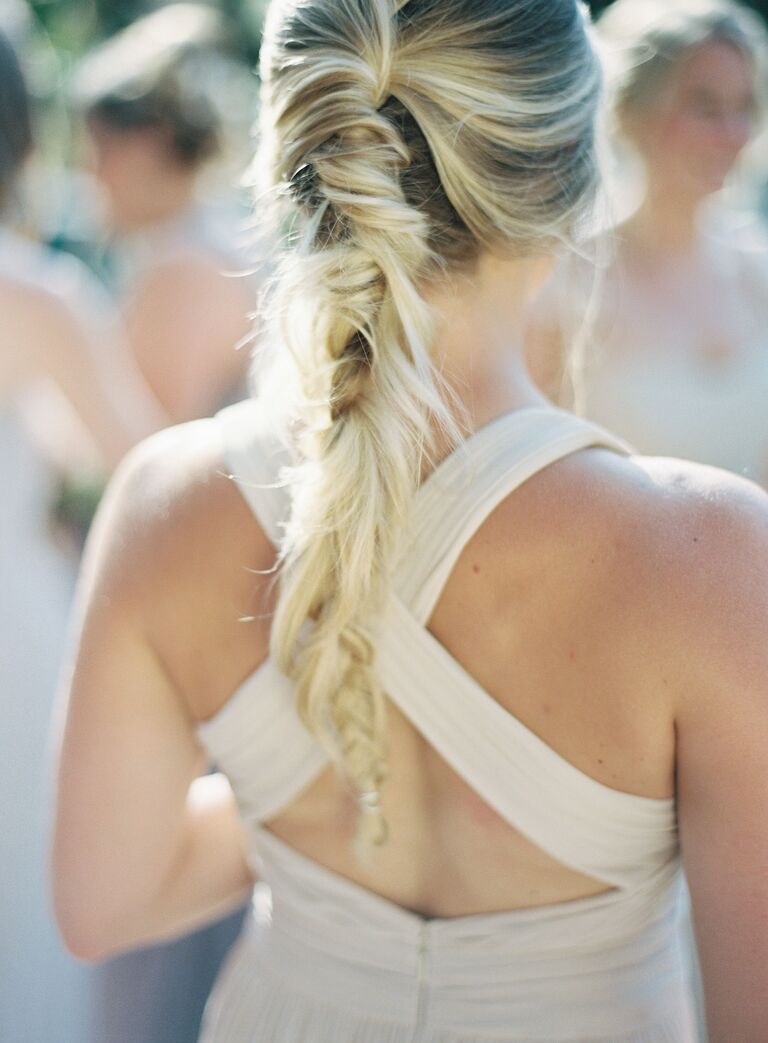 This messy fishtail braid is perfect for cool-girl brides who want a mix of edgy and pretty.
Textured Tuck
Make a simple low bun a little more interesting by adding in a pretty braid. We love the idea of wrapping it around your bun for a unique and gorgeous wedding updo style.
Twisted Topknot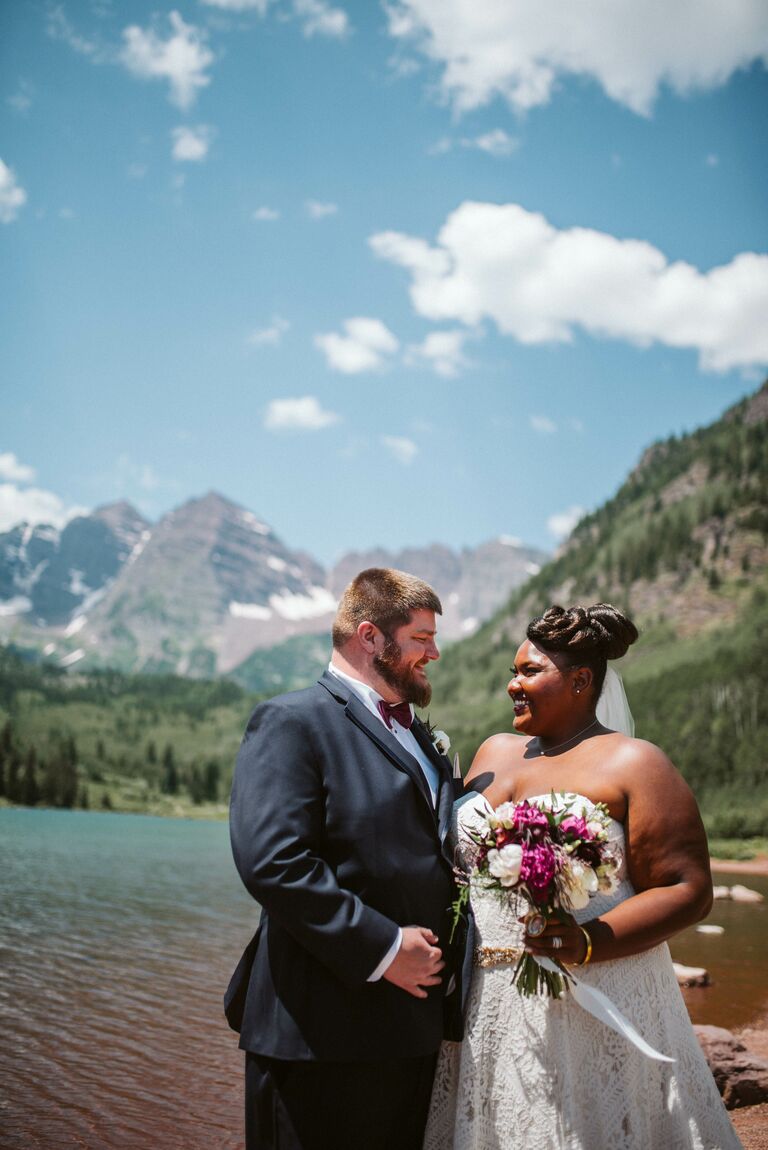 This twisted style is a unique and unexpected take on a braided wedding updo.
Braid Crown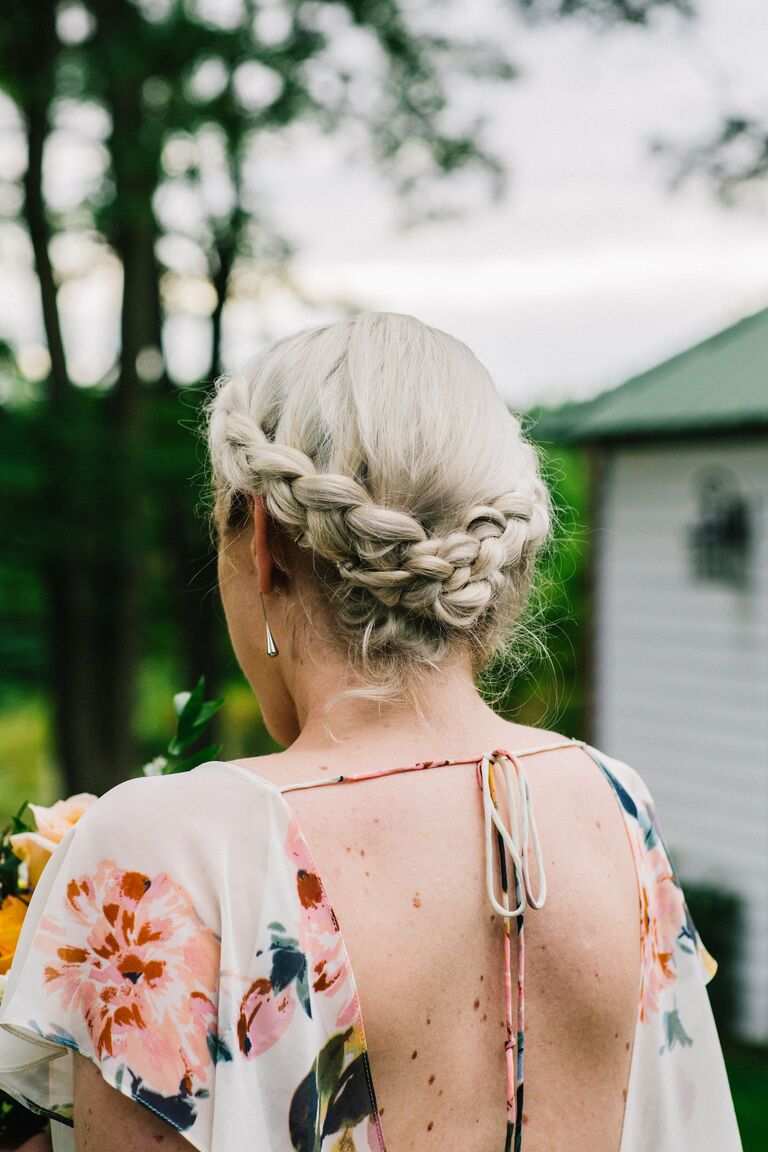 We love the idea of a braid crown for a wedding updo because it's practical (it'll keep your hair off your face and neck) and beautiful.
Funky Braided Updo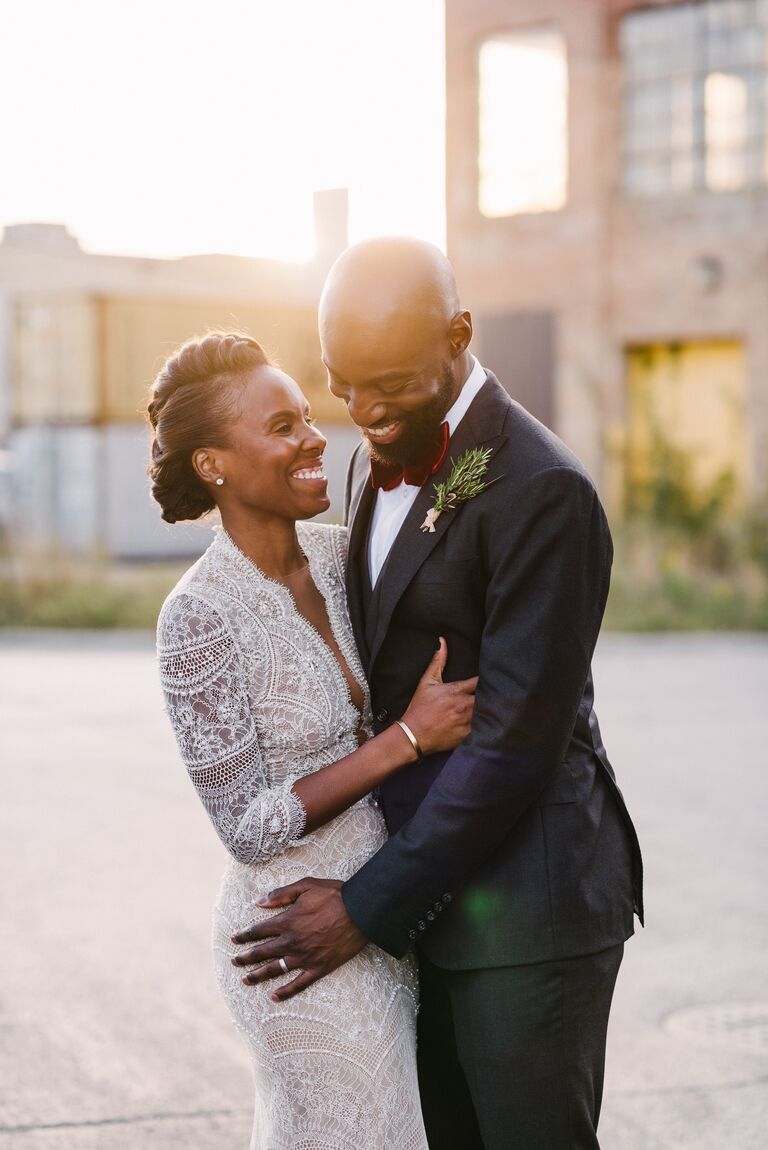 Calling all edgy brides. This unique wedding updo will make a statement at your nuptials.
Fishtail Braid with Bow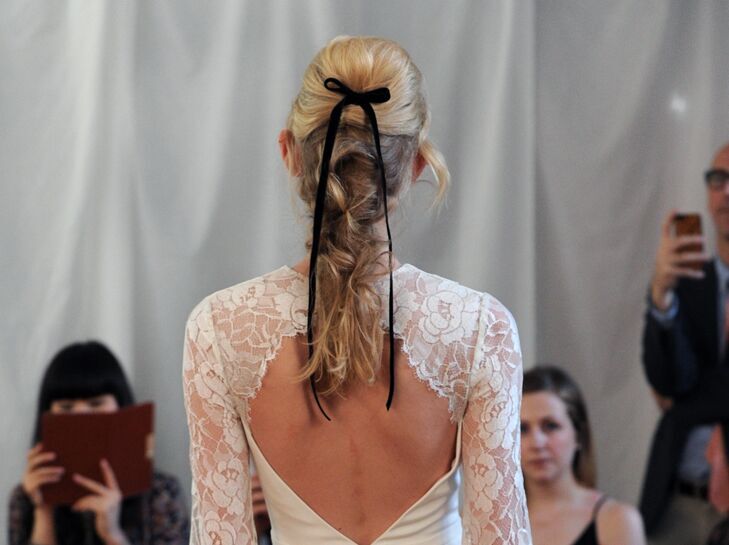 Balance out the edgy look of a fishtail braid by adding in a perfectly polished bow tie.
Dutch Crown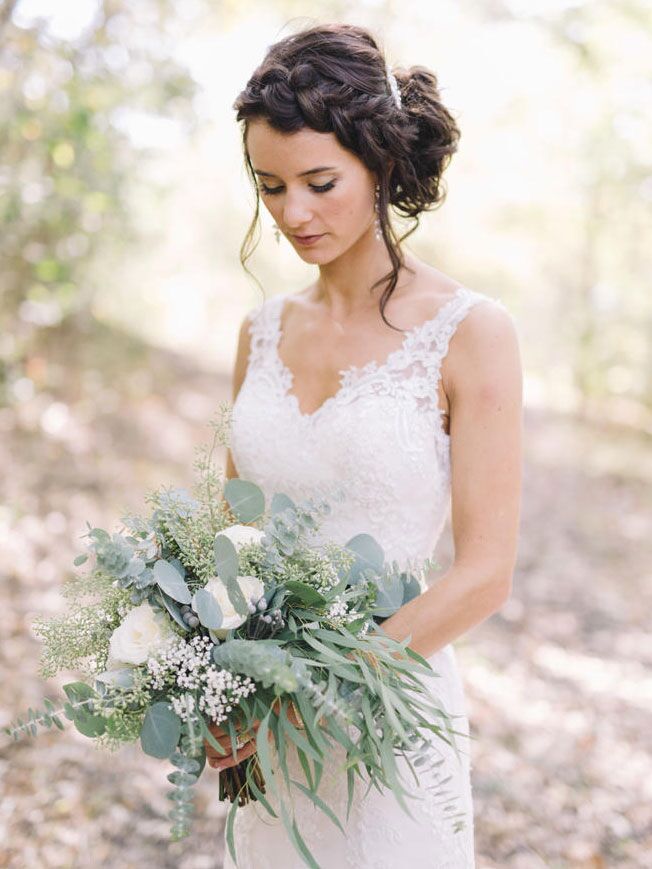 For an ultra-boho look, rock a Dutch braid along the crown on your head.
Wedding Updos With Veil
Veil With Face-Framing Layers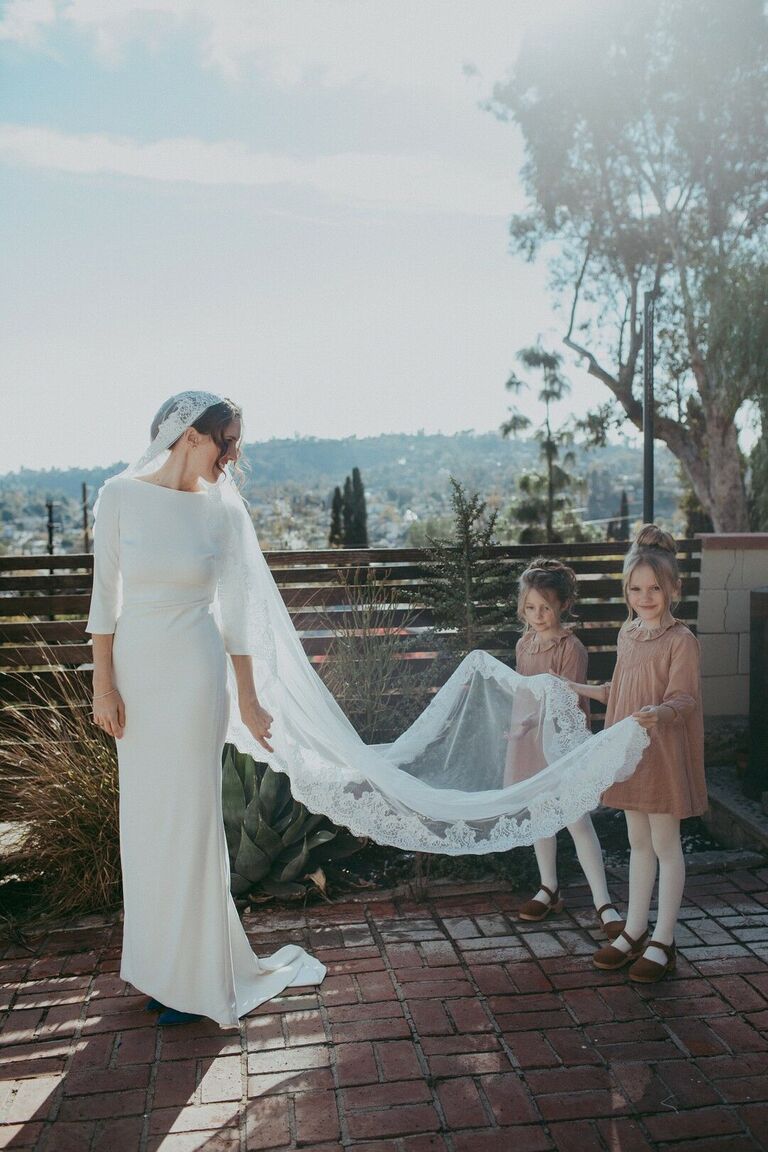 Make your veil the star of the show with this pretty wedding updo. Pull out some wispy tendrils for a soft and romantic look.
Volume & Veil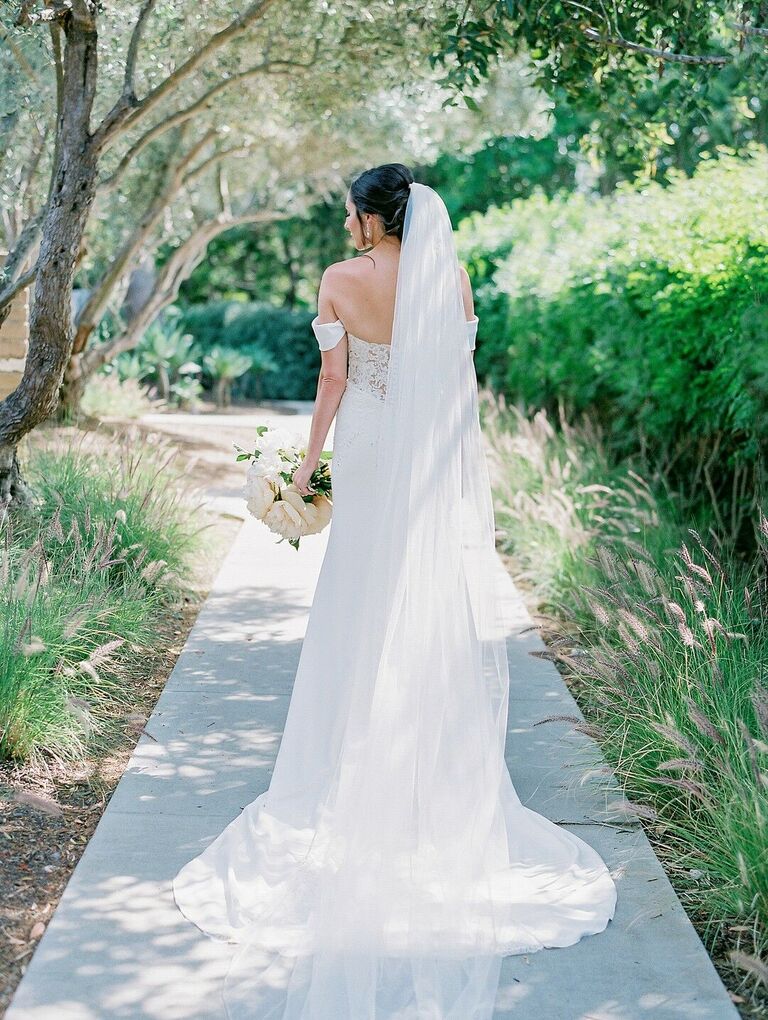 This stunning wedding updo is straight out of a fairytale. Add volume to the top of your chinon and then place your veil right above the twist.
High Veil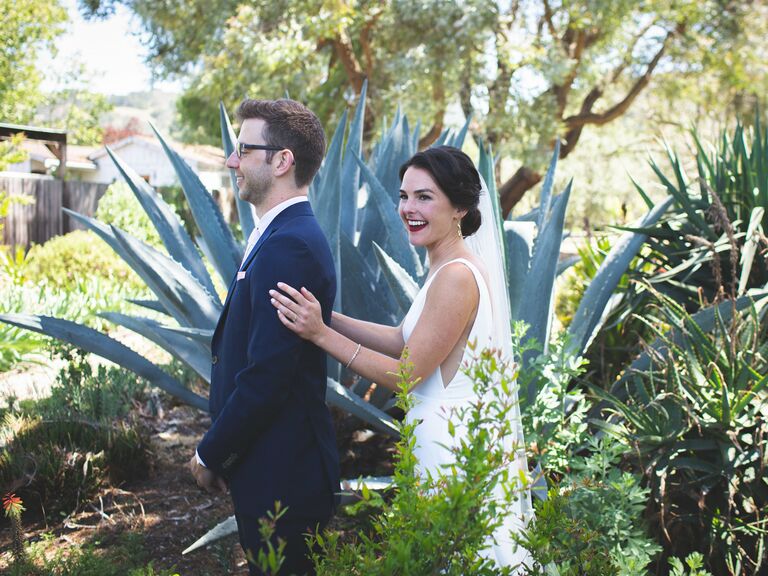 Good news: you can wear a veil without covering your updo. The key is placing the veil higher up above your chignon or bun.
Braided Updo with Veil
Elevate a traditional low bun and veil combination by adding in a pretty side braid.
Hidden Veil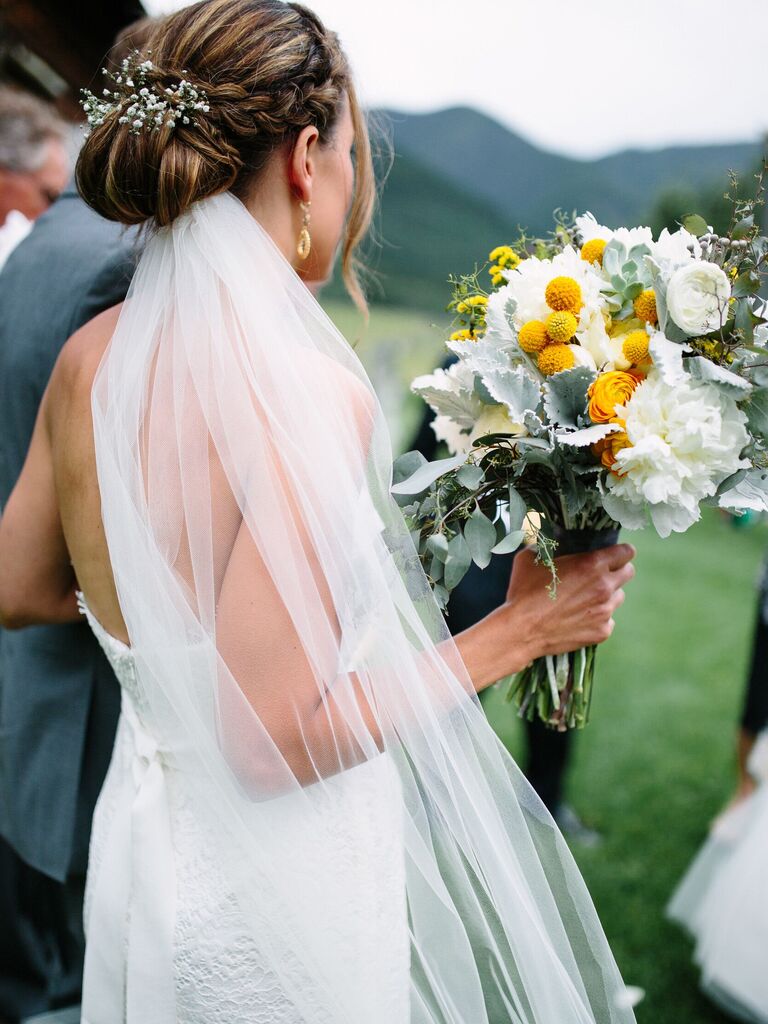 Let your hairstyle shine by pinning your veil underneath.
Birdcage veil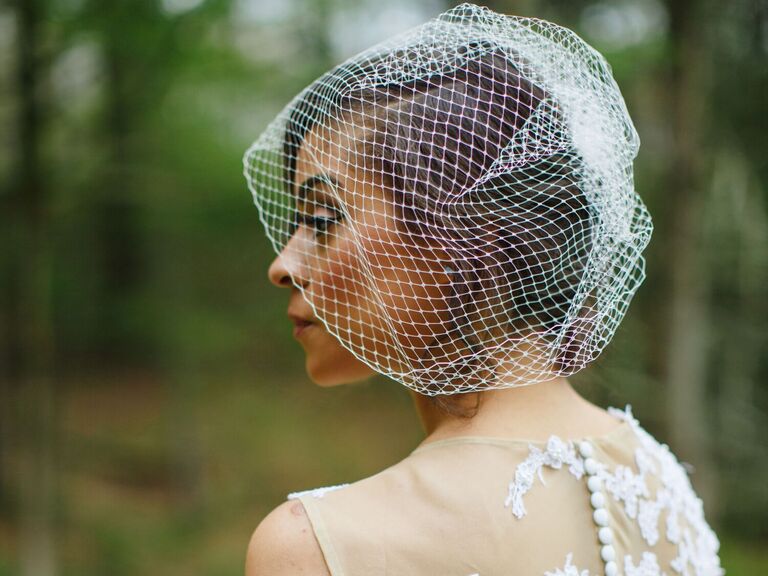 Lean into your retro wedding theme by rocking a birdcage veil on top of your updo.
Wedding Updos With Flowers
Braided Halo With Flowers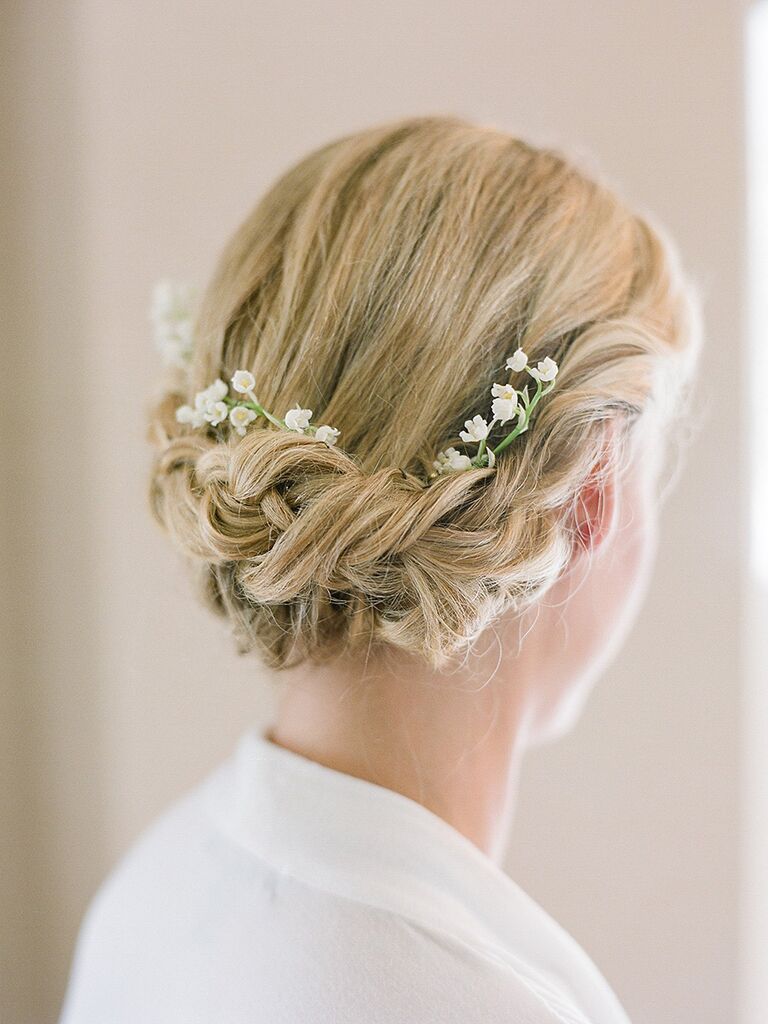 Put a fun spin on a halo hairstyle by tucking in a few small blooms. Don't be afraid to pick colorful flowers—they'll be neatly tucked back thanks to this classic updo style.
Bun With Floral Halo
Add a ring of flowers around your modern high bun for a unique, whimsical effect.
Hidden Floral Halo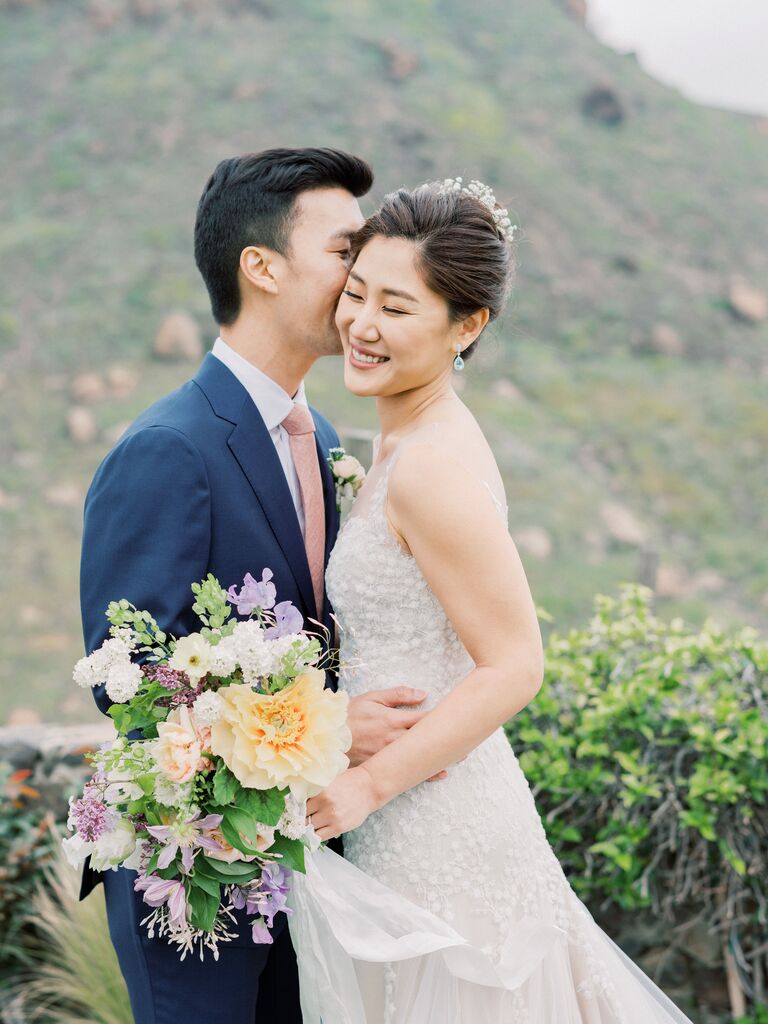 Accent your pretty wedding updo with a subtle hint of flowers at the top. We love the idea of baby's breath since it's so delicate and small.
Green Flower Crown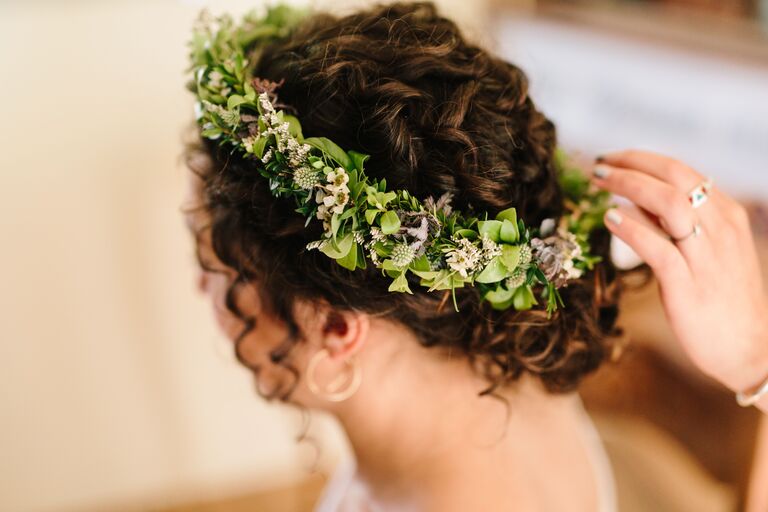 Top off your gorgeous wedding updo with a flower crown. Consider using greenery or wildflowers for a unique take on the popular trend. (Psst: this style looks especially stunning with curly hair.)
Floral Barrette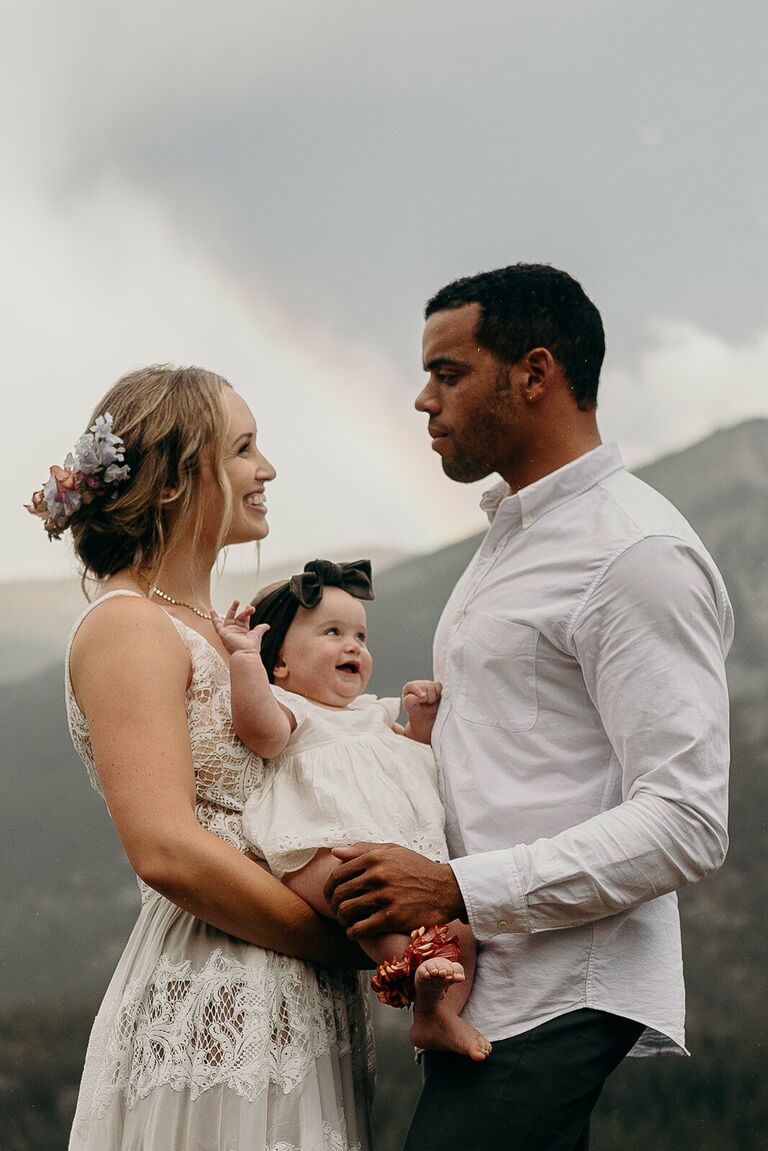 Swap out a traditional sparkly barrette for one made of flowers. It's an unexpected hair piece that will look stunning in pictures.
Oversize Blooms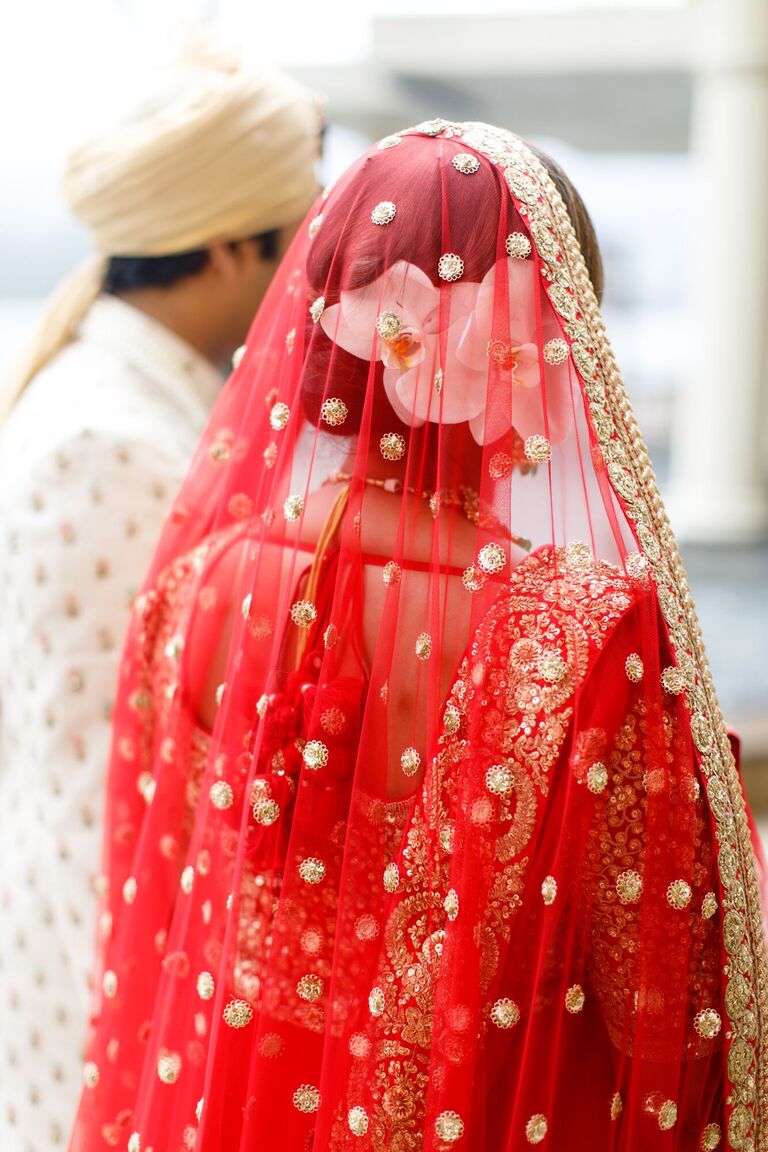 Talk about wow factor. Place oversize flowers underneath your bun and underneath your veil for a gorgeous surprise.
Wildflower Accents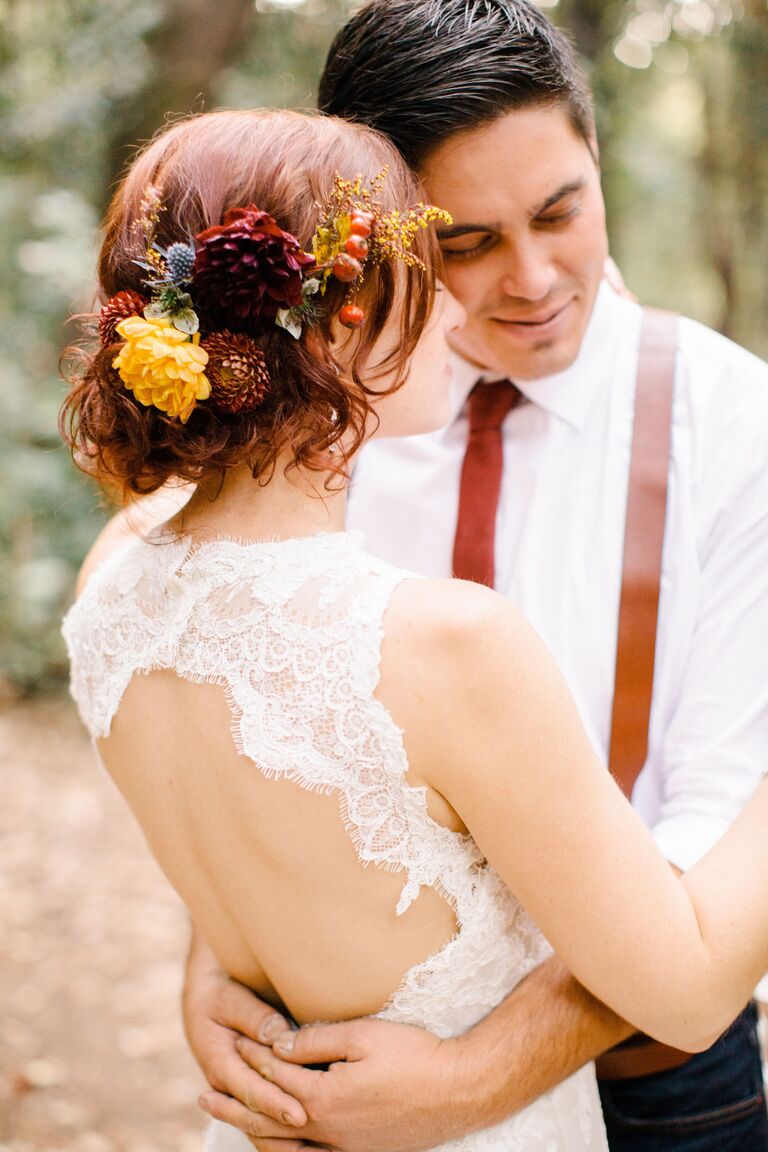 For a fresh take on a classic style, use wildflowers. They're also perfect for jewel-toned wedding color palettes.
Low Bun With Pin Curls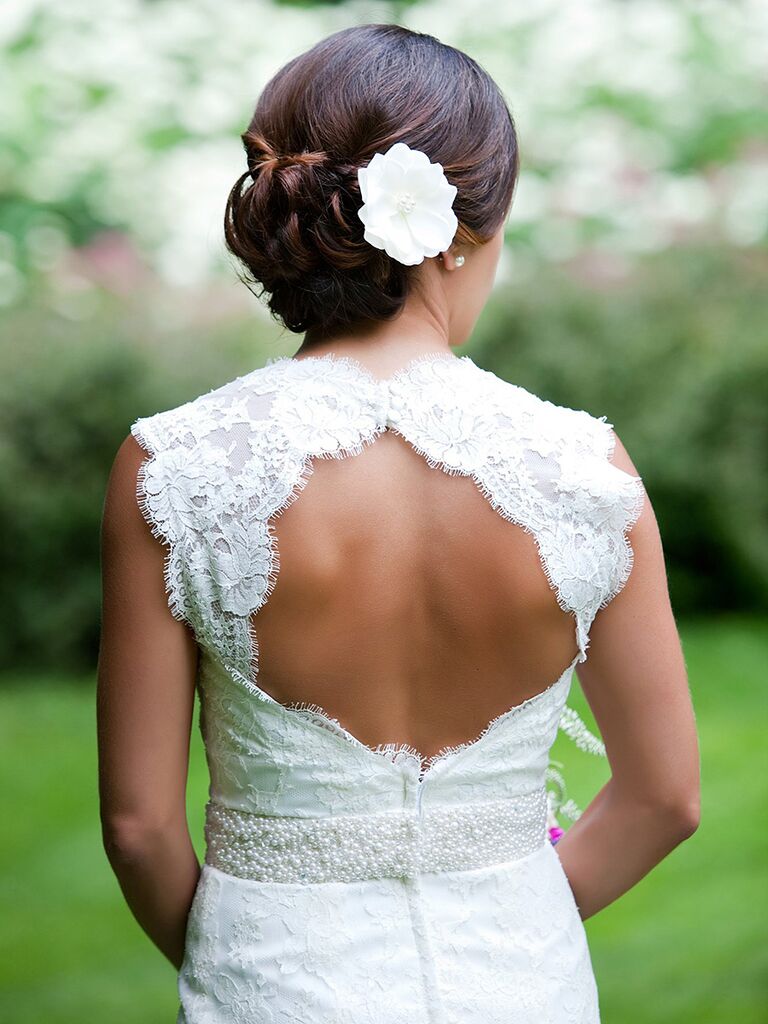 Channel old-Hollywood glamour by rocking pin curls for your wedding updo.
Wedding Updos With Hairpieces
Rosette Twists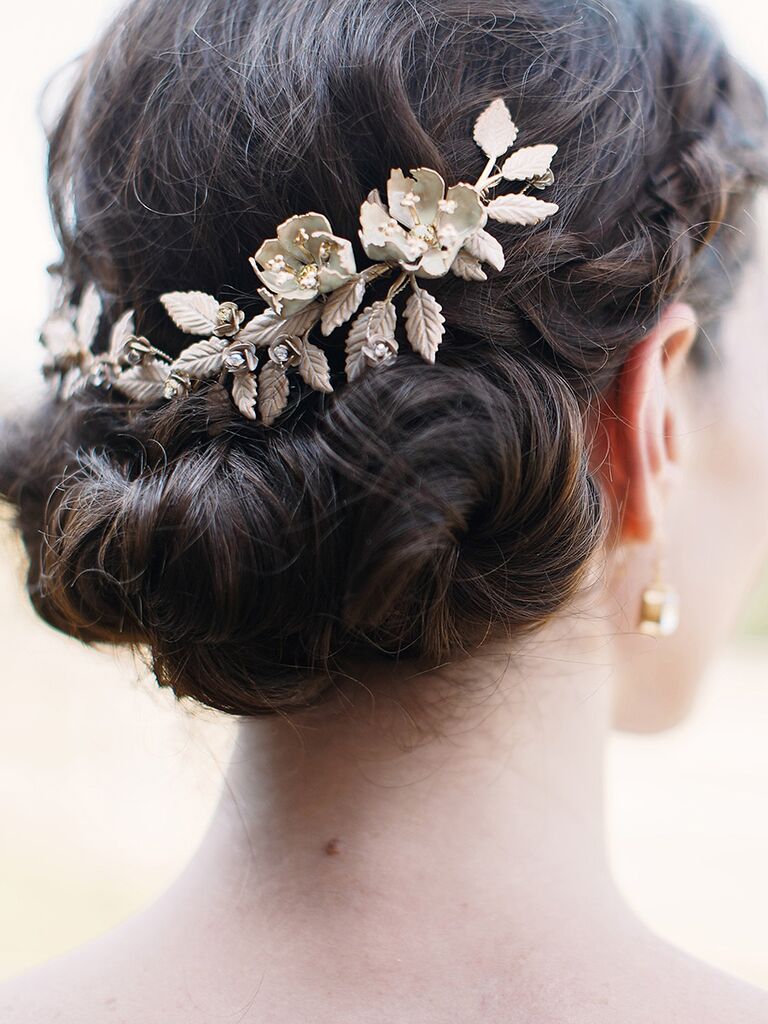 A few twirls tucked and pinned in place look perfectly enchanting with a floral hair piece.
Ponytail With Headband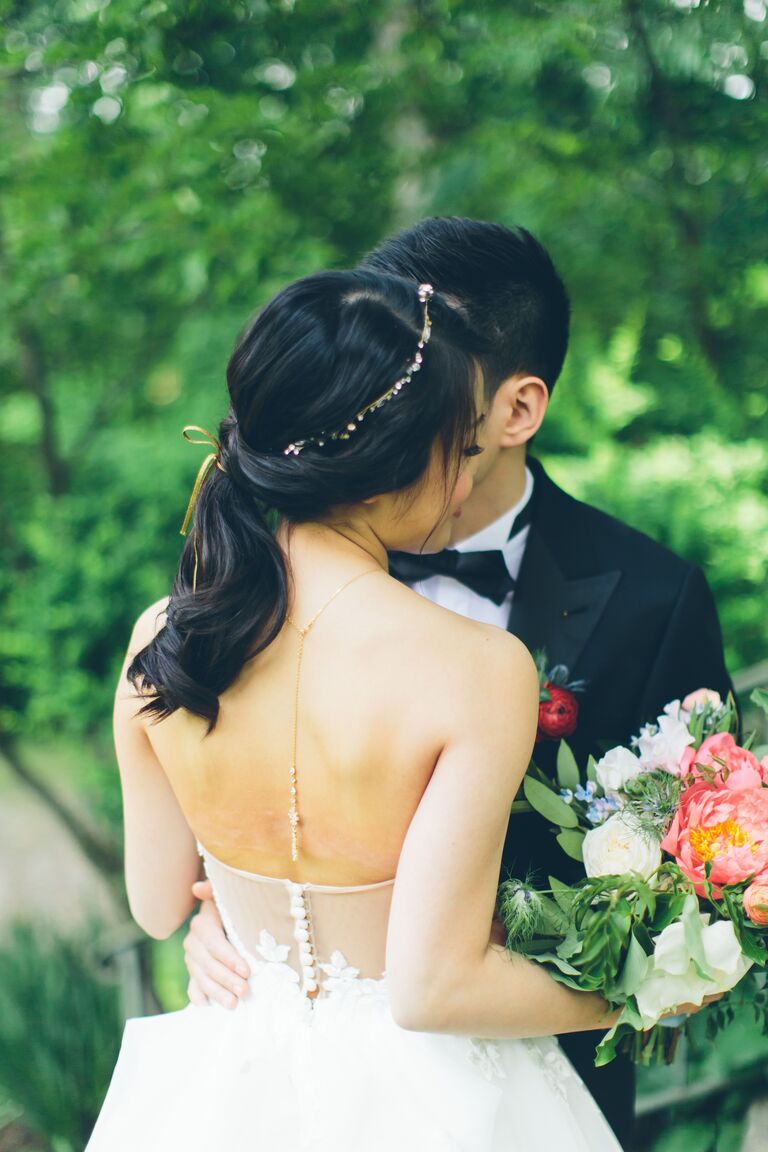 Elevate a simple low ponytail style by adding a sparkly headband for your wedding day.
Sparkly Side Braid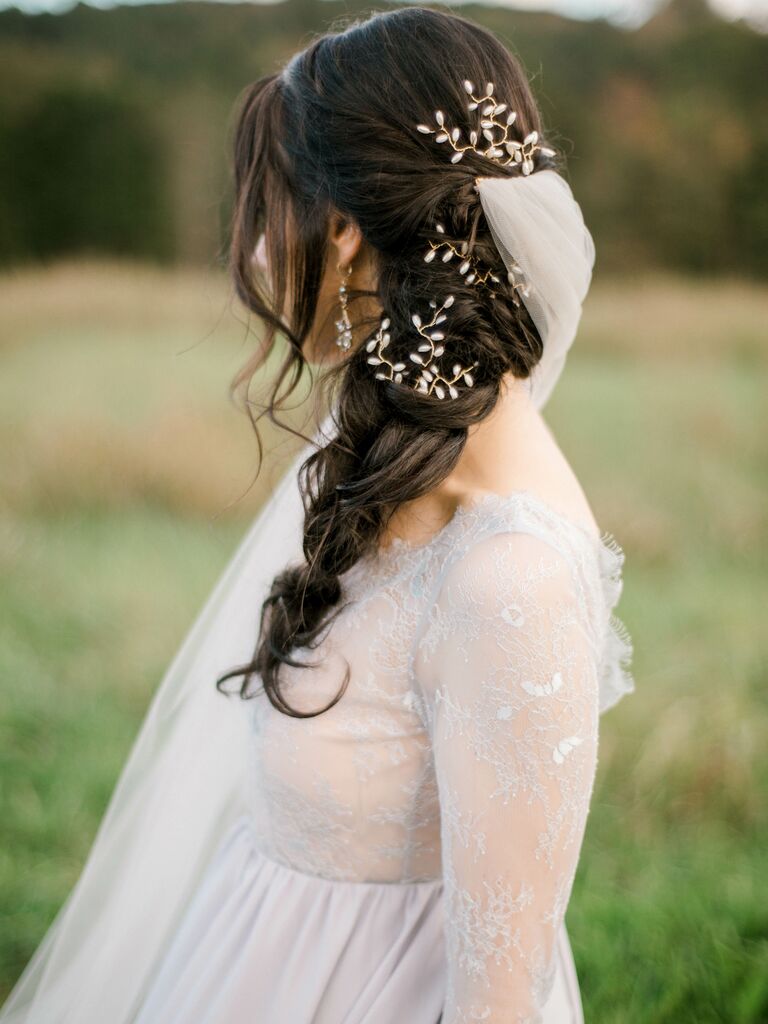 Elevate a pretty side braid with some gorgeous hair pieces. We love this set of flower barrettes.
Messy Bun With a Hairpin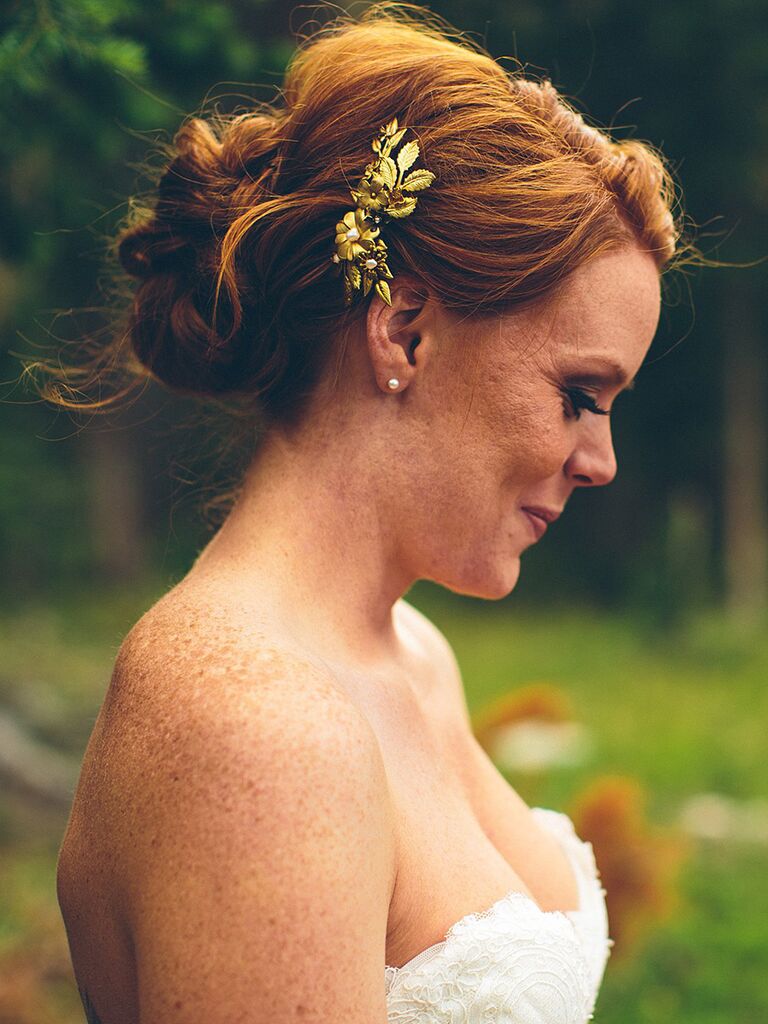 A messy bun looks gorgeous on its own, but adding a vintage hairpin makes it more glam. And it's a fun way to incorporate your "something borrowed."
Simple Sparkle
This twisted wedding updo is already stunning, but adding a little sparkle to take it to the next level.
Traditional Headpiece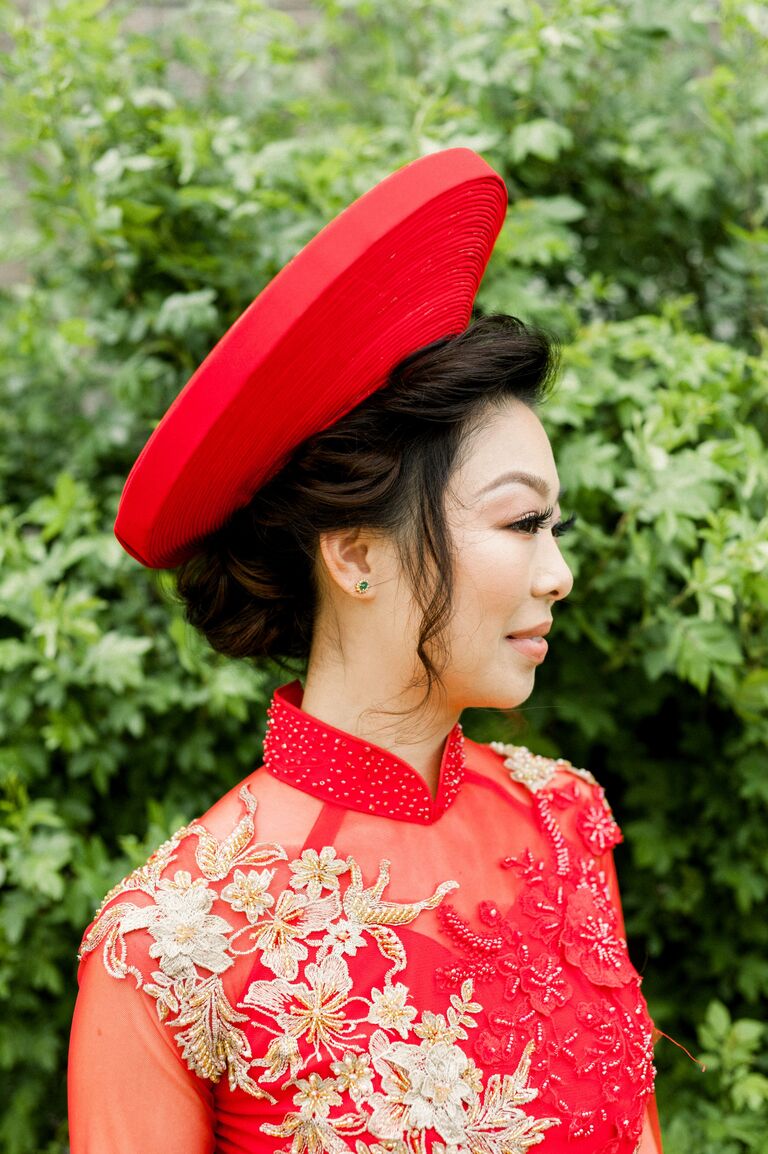 If you're rocking a traditional headpiece for your nuptials, a low bun is the perfect way to shine the spotlight on your accessory.
Beaded Bun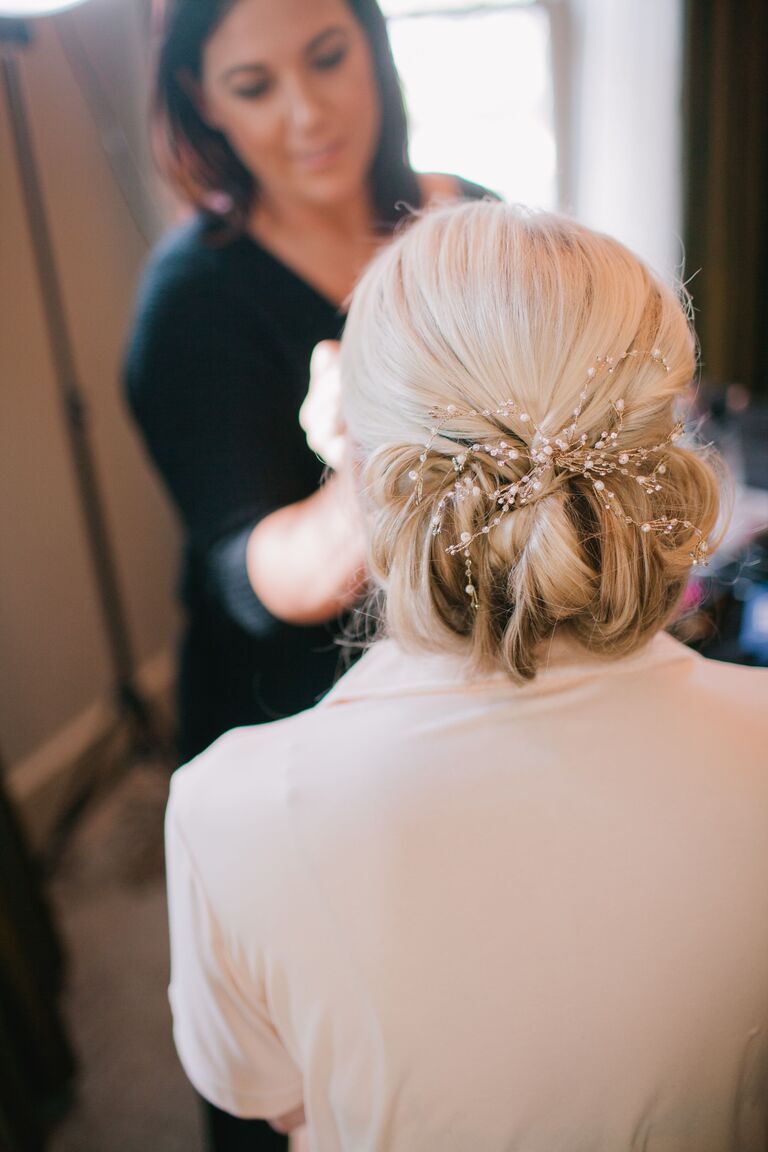 Have your hairstylist expertly weave a delicate beaded hair piece into your wedding updo for a subtle touch of sparkle.
Boho Diamond Headpiece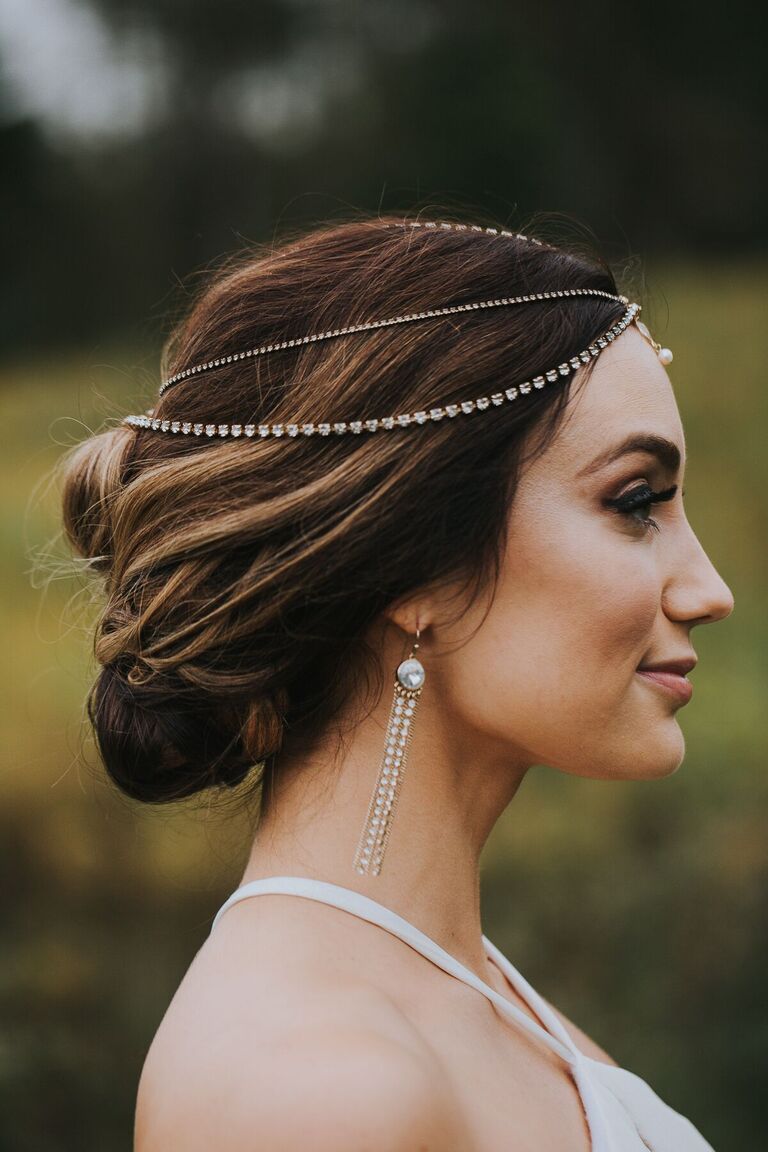 Turn a classic wedding updo into a bohemian style by placing a unique headpiece on top.
Pearl Swirls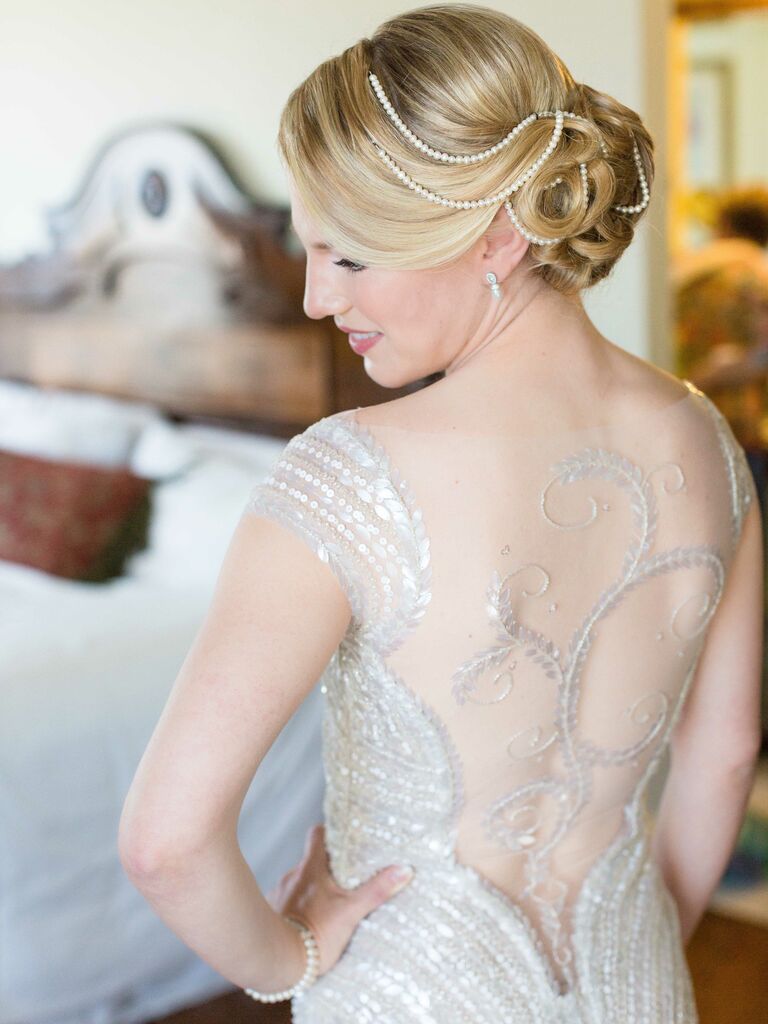 Perfect for preppy brides. Have your professional stylist weave strands of pearls into your wedding updo for an unforgettable look.
Retro Glam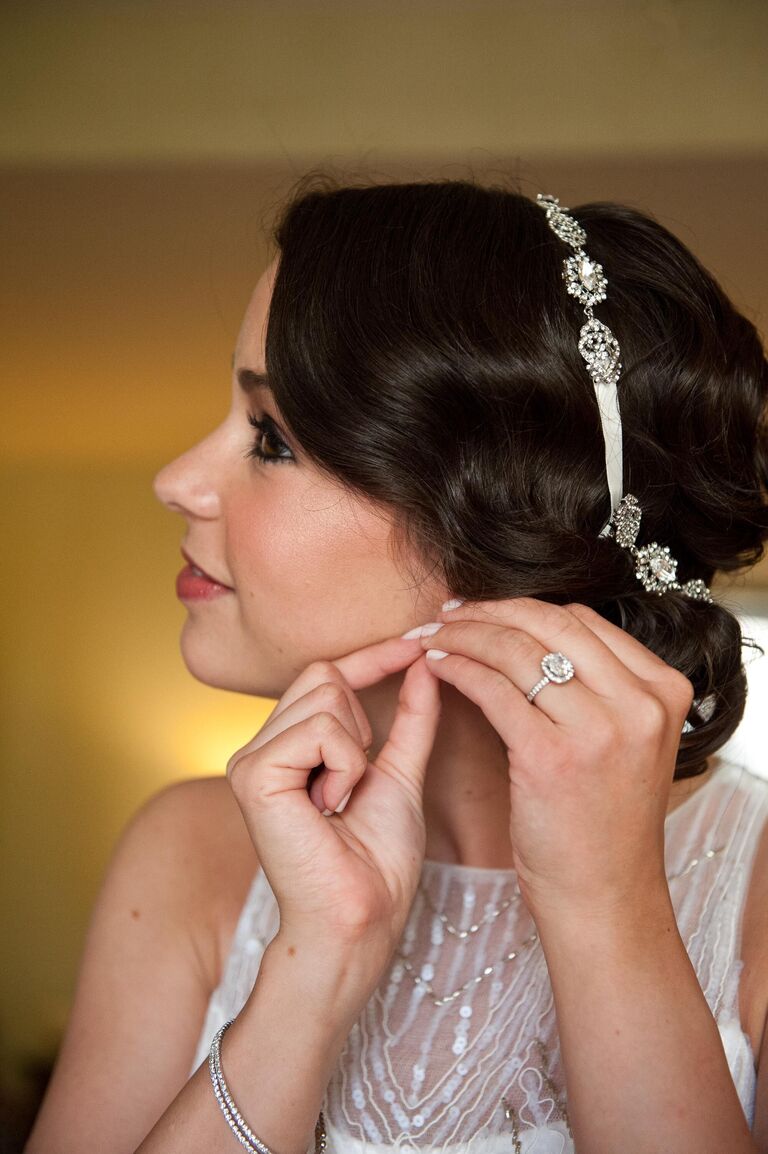 Pin old-Hollywood curls back and top it off with a sparkly headpiece for a stunning vintage wedding updo.
Golden Tiara
Rock a wedding updo fit for a queen. Top off your chignon with a show-stopping tiara, like this gold one.