All the Photos and Details From Simone Biles' Second Destination Wedding in Mexico
Plus, Galia Lahav's head designer gives us the scoop on her four "dreamy" and "magical" wedding dresses.
Simone Biles is married to Jonathan Owens—again! The Olympic gold medalist swapped vows with the NFL player for the second time in Cabo, Mexico on May 6, 2022. She shared photos of the tropical festivities on Instagram, writing, "Mr. & Mrs. Owens 🤍🕊️."
Simone Biles' destination wedding occurred less than one month after she and Owens first tied the knot at an intimate courthouse wedding in Houston, Texas. Here, we share all the photos and details from Simone Biles' weddings in the US and in Mexico.
Simone Biles and Jonathan Owens got married on April 22, 2023, at a courthouse in Houston, Texas.
Less than one month later, Simone Biles' second wedding took place on May 6, 2022, in Cabo, Mexico.
Simone Biles' wedding dresses were designed by Galia Lahav. The bride wore four looks throughout her wedding weekend in Mexico.
Simone Biles and Jonathan Owens have been dating since 2020. They met on the celebrity dating app Raya and got engaged in February 2022.
In this article:
Simone Biles' Destination Wedding Photos and Details
Simone Biles and Jonathan Owens were joined by 144 loved ones for their second wedding in Cabo, Mexico. The romantic ceremony took place on the Umi Terrace of the Nobu Los Cabos Hotel. Before walking down the aisle, Biles revealed to Vogue that she had a case of prewedding jitters. "I actually felt so sick the entire day, and when it was almost time to walk, my heart was beating out of my chest," she reflected. "I've never been so nervous before in my life. [But,] I felt confident walking down the aisle. Seeing Jonathan at the altar was a dream. Our guests were cheering for everyone. I was shocked by the love in the air. The ceremony was so beautiful and dreamy!"
Despite a sprinkling of rain during the ceremony (which the bride noted as "good luck"), the athlete's nerves melted away as she recited her vows. "Jonathan and I just tuned into each other and blocked everyone out," she told the outlet "I fell in love with him all over."
After the ceremony, the newlyweds were joined by their guests for an evening of dancing and quintessential Nobu food. "I'm so sad it's all over," the bride said. "I want to do it again. We had the best night of our lives. It was a 12 out of 10!"
Simone Biles' Wedding Dress Details
Simone Biles' wedding dresses certainly didn't disappoint. The gymnast wore four Galia Lahav looks throughout the weekend, beginning with the brand's feathered Jill mini dress for the rehearsal dinner. For the ceremony, she opted for a custom lace ball gown with a sheer bodice and floral straps. In an interview with The Knot, Galia Lahav's head designer Sharon Sever revealed exactly how the bride personalized her dreamy look. "Simone really wanted to add a slit to the airy and light ball gown to give her length, which was such a perfect final touch," he tells us. "The subtle sheerness makes this a dreamy gown for a beach wedding. It delivered the wow factor as she walked down the aisle with a beach breeze."
Ahead of the big day, Biles traveled to Galia Lahav's flagship New York City salon to source all of her wedding dresses, including her custom lace reception dress and her sparkly after-party look—and Sever tells us she had a clear vision from the start. "It was a dream to work with Simone," he says of the collaborative experience. "She really knows what works for her and she chose such beautiful looks that complement her in every way possible."
Shortly after getting engaged, Biles—who was already a fan of the label—connected with the team over Instagram DMs, a moment Sever fondly recalls. "We reached out to her as soon as we heard the engagement news, and I remember our team saying, 'She replied! She wants to come try on dresses!' Everyone was over the moon."
He continues, "From then on it was a magical process of trying on gowns and customizing them so they would fit her vision exactly. She was open to suggestions, but she knew exactly how she wanted each gown to fit and feel. The process was so fun and easy-going, and it was an honor to work with such an iconic and inspiring woman."
Simone Biles' Courthouse Wedding Photos and Details
Simone Biles and Jonathan Owens officially got married on April 22, 2023. The couple swapped vows during an intimate ceremony at a courthouse in Houston, Texas. The newlyweds confirmed the milestone by sharing a photo dump of the small celebration on Instagram. In one picture, the groom is seen lifting his arm in celebration; in another, the couple holds hands as their officiant presides over the ceremony. The post also gave a clear look at Simone Biles' wedding dress, which has a plunging V neckline, an open back, and a tiered skirt. She paired the look with Amazon heels and wore her hair in a high ponytail.
After surprising fans with the wedding announcement, Simone Biles took to Instagram Stories to answer questions from her followers where she confirmed that she and her husband were planning a second destination wedding outside of the US. When asked about the budget for both weddings, she cheekily said that she and Owens "went so over budget," adding, "You only live once." (Stars, they're just like us.)
When asked about honeymoon plans, she noted that she and her fiancé are considering a minimoon in Bora Bora, which will likely take place after the 2023-2024 football season.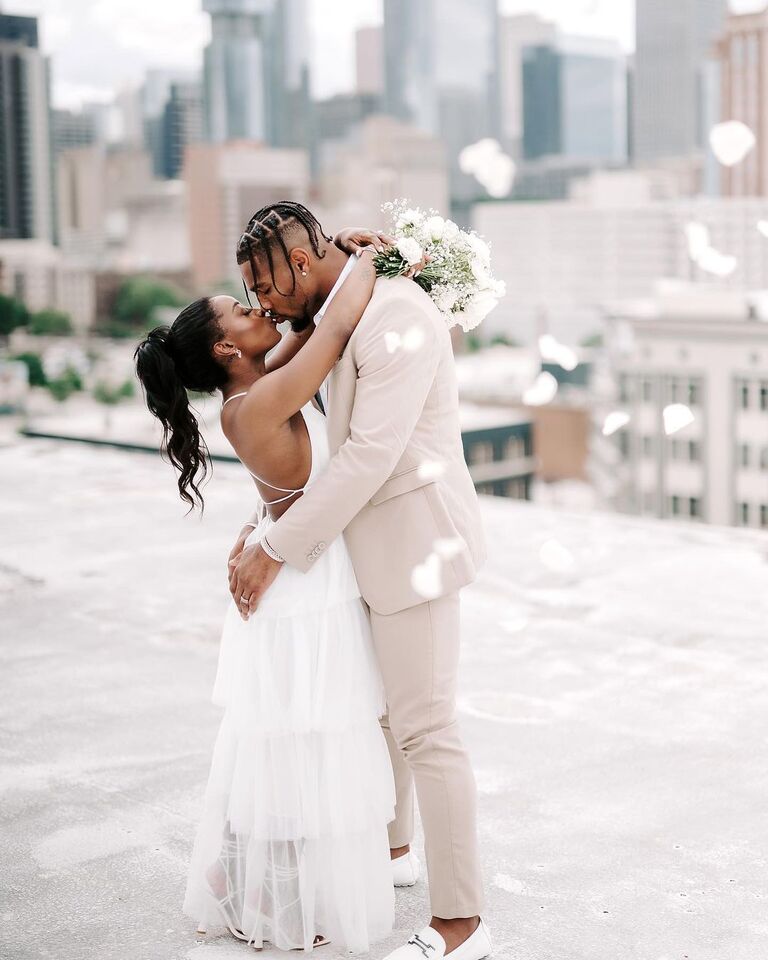 One week before Simone Biles' wedding, she announced that she and Owens had obtained their marriage license. "Almost time to say 'I do,'" she captioned a photo of them holding the official certificate. Prior to the courthouse wedding, the bride-to-be enjoyed a dreamy "On Cloud 9" themed bridal shower with her friends and family. In February 2023, she and her crew traveled to Belize for a tropical bachelorette party.
Simone Biles' Engagement to Jonathan Owens
Simone Biles and Jonathan Owens' wedding came just over a year after the athletic power couple announced their engagement. On February 15, 2022, they took to Instagram to share the relationship milestone. "THE EASIEST YES," Biles captioned a photo dump of images from the proposal. "I can't wait to spend forever & ever with you, you're everything I dreamed of and more! let's get married FIANCÉ." In his own post, Owens wrote, "Woke up this morning with a fiancée…she really had no clue what was coming."
Both posts included a closeup video of Biles' ring, which is aligned with the top trends of the moment: it appears to be an elongated oval-cut diamond set on a sparkling white gold pavé band (a stark contrast from her extensive collection of gold medals). After the engagement, which took place in a private gazebo, the two celebrated with glasses of champagne at a romantic dinner.
Simone Biles and Jonathan Owens' Relationship Details
Simone Biles and Jonathan Owens got engaged nearly two years after they met on the celebrity dating app Raya. They matched in March 2020, just before the pandemic began. They made their romance Instagram official in August of that year, with a selfie captioned, "It's just us."
The athletes often share their love on social media, frequently attending each others' games and competitions. In July 2021, when Biles withdrew from two Olympic events due to mental health concerns, Owens fiercely advocated for his girlfriend. "Imma ride with you through whatever baby," he wrote on Instagram at the time. "Your strength and courage is unmatched and you inspire me more and more everyday SB. You always gone be my champ baby and don't you ever forget that, i love you so much and i can't wait till you come home and i get to see that beautiful smile again. You know I'm always here for you baby."
In August of that year, Biles honored their one-year anniversary online. "Oops I forgot to tell y'all that we've been dating for more than a year," she captioned photos with Owens. "So happy past 1 year to the best thing that's ever happened to you: ME 🤍🤣."