How to Approach Mental Health Conversations In Your Marriage
"I held her. We talked. She cried and she cried and she cried," the Duke of Sussex says of his wife.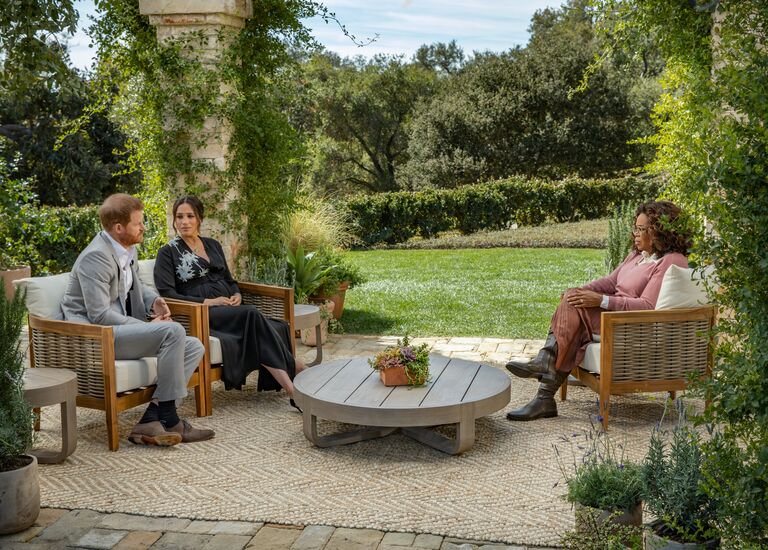 Joe Pugliese for Harpo Productions / CBS
We have included third party products to help you navigate and enjoy life's biggest moments. Purchases made through links on this page may earn us a commission.
Marriage and mental health are interrelated, especially in Prince Harry and Meghan Markle's relationship. The high-profile pair first revealed the Duchess of Sussex's mental health-related struggles in a tell-all interview with Oprah Winfrey in March. And now, Prince Harry is opening up about his state of mind in his very own co-produced series, The Me You Can't See.
The Duke of Sussex spoke candidly in the series about how he's grappled with anxiety since childhood. In fact, it was Markle who encouraged him to see a therapist back when they were dating four years ago. She had noticed misplaced anger during an argument, Harry recalled, which was later identified as anxiety stemming from a childhood memory involving his mother, the late Princess Diana. "Unfortunately, when I think about my mom, the first thing that comes to mind is always the same one, over and over again: strapped in the car, seatbelt across, my brother in the car as well. My mother driving and being chased by three, four, five mopeds…" he recalled. "She was almost unable to drive because of the tears, there was no protection. One of the feelings that come up is helplessness. Being too young, being a guy too young to be able to help a woman, in this case, your [own] mother. And that happened every single day until the day she died."
In a way, Harry felt this same anxiety rippling over to his relationship with Markle. In fact, the royal family didn't step in to help his wife when she needed it most. Then in March, before the Oprah interview aired, the U.K. media launched a "smear campaign" of bullying allegations against Markle. "I was woken up in the middle of the night to her crying in her pillow because she doesn't want to wake me up because I'm already carrying too much," Harry recalled. "That's heartbreaking. I held her. We talked. She cried and she cried. And she cried."
Markle, for her part, separately opened up about the debilitating state of her mental health during her first few years of marriage. The Duchess of Sussex recalled to Oprah in March how she grappled with suicidal thoughts brought about in the confines of the palace and in response to the overwhelming vitriol from the press and the general public. "When you feel you have no 'out' or any support after a history of trying to seek it, sometimes you feel the hopelessness outweighs the hope,'" she revealed. The duchess also shared that she had "lost all will to live" at the height of the storm, which she then expressed to her husband.
Not much is known about how Markle sought treatment and how else her mental health issues were discussed in her marriage, but she was able to receive support. In fact, the story has an uplifting ending. "We're thriving," the soon-to-be mom-of-two concluded in the special. "We've been through a lot. It's felt like a lifetime." If you're navigating mental health issues within your marriage, here are practical ways to communicate your concerns with your partner, according to experts.
Always Take Your Partner Seriously
Before The Knot dives into more expert advice about navigating your marriage and mental health issues, if you or a loved one is struggling with suicidal thoughts, your first priority is to take these concerns seriously. Call the National Suicide Prevention Lifeline at 1-800-273-TALK (8255), or text the Crisis Text Line (text HELLO to 741741).
Having lines of open communication and validating any concerns are important when a partner says they're struggling. "When do you take them seriously? The answer is always," says Dr. Kathryn Esquer, a clinical psychologist and founder of the Teletherapist Network. "If you don't believe them and your partner is expressing suicidal thoughts, it could magnify their feelings of helplessness, isolation, loneliness, hopelessness for the future. That is a risk we shouldn't take with anyone. We should always believe somebody when they express they're exploring suicidal thoughts."
After Markle had expressed the state of her mental health to Prince Harry, he immediately went to officials out of concern for his partner. Even as they attended a public engagement that same evening, the gravity of the situation was conveyed through his body language, according to Markle, who recollected how her husband gripped her hand tightly throughout the event. It was evident he was concerned about her well-being. "The consequences of not believing [a loved one] is too big of a risk to take," notes Dr. Esquer.
Be Observant of Your Partner's Behaviors
You might notice behavioral changes in your partner that are questionable (they're sleeping a lot, canceling plans, refusing to step outside, consuming more alcohol). "We all know when something's up with a loved one," says Dr. Esquer. "So often, someone could be struggling and if we're not paying attention to behavioral patterns, it might fly under the radar. Then, you might miss an opportunity to discuss mental health."
It's important to observe behavioral shifts and initiate a conversation with compassion. "When you notice something different with your partner, point out the changes you've noticed on a concrete level," advises Dr. Esquer. "Then ask, 'Hey, what's going on?' When people withdraw, they stop doing the things they love or they turn to alcohol. You should assume that there are some [mental health] struggles on the table already… The best-case scenario is they respond, 'No, I'm totally fine.'"
And if your partner is fine, then at least you have a sound mind to move on. "But the worst-case scenario is when you don't address it and you don't observe it in a kind manner," says Dr. Esquer. "It makes your partner feel even more alone."
Furthermore, when it's time to have this type of conversation, share observations in conjunction with words like suicide, depression and hopelessness. "Don't talk around these words," advises Dr. Esquer. "And don't be afraid to ask twice."
Lean Towards Disclosure
If you're struggling with mental health concerns, raise the elephant in the room. When the pressures of pregnancy and toxic commentary from the public reached fever pitch, Markle disclosed to her husband that she was contemplating suicide. "I just didn't want to be alive anymore," Markle recalled to Oprah. "That was a very clear and real and frightening constant thought."
Upon confessing it one morning to her husband, Meghan and Harry explored possible next steps to receive help. Regardless of the palace's immediate response, Meghan found a safe space in her husband. "If we don't tell people what we need, how will they know?" muses Dr. Esquer. "So really checking in with yourself and asking your partner to respond, without fear, is a tactic."
Intervene and Start By Listening
An intervention might sound dramatic, but it simply starts by listening. Here are practical steps to take when approaching an intervention, according to Dr. Esquer.
Open up the dialogue: By directly asking your loved one if they're having thoughts of suicide or depression, you are creating grounds for a conversation.
If your partner responds yes, thank them for being vulnerable. "Validate and express appreciation that they felt comfortable enough with you to share," she adds. "Thank them for taking the risk to share what they're experiencing."
Express your support: Remember, this is your partner so it's imperative you make them feel less alone and isolated. You're on the same team and make it clear that you will get help together.
Have a plan: Get your partner to their primary care physician, and explore options for seeking help from mental health professionals.
Offer community support: If your loved one has a close friend or family member beyond you who can offer support, loop them in. See more below.
Check-in on a regular basis: "Let them know that they can count on you so that they feel less alone," says Dr. Esquer. "Help them go to their appointments and remember, they know what they need best.
Involve Community Support
Markle and Prince Harry's situation was exceptionally challenging given that they had to bear the brunt of the burden behind closed doors. Considering the palace's emphasis on privacy, neither was able to fully disclose the extent to which her mental health was being impacted; plus, they were further advised against seeking immediate help. However, it has been revealed in the days following the interview that very close friends of the couple were aware of the situation and privately offering counseling and encouragement to the duchess, in particular.
"I have known Meghan for 17 years. Here's what she is: kind, strong, open," wrote one of her best friends Janina Gavankar. "Here's what she's not: 'a bully.' ANY of us who know her, feel the same thing from her broken silence: Relief. The truth shall set you free."
In the case of a partnership lacking full support or consistency in communication, involving another loved one who is aware of your mental health state and cares deeply for your well-being is encouraged. "If the person with the mental health challenges has a friend they typically disclose to in a deep way, it can be helpful for the spouse and the friend to establish a spirit of collaboration based on the person in the center they love," says communication and racial dialogue specialist Dr. David Wiley Campt of The Dialogue Company. "Sometimes, such teams can see realities for the person in trouble with more discernment than just one person."
Establish Mental Health Check-Ins
As mental health conversations increase in frequency, so will your ability to talk through any challenges in your marriage and beyond. "How do we make exercise a regular part of our routine? You start it and it becomes more natural," says Dr. Esquer. "If we make [mental health and marriage conversations] more of a routine in its normalcy, it can trickle down to your kids, if you choose to have a family or grow a family. It's OK to talk about your sadness and your fears openly and outwardly with your partner."
One way to up the frequency of communication with your partner is to devise an established plan for mental health check-ins. Just as the idea of having financial or fitness dates with your partner is the norm, so is the "check-in ritual" to foster an environment of mindfulness.
"It appears that overall, Prince Harry and Meghan Markle's communication is very strong. I don't think they would have survived those pressures they faced without having a good capacity of dialogue between them," says Dr. Campt. "One behavior modification is to establish check-in rituals [either every other day or weekly] where each person stops all distractions, and both ask questions related to well-being. Each person addresses the question with deep attention and answers honestly."
Acknowledge There Will Be Challenges Ahead
While Meghan and Harry are currently enjoying their newfound freedom in California with loved ones, more challenges will arise in due time. As with any marriage, it's important to confront potential mental health obstacles together. "While it's clear that this couple has good dialogue skills… they will be dealing more or less with the complexities of being royal forever," says Dr. Campt of Meghan and Harry. "Challenges will resurface, or new ones will emerge. Certainly, the challenge of dealing with racism—from society, from the family—will come up again. They will need their good communication skills to cope effectively."
"The concept of paying attention and being aware of your marriage and calling attention to it in a supportive way is [of utmost importance]," says Dr. Esquer. "We really do need to normalize that first: 12 million Americans have significant suicidal thoughts each year and it's not a small percentage of the population… Where the pitfalls come is when the communication isn't there. How you initiate it makes a difference."