Your Complete Guide to a Luxury Honeymoon in Bora Bora
Celebrate your union on this dreamy South Pacific island.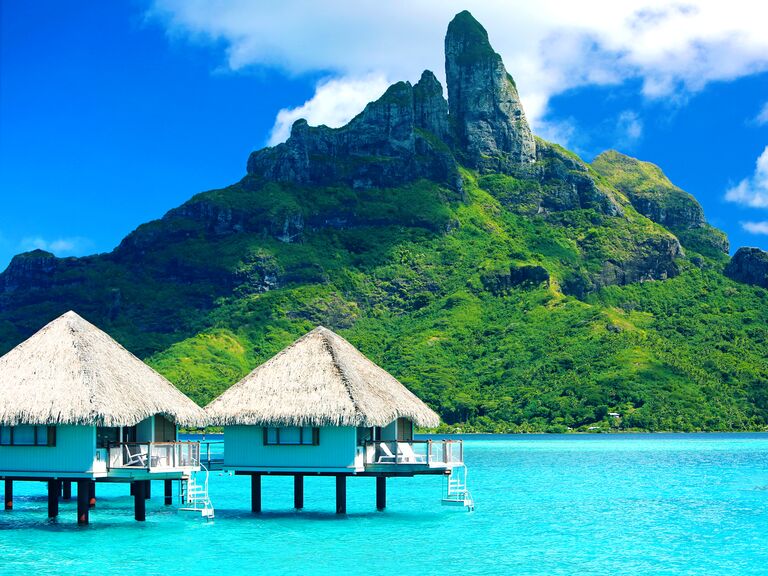 TriggerPhoto/Getty Images
We have included third party products to help you navigate and enjoy life's biggest moments. Purchases made through links on this page may earn us a commission.
In the heart of French Polynesia, the beautiful island destination of Bora Bora has been a hot spot for glamorous, jet-setting Americans since the 1950s. After all, what warm-weather destination conjures up a more romantic or exotic appeal than Bora Bora?
The first Americans to visit Bora Bora were actually servicemen stationed in French Polynesia during World War II. When they came home, they started spreading the word about the impossible beauty of the island, and celebrities soon followed suit. Hotel Bora Bora opened in 1961 with the world's very first overwater bungalows and it didn't take long for nearly every luxury resort in the lagoon to innovate with these new accommodations.
Today, Bora Bora is one of the most popular honeymoon destinations in the world for couples who want privacy; both Jennifer Anniston and Justin Theroux and Nicole Kidman and Keith Urban opted to honeymoon in Bora Bora. One of the best things about a Bora Bora honeymoon is that it's pretty easy to visit from the West Coast. From SFO or LAX, it's just a seven-hour direct flight to touch down in Papeete (the capital of French Polynesia). From Papeete, you can take a local flight to just about any of the nearby islands in 30 minutes, Bora Bora included.
The biggest downside of Bora Bora is the obvious one: it's expensive. Even speedboat transfers from the small islands to the main island can be pricey, and you may have a little sticker shock at the cost of the average overwater villa. But hey, it's your honeymoon. If there's ever one trip to splurge on, it's probably now. Here's your quick and easy guide to a Bora Bora honeymoon.
Is Bora Bora Good for a Honeymoon?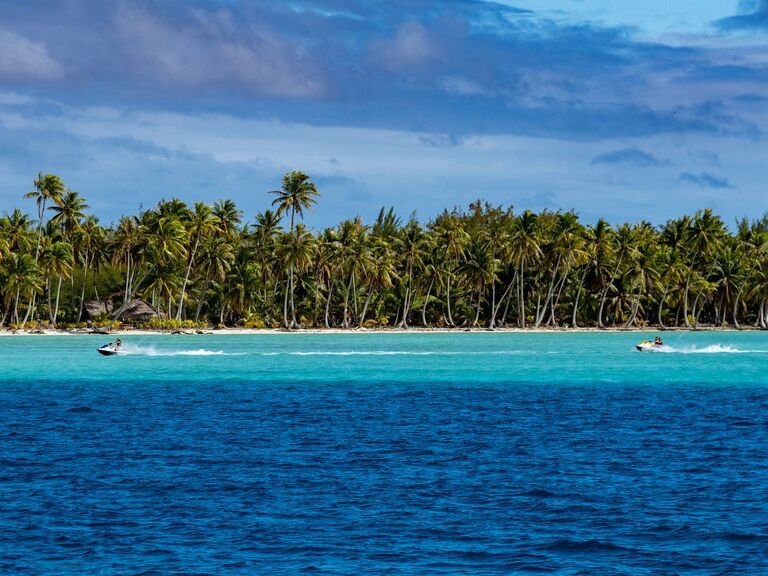 Short answer: a thousand times yes. The main island of Bora Bora has an absolutely stunning (and extinct) twin-peaked volcano in the center: Mount Otemanu. The rocky peak looks different from every side of the island, inspiring animations even featured in Disney's Moana. With reefs and barrier islands surrounding the volcano, plus lush jungle creeping up the volcano's sides, it's unlike any other place on earth.
Pros of a Bora Bora Honeymoon
Bora Bora is super luxurious without being pretentious. Overwater bungalows are the de facto norm and many hotel suites come with private butlers, but there's no pressure to be flashy or show off. You can dress up if you want for a romantic dinner, but you can also toss on a swimsuit coverup and flip-flops and be good to go.
The destination is perfect for adventurous types: scuba diving, snorkeling, hiking, cycling, and more are all on the proverbial menu. You can be as active (or not) as you'd like. Honeymoon packages are also fairly common. While they may not be called "honeymoon packages," you'll find deals at many resorts that bundle your room with everything from couples massages to romantic dinners and jet ski rentals. Buying your room as part of a resort package will usually save you a few dollars.
Finally, it's an easily accessible destination. Airfare from the West Coast can be less than $700 if you find a deal. It's only two hours further than flying to Hawaii.
Cons of a Bora Bora Honeymoon
As previously mentioned, French Polynesia is making strides to shake off its reputation as being over-the-top expensive. Bora Bora, however, is still on the pricey side. That's not just because people are willing to pay for it: nearly everything (other than seafood) has to be delivered to the island, and amenities travelers want like Wi-Fi and air conditioning aren't cheap when you're on an island in the middle of the South Pacific.
Travel between hotels can also be difficult. If you look at a map of Bora Bora, you'll see that most of the luxury hotels are on small islands around the lagoon, rather than the main island. You'll need to arrange transportation to the island capital, Vaitape, if you're planning on hiking around the island, visiting local markets, or embarking on a cycling tour.
This may be a pro for some couples, but the locale is slow-paced: For most honeymooners, that's perfectly okay. If, however, you like to wake up early and immediately have breakfast, followed by a tight timeline of activities and sightseeing, you may not like the island's vibe. This is a place to slow down, not a place where you can micromanage every minute of your day.
The Best Times of Year to Go on a Bora Bora Honeymoon for Good Weather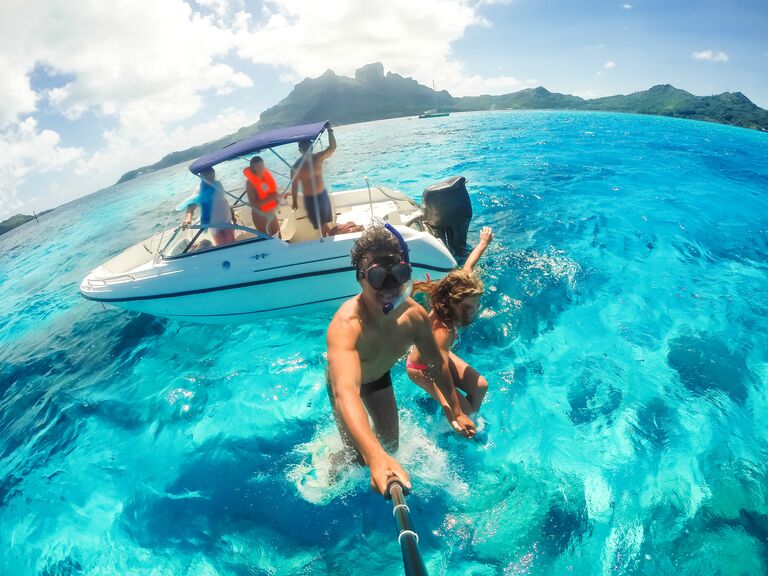 The best time to visit Bora Bora really depends more on your tolerance for hotel prices and a bit of rain. Temperature-wise, the average daily highs and lows in Bora Bora don't change that much. The "coldest" months are June and July (reverse of the US summer) with a daily high of around 82 degrees. Visit in the warmest months (January and February, more or less) and you'll have high temperatures peaking around 88. Because the daily temperature doesn't change much, neither does the ocean temperature, and you can expect water in the lagoons around 82 degrees year-round.
The high season for Bora Bora travel is during the US summer, during which time prices are at their highest. The "sweet spot" for travel to Bora Bora is April or November (when it's not exactly high season but the odds of perfect weather are high). The rainy season is December to March. Though prices are at their lowest, you'll have to contend with a slightly higher risk of rain, and probably a good deal more mosquitos once you step away from the beach. It may also be a bit hotter and more humid.
Things to Do During a Bora Bora Honeymoon
Tour the Lagoon
American soldiers wrote home about how beautiful Bora Bora's lagoon was during WWII, and it doesn't look a darn bit different today. The deepest spot in the turquoise-blue lagoon is only about 150 feet, with an average depth of around 15 feet. That makes it borderline perfect for snorkeling… or swimming with sharks. There are a few places along the lagoon where you can snorkel in water only about four feet deep with black-tip sharks and stingrays. Treat them with respect, but they're very used to people and won't bother humans one bit.
Several companies around the islands run lagoon cruises with usually three or four stops in great snorkeling spots or near hidden white-sand beaches. Your hotel will likely be able to arrange a lagoon tour, or just do an online search for Bora Bora lagoon tours and you'll find plenty of options.
See the Island's WWII Relics
At first glance, touring around war relics may not seem like a great activity for a romantic getaway. But history buffs will love the World War II Bora Bora island tour. You'll load into an open-air ATV and head inland through secret jungle roads to see the less-touristed sides of the island. Along the way, you'll make stops to taste fresh fruit, marvel at a few stunning lookout points from high above the crystal-clear lagoon, and see military relics left behind by the US military. You'll see bunkers, an old gun turret that was once used to defend the lagoon's only entrance, and the sites of several US military installations.
Take a Scenic Helicopter Flight
If you thought Bora Bora was stunning from sea level, speak again when you see it from high above. While on Bora Bora, spring for a private helicopter tour to see both the islands of the Bora Bora atoll and nearby Tupai (famous for its perfect heart shape). Tours run around $350 per person and up and are only around 30 minutes long. It's a great item to add to your Bora Bora honeymoon registry fund. Tahiti Nui Helicopters is the primary tour operator in the area and runs a variety of tours, including some shorter and more affordable options that tour the Bora Bora lagoon.
Set Sail on a Sunset Cruise
Have you really been to the islands of Tahiti if you haven't set out on a sunset cruise? Well, yes. But they're such a given on the island that nearly every resort offers some version of a daily evening cruise, though you can book third-party options that are sometimes more affordable. The Four Seasons Resort Bora Bora (which happens to be on a private island) can arrange private couple's sunset cruises with snacks and champagne and The Intercontinental Bora Bora Le Moana Resort offers low-key sunset cruises on outrigger canoes and can arrange longer dinner cruises on a luxury sailboat.
The Best Honeymoon Resorts and Hotels in Bora Bora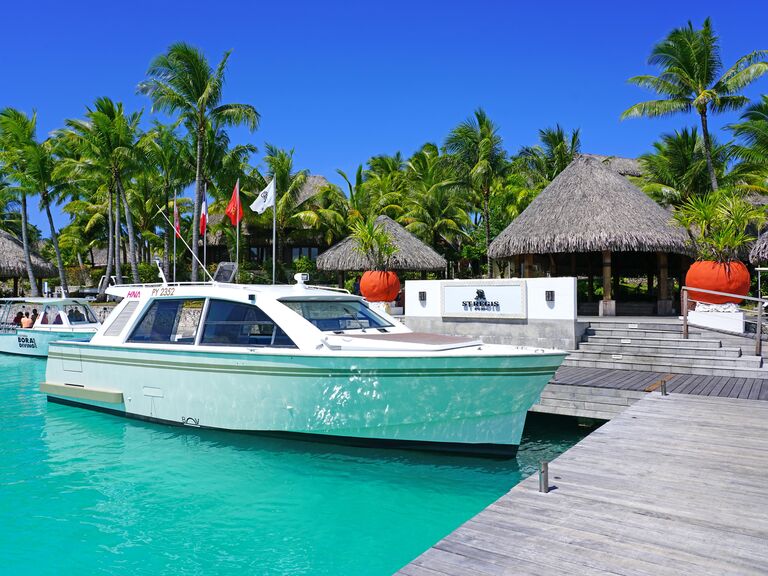 Le Bora Bora
Recently refurbished in summer 2021 to be even more luxurious than it was, Le Bora Bora is one of the original resorts on Bora Bora and one of the first to offer overwater bungalows – and they have no shortage of them, with curving walkways spread out over the lagoon leading to lux private suites. However, if you'd prefer beach access, you can also choose from suites on land (without forgoing your private pool.) While no one would call Le Bora Bora (owned by Pearl Resorts) inexpensive, it's one of the island's best resorts for less than $500 a night (in low season, of course), especially as it offers all the luxury of even pricier hotels. They also host the occasional Polynesian fire-dancing sunset show for guests.
St. Regis Bora Bora Resort
The St. Regis Bora Bora Resort has just about every luxurious feature you could imagine in an over-the-water honeymoon hotel. But what keeps it a cut above most other resorts is its "lagoonarium," a dedicated swimming area filled with seawater. The resort has huge floating platforms placed around the lagoon to make it easy to snorkel and jump in whenever you want. The protected area feels like a lagoon within a lagoon and is at your disposal when you stay here (as is a luxury spa with options for couples massages and treatments). The St. Regis also houses several gourmet restaurants and downright massive villas styled with traditional Tahitian influences.
Conrad Bora Bora Nui
The Conrad Bora Bora Nui is hands-down one of the most luxurious resorts in Bora Bora. The over-the-water villas have entire sliding glass walls you can open to remove the divide between your bed and views of the lagoon and coral reef, and you'll have a dedicated private butler if you spring for the Royal Pool Overwater Villa. To make your honeymoon fund go a bit further, consider booking a garden view room and moving into a fancier villa for just the last few days. No matter what room you're in, you'll have access to the resort's lux features like an open-air spa and opportunities for Ahi Ma'a, a traditional Polynesia dinner feast cooked in an underground oven.
The Hotel Maitai In Bora Bora
This low-key hotel is proof that not every hotel in Bora Bora has to cost as much as you spent on the wedding. Sure, you may not get the over-the-top amenities you'd find in other resorts when you stay at the Hotel Maitai, but you do get a hotel room in paradise starting at around $260 a night for a garden-view room. Their overwater bungalows are more expensive, but if you don't mind a little less space and more of a traditional look, they're an ideal option for budget-conscious honeymooners. It's a great hotel for active couples as the hotel can arrange activities across the island (and you may even have some cash left to spring for an extra activity together!) If you're looking forward to a couple's massage, Hotel Maitai has a partnership with Thelasso Spa at the luxurious InterContinental Bora Bora Resort.
What to Pack for a Bora Bora Honeymoon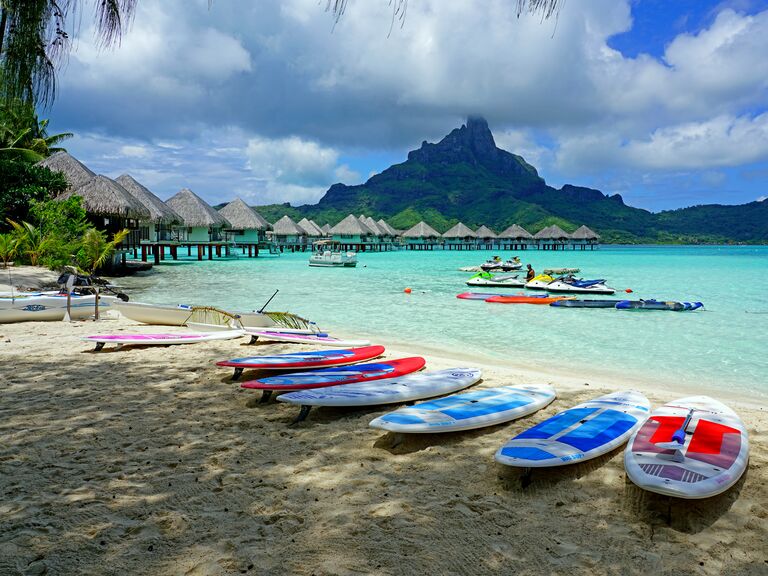 If you're staying in a resort on Bora Bora, your room will have likely all the amenities you'd have at home—probably more luxurious versions too. You don't need to bring hairdryers, snorkel gear, or even beach bags since nearly every resort provides sand-proof bags to borrow while at the beach.
In most Bora Bora hotel rooms, you will need a plug adapter. Most hotels in French Polynesia use European-style (type E or type C) plugs. Save space by bringing an adapter with extra USB ports.
You may want water shoes for snorkeling in French Polynesia or crossing coral reefs. Most of the beaches and swimming areas have sandy shores, but if you're planning on being more adventurous, it's good to protect your feet from cuts. Sunscreen can be expensive on the island, so bring as much as you think you'll need.
Bora Bora's weather is quite warm year-round, so the odds of ever needing a sweater are slim. However, you may want a lightweight rain jacket or poncho if you plan to cycle, hike, or explore markets (though downpours usually don't last very long).
Otherwise, Bora Bora is as casual or as formal as you'd like. At the gourmet restaurants at hotels, you'll often see men wearing collared shirts and women wearing sundresses, but it's rare to find a hotel that has strict dress code regulations. You'll likely have to take a small boat to reach your hotel as most are on private islands, so a good bag or backpack with secure pockets can be useful when climbing in and out of boats.