A St. Louis Bachelor Party City Guide to Plan Your Weekend
A STL bachelor party revolves around good food, good brew, and good sports.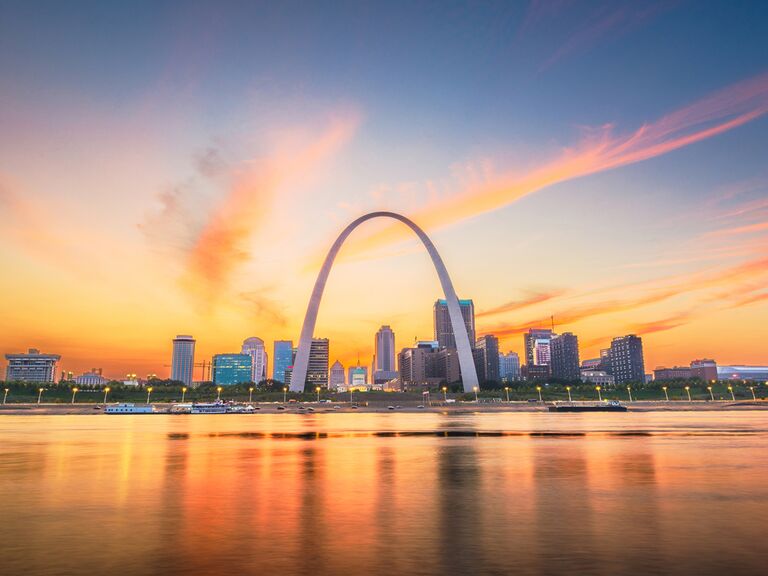 Sean Pavone / Shutterstock
We have included third party products to help you navigate and enjoy life's biggest moments. Purchases made through links on this page may earn us a commission.
If he's a Cardinals' fan, St. Louis is the place to be. Even if he's not, a St. Louis bachelor party should be high on your list for a guys' weekend before the big day. This city has a lot to offer, from its charming Midwest vibes to its ample craft beer scene.
What Are Some St. Louis Bachelor Party Ideas?
Head out on a St. Louis bachelor party if you're looking to celebrate a weekend that's all about drinking, eating, and lots of sports. This city has all of that to offer—super friendly people included. (Thank everyone for making the trip with some personalized gifts from The Knot Shop.)
For the Beer Enthusiast
Not only is this the home of the historic Anheuser-Busch brewery, but the city boasts a fantastic craft brew scene to explore with behind-the-scenes brewery tours, flights, and even beer-making and tasting classes.
For the Sports Fans
The home of the Cardinal's, Busch Stadium is likely on any baseball fan's radar, so time your bachelor party to a home game. Hockey fans can also visit during NHL season to catch a Blues game.
For the Sightseer
St. Louis has a lot of history that can be explored through its unique buildings and neighborhoods, including an old monument that also happens to be one of the country's newer National Parks—Gateway Arch.
What Do You Do at a Bachelor Party in St. Louis?
It's easy to fit a guys' trip into a long weekend in STL, just follow our three-day St. Louis bachelor party itinerary to make the most of your time here.
Day 1
Morning: Start the weekend with breakfast at Egg, whose name does not disappoint. This breakfast-comes-first spot does offer more than eggs, though, including French toast, barbacoa and grits, cornbread benedicts, and breakfast tacos.
Afternoon: You can't come to St. Louis without touring some of the city's best icons, and there's no better time than while you're waiting for the whole crew to arrive. Of course, that includes the Gateway Arch, where you can ride a tram 630 feet up to the top (the tallest monument in the U.S.) for vertigo-inducing views of the city. Also not to be missed: Forest Park, which opened in 1876 and played host to a world's fair, the Louisiana Purchase Exposition, and the 1904 Summer Olympics. The 1,326 acre park is a beautiful spot to hang out, play frisbee, or just have some quiet down time.
Evening: Head to the Laclede's Landing on the riverfront for dinner and your night out. For your meal, try Más Tequila, which blends modern food trends with authentic Mexican cuisine. Don't skip out on the chile rellenos or the carne asada. From there, check out Big Daddy's for live music and DJs and a party atmosphere.
Day 2
Morning: Start the day with STL's most delicious waffles at Boardwalk Waffles & Ice Cream. Along with a creative waffle menu (try the Bacon, Cheddar, Chive waffle, the Spicy Mexican—made with jalapeño cornbread topped with cheddar and chorizo—or the Bourbon Soaked Apples and Walnuts option), you can savor your breakfast with bottomless mimosas, Bloody Mary's, Irish Coffee, or a boozy milkshake.
Afternoon: Get to know St. Louis through it's brews. Not only should you make it a point to head to the Anheuser-Busch St. Louis Brewery, which offers a behind-the-scenes look at the historic beer company, a biergarten, and classes, but you should check out the city's craft beer scene, too. Fit in as much as possible on a BrewHop STL Tour, which takes you to four different breweries on a 3.5-hour guided excursion. You'll be able to taste flights along the way, and enjoy a full pour at each stop.

Evening: Start with dinner at Cinder House on the top floor of the Four Seasons Hotel for delicious food from a James Beard Award-winning chef. The wood-fired meats are the highlight of this menu, including options like a 10 ounce grilled ribeye served with carrot mole or feijoada, a dish of pork belly, ham hocks, black beans, rice, and chimichurri. For a fun night, head to Lumiere Place just steps away from dinner, where you can find a world of fun that suits your groom. That includes slots, table games, and a poker room, a sleek sports bar on the casino floor, or some golf at the Top Golf Swing Suite.
Day 3
Morning: Grace Meat + Three is a fantastic spot for Sunday brunch, where you'll find fried chicken and waffles (one version features a half a bird!), the egg Rick muffin (an out-of-this-world breakfast sandwich with your choice of protein, cheese, pepper jelly, a sunny side up egg on an English muffin), and good ol' fashion heirloom corn waffles with whipped butter and spiced syrup.
Afternoon: Time your visit to baseball season so you can hit a Sunday Cardinal's game at Busch Stadium. If you can't make it for a game, you can still take a tour of the stadium, where the home team has won two World Series since it opened in 2006, and its very own Baseball Hall of Fame.
Evening: Head to Broadway Oyster Bar for dinner, good drinks, and live music. Menu items include, what else, a wide variety of oyster dishes, along with peel and eat shrimp, gator tacos, wings, jambalaya, and more. Once you've had your fill, make your way to any of the nearby bars, including BB's for jazz and blues live music or The Angry Beaver for a good sports bar.
Where Should I Stay in St. Louis for a Bachelor Party?
Stay downtown to make it easier to get around, be it walking to dinner and bars or catching an Uber easily to farther out spots.
Best St. Louis Bachelor Party Hotels
Plan your stay at the Hyatt Regency St. Louis Arch for mid-budget price with iconic views and a short walk to Busch Stadium and the riverfront.
The Marriott St. Louis Grand is located in a historic property, originally built in 1900. For those with a moderate budget, it's downtown location, views of the Arch, and modern amenities are worth it.
Hilton St. Louis at the Ballpark is a great luxe option across the street from Ballpark Village and two blocks from Busch Stadium.
Best St. Louis Home Rentals
A Four-Bedroom Penthouse is a wonderful modern option that sleeps 12 in walking distance to much of downtown, including Busch Stadium, which you can see from the window-filled space.
Near downtown and the arch, this Four-Bedroom Space in a Historic Building offers room for 10 and easy city walkability.
A Large Luxury Home is the perfect spot for extra-large groups (up to 16) who want to be within walking distance to almost everything and have the comforts of large indoor space, plus a deck.