Top 8 Places to Marry in Tahiti
Immaculate beaches, dramatic mountain peaks, and snorkeling that seems like you're in an aquarium. They say French Polynesia is paradise. We say: Believe the hype.
InterContinental Bora Bora Resort & Thalasso Spa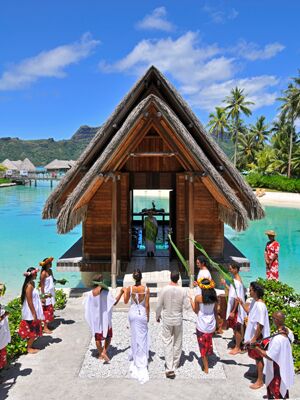 Why you'll love it: With jaw-dropping views of the iconic Mount Otemanu, this resort guarantees wedding photos that look like a movie set. For couples who want a beach wedding, the property has a nice area for a ceremony on the sand. For a more traditional venue, the resort has a chapel that shows off the natural surroundings in stunning fashion: there's a glass floor with a view into the crystal clear water, and a window behind the altar frames the mountain perfectly. Just don't let the sea urchins in the lagoon below distract from your walk down the aisle.
More info: ICHotelsGroup.com
Four Seasons Bora Bora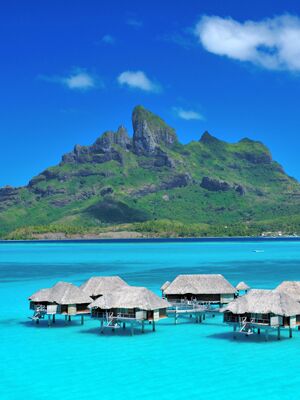 Why you'll love it: This resort couples the top-notch service you'd expect from a Four Seasons property with an array of locations for weddings (seven in total). Beyond the beach wedding, the resort has a chapel with a full wall of windows behind the altar offering a great view of the lagoon. A sunset cruise on the resort's new catamaran is among the unique ways to exchange vows on Bora Bora.
More info: FourSeasons.com
Moorea Pearl Resort & Spa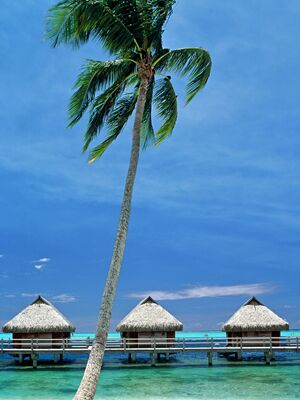 Why you'll love it: The island of Moorea -- just a 50-minute ferry ride from Tahiti's capital, Papeete -- has the scenic vistas that make a trip to the South Pacific worthwhile, and it's generally a bit less expensive than its sister island, Bora Bora. Each room at the Moorea Pearl Resort & Spa is decorated in a traditional Polynesian style but without sacrificing luxurious amenities. The property prides itself on friendly service, and a couple having a wedding will appreciate the attention to detail: a villa decked out in flowers for the bride to get ready, traditional Tahitian dancers, and a super-organized wedding coordinator.
More info: SPMHotels.com
Sofitel Bora Bora Marara Beach and Private Island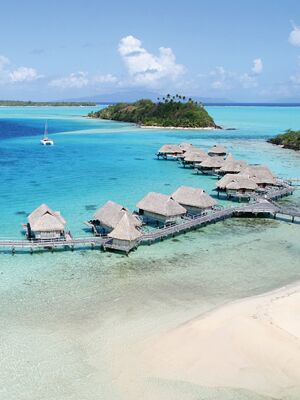 Why you'll love it: For a more intimate wedding, this resort has a spot that's tough to beat. Travel by boat to a private island, then climb up a set of winding stone stairs to a peak above the lagoon. The view is unforgettable, and the remoteness means you won't have any curious (but well-intentioned) resort guests playing paparazzi.
More info: Sofitel.com
Legends Resort Moorea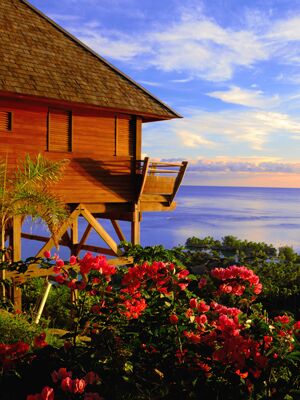 Why you'll love it: Spread out across 17 acres on a hillside, this resort has a unique vantage over Moorea's turquoise waters. This isn't the place to stay if overwater bungalows are on your must-have list, but its massive villas are ideal for wedding guests to share (and save some cash). The resort can host a wedding on a private motu (island), and its La Villa Des Sens restaurant is among the best in Tahiti.
More info: LegendsResortVillas.com
Hilton Bora Bora Nui Resort & Spa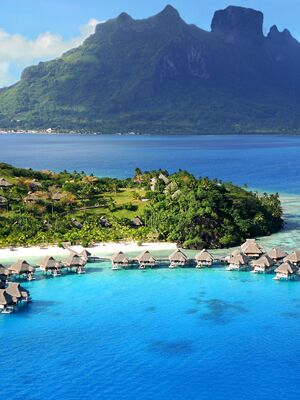 Why you'll love it: This resort gained reality TV fame as the place where Ali made her final pick on The Bachelorette. (That insanely luxe double-decker overwater villa she stayed in? That's here too.) The resort offers five wedding ceremony packages, which include the option to wed on a private island or in a chapel on a hill overlooking the lagoon.
More info: Hilton.com
Manava Suite Resort Tahiti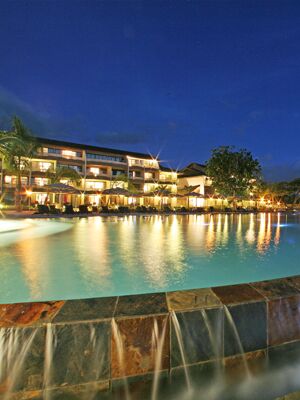 Why you'll love it: Many people only spend a night or two on the mainland of Tahiti before hopping to another island. But if you're looking for a more economical option for your guests, consider hosting your wedding somewhere around Papeete. One good option is Manava Suite Resort Tahiti, where a wedding can be set up with the water -- and the island of Moorea -- as a backdrop.
More info: SPMHotels.com
The St. Regis Bora Bora Resort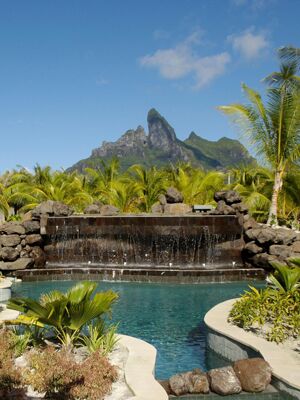 Why you'll love it: For a glimpse of this property's potential for a wedding setting, watch the movie Couples Retreat -- it was filmed there as a stand-in for paradise. The resort has an array of ceremony spaces -- from a white sand beach to a manicured lawn next to the spa -- but emphasizes "bespoke weddings." In other words, make a request of the event planning staff, and chances are they can accommodate.
More info: StarwoodHotels.com/stregis
Find the perfect paradise venue here!