Here's How I Created a Vegan Wedding Menu That Fooled 200 Meat-Eating Guests
With the right caterer and confidence in your menu, a vegan wedding spread can be a delicious option for all of your guests.

Barbecue is its own distinct religion in North Carolina. It has its sinners, its saints, its converts and its communions. To suggest to an eastern North Carolinian that she use tomato sauce in her barbecue is both culinary and cultural blasphemy.
It's vinegar that rules the eastern part of the Tar Heel State. Tomato takes the rest. Don't argue with religion—it's just the way things are. So when I decided I wanted barbecue at my wedding in Charlotte, North Carolina, I knew it had to be tomato-sauce based. But no one said anything about what kind of meat could create the 'cue. Or, in my case, what kind of fake meat.
I've opted out of eating meat, eggs and dairy for a decade now, and I wanted my wedding to reflect that. It's a huge part of who I am, and moreover, I wanted to show my 200 guests how incredible a vegan feast could be.
The South isn't particularly known for going lightly on imitations or misrepresentations of its comfort foods, so planning a meat-free menu for a full-out night of Southern splendor was daunting even to an experienced vegan. Could my partner, Nate, and I even find a caterer who could create plant-based barbecue? Would it be too expensive? Would our carnivorous guests rebel?
All those worries melted away like vegan butter on hot cornbread the moment I tasted our jackfruit barbecued "pulled pork."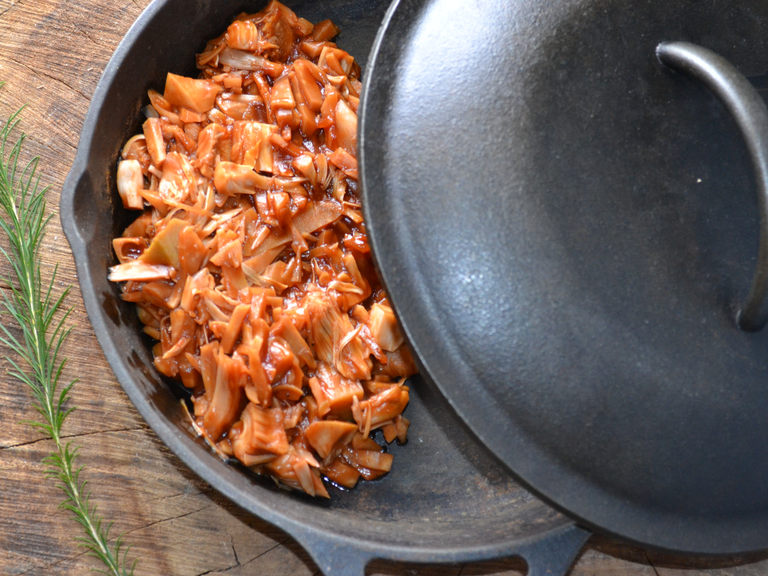 For those who haven't eaten (or heard of) jackfruit, it's a large, fibrous, fleshy fruit from Southeast Asia that can fool even the most fervent of barbecue devotees. The chunks of this fruit get mixed with rich, red barbecue sauce, then shredded together and cooked down just like any pulled pork recipe. It's chewy, meaty and apt for trickery.
Paired with soy-milk-based cornbread, pumpkin-chili tarts, eggless fried green tomatoes, soy chorizo-filled jambalaya and a midnight French fry bar with a spread of mayo-less aiolis, you'd have thought it was the Third Coming of 'Cue.
Planning a vegan dinner—let alone for a wedding for 200—might seem terrifying or overwhelming at first. Take a deep breath, because it's not only possible—it's as easy as vegan pie. Here are six tips to get you started.
1. Approach catering companies with an open mind.
First, start by assuming a catering company knows nothing about vegan food (unless its website or online reviews say otherwise). Don't assume a company knows your barbecued pulled pork is as easy as jackfruit and a bottle of your favorite sauce, or that your wedding's macaroni and cheese just needs, well, vegan cheese.
2. Save some cash.
Vegan food is, in my experience, typically more affordable than the beef- and chicken-heavy fare. Think about it: To fatten a cow or chicken, you first need corn or soy, a whole lot of water and a lot more resources. Take out the middleman, err, middle-cow, and just eat the corn or soy directly. Our jambalaya featured a rainbow of bright vegetables and soybean-based chorizo instead of sausage, chicken and expensive shrimp.
3. Don't compromise just so you can have any old vegan wedding.
You know vegan food is incredible. Don't let your wedding be slabs of tofu and cooked spinach (unless that's what you want). I rejected a catering company, even though it was fully willing and able to cater my wedding for 200, because it prepared dry macaroni and cheese and it thought adjusting its standard menu of lemon-rosemary chicken with a simple slicing of tofu and squeezing some lemon on it would suffice. It didn't.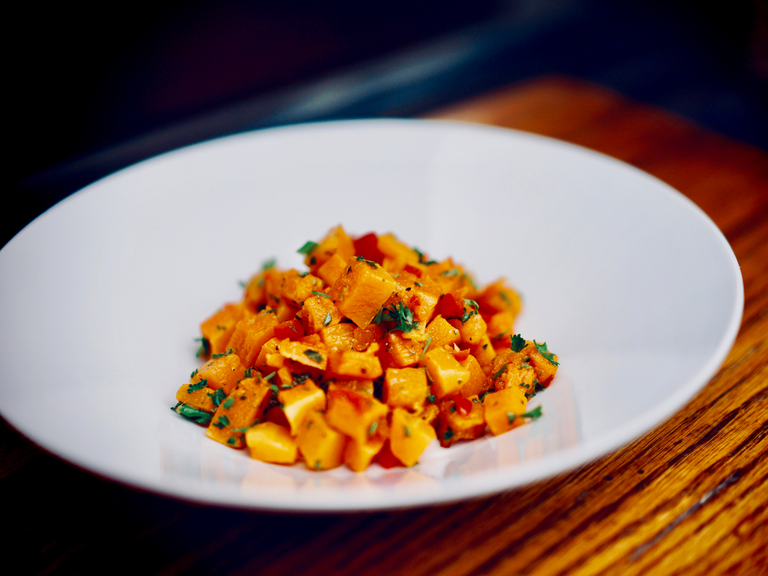 4. Have your cake and eat it too.
Don't forget the cake. A lot of bakeries don't advertise that they can make vegan cakes, which as any vegan can tell you, is incredibly easy to do. It may cost slightly more for the bakery to use ingredients it doesn't have on hand all the time, but in my experience, bakeries were all able to at least try. By asking, I was able to get a four-layer chocolate-peanut butter beauty.
5. Share the tastings.
If you're concerned about what those outside your vegan bubble will think, invite one or two non-vegans along to your tasting. Most catering companies allow an extra guest to the tasting for free or only charge a small fee (well worth the four or more courses you'll all get). That way, it won't be just you giving the green light to your food—you had a non-vegan vouching for it too.
6. Don't advertise it.
Why go through all the trouble of telling people your barbecue is vegan beforehand? If your guests know you well enough, they should expect it. If you hired the right catering company like I did, your guests won't care the food is vegan because they won't know. Frame the discussion in what you're giving guests (incredible, good-for-you barbecue and luscious chocolate-peanut butter cake) rather than what you're taking away. Bonus: You'll automatically avoid any lactose-intolerance issues and shellfish allergies (but do watch out for soy and nut allergies).
The bottom-line: Good food is good food. And your wedding is about you. If vegan food's important to you, your wedding should reflect that.
Just don't put vinegar in your barbecue sauce.
Jared Misner is a writer in Charlotte, North Carolina. Follow him on Instagram @jaredmisner.