How to Plan a Delicious Vegan Wedding Menu
Having a vegan reception shouldn't be difficult—we're here to help.
When you're about five months out from your wedding day, it's time to complete arguably the most fun wedding checklist task: finalizing your menu. Whether you're choosing to have a vegan wedding menu because you're already plant-based, want to reduce your carbon footprint or as a way to stay healthy, having a vegan wedding menu for your reception doesn't have to be tricky. With veganism growing in popularity, there are plenty of options you can serve that are delicious—and will also adhere to the taste buds of your meat-eating guests. Food plays a major role in your wedding, so celebrate your love with food that stays true to you and your partner's beliefs and leaves everyone satisfied. If you're not sure where to start, these expert tips and vegan wedding menu ideas will leave you inspired.
How to Create a Vegan Wedding Menu
How do vegan wedding menus and non-vegan menus vary in cost?
As you and your partner begin creating your vegan wedding menu, you'll need to know the costs required to make it—so you can stick to your wedding budget. According to The Knot Real Weddings Study, the average cost of catering in 2021 was $75 per person. Fortunately, you can breathe a sigh of relief because choosing vegan food won't cause you to overspend. "Cost for beans, rice, vegetables and fruit are less expensive than high-end meats," says Doron Petersan, founder of the 100% plant-based Sticky Fingers Bakery in Washington, DC.
But even though vegan food is typically less expensive, Petersan says your costs will ultimately depend on your chosen caterer. "Most of the cost of catering comes down to labor and the time spent to present, prepare and serve the meal," she says. This means you'll have to do some research to find a vegan wedding caterer that works best for your budget and is available in your area.
Do I have to tell my guests in advance about our vegan wedding menu?
Your guests will want to know what's on the menu regardless of what food you serve, but that doesn't mean you need to tell your guests that you've decided to have an entirely vegan menu before your wedding. If guests already know that you follow a plant-based diet, they might presume that you'll be serving vegan food at your wedding anyway. By having a vegan wedding menu, you're not only representing the food you and your partner love, but what you both support too. "Having a vegan menu is a way to make ethical and environmental change," says Petersan. "Couples who choose to have a vegan menu are raising awareness and getting their community involved in something they care about. If you tell people what it means to you they might make the change too."
We're vegan. Do we need to offer non-vegan options for our guests?
Simply put, no. You don't have to offer non-vegan options for guests if you're serving vegan wedding food. Just like with other important planning decisions you and your partner will make, your wedding is supposed to be about you. "Your guests should support you and who you are. It's not about the dietary preferences of the guests," Petersan explains.
If you would like an opinion from a non-vegan person about your menu, we recommend asking a close friend or family member to join your tasting appointment. This way, you can see if the vegan wedding menu options will appeal to multiple palettes.
Does a vegan wedding menu help achieve my sustainability goal?
Yes, having vegan wedding catering will help you have a more sustainable wedding. According to a report from the United Nations Environment Programme, in general, "animal products, both meat and dairy, require more resources and cause higher [greenhouse gas] emissions than plant-based alternatives." So no matter if you're serving a couple of vegan options or doing an entirely vegan menu, you'll be reducing your carbon footprint while enjoying your big day.
Want to know more ways you can have a sustainable wedding? Consider planning local wedding festivities to reduce carbon emissions caused by travel or compost your leftover wedding food to reduce food waste.
Vegan Wedding Menu Options
Now that you've decided to go with a vegan menu for your wedding, it's time to get some inspiration. Here's our list of mouthwatering vegan wedding menu ideas that you'll be dying to try.
Vegan Wedding Cocktails
Margaritas: Margaritas are completely vegan and are versatile enough that you can craft numerous tasty flavors, like pomegranate or spicy jalapeño, that will leave your guests wanting more. If you want to add sweetener to your cocktails, opt for agave syrup, which is a 100% plant-based product, or raw sugar as an alternative to honey and white sugar.

Espresso martinis: These delicious cocktails are all the rage right now and luckily vegan couples don't have to miss out on the fun. Espresso martinis include a few simple ingredients: vodka, coffee beans, espresso and coffee liqueur (some coffee liqueur contains milk, so double-check with your bartending service to find one labeled dairy-free).

Mojitos: If you're having a summer wedding, consider having a Mint To Be Mojito as your seasonal signature cocktail. We love the idea of serving a refreshing berry mojito to cool off your guests during the cocktail hour. Since this cocktail requires sugar, use sugar alternatives like the ones stated above.

Cosmopolitans: Planning a luxe look for your wedding? Tune into your "Sex and the City" dreams by offering cosmopolitans at the cocktail hour. Bonus: No alternatives are needed.
Vegan Wedding Hors d'oeuvres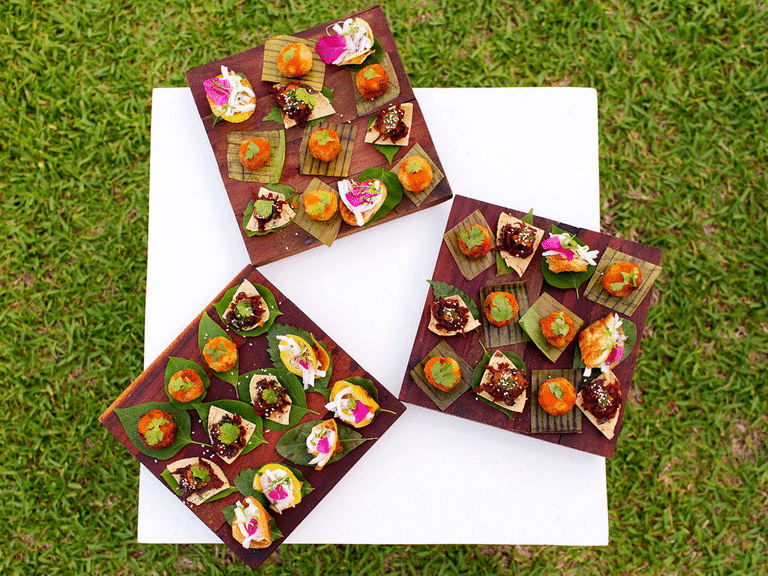 Bruschetta: A classic hors d'oeuvre and one that many people wouldn't even consider vegan. We call this a win-win appetizer.

Stuffed mushrooms: Make sure to communicate with your caterer that you don't want these mushrooms stuffed with cheese or other dairy products (unless it's vegan cheese). Make a simple twist and stuff the mushrooms with a rice blend that will leave your guests wanting more.

Potato skins: This is another crowd-pleasing hors d'oeuvre—but be careful, as typical potato skins usually have dairy products and bacon on top of them. If you're not hiring a vegan caterer, tell them you'd like to top the potatoes with something dairy and meat-free instead, like guacamole.

Buffalo cauliflower dip: Put a spin on an app classic by adding this hearty and flavorful dish to your vegan wedding menu. Your guests probably won't even notice there isn't any meat in this spicy appetizer.
Vegan Wedding Entrees
Waffles: For a brunch reception, treat guests to waffles—just make sure they're made with vegan products and produce.

Eggplant parmesan: Fried eggplant served atop vegan pasta and marinara sauce will be a huge hit with your guests.

Spanish paella: Onions, red and orange bell peppers, artichokes and tomatoes mixed with rice and veggie broth will create the best paella your guests will ever taste.

Pizza: Serve pizza loaded with veggies, just skip the cheese (or add vegan cheese). It will be just as tasty with vegan dough, the right sauce and toppings—we promise.
Vegan Wedding Desserts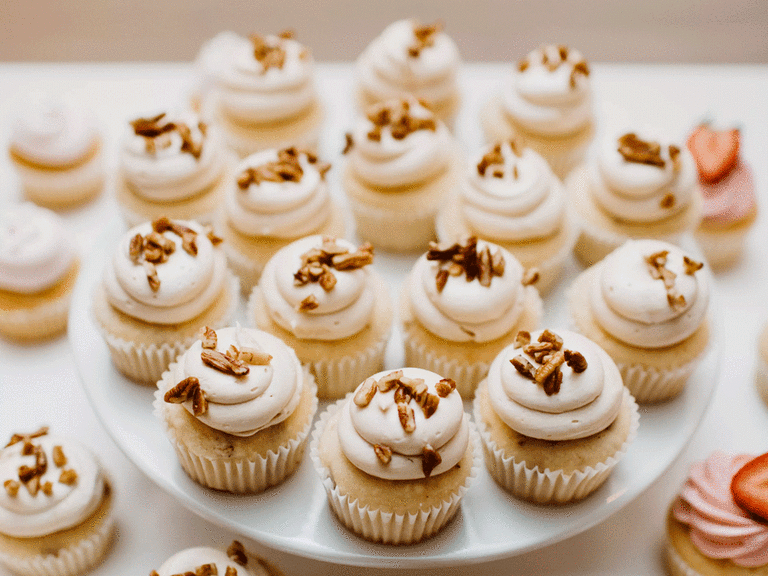 Wedding cake: Just because you want a vegan wedding cake doesn't mean it can't look and taste just as amazing as a non-vegan one. With vegan lifestyles gaining popularity over the years, there are numerous vegan bakeries to choose from so you can create the cake of your dreams.

Cupcakes: People still love a classic wedding cake, so you can't go wrong with serving the miniature version at your reception. We love the idea of these yummy looking vegan caramel-pecan cupcakes as after-dinner treats for the wedding.

Doughnuts: Want an Instagram-worthy wedding cake alternative? Consider having a doughnut wall at your reception. And don't worry—vegan bakeries have plenty of vegan fillings, sprinkles and icings you can choose from, so you can truly make your wedding dessert unique.

Pie: This dessert doesn't have to only be for Thanksgiving. Ask your local vegan bakery if they can make a delicious vegan pie that will make your guests come back for seconds.