Victorian-Inspired Wedding Dresses To Obsess Over
​Every love story deserves some old-fashioned romance. Look to the Victorian era for breathtaking bridal style that will stand the test of time.
Victorian Wedding Dress Details to Look For
Gothic Inspiration
No one ever said you had to stick to the color white. It's your wedding day. You get to call the shots--including what color you want to rock. A striking black Victorian-style wedding dress can make a big impression. Bold and dramatic, these black gowns are absolutely stunning. Choose one with a flattering mermaid silhouette or go with one that has black lace and tulle detailing.
Chic Corsets
If you really want to look like you've stepped back in time, go for a Victorian wedding dress with a corset. A tight-laced bodice form will show off your figure while exuding feminine charm.
Long-Sleeved Wonders
Some of the most enchanting Victorian-inspired wedding dresses feature whimsical long-sleeve styles. You'll find ones boasting sheer poet sleeves, while others have lace or embroidered angel-style sleeves. Whether you want tight-fitting sleeves or ones that loosely flow to your sides, they are certain to bring the style up a notch.
Gilded Heirlooms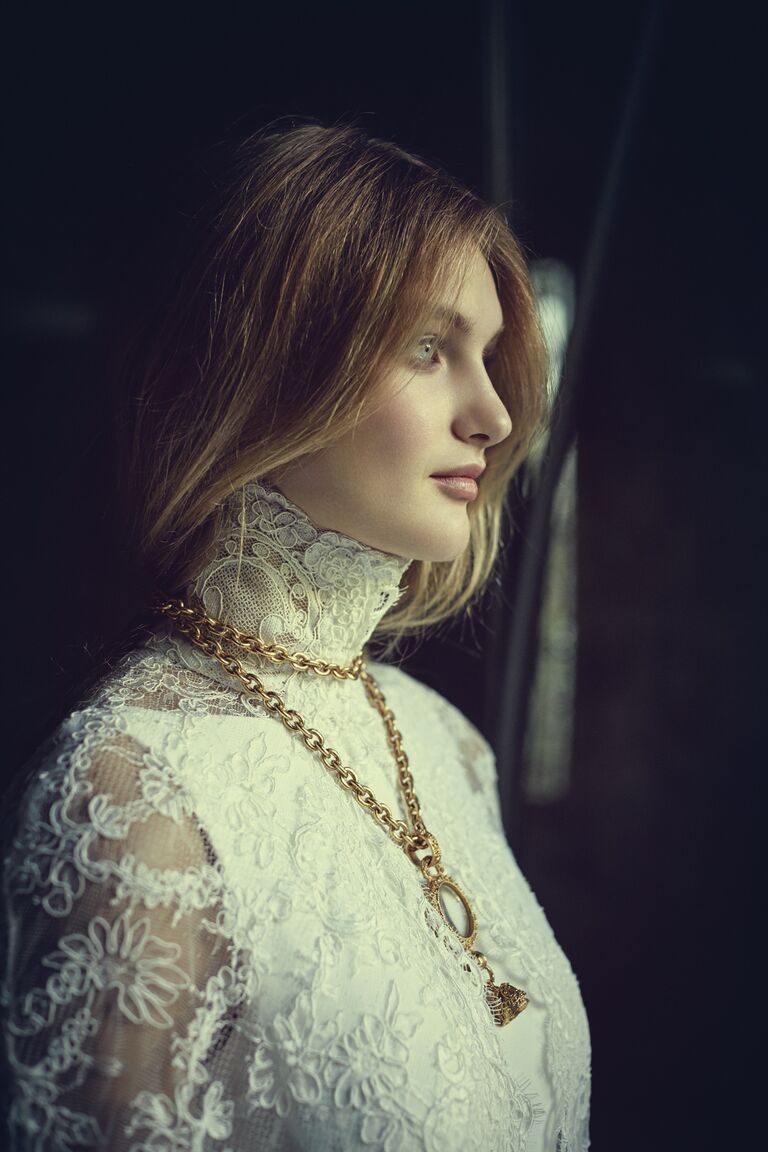 If you're the kind of bride who loves scouring antique shops and finding treasures from the past, then a Victorian-style wedding dress may be right up your alley. Victorian-inspired wedding dresses exude charm and elegance while harkening back to a romantic era. These lovely and whimsical gowns are ideal for the bride who likes one-of-kind pieces. They're perfect for showing off your sense of style while veering away from more contemporary and modern looks.
Whether you're searching for Victorian wedding dresses with high necklines and long sleeves or billowing tiers and lace embellishments, we have the ultimate dress inspiration. Explore some of our favorite Victorian-inspired wedding dresses and styles and you're certain to fall in love with the gown of your dreams.
Vintage gold jewelry is a luxe take on the "something old" tradition. Drape a thick chain over a high collar to make a stunning regal statement. Visit local antique shops to find real Victorian gems that will perfectly match the style of your wedding gown.
Dress, $1,295, Cape, $4,500, TheiaCouture.com; Necklace, vintage Chanel, WhatGoesAroundNYC.com
Fanciful Frock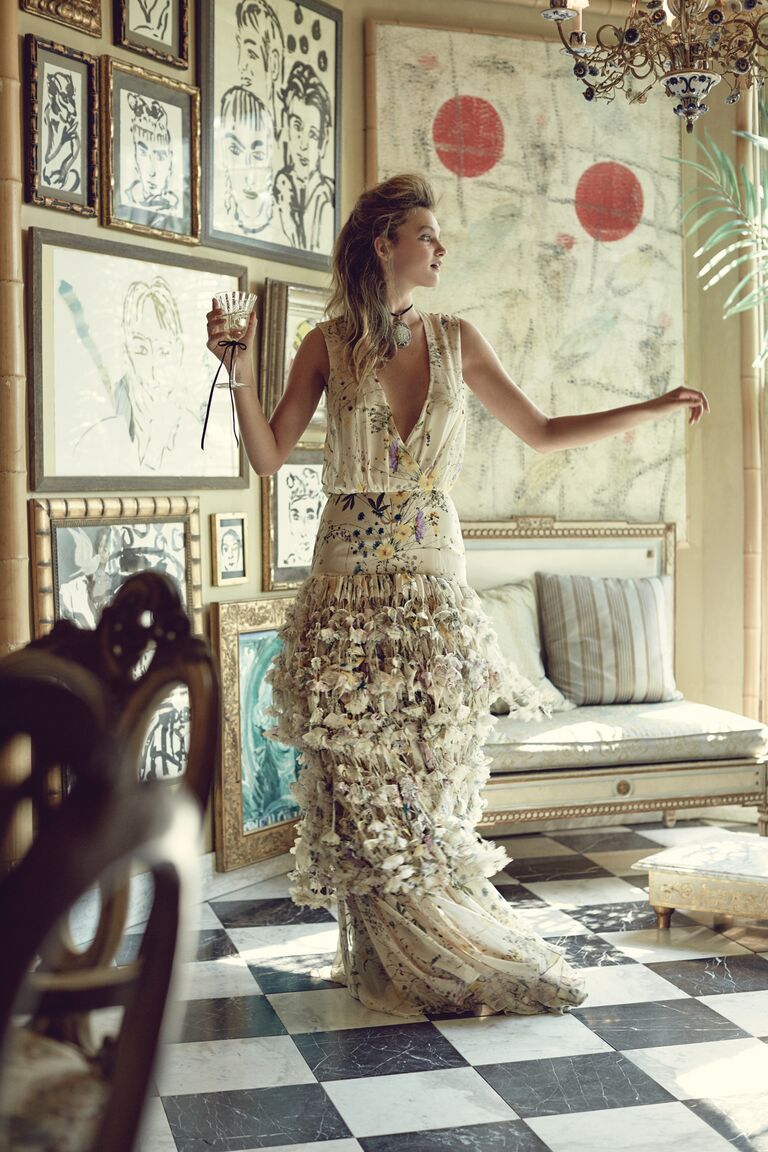 Your second dress is the perfect opportunity to show off your whimsical side. A floral-print gown with cascading ruffles of silk flowers is pure festive fun. Light and breezy, a style like this will look magical on the dance floor.
Dress, $16,500, HoughtonNYC.com; Choker, $4,710, AmedeoNYC.com
Lovely Laces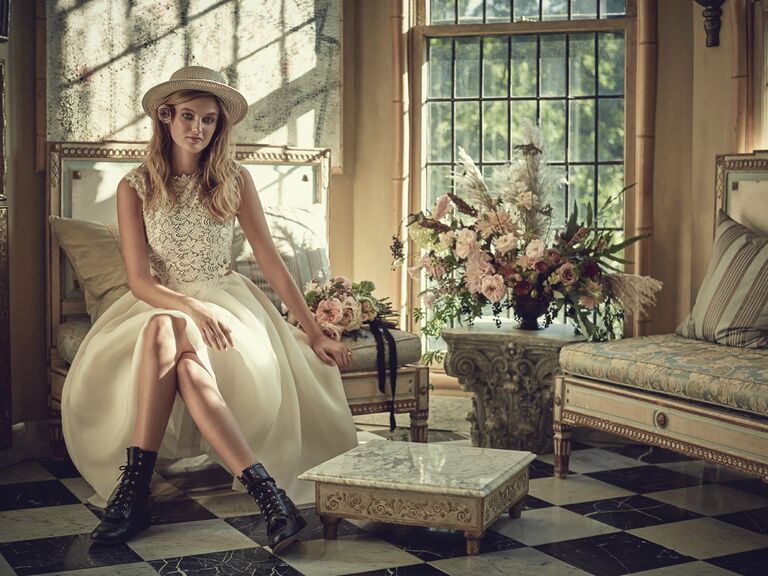 Who says boots can't be bridal? Traditional lace-ups add some rustic flair to a dainty shorter number.
Dress, $3,400, Monique Lhuillier; Engagement ring, $6,150, Leibish.com; Hat, $250, EricJavits.com; Boots, stylist's own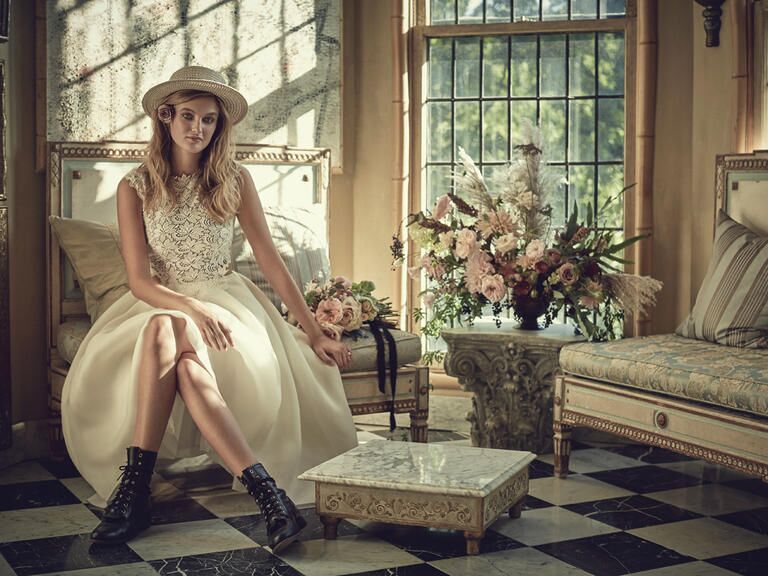 Inspiration from another era can lend romance and elegance to a 21st century wedding. From striking silhouettes to opulent accessories, velvet sashes to lace capes, it all adds a touch of old world sophistication. Check out these looks from our "Great Expectations" shoot (featured in our Winter 2015 issue) and prepare to be transported.
Fluttery Frills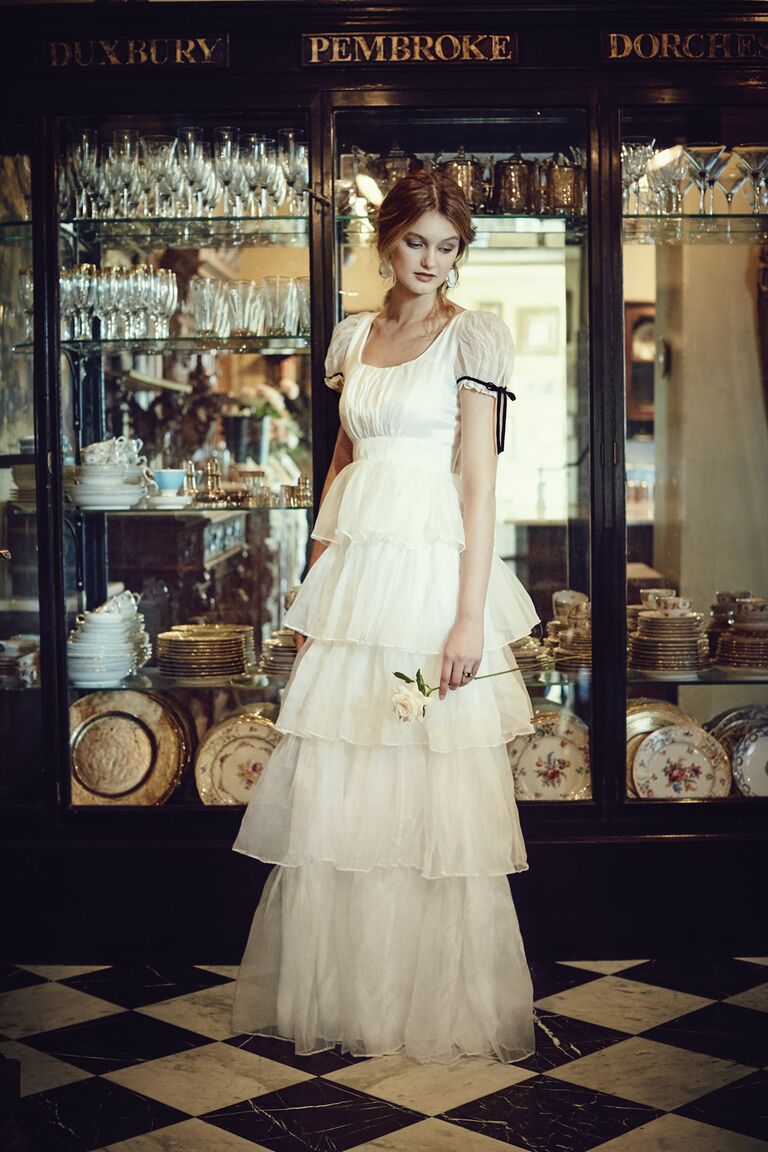 If you're planning to dance the night away, consider a gown with billowy tiers. A lightweight fabric like organza is structured but still twirl worthy.
Dress, $2,450, TwingsAndHoney.com; Engagement ring, $6,500, AnnaSheffield.com; Earrings, $2,970, AmedeoNYC.com
Want more wedding dress inspo? Shop more gowns here!
Buttoned Up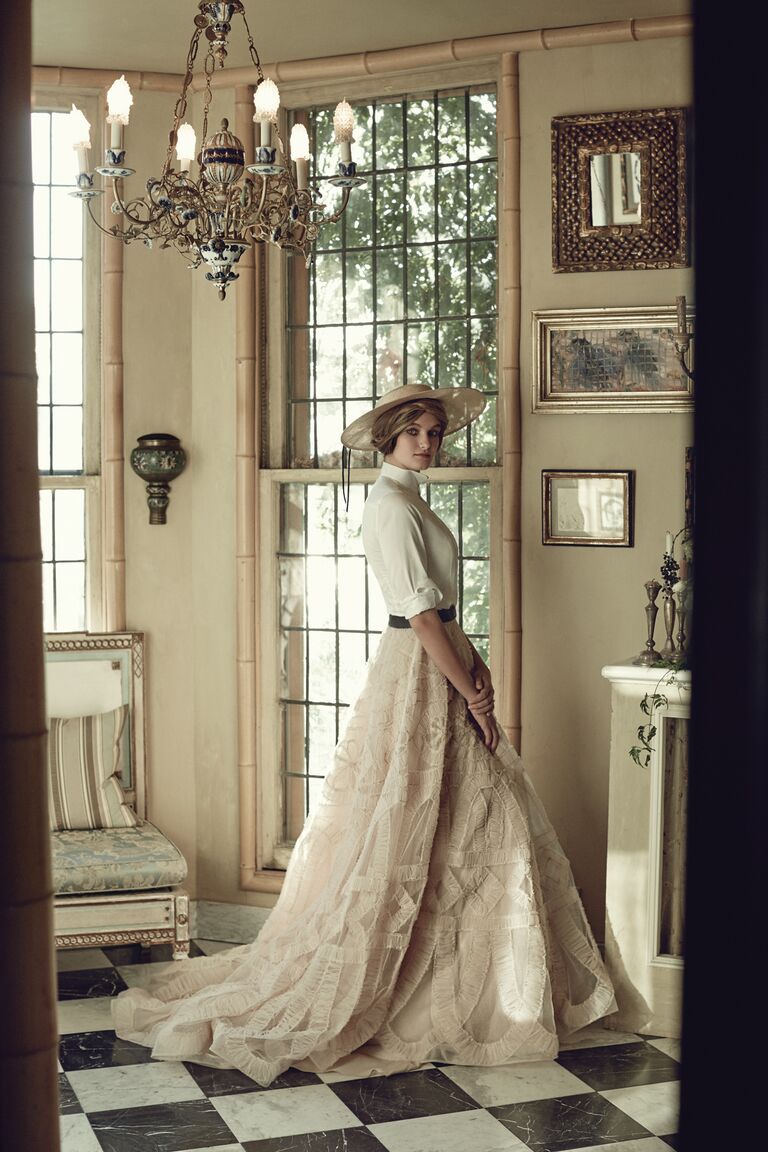 Layer a crisp white blouse over a blush ball gown for a ladylike look that's simple and oh so chic.
Dress, $2,475, Watters Brides; Shirt, $150, TheTailoryNYC.com; Hat, $295, BijouVanNess.com; Belt, stylist's own
Dreamy Ending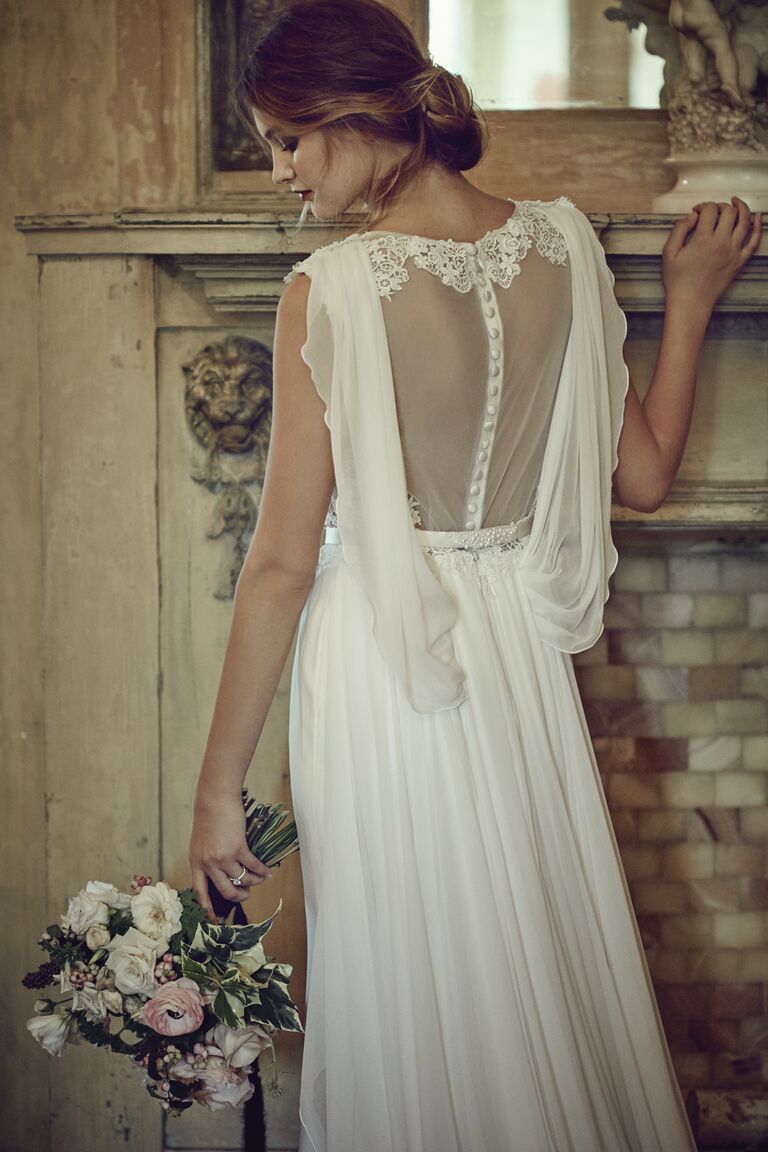 Open backs have been big for a few seasons, but an intricate combination of antique buttons, flowy chiffon and lace appliqué leaves a lasting impression.
Dress, $4,250, Eugenia; Engagement ring, $6,380 (not including center stone, band not pictured) Simon G. Jewelry
Classic Revival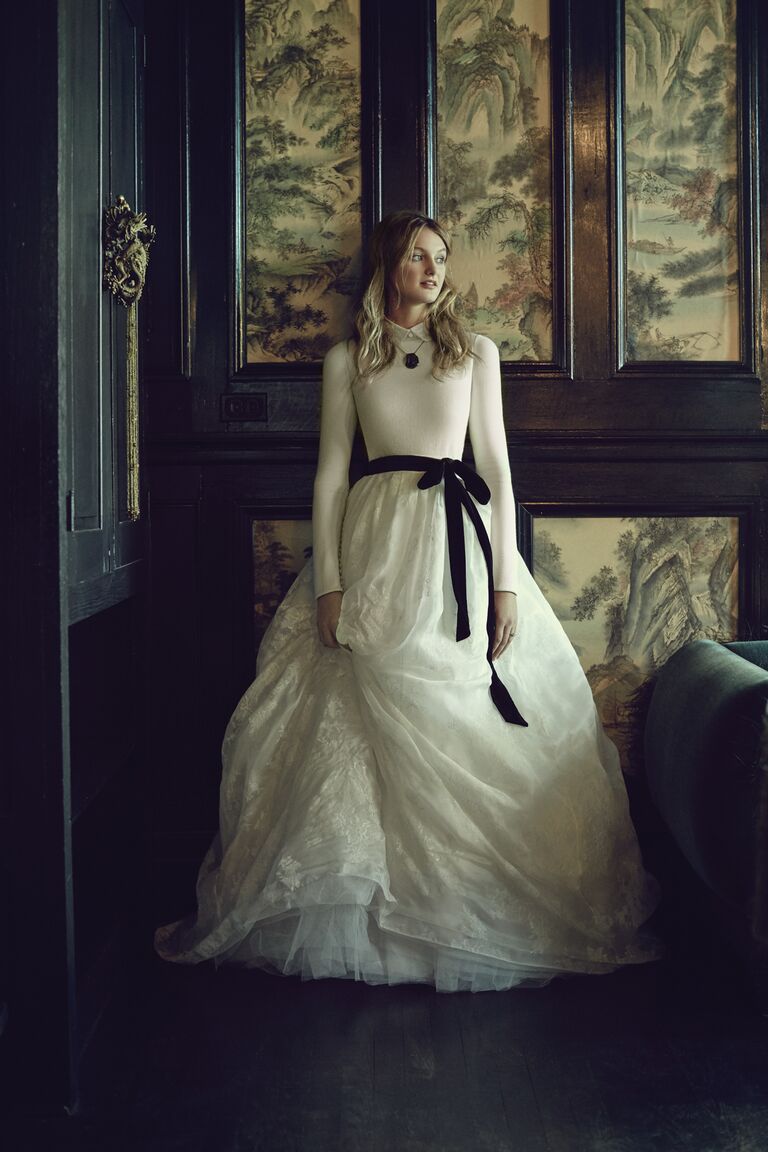 Formal pieces like a ball gown and velvet sash give a cozy, bridal-worthy sweater serious black tie appeal.
Dress, from $5,000, Rosa Clará; Engagement ring, $4,550 (not including center stone), Kirk Kara; Necklace, $2,380, AmedeoNYC.com