Experts Say Dating During COVID-19 May Lead to Stronger Relationships
There's no better time to start swiping.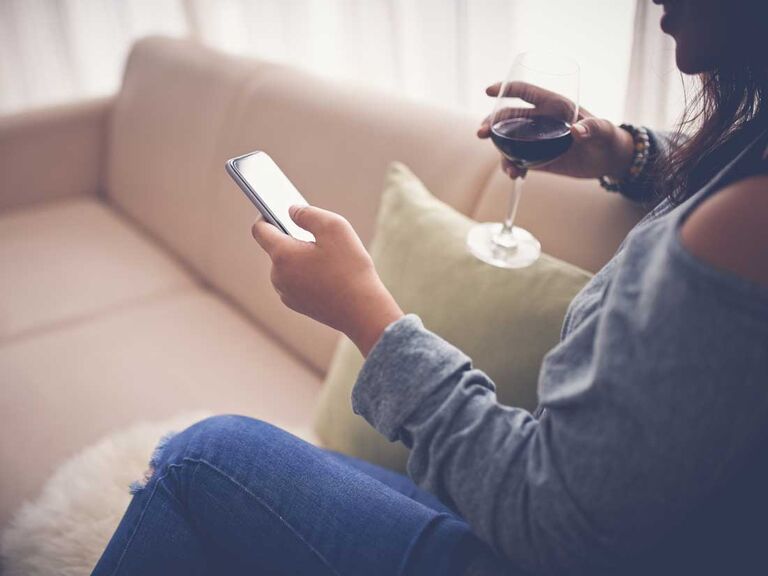 Dragon Images / Shutterstock.com
If you've been waiting for a sign to go on a virtual date, consider this: Experts say online dating amid the coronavirus pandemic has the potential to create stronger emotional connections, in turn leading to long-lasting relationships. Social distancing guidelines have resulted in plenty of newly engaged and married couples navigating stay-at-home measures together—but this has also presented a uniquely different challenge for singles. While online dating is as popular as ever, the pandemic has led to a rise in FaceTime dates, phone calls and atypical dating ideas that don't involve physical time spent together. And while some may believe physical chemistry is the most important factor for a successful relationship, industry experts say otherwise.
Dating, while physically distanced, is allowing individuals to strengthen their emotional connections with each other, whether they've just matched on an app or they've been casually seeing each other for months. In fact, some say the COVID-19 pandemic has the potential to change the way people date in the future. We spoke to industry experts from popular dating apps to find out why. Here, we break down how dating in the time of COVID-19 is creating stronger emotional connections, which can lead to healthier, long-lasting relationships.
Emotional Connections Are a Top Priority
Some online daters aren't concerned with emotional connections as soon as they make a match. But for those who are interested in finding a lasting relationship, a strong emotional bond is key for success. Now, without the ability to explore physical connections in quarantine, emotional compatibility takes top priority. "Emotional connection is the foundation of your relationship," says Liz Colizza, Head of Therapy, MAC, LPC, NCC for relationship counseling app Lasting. "It is the emotional bond or attachment that you share with your partner. All couples have an emotional connection, but it is the quality of your connection that matters. Research shows that it is the single strongest predictor of emotional stability and satisfaction in a committed relationship."
While dating apps are designed to help users find genuine connections, many have pivoted their services to help singles capitalize on emotional connections amid COVID-19. "There are still positives to making connections and virtually dating even while we're in quarantine," says Bumble's Vice President of Strategy, Priti Joshi. "We've heard from a number of our users that the quality of connection that you make with another person during COVID-19 has the potential to be even better than what it could've been before."
In fact, early data from OkCupid proves emotional connections are now top of mind for daters. According to the company's internal data gathered from the start of quarantine, 84 percent of OkCupid respondents think it's important to have an emotional connection before a physical one. Over the last two months, 73 percent of OkCupid users said love is more important than sex right now—in fact, 41 percent of OkCupid respondents would say "I love you" to someone they've never met in person if it felt right. Though virtual dating is a new experience for many, early data and feedback indicates that users are taking advantage of this time to find genuine emotional connections with their matches.
Staying Connected Is Easier Than Ever
With so many means of communication, it's easier than ever to stay connected (and date intentionally). As a result, users are becoming more comfortable with FaceTime dates and phone calls early on. "Prior to the pandemic, going on virtual dates through voice call and video chat before meeting in person was rarely the norm, even though it was something we've always encouraged," says Joshi. "More people are eager to go on a video date than we may think. In fact, we've seen an 84 percent increase in voice calls and video chats during the week ending March 27, vs video calls during the week ending March 13."
Data from Hinge tells a similar story. "Video dates are a great way to continue your dating journey with a match while staying safe indoors," says a spokesperson. According to a study conducted by the brand's Hinge Labs, 85 percent of users who've experienced a video date say it's a better way to get to know someone [as opposed to simply messaging each other]. An additional 63 percent of users say that they've felt a growing connection with someone over video chat.
Since quarantine began, online daters are also more likely to "define the relationship" with someone they've only virtually dated. Data shows that one in three Hinge users are open to being exclusive with a match they've only video chatted with—in fact, that number is even higher for male-identifying users (43 percent, to be exact), indicating that virtual dates help users establish stronger connections early on. "This particularly hard time is inspiring users to virtually date and emotionally open up in new ways," the spokesperson adds.
Apps Are Innovating to Make Virtual Dating More Effective
Now, brands are rolling out new features to help couples connect faster than before. In April, Bumble launched an in-app game to encourage matches to engage in rapid questions-and-answers to quickly get to know each other, as well as voice messages to send audio notes to matches.
Similarly, OkCupid—known for extensive profile questions to help initiate conversation—has added hundreds of prompts specifically about dating while social distancing to help users get comfortable with the current reality. Because of these new hyper-focused questions, the app has recorded an 11 percent increase in first messages sent when compared to the same time frame in 2019.
At Hinge, users can privately mark when they're ready for a virtual date—once both matches do so, the app will encourage the couple to go offline. "Turning conversations into dates—virtual or not—can be challenging, and we found that one-third of our users feel that this particular moment in dating is where they felt the least confident," says the app's spokesperson. "We recently released 'Date from Home' to help users move from chatting with their match to going on an actual date by easily signaling when they're ready for a video call."
Brands continue to share unique virtual dating ideas to help users find creative new ways to connect while adhering to social distancing guidelines. (Hinge has even created Zoom backgrounds to make digital dates feel more realistic.) Social media stories show how singles are making connections—from ordering each other food to watching movies together over FaceTime, users are finding unique ways to make their dates exciting even if they can't physically be together.
By keeping dates lighthearted and fun, users are able to establish a strong emotional connection early on without feeling pressure to commit to a serious relationship quickly. "It may be helpful to think of these 'dates' as simple phone calls and time to get to know each other better," says Colizza. "It takes the pressure off making eye contact the entire time, it makes conversations less awkward, and you'll create fun shared memories."
Long-Distance Communication Is Now an Option
Dating apps are also catering to users by lifting location restrictions, allowing them to date anywhere in the world. "We don't want our users to distance socially just because they're physically apart," says Joshi. "We want to give them the tools and resources they need to make connections in different, exciting ways. By allowing our users to swipe anywhere in the country, we're giving them the technology to connect with someone in a different city, state or country during an unprecedented period of isolation."
Similarly, OkCupid users are open to connecting with someone outside of their immediate location. According to the company's data, distance preference has been updated to "Anywhere" over 1.5 million times since the beginning of quarantine. As a result, those who changed their distance preference to "Anywhere" saw an immediate five percent increase in likes and five percent spike in conversations.
Because users are willing to expand their circle, they're more likely to find compatible matches they might not have connected with pre-quarantine. "We also know that so many of our users are living in communities that they don't normally live in—maybe a student is living at home with their parents, as an example," adds Joshi. "We wanted to give our users the ability to also find others that might be a part of their community in the future."
Users Are Showing More Vulnerability
Online dating prior to the coronavirus carried the expectation to eventually meet up. For some, the thought of meeting a stranger shortly after matching online adds an element of stress, which can affect the relationship. But this expectation is on hold, allowing for users to feel more comfortable initiating conversations and opening up. "We have some great features like voice call and video chat that allow for an even deeper connection without having to meet in public," says Joshi. "The feature—which we launched last year—allows our users to make voice and video calls within the app without sharing any personal information, like a phone number or email address."
By keeping communication virtual, users are able to open up to their matches without worrying about having to meet in person before they're ready. And since data indicates that the majority of online daters are receptive to dating now, they'll be able to express more vulnerability as the relationship progresses.
Deeper Conversations Happen Organically
Without the ability to spend physical time together, dating during a pandemic is helping users initiate deeper conversations quicker. "We've heard from a number of our users that the quality of connection that you make with another person during COVID-19 has the potential to be even better than what it could've been before," says Joshi. "One user in Vancouver has even said that she's experienced a 'seismic tonal shift' in online dating since the coronavirus pandemic has intensified and self-isolation has become the new reality."
"That same user said that she feels that going through this experience has made her open up more to her Bumble matches, and she's been more vulnerable when meeting new people online," Joshi adds. "We're also hearing from other users that they're feeling more relaxed and more comfortable having deeper conversations online since the pressure is off to immediately meet up in real life."
By opening up about important topics early on, you'll set yourself up for a healthy emotional connection with your partner. "Building a strong emotional connection virtually is the best thing you can do for your relationship during quarantine," says Colizza. "Then, you both feel that you are there for each other, which creates a felt sense of emotional safety and security in your relationship. This is the experience of secure attachment. There's an incredible thing that happens when you are securely attached to someone—you are free to become more fully your best self."
Keep in mind, though, emotional connections don't always come from deep, late-night heart-to-hearts. An emotional connection is also strengthened through fun moments too, like playing iMessage games, sharing memes, or laughing over FaceTime. "Another way to stay emotionally connected is to answer your partner's emotional calls for humor," Colizza adds. "Check-in during the day with a funny gif or meme. Inviting joy and laughter into your relationship strengthens your emotional bond and shifts the focus to the positive."
Though couples are still in the early stages of social distance dating, experts predict emotional connections will continue to strengthen amid the coronavirus pandemic. "It's too soon to tell what impact this will have on the future of our business, but we know people are making deeper connections virtually at this time," says Joshi.
"While you can never replace meeting someone in person, digital dating is actually inspiring people to create deeper connections earlier on," concludes a Hinge rep. "We anticipate that this time will lead to stronger, long-lasting relationships. We believe digital dates, as a precursor to meeting in person, will be a trend that stays with us beyond this moment in time."