How Dating Apps Are Changing Our Psychology
Experts share how to use them to your advantage, while protecting your mental health.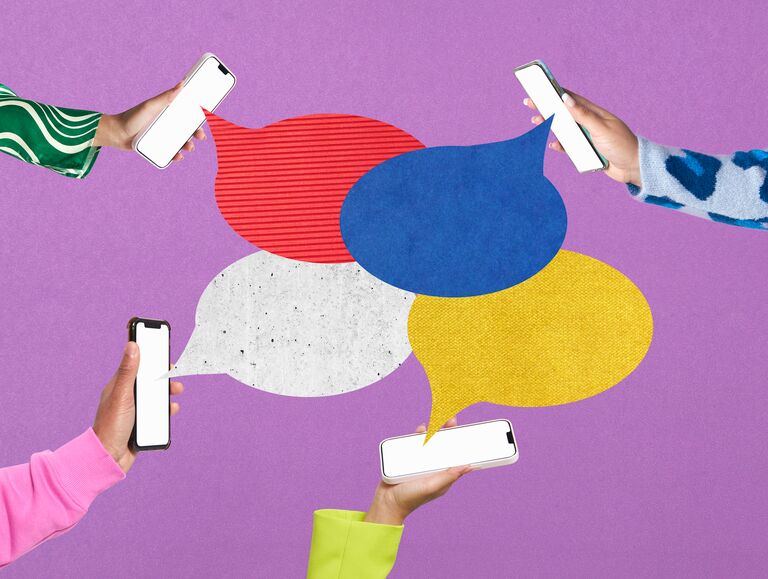 We Are/Getty Images
We have included third party products to help you navigate and enjoy life's biggest moments. Purchases made through links on this page may earn us a commission.
In 1965, the trajectory of modern dating changed when two Harvard students built the first computer-based matchmaking system in the US. Three decades later and with growing global access to the internet, Match.com launched the first online dating service in 1995. Eventually, the dating industry was forever changed with the onset of phone-friendly apps like Tinder, Bumble, Hinge and more.
According to The Knot 2021 Jewelry and Engagement Study, dating apps are currently the most common way engaged couples now meet. This particular statistic has been on the rise over the last decade, showing no signs of slowing down in 2023—especially as Statista estimates there are over 44 million dating app users in the US alone. As more information is released about dating app psychology, however, it's become clear that these virtual matchmaking tools are impacting users' mental health and overall well-being.
While it may be too early to definitively say how dating apps are changing society, there's no denying its impact has effectively changed the way people date today. To fully understand how dating apps are impacting our psychology, experts break down what to know about the technology and how it's affecting modern dating.
Meet the Experts
In this article:
How Dating Apps Impact Psychology & Mental Health
Just like any other form of social media, dating apps have the power to impact your mood, mindset, and, ultimately, your mental health. As a user, being aware of the technology behind dating apps and its impact on your psychology over time is well recommended.
They're Designed to be Addicting
If you've ever fallen down a mindless swiping rabbit hole, you certainly aren't alone. In fact, that's exactly what dating apps are designed to do. With endless game-like swiping mechanisms, dating apps are literally programmed to make you stick around for longer. "The dating apps' best interest is to keep users coming back for more, so they were designed like slot machines to trick the pleasure center of our brains," explains Lily Womble, dating coach and founder of Date Brazen. "They were created so that users crave cheaper rewards, like a match or a message, over the ultimate reward, which is a meaningful connection or even a relationship.
Think about the feeling you get when you match with someone on a dating app. That initial burst of excitement when you receive one match may quickly disappear when you find another profile that isn't a match. This trains your mind to keep searching for that feeling of instant gratification, trapping you in a cycle of high and low emotions, which is why you keep coming back for more. Scientifically, this behavior is known as the dopamine-seeking-reward loop. Dopamine, otherwise known as the "feel good" hormone, is linked to the pleasure center in your brain and can be activated by something rewarding, like collecting dating app matches. As such, users have been conditioned to search for that validation by getting more matches. Experts have linked this cycle to other addictive experiences, like gambling or casino games.
In fact, the correlation between dating apps and slot machines was confirmed by Tinder CSO Jonathan Badeen. In an interview with journalist Nancy Jo Sales in the 2018 HBO documentary Swiped: Hooking Up in the Digital Age, Badeen admitted that the swiping mechanism was partially inspired by his college psychology classes, where he had studied the work of psychologist B.F. Skinner. One of Skinner's experiments conditioned pigeons to believe that food delivered randomly into a tray was prompted by their pecking. As a result, they began pecking more in the hopes of earning extra food. "Skinner essentially turned pigeons into gamblers," Sales said in a podcast episode with technology blog Recode ahead of the documentary's release. "That's the whole swiping mechanism. You swipe, you might get a match, you might not. And then you're just like excited to play the game."
They May Encourage Poor Relationship Behavior
On social media, you can easily find cautionary tales from dating app users recounting their frustrating experiences with such behavior. Consider "West Elm Caleb," for example. This viral story began with one New York City-based TikTok user venting about being love bombed and ghosted by Caleb, a 25-year-old Hinge match who worked at West Elm. As the story gained millions of views, other NYC-based women came forward claiming to have been ghosted by the same person. Within days, countless others—including those who never matched with the original Caleb—began sharing their own serial ghosting horror stories with the hashtag #WestElmCaleb. To date, that tag has nearly 94 million vows on TikTok, while #DatingAppFail has 24 million, indicating that West Elm Caleb is just one of many examples of poor dating behavior personified.
Once you're hooked on swiping, you'll come across tens, hundreds, or even thousands of faces on your screen, without ever meeting them in person or pursuing a real-life relationship. This contactless exposure is inherently overwhelming for your mind. "Dating apps are fundamentally difficult on a person's nervous system because there are far too many options to meaningfully engage with every single one," Womble adds, noting this results in cognitive overload. "There's a Match.com study that references cognitive overload on dating apps, and how our brains can't physically hold on to all the information that we're being given. When our brains go into cognitive overload, higher functioning shuts down."
Womble suggests this unique stress on your brain may be responsible for some of the most common negative experiences on the apps. "I believe this cognitive overload may be part of the reason we see so much bad behavior, like ghosting or love bombing," she says. "While people are most likely doing their best, they are so overwhelmed."
They Can Diminish Skills Needed for a Romantic Relationship
Coupled with the fact that online dating doesn't require in-person communication from the start, some users may dissociate from reality and revert to poor communication techniques without even being aware of it. "Online dating is similar to social media in that it's very easy to detach from the fact that you're interacting with a human being," says eharmony's relationship expert Minaa B. "It can make people less empathetic and compassionate regarding the needs and humanity of others."
This skills deficit may indicate why some dating app users struggle to find a compatible match. A Psychology Today study published in August 2022 found that "younger and middle-aged men are the loneliest they've been in generations," with data indicating this trend may be on the rise. In the analysis, written by Greg Matos PsyD, he notes that the overwhelming majority of dating app users are men—62%, to be exact, per Time. Part of the disconnect for that user base may be due to skills deficits, which could be a side effect of dating apps affecting our psychology. "For men, this means a relationship skills gap that, if not addressed, will likely lead to fewer dating opportunities and longer periods of being single," he wrote. "There's less patience for poor communication skills today."
Matos, who hosts a live weekly dating show on TikTok, added that relationship standards are generally higher today. "With so many options, it's not surprising that women are increasingly selective," he continued. "I speak with hundreds of audience members every week; I hear recurring dating themes from women between the ages of 25 and 45: They prefer men who are emotionally available, who are good communicators, and who share their values." Of course, while this anecdotal learning is skewed toward heterosexual dating app users, the information is applicable to all. Thanks to an influx of information online, along with digital platforms to learn from other daters around the world, users are becoming more tuned in with what they want in romantic partners, and they aren't willing to tolerate less-than-healthy behavior in relationships.
They Perpetuate the "Paradox of Choice"
Given the sheer volume of dating app users, it might feel like the one is always one more swipe away. After all, how are you supposed to know whether your soul mate is the person you just matched with, or if they'll appear on your feed in ten swipes? Thanks to the apps' endless scroll, it can feel impossible to know when (or if) you've found "the one." This overwhelming experience is a universal one on the apps, and it perpetuates the paradox of choice. This observation, coined by psychologist Barry Schwartz, author of the book The Paradox of Choice, says an abundance of options may require more effort to choose, which can make people feel unsatisfied with their choices. Simply put, Womble says, "It's difficult to choose somebody or to know who is right for you when you have a ton of options."
We must also acknowledge the flip side of the dating app "paradox of choice." While some profiles will be met with a seemingly unending feed of potential matches, that's far from the case for every user. "There are people who don't get that much interaction," Womble continues. "Different studies, as well as the book The Dating Divide, indicate that people of color, specifically Black and Brown people, do not get as much attention on dating apps as their white counterparts." This scarcity of options can enhance feelings of isolation and loneliness, two emotions commonly connected with dating apps.
They Can Facilitate Feelings of Low Self Esteem
Beyond isolation and loneliness, dating app users may experience a range of emotions, from feeling sad about getting ghosted or feeling unworthy for not having many suitable matches. According to data from Pew Research Center published in 2020, it isn't rare for dating app users to experience mental health challenges. The results found that 45% of current or recent dating app users said the platforms made them frustrated, and 25% said they felt insecure after using them. Similarly, a study completed at the University of North Texas found that Tinder users experienced more mental health issues than non-users, such as "lower levels of satisfaction with their faces and bodies" and "lower levels of self-worth."
Of course, that's not to say that everyone is destined to feel these emotions while on the apps. That same Pew Research Center study says that roughly six-in-ten online daters (57%) say they've had an overall positive experience on the platforms. And, as mentioned above, The Knot 2021 Jewelry and Engagement Study found that one in four engaged couples met online. While dating apps can lead to successful relationships, knowing how a dating app may impact your mental health will allow you to set appropriate boundaries and make the most out of your swipes.
How to Use Dating Apps to Your Advantage
Since matchmaking apps play a key role in modern dating, they won't be going away soon. In fact, the apps can be essential for some daters, like those who live in rural areas or users looking for niche connections that are harder to find. Regardless of the reason, it's completely possible to have a positive and rewarding experience on the apps, which we explain here.
Use One App at a Time
When determining how many dating apps to use at one time, there isn't one magic number that works for everyone. While there can be some benefits to using multiple, research actually indicates that only using one may be better for your mental health. Plus, dating fatigue can threaten your mental health, so you may experience burnout quicker by using multiple apps at once. Experts recommend finding one app that caters to your preferences and sticking with it. "Use a dating app that's pretty ubiquitous, and that feels best for your brain," Womble suggests. "I wouldn't recommend that the one dating app that people use is a niche site."
Make Your Intentions Clear
Before you even download a dating app, set personal goals. What's your ideal end game? Are you using the apps for something casual, or would you rather find a serious, committed relationship? Be honest with yourself and stick to your intentions. (Read: If a potential match says they're looking for a casual fling while you want something else, don't stick around just because.) Doing so will help you have a positive experience on the apps. "People don't want dating to feel overwhelming, but then can feel upset when they go on a date with someone they are not aligned with," says Bumble's relationship expert Shan Boodram. "When you're clear on what you want, the options become less overwhelming and, instead, more inviting."
Create an Authentic Profile
When it comes to dating app features, use them. Each dating app has a unique set of features that customize your profile, specifically designed to help you find compatible matches. "Complete your profile so people know more about who you are and what you are looking for on your dating journey. This can help potential matches also be intentional with you," Boodram says. "Intentional dating is still at an all-time high… 62% of US Bumble users shared that they are turned off by people who are not clear about their intentions."
While creating your profile, you may feel the need to make yourself look a certain way to be appealing to others—and you aren't the only one. "Daters today can feel a lot of pressure to be more 'swipeable' and less personal; to create a profile they think will be popular, even if it doesn't capture who they really are," Minaa B. explains. "According to eharmony's recent consumer survey, 58% of daters don't feel that their dating app profile gives a full view of who they are as a person." This signifies the importance of using apps that allow you to fully represent your best self, as that's the key to finding true, genuine matches. Certain features on apps (such as Hinge's voice prompts, eharmony's Compatibility Quiz and Bumble's badges) have been specifically created to help you show up authentically.
Limit Your Screen Time
Setting screen time limits isn't only relevant for social media like TikTok or Instagram. Just like those sites can negatively impact your health with too much exposure, the same is true of dating apps. We know that extended online dating use can be linked to feelings of loneliness or low self-esteem. Beyond that, the apps can also transmit negative feelings of toxicity or stress without you even realizing it. "Think about how many faces you see when you're swiping, and how much your mirror neurons are working," Womble says. "Your brain cells have the potential to mirror the energy you pick up on that platform, which can be toxic."
Consider this: As you're scrolling through a dating app, you might see a potential match who reminds you of an ex or a profile prompt that offends you. Those unexpected (and unwanted) triggers can stick with you and impact your emotions for the rest of your day—something that can be avoided by limiting your screen time. Boodram recommends that users set a specific time frame to use the app, and maintain the perspective that dating is only one portion of their overall happiness. "It's important to stay balanced, because dating is only one part of life, alongside friends, family, work, hobbies, self-care, and fun," she says. "Allotting time to use the apps can help you manage burnout tendencies."
Start by setting a 20-minute timer each day to use the apps. Use that period to swipe, work on your profile, and message your matches. Once that timer is up, turn your notifications off until the next day. Reinforcing healthy habits like this will help you have a better relationship with the apps.
Be Open to Dating IRL
While dating apps are a popular way to meet a significant other, remember that they aren't the only way. The Knot 2021 Jewelry & Engagement study found that one in four couples meet online, which means the other 75% meet in real life, such as through mutual friends, at weddings, in school, or at bars and restaurants, among other places. If you're feeling dating app burnout—or you simply don't want to use them—be open to finding your meet cute in real life. "While dating apps are a good option and work for many people, the idea that dating apps are the only option isn't accurate," says Hilary Weinstein, LCSW and founder of HLW Therapy. "Like anything, balance is a good way to protect mental health. Use them, but don't discount other ways to meet people."
Of course, it may be easier said than done in this tech-focused climate. Although it may feel scary at first, opening yourself up to love IRL isn't as hard as you might think. "Take your Airpods out of the grocery store," Womble recommends. "Say hello to people when it feels safe. Ask people genuine questions, and give genuine compliments. Get really courageous."
Womble also says that there's a misconception, particularly among heterosexual women, that they can't make the first move—but her mission is to reframe that narrative. "Everybody is an active participant in their own meet-cute. That means you get to take bold action and allow the other person to show up and co-create the right connection," she muses. "The right person is also looking for you. And the right person will also be delighted that you said hello."