It's Official: Online Dating Has Had a Positive Impact on Modern Marriage
The perfect stranger might just make the perfect partner—and this study proves it.
by Maggie Seaver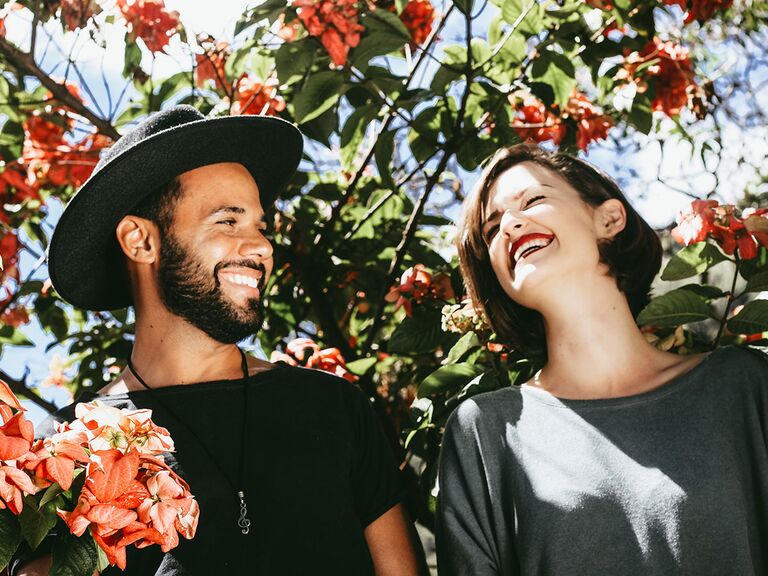 Let's be honest: Online dating used to be looked down upon—maybe even still for über-traditionalists. Talking to random strangers on the internet, then meeting them for a date without knowing anything about them? How positively odd!
However, since the inception of online dating (did you know there was a computer dating service created back in 1965?), coupled with with the upsurge of the internet in the 1990s and the launch of Match.com in 1995, online dating has not only become mainstream, but a prefered mode of matchmaking and a force for breaking conventional social boundaries. A new study by researchers Josué Ortega and Philipp Hergovich delves deep into the influence cyber dating has had on typical modes of relationship forging. Check out these cool takeways about online dating and marriage.
Online dating is responsible for one-third of modern marriages.
Looking at the last 100 years, the majority of people have met their partners solely based on a connected network of acquaintances. They definitely still do, but now, in the last 20 years, dating sites and apps have become the second most common way for Americans to meet their spouses (next to meeting through mutual friends).
The majority of same-sex relationships start online.
The number of same-sex relationships sparked online has seen a steep jump since the dawn of the internet and the first online dating services. Up to 70 percent of homosexual relationships now begin online, compared with about 10 percent back in 1995.  
The number of interracial relationships has increased.
According to a source cited by Ortega and Hergovich, "the internet increasingly allows Americans to meet and form relationships with perfect strangers, that is, people with whom they had no previous social tie." This reality has only grown more prevalent over the past two decades, as people of all colors and cultures have the opportunity to mingle and meet without the barriers of conventional social circles. The two go on to note that, "Meeting people outside our social network online can intuitively increase the number of interracial marriages in our societies, which is remarkably low." Only about 6 percent of marriages in the US are interracial, it was considered illegal only about 50 years ago (ugh).
Marriages from online relationships have lower divorce rates.
Ortega and Hergovich also cite a source that proves an intriguing theory when it comes to the strength and duration of marriages created by relationships formed online. This cited study focused on Americans who married between 2005 and 2012 and found that couples who married after meeting online were less likely to split and show higher marital satisfaction. "Meeting a spouse online is, on average, associated with slightly higher marital satisfaction and lower rates of marital break-up than meeting a spouse through traditional (offline) venues," the study says.
And for more guidance, try Lasting,  a science-based app backed by The Knot dedicated to improving the health of your marriage or relationship.