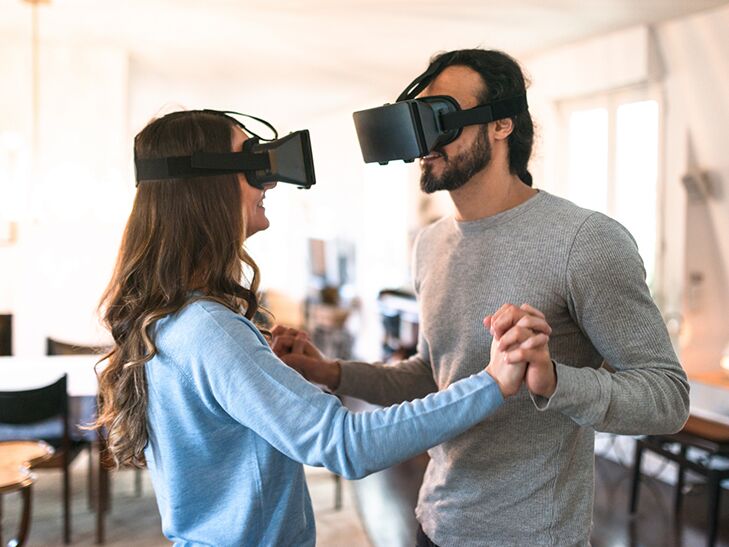 Who doesn't love a wedding video? Whether it's a month after your celebration or on your 10-year anniversary, there's no better way to revisit key moments of your day. And with the huge range of videography styles available—from documentary and cinematic to same-day edit or music video—there are more choices than ever. But what if you could actually have a front row seat at your ceremony, spin in the middle of the dance floor at the reception or feel like you're standing next to your dad as he gives his speech all over again?
Thanks to the latest advancements in technology, couples can do just that—in 360-degree 3-D—with a virtual reality wedding video. Virtual reality hit the entertainment mainstream in 2016, as Sony, Samsung and Google all launched personal VR headsets. And now the trend is spilling over into weddings. To get the scoop on exactly how these high-tech videos are made and why couples are choosing to go this route, we spoke to Gunnar Larson, president and CEO of VR Networks, a company that films and produces virtual reality wedding videos nationwide (including in New York, Los Angeles, San Francisco, Washington, DC, Dallas and Miami) and internationally.  

What is virtual reality?
Simply put, virtual reality is a 360-degree, 3-D video that inserts you directly into the middle of the action. To watch VR, you need to wear a virtual reality headset—usually strap-on goggles that contain a VR-capable smartphone. The motion sensors in the phone allow you to look in all directions and feel like you're actually standing in the space. The sights and sounds of the moment surround you, adding to the illusion of being there. "This hologram-like video acts like a living, breathing time capsule," Larson adds.
Why choose it?
For many couples, this immersive video transports them back to their wedding day in a way that standard video can't, allowing them to relive how they felt in that moment. For her wedding this past May, Rita Mizrahi Kahn opted for virtual reality videography, and describes watching the film as an emotional experience. "Seeing myself and my husband walk down the aisle, and putting on those VR goggles and actually being able to stand next to ourselves and look at our expressions during the exchange of the rings and vows was very exciting," Kahn says.
The interactive element of the finished video also means couples might notice things they didn't see on the wedding day, like the bride's father crying during the first dance or a relative laughing at a joke. "There are things that you miss during the actual wedding night just because so much is going on, but VR is a great way to catch those moments later," Kahn says. Since you can move around in the scene and look from different perspectives, you might also catch new things on each re-watch. "Literally every time you watch the video, it's a different video," Kahn says.
But one of the biggest benefits of capturing the day in virtual reality is the opportunity to share it with family and friends, especially those who couldn't make it to the wedding. As compared with a standard wedding video, viewers of VR can actually look around the room and feel like a part of the action. This aspect particularly appealed to Kahn and her husband. "We have a lot of family abroad in Israel who weren't able to attend, and we were able to share the experience with them," she says. "They've loved watching it, because they feel like they're really present at the wedding."
How does it work?
"Most of our weddings are in the form of storytelling the couple's big day in virtual reality from a documentary-type format," Larson says. To achieve this, VR Networks uses a round, eight-lens VR camera by Nokia called OZO. It records 360-degree, 3-D sound and video, resulting in a film that completely immerses the viewer in the scene both visually and aurally. The final product can be viewed on any VR headset device and smartphone, but as part of its package, VR Networks provides couples with a Samsung phone and Oculus Gear VR to watch on. When viewers put on the VR goggles, they can interact with the film by moving their head in any direction to see the scene from every angle.
Larson works with engaged couples to determine what aspects of their wedding they'd like to cover. Most opt to feature the highlights of their wedding day, from walking down the aisle and the ceremony to dancing at the reception and cutting the cake, Larson says. After planning out a timeline, the three-person crew can determine where to position the camera to best capture each scene. For example, the camera might be placed front and center for the ceremony then moved to the dance floor for the reception. And not to worry—since the small camera is stationary, this method is actually a bit less intrusive than a traditional videographer. After the wedding day, it takes about two weeks to edit and produce the final film, which is typically around 20 minutes in length.
VR Networks also offers several options for sharing the wedding video with family and friends. For people who can't attend the wedding but still want to be involved the day of, they can even arrange live streaming of the event to a VR headset anywhere in the world. Or couples might choose to give customized Google cardboard headsets as a favor for their guests. That way, friends and family can use their own smartphone to view the wedding video—or any virtual reality video—anytime they want. Sure beats packing hundreds of favor bags with Jordan almonds!

This article is sponsored by VR Networks, a company that films and produces virtual reality wedding videos nationwide (including in New York, Los Angeles, San Francisco, Washington, DC, Dallas and Miami) and internationally. Check out their vendor page on The Knot for more info.