Nurse and First Responder Marry in Their Backyard Amid COVID-19
"We just don't know what the future holds."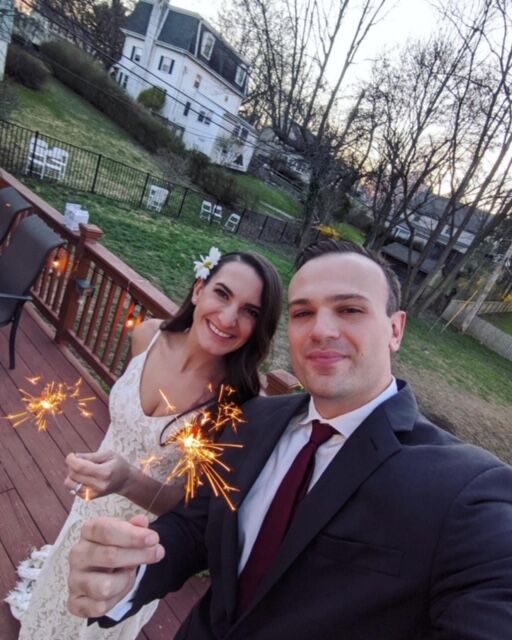 Lauren Rovinsky
When Lauren Rovinsky and Donald "Donnie" Thomas exchanged vows on March 27, nothing about their wedding day looked, on the surface, like how they'd originally imagined it to be. But the couple, as it turns out, had everything they needed on their own back deck.
The nurse and first responder, who were originally set to wed at the Normandy Farm Hotel & Conference Center in Blue Bell, Pennsylvania, kept an eye on news headlines at the beginning of the month as the coronavirus pandemic began to take a more devastating turn. By March 16, they knew they had to pivot their nuptials for the safety and consideration of their nearly 200 guests.
"We were looking forward to the little, special moments of our wedding day, like getting ready with our bridesmaids and groomsmen, my mom helping me into my wedding dress, his dad helping him get ready, walking down the aisle with my father, my brother officiating, etc.," Rovinsky, 29, tells The Knot. " [And] we were really excited to dance the night away. … Everyone was looking forward to this."
With stay-at-home orders and travel restrictions becoming increasingly widespread, Rovinsky says, they knew that their hopes for that fun, music-filled wedding would have to wait. The bride, who now goes by her married name, Lauren Thomas, and the groom, 28, are both at the frontline of the coronavirus pandemic, which added to their urgency. (She is a registered nurse at a pediatric hospital in Philadelphia and Thomas works in law enforcement.)
Then came a brilliant backup plan. "I think it was actually our parents who were like, 'You guys should still get married and make the day special,'" Rovinsky says. "Both sets of our parents have been married for more than 30 years. They helped us realize it's not about the wedding or the celebration, but about the marriage."
Loved ones tackled multiple, respective roles in the wedding. "We asked my brother to be our officiant immediately after we were engaged. Plus, he got ordained months ago in preparation," adds the bride. "We had our marriage license, our officiant, and our rings… It could have easily been a very upsetting week, but we made the best of the situation and turned it into something positive."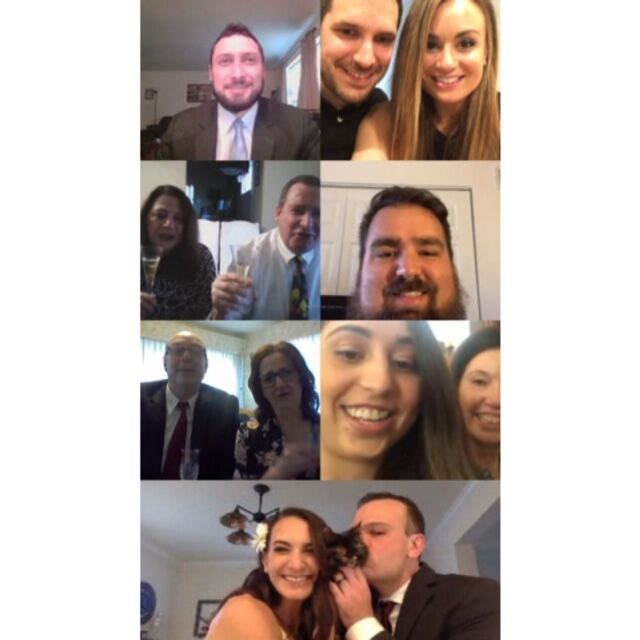 Since both are essential workers fighting the pandemic, there were other potential outcomes that impacted their decision to marry sooner than later. "In the current situation, we don't know how long the pandemic and social distancing will last," Rovinsky says. "And with being essential personnel, not to be dramatic, [but] we could get sick the next time we go into work. We just don't know what the future holds. We weren't going to wait to get married to each other… We love each other, we want to spend the rest of our lives together, we weren't going to let COVID-19 stop us."
The couple set up computer screens for their parents, Rovinsky's brother (the officiant), Thomas's sister and her fiancé, the maid of honor, and his best man to witness the intimate ceremony via Facebook messenger video chat. Several of their next-door neighbors joined the couple in real life perched on folding chairs spaced along their backyard fence at least 6 feet apart.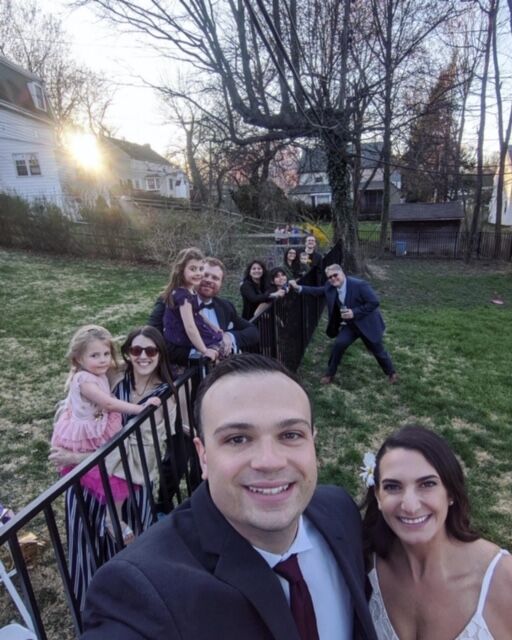 The couple's two dogs and one cat also bore witness to the sweet ceremony, in which Rovinsky wore a last-minute dress she bought online. They decorated the deck with lights and flowers from friends, and children from the neighborhood made wedding day signs and posters.
"Our parents, mostly the moms, were hysterically crying the whole time," Rovinsky recalls. A particularly sweet moment, she says, was when she surprised Thomas with an acoustic version of Bleachers' "Let's Get Married (which he would use to torture her throughout their engagement). "He said he started crying the second he heard it," she adds.
After the ceremony, the newlyweds danced to their real first dance song and sipped champagne out of the glasses her mother had bought them for their original wedding. Then, like the true Eagles fans that they are, the couple settled into their couch for the evening to watch Super Bowl highlights from 2018.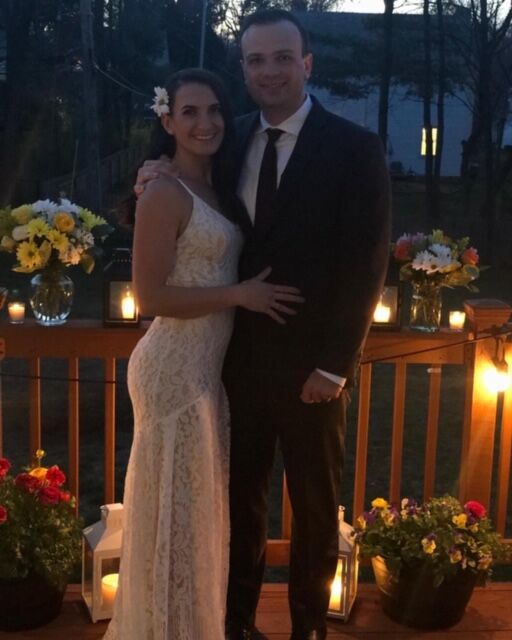 "The most memorable moment was seeing each other as I walked out of the back door towards him," Rovinsky says. "Nothing about that day went as planned, but the look in Donnie's eyes was everything I could have dreamed it would be. He is the happiest, goofiest man I know, and can make me laugh even in the worst of times." Adds Thomas, "her sense of humor" is what he loves about his bride the most.
Still, they will have a bigger celebration (or a sequel wedding as we've dubbed it). They've already postponed their bigger celebration to May 17, but the reality of the coronavirus pandemic may mean they'll have to push back their big day once more. Which, given the fact that they're already wed, she says, will be all the more reason to celebrate life and love rather than get hung up on little details.
"It really puts things into perspective," Rovinsky says. "Before, I stressed over the color of dresses and shoes and flower arrangements and favors. Now, that stuff doesn't even matter. I just want to see and hug and dance with our family and friends!
"I want other couples to know they aren't alone," she adds. "It felt like the world was ending as this was all unfolding. I know you're upset. Donnie and I did so much planning… But you aren't alone, we're all in this together. Your love together is all that matters."