21 Backyard Wedding Ideas That'll Elevate Any Outdoor Space
There's no place like home.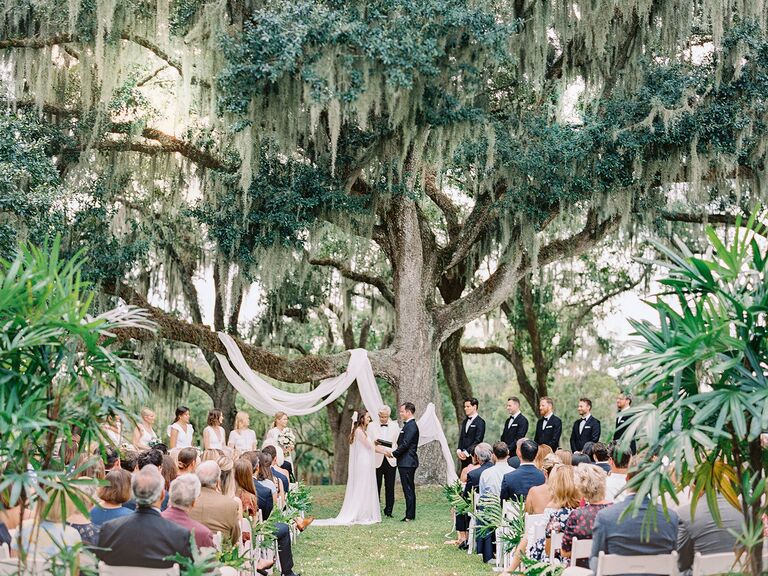 Photo: Richelle Hunter Photography
We have included third party products to help you navigate and enjoy life's biggest moments. Purchases made through links on this page may earn us a commission.
There's no place like home—especially when it comes to your special day. But you'll need top-notch backyard wedding ideas to take your outdoor area to the next level. (You don't want it to feel like a regular at-home hangout.) We rounded up 21 backyard wedding decor ideas that'll make your nuptials unforgettable. With everything from outdoor furniture to lawn games, there's something for all couples. Plus, there are must-see tips from wedding planning experts on how to decorate a backyard for a wedding. And for the cherry on top, we included a list of our favorite decor pieces you can buy online––you're welcome.
In this article:
Backyard Wedding Decorating Tips
Just because you're having a backyard wedding doesn't mean it needs to look casual. Below are five ways wedding planners believe you can upgrade your outdoor area.
Add romance to your backyard.
Christine S. Chang, an expert event planner who founded Live.Love.Create Events over a decade ago, believes some of the best wedding decorations for backyards are florals and candles. "A wedding arch or florals around the space where the couple is exchanging vows is enough to make that [ceremony] space stand out. Also, assuming you'll follow the ceremony with a dinner or reception, add LOTS of candles. It doesn't cost much to create a romantic twinkly-lit evening," Chang says.
Make sure there's plenty of light.
Chang thinks setting up proper lights for your backyard is crucial to making it feel less informal. "No lighting will make it feel like just a backyard. The first thing people notice at an event is lack of lighting if they're sitting in a dark backyard," Chang says. Extra lighting, like string lights or assorted candles, can really open up the space.
Hire a landscaping company.
Jen Ganson, owner and lead planner of A Fresh Event, recommends investing in landscaping before the big day. "Having a company trim greenery and add flowers and bushes can really highlight the space. Not only will this make the wedding day lovely, but it will also be there for you to enjoy afterward," Ganson explains. And you can trust her since she has an impressive decade-plus of experience planning weddings and corporate events.
Rent a tent.
Since you're hosting a backyard wedding, you'll have to create your venue from scratch––which means you'll need something to shelter you and your guests. "A tent is a must to ensure you can celebrate no matter the weather. This alone will transform your backyard into something unexpected and unrecognizable. I recommend considering sailcloth tents for a truly special and romantic touch," Ganson says.
Think about the size of your backyard.
Your backyard wedding decor ideas can't become a reality if you're not considering the size of the space. Chang and Ganson agree that the maximum number of people you can invite depends on your yard size. "I've had couples invite anywhere from 20 to 90 guests depending on the capacity. However, you don't need to max out your guest list to fit as many guests in your backyard. Do what is right for you," Chang advises. Ganson believes to-be-weds should definitely get a tent for an outdoor wedding, and the tent's size will help you determine the amount of people you can invite. "I suggest having a tenting company come out to your home to properly measure and give you their recommendation of tent size before you finalize your guest list," Ganson says.
Everyone's definition of a small versus big backyard is different, but if you want an average for your small outdoor space, Chang says it should fit around 10 to 40 seated guests. Ganson says anything over 50 people will need a large backyard.
Backyard Wedding Decorations: Editor's Picks
Don't know where to start with your backyard wedding shopping list? Then check out the best five additions for any outdoor celebration.
Pampas Grass Backyard Wedding Decoration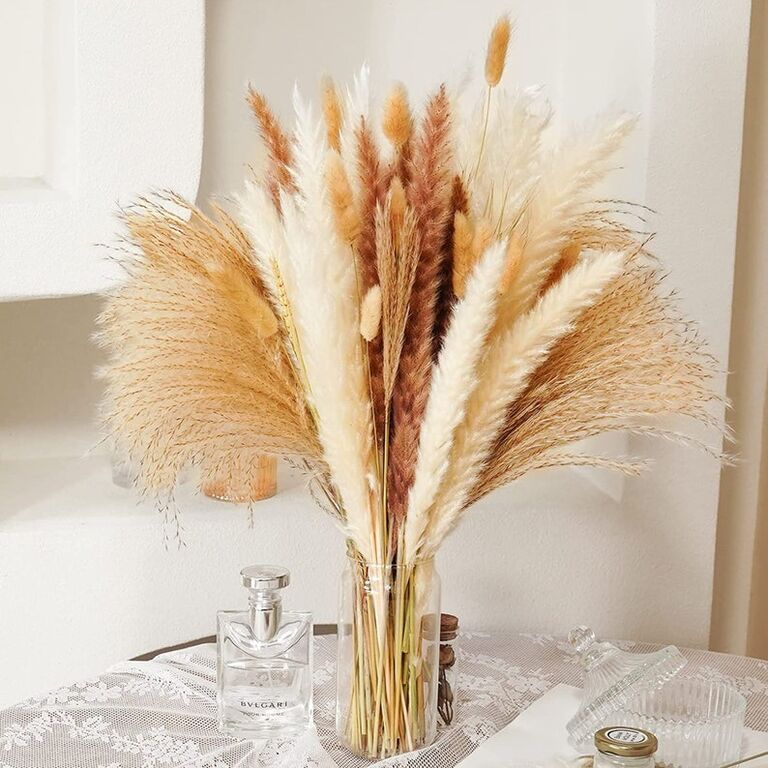 Pick up these stems of pampas grass for a boho-chic vibe that will complement the landscaping in your backyard. This product comes with 120 pieces and becomes fluffier the longer you let it sit in the sun.
Simple Backyard Wedding Bohemian Rug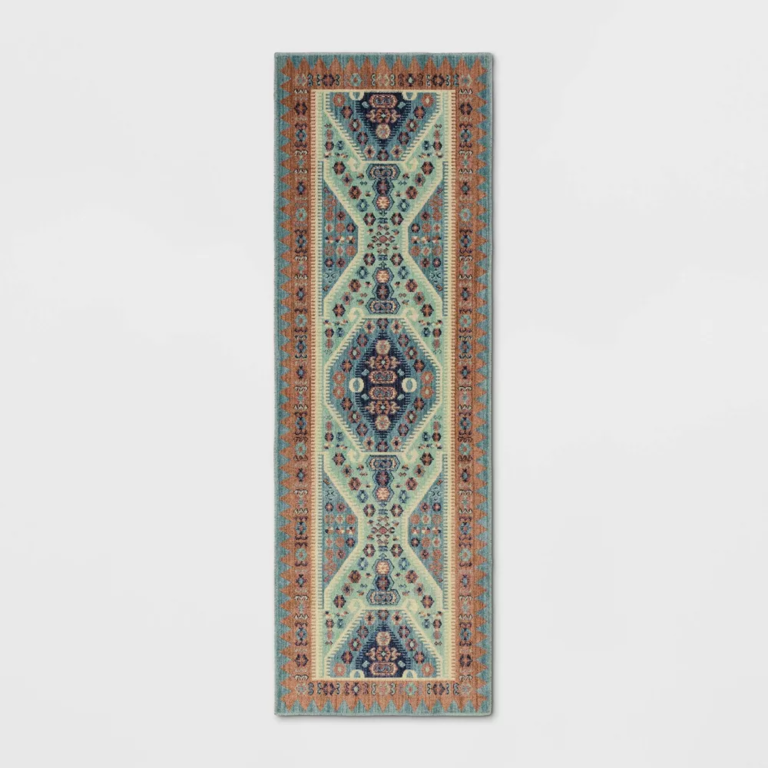 If you love the boho or rustic look, buy a bold-colored diamond-patterned rug. It'll give off all the cozy vibes at your ceremony.
Dipped Taper Backyard Wedding Candles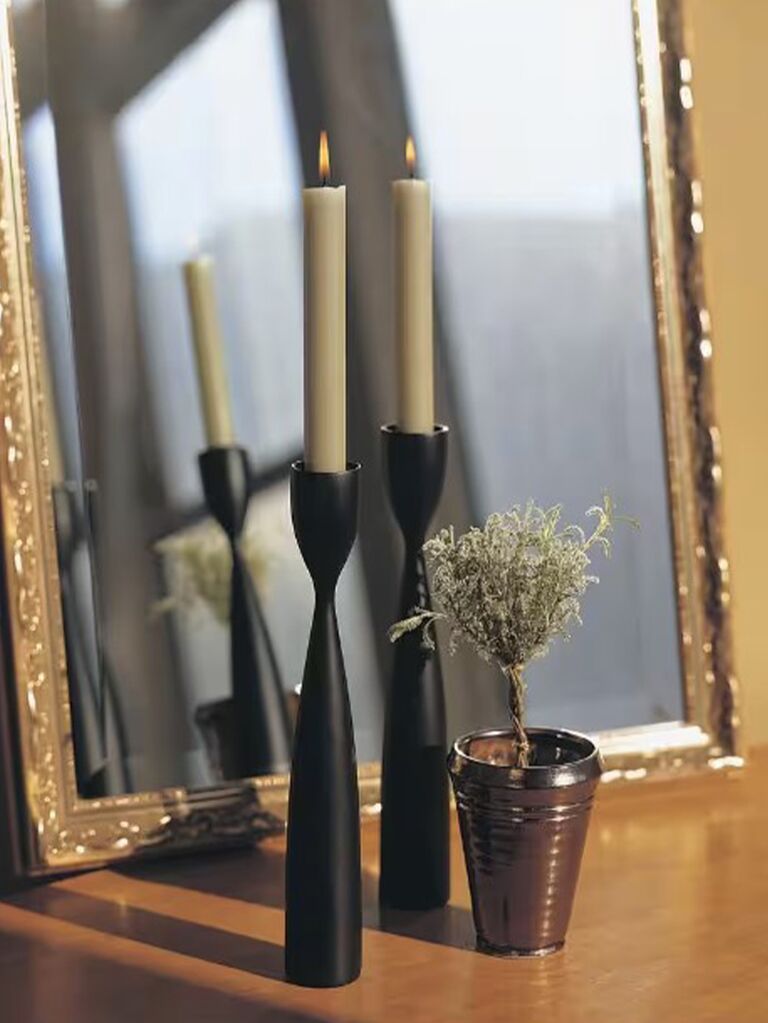 Per Chang's suggestion, of course, candles are on the list. This backyard wedding table idea comes in 20 colors and is an all-natural beeswax blend.
Elegant Backyard Wedding Cake Stand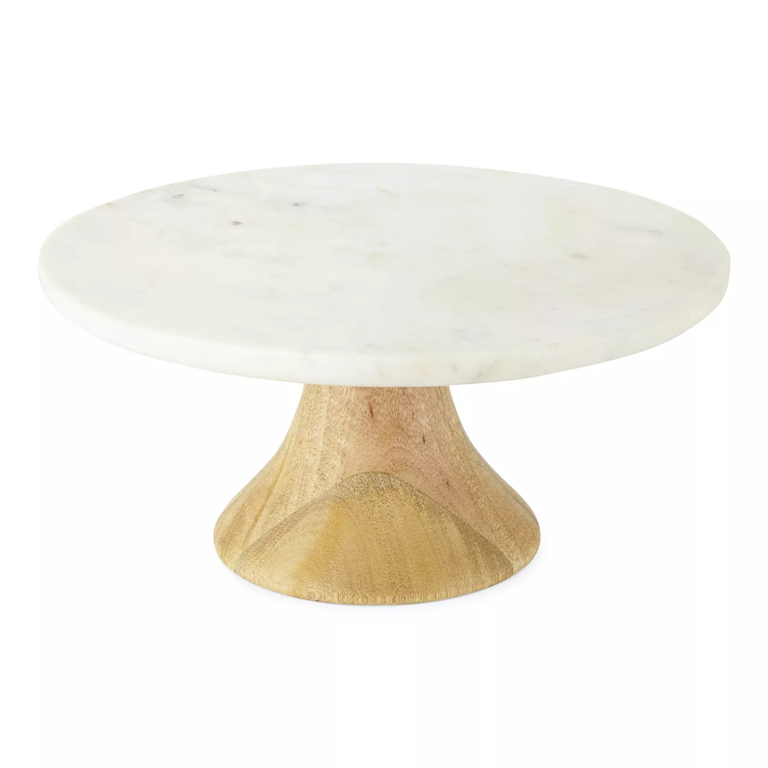 Mixing marble and wood strikes a beautiful balance between modern and rustic. Place your wedding cake atop this stand to make it the centerpiece of the dessert table.
Cornhole Backyard Wedding Reception Game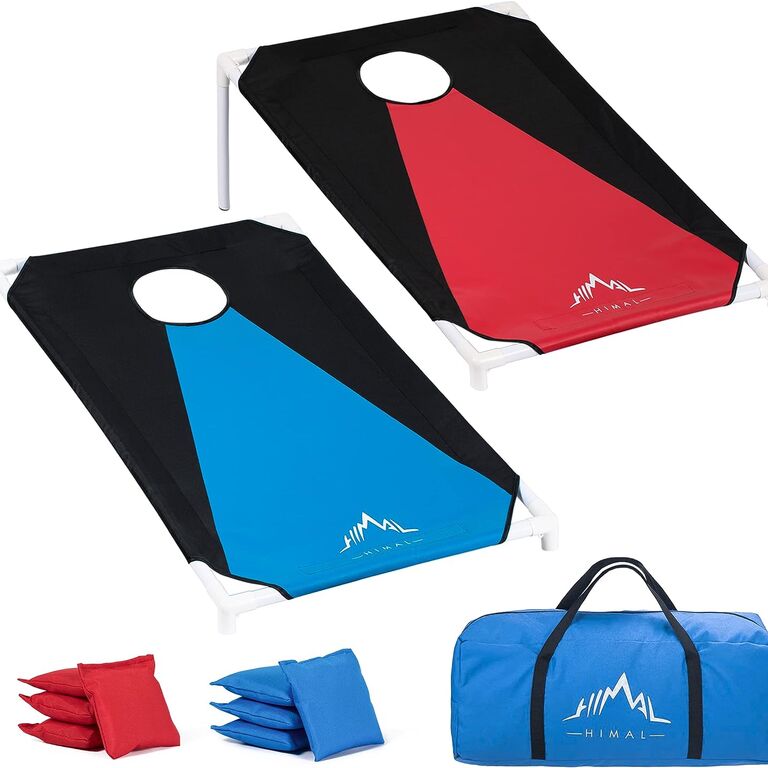 For a casual backyard wedding idea, buy a cornhole game set for guests of all ages to enjoy after the ceremony. This product comes with eight bean bags and is lightweight and portable, which means it can be moved anywhere easily.
Simple Backyard Wedding Ideas
If you're hoping to put minimal effort into your outdoor decor, look at these ideas for a backyard wedding. They're simple yet eye-catching.
1. Pampas Grass Backyard Wedding Decor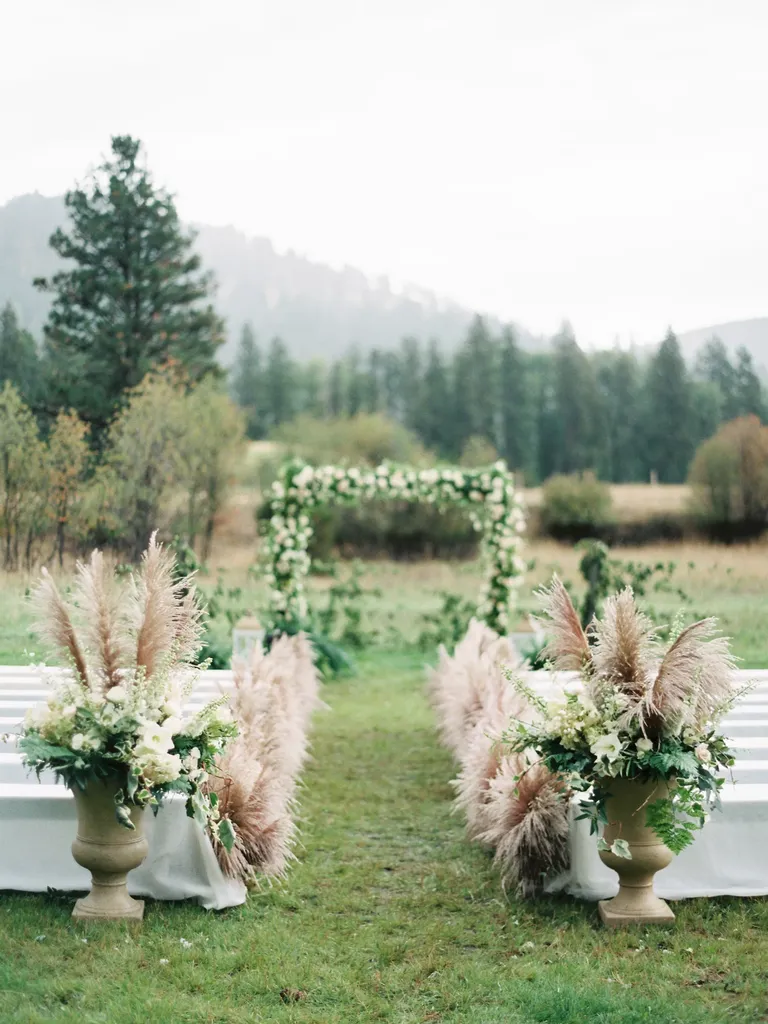 If your backyard is full of lush greenery, consider adding a unique twist to the decor with pampas grass. The trendy vegetation will give a boho or rustic vibe to your home setting. To-be-weds planning a sustainable wedding should also consider using dried pampas grass for eco-friendly flowers and decor.
2. Backyard Bohemian Rug Aisle Runner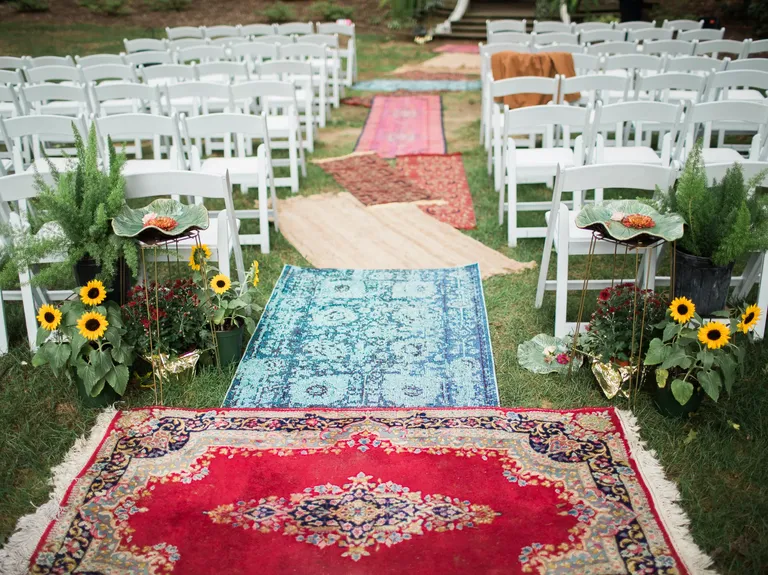 Elevate plain grass with aisle runner rugs. They'll instantly add warmth and an overall boho vibe to your nuptials.
3. Neutral Backyard Wedding Reception Centerpieces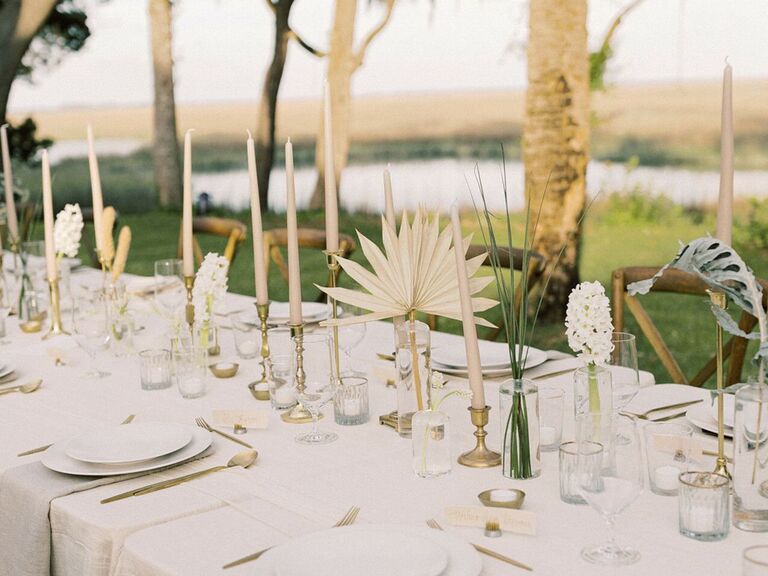 For a tablescape that stands out, use dried floral centerpieces. They'll complement any color scheme, season or style. Plus, you can reuse them in your home, gift them to guests or donate them after the wedding.
4. Backyard Wedding Lawn Game
Finding fun ways to entertain your guests will always be one of the best backyard wedding reception ideas. And there's nothing better than some old-fashioned lawn games. It's an opportunity to personalize your backyard wedding as well.
5. Backyard Wedding String Lights Decoration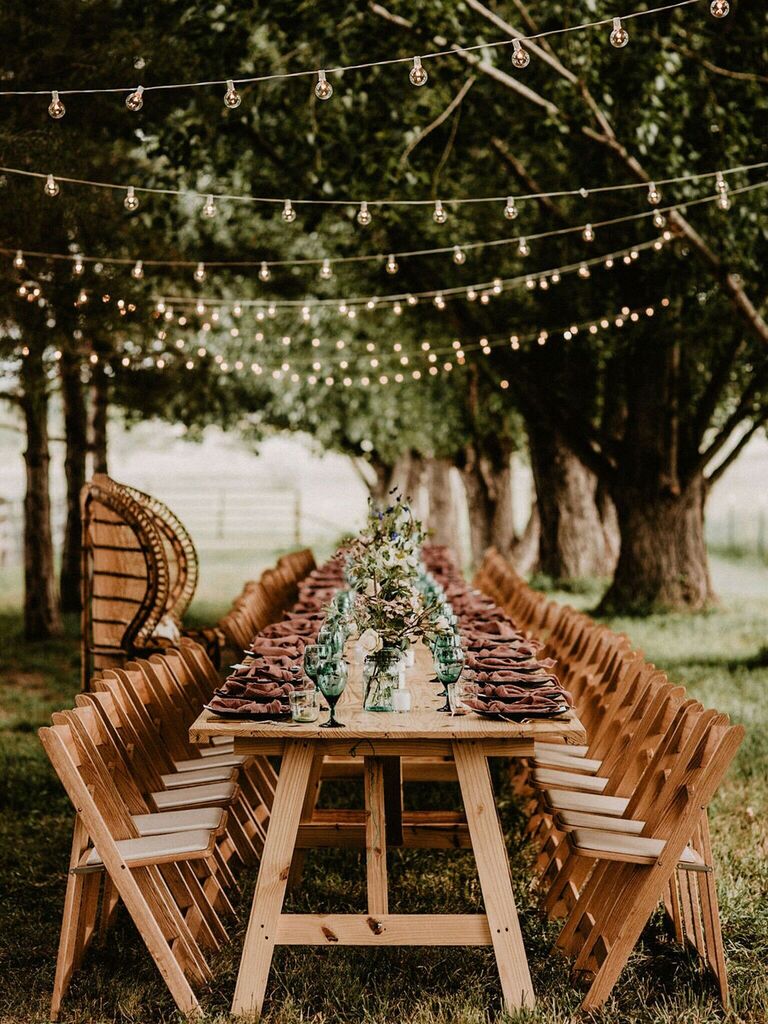 String lights are a backyard wedding staple. Not only will they add light to your space, but these romantic additions also bring warmth to your backyard.
6. Circular Backyard Wedding Seating Arrangement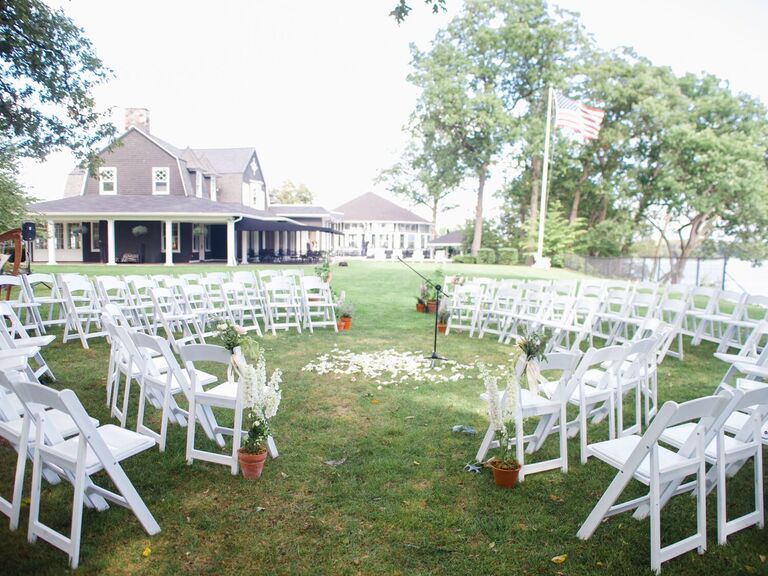 If an aisle with two sides doesn't sound right for you, consider alternative setups, like a ceremony in the round. You'll be surrounded (literally) by the ones you love. Plus, guests will have a great view of you and your partner as you say, "I do."
7. Two-Piece Backyard Wedding Arch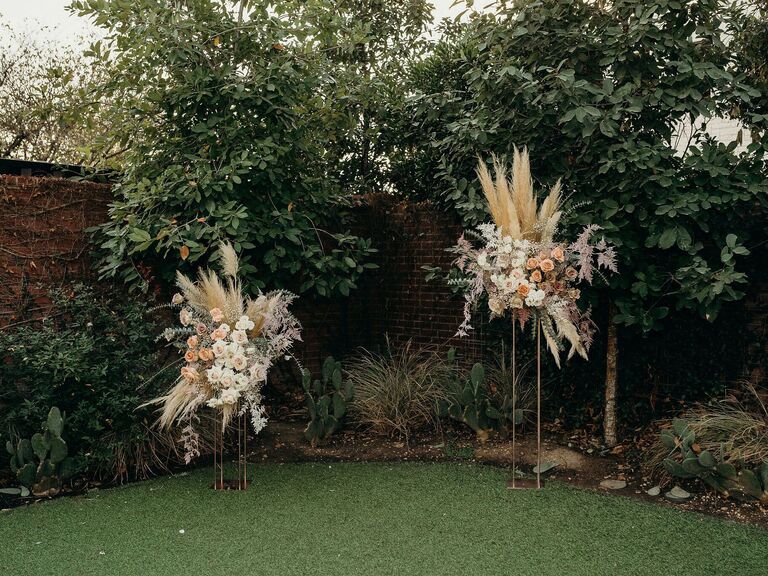 One of my favorite backyard wedding arch ideas is this unique two-piece alternative arrangement. Rather than one connected arch, use mismatched pillars for your ceremony's focal point.
8. Interactive Backyard Wedding Photo Display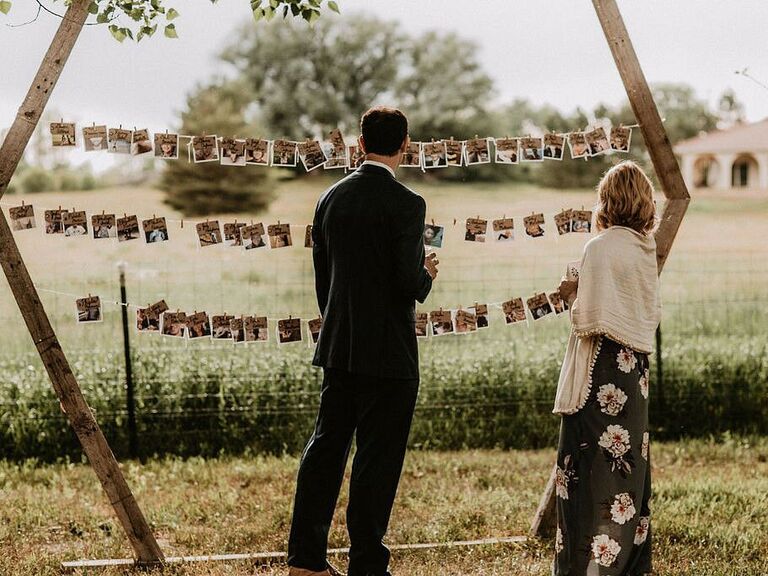 Encourage your guests to stroll through your backyard with interactive experiences. I love the idea of an oversized photo display because your loved ones can admire pictures of you and your partner. Take it one step further by including handwritten notes about the pictures and what they mean to you. Your guests will immediately feel closer to you.
Rustic Backyard Wedding Ideas
Backyard weddings are typically thought of as rustic, since they're outdoors, so why not lean into that a little for your special day? Here are seven ways you can incorporate a rustic feel into your wedding.
9. Backyard Wedding Geometric Dessert Table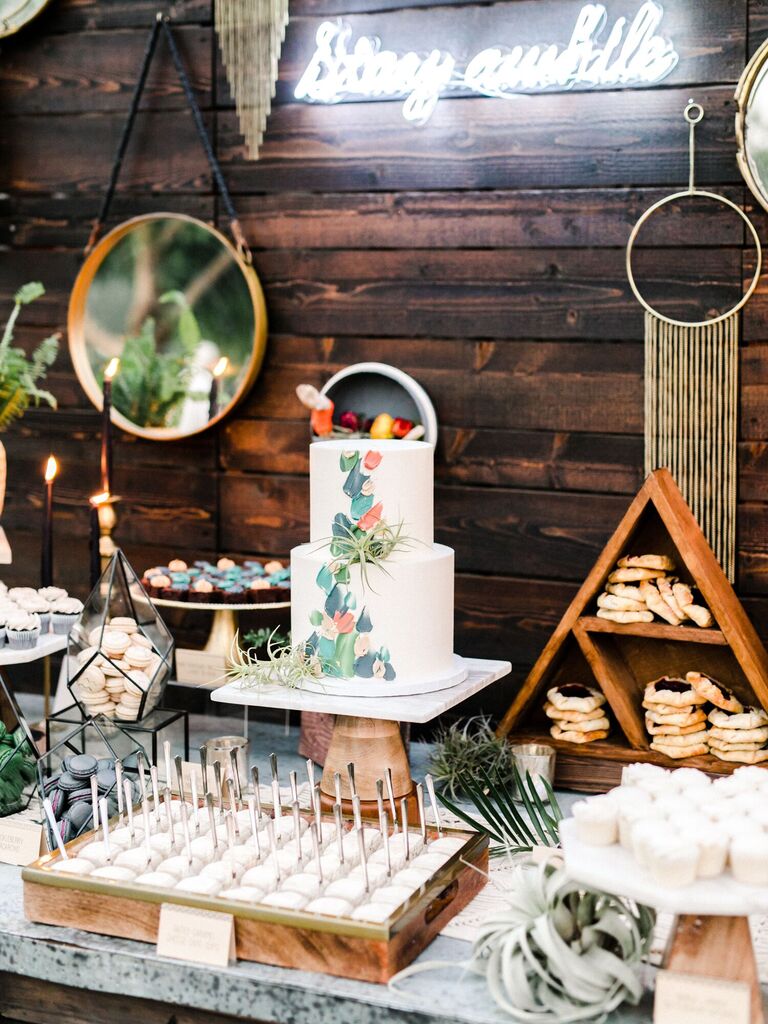 Make your dessert table a whimsical installation by using geometric dishes and a mix of wood and metal materials. It's a subtle way to showcase personality with a stylish effect.
10. Fabric Backyard Wedding Arch
If you're planning a laid-back backyard wedding, try this creative idea. Instead of a structured arch, drape fabric over a tree for a natural, breezy ceremony spot.
11. Door Entrance for Backyard Wedding Ceremony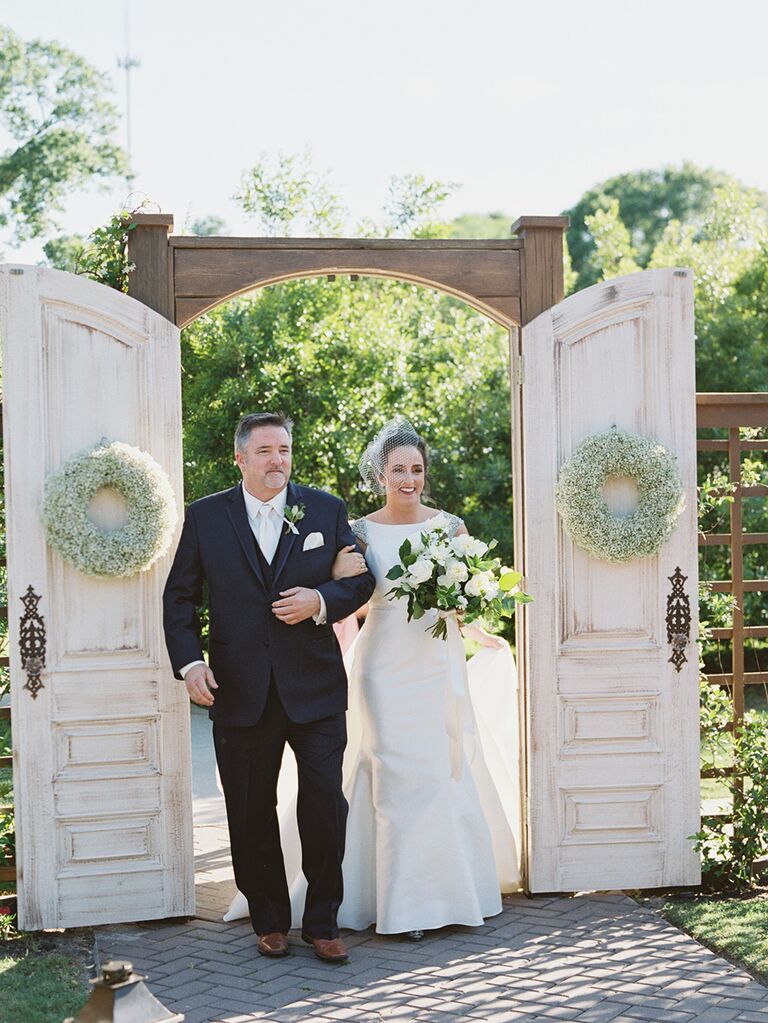 Section off your lawn with decorated doors. It will create the effect of separate spaces, which can be nice if you'd like to plan a more formal event or if you have a large space you want to section off.
12. Backyard S'mores Station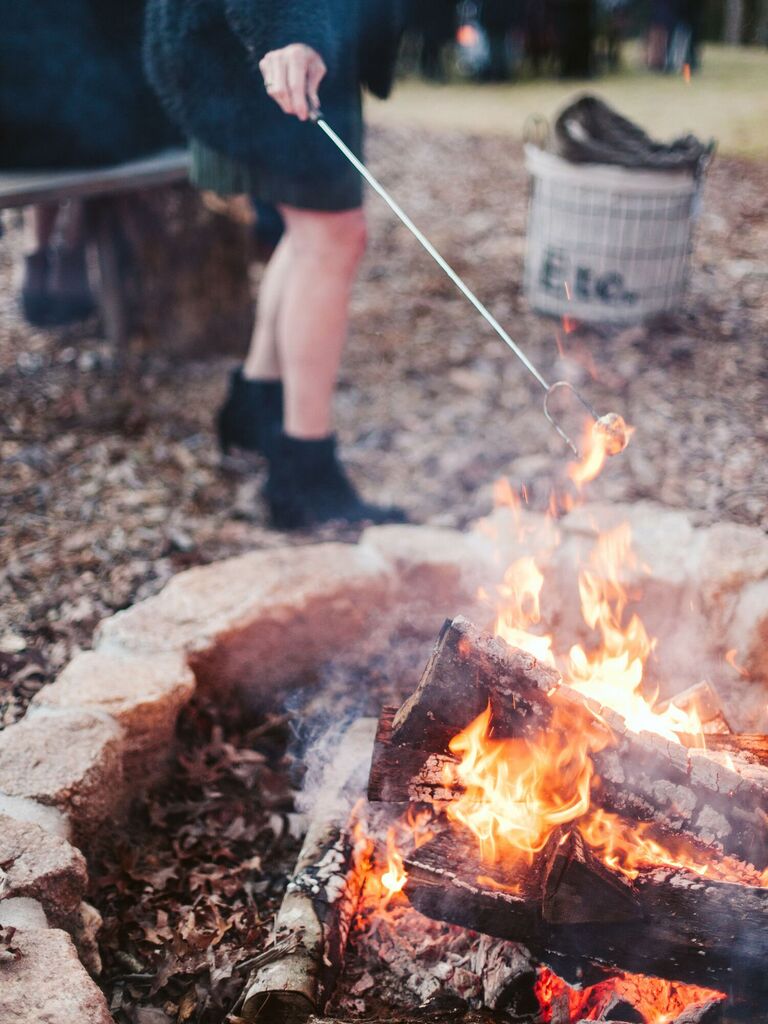 Who doesn't love a good old-fashioned s'more? Add a touch of nostalgia by setting up a campfire with this backyard wedding dessert idea. It will keep your guests warm after the sun goes down and provide everyone with a sweet treat.
13. Hay Bale Backyard Seating Area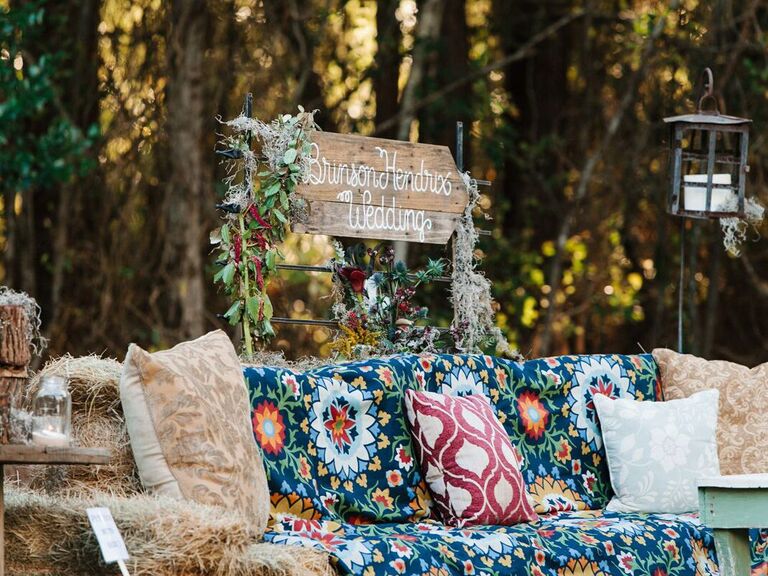 Lean into the country or rustic theme by using hay bales for extra seating. It's an adorable way to show off your style while also ensuring your guests are comfortable. Cover them with something so your guests' wedding outfits don't get compromised.
14. Backyard Lemonade Stand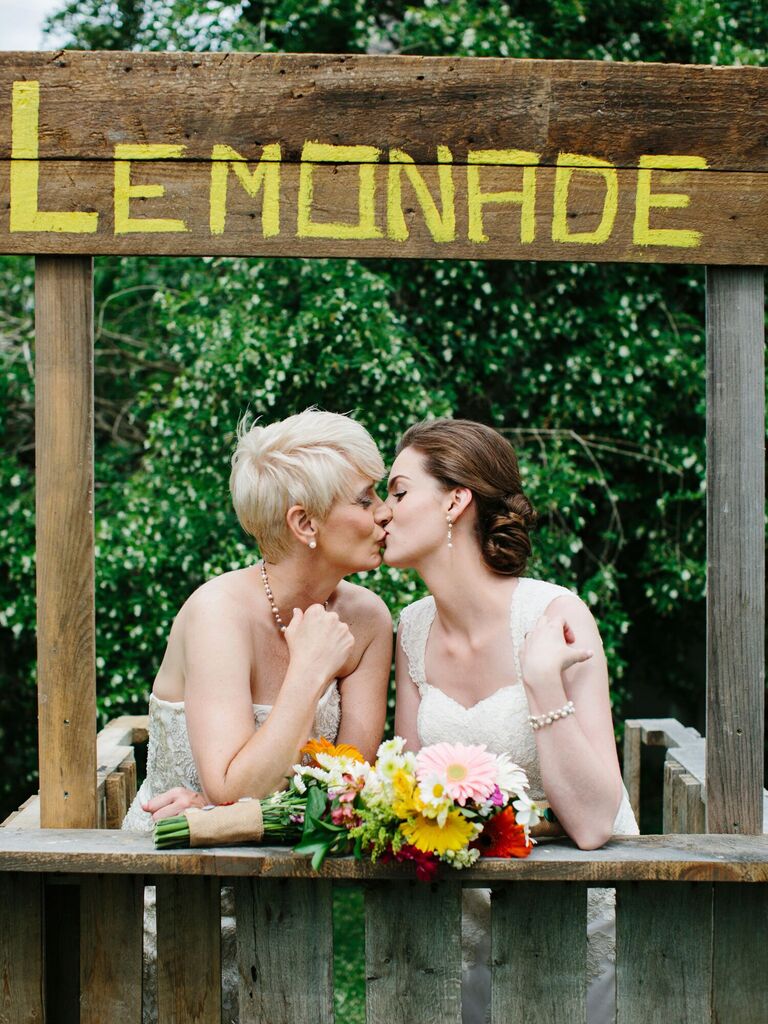 Pay homage to your childhood home by setting up an adorable lemonade stand. Stock it with fresh lemonade, lemonade-inspired cocktails or simply have the lemonade stand work as a photo background or prop.
15. Barbecue Backyard Wedding Food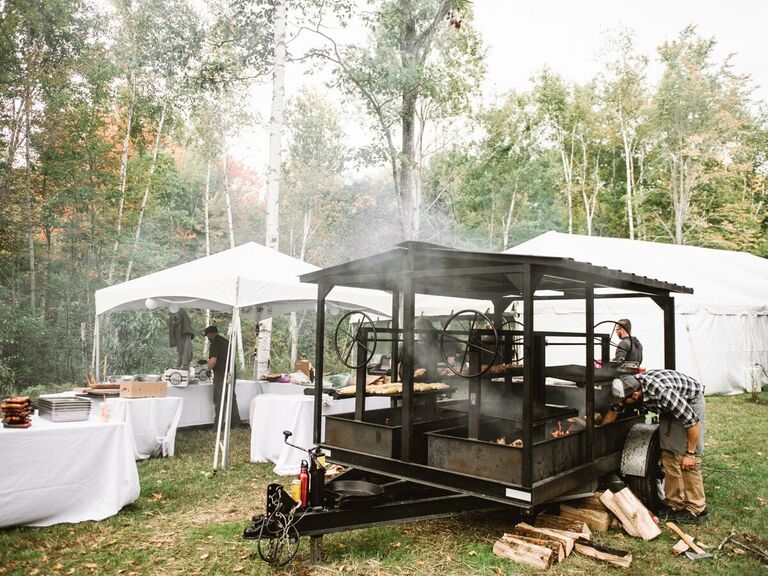 If you and your boo are total foodies, embrace it on your wedding day. I love the idea of hosting a barbecue bash to complement the down-home feel. Serve burgers and hot dogs or shrimp and oysters.
Elegant Backyard Wedding Ideas
Just because your nuptials are outside doesn't mean you can't add touches of elegance. Use one (or all) of these big and small backyard wedding ideas to create a unique luxury space.
16. Clear Backyard Wedding Tent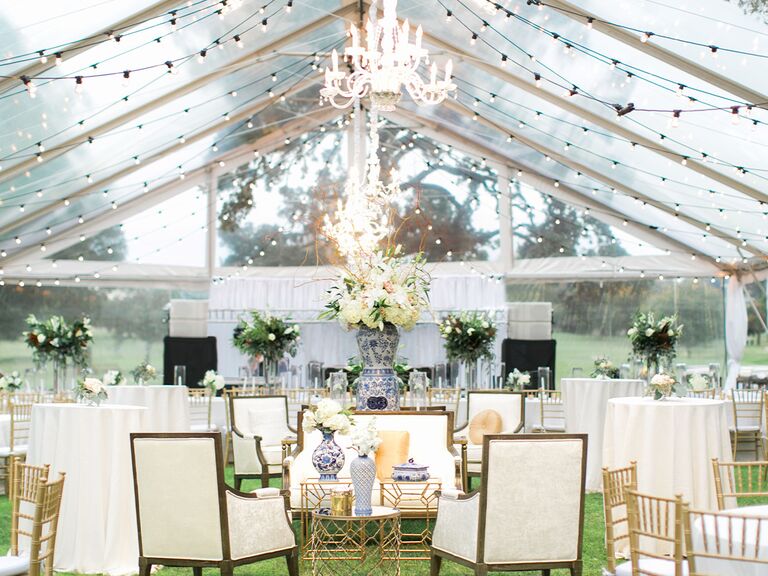 If rain is in the forecast for your wedding day, don't worry. I love the idea of a clear tent because you and your guests can enjoy the scenic backdrop without getting wet. Just add in string lights for a dreamy effect. Work with your wedding planner or a rental company to secure a tent in case the weather doesn't cooperate on your day.
17. Backyard Wedding Letter Statements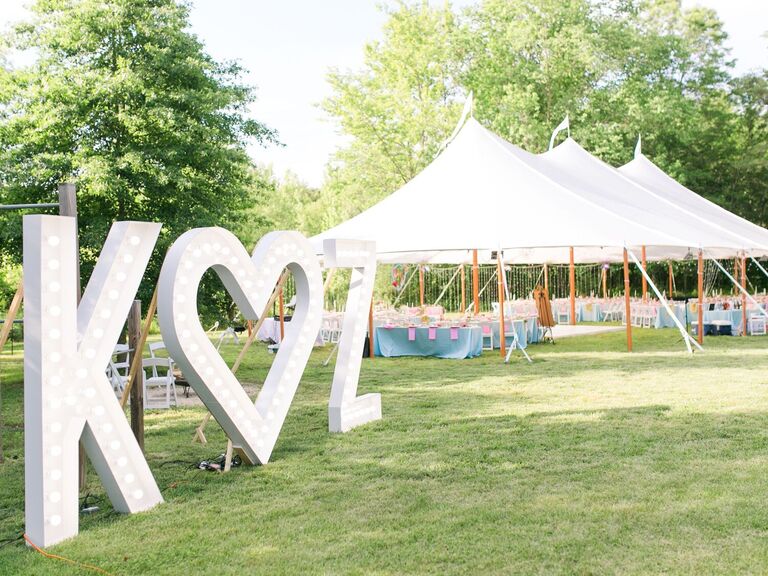 Backyard wedding ideas don't have to be understated. Add drama to your home with larger-than-life marquee letters. They'll add luxury and make for the perfect photo backdrop.
18. Floral Chandelier Backyard Wedding Decor
Hang chandeliers in a tree for an ultra-glam look. Accent the chandelier with your favorite blooms for a magical touch that'll make your backyard bash feel like a fairytale.
19. Backyard Wedding Dance Floor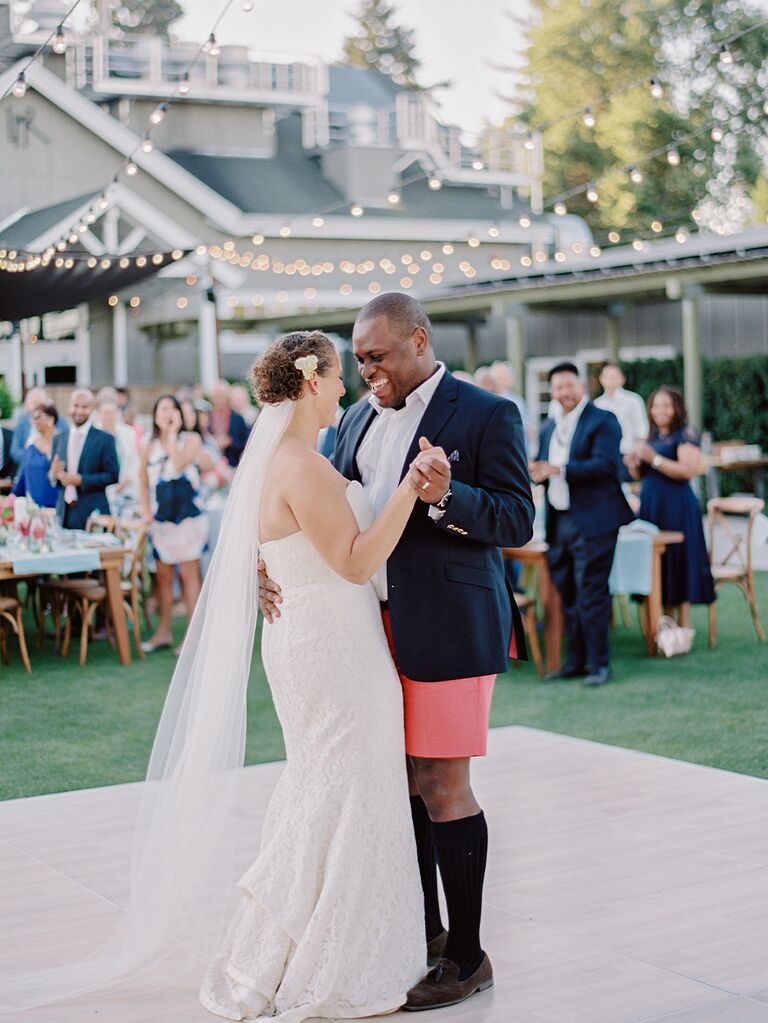 If you can accommodate a full dance floor, do it. Dance the night away without worrying about grass or dirt getting on your wedding outfit.
20. Rose Petal Aisle Runner for Backyard Wedding
What says love more than roses? Scatter petals of your favorite color rose down the aisle for a romantic ceremony entrance and exit no one will forget.
21. Backyard Wedding Lounge Area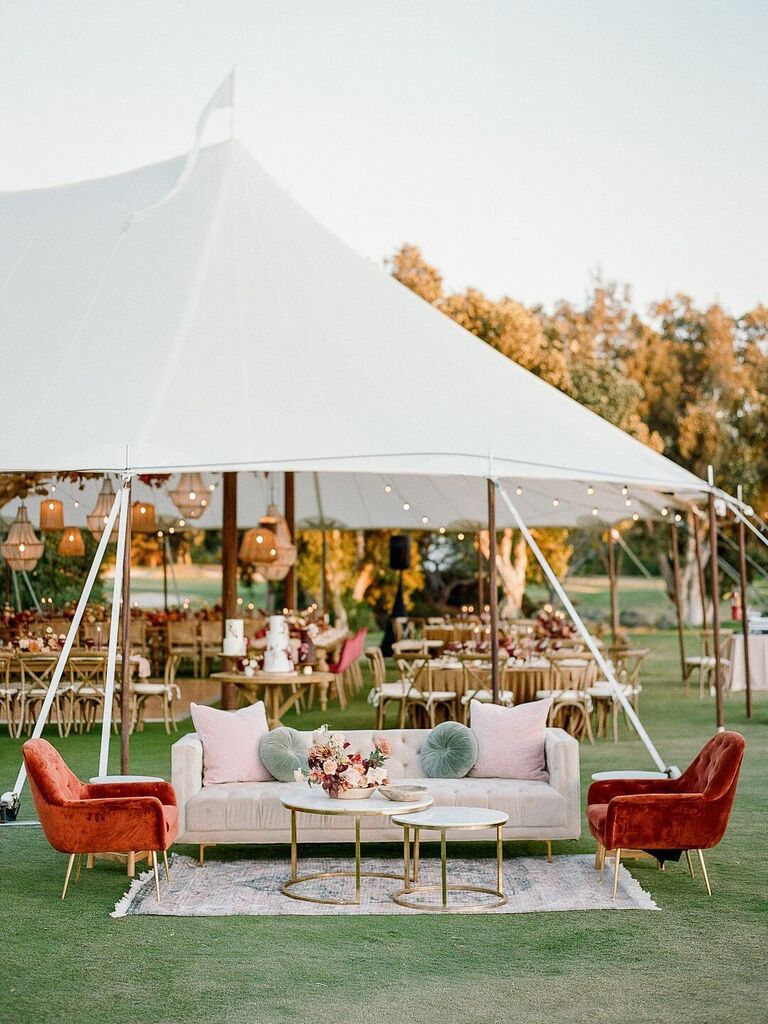 Bring the comfort of your home outside with this backyard wedding decoration idea. Contact a rental company to get plush furniture that'll create a warm, inviting and Insta-ready atmosphere.