Our Favorite Backyard Wedding Ideas & Why You'll See Them Everywhere
There's no place like home.
by Maddy Sims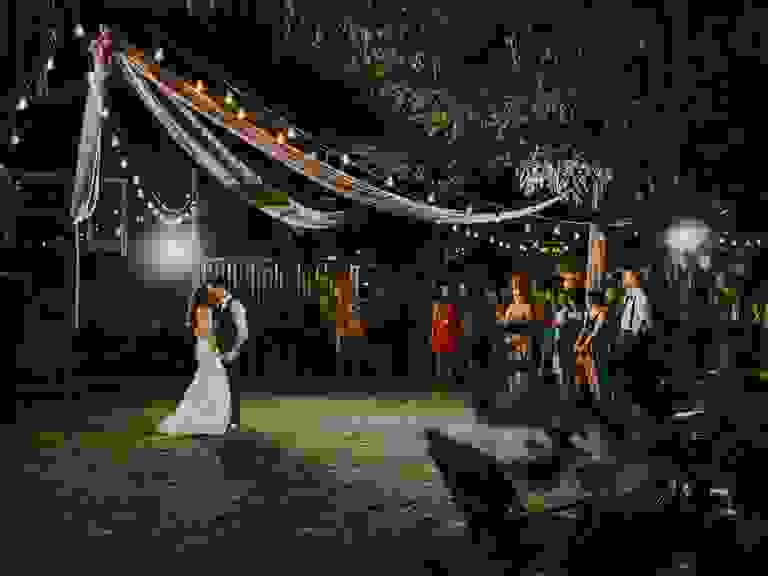 There truly is no place like home—especially when it comes to your wedding day. According to The Knot 2019 Real Wedding Study, backyard weddings are on the rise. If you're thinking of hosting a hometown celebration, we've rounded up 20 backyard wedding ideas that will make your nuptials unforgettable. Our study found that backyards and private gardens were the third most popular wedding venue. In fact, 15 percent of all couples who wed last year reported hosting their nuptials in such a venue. This trendy wedding venue is also gaining popularity with celebrities, as stars like Hilary Duff, Gina Rodriguez and Chris Wood all exchanged vows in a sentimental backyard wedding. To help you with your planning, we've rounded up 20 of our favorite backyard wedding ideas, below.
Pampas Grass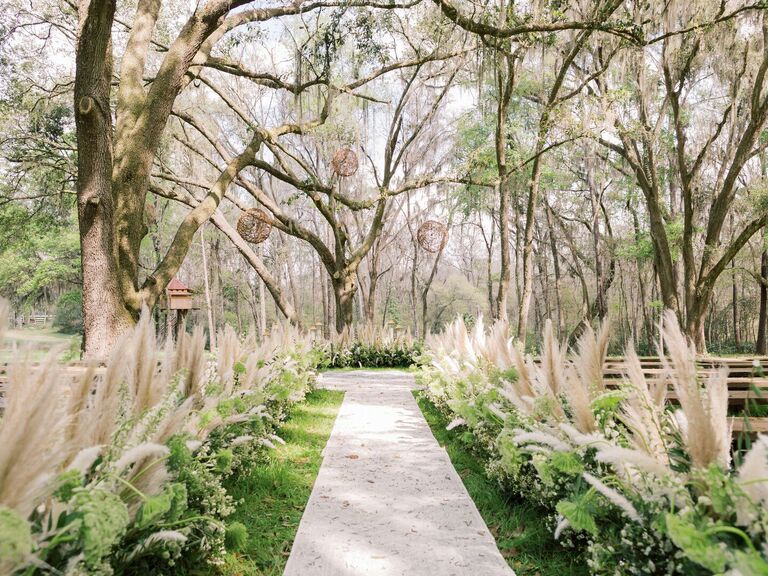 If your backyard is already full of lush greenery, consider adding a unique twist to the décor with pampas grass. The on-trend plants will give a boho or rustic vibe to your home setting. To-be-weds planning a sustainable wedding can use dried pampas grass for eco-friendly flowers and decor.

Outdoor Furniture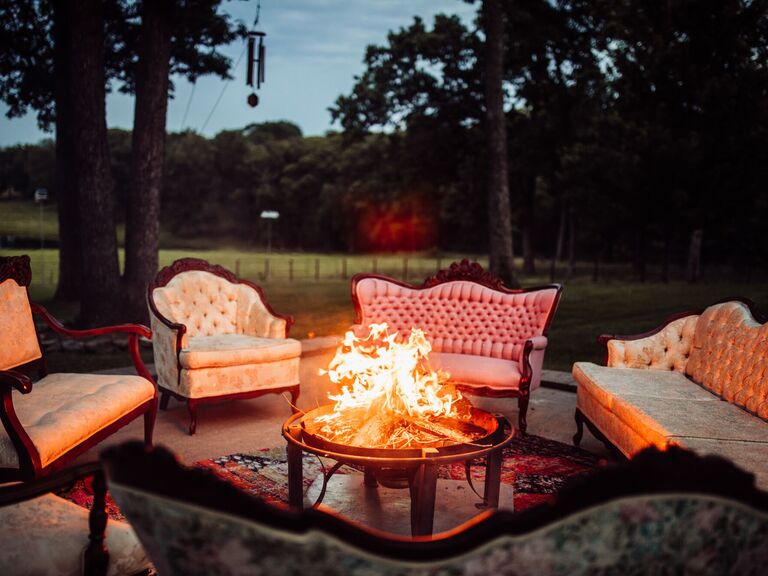 Bring the comfort of your home outside with this decor hack. Rent plush furniture to create a warm and inviting (not to mention chic) cocktail lounge area.
BBQ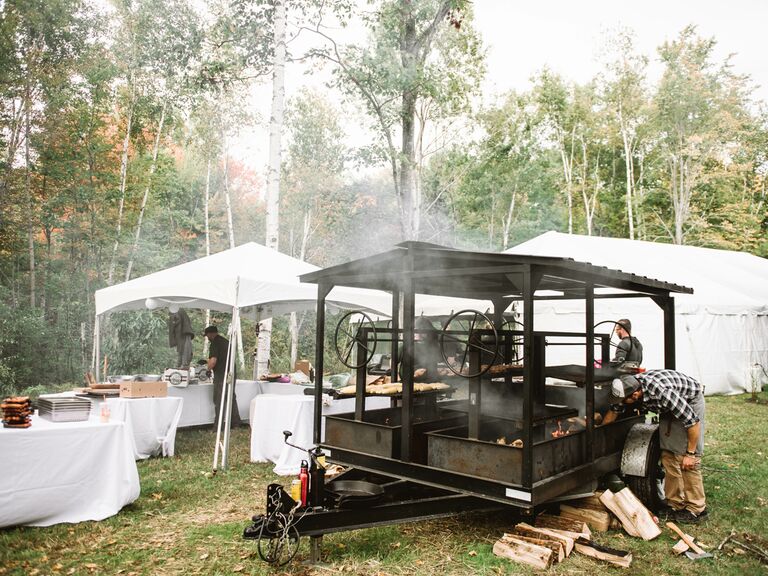 If you and your boo are total foodies, embrace that aspect of your relationship for your wedding. After all, your wedding should be a reflection of your unique love story. We love the idea of hosting a BBQ bash at your backyard wedding. It's a fun and delicious way to celebrate your love.
Yard Games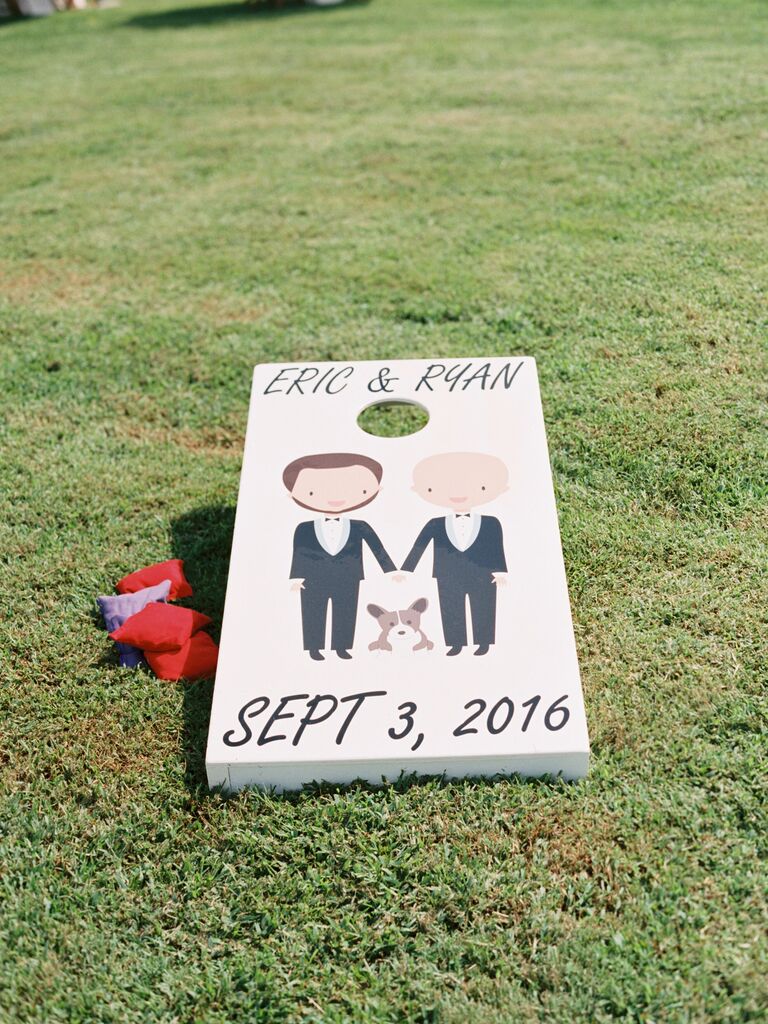 According to The Knot 2019 Real Weddings Study, 72 percent of couples said that taking care of guests was their number one priority. And while couples today are investing in all sorts of guest entertainment to happen (think: photo booths, palm readers, interactive food stations), there's nothing better than some old-fashioned lawn games. It's an opportunity to personalize your wedding as well.
Confetti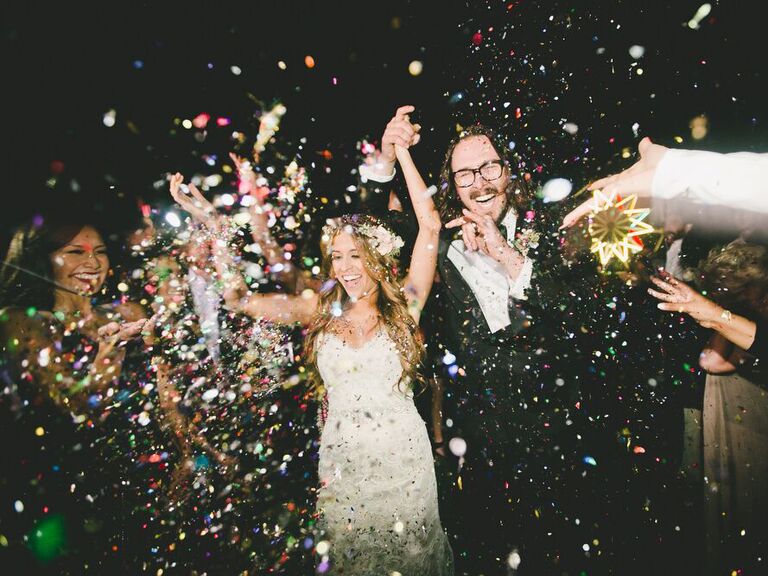 Turn your backyard into the ultimate party by handing confetti to your guests. Not only will it add even more fun to the day, but it will also create the most epic exit wedding photo ever.
Letter Statements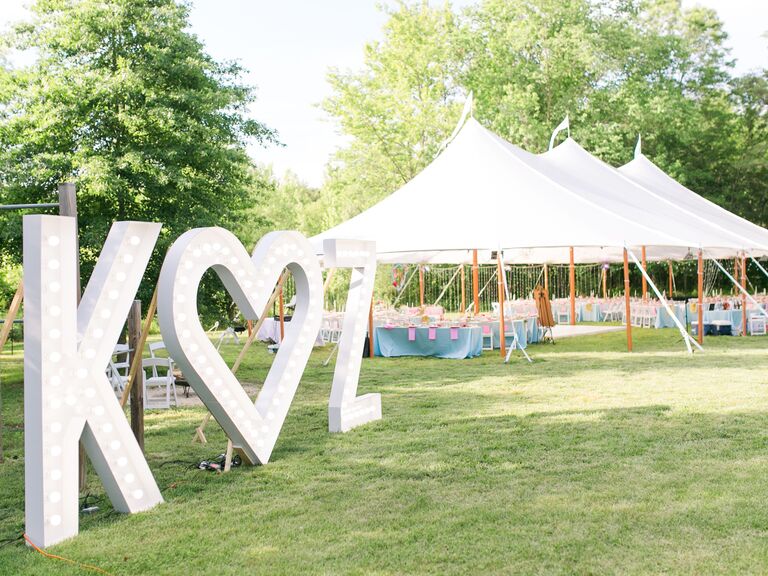 Not all backyard wedding ideas have to be understated. Make a statement with some larger-than-life marquee letters. They'll liven up the space and they'll make for the perfect photo backdrop.
Hay Bale Seating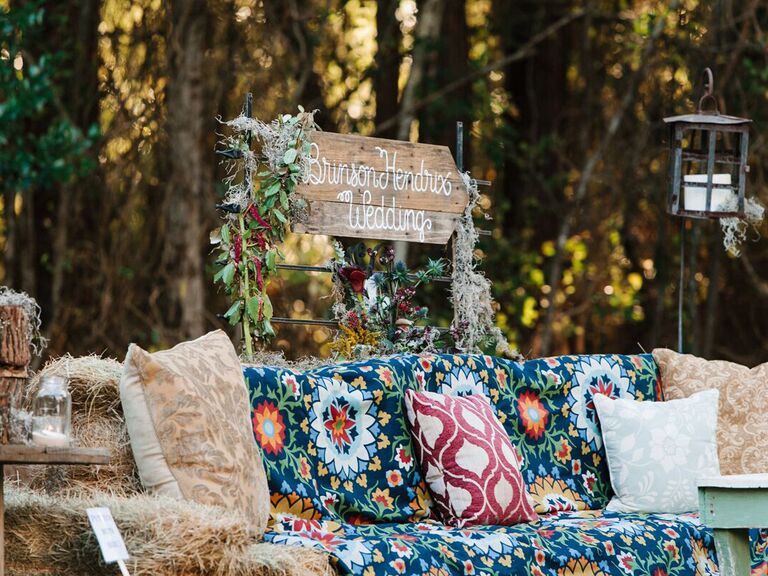 Having a country or rustic backyard wedding? Lean into your theme by using hay bales for extra seating. It's an adorable way to show off your personal style while also ensuring your guests are comfortable. Just be sure to cover them with something, so your guests' wedding outfits don't get compromised.
Doors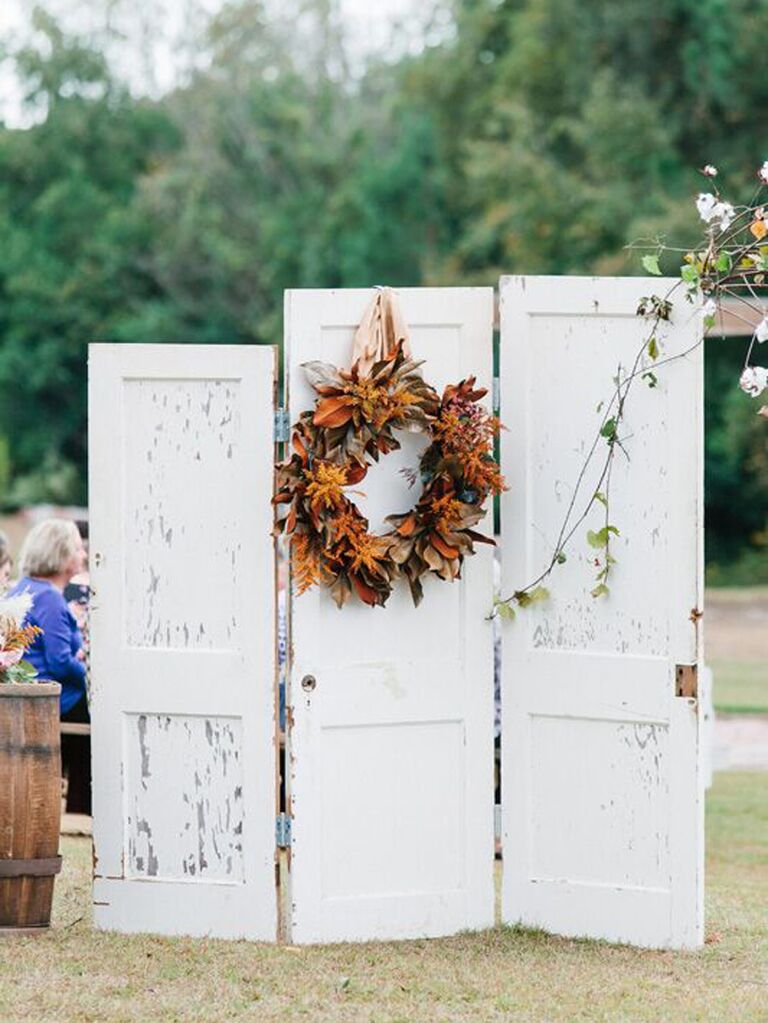 If you're looking for backyard wedding ideas for fall, consider this adorable idea. Section off your lawn with doors decorated with pretty autumn-colored wreaths. It will create the effect of separate spaces, which can be nice if you'd like to plan a more formal event or if you have a large space you want to divvy up.
Chandelier in Trees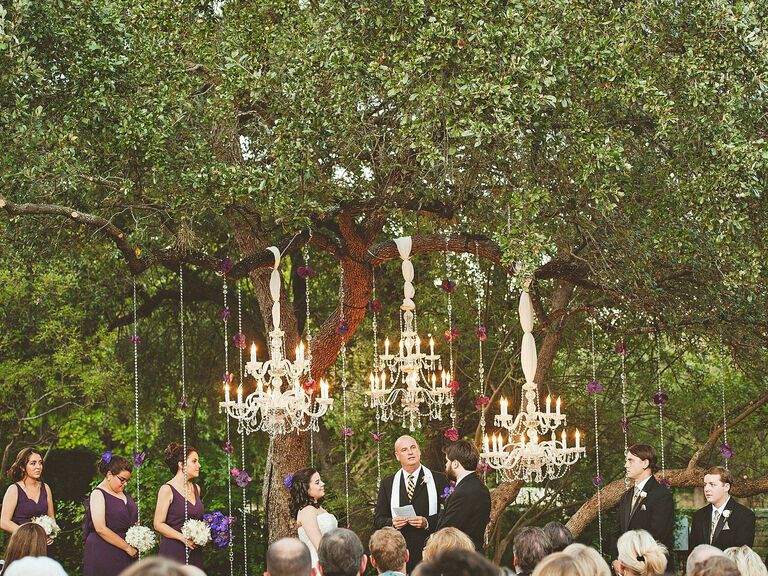 Not every backyard wedding has to be a casual affair either. Hang some pretty chandeliers in your trees for an ultra-glam aesthetic. It will make your backyard bash feel just like a fairytale.
Circular Setup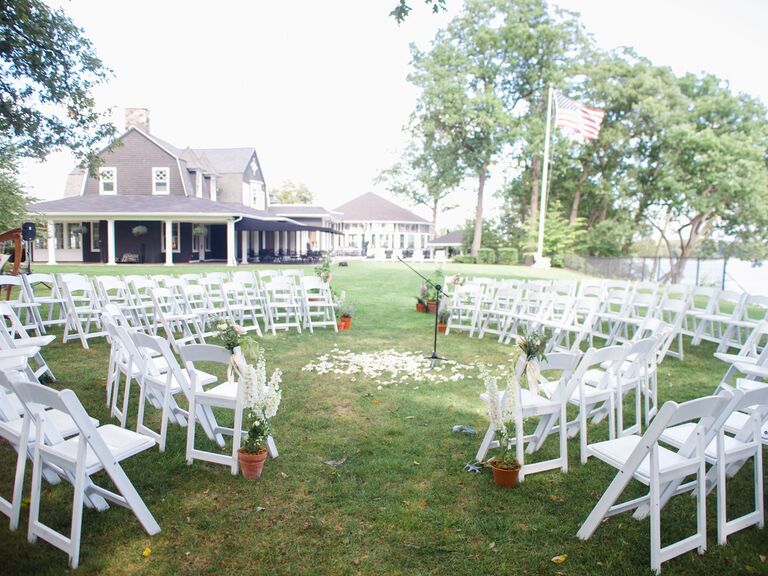 A major pro of exchanging vows in your backyard? You and your boo are totally in control of how it goes down. So if an aisle with two sides doesn't sound ideal to you, consider some alternative setups, like a ceremony in the round. You'll be surrounded (literally) by the ones you love. Plus, it will give everyone a great view of you and your partner as you say "I do."
Unique Dance Floor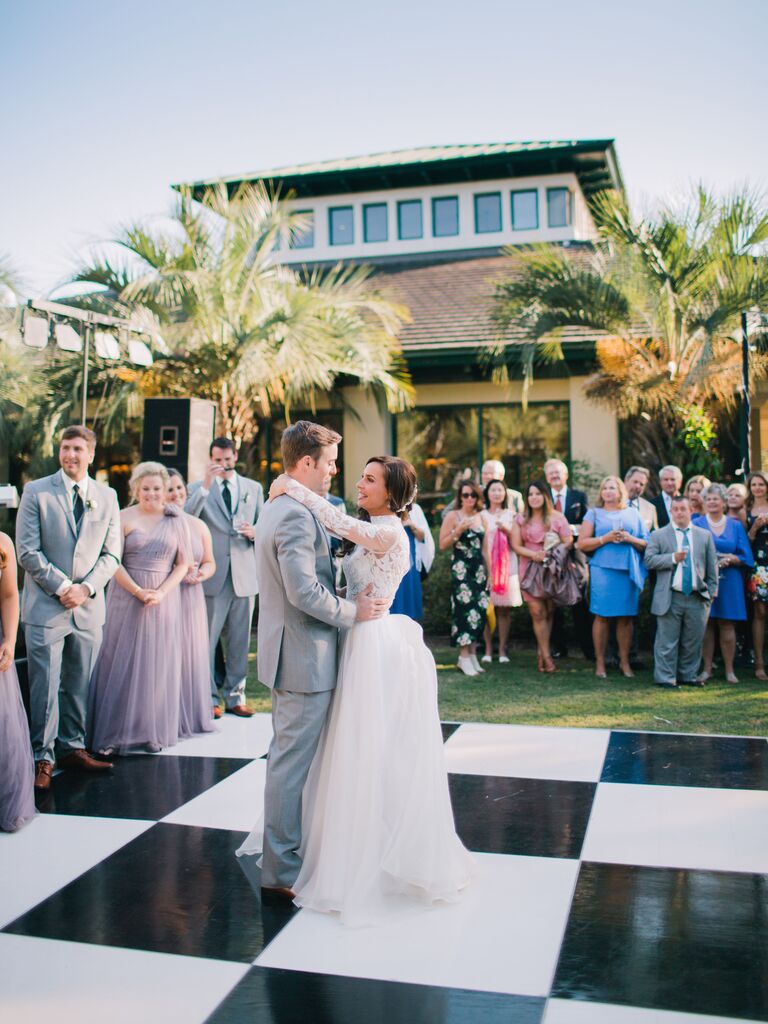 If you have the room to accommodate a full dancefloor, make the space pop by incorporating a fun color or pattern. We love this checkerboard design, as it creates an old-school effect that will look stunning in photos.

String Lights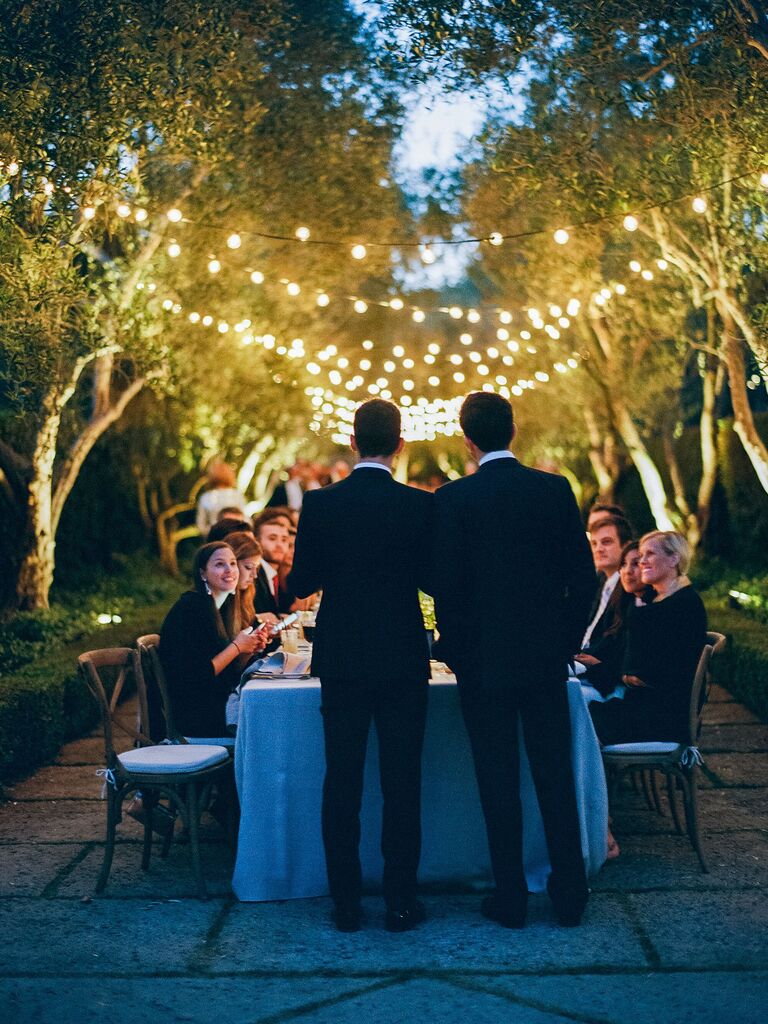 We'd be remiss not to mention string lights. They're a gorgeous way to light up the space after the sun sets—plus they don't hang down and get in the way of any photos.
Food Truck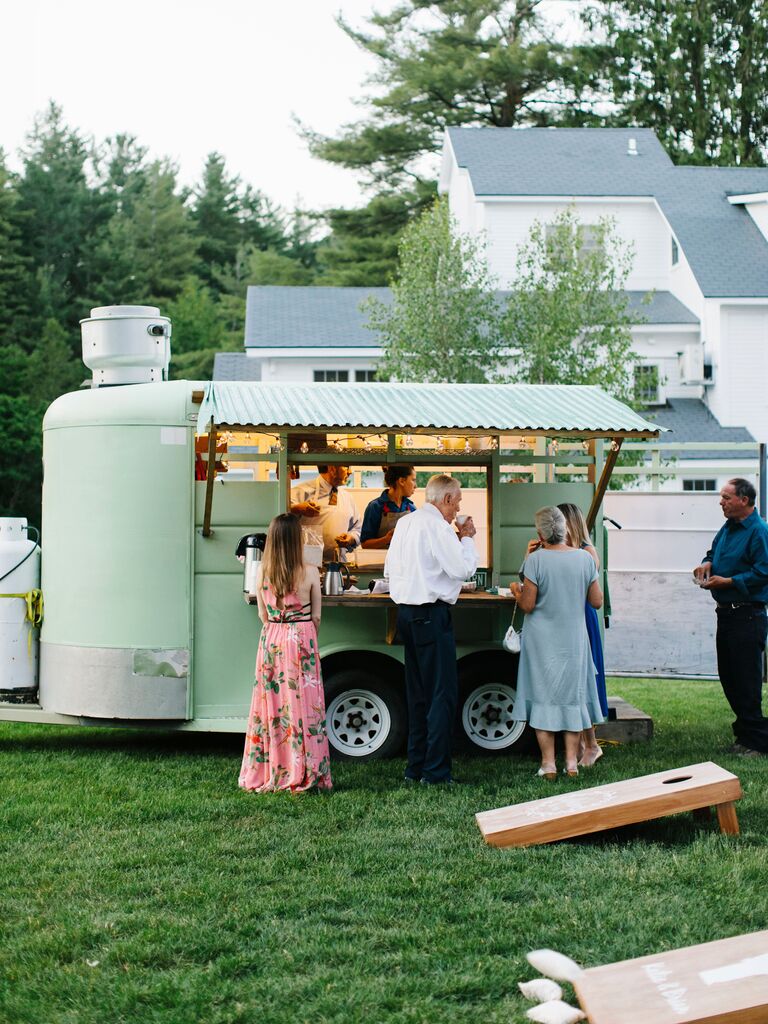 Treat your guests to a yummy late-night snack (and an unforgettable experience) with a food truck. Bring in anything from tacos to ice cream to burgers—whatever you and your boo love to eat!
Typewriter Guest Book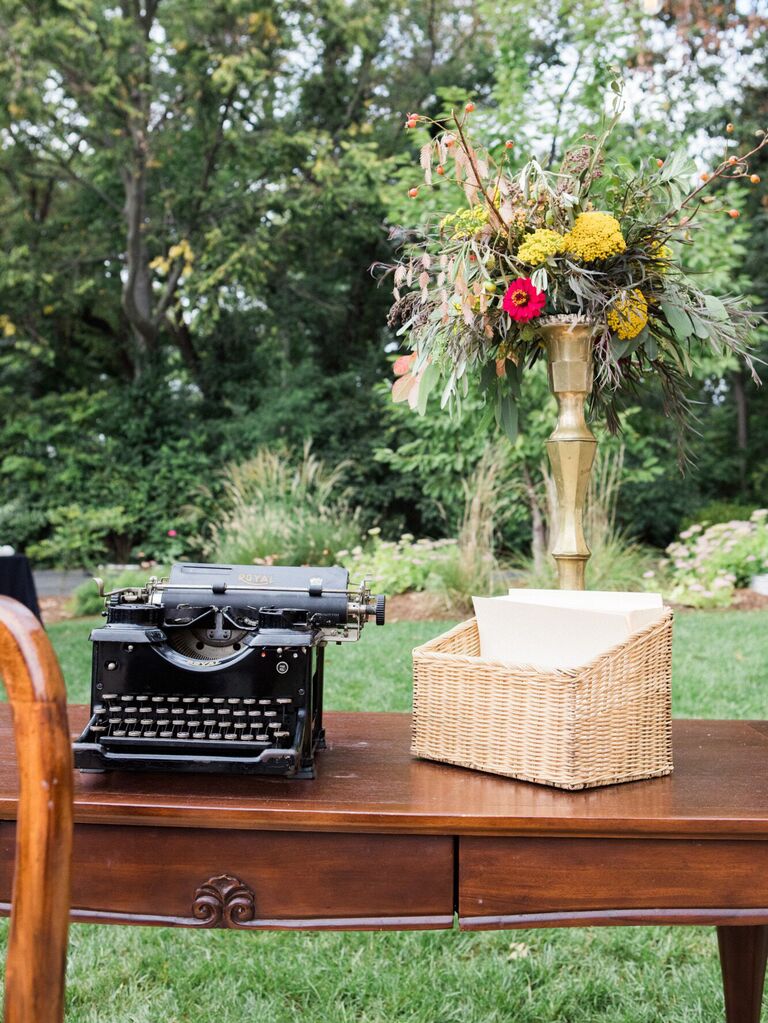 If you're planning a vintage-themed wedding, consider this unique backyard wedding idea. Have your guess type words of wisdom or well wishes with a typewriter.
Sparklers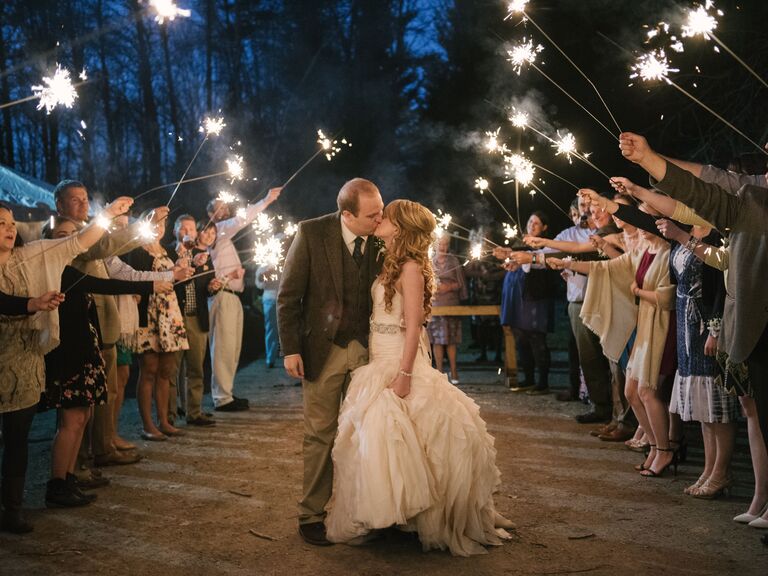 Light up the night with some sparklers. Not only will your guests love them, they'll also help you get a stunning reception photo.
Lemonade Stand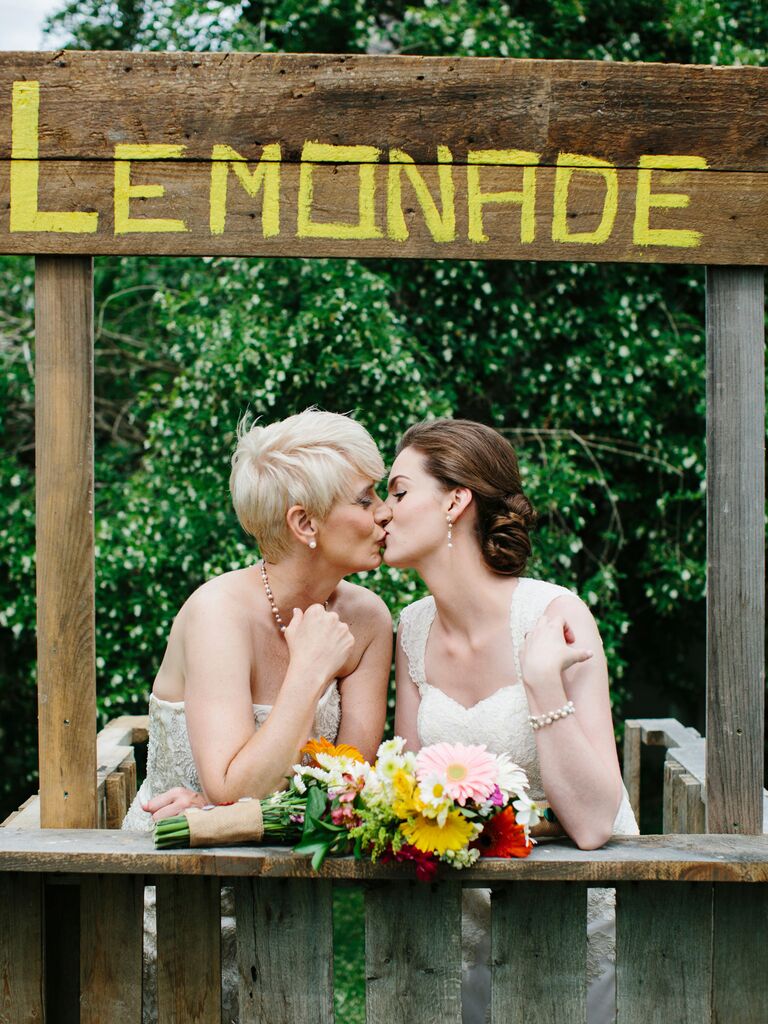 Pay homage to your childhood by setting up an adorable lemonade stand. Stock it with actual lemonade and serve it to your guests as a refreshment.
Clear Tent With Lights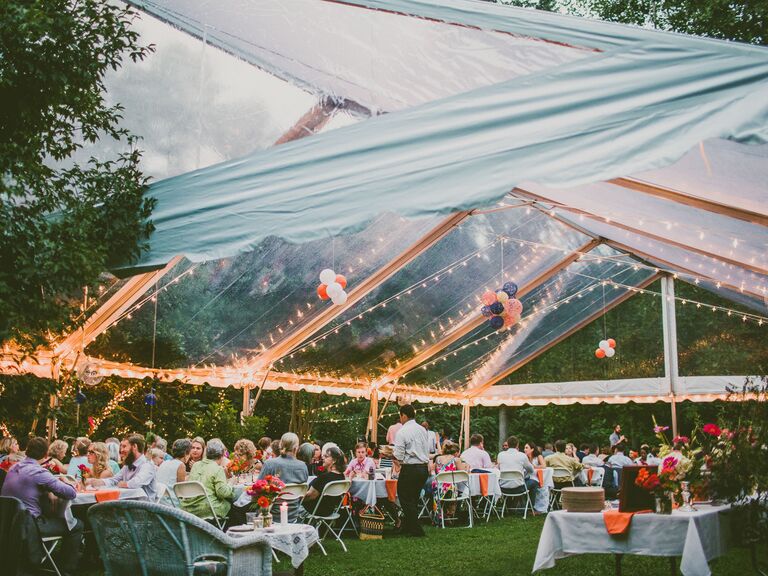 If rain is in the forecast for your wedding day, not to worry. Every outdoor wedding should have a backup plan. We love the idea of a clear tent, as you and your guests can still enjoy the Bascenic backdrop without getting wet. Add in some string lights for a dreamy effect.
Heating Lamps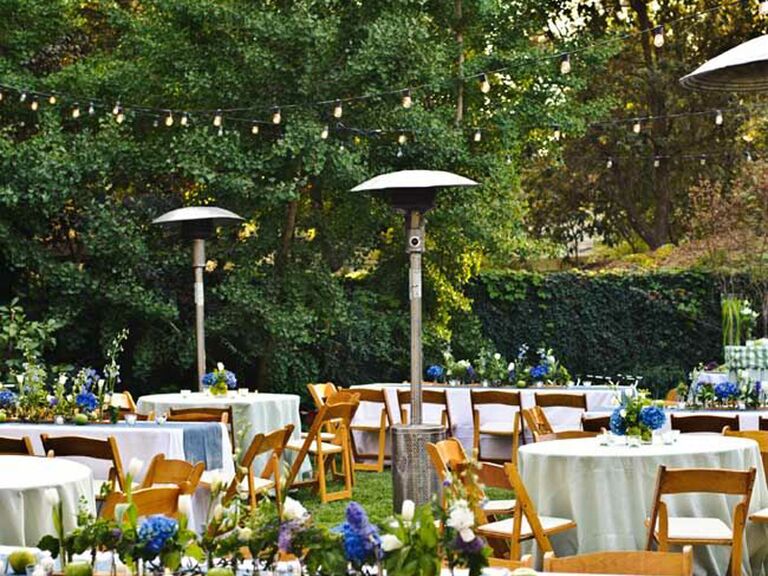 As the sun goes down, the temperature might follow. To help keep your guests comfortable, consider bringing in some heating lamps so they can enjoy the celebration long into the night.
 Hang Natural Decorations From Trees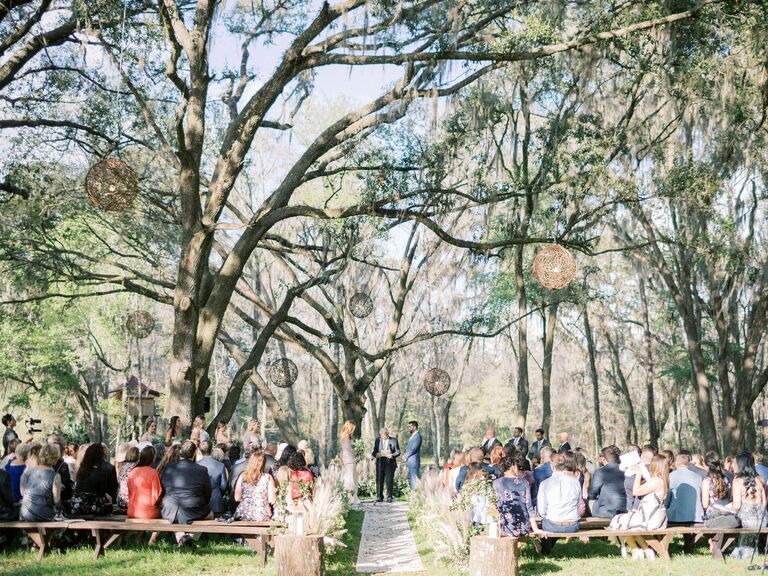 Make use of the tree branches in your backyard by hanging decor that reflects the outdoor aesthetic. These natural orbs create a whimsical, bohemian effect that is absolutely stunning.
Simple Table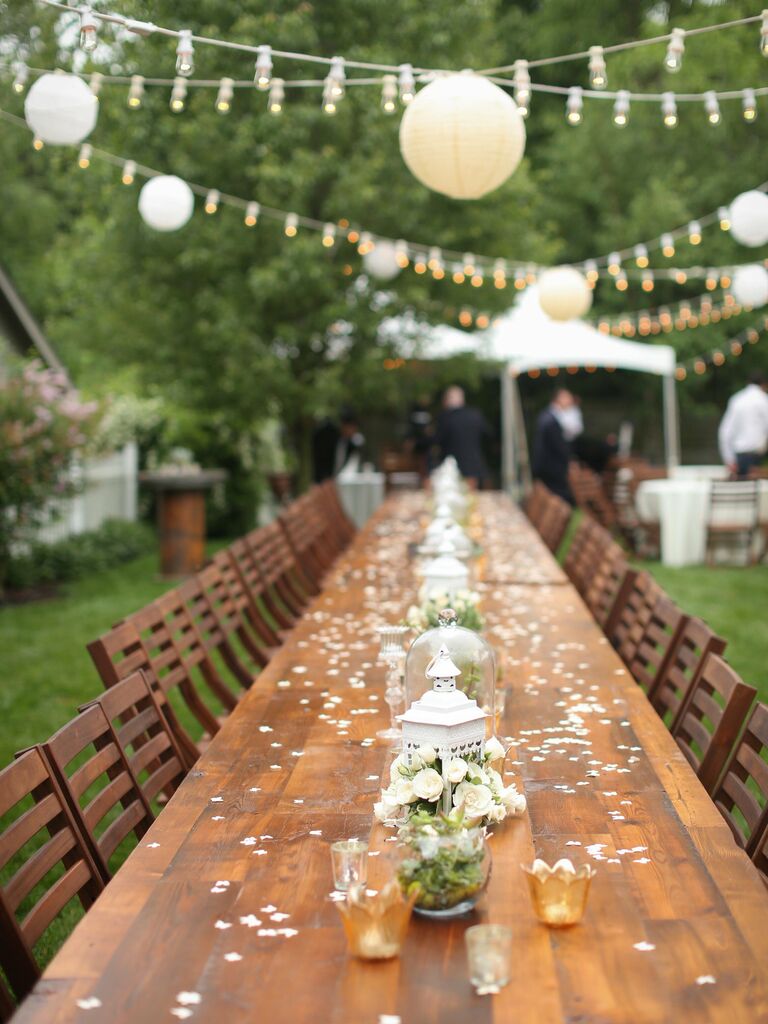 Let the natural beauty of your backyard shine with a long, simple table. We love the tiny white confetti on this tablescape, but feel free to add whatever small touches makes you the happiest.