Meet the Couples Who Are Marrying Amid the Coronavirus Pandemic
See their wedding photos.
The refrain "love conquers all" has never been truer than in the time of coronavirus. In March, the US government began a mandate that shut down gatherings of more than 50 people in accordance with the CDC's social distancing guidelines. This meant that many couples had to postpone their weddings until a later date.
For some, however, the strict restrictions and uncertain times were reason enough to go forth with a commitment ceremony—while still being mindful of social distancing, of course. Instead of more traditional ceremonies with family and friends, some innovative couples decided to go a different route in order to get hitched, with creative ideas ranging from getting married in the street with a friend officiating from his apartment to having a drive-thru, no-contact ceremony. Here are a few examples of how couples around the country are finding creative ways to get married in spite of the pandemic, proving that love will truly always find a way.
The couple whose original date is etched in stone
Nikki Dagot and Brian Dunmire were supposed to marry in mid-April at the Brazilian Court in Palm Beach, but they've since postponed the festivities to November 2020. Instead, they really wanted to still honor their original wedding date, while adhering to social distancing measures. The solution was simple: they decided to elope in a local garden near their Florida home.
"Our original date held such a special meaning to us," Dagot says. "After almost a year of planning and engraving our date everywhere, we decided, 'Why not?'"
Like many couples, the pair felt a multitude of emotions while shuffling their plans around. "We recognized that we're lucky to have each other and to be healthy," says the bride. "COVID-19 and being under quarantine has actually brought us closer together, because we've had more one-on-one time and the ability to reflect."
Indeed, they've found numerous silver linings this season, their sequel wedding included. "Since we eloped, we were able to have an intimate ceremony and to still have our date be 'our date,'" Dagot concludes. "Plus, we know that we hopefully will have the wedding of our dreams with our closest friends and family in November!"
The couple who threw a commitment ceremony in four days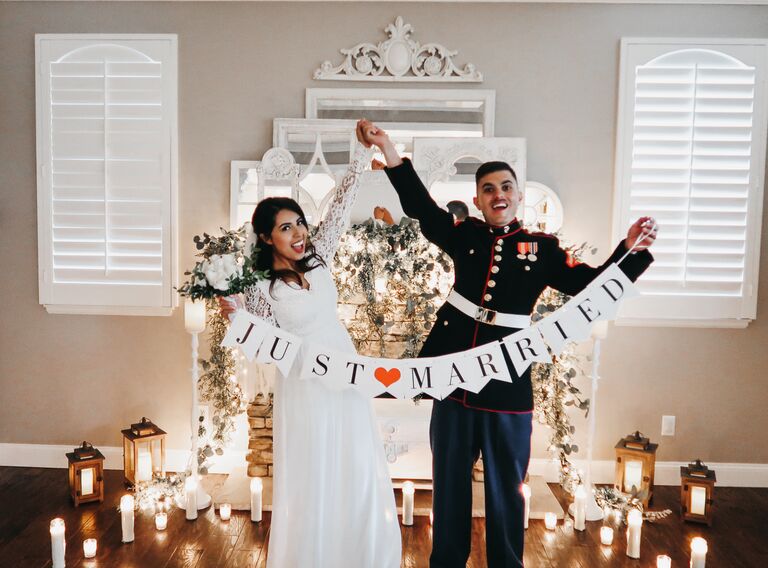 For Natali and Alex Aparicio, "ugly tears" were involved when they learned they would have to postpone their June 13 wedding. "We began to talk about the possibility of having to postpone the last week of March," says Aparicio, who's based in Southern California. "On April 3, we decided to postpone without a new date in mind."
In the interim, the pair decided to still go ahead with a tiny wedding celebration first. They still plan to eventually amplify their marriage down the line with their 150 guests. "We ended up having a very intimate wedding in the living room of my in-law's home. We pulled it off in four days!" she adds. "My mother-in-law and sister-in-law did such a great job at helping put this together for us. It was truly special."
The pair who sent a marriage notice to their original guests
Ben Schlang and Julie Samuels were originally supposed to marry on April 18, but the New York-based pair had to postpone their nuptials. Instead, they opted for a short-term celebration via Zoom where 50 of their loved ones gathered to witness the couple exchange vows from the comfort of their own homes. ("We will still be married and we still get to be with the love of our lives, [we] just need to wait a bit longer to celebrate," she previously told The Knot.)
Guests donned tuxes, the bride wore makeup "for the first time" and Samuels' 89-year-old grandmother figured out how to use Zoom. "My mom worked so hard to make the physical space special and beautiful," she adds. "Friends from near and far sent flowers and bubbly."
For their many other original wedding guests, the couple still wanted to share an update amid the pandemic too. "Last night, we said I DO and we couldn't be more excited to share the news with you!" they wrote to their guests. "With such uncertain times, we did not want to wait to officially get married - so here we are, Husband & Wife! We are looking forward to a time when we can celebrate with all of you in person and dance, kiss, hug, and horah! Until then, stay safe and healthy!"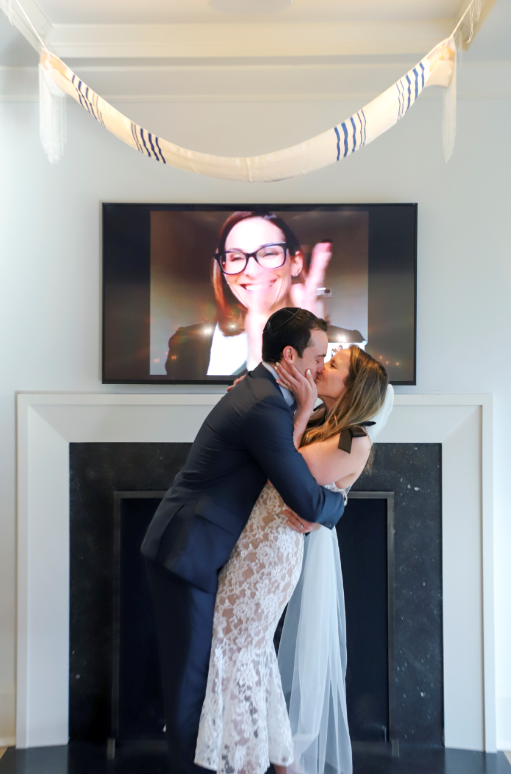 Samuels says this time has provided for generations of stories to come. "It wasn't at all how we planned it or what we had expected, but it was perfect," she says. "We will share this story with our family, our children, and our grandchildren one day."
New York Governor Andrew Cuomo declared on April 18, the couple's exact wedding date, that residents were now able to legally marry via Zoom and other virtual platforms. A wedding gift on its own. "At the end of the night, we put on our PJs and sat down to watch TV," says the bride. "It was just like any other night of quarantine!"
The couple who married at home with a hot-glued veil
When Courtney Andresen woke up on Friday, March 13, she had a gut feeling that her March 21 nuptials to her love, Tyler Kroos, might not happen. The day before, California Gov. Gavin Newson had ordered a statewide cancellation of social gatherings over 250. At the time, they anticipated 180 guests at their nuptials, set to take place at the Santa Monica Proper Hotel, but given how things were shaking out, it seemed clear that the writing was on the wall for their big day.
"Everyone was [is] reacting so differently in this time of crisis and I assumed most guests were secretly stressed over attending," Andresen tells The Knot. "It escalated so quickly overnight and moving forward with it a week out felt irresponsible. Pandemic was not the vibe we were going for on our wedding day, and [we] want to celebrate with everyone safely and in good health!"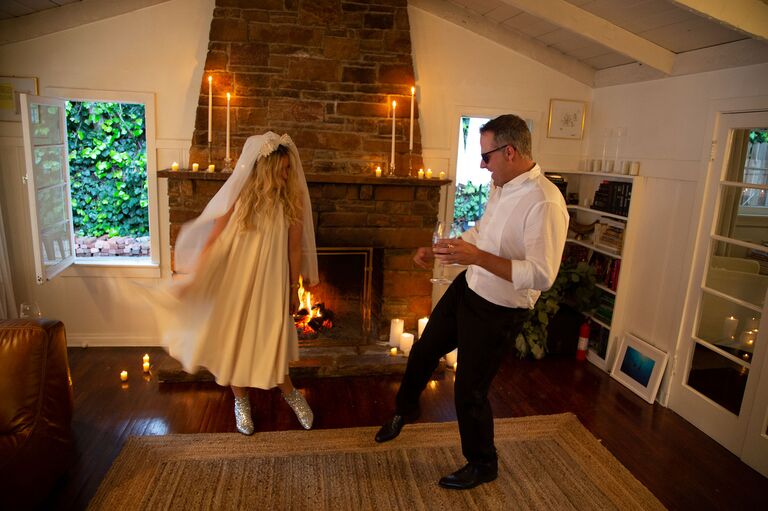 Andresen and Kroos postponed their nuptials, but decided to get legally married at home on the same day to honor their original wedding date. Andresen hot glued a veil together and made a wedding cake out of whatever she found in their cupboards.
"Who knew that gingerbread with melted marshmallow frosting is actually good!" she laughs. They invited over an ordained friend (and his wife, as a witness), who performed a brief ceremony from a safe social distance. "It was short, sweet, special, and followed by tons of champagne!" she says.
The couple who had a rooftop wedding
Paula Fastuca and her husband, Ken, didn't expect to get married on a rooftop, and yet, it happened. "They did the best they could to honor their original plans," their photographer Yumi Matsuo tells The Knot. "Paula was so great with the details: she decorated her room to be the bridal suite using the wedding decor meant to be displayed at the venue. She made a floral arrangement for her hair that matched the dry bouquet gifted to her by her brothers who couldn't make it. She is so thoughtful and did her best to incorporate as many meaningful touches as possible."
The couple exchanged vows under a beautiful blue sky on the rooftop of their apartment building in Greenpoint, Brooklyn. It was the first of many celebrations for the couple, who will still have a formal wedding in 2021. Plus, they recycled some vendors for both their intimate wedding and their later ceremony.
"As a wedding photographer and a New Yorker, it was one of the single best celebrations I've been a part of. One where I felt an overwhelming sense of love, commitment and community," Matsuo proudly adds.
With their honeymoon in Hawaii also postponed, the couple has found laughter with each other. "Ken and I have been totally consumed with each other, in a good way," says Fastuca. "We now joke about our 'quarantine staycation honeymoon in Brooklyn' that is going on indefinitely. It's been fun cooking together and eating ever meal together. We've also played board games and card games every night while enjoying Ken's wine obsession. The start of our marriage has been strong. We were faced with really tough and heartbreaking decisions but we did it together. Having the support of each other through this has been nothing but comforting. We love each other and support each other no matter what and this is just another strength building experience in our relationship and marriage."
The first responder and nurse who married in their backyard
A nurse and a first responder decided to postpone their 200-person wedding in Blue Bell, Pennsylvania, but they decided to still go ahead and get married. "I think it was actually our parents who were like, 'You guys should still get married and make the day special,'" Rovinsky tells The Knot. "Both sets of our parents have been married for more than 30 years. They helped us realize it's not about the wedding or the celebration, but about the marriage."
The couple set up computer screens for their parents and the brother of the bride served as the officiant. The groom's sister and her fiancé, the best man and the maid of honor all witnessed the backyard occasion unfold via Facebook messenger video chat. Finally, several of the couple's neighbors joined in along the backyard fence. Everyone, of course, was six feet apart--at the very least.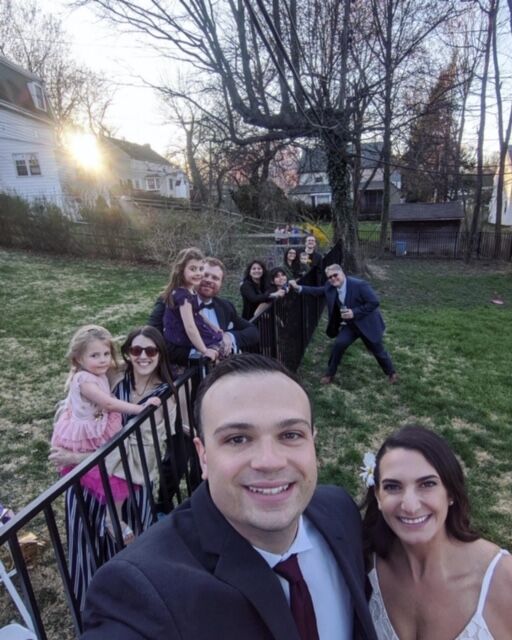 "It really puts things into perspective," Rovinsky adds. "Before, I stressed over the color of dresses and shoes and flower arrangements and favors. Now, that stuff doesn't even matter. I just want to see and hug and dance with our family and friends!
The couple who married on the streets of NYC
Reilly Jennings and Amanda Wheeler were literally stepping out the door to head to the courthouse last Friday when they heard the announcement: Mayor Bill de Blasio was closing the marriage bureau. The previous day, they had gone to the courthouse to get their marriage license without any issues, so the news was especially devastating.
"I freaked out, cried a lot, had some wine pretty early in the day and then sort of just tried to think of what are we going to do?" Jennings said. "Amanda was very calm; I was not calm."
The couple had initially planned to wed this coming October, but with the increasingly strict travel restrictions and the closure of "non-essential" businesses, they began to realize that the likelihood of being able to host their wedding the way they'd planned was looking slim to none. And given that Wheeler had recently been laid off from the gym where she worked, the couple agreed that it would be both reasonable and romantic to get married sooner rather than later. Hence, the would-be courthouse wedding.
Jennings and Wheeler then got to work texting and calling friends to see who they knew that could potentially marry them. Their friend, Matt Wilson, informed them that he was ordained by the city clerk and would be delighted to officiate their wedding. They met at his apartment in Washington Heights shortly thereafter, with Jennings in a white jumpsuit and Wheeler in a bespoke navy blazer and white sneakers.
From the fourth floor of his apartment building, Wilson performed a reading (fittingly, from Love in the Time of Cholera by Colombian writer Gabriel García Márquez), and then officiated the ceremony as Jennings and Wheeler stood holding hands on the sidewalk. Onlookers cheered when the couple said their "I do's" and kissed.
"The most perfectly New York moment amidst a crazy time," Jennings captioned a video of the entire 3-minute ceremony that she shared to Instagram the next day. "The magic of this city, our down AF friends, and most importantly @wheelsfit will never be lost on me."
The couple who married in a video game
Sharmin Asha and Nazmul Ahmed were set to get married on April 12, but with the increasingly stricter social distancing and travel regulations being put into place over the past few weeks, the couple began to realize their wedding might have to be postponed. Earlier this month, they made the tough decision to cancel it.
"I'm graduating from med school and not getting a graduation," Asha wrote on Reddit. "I was feeling pretty down about missing out on my milestones."
Ahmed was determined to give his bride a wedding to lift her spirits. And he found an unconventional way to do so, even if it wasn't necessarily how they'd both envisioned it would be. On Sunday, he threw his fiancée a surprise "wedding" inside the Nintendo game Animal Crossing: New Horizons, with a few of their close friends in "attendance."
"I let our best friend know that, 'Hey, so I have this secret event planned out,'" Ahmed told Insider. "I just sent a picture of the N and the S on the beach, and my friend started freaking out because she immediately got what I was trying to do." (In Animal Horizons, multiple players can log into a single game and chat with/interact with one another in real time.)
Ahmed then invited Asha over to his island to help him "gather resources"; all of their friends' avatars were there waiting. "He was hosting all of our friends on his island too and they all kind of like stood on the sides of the aisle," Asha told Insider. "He put some roses down on the floor for me to pick up and a dress to put on and everything. It was honestly all very, very sweet."
The couple who had a drive-thru wedding
Jordan Hull and Kristyn Schultz of Lawrence, Kansas, have been planning their wedding for a year now, but in recent weeks, the reality set in: their wedding just wasn't going to happen this spring. Rather than stay bummed about having to cancel their wedding, however, the couple looked for alternatives. Hull happened to see a post about the Victorian Veranda Country Inn on Facebook.
"We have Sunday weddings, we have Saturday weddings, we have Wednesday weddings," Inn owner Robert Phillips told local station KCTV5. Phillips, who has officiated hundreds of weddings at his bed and breakfast, recently began offering "drive-thru" weddings, in which couples drive up to the B&B and get married right from the comforts of their own car.
"This is extremely different than what we're used to," Phillips said. "But we felt it was important to provide the service."
All couples need to have on hand are their marriage license—"it has to be a Kansas marriage license," Phillip added—no fees necessary. The couple would stay in their car the entire time; Phillips said he has a "basket with a long stick on it" to retrieve the marriage license and bring it back without making contact."
Hull and Schultz are nervous but excited to get married in this unconventional way. "My parents did one back in the 90s in Las Vegas," Hull said. "I never thought I'd be doing the same thing."
The couple who live-streamed their wedding
Rather than postpone their wedding, Brian Rose and his wife Megan decided to just tweak it a bit instead. The Northern Virginia couple originally planned to have a more traditional 150-person wedding at the end of the month, but instead, canceled their plans and found another way to keep their loved ones involved in their big day.
"We kind of just saw the writing on the wall—and things were just getting worse and worse," Brian said of why the couple opted to shift gears. The pair still held their wedding ceremony on the same day, but live streamed, with only their pastor and a few family members and friends present. The celebration took place in their own backyard to maximize mindfulness of social distancing.