12 Things Your Virtual Wedding Definitely Needs
For example: a 'streaming administrator.'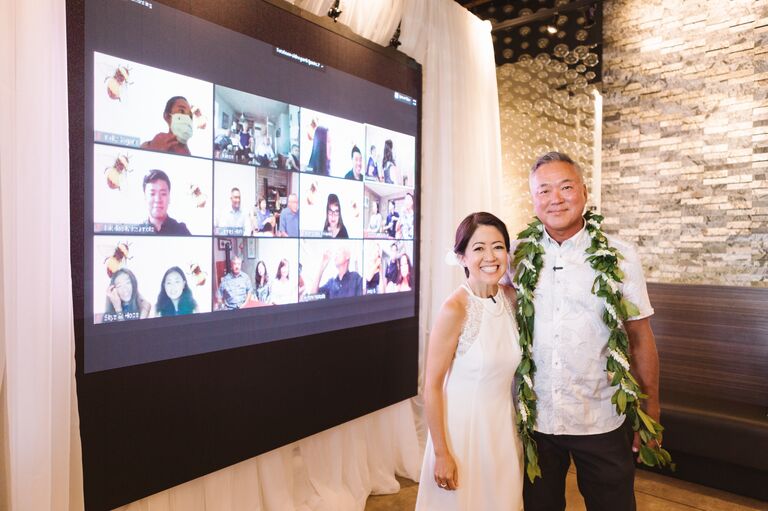 Michelle Mishina Kunz of The Present Perfect
Irene Ingham and Troy Mitchell thought the digital portion of their romance started and ended with Bumble in 2018, but the couple didn't anticipate their wedding to go full-on virtual two years later. In April 2020, as the coronavirus raged on through portions of the US, the pair opted to move forward with their wedding by exchanging vows in a virtual wedding attended by their original guest list. "By embracing the current situation and looking for creative elements to add to our wedding, we were still able to make our dreams come true," the couple tells The Knot. "If [you have] an upcoming wedding, consider leveraging technology to bring people together to share in your special day… So many of our guests have said, 'We were so excited to have something to look forward to during this pandemic.'"
Adds the bride, "My father, who is older in age, was especially thrilled to join our wedding from the comfort of his home, and virtually shared his sentiments on video for all to see. One of our guests who watched the virtual marriage shared: 'We were moved and uplifted by it all… by your love to each other, your commitment, your generosity. We all needed it [at this time]: the affirmation of life and beauty and faith. It made us all happy. And, in a way, fulfilled.'"
So, what exactly is a virtual wedding? A virtual wedding is defined as a marriage ceremony that has some or all of its guests joining virtually, via video chat platforms like Zoom, FaceTime, Facebook Live or Google Meet. Couples might choose to have a virtual wedding for a number of reasons — such as family members who are unable to travel but still want to join in the wedding festivities — but the most common as of late, of course, the COVID-19 pandemic and subsequent restrictions on social gatherings and need for social distancing.
Couples aren't the only ones embracing the virtual wedding these days though. Mona Hirata-Sung, a wedding planner of Neu Events, got married in her very own virtual "hybrid" wedding in Honolulu this summer. "I suppose this is one good thing that came out of COVID for me personally," jokes Hirata-Sung. "I was finally able to plan my own wedding." According to the pro, there are various considerations couples should exercise when planning a virtual wedding—including technology and virtual invitations, along with making sure your virtual marriage is legal. We've compiled a comprehensive list below of topics to discuss as you plan a glitch-free virtual wedding.
Specific Time Zones and Timelines
Imagine exchanging vows and toasting to your newlywed status at sunset, while the majority of your guests will have to get up at the crack of dawn due to distance. "Consider the time of your wedding in relation to the virtual guests' time zones," says Hirata-Sung. "One of the advantages to having a virtual wedding is that it enables loved ones to be able to attend, regardless of where they are geographically… Hopefully, your venue will offer different ceremony and reception times to choose from so that you can select a time that will best accommodate your guests in their respective time zones."
Along with time zones, the timeline is an important consideration as virtual weddings are different in format. "Remember that the virtual attention span is shorter, so look at more concise timing for your wedding," she adds.
Your Original Vendors
Since a virtual wedding could be combined with a minimony or a microwedding, couples are encouraged to work with their vendors to implement their original style and vision into the ceremony. This can include asking your florist to build a backyard-friendly installation or having your caterer send menus and meals to local guests. Outfits are another alternative. Perhaps a bride will consider a more casual version of her wedding dress or accessorize in a way outside of her original wedding plans.
Finally, if you move forward with your vendor team for your virtual marriage, connect all respective vendors to coordinate the various moving parts as you would with any event. "You'll want to put your photography, videography/streaming and production teams in touch with each other prior to your wedding," says Hirata-Sung. "With the virtual wedding, they may want to plan and collaborate on the best camera angles given the placement of the device or the various cameras streaming the feed. They may even choose to do a site visit in advance."
Virtual Updates
Along with a change-the-date notice, an FAQ page and constant communication is a must during COVID. Says Hirata-Sung, "Create a wedding website for sharing info, as with the complimentary site available through The Knot. For those who RSVP to attend your wedding virtually, you can share helpful tips for attending virtually, and can convey the appropriate information to subsets of attendees, especially if having some guests attend in person, others via live streaming, and others via video conferencing."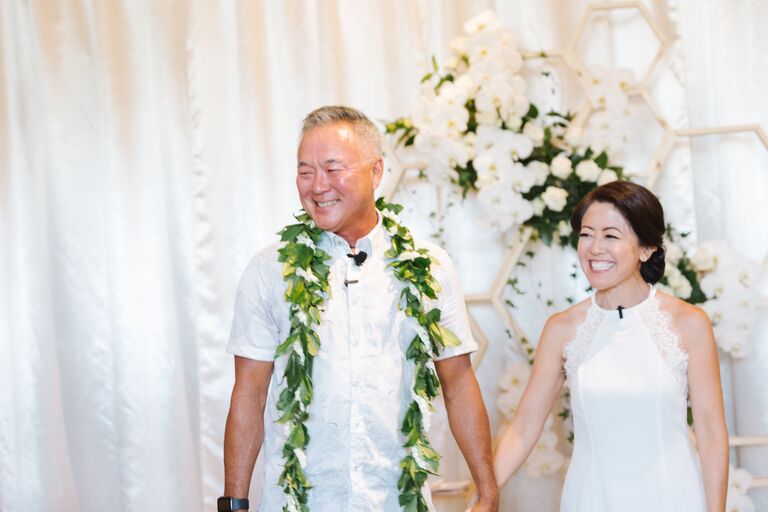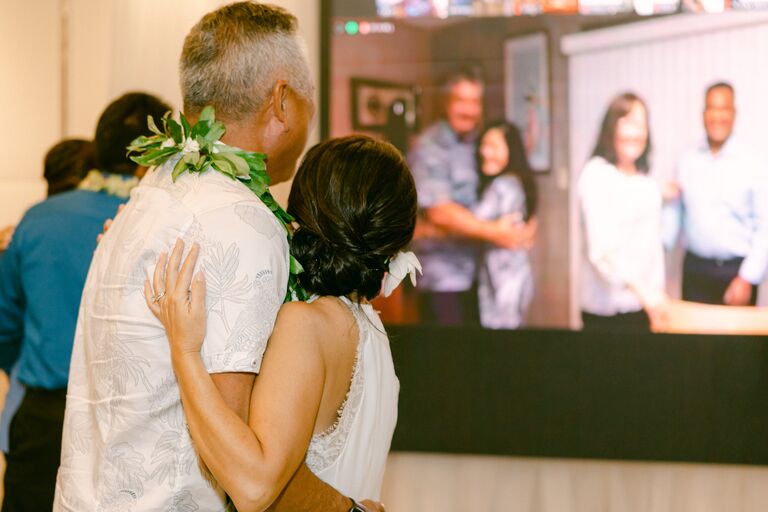 Investing in Good Technology
This is one of the most important aspects of a successful virtual wedding. Sound quality, along with great lighting and stable internet connection are all essential to this type of event. Talk to your vendors about what is necessary to ensure all three components will not be disrupted especially as you exchange vows.
"Test the wifi capabilities at the wedding venue in advance. If the bandwidth is insufficient or if the wifi capabilities are "spotty," you can then consider bringing in a separate hotspot," says Hirata-Sung. "Having stable and solid wifi is key to the success of your virtual wedding and to ensuring that your remote guests can enjoy your day with you to the greatest extent possible."
"Invest in an AV Screen, which is available for rent, or Chrome Casting the virtual wedding guest gallery, to showcase attendees so the couple can see and communicate with those watching," suggests Monica Vanderbeck of Virtually Wed.
A Decisive Platform Type
You and your partner will have to decide between a live-streaming or video conferencing platform. There are benefits to both. "Live streaming, such as through Facebook Live or Twitch.TV enables guests to view and chat with others through the chat feature, whereas video conferencing through Zoom, Skype and Google Hangouts on the other hand, allows everyone to see and speak with each other, and is a more interactive option than is live streaming," says Hirata-Sung. "If choosing the video conferencing option, think of ways to engage and involve guests."
A Dedicated 'Streaming Administrator'
Along with the right technology, the right folks to help facilitate the virtual marriage will ensure for a smoother process. "Have a dedicated person or professional serve as the streaming administrator," suggests Hirata-Sung. "This person can be there to help guests with questions, and can mute and unmute microphones. They can also choose the appropriate feed to show if opting for a more robust, multiple camera production."
If select guests aren't familiar with live streaming or video conferencing (say, your grandmother or great aunt), ask the administrator to host a practice streaming session with those guests. "One of the things I did not anticipate for my own hybrid virtual wedding was that a few of my guests wanted to gather at their parents' homes, so having multiple devices meant that there was feedback from each other's microphones," the pro admits. "During the practice session, they determined how far apart they could be within the same house to maximize participation."
A Virtual Waiting Room or 'Lounge'
Certain platforms now offer virtual waiting rooms for guests to mingle prior to the event's start time. As guests await the arrival of you, the couple, they can join the lounge and partake in conversation before the event begins. This allows for the atmosphere to be more open and congenial as guests participate in the overall ceremony.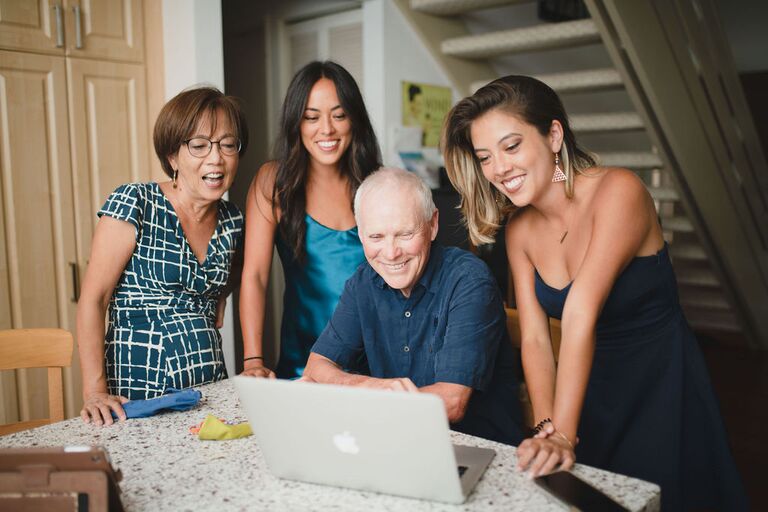 Virtual Experiences for Guests
An interactive activity is especially appreciated in a virtual wedding, and that includes guests' contributions to a video montage. Have your guests pre-record messages in advance or have your videographer capture their video messages for a keepsake from your day.
"You can also have online guests participate by doing a reading during the ceremony, saying a blessing before the meal, doing some sort of performance, offering a toast, or delivering a speech," notes Hirata-Sung.
Something to consider is hiring a professional host or emcee to facilitate the evening. "Enlist the services of a professional emcee to provide directions and involve the guests attending virtually," adds the planner. "With the virtual wedding still being so new, it is helpful to convey basic instructions, and an emcee or host can facilitate this. It's also helpful if this person provides commentary and builds audience engagement to bridge the physical distance."
A Virtual Wedding Dress Code
For couples, it's important to ask your guests to abide by a theme if you decide to move ahead with one for your virtual wedding. In reverse and as with an in-person wedding, guests should dress according to what the couple has requested.
The best place, if any updated information is unavailable, is via the couple's invitation or their wedding website. The Knot Editors recommend guests accessorize with a cute bowtie or a pair of fun earrings since most participation will be seen from the waist up.
Home-Delivered Meals and Cocktails
Safely prepared bento boxes with menu inserts, pre-mixed specialty cocktails and delivery options are one way to engage guests who are local to the area (or those afar) as it's yet another interactive virtual experience that could delight your loved ones.
"Couples could incorporate food elements that are easy to ship, such as mini dessert boxes with treats found at the wedding, a charcuterie display filled with cured meat, cheese, mustards, dried fruits and nuts," says Virtually Wed's Vanderbeck. "An extra special touch might include working with a local company to assemble and deliver to-go style meals for guests to enjoy while virtually viewing. These items might include instructions or times to be enjoyed."
In addition to edible treats, perhaps ship your virtual wedding guests mini floral arrangements to brighten up their homes along with wedding favors as a keepsake from the day.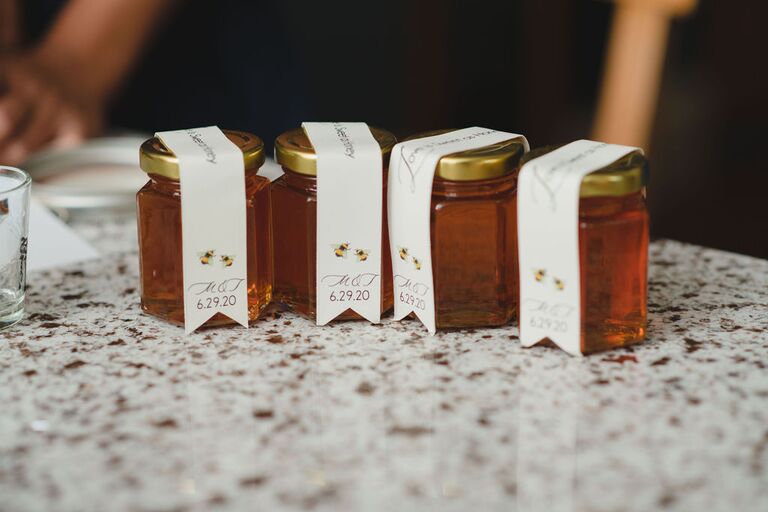 Virtual Wedding 'Rules' for Guests
Being a good guest isn't simply limited to physically participating in a wedding in person. Couples and guests alike should be privy to new virtual wedding rules such as a firm start time, dress code enforcements and other interactive elements. "Be attentive and respectful, congratulating the couple at the appropriate time," says Hirata-Sung.
Couples might have a virtual receiving line, or there might be a request for a virtual guest book chat room. The to-be-weds might even request guests use their wedding hashtag and as with a typical in-person wedding, the basic etiquette should be followed.
Finally, if the couple has a wedding registry, send your best wishes and good intentions their way by purchasing a gift. While COVID-19 has upended many wedding plans, the newlyweds will be grateful to receive something from their wishlist as anticipated.
Ensure Your Marriage Is Legal
If you're looking to make your union legal with a virtual wedding ceremony, the good news is many states have signed executive orders or have reopened municipal offices to allow it to happen. The legality of virtual weddings held on various platforms was initially called into question this spring, as couples were adapting to COVID-19.
"Marriage laws and officiant registration requirements vary drastically from state to state (sometimes even county to county)," a rep for the American Marriage Ministries previously told The Knot. "Couples really must proceed with caution and do additional research. It is possible that some offices will make exceptions on a case-by-case basis, given the current state of affairs, but couples should not assume that internet weddings will be considered valid according to their local marriage laws."
For tax filing purposes, as well as healthcare, immigration and/or birth reasons, having a legal virtual ceremony is a practical way to honor your original wedding date so that you can also enjoy a few on-paper benefits that accompany marriage. If your state is not included on the list and you're wondering how you can get a marriage license, here's what to do. Check with your local governments for next steps. If you have to wait to legally marry, remember you can still honor your original wedding date with a minimony. Many couples' minimonies have included personalized and sentimental touches (think: ceremonial ring exchanges, living room to rooftop vows and the help of select wedding vendors like photographers and pastry chefs). It's a beautiful prelude to your eventual wedding day gathering with your family members, best friends and loved ones altogether in one place.