How To Plan A Romantic Destination Proposal
Core memory unlocked.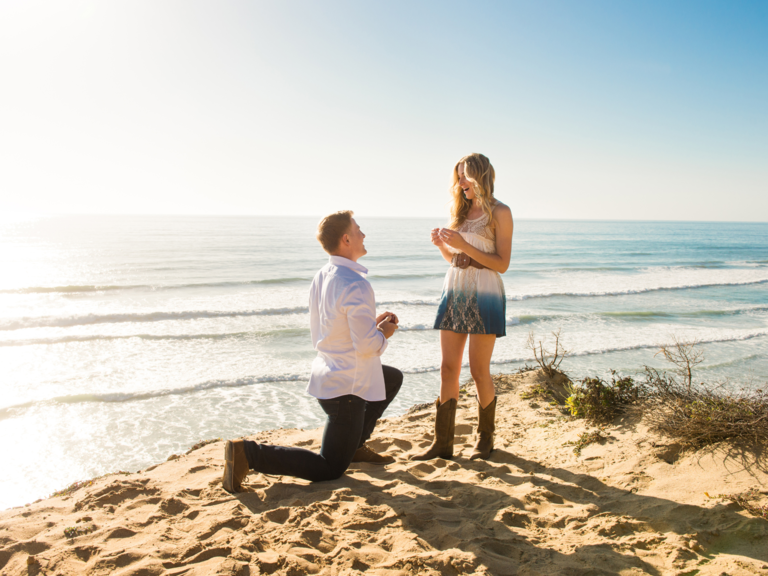 Photo: Corey Jenkins / Getty Images
We all imagine the moment of our very own marriage proposal long before it actually happens. Whether you've dreamt of this event prior to meeting your significant other or imagined how it would happen once you decided you wanted to spend your life with this person. While we all have different ideas of the perfect proposal, most of us can agree that romantic is certainly an adjective we'd like to use to describe it. To up the ante on the romance, many couples hope for a destination proposal.
A destination proposal is just as it sounds—it's a proposal that takes place in a destination outside of where the couple lives or is from. The destination of choice is often a romantic setting, and one that is picturesque, charming, and potentially even meaningful to the couple, notes Brittany Branson, Destination Live Wedding Painter and founder of By Brittany Branson. As alluring as this idea sounds, it often requires significantly more planning and logistics than your average proposal. Not only is the person proposing having to purchase the ring in advance, but they have to come up with a plan to conceal it until they reach the romantic destination.
In this article:
How To Plan A Destination Proposal
If you're looking to pop the question in a romantic destination away from what you consider to be home, follow these tips to ensure it all pans out perfectly.
1. Choose the right destination
Of course, the destination you choose should be a place where you both want to go, but it should also be picturesque, something that will lend itself to beautiful photos for when you do propose. Think of destinations that offer romantic proposal spots, such as the beach, mountains, famous tourist sites, etc.
2. Do your research
Once you've settled on a romantic destination for your proposal, you want to be sure you do some research to find out exactly where you should pop the question. There are so many resources available online as well as social media and each can give you some guidance as far as the most picturesque destinations. You also want to dig into the weather forecast for that season in which you will be traveling and make sure that the location is easily accessible and not too crowded when you plan to propose.
3. Hire a photographer or videographer
Branson recommends hiring a local professional proposal photographer to secretly follow you around as you explore one of your destination's top spots. This takes the pressure off of you to have to document the entire event. "Whether it's roaming the city or participating in a group tour, your photographer can capture sneaky images that will forever preserve not just the moment but the entire day leading up to the big ask," she says. "They may even be able to provide you with an itinerary for a fun (and aesthetic) afternoon full of romantic and camera-worthy spots." You can easily find a professional photographer to capture the moment on The Knot Vendor Marketplace.
4. Get insurance for your ring
This is a smart thing to do no matter where you plan on proposing, but especially if you're popping the question in a faraway destination. Getting insurance for your ring will help cover you in the event in which it is lost or stolen—two unfortunate possibilities when traveling. If you have a homeowner's insurance policy, you may be able to add your ring onto the same insurance policy.
6 Destination Proposal Ideas
Looking for ideas for the perfect destination proposal? We asked experts to give us examples of some romantic destination proposal options.
Hot Air Balloon Proposal
If you're really hoping to wow your partner, popping the question in a hot air balloon with incredible views is sure to do the trick. It's great if you and your partner don't want a big crowd around, since there won't be too many people who can fit in that hot air balloon with you. "Whoever is planning to propose should consider bringing a GoPro and hooking it up somewhere in order to capture the full experience and be able to share it later with family and friends," says Hellen Oliveira, owner of Hellen CO Photos + Films. "Both people will stay close together, hug each other, take in the breathtaking views, and get to experience this insane moment together and then probably have amazing photos to share from this proposal."
Cenote Proposal in Mexico
Cenotes, or large sinkholes or caves, are magical proposal destinations. They have long been a symbol of duality in Maya culture, representing the circle of life, so they hold a lot of meaning for the start of a new life chapter—together. "It would be a good idea to hire a local photographer to capture this moment because photos are a must during proposals, especially one at a cenote," says Oliveira. "The view from outside the cenote looking into where the person would be proposing would give an aerial point of view and would capture the entire scenery, so this is the perfect spot for a proposal."
Rooftop City Proposal
If you and your partner are city people at heart, why not pop the question atop a big building overlooking the city? "You could not go wrong with a rooftop proposal, especially if you like to be the center of attention," Oliveira says. "Best believe everyone will stop and stare and make it feel even more special with an audience going 'Awww' and 'How sweet' all around you." She recommends completing the experience by coordinating with friends and family so that they're close by to come out and celebrate with you post-proposal.
Waterfall Hike Proposal
Waterfall locations are super romantic and are often in rural or beach locations that make for memorable vacation destinations. "While proposing at a waterfall location does mean you're generally in a more remote area, you generally don't need much in the way of props," says Vijay Goel, COO of Bite Catering Couture. "We recommend bringing a picnic, and a well-packed picnic box with a bit of bubbly is always great... just make sure you use a cold pack to keep it nice!"
Ski Slope Proposal
If you and your partner are big into skiing—or snowboarding—you have probably thought about popping the question atop a ski mountain. While it does offer some challenges in terms of a traditional pulling out of the ring, Goel notes that this will serve as a memorable proposal spot. "The top of the lift or a nearby scenic spot, however, is usually a great place to have a nice post-engagement Insta post with food and drink options close by," he adds.
Sunset Cruise Proposal
Depending on the destination of your trip, a sunset cruise could be a fun and low-key way to drop down on one knee. This may require a bit more research and coordination to ensure that the boat is large enough, there aren't too many people aboard and that the people working on the boat are aware of your proposal plans (they may even be able to tell you an ideal timeframe in which to pop the question).
FAQs About Destination Proposals
No surprise if you have a few questions about the best way to propose in a destination setting. Here, the experts set the record straight on some of your most burning inquiries.
Is proposing on vacation a good idea?
Proposing on vacation is a great idea! Not only is it fun, memorable and exhilarating, but it makes for an exciting story to share with friends and family—and potentially even your children down the line. That being said, it's important that you're aware of all of the intricacies involved, including planning, keeping secrets, dealing with potential travel delays, etc. "If you're by nature an anxious person or get stressed easily or do best when you're in your element or comfort zone, or perhaps if you are unsure of what your partner's answer will be, doing it on vacation may not be the best idea," says Jamie Chang, owner and destination wedding planner of Mango Muse Events. "A destination proposal adds some additional pressure, so you have to be up for it, but if you are, it's an amazing experience for both the proposer and the proposed-to-be."
Should you propose at the beginning, middle or end of your vacation?
The best time to propose is when you feel comfortable doing it, however, there are some benefits to proposing at the very beginning of a vacation. "The partner popping the question will have less time to sit with the anxiety of having to make the big ask (let alone hide and conceal the ring)," says Branson. "Proposing at the beginning of the vacation also allows the two of you to have more time together, sharing in that excitement."