Top Destination Proposal Pointers
Proposing away from home? We've got your back.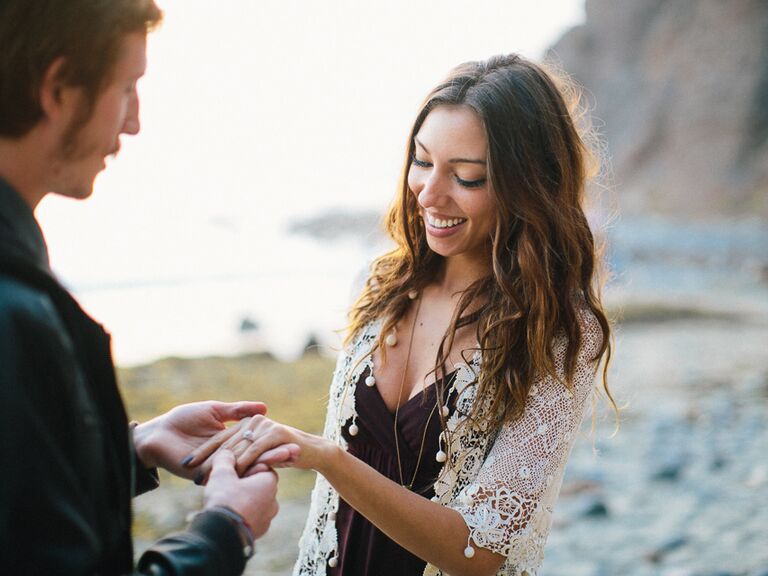 Cami Jane Photography
One of today's most popular ways to get engaged: a destination proposal. There's something so romantic about being away together, and alone in your little corner of the world, whether it's in a cabin two hours away or on an island in another hemisphere. Plus, the very nature of being on vacation makes even the simplest proposal spectacular.
There are two types of destination proposals: The first is that your significan other knows you're going on a trip; they might've even helped plan it, but don't know that you're packing a ring. The other is a complete surprise: You book a night in New York/weekend in Napa/week in Europe, and they're completely in the dark. More difficult? Yes. More wow? Definitely. Here's how to pull off the proposal.
If They Know About the Trip...
Prep before you depart. Don't wait 'til you get there to plan the specifics of your proposal. Do advance research to find the perfect locale. Call the hotel's concierge to help make dinner reservations at the most romantic restaurant around, choose the best stretch of sand for a seaside-at-sunset proposal, and order your partner's favorite flowers for your room. Some high-end resorts actually have romance coordinators on staff (seriously) who will assist with the perfect proposal plan, rose petals included.
Pack the ring properly. If you're not flying, keep the ring secured in an inside coat pocket or locked in the glove compartment of your car. If you'll be boarding a plane, pack the ring in your carry-on luggage to prevent the TSA from spoiling the surprise—don't carry it on your body, since you may then have to remove it when you walk through security, and obviously don't put it in your checked luggage. Your carry-on should be loosely filled with nonsuspicious items. Think sweaters and a paperback book; not toiletries, pocket knives or electronics that might trigger the screeners. And don't put the ring in a ring box—if you do get called for a closer check and the security guard starts tossing your stuff, you're better off having the ring in a nondescript, medium-size box.
Let the suspense build (just a little). After all this planning, you'll be understandably eager to blurt out your big question and let the celebrating begin—but resist the temptation to propose in the car on the way to the airport or the second you've tossed your bags onto the hotel room floor. Your significant other most likely hopes and suspects that a proposal is part of the travel plan, but let them savor the suspense for a day or two (or at least an evening) before you break out the engagement ring. That said, don't wait until the last day of a week's vacation to do it. They'll overanalyze every moment of the trip because they're anticipating a proposal, and all that waiting could make them more than a little grumpy.
If They Don't Know About the Trip...
Pick the perfect destination. Think about travel times. You want to devise a plan that's simple and not too stressful (like one that doesn't require passing through two airports, a train station and a grubby ferry terminal). Even one night at a luxe hotel in a different city will capture the same excitement. Also, it's important to take your significant other's personality into account. If they're an outdoorsy type, a ski lift might be the perfect place. For a traditional romantic, a classic setting like a Caribbean beach or a hotel balcony in Paris is probably more their style. And if you know they'll want to share every detail of the proposal with family and friends, have your hotel concierge arrange for a photographer or videographer to capture it on camera.
Clear their schedule. Even if it's just for a weekend, ask their boss if there are any Monday deadlines that they'll have to prep for. If you're planning to be away for more than a weekend, check to make sure they won't be missing any crucial meetings on those days off. Then, check their calendar for can't-be-missed social obligations. There's no need to ask mom/dad/best friend/coworker about all upcoming plans. Enlist one ally. The more people you tell and the more notice you give them, the more likely word will spread. If you'll be stealing them away from brunch with a college roommate or cousin's birthday party, they'll forgive them when they find out why they were a no-show.
Pack their bags. There are two ways this can go: 1) Tell them they are leaving in 30 minutes for a surprise trip and to pack for, say, three days in a tropical climate. 2) You go for the ultimate shocker and pack their bags yourself. Be warned: This will require outside help (which means revealing your intentions to others). Even if you live with together and are unusually confident in your command of your significant other's fashion choices, it pays to ask a close friend to advise you on which outfits, shoes, and toiletries to tote for them on your getaway. And, if you don't live together, you'll have to sneak into their place and escape with a packed suitcase, something that probably should be done with the help of one of a friend. If you're heading out of the country, don't forget to grab their passport. No idea where it is? Build enough time into your plans for them to go home and retrieve it before you head to the airport.
Before all this, make sure you know what ring you should choose for this special moment. Send your partner to our ring gallery to create their Hint profile where they can get style recommendations, "favorite" rings and find jewelers near you. When they're ready, they can drop a hint for you and share their selects.