My Wedding Venue Was Double-Booked, and I Survived
My fiancé and I lost our original wedding venue with nearly three months to go—but our plan B turned out to be even better than our plan A.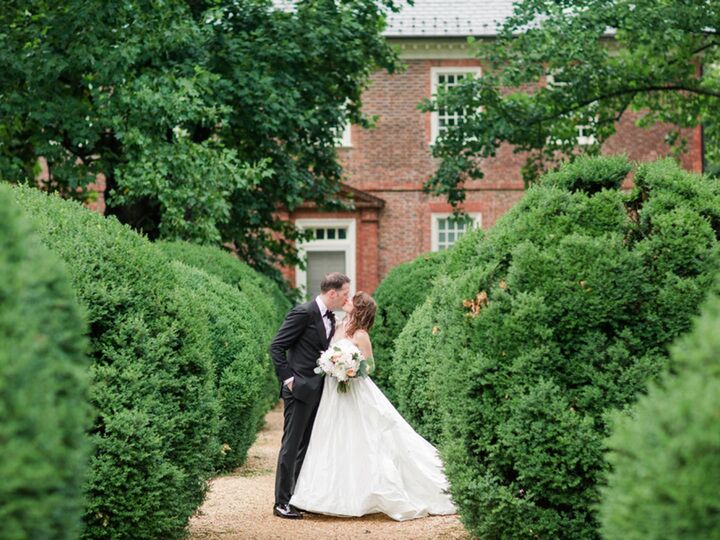 Katelyn James Photography

"I'm so sorry, but there's no record of your wedding on our calendar—and that date has been booked by another couple."
These aren't words any bride wants to hear 75 days before her wedding day. Let's rewind to the beginning of this story to better understand how my fiancé and I ended up in this mess (so you don't!).
We toured our venue in June 2016, requested to hold our date, and then signed a contract that August. Cue a toast to our good fortune and happiness! My fiancé and I live in New York City, but had opted to get married in my hometown of Richmond, Virginia. The venue was close to all of our hotel blocks and was precisely in budget.
But in hindsight, there were some red flags: My mother had a difficult time getting in touch with the venue coordinator, so she dropped off both the signed contract and deposit in person. We were then told via email that everything had been received and the date was secured. Weeks passed, and we didn't get back our signed copy of the contract. My fiancé reached out and requested it be mailed to us. We were told the contract was already in the mail—and this sequence of events started the four-month phone/email battle with our forgetful, always out of the office, passive aggressive venue coordinator.
(If you're experiencing the same frustrations with any of your vendors, here's the point in my saga where I would suggest you schedule an in-person appointment, no matter the inconvenience to either party. My fiancé and I should have hopped on a train down to Virginia—but between work and the venue's promise that all was well, we didn't think it was necessary. Spoiler alert: It was.)
Every two weeks or so, my mother, myself or my fiancé would reach out to the ever-elusive coordinator. But we were always met with written assurances that our date was still locked and that the contract should have been delivered by now. She would "check into it." She would "call us back." She would "send another contract out this week."
And now, we've come full circle: The next time I called the venue, I was told my wedding had been double-booked. There was no record of our contract or deposit, and the venue coordinator had abruptly quit the week before. She'd also deleted all of her emails. Cue tears, anger and confusion.
We found out later that the venue coordinator resigned on the same day we and another couple had both reached out—both demanding a call, demanding answers and demanding a returned contract for the same date.
Even though that couple had signed their contract nearly a month after us, and even though we had written confirmation via email that our wedding date was secured, it didn't matter. Why? Because the other bride called one hour before me to confirm her deposit had been received. It hadn't, but it was quickly processed by a newly hired coordinator who had no idea of the previous employee's massive mistake.
We lost our venue—by an hour. And to this day, we're still missing our uncashed deposit.
So, what do you do after your venue has been double-booked? Here's how we handled the situation—and hosted an even better wedding than we could have ever imagined.
Stay Calm
Don't let the stress of planning an event take away from the fact that you've chosen your partner for life. Weddings are about making a beautiful promise to your significant other in front of the people you love most. Take a deep breath, get some perspective and remember that this is what your day is all about.
Confide in Your Partner
When I found out our venue was double-booked, the first person I called was my fiancé. From that moment forward, we were an inseparable team, determined to make our wedding day something we would both remember fondly. We divided and conquered: He began the negotiation process, while I researched other venues in our budget. He collected all of the emails and call logs related to our first venue, while I contacted all of our vendors and explained the situation.
Talk to a Lawyer
Both of our families know lawyers who were willing to give us some legal advice. Since our deposit was never cashed and the contract was not returned, most agreed that if we went to court, at best, we would receive the amount of money it cost to rent the venue. Here's why that didn't help us: The lawyers' fees would be potentially more expensive than what we would receive in a lawsuit, and we still wouldn't have a place to hold our wedding. Therefore, we were advised to settle the matter outside of court. If you find yourself in a similar position, speak with someone who understands how small claims courts work in your area.
Negotiate
My fiancé is a fabulous negotiator. For two weeks, he called our first venue nearly every day to discuss the timeline of events and explain why the space was rightfully ours. When we were told the other couple wasn't willing to move and that we had lost the battle, he asked how they were going to make the situation right. Their office said they weren't able to assist us financially in switching locations—so my fiancé asked for the management team's email addresses.
Speak Up
We also brought out the big guns: my Richmond-based parents. First, my mother emailed the CEO of the venue (and every person she could find online who worked there). Her message was strong. This wasn't how a venue should operate and we weren't going to disappear. She didn't want a blank check to fix the debacle—she wanted the venue to pay for any additional expenses we might incur by changing locations at the last minute. The next morning, she received an email from the venue's lawyer. He expressed his sympathy for our troubles and wanted to meet my parents in person.
Book Another Venue
As soon as I found out that our venue was in jeopardy, I emailed 20 venue coordinators during my lunch break. Almost every location was booked. Over the next few days, I heard back from two venues. One wasn't in budget, but the other one had been at the top of my original list. Within days, we placed a hold on the venue. When we officially lost our first location two weeks later, we booked the second one sight unseen—and quickly received back a signed contract.
Ask for What You Deserve
My fiancé and I had worked hard to stay in budget. But a tent, restroom trailer and transportation were new fees based on the venue change. After contacting many vendors in the Richmond area, we found the lowest prices for each of these items. My mother contacted our first venue's lawyer with written quotes. Because they were embarrassed by the situation and hoping to curb a potential PR nightmare, the first venue agreed to pay our three additional fees. We felt these actions rectified the double-booking fiasco.
In a very roundabout way, I got the wedding I'd always wanted—a big tent in a big field, complete with a big celebration. Our day was perfect in its own way, and the second venue was even better than the first.
The lesson I learned? You, your family and your partner are the only people advocating for your happiness. So be flexible. Roll with the punches. But stand up for your rights when you've been wronged. And remember: The only thing that can truly ruin your wedding is if you let outside forces tarnish you and your partner's joy for each other.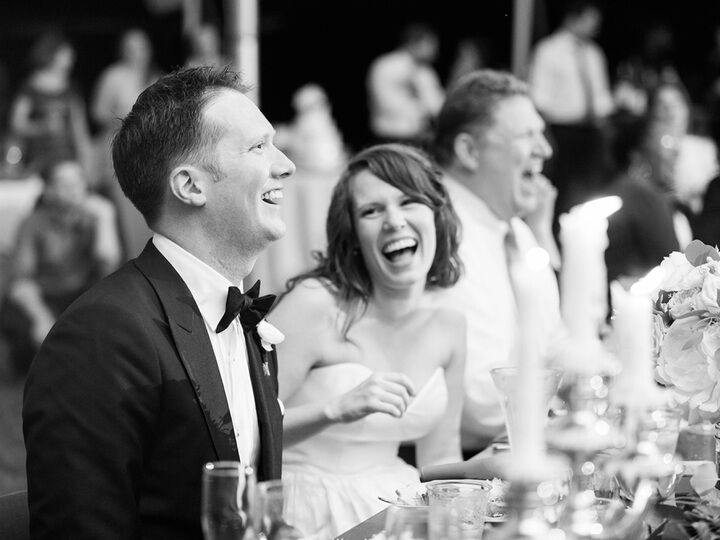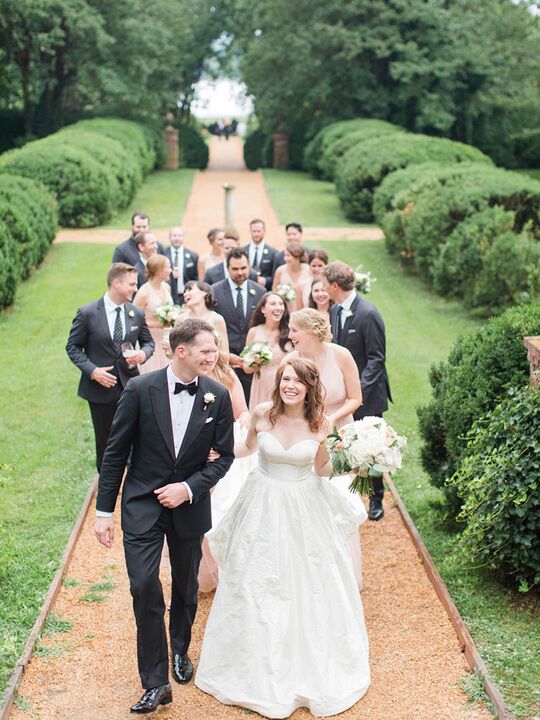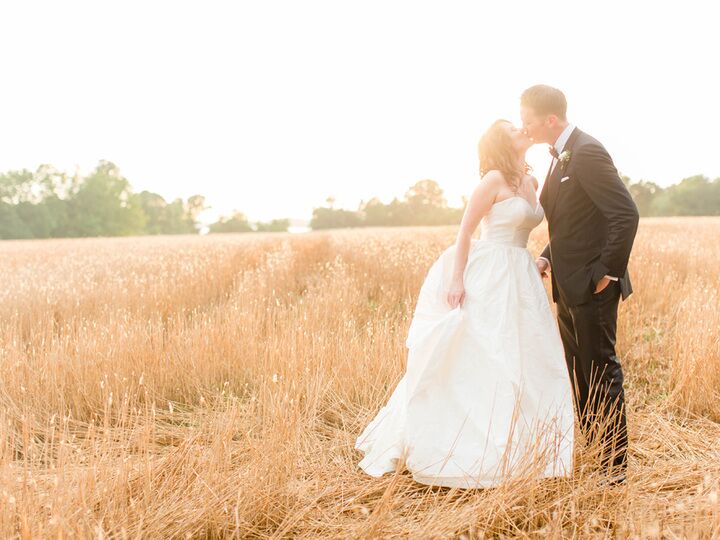 Photos by Katelyn James Photography
Britney Fitzgerald is a community manager and freelance writer based in New York City. Follow her adventures on Instagram (@bittyfitz), or read her other works at Britney-Fitzgerald.com.