25 Signature Cocktail Ideas Your Guests Will Be Obsessed With
Cheers to love.
You may have your beer on tap and bottles of wine to boot—but maybe you still want some spirits for your wedding reception. Avoid a line at the bar (and extra costs) by choosing a signature cocktail over an open bar. Looking for inspiration? We rounded up 25 wedding drink ideas that your guests will love. Between personalized drinks, non-alcoholic sips and big-batch cocktails, there are ideas for every kind of wedding. Bonus: Most of these cocktails are so easy to make (and affordable), you can even throw them together yourselves for other prewedding events like engagement parties, wedding showers and more. Find our favorites below, and feel free to tweak and experiment with the ingredients alongside your bartender or your caterer for your own bash.
Do you have to serve a wedding signature cocktail?
You definitely don't have to serve a wedding signature cocktail. In fact, you don't have to serve any drinks at all if you're hosting a sober wedding. Or, you can serve beer and wine to guests and skip spirits altogether—whatever makes you and your partner happiest. However, offering a signature cocktail is a creative way to include liquor at your wedding reception without offering an open bar. Plus, it's a creative way to personalize your wedding in a small, sweet way.
How do you pick a wedding signature cocktail?
It may seem difficult to choose a wedding signature cocktail, but there are a few creative ways to narrow it down. We suggest putting a personal spin on it to make your wedding feel more intimate and memorable. Pay tribute to your wedding's location by using local ingredients or flavors. For example, southern destinations are known for whiskey and bourbon. West coast areas are more known for their fresh produce, so consider incorporating fruity flavors into your signature cocktail.
Another idea is to use your love story as inspiration. Model your drink after your first date night (Did you get tacos and margaritas?). If you're fans of a certain destination, movie or book series, that's an opportunity to personalize your drink as well. You could also incorporate details from each of your families (such as hometown-inspired sips or drinks traditionally served at family functions).
Finally, you can never go wrong by using your personal taste as your guide. It's your wedding, after all. Choose your favorite drink (whether a moscow mule, whiskey sour or margarita) and share it with your loved ones. It's a small but creative way to make your guests feel more connected to you.
No matter what you decide, work with your bartender, coordinate with your caterer and clear it with your venue so that everyone is on the same page.
Wedding Signature Cocktail Name Ideas
You don't have to design your own drink for it to be considered a signature cocktail. Get creative with the name to make it a wedding-themed treat. Here are some of our favorite ideas, below:
Margarita: Main-Squeeze Margarita
Mojito: Mint To Be Mojito
Mai Tai: Mai Tai The Knot
Gin & Tonic: You & Me G&T
Beer: Ale You Need Is Love
Wine: Be Mine Wine
Sangria: Berry Happy Together Sangria
Apple Cider: Always By My Cider
Bellini: Wedding Bell-ini
Blue Curacao Cocktail: Something Blue
Rosemary Gin Fizz: Juse Rosemarried Fizz
Appletini: Appletini Of My Eye
Bloody Mary: Bloody Marry Me
Single-Serve Wedding Drink Ideas
Offering a signature cocktail allows your guests to enjoy an elegant drink without waiting in line at an open bar. See a few of our favorite ideas, below.
Aperol Spritz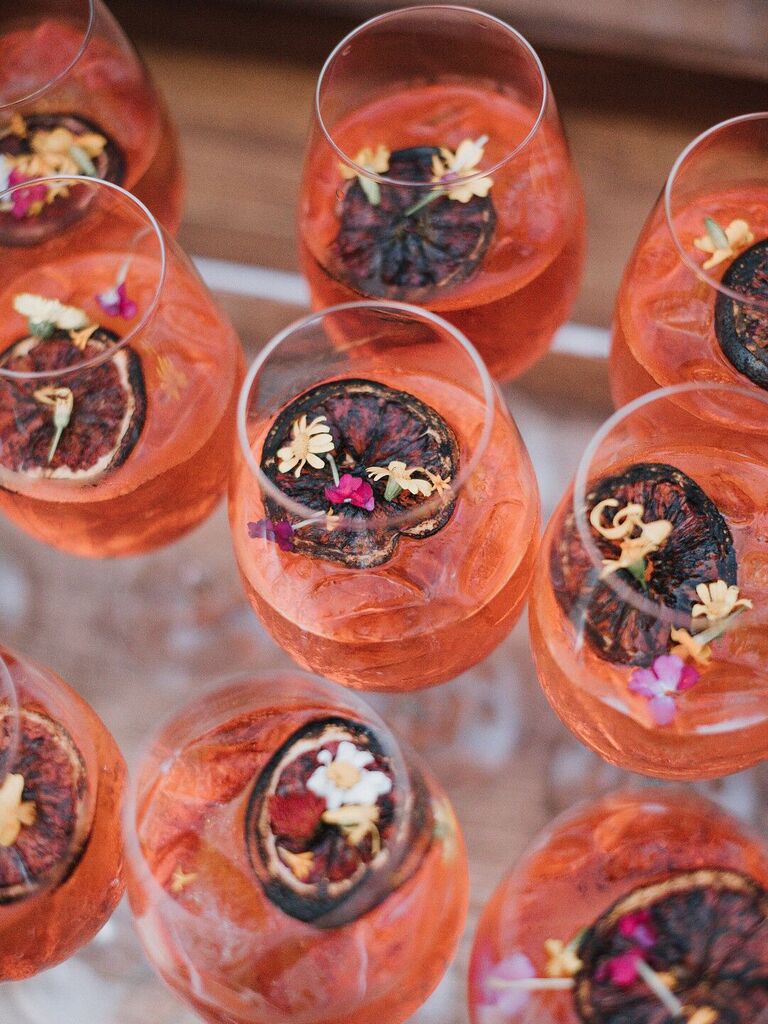 An aperol spritz is refreshing and elegant. Plus, it'll add a gorgeous pop of color to your wedding decor. (Psst: we especially love this cocktail for a spring or summer wedding.)
Whiskey Sour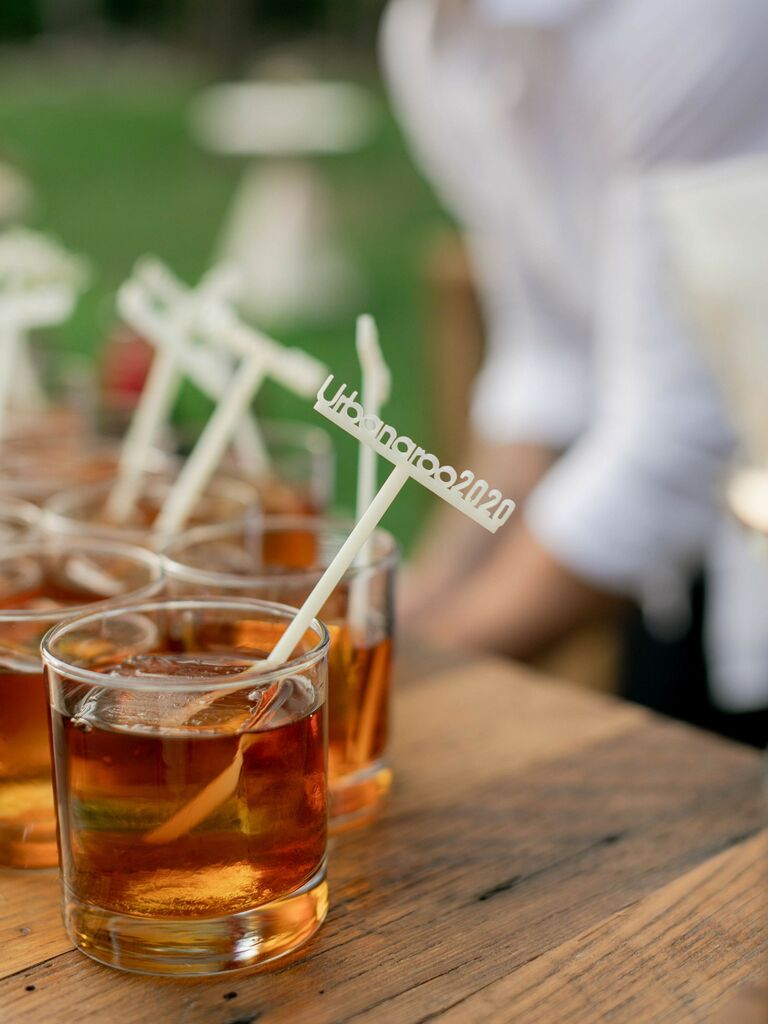 Who doesn't love this classic cocktail? Make it your own by giving it a creative name or using special garnishes, like this personalized stirrer.
Moscow Mule
We love this wedding drink idea because it's a total crowd pleaser. Moscow mules are sweet and spicy, so everyone will love them. Gift your guests a copper mug as a wedding favor and use them as escort cards for table assignments.
Spicy Margarita Pouch
Behold: The most Instagrammable wedding drink idea. If you're hosting an outdoor wedding, give your guests cocktails in a pouch, which they can bring around the venue without worrying about spills.
Berry Mojito
Take a simple mojito to the next level by incorporating some kind of fruit flavor. We personally love the idea of strawberry or raspberry, as it creates a lovely pink color.
Vodka Soda
A vodka soda is the ultimate wedding drink idea because it's universally loved. Since the drink is so simple, spice up the presentation with personalized cups.
Berry-Infused Champagne
Skip the spirits altogether and offer your guests a refreshing glass of bubbly. Add in berries for a sweet surprise during cocktail hour.
Fresh Juice Bar
There is nothing more refreshing than fresh juice. Serve it straight as a non-alcoholic option or mix it with champagne or processor for a delicious fizz.
Mini Soda Bottles
Whether you're hosting a vintage-themed wedding or you just want to provide fun sober options, keep some miniature soda bottles on hand.
Lavender Lemonade
Elevate a simple lemonade cocktail by adding in lavender and elderflower liqueur. Top with a splash of bubbly and a sprig of lavender. Leave out the alcohol for a mocktail that's equal parts pretty and delicious.
Pet-Inspired Cocktails
We'd be remiss not to include this creative wedding drink idea. Name your signature wedding cocktail(s) after your furry friends. It's a unique way to personalize your nuptials.
Big-Batch Cocktail Ideas for Your Wedding
Nobody likes to stand in line—especially at weddings. Save your guests time by serving up big-batch cocktails at your wedding. They'll enjoy the yummy drink, and they'll appreciate having more time to sing and dance at your reception.
Lemon Drop Champagne Punch
Citrusy and straightforward, lemon drop champagne punch will leave all your guests wanting more. All you need is lemons, champagne, sugar, vodka and candied lemon peels (if you're feeling fancy).
Strawberry Rosé Punch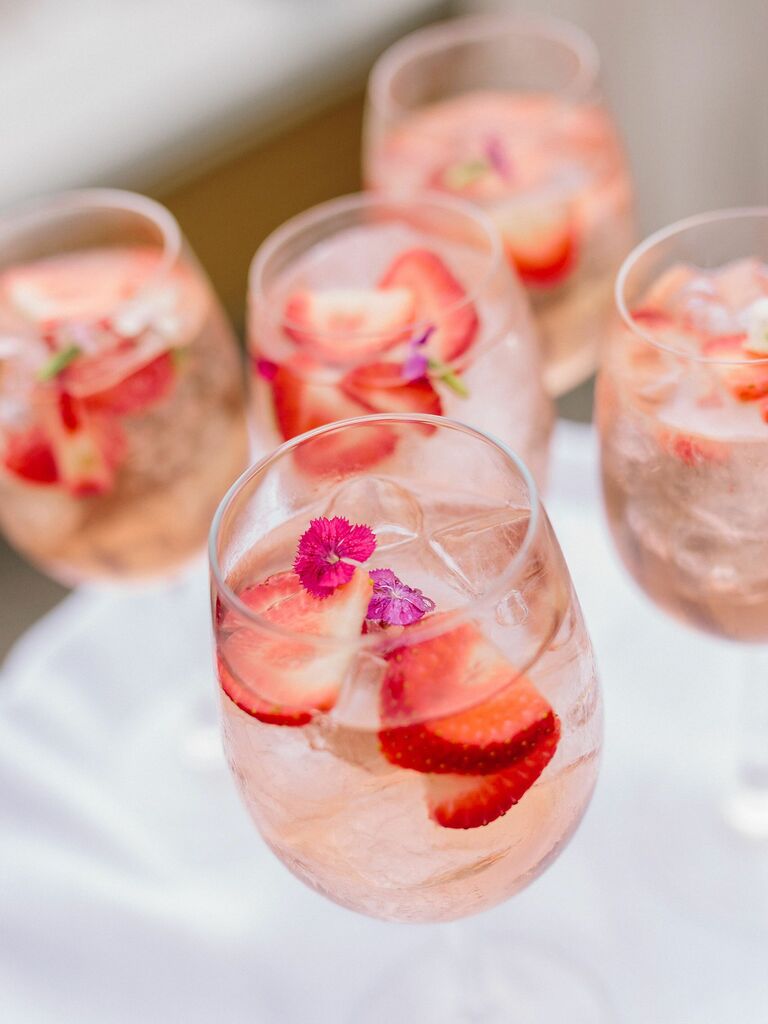 A summery drink like strawberry rosé punch is super simple and affordable—all you need is four ingredients (frozen strawberries, pink Moscato champagne, lemon lime soda and simple syrup). Yes, please.
Fresca Sangria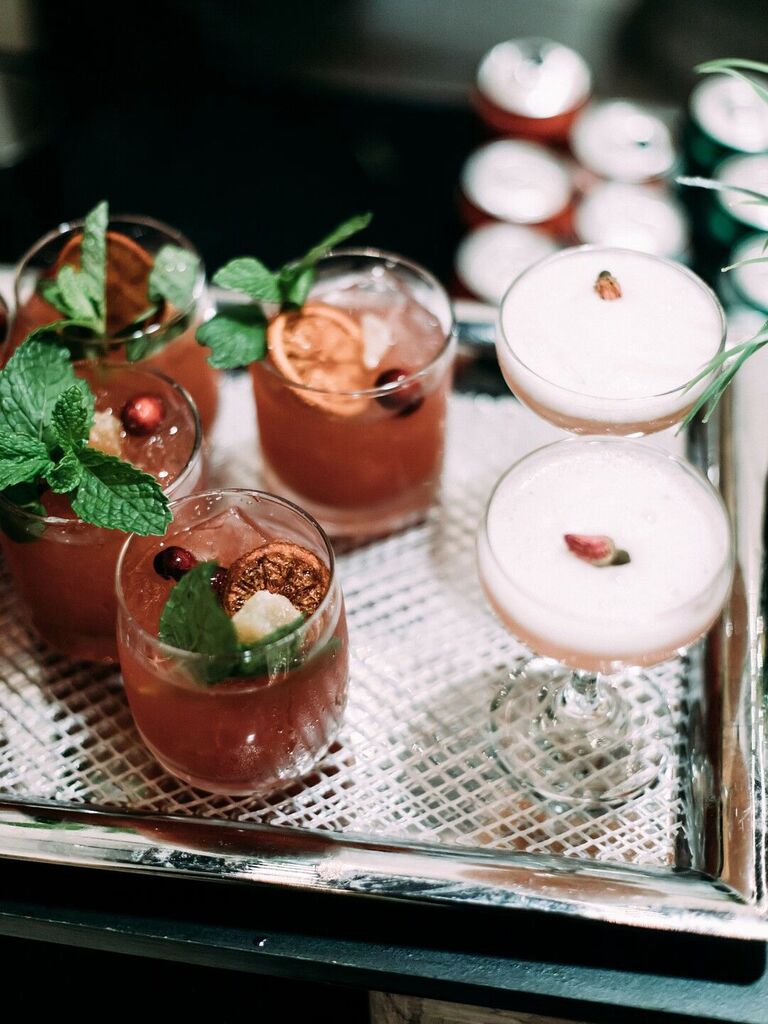 Fresca sangria is delicious and doesn't require splurging on fancy ingredients—to start, you just need some bottles of cheap white wine. Simply add Fresca and fresh fruit like peaches, strawberries and grapes. Your guests will be coming back for more.
Beer on Tap
One wedding trend that's here to stay? Interactive wedding drink stations. Skip the line at the bar completely by offering self-serve beer on tap.
Lemonade Stand
Looking for a non-alcoholic option? Offer a lemonade bar complete with water and iced tea so your guests can choose their own drink.
Blackberry Whiskey Lemonade
The whiskey-loving people in your life will fall head over heels with this concoction. Simply combine whiskey, lemon juice, blackberry juice, lavender, fresh blackberries, sugar and tonic water (or sparkling wine) and voilà.
Mulled White Wine Sangria
Feel free to serve hot or cold or adjust the fruits to your liking (apples, kumquats—whatever your heart desires). You just need some dry white wine, fresh fruit juice, cinnamon sticks, and the rest is up to you.
Hot Tea Bar
Looking for a creative big-batch cocktail idea for your wedding? Create a bar full of different kinds of tea.
Warm Cider and Rum Punch
Perfect for a chilly fall or winter wedding, a spiked apple cider with cinnamon, fresh ginger, dark rum and an orange will pack a punch.
Fresh Watermelon Mojitos
Fruity and fresh, watermelon mojitos will taste like summer (and they'll definitely impress your guests). All you need is simple syrup, mint leaves, lime juice, white rum, soda and fresh watermelon.
Two-Ingredient Champagne Punch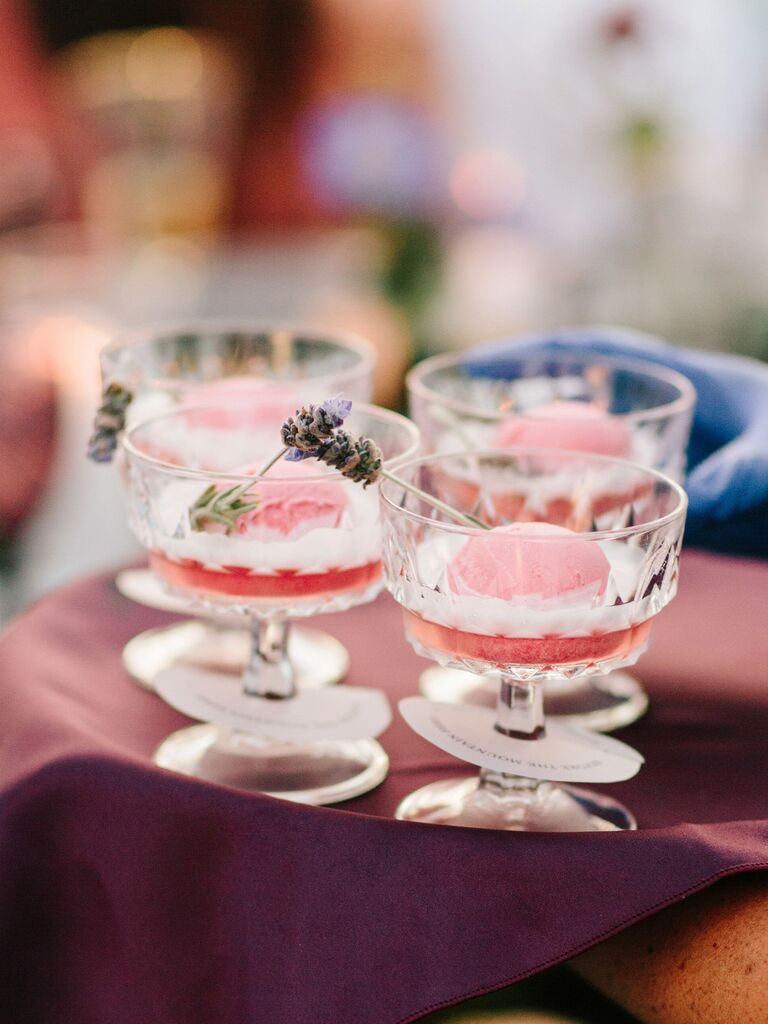 Yes, two ingredients. It's almost too easy—and delicious. Simply grab your favorite champagne, sparkling wine or prosecco. Mix with scoops of sorbet or top with fresh fruit if you're feeling fancy.
Three-Ingredient Margaritas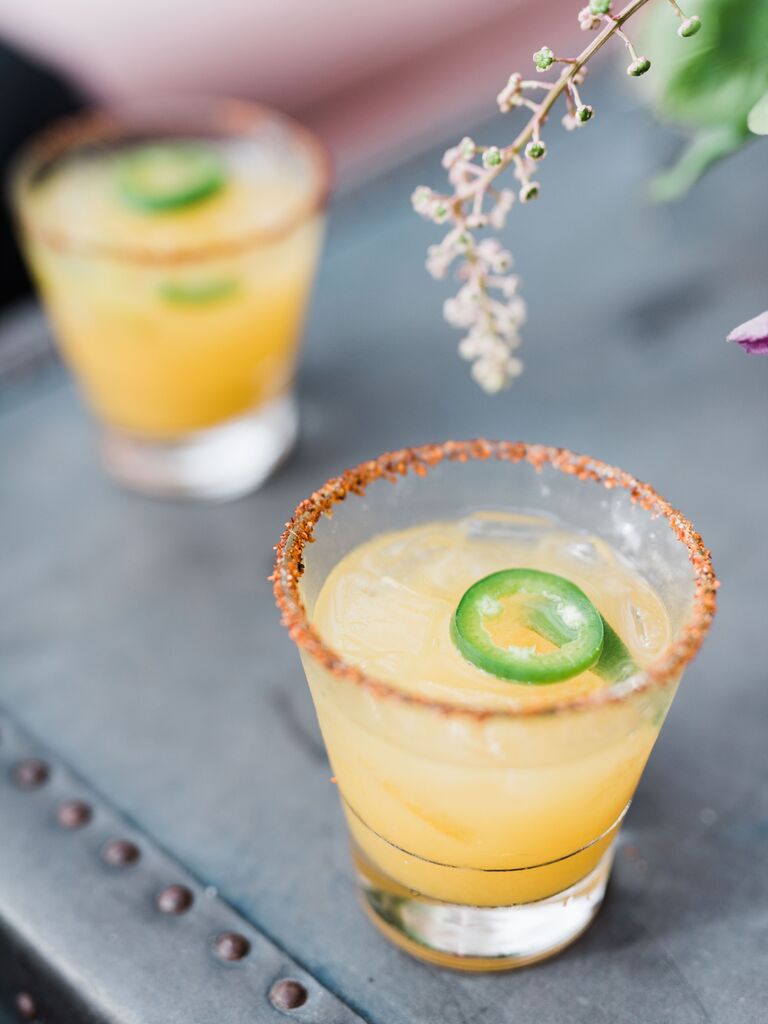 Trying to serve your wedding guests on a budget? We get it. Margs are so affordable, you'll want to make them again and again. All you need is limes, water and tequila (and jalapeno if you want to make them spicy).
Fresh Fruit Slush
Yes, "slush" is short for slushy, so get the shaved ice ready for this boozy treat everyone will love. You'll need fruit juice, simple syrup, fresh lemon juice, ice and the liquor of your choice. Garnish with fresh fruit.
Minty Moscow Mule Punch
Everyone loves a moscow mule—so why not upgrade it with a little kick of mint? If you already know how to make a mule, this should be easy—you just need vodka, fresh lime juice and ginger beer. Garnish with mint (and some fruit to give it an extra bite).