36 Signature Cocktail Ideas Your Guests Will Be Obsessed With
We're spilling our favorite options to serve at your bar.
You may have beer on tap and bottles of wine to boot, but adding wedding signature drinks to your bar menu is another way to keep the party going all night long. And because we love a good signature cocktail, we're sharing 36 sippable ideas to inspire your own (plus our favorite wedding drink names in case you need a creative boost). Between personalized wedding signature drink ideas, non-alcoholic refreshments and big-batch cocktails, there are options for every kind of wedding. Once you've narrowed down your top picks, share the ideas with your wedding bartender to get their expert take.
In this article:
Why Serve a Wedding Signature Drink?
Offering a signature drink for your wedding is a creative way to serve liquor if you want to avoid paying for an unlimited open bar (i.e. a bar where guests are allowed to request any type of mixed drink at no cost to them). One popular compromise is to allow an open bar for beer and wine with your signature cocktail as the third option, accompanied by an optional cash bar for any other liquor-based drinks that guests want to enjoy. Finally, serving a wedding signature cocktail is a creative way to incorporate your personalities, especially if the cocktail is reminiscent of your favorite drink, a beloved hobby or something else that holds meaning in your relationship.
How to Pick a Wedding Signature Cocktail
You might be wondering where to begin when choosing your wedding signature drink, but you can follow a few easy steps to narrow it down. And when in doubt, turn to your catering team or bartender to help you brainstorm some ideas.
1. Think locally.
One simple signature wedding drink idea is to pay tribute to your wedding's location by using local ingredients or flavors. For example, go with whiskey and bourbon-based drinks for a Southern wedding or fruity flavors for a beach location.
2. Make it personal.
For a wedding signature cocktail that's especially memorable, use your love story as inspiration. Model your drink after your first date night (did you get tacos and margaritas?), or if you're fans of a certain movie, activity, or location, those are other opportunities to personalize your cocktail. You can also incorporate details inspired by your hometowns or family backgrounds, like Italian limoncello or a classic Manhattan if you met each other in the Big Apple.
3. Serve your go-to sips.
If you're known to order the same drink every time you go out, why not serve a version of it on your wedding day? Choose your favorite drink (whether a moscow mule, whiskey sour or margarita) and share it with your loved ones. A professional bartender or mixologist can help you customize the recipe a little bit so that it feels extra-special for the occasion.
How Many Signature Drinks Should You Serve?
You should serve no more than two or three signature drinks at your wedding. Remember, these are signature cocktails—they're meant to be specifically tailored to you and your partner's tastes, so it's okay if they don't appeal to everyone (that's what the standard bar is for!). But if you do want to provide a few options, consider serving one cocktail designed by you, one cocktail designed by your partner and a third one that you create together, like a signature cocktail inspired by your pet or relationship.
Wedding Signature Cocktail Name Ideas
Get creative with these signature drink name ideas to turn any classic cocktail into a wedding-themed treat—and then proudly display your handiwork with a decorative wedding bar menu sign.
Margarita: Main Squeeze Margarita
Mojito: Mint to Be Mojito
Mai Tai: Mai Tai the Knot
Gin & Tonic: You & Me G&T
Beer: Ale You Need Is Love
Wine: Be Mine Wine
Sangria: Berry Happy Together Sangria
Apple Cider: Always By My Cider
Bellini: Wedding Bell-ini
Blue Curaçao Cocktail: Something Blue
Rosemary Gin Fizz: Just Rosemarried Fizz
Appletini: Appletini of My Eye
Bloody Mary: Bloody Marry Me
Single-Serve Wedding Drink Ideas
From favorite standbys to creative sips, we're spilling the best wedding signature drinks for every theme, season and budget.
1. Aperol Spritz
An aperol spritz is refreshing and elegant. Plus, it'll add a gorgeous pop of color to your wedding decor. (Psst: we especially love this cocktail for a spring or summer wedding.)
2. Whiskey Sour
Who doesn't love this classic cocktail? Make it your own by giving it a creative name or using special garnishes, like this personalized stirrer.
3. Moscow Mule
We love this wedding drink idea because it's a total crowd pleaser. Moscow mules are sweet and spicy, so everyone will love them. Gift your guests a copper mug as a wedding favor and use them as escort cards for table assignments.
4. Spicy Margarita Pouch
Behold: The most Instagrammable wedding drink idea. If you're hosting an outdoor wedding, give your guests cocktails in a pouch, which they can bring around the venue without worrying about spills.
5. Berry Mojito
Take a simple mojito to the next level by incorporating some kind of fruit flavor. We personally love the idea of strawberry or raspberry, as it creates a lovely pink color.
6. Vodka Soda
A vodka soda is the ultimate wedding drink idea because it's universally loved. Since the drink is so simple, spice up the presentation with personalized cups.
7. Champagne and Fruit
Skip the spirits altogether and offer your guests a refreshing glass of bubbly. Add in berries or pomegranate seeds for a sweet surprise (and a splash of flavor) during cocktail hour.
8. Fresh Juice Bar
Whether you're hosting a brunch wedding or getting married in a beachy location, there's nothing more refreshing than fresh-squeezed fruit juice. Serve it straight-up as a non-alcoholic option, or provide prosecco for a delicious fizz.
9. Mini Soda Bottles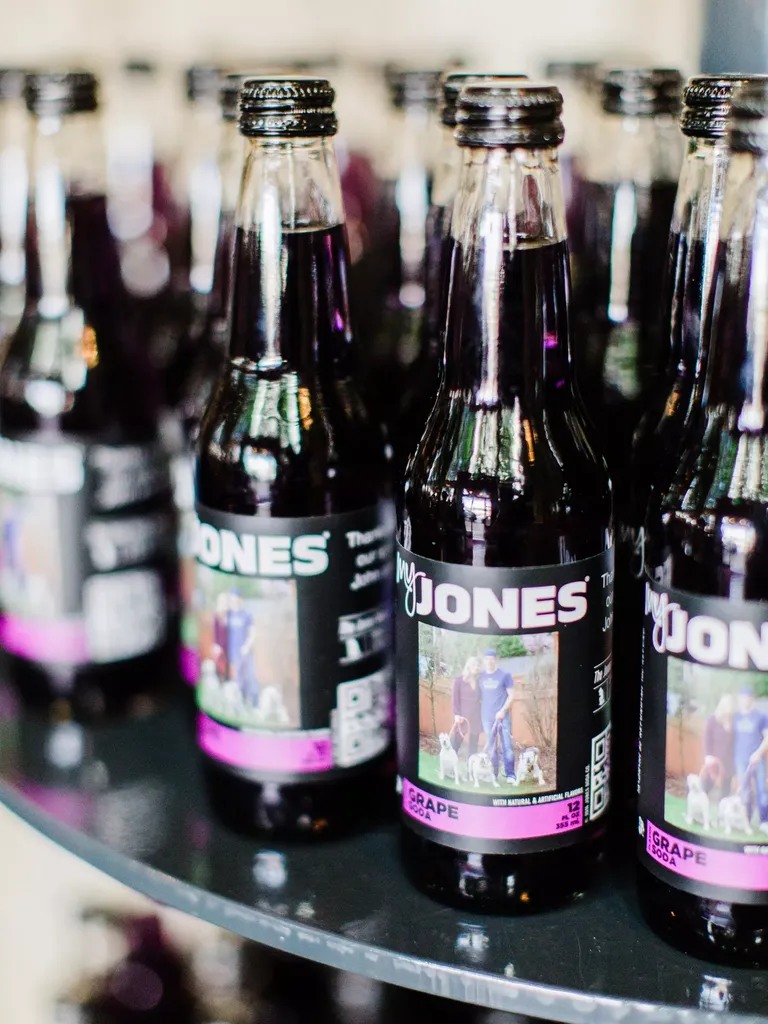 Keep some miniature soda bottles on hand for a vintage-themed wedding or a sober-friendly option. Bonus points if you can customize the labels with your names and fun photos.
10. Lavender Lemonade
Elevate a simple lemonade cocktail by adding in lavender and elderflower liqueur. Top with a splash of bubbly and a sprig of lavender. Leave out the alcohol for a mocktail that's equal parts pretty and delicious.
11. Pet-Inspired Cocktails
We'd be remiss not to include this creative wedding drink idea. Opt for signature dog-themed cocktails, cat-themed cocktails or other pet-inspired drinks. It's a unique way to personalize your nuptials.
12. Rum Shaker
Serve rum shakers or rum runners to bring all the island vibes to your cocktail hour—even if you're celebrating at a landlocked locale. For added kitsch, serve the drinks in tiki-style glasses and top them off with paper umbrellas, colorful straws and sliced pineapples.
13. Frozen Raspberry Lemonade
It's hard to imagine anything more refreshing on a hot summer day (not to mention the pretty pink color of this wedding signature cocktail). Blend fresh raspberries with lemonade and your choice of liqueur, like a raspberry-flavored vodka, for an easy crowd-pleaser.
14. Espresso Martini
This wedding cocktail needs no explanation—it's a hit no matter the time of year. The 2000s-era drink has made a full comeback and won't be going away anytime soon, so if it's one of your go-to cocktails for a night out, consider adding it to your bar menu.
15. French 75
A French 75 is the perfect choice if you love the taste of lemonade but want to add a little extra ~ something ~ to your signature wedding drink menu. The refreshing bev can be served in an old-fashioned coupe glass for extra flair.
16. Grown-Up Hot Cocoa
Hosting an outdoor ceremony with potentially chilly weather? Be sure to serve at least one hot cocktail to warm everyone up. Spiked hot cocoa is a quick fix—just add a splash of Baileys or white chocolate liqueur.
17. Mint Julep
As the signature drink for the Kentucky Derby, this refreshing wedding cocktail is a top pick for a spring garden soirée. It's classic and elegant, especially when served in the iconic silver mint julep cups.
18. Frozen Piña Coladas
If you like piña coladas…you'll love this signature wedding drink. Ask your bartender about renting a frozen mixer—if they can't supply one directly, they'll be able to connect you with the right vendor.
19. Spiked Butterbeer
Add a little mischief to your cocktail hour by serving butterbeer as your wedding signature drink. Even without a visit to The Three Broomsticks, this butterscotch-flavored cocktail is obviously a must for any Harry Potter-themed wedding, and it's also a yummy choice for fall and winter festivities.
20. Pimm's Cup
Served at Wimbledon and most summer occasions throughout the UK, a Pimm's Cup is ideal for sipping while strolling around a flower-filled garden or lounging on a sunny patio. The gin-based cocktail is infused with lemonade and citrus fruits for plenty of refreshing flavor.
Big-Batch Cocktail Ideas for Your Wedding
Nobody likes to stand in line for too long, especially when they're waiting for refreshments. Save your guests time by offering your signature cocktail in the form of big-batch drinks at a self-serve bar using one of these ideas.
21. Georgia Peach Punch
Take your love of peach tea to the next level with this summery signature cocktail idea. We'd serve it for a wedding between May and September, which is when peaches are at their best and juiciest.
22. Strawberry Rosé Punch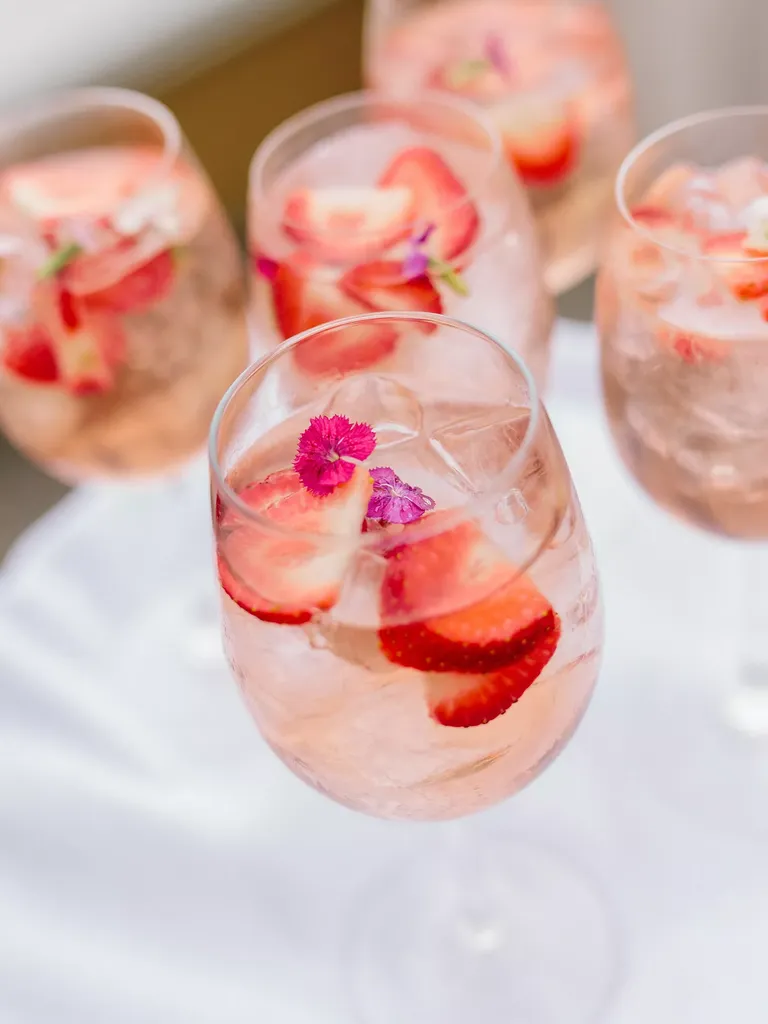 A summery drink like strawberry rosé punch is super simple and affordable—all you need is four ingredients (frozen strawberries, pink Moscato champagne, lemon lime soda and simple syrup). Yes, please.
23. Fizzy Sangria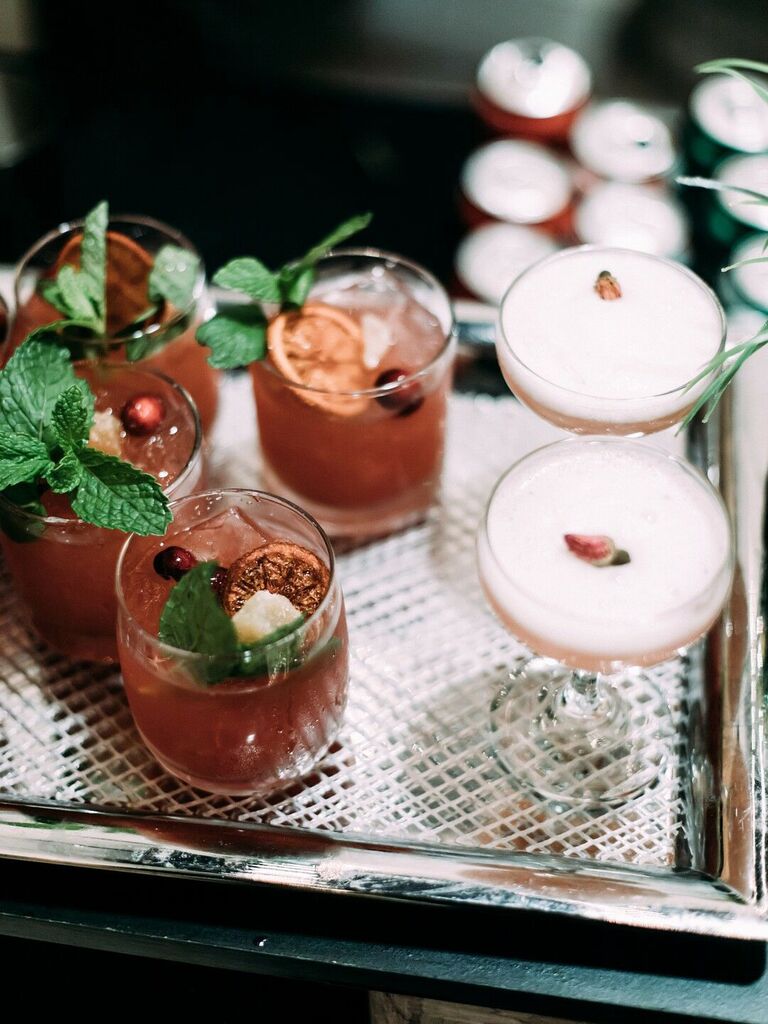 Fizzy sangria is delicious and doesn't require splurging on fancy ingredients. To start, you just need some bottles of cheap white wine. Then, simply add seltzer water and fresh fruit like peaches, strawberries and grapes. Your guests will be coming back for more.
24. Beer on Tap
One wedding trend that's here to stay? Interactive wedding drink stations. Skip the line at the bar completely by offering self-serve beer on tap.
25. Lavender Blackberry Old Fashioneds
The whiskey-loving people in your life will fall head over heels with this concoction. Simply combine whiskey, lemon juice, blackberry juice, lavender, fresh blackberries, sugar and tonic water (or sparkling wine) and voilà.
26. White Wine Sangria
Feel free to serve hot or cold or adjust the fruits to your liking (apples, kumquats—whatever your heart desires). You just need some dry white wine, fresh fruit juice, cinnamon sticks, and the rest is up to you.
27. Hot Tea Bar
Okay, so this isn't an alcoholic version of a signature wedding drink, but it's great to have in place for anyone who's underage, sober or looking for a warm pick-me-up throughout the evening. Offer a self-serve bar of different teas that you love or options that reflect your culture, like this Persian assortment.
28. Warm Cider and Rum Punch
Perfect for a chilly fall or winter wedding, a spiked apple cider with cinnamon, fresh ginger, dark rum and an orange will pack a punch (literally).
29. Fresh Watermelon Mojitos
Fruity and fresh, watermelon mojitos will taste like summer (and they'll definitely impress your guests). All you need is simple syrup, mint leaves, lime juice, white rum, soda and fresh watermelon.
30. Agua Fresca
If you're looking for non-alcoholic wedding signature cocktail ideas, offer a variety of aguas frescas in a few different flavors. The recipes generally call for fruit juice, lime juice and agave with optional garnish, like mint leaves or fruit slices (and a splash of vodka for your 21+ guests).
31. Spiked Sorbet Punch
Two ingredients. It's almost too easy—and delicious. For this easy wedding cocktail, simply grab your favorite champagne, sparkling wine or prosecco. Mix with scoops of sorbet or top with fresh fruit if you're feeling fancy.
32. Three-Ingredient Margaritas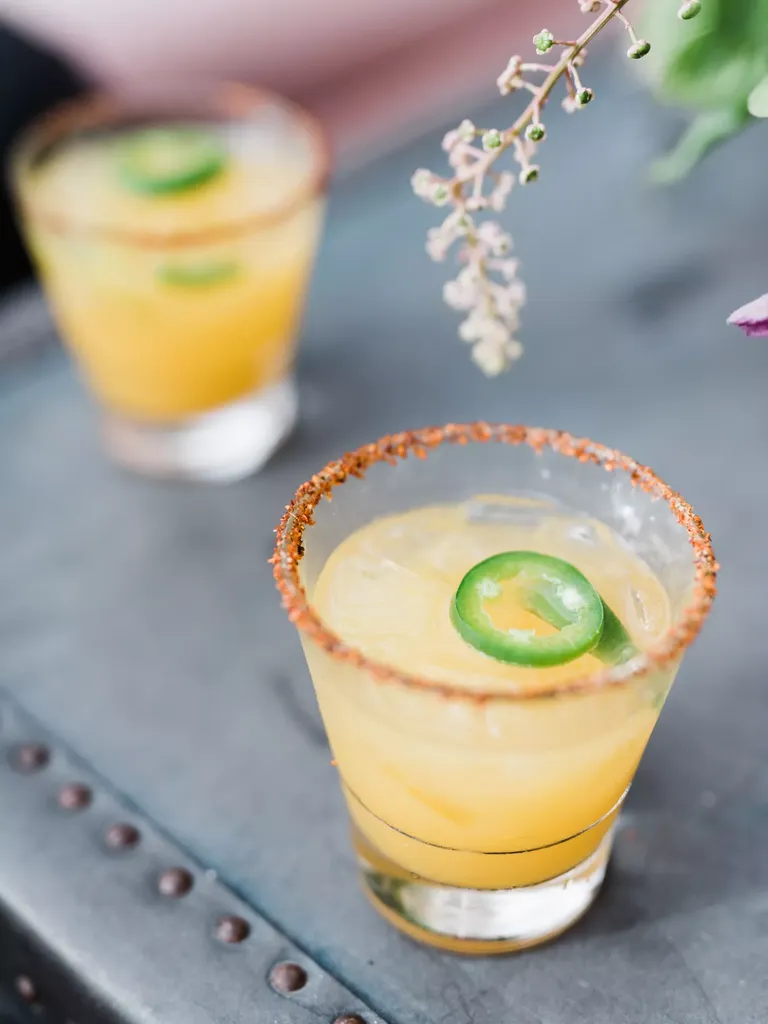 Trying to cut down on the cost of alcohol for your wedding? We get it. Margs are so affordable, you'll want to make them again and again. All you need is limes, water and tequila (and jalapeno if you want to make them spicy).
33. Fresh Fruit Slush
Yes, "slush" is short for slushy, so get the shaved ice ready for this boozy treat everyone will love. You'll need fruit juice, simple syrup, fresh lemon juice, ice and the liquor of your choice. Garnish with fresh fruit.
34. Minty Moscow Mule Punch
Everyone loves a moscow mule—so why not upgrade it with a little kick of mint? If you already know how to make a mule, this should be easy—you just need vodka, fresh lime juice and ginger beer. Garnish with mint (and some fruit to give it an extra bite).
35. Boozy Popsicles
Bring these boozy popsicles out toward the end of the reception for a fun surprise for your guests. The popsicles will help everyone cool down after letting loose on the dance floor, especially if you're throwing a summer wedding.
36. Vodka Sweet Tea
Any Southern wedding needs a good helping of sweet tea—and even better if it's a spiked version. Make your favorite tea recipe and add a splash of Firefly vodka to quickly boost the batch.