A Wedding Beauty Timeline to Help You Feel Your Most Confident
No weight loss tips or juice cleanses here—instead, find expert self care tips and confidence-building techniques.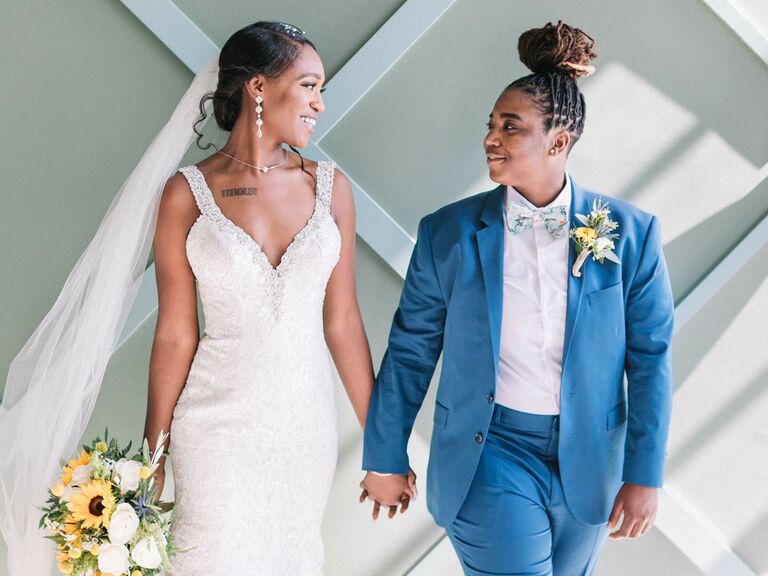 CAITLIN ALOHILANI PHOTOGRAPHY
We have included third party products to help you navigate and enjoy life's biggest moments. Purchases made through links on this page may earn us a commission.
Now that you're officially engaged, you might notice an uptick in appearance-related marketing material headed your way. Pressures of shedding for the wedding, having flawless skin, hair nails and teeth may be everywhere you look, which is why we put together a wedding beauty timeline focused on confidence, wellbeing and health.
It goes without saying that just because you're engaged doesn't mean you need to change your appearance. Your partner is marrying you because they're in love with you just as you are. But the time leading up to the wedding is a great opportunity to take stock of your overall wellness. The extra stress from wedding planning could take a toll on your complexion (in addition to the maskne many people are currently dealing with), your hair's health and more. Plus, the general pressures to-be-weds face leading up to their nuptials can result in a negative body image or lower self esteem. To help mitigate these experiences, we tapped experts to find out how to feel your most confident before the wedding day. Whether that's by streamlining your skin care routine or practicing your daily affirmations, we've got you covered.
You won't find tips on how to lose weight, pressure to get injectables or shame for having pimples here. Instead, we have real answers on how to improve the health of your hair, skin, nails and teeth—as well advice on how to improve your mental health. See our comprehensive guide to feeling your most confident, below.
In this article:
Wedding Beauty Timeline
Whether you have specific questions or are generally overwhelmed by the self care space, we're here to help. Here's your very own wedding beauty timeline to help you feel strong, confident and radiant on your wedding day.
12+ Months Out From Wedding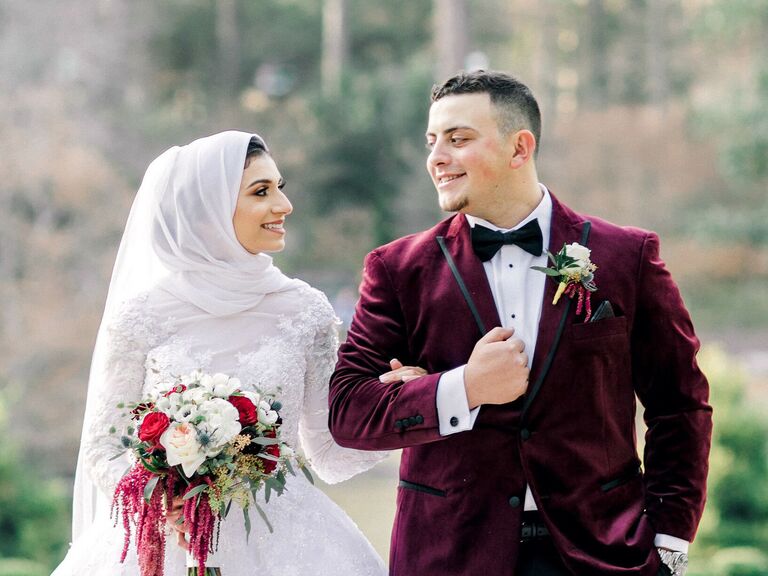 Confidence Building
If you're feeling pressure to look a certain way, Jordan Madison, licensed clinical marriage and family therapist at Therapy is My J.A.M. in Bethesda, says it's important to block out that negativity with positivity. Remind yourself what you love about your body (your friendly smile or your gorgeous eyes, for example). But it can be hard to do that all the time, which is why it's important to surround yourself with people who remind you of how amazing you are. Another tactic Madison recommends? "For every negative thought that you have about yourself, think of an alternative positive one."
Stress management is an essential part of taking care of yourself during this time, says Hannah Tishman, liscensed clinical social worker and therapist at Cobb Psychoterapy in New York. "Engaging in self-care and mindfulness are essential to feeling more relaxed prior to your wedding," she says. "It's important to get consistent rest, talk about how you are feeling with your partner, and to identify your own needs." She reccomends building in a daily mindfulness practice such as a brief morning meditation or a journaling exercise. (Psst: we're obsessed with the journals from Papier if you're in the market for a new one.)
Another imporant step is asking yourself what confidence looks like to you, says Dorian Johson, a Long Island-based certified personal trainer and bridal fitness coach. "This will help ensure you don't go by society's definition of confidence, leading down the slippery slope of dieting and over-exercising," he explains. Then, take stock of how you speak to yourself and become aware of what triggers you. "These things have the power to influence your self-perception, and they can either build your confidence up or strike a blow to it," he says.
Skin Care
First thing's first: Make an appointment with a board-certified dermatologist. They're medical experts who specialize in hair, skin and nails, and they can help you achieve your healthiest, most radiant complexion. However, they need time to do so. "There's nothing more frustrating as a dermatologist than a to-be-wed that presents a laundry list of needs to address two to three months before the wedding," says Birmingham-based dermatologist Dr. Corey Hartman, MD, FAAD.
This is also a wonderful time to create a streamlined, effective skincare regimen. Contrary to popular belief, less is more when it comes to your complexion. Overloading your pores with countless products will only lead to inflammation, irritation and possibly breakouts. Work with a dermatologist to build a routine that's optimal for your skin's specific needs. In the meantime, focus on what dermatologists refer to as "the holy trinity:" an antioxidant (like a vitamin c serum), a retinol and sunscreen.
It's important to get started early because it takes a while to see actual results. "Good skincare takes two to three months to start working, and the sooner you get on it, the sooner you can start seeing results that will improve slowly over time," says San Francisco-based dermatologist Dr. Caren Campbell, MD, FAAD.
You can also use this time to learn about any pre-wedding skincare treatments you might be interested in. "Most laser, microneedling or chemical peels treatments to help with skin texture, pore, wrinkles and pigment require a series of treatments spaced four to six weeks apart," Campbell says. "That easily puts you out six months or more from your wedding, so starting sooner is best."
Hair Care
Your dermatologist can also help with any hair-related concerns or goals you might have. For example, if you're struggling with stress-related hair loss (you're not alone), they can offer support, medication and treatments to encourage growth. Start this process as early as possible, as hair growth will take some time.
As with your dermatologist, you should consult your hair stylist ASAP (look through the pros listed on The Knot to find an expert in your area). "The most obvious concerns are length of hair, fullness of hair, whether or not extensions will be used, tonality choice and the details of the day," says Emma Fitzgerald, owner of Salon Trés salon in Chicago. "The season, the length of the day and the layout of the day all go into how you'll decide to wear your hair."
Fitzgerald says it's time to get on a hair maintenance plan. "To-be-weds grow their hair and avoid any trims in an attempt to preserve every last inch, but this leads to hair appearing shattered or fragile," she says. "A to-be-wed should maintain a proper hair regime of trims on a six to 10 week basis." Work with your stylist to figure out how often you should be coming in, what products you should be using and how to include hair extensions in your style (should you choose to use them).
Body Care
As you treat the skin on your face, don't forget the rest of your body. Add a body wash into your shower routine to cleanse your body of any dirt, sweat or grime that has accumulated throughout the day. Pick up a salicylic acid wash if you're prone to breakouts, a vitamin c product if you're experiencing dullness or a lavender-scented one if you're feeling stressed. Don't forget to moisturize after the fact.
If hair removal is part of your grooming routine, now is a great time to see a professional. If you've been shaving during the pandemic, your body hair is likely on different growth cycles, as razors only cut it down to the surface of the skin. "Waxing is ideal for long-lasting smoothness because it regulates the hair cycle by removing all hair at once, leading to a consistent cycle," says Lily McNeil, creative director of LunchboxWax in Brooklyn. "If you've been shaving, it will take a few waxing visits to get the hair all on the same cycle—meaning that 12+ months is a great time to get in and begin a consistent waxing regimen."
If you're thinking about laser hair removal, start treatments now. It will take several sessions to see improved growth, and they need to be spaced out. (Same goes for surgaring too.)
Thinking about tanning? Jordan Cook, St. Moriz expert tanner, says now is the time to test out your options. "It's like finding the perfect [outfit]: You won't know unless you try it on," Cook says. "Always ensure that before you start to tan, you exfoliate and moisturize—you need a complete clean canvas for the best tanning outcome." For first-time tanners, she reccomends St. Moriz's tanning mousses because they come in a variety of shades and are user-friendly.
Nail Care
To promote strong, healthy nails, we recommend consulting a dermatologist to ensure you're not deficient in any nutrients that are essential to nail growth (vitamin B, for example).
If you're trying to achieve stronger nails, consider investing in topical treatments. Pick up a cuticle serum (we love the hydrating one from sundays), which can help prevent brittle nails and chipped polish. Products like Nail Tek are designed to help strengthen your claws in between manicures. Additionally, we recommend giving your hands some TLC. Purchase a hand serum (like Olive & June's) or a luxurious hand cream (such as Lather's hand therapy) to prevent dry, cracked skin.
Oral Hygiene
We know oral hygiene might not be the most glamorous pre-wedding step, but it's an important one. After all, you're going to be smiling a lot on your wedding day. Commit to brushing your teeth at least twice a day and flossing as often as you can. We're fans of the colorful Cocofloss, which makes flossing feel a little bit less like a chore.
Take it one step further by investing in safe whitening treatments. Crest Whitestrips or Oralgen's whitening system will work wonderfully from the comfort of your couch. If you're experiencing any pain or discomfort in your mouth or you would like help achieving your dream smile, tap a professional. Your dentist will work with you to ensure you feel confident in your smile by your wedding day.
Makeup Routine
If you're working with a makeup artist on your wedding day, now is a great time to start scouting pros on The Knot. From there, you can research their work and connect with them for a potential trial.
Now is also a great time to start gathering inspiration for your wedding day glam. Look for images of makeup looks that you love or play around with your makeup at home!
8-10 Months Out From Wedding
Confidence Building
Continue to practice positive self talk. Start your day with affirmations in the mirror. They can be anything from "I will feel amazing on my wedding day," or "I am worthy of love just as I am." Next, Madison suggests creating a mantra you can recite to yourself when you're feeling anxious. "It can be something along the lines of you creating your definition of beauty," she explains. "Or it can focus on the positives of your relationship and what you are excited about for your wedding day."
To help ease anxiety, Yami Mufdi, Houston-based Tone It Up trainer, recommends creating a routine. "What I find that helps me is finding and sticking to a routine that I truly enjoy and leaves me feeling strong and renewed at the same time," she says. That could be a yoga class three times a week, a daily walk or a dance class twice a week.
"Not only is finding and sticking to this balanced routine going to help your physical body, it's going to help your mental health—which is more important in my opinion," Mufdi says. "Movement is medicine, and it's supposed to make you feel good."
Skin Care
Hartman says now is a great time to establish good skincare habits and commit to a plan that will treat an underlying conditions you're concerned about. "It can take six months on the correct acne treatment to fully gain control of breakouts," he says. "You cannot start working on the aftermath of the acne if the acne is still flaring up, so it's paramount to gain control of the inciting process first."
Campbell says to-be-weds can test out laser therapy to target any skin concerns they have, as they'll have time to see how their skin reacts. Clear and Brilliant, for example, can improve texture, tone, pigmentation, wrinkles and pore appearance. Vbeam, on the other hand, helps with redness and skin texture. You could also try other services like platelet rich plasma treatments to help with under eye circles or micro-needling to help with texture, pigmentation of scars.
If you're not comfortable with skincare treatments, focus in on your skin care. Campbell says it should be perfected as far out from the wedding day as possible. If you've identified your routine, use this time to make a habit of it so you stick to it leading up to the wedding.
Hair Care
Now is the time to talk logistics with your stylist. "Creating a plan for your hair needs can be pricey," Fitzgerald says. Speak with your stylist about your budget and your wishes, and they'll help provide you with a solution. If you want your hair to be its healthiest, plan for four to seven trips to the salon in the future (even if it's just for a trim).
Now is also a great time to give your strands some extra TLC at home. Invest in a hair mask (check out Sol De Janeiro's Triple Brazilian Butter hair mask or Adwoa Beauty's Baomint deep conditioning treatment). Pick up a detangling spray (like Phillip Kingsley's Damage Defense spray) and a gentle hairbrush (we love the Wetbrush).
Body Care
"This is a great time to get in for your first or second appointment, particularly for body hair services such as legs, bikini area, underarms, stomach or arms," McNeil says. "These are key months for getting the hair on a consistent cycle, especially if you've been trimming or shaving."
Visiting your waxer for a follow up also ensures plenty of time to see how your skin reacts to a treatment (think: redness or swelling). "Often side effects last less than 24 hours, but everyone is different," McNeil adds. "Knowing this will help you decide when the best time would be for the last services before the wedding."
Continue to use a body wash (we love Alo Yoga's Mega-C body wash) and follow it up with a hydrating lotion. Treat yourself to a luxe cream (such as HannaHanna's Beauty Shea Butter) or a lightweight moisturizer (like Aveeno's daily moisturizer).
If you've been experimenting with self tanner, Cook reccomends picking up tanning drops for your face so your complexion matches the rest of your body.
Nail Care
Stay focused on your nail health. Continue to apply your cuticle serum, repairing polish and hand cream regularly.
Start thinking about wedding nail ideas. Consider what colors or designs you might want to rock on the actual day. Additionally, consider if you'll use natural nails, gel polish, acrylic, dip or press-on nails. Unsure about what to do? Consult your local nail technician to get their recommendations.
Oral Hygiene
Nothing new here. Stick with your updated dental routine (brushing twice a day and flossing as often as possible) and hold yourself accountable to it. This will not only benefit you on your wedding day, but in the long run as well. Keeping your mouth clean will help prevent any ailments down the line. Plus, your smile will shine as bright as you.
Makeup Routine
Call and schedule your wedding makeup trial, as artists' schedules fill up quickly. We recommend booking a date one to three months out from your wedding date.
Now that you've gathered your inspiration, start looking through it to find common themes. Are you drawn to soft, smokey eyeshadow? Are you dreaming of a bold, bright lip? Knowing these general themes will help your makeup pro achieve the look of your dreams.
5-6 Months Out From Wedding
Confidence Building
Building confidence takes work, so focus on practicing positive self talk, affirmations and mantras. Continue to surround yourself with people who love and support you too. Have an honest conversation about how you're feeling with your partner. "They can also remind you of your beauty and what they love about you."
Madison also recommends pampering yourself. Get your hair done, paint your own nails or do a DIY face mask—anything that makes you feel beautiful. Psst: Don't forget about your daily routine. Incorporating movement into your weekly schedule will help relieve stress and offer a break from wedding planning.
Skin Care
There's no need to be self conscious about your skin's texture—it's completely normal to have textured skin. However, if you'd like to do something about it, Hartman says this is a good time to start chemical peels. "Chemical peels are an ideal procedure to treat active acne and prevent scarring, but results are best in series," he says. "I say one is a treat, but three is a treatment."
Interested in laser treatments? Campbell says Clear and Brilliant and Vbeam are great options for this stage in the same. You still have enough time to complete treatments and give your skin any downtime it needs.
If you're opting out of any cosmetic treatments, continue on with your skincare routine. If you'd like to add in a chemical exfoliant into your at-home routine, it can help remove any dead skin cells—which helps prevent breakouts and dull skin. Just be careful not to overdo it: once or twice a week is plenty.
Hair Care
Fitzgerald says this time period is all about maintenance. Your coloring journey should be well underway, as should your tonality journey. "Maintenance in hair color should be scheduled on a four-to-seven-week basis so as not to limit any outgrowth," she says.
If you're going to be using semi-permanent extensions, Fitzgerald says they should be installed right now. If you're using temporary extensions,give them a preliminary run so you understand what they look like and feel like.
Body Care
Stick with washing and moisturizing for now. It'll help improve your skin's tone and texture over time. If you want to add a step, consider picking up a body scrub (we recommend Skin Buttr's selection of exfoliators).
McNeil says this is a great time to try facial services for waxing. "It's key to understand how your skin reacts to the service, as well as how quickly the hair grows back when scheduling personal services before the wedding." A brow appointment six months out gives you plenty of time to gauge how your skin reacts.
"This is also a great time to make sure you have the right aftercare products and skin care regimen for your skin," she adds. "It's often said that the waxing itself is the first half of the service and at-home care is the second half—consistency with both will help you see the best results."
If you're planning on using self tanner or getting a spray tan, test it out now. That way, you can master application or understand what shade you need before the actual day. Plus, if it doesn't come out how you want it to, there's time for it to fade. Time your applications based on your body hair situation, Cook says. Wax seven to 10 days before your application or shave one day before you apply your product. "If you're going au naturel, you'll need more product than usual if you're wanting to get past those hairs whether you're male or female," she says. "Adding a little extra to those places where hair can soak in most of the product is OK."
Nail Care
Now that you've laid the groundwork for strong, healthy nails, you finally get to enjoy your hard work. Take this time to test out nail looks on your hands. Try out different kinds of nails, different shapes, colors and designs. You can do this either by giving yourself a manicure at home or scheduling a mani/pedi.
Oral Hygiene
By this point, you've likely got your oral hygiene routine down to second nature. If not, continue to build the habits for a clean, healthy mouth. Don't forget to floss!
This is a great time to test whitening treatments you're interested in. Consult your dentist about use so you don't overwhelm your teeth with products. If you're planning on any in-office treatments with a dentist, start now.
Makeup Routine
If you'd like to have more than one makeup trial, schedule a preliminary run through. Psst: This may cost you an extra fee. But if you're on the fence about your chosen look or you'd like to get to know your makeup artist better, an extra session can't hurt.
Continue playing with makeup at home to figure out what you like. You still want to look like yourself on your wedding day, so pay attention to what you normally do. For example, do you shy away from over-lining your lips? Or, do you like to give yourself super bold brows? All of these things will help inform your makeup artist at your trial. Plus, experimenting at home might help you discover something new (like perhaps you actually do like false lashes).
3-4 Months Out From Wedding
Confidence Building
Stick with the practices Madison recommended earlier (positive self talk, daily affirmations, anxiety-relieving mantras and seeking support from loved ones). It may feel awkward at first, but it'll feel more natural as you continue with it. "The 'magic' behind affirmations lies in the repetition," Johnson explains. "Eventually, you'll start to rewire your subconscious into believeing what you're writing or reciting."
If you're not feeling your best at this point, don't panic. It's completely normal to experience self doubt, Tishman says. However, she says it's important to dig into what's making you feel this way. "Practice a self-soothing exercise such as taking a bubble bath, using aromatherapy, having herbal tea or viewing something pleasant," she says. "These sensory activities aren't designed to take away the feelings, but they can allow you to pause and take some time for yourself—which makes these difficult feelings more tolerable."
Skin Care
By now, your skin should be reaping the benefits of your streamlined, consistent skincare routine. You'll likely be experiencing clearer, brighter and firmer skin. Plus, the "holy trinity" items will help prevent any further damage to your skin leading up to the wedding.
Hartman says now is the time to hydrate and decongest your skin with a HydraFacial. "This is a microdermabrasion device that vacuums out impurities, infuses hydration with specific active ingredients to address specific concerns and gently exfoliates the surface," he explains. "It's a great way to plump the skin and make it shine."
If you've started a laser treatment like Clear and Brilliant, you're likely coming up on your last of four treatments. Those who opted for Vbeam should have their last session right now, Campbell says. If you're interested in a different kind of laser treatment, she says Genesis can help with redness and give you a glow (and you can continue the series until two weeks before the wedding).
Not feeling any of those treatments? That's totally fine! By now, you should have your skincare routine absolutely perfected. Use a gentle cleanser and chemical exfoliator along with your holy trinity for best results. Don't forget to pick up a moisturizer that won't irritate your skin or clog your pores.
Hair Care
Let the hair trials begin! Head into your hair trial with an open mind, but be conscious of what you like and don't like. "This leaves ample time to make any adjustments needed," Fitzgerald says. Her pro tip? "Schedule a trial on the same day as a dress fitting, luncheon, shower day or bach weekend," she says. "Take advantage of a fresh style to make you feel your best along the way." Pay attention to how the styling holds up after the appointment too, as you'll want your wedding hairstyle to last for hours.
Body Care
If you've been pampering your body, you'll likely feel the results by now. Your skin will feel softer and smoother. Stick with your grooming routine and continue to use a body scrub once a week to slough off any dead skin cells.
At this benchmark, you should have a good sense for how quickly your hair grows back and the sweet spot for scheduling your waxing appointments. This is a great time to schedule out the rest of your appointments to ensure consistency and best results. By scheduling ahead of time, you'll be able to focus your attention elsewhere as needed as you get closer to your wedding day.
At this point, you should be narrowing down your tanning product options. Schedule a follow up spray tan and try something else if you weren't pleased the first time around. If you're applying your own self tanner, set aside your favorites and enlist a trusted loved one to help with the application if you're struggling to do it on your own.
Nail Care
This is likely your last chance to experiment with your wedding nails, so take advantage of it. Play with colors, shapes, designs and more if you're still undecided on your look. If you've honed in on a style, get it done now to confirm you like it.
As you test out different styles, don't forget to take care of your nails and hands. Continue applying cuticle serum and hand lotion regularly.
Oral Hygiene
Now is the time to finish up any treatments you may have started at the dentist office. Speak with your doctor about what any wishes you have and see if you can work out a solution together.
Otherwise, stick with your routine. It may seem monotonous, but it will absolutely pay off! In fact, you might notice that your smile is noticeably brighter already. Flash it a few times a day—the act of smiling actually releases endorphins, which immediately improves your mood.
Makeup Routine
It's also makeup trial time! Come into your trial with a clean, fresh face and pictures of beauty looks you love. Tell the pro any details that might be helpful. For example, if you have dry skin, they'll take that into account as they apply airbrush foundation. If you have oily skin, they may use a mattifying foundation instead of a dewy one. Don't be shy about communicating your wishes to the expert—they're there to help you feel your most confident.
1-2 Months Out From Wedding
Confidence Building
As the wedding day creeps up closer, Madison suggests focusing on how you want to feel on your wedding day as opposed to how you want to look. "Remind yourself that there are other important aspects of the wedding day besides your body image," she says.
"If you're starting to feel pressures, lean into what's awesome about you," Johnson adds. "Focusing on your strengths, resources, and what you're already doing well can help you choose healthier behaviors more often and feel better overall."
Skin Care
Now that you're only a couple months away from the wedding, you don't want to do anything too irritating. "Avoid new chemical peels, as they can be less predictable than lasers," Campbell says. You should also avoid any aggressive laser treatments that result in breakouts, dryness or peeling. Instead, Campbell says to focus on something like laser genesis if you're still interested in laser therapy.
Otherwise, continue on with your skin care routine. If you're experiencing any congestion, use a gentle clay mask (Hartman likes the one by SkinCeuticals) or a spot treatment (like INNBeauty Project's Pimple Paste) to clear out your pores.
Hair Care
This timeframe is all about communication. Confirm your wedding party size and their needs to your beauty pro. "Communicate your thoughts on how they should wear their hair, what the schedule of the morning looks like, and finalize your own timing," Fitzgerald says. This is a good time to establish your personal product wardrobe and confirm you understand how to properly care for your hair over the next few weeks.
Body Care
"As the big day draws nearer, check in with your waxologist with any questions or changes you'd like to make," McNeil says. "If you've been consistently waxing, you'll see a big difference in the texture of the hair that regrows—you'll notice it is much softer and sparser."
If you've been experimenting with self-tanner, Cook says you should be mastering the final tweaks at this stage (specifically applying tanner to your hands and feet).
Nail Care
Time to hone in on your chosen wedding day nail look. Finalize your decision and let your nail technician know. That way, they'll be fully prepared for your last appointment. In the meantime, stay focused on pampering your paws and claws ahead of your wedding day.
Oral Hygiene
Nothing new here, folks. Stick to your routine and stay persistent with your flossing! Your mouth will feel fresh, clean and ready for all those wedding day kisses.
Makeup Routine
If you're doing your own makeup for your rehearsal dinner or another pre-wedding party, now is a great time to practice that look. That way, when the wedding weekend rolls around, you won't have to stress about doing your own glam. You got this!
2 Weeks Before Wedding
Confidence Building
This time period is all about staying as calm as possible. Manage your stress with breath work or meditation. Take some time to move around—even a quick walk around the block can help clear your mind. Continue practicing your affirmations, mantras and positive self talk.
This is an excellent time to practice gratitude towards your body regularly. "Body gratitude is being thankful for what your body does for you," Johnson says. "Expressing body gratitude can evolve into adopting a no-body-bashing behavior, which will help you feel safer in your body."
Skin Care
If you're wondering when to get a facial before the wedding, now is the time. "All of the hard work over the precious year has started to coalesce into your wedding day glow, and a facial in the best way to put it all together," Hartman says.
For the laser-loving to-be-weds out there, this is your last chance to try a laser genesis treatment. But Campbell says for real results, you'd need a series of these treatments starting about three months out. Still, a treatment now will give you a small glow up with minimal to no downtime.
If you have any active breakouts, you can get them injected with cortisone to calm the inflammation. If your skin is feeling good, stay with your routine. Now is not the time to change anything. Your skin is used to what you're doing, so stick with it.
Hair Care
Fitzgerald says to use this time to confirm everyone involved in the wedding is on the same page. Finalize the morning schedule, styles that everyone will be wearing and go over any accessories that will be used. If you have any questions, now is the time to ask your stylist.
Avoid any drastic changes at this time. Right now, your color and cut should be exactly what they will be on the wedding day. If you're having doubts or want something to change, call your stylist. Don't try to cut your own bangs at home (please)!
Body Care
"This is a great time to just rest and give your skin some love through your consistent at-home regimen," McNeil says. "While it may be tempting, make sure to put the tweezers down and the razor in the waste bin! You don't want to disrupt your hair cycle before your next appointment."
If you're using self-tanner, do a quick product check. "This gives you enough time to hunt them down if they aren't in your favorite drug store," Cook says. "Make sure you store all products in a cool dark place, like bottom of your wardrobe."
Continue to pamper your skin with body scrubs, washes and lotions. Don't use any self tanner right now so that you have a fresh canvas for your pre-wedding application.
Nail Care
Give your nails a break before the wedding day. Apply a strengthening polis, cuticle serum and hand cream. Pour yourself some tea (or a cocktail) and relax.
Oral Hygiene
You're in the home stretch here! Stick with your routine and lean into any at-home whitening treatments you'd like at home. Show off your sparkling smile to your partner.
Makeup Routine
We love the idea of giving your skin a break before the wedding. Try to keep your complexion as clean as possible in the weeks before your wedding to avoid any clogged pores. Plus, it'll give you a chance to show off your natural beauty.
1 Week Before Wedding
Confidence Building
Keep the momentum from last week going. Tell yourself how beautiful you are. Be proud of the work you've done to feel more confident. "Remind yourself that you matter and are worthy outside of how you look," Johnson says. Thank your partner, friends and family members who helped support you along the way. Repeat your affirmations, mantras and positive self talk.
Skin Care
"This is not the time to try anything new," Hartman says. "No adverse reactions this close to go time!" Instead try to manage your stress levels and continue on with your routine. Your dedication to healthy skin will have your complexion absolutely glowing.
Hair Care
Not too many changes here. If you haven't already, confirm the day-of details with your stylist and your wedding party. Continue to pamper your tresses with your hair mask and leave-in treatment.
Body Care
If you're getting body hair removed, this should be your final appointment. "Not only will this appointment get your skin feeling smooth and ready, but it can also be a great break from planning and prepping," McNeil says.
Whether you're using a self tanner or getting a spray tan, apply it two days before your wedding. That will give the color time to develop and slightly fade into a more natural look. Plus, in the rare event it doesn't come out the way you want it to, the two-day buffer will give you time to take care of that. In the meantime, Cook says focus on exfoliation. "We want a complete blank canvas ready for wedding day application."
Other than that, focus on applying moisturizer for hydrated, happy skin.
Nail Care
Continue on with your polish break if you'd like. Your wedding day appointment should take place one to two days before your nuptials.
Oral Hygiene
No real changes here. Keep up with your new routine and continue adding in whitening treatments where you feel necessary.
Makeup Routine
You should be all set makeup-wise, but if you're feeling anxious, give your artist a call. Go over your wedding day makeup, the schedule of the day and any other questions you might have. Remember: the makeup is just there to enhance what's already there. You're beautiful just as you are!
1 Day Before Wedding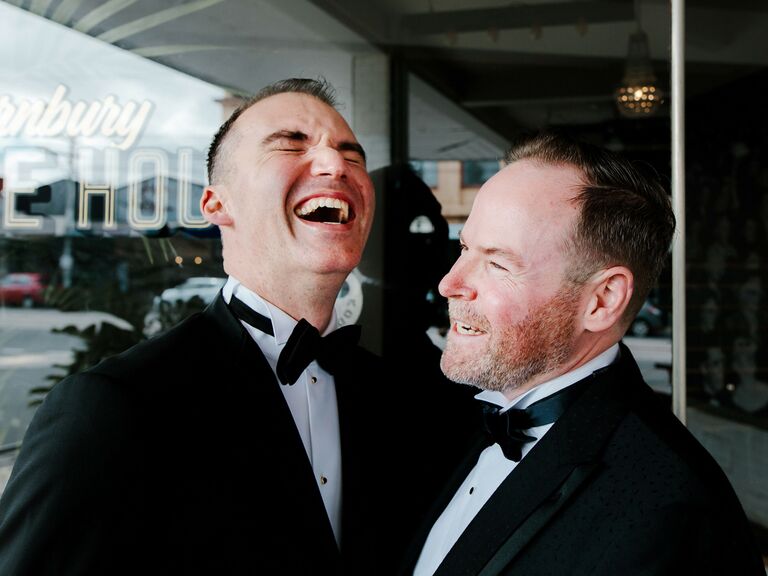 You've done the work: affirmations, skin routines, hair care, body care and more. Today is all about staying as relaxed as possible. Practice deep breathing or meditation and try to get extra sleep.
Now is not the time to try an intense treatment, like an exfoliating mask, as it can cause redness or dryness in the morning. Additionally, stay away from clay masks, which can cause your skin to purge and breakout. Don't try to cut your own bangs or add an extra layer of self tanner. Paint your own nails or treat yourself to a manicure and pedicure if you haven't already. Trust in the work you've done, repeat your confidence exercises and try to get a full night's sleep.
Morning Before Wedding
Today's the day! Head over to your glam squad with a fresh face and clean hair. Allow yourself to be pampered and enjoy the glow that you've worked for. It wasn't just a few treatments that brought you here. You worked on your confidence, your overall health and your mental health. Now it's time to party. Repeat your daily affirmations to yourself and remind yourself that you're beautiful.
"Your family and friends who show up to your wedding are there to support and celebrate you and your partner's love," Tishman says. "They aren't there to criticize how you look." She adds that we're typically our own harshest critics, so it's important to be mindful of how you're speaking to yourself the morning before your wedding. Make an effort to be kind to yourself. "If you can shift your inner voice to one of self-compassion, you will likely feel less pressure to change and will accept yourself as you are."