How to Practice Mindfulness on Your Wedding Day
Venues, vendors, and more are getting behind this rising wellness trend.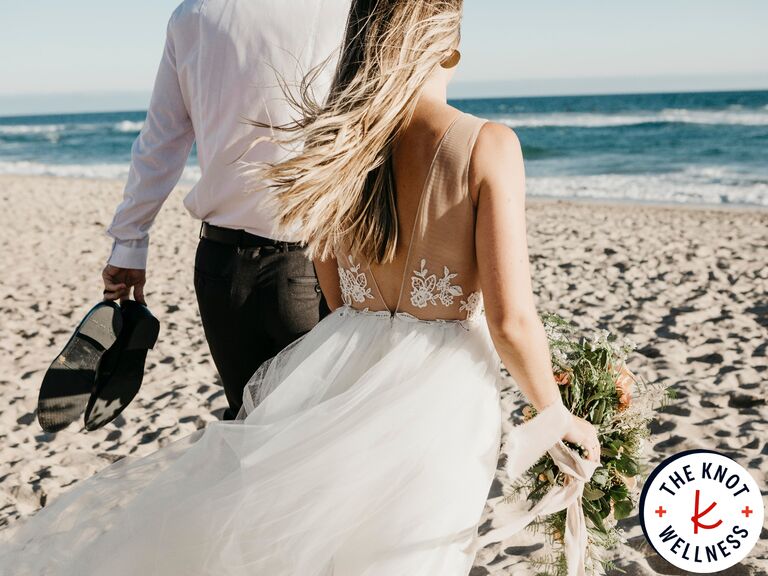 Westend61/Getty Images
Regardless of where you are in your wedding planning timeline, you've probably been told that the big day goes by in a blur. The months (and, perhaps, even years) you've spent planning will culminate on one day full of emotion, excitement and anticipation—so it's no surprise that it might feel like it goes by in the blink of an eye. This alone indicates the importance of practicing mindfulness on your wedding day in an effort to remain present so that you can enjoy every moment without feeling like it rushed by.
Practicing mindfulness certainly isn't a new wedding wellness trend. But during 2022, the busiest year for weddings in history, prioritizing your wellness is more important than ever before. This is, in part, why wedding day mindfulness is an incredibly popular phrase being used by vendors, venues and couples alike.
So, how do you practice mindfulness on your wedding day? We've got the answer for you. Below, three wedding experts explain what this rising wellness movement is, and why it's not a trend—but rather, a practice that's here to stay.
What is Mindfulness?
When you think of wellness, you might associate it with physical experiences, like a spa treatment, a relaxing face mask, or an energizing yoga session. But the core of wellness goes far beyond what you can physically see or do. Enter, mindfulness. According to The Bridal Architect founder Dorian Johnson, a health and wellness coach for couples planning their weddings, practicing mindfulness isn't as vague as you might assume. "Being mindful is simply paying attention—and paying attention gives you the opportunity to sit with an experience longer instead of just letting it pass you by, thus enhancing the experience," he tells us.
This, of course, indicates the benefit of practicing mindfulness on your wedding day—something NYC-based wedding planner Lara Mahler, founder of The Privilege is Mine, has seen become an increasingly important priority for her clients. "Most couples I've worked with over the last few years have been trying to minimize their stress levels and be mindful on their wedding day," she tells us, adding that the pandemic is the driving force behind this shift. "Since 2020, we as a society have experienced a major stress shift in our lives, so wanting a peaceful start to your wedding day is not uncommon."
How to Practice Mindfulness on Your Wedding Day
So, how exactly do you practice mindfulness on your wedding day? It begins well before your actual wedding date. In fact, your prewedding wellness journey is essential for helping you be mindful when the big day finally comes around. Here are seven effective ways to prioritize mindfulness at your wedding.
Look for Wellness-Focused Venues
Setting yourself up for a mindful wedding day begins at the start of your planning journey—particularly when you're sourcing venues. Because practicing mindfulness is an increasingly important experience for couples, some wedding venues have actually begun developing mindful wedding packages. One location that specializes in this experience, for example, is Miraval Resorts & Spas. In September 2022, the Miraval Berkshires property, located in Lenox, Massachusetts, launched "Miraval Mindful Weddings," an immersive experiential package that offers customized wellness-based itineraries for couples and their guests. These packages can include an array of programs and services leading up to the wedding day, including couple's bonding activities, spa services, guided meditation courses, and outdoor adventure experiences.
Find your kind of venue
From barns to ballrooms, discover reception venues that feel like you.
"Through the mindful offerings available as part of Miraval mindful weddings, couples are given tools to help them better understand the dynamics of their relationship, make decisions together, mitigate conflict and practice gratitude for each other," a rep for Miraval Berkshires tells us. "Not only will they leave with tools that can benefit their relationship in the long run, but with practical skills like breathing techniques to combat stressors on their wedding day."
If wellness is a top priority for you, it may be beneficial to look for wedding venues that offer similar packages or prewedding wellness activities. Resorts, spas, ranches or other unique destinations may all offer the unique ability to prioritize your wellness on the wedding weekend, so keep this in mind during your preliminary venue search. Selecting a venue that's explicitly centered around wellness will help you be intentional about mindfulness when the big day comes.
Hire Supportive Wedding Vendors
Beyond your venue, the additional wedding vendors you hire are crucial for helping you practice mindfulness on your wedding day. The goal of being mindful is to lower your stress levels, relax, and remain present—and you can certainly do so with a trusted team of vendors bringing your big day to life. "Having a supportive team of vendors around you who are professional and communicative will truly help you feel calm and taken care of during the day," Mahler tells us.
As you begin vendor outreach, it's important to look for professionals who understand your vision and work well with your personality. Being able to fully trust your vendors will give you a sense of calmness and security on your big day that'll allow you to relax and enjoy every moment from start to finish, stress-free.
Plan Intentionally
In the early stages of venue shopping and vendor searching, it's also important to have a conversation with your partner about what your want your day to look like. This will help you set expectations from the start while giving you the opportunity to prioritize your peace along the way. "Weddings can be stressful, so it's important to sit down with your partner and really think about what's important to you both, and what's going to minimize stress and bring joy," Mahler suggests. "If a lot of the traditional wedding 'rules' make you anxious, don't do it. The beauty of planning a wedding in 2022 is that there are no rules—you make your own rules, and as long as you're mindful and intentional in your decision making, it will bring more joy to the process and less stress."
Establish a Wedding Wellness Routine
We're all about establishing a prewedding wellness routine—and no, we're not talking about the damaging "shedding for the wedding" concept. "Wellness goes beyond just the physical aspect," Johnson tells us. "It's important to take care of your relationships, your environment and your mind." While a prewedding wellness routine may look different for every couple, the ethos remains the same: it's a routine that prioritizes your mental health and wellness. For some, a prewedding wellness routine may include daily movement for stress relief, followed by grounding meditation and journaling—but for others, it could include weekly couples counseling sessions to enhance communication.
Ultimately, your prewedding wellness routine should be centered around prioritizing your mental health and eliminating stress during a season of life that can be overwhelming. "Paying attention to your health and your environment can improve your well-being, as well as your quality of life for the wedding and beyond," Johnson adds. "Additionally, developing coping strategies to help build that resilience muscle can better help your future self with stressors."
Follow a Thoughtful Wedding Weekend Schedule
Being overbooked on your wedding weekend can result in feeling rushed, thus making the entire experience pass by like a whirlwind. There are plenty of events that traditionally take place throughout a wedding weekend, including the rehearsal dinner, the wedding itself, an after party, and a day-after celebration, to name a few. It's crucial to work with your planner or day-of coordinator to ensure enough time is allotted for each activity so you can thoroughly enjoy each one. If not, you'll be left racing from event to event without any opportunity to take a few mindful moments to enjoy the celebration and soak in all the love.
Enjoy Your Wedding Morning
According to decades-old wedding superstition, it's bad luck for couples to see each other on the wedding morning—but today, more to-be-weds are opting to ditch this outdated tradition. Avoiding your partner for half the day can certainly cause stress. (What if you see them in the hallway when you're not supposed to?!) But beyond that, not seeing each other on the morning of your wedding minimizes the opportunity for you both to enjoy your alone time and intentionally be present on a very busy day. "It's important to carve out time in the morning for mindfulness practices," Mahler recommends. "I've seen couples choose to get ready together, go for breakfast in the morning, or get ready with their wedding party. I've also seen people do yoga or another calming activity with their wedding party before hair and makeup begins."
Regardless of what your ideal wedding morning looks like, allotting time in your wedding schedule to center and ground yourself will have immensely positive benefits. "Grounding yourself before a busy day can help you feel strongly regulated to deal with whatever emotions or feelings may arise," Johnson says. "Plus, seeing your partner before the ceremony can calm your nerves and allow you to set intentions for the day while retaining a positive attitude."
Prioritize Time with Your Partner & Loved Ones
Your wedding is one of the few times your family and friends will be in the same place, so it's crucial to soak up as much quality time with them as possible. It's for this reason that Miraval Berkshires created their mindful wedding package to be inclusive of both couples and their guests. "We definitely encourage couples to include their guests in the experience, as there are a few ways guests can also incorporate mindfulness into their stay," Miraval's rep tells us. "Our specialist-led programs help couples co-create a unique well-being wedding journey for themselves and their guests to bond, create memories and have fun."
While you can certainly invite your guests to enjoy wellness activities with you throughout the wedding weekend, the most important thing is to prioritize quality time with them. Be thoughtful about your wedding schedule and timeline, and make the effort to carve out moments to truly enjoy their presence and their ability to celebrate with you. In fact, Mahler says that these choices will ultimately help make your wedding experience as special as it can be: "Making decisions with intention and that represent you as a couple will bring more joy to the process and to your big day."