How to Set Your Prewedding Wellness Routine—And Stick to It
Spoiler alert: This isn't a wedding workout routine.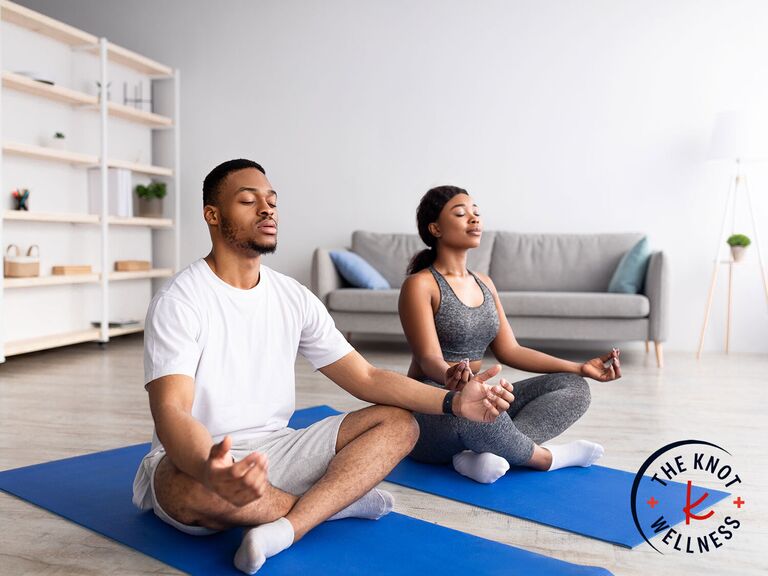 Prostock-studio/Shutterstock.com
It's no secret that planning a wedding is one of the most exciting life milestones. But we also know that hosting such a monumental bash—while simultaneously preparing your relationship for marriage—can feel downright stressful at times. That's why it's crucial to prioritize your wellness routine in the months leading up to your nuptials and beyond.
Having a wellness routine hasn't always been seen as a critical component of self-care. You might associate "wellness rituals" with small, non-crucial acts, like doing a face mask when you have five spare minutes in your day or breaking out bath salts when you remember they're stowed away in the bathroom cabinet. But today, having a wellness routine isn't just a luxury—it's crucial for your overall wellbeing.
Not only will a daily wellness routine help you feel your absolute best when the wedding date comes, it'll make the entire planning experience much more enjoyable. (Trust us.) And, believe it or not, there are plenty of downright easy ways to practice self-care. Read on to learn how to craft a prewedding wellness routine tailored to you, straight from industry experts.
In this article:
What is a Prewedding Wellness Routine?
It's crucial to note that a prewedding wellness routine is not synonymous with a workout routine. We're firm believers that the idea of "shedding for the wedding" is destructive, and can be counterintuitive to your mental health. Of course, mindful movement can be a powerful wellness tool when used appropriately. Plus, we know that exercise can be a huge stress reliever and confidence booster too. However, it's important to approach exercise in a way that empowers your body and your mind—which we explain below.
If you're not sure what a wellness routine looks like for you, start by thinking about nurturing rituals to add to your daily routine that will benefit your mind and body. "A prewedding wellness routine looks different for everyone—but at its core, it's all about self-care during a time that can be stressful and overwhelming," explains Hilary Weinstein, LCSW and founder of HLW Therapy.
When creating your daily wellness routine, prioritize simple, attainable tasks that make you feel good. "Having a wellness ritual is a celebration of ourselves: not only what we're doing internally, like being emotionally and nutritiously balanced, but also what we're doing externally to feel our best," says Lee Pycroft, celebrity makeup artist and licensed psychotherapist.
So, what's the benefit of having a wedding wellness ritual? The psychology behind consistent routines indicates that they'll allow you to feel calmer and more grounded particularly in moments of stress. "There's a sense of safety with rituals, and they can help you feel more in control," Pycroft explains. "The more we can mobilize a relaxation response when we're calm, the easier it is to access it when we're really stressed out." When you take the time during your wellness routine to focus on calming and centering yourself, those emotions can be easily accessed when you need them during moments of stress (like, say, while planning a wedding).
How to Set a Prewedding Wellness Routine
Much like your actual wedding day, your wedding wellness routine should be custom-tailored to you. And the best part is that the most important pillars of a wellness routine are simple tasks that can easily be incorporated into your schedule. "Committing to self-care does not have to mean an upheaval in a person's daily routine," Weinstein explains. "There are many attainable ways people can include small moments of self-care throughout their day."
Below, we share seven practices to adopt for your wedding wellness routine that'll put your mind and body first.
Prioritize Restful Sleep
It may come as no surprise that sleep is essential for prioritizing your mental and physical health, particularly during busy or stressful seasons of life. As such, it's vital to set yourself up for success during the day by getting enough rest at night. "Prioritize sleep, because it's the crux of everything," Pycroft explains. "If you're not sleeping properly, you won't be able to cope with stress as well, and you won't be able to communicate with your partner."
It can be easy to stay up late adding ideas to your wedding vision board or sending emails to vendors that you couldn't get to during the day, but sleep is one element of wellness that can't be compromised. To integrate this into your wedding wellness routine, romanticize your bedtime routine to make it the most comforting part of your day. Light your favorite candle, take a soothing bath, and set aside time to reconnect and wind down with your partner. Then, make sure you're allotting at least eight or nine hours of restful sleep. You'll be thankful you did.
Nourish Your Body From the Inside, Out
Prioritizing your wellness involves more than just cooling eye patches or drawing a cozy bath (though we do recommend indulging in both.) Instead, effective self-care rituals start from within first. "You need to be working with your own biology," Pycroft reflects, noting that drinking water, eating well and sleeping properly are three key elements of any beauty routine. "We need to stay hydrated, eat properly and on time, and prioritize sleep."
When crafting your prewedding beauty routine, think beyond topical products like cleansers, serums and masks. Creating a balanced routine from the inside out will offer a holistic approach to your self-care journey. Ultimately, this will have an incredible impact on your mental well-being. "There is empowerment in knowing that you are actively taking care of yourself, no matter how small the act or amount of time spent," Weinstein shares. "Through repetition of small moments focused on your wellness, a sense of strength and resilience grows, simply because you are proving to yourself that you are able and willing to nurture yourself on a consistent basis."
Practice Meditation
Connecting with your mind is a key element of any wellness routine, and one of the best ways to do so is through meditation. "Meditation can be an incredibly powerful stress reliever," explains Chris Stockel, founder of NYC-based fitness and meditation studio Mind Body Project. "It helps to slow the heart rate, calm the nervous system, and deliver a connection to the present moment that we often lose touch with."
Perhaps the best part about adding meditation to your wedding wellness routine is that it doesn't require any equipment or products, and it can be done without an overwhelming time commitment. "The beauty of meditation is in its simplicity and accessibility," Stockel adds. "For someone new to meditation, I suggest starting with ten minutes." He goes on to share exactly what to do during this time: "Close the eyes, find a comfortable seat, and begin drawing attention to the breath. Notice the sensation and calmness of each inhale and exhale. When your mind inevitably wanders, simply recognize that and come back to the breath. You can think of that cycle as practice for your mind to be in the present."
Once you've successfully incorporated this into your routine, try adding sessions as needed to mobilize a calming response. The results will manifest in your energy and your mindset. "Improved focus, patience, and compassion have all been attributed to a regular meditation practice," he shares.
Incorporate Mindful Movement
As mentioned above, the idea that you need to lose weight or frequently work out just for your upcoming wedding is damaging, and not recommended by pros. However, movement is highly regarded as a stress-reliever and confidence-booster. So when crafting your prewedding wellness routine, think about how you want to feel on your wedding day, and pair that vision with mindful movement that can assist in accomplishing that. "It's important to discuss specific goals and correlate those goals with healthy, attainable habits," suggests Stockel. "If the goal is to boost confidence, there are many different avenues to get there, but I recommend a combination of mindfulness and strength training."
Of course, Stockel notes that this practice can be interpreted as any kind of movement that makes your body feel its best. "Strength training does not need to involve lifting weights," he shares. "Exercises like bodyweight, HIIT, boxing, yoga, and TRX all incorporate elements of strength training. The key component to fortifying your routine is ensuring that you find a training style that both you and your partner enjoy."
Regardless of what kind of movement gets your endorphins flowing—from neighborhood power walks to cardio classes at your local gym—Stockel suggests starting with a weekly routine that involves ten minutes of meditation and 30 to 45 minutes of movement. "This will promote increased strength and decrease stress levels in the body," he says.
Set a Grooming or Beauty Routine
Beauty and grooming rituals are key forms of self-care, and to-be-weds are encouraged to prioritize both in the months leading up to the wedding. (Read: Now's a great time to treat yourself to a facial you've always wanted or invest in that haircare line you've been eyeing.) Taking care of your body and your skin may significantly boost your confidence and comfort. After all, you deserve to feel pampered during this time in your life.
Grooming and beauty routines will look different for everyone. Perhaps you want to implement new skincare products, or instead maybe you'd like to start getting regular manicures for your prewedding events. (After all, your ring finger will be getting plenty of attention.) Your grooming routine doesn't have to be expensive, either. It can be as simple as taking fifteen minutes every day to dedicate toward taking care of your hair, skin and body with your favorite products.
If you're not sure where to start, you can never go wrong with formulas that are hydrating and nourishing. "Steer towards products highlighting ingredients like aloe, chamomile, and calendula which are all nourishing and soothing to the skin," explains Tara Calton, wellness expert and Spa Director for The Allison Inn and Spa in Oregon. And if you want to experiment with any new products or procedures, don't wait until right before the wedding. Instead, start testing at least six months out to see how your body reacts. "Avoid experimenting with new treatments for at least two weeks prior to the wedding day," she suggests. "Skin needs a true 28 days for complete turn-over. To be extra safe, only receive treatments you know your skin likes within four weeks prior to wedding time. There's no need to add the worries of treatment results."
Create Intentional Moments of Self-Care
Life gets busy, especially in the midst of planning your nuptials. In between balancing work, family, friends and planning, free moments for self-care may seem few and far between. This is precisely why it's necessary to carve out time in your day for your wellness routine. "During stressful seasons of life, it's common that practices that assist mental and physical well-being fall by the wayside," says Weinstein. "It's all the more important to prioritize your mental and physical well-being."
No matter how hectic your day is, ensure that you have self-care time blocked off for your schedule. Whether you reserve one hour for a neighborhood walk, thirty minutes for a nighttime bath, or ten minutes to meditate before starting your workday, you'll be more likely to stick with your prewedding wellness routine when you've intentionally set aside the time for it. Otherwise, if you don't view these moments as necessary elements of your daily schedule, they may be more prone to getting forgotten.
It's for this reason that starting with small tasks first will prepare you for success in prioritizing your wellness. It may be overwhelming to commit to multiple wellness rituals at once. For example, if you say you want to meal prep every night, do a gua sha facial massage twice a day, read for an hour and do an at-home Pilates workout every morning, you'll feel discouraged if you don't get to it all, thus making you less likely to stick with your routine. Instead, make promises to yourself in small, bite-sized steps. Once you successfully create one intentional moment of self-care every day for two weeks, you'll be equipped to build up to many more.
Decompress With Your Partner
Self-care practices should be enjoyed by both you and your partner. You are preparing for marriage, after all, and doing so is an ideal way to prioritize your relationship and spend quality time together every day. (Trust us: You'll be grateful for moments with your S.O. that don't require wedding planning talk.) "When life starts to move quickly, you have to find small moments of connection with your partner," Pycroft explains, noting that something as simple as a couple's massage can help you both focus on your wellness while also serving as a romantic way to reconnect. "Many experts say the base of any good relationship is friendship and admiration," she adds. "And, of course, when you're doing something like a couple's massage, you're spending quality time together."
As a result, frequent attention to improving your wellbeing together may help set you up for a long and fulfilling partnership. "The most successful relationships are those in which both partners are committed to consistent self-care, bettering themselves so that they can each show up for each other, especially during stressful times," Weinstein says.