What To Do If The Registry Has Only Expensive Or Budget Gifts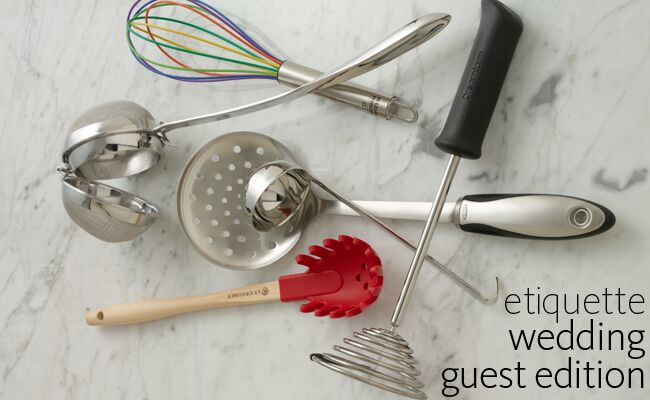 Yunhee Kim
It's a wedding guest's gift-giving nightmare. You open the couple's registry, looking for something in the middle range. You want to show you care without breaking the bank. And you don't want to appear cheap by giving something seriously small. Unfortunately, unlucky guests may find their to-be-wed friends or family members have very expensive taste, or that they've logged on too late and only incredibly inexpensive items are left. So if you're not psyched about giving a stand mixer or hand-made crystal decanter—or a bottle of cleaning spray or kitchen towels—here's how to deal.
Give a themed collection
Rounding up a bunch of less expensive kitchen items, and then throwing in a unifying one that's not on the registry (a cookbook, for instance) can make your gift seem more substantial. If you're a chef, consider including your favorite recipe to whip up with some of the items.
Go in with friends
While you might not want to spend several hundred dollars on a set of 600 thread count sheets, if a few mutual friends pool funds, those lovely linens get a heck of a lot more budget-friendly, fast.
Skip the registry
Going rogue and buying off the registry can be a little tricky; your best bet is a gift card from one of the stores they're registered at. They obviously shop there and they can always use your contribution to buy those small items that weren't purchased or something else down the road. You can also give them a gift card to a local restaurant you know they'll use. Or, give cash (paired with a thoughtful, hand-written note).
Wait awhile
You can't be the only person who noticed that the registry is filled with only pretty pricey or sad scraps. Often couples will see their registry dwindling and add more items closer to the wedding. So if the event isn't here yet, consider waiting a few weeks and checking back in when there may be more items available.
Want more? Right here!
> Must-have registry essentials