A Guest's Guide to Beach Wedding Attire for Every Dress Code
Plus, shop editor-approved outfits on the spot.
We have included third party products to help you navigate and enjoy life's biggest moments. Purchases made through links on this page may earn us a commission.
So, you've been invited to a beach wedding—hello vacation, right?! Before you pack T-shirts and flip-flops, there are a few things you need to know about appropriate attire for a wedding on the beach. While beach wedding attire for guests varies depending on the venue and event style, it's often more casual than black tie, given the climate and terrain (aka lots of sun and sand). That said, guests' outfits should still reflect that it's a special occasion, which requires some level of formality. If you're not sure exactly what to wear to a beach wedding, we've got you covered. Below, we break down all the etiquette of beach wedding guest attire, including what to wear to respect different dress codes. And, to make your search for beach-appropriate clothing even easier, we've included a handful of shoppable outfit ideas for men and women.
In this article:
What Is Appropriate Beach Wedding Guest Attire?
So, what exactly should guests wear for a wedding at the beach? Wedding attire for a beach wedding is commonly assumed to be dressy casual—and while this might be true for many weddings, others may be more formal. In general, though, beach wedding attire for men and women includes bright colors and patterns (think florals), lightweight fabrics and fun accessories.
If you'll be attending a beach wedding, there are a few easy ways to make sure you're dressed appropriately. First, check the wedding invitation or wedding website for the event's official dress code. Then, look at the ceremony and reception location. Are you going to be outside all day or spending some time indoors? That'll help you dress for comfort. Speaking of comfort, you should also research the destination's weather. Regardless of the time of year, there's a chance the climate will be hot—or, at the very least, warm—and humid. Because of this, fabric is a key element of your beach wedding attire. Breathable materials like linen and cotton are ideal for being outdoors. But don't forget about the possibility of a waterfront breeze—consider clothing that can withstand a little bit of wind.
The most common beach wedding outfits for men include a button-down shirt, slacks or chinos and a suit jacket or blazer if it's a formal ceremony. Flowy maxi and midi dresses are common beach wedding outfits for women, but jumpsuits and dressy separates are also appropriate choices. When it comes to accessories, feel free to have some fun. A beach wedding is a great opportunity to wear a patterned tie or colorful statement earrings. It's also perfectly acceptable to pack nice sunglasses or a dressy hat for an outdoor ceremony or reception.
What to Wear to a Beach Wedding by Dress Code
With any wedding, it's always important to follow the celebration's dress code. If you need more help figuring out the level of formality, the time of day can be a good cue. An evening beach wedding tends to be more formal than a midday or morning event. The venue can also serve as a resource. A waterfront wedding at an upscale club or resort will likely require a more formal outfit than a gathering right on the sand. Whatever the case, remember that weddings are special occasions. When in doubt, err on the side of elevated. Everyday attire, like a laid-back sundress or shorts, is only ever appropriate if it's explicitly requested by the couple.
Beach Formal Wedding Attire
Even if you've been invited to a formal wedding on the beach, it's unlikely you'll be expected to wear a tuxedo or evening gown. For men's beach formal attire, a suit is usually your safest bet, but skip black and choose a color like blue or tan instead. Summer fabrics, like linen and seersucker, are appropriate for this dress code. Unless the invitation says otherwise, assume you'll need a tie or bow tie—feel free to choose a solid color or a modest pattern. Finally, don't forget a belt and complementary dress shoes. While an elevated maxi dress is an appropriate option for women, so are high-low and midi dresses or a classy jumpsuit or pantsuit. You can opt for bright colors, pastels or formal metallics, as well as simple patterns. As for accessories, look for block heels or a dressy wedge. Elegant jewelry is a great way to add an extra dose of formality.
Beach Cocktail Wedding Attire
Beach cocktail attire is semi-formal beach wedding attire. Typically, men's ties are optional, but still welcome. If you're shopping for menswear, start with a classic long-sleeve button-down and dressy pants; then, add a colorful blazer or patterned sport coat for festivity. Appropriate footwear includes nice loafers and on-theme boat shoes. Women can wear a semi-formal dress, like a maxi or midi, as well as a jumpsuit or dressy separates. A beach cocktail dress code gives you the flexibility to choose a vibrant color or bold print. Finish your outfit with a low heel, wedge or dressy flats. Beachy accessories, like a raffia clutch, are also acceptable.
Beach Casual Wedding Attire
Casual attire for a beach wedding is kind of like what you'd wear to a nice dinner on vacation. Usually, flip-flops and denim aren't appropriate, but this attire is more relaxed than other wedding attire. Men can wear khaki or chino pants, and sometimes even shorts (if you're not sure about shorts, play it safe and skip them). On top, men can wear a button-down shirt (short sleeves are acceptable) or a solid-color polo. Women can wear sundresses or dressy separates, like a nice top and skirt. Instead of heels, try a pair of strappy or platform sandals.
Beach Wedding Attire for Men
Still not sure what to wear to a beach wedding? Don't sweat. We've done the thinking (and shopping) for you by rounding up the best beach wedding guest attire for men. You'll find a variety of buy-now options, from simple shirts and slacks to formal beach wedding suits.
Stretch Suit Jacket and Stretch Suit Pants in Flex Chino Dark Pacific
Match the shining sea and sky at your next beach wedding with a sophisticated navy blue suit. This one has a flattering slim fit and is made from soft, breathable cotton. Elevate your outfit with a tie for a formal wedding, or go without the accessory for a cocktail party.
Cubavera Delave Linen Sport Coat and Flat-Front Pant in Natural Linen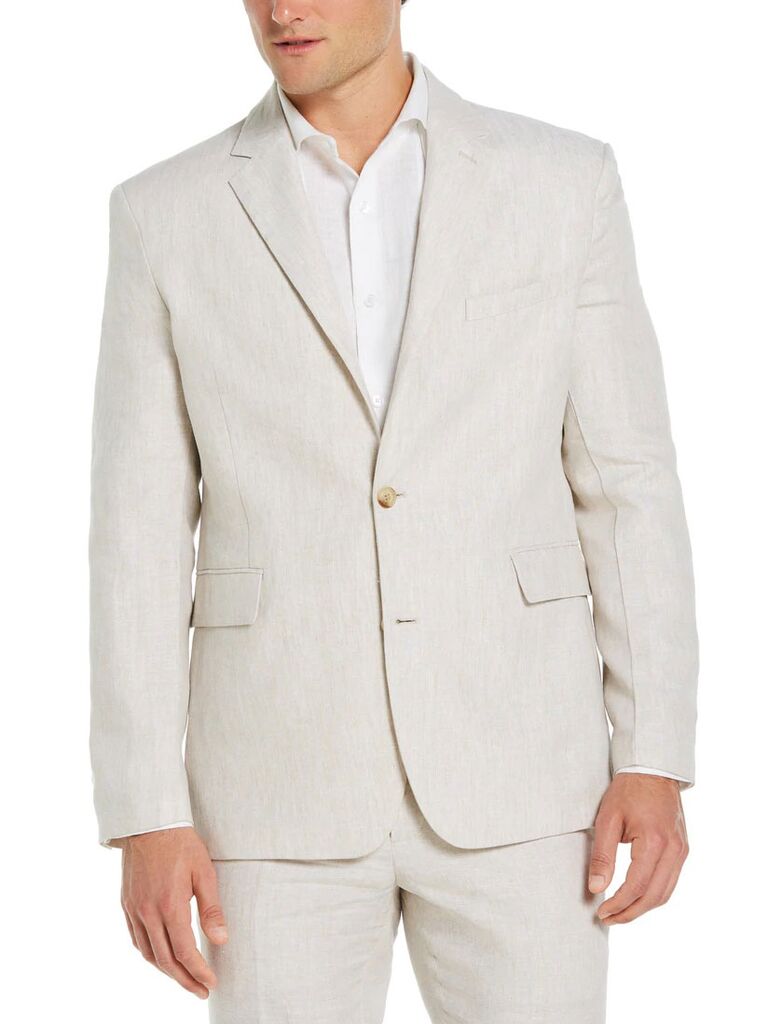 When you picture men's beach wedding attire, you might immediately think of a natural linen suit—and for good reason! Linen is a lightweight and breathable fabric with a color that complements a sandy venue. This sport jacket and straight-leg dress pant are cut from high-quality Delave linen which has a heathered look and unique texture. Pair the suit with one of Cubavera's distinctive linen button-downs with triple tuck embroidery.
Johnny Bigg Remy Floral Print Stretch Shirt in Navy
Don't be afraid to experiment with prints at a beach wedding. Add a pop of fun to your outfit with this navy short-sleeve shirt patterned with florals. The button-down style, available in sizes L to 6XL, is perfectly festive.
Lauren Ralph Lauren Men's UltraFlex Classic-Fit Linen Sport Coat and Pants in Red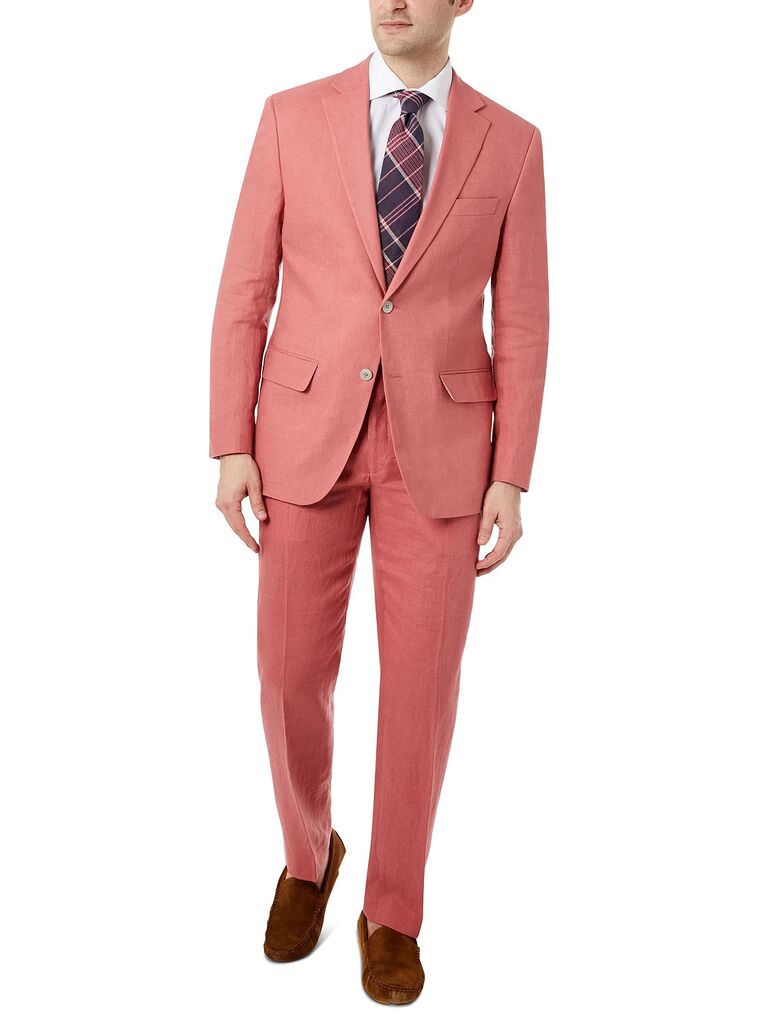 The men on The Bachelorette are known for rocking salmon suits and now, so can you. Not only is this suit fun and colorful (check out the jacket's gold paisley interior), but it's also made from breathable linen perfect for tropical weather. Plus, it features Lauren Ralph Lauren's signature UltraFlex stretch fabric for comfortable movement. Not feeling the matching set? Swap the red linen pants for tan.
Tommy Bahama Bali Border Silk Camp Shirt in Tropical Turquoise and Mahalo Bay IslandZone Flat-Front Pants in Stone Khaki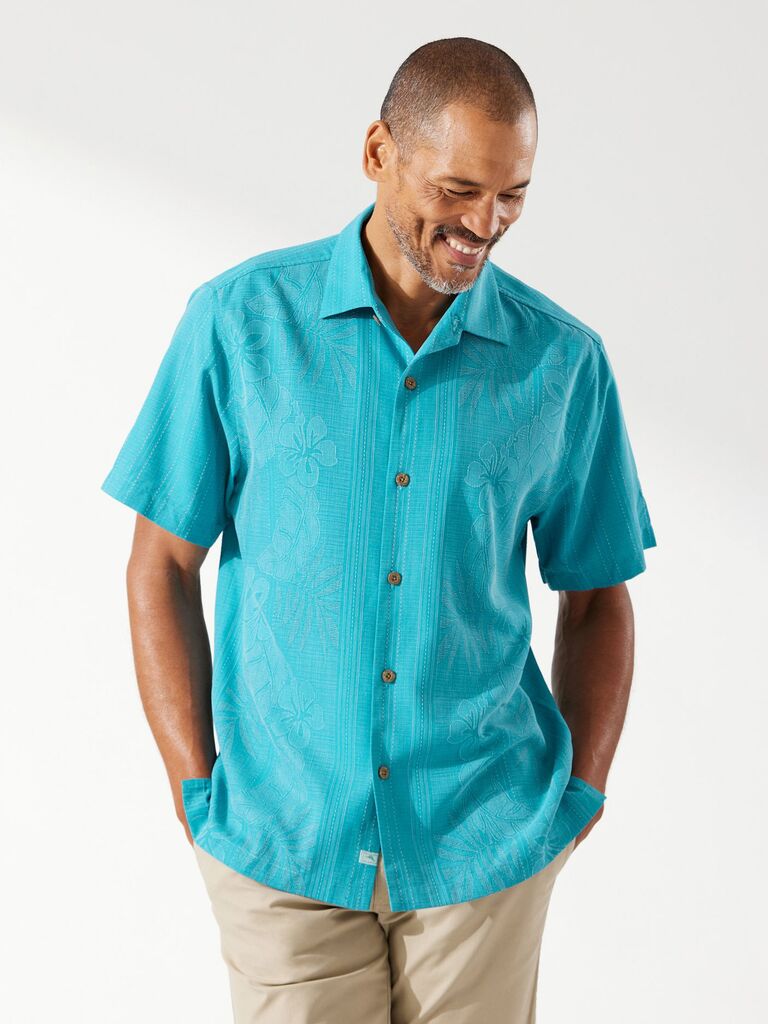 If you've been invited to a casual beach wedding, don't be afraid to flaunt a floral shirt. This silk camp shirt in bright turquoise is subtly stitched with hibiscus flowers and palm leaves for a tropical top. Pair it with linen-blend khaki dress pants that have body-cooling technology for a comfortable and classy beach outfit.
UNTUCKit Wrinkle-Resistant Linen Vin Santo Shirt in Solid Blue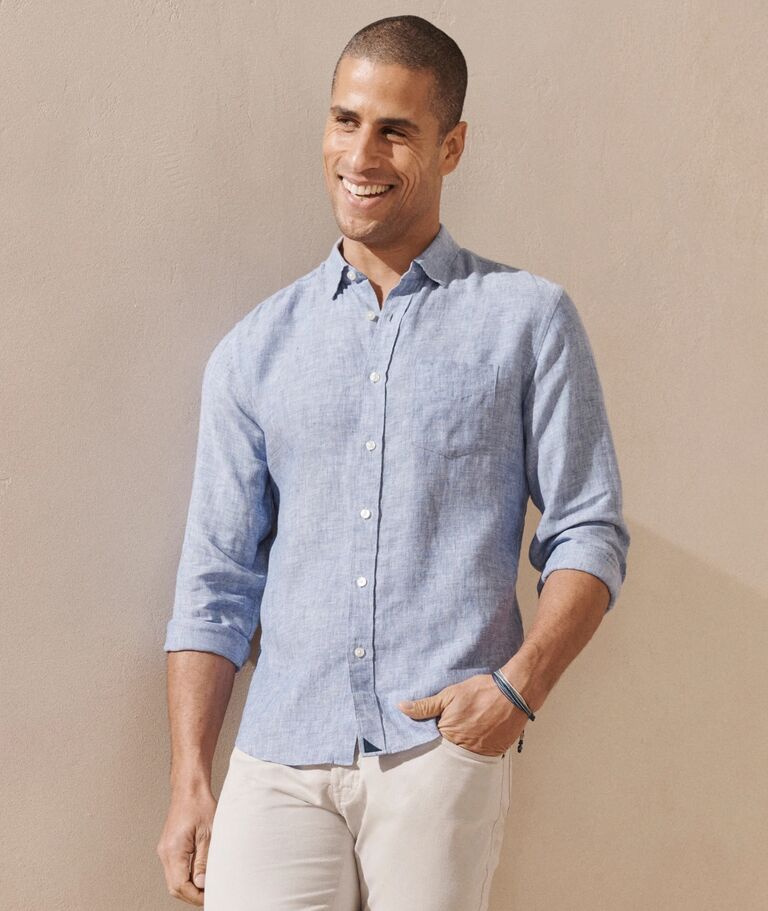 If you've never tried an UNTUCKit shirt, a casual beach wedding is the perfect opportunity to wear one. As the brand name suggests, these shirts were designed to be left untucked for a relaxed yet sophisticated look. This long-sleeve shirt is made from wrinkle-resistant linen to keep you looking sharp throughout the event. The blue button-down looks great with navy or stone-colored chinos, which you might already own. Multiple size options, including slim and tall, will help you find the right fit.
Express Slim Striped Linen-Blend Stretch Suit Jacket and 8" Shorts
Men's beach wedding outfits, especially during the summer, tend to lean a little more casual. A matching suit jacket and shorts is an appropriate way to beat the heat if it's a day wedding or a casual dress code. This light blue set is made from a lightweight, breathable linen blend. The slim-fit jacket comes in short, regular and long sizes and pairs perfectly with the pleated shorts.
Bonobos Original Stretch Washed Chino in Khaki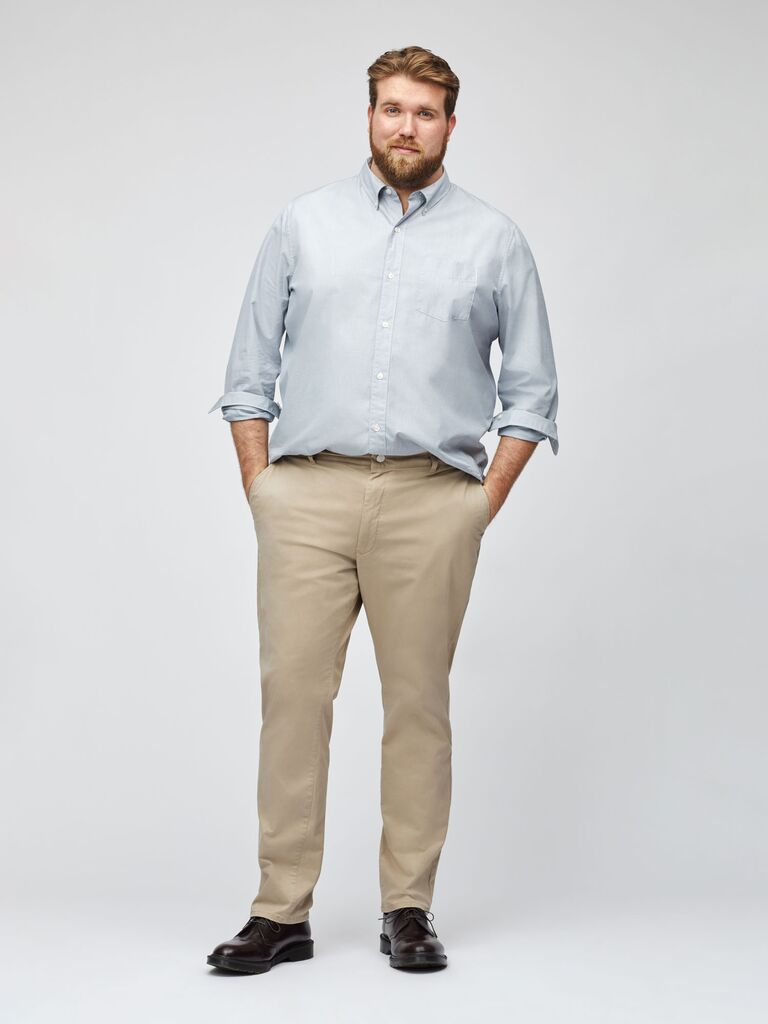 Swap dress pants with chinos for a beach wedding outfit you'll wear time and time again. These Bonobos pants have built-in stretch for a comfortable fit and come in extended sizing. You can't go wrong with khaki, but they come in a range of other colors too. Pair the pants with your favorite blue button-down for a classic outfit.
Oak Hill Windowpane Sport Coat and Straight-Fit 5-Pocket Pants in White
A plaid sport coat is a versatile wardrobe staple that will especially come in handy when attending summer weddings with a semi-formal dress code. This lightweight option can be worn in a variety of different ways. Plus, it's available in sizes 2XL to 5XL. Pair it with Oak Hill's straight-fit dress pants, which are made from a breathable and moisture-wicking cotton blend.
The Black Tux Tan Suit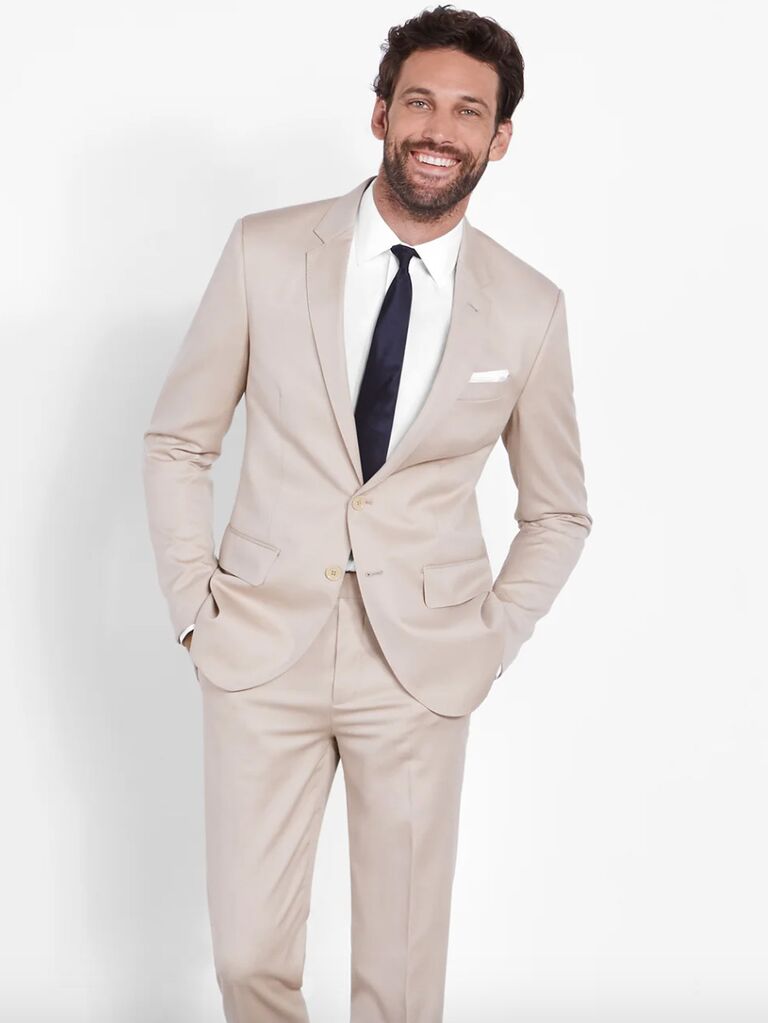 Invited to a formal beach wedding, but not ready to invest in a new suit? Rent the look you want from The Black Tux. This particular rental includes a tan jacket and matching pants, so you'll just need a classic white button-down shirt, a tie, a belt and shoes to complete your warm-weather wedding outfit.
Lauren Ralph Lauren Men's UltraFlex Classic-Fit seersucker Cotton Sport Coat and Pants
For a quintessentially preppy beach wedding outfit, go for a seersucker suit. The thin white and blue stripes are classically coastal and the textured cotton fabric will keep you cool. We love it paired with a contrasting navy—or even burgundy—shirt underneath.
Bonobos Italian Stretch Linen Suit Jacket and Pants
Beach weddings are the ideal time for colorful linen suits. This slim-fit blazer and pants set in forest green was practically made for a tropical destination wedding. Pair the summer suit with a basic white t-shirt and a pair of woven loafers for a sleek summer look.
Beach Wedding Attire for Women
Whether you'll be watching the vows outdoors on the coast or inside a tropical resort, beach wedding attire for women should be colorful and breezy. Here, we've rounded up the best beach wedding outfits for women. You'll find flowy dresses, trendy separates and a super-stylish jumpsuit you can certainly wear again. Browse our editor-approved picks below.
Lulus Still the One Floral Print Satin Maxi Dress in Red Floral Print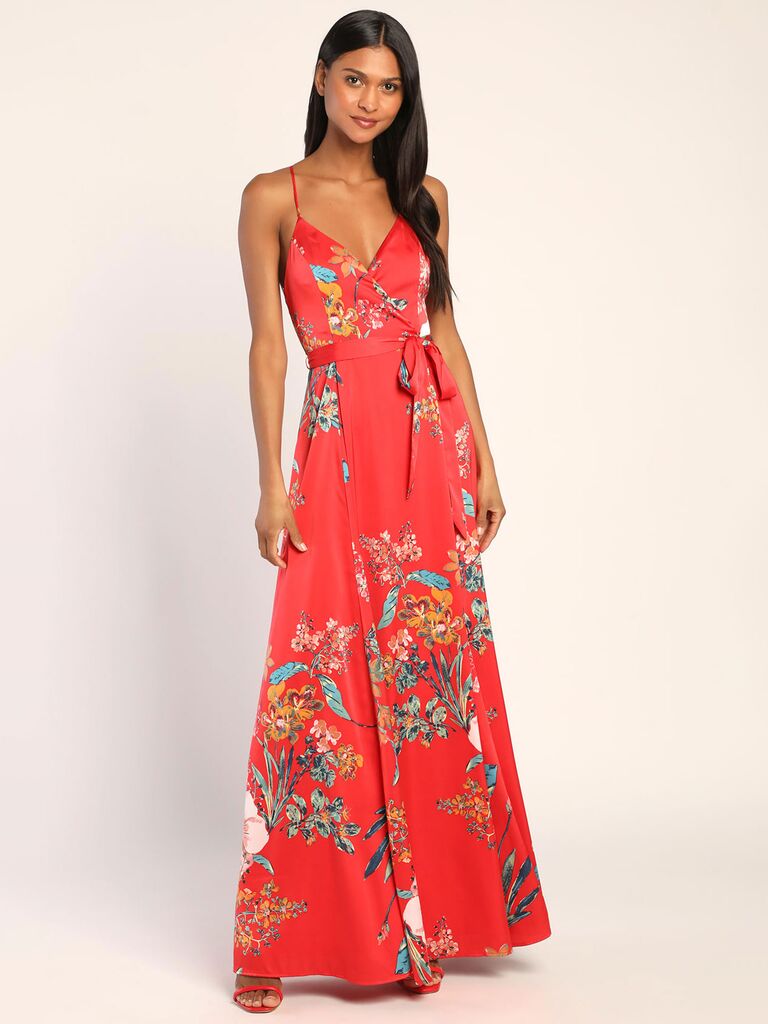 Shopping for a formal beach wedding? This vibrant red floral dress is made from lightweight polyester fabric with a high slit so the skirt flows (and cools) majestically with the wind. It also has an open back with criss-cross spaghetti straps for even more comfort in the heat. It's so fun on its own, we recommend pairing it with simple accessories.
Hill House Home The Louisa Nap Dress
Puff sleeves and smocked silhouettes are all the rage. Snag this floral summer dress for your next beach wedding for a trendy fit that complements the coastal venue. We love the low neckline and ruffled accents. This pink dress can also be casual or semi-formal—dress it up with thick-heeled sandals and silver jewelry for a cocktail-ready look.
Torrid Midi Rayon Slub Tiered Dress in Sulphur
Talk about a sunny disposition! This yellow midi dress with a sweetheart neckline and tiered skirt is a vibrant option for a beach wedding this summer. Tes best part? It has pockets for added convenience.
Birdy Gray Lisa Midi Dress in Satin Navy
A formal dress code doesn't have to equate to a full-length gown, especially when the wedding is at a beach. This navy blue satin slip midi dress is an elegant choice as a formal beach wedding outfit. It has a cowl neckline and adjustable straps.
Petal and Pup Yelena Dress in Red
Shopping for a cocktail beach wedding? You can't go wrong with a floral midi dress. This cute option in bold orange boasts whimsical red flowers fitting for a beach wedding. It has a flirty open-back for an on-trend style. Pair it with gold jewelry and nude heels to complete the look.
ELOQUII Kimono Sleeve Maxi Dress
Float across the beach in this breezy pink maxi dress. The kimono sleeves, plunging neckline, and A-line silhouette are ultra-flattering and sure to make a statement this summer. Plus, it's budget-friendly and available in sizes 14 through 32.
New On The Scene Navy Blue Floral Print Two-Piece Midi Dress
Don't feel limited to a one-piece fit. Matching sets are super trendy right now and this one is perfect for a casual beach wedding. The navy blue crop top and midi skirt feature a whimsical floral design that's perfect to wear to a destination wedding.
Lulus Ready to Impress Strapless Tie-Front Wide-Leg Jumpsuit in Hot Pink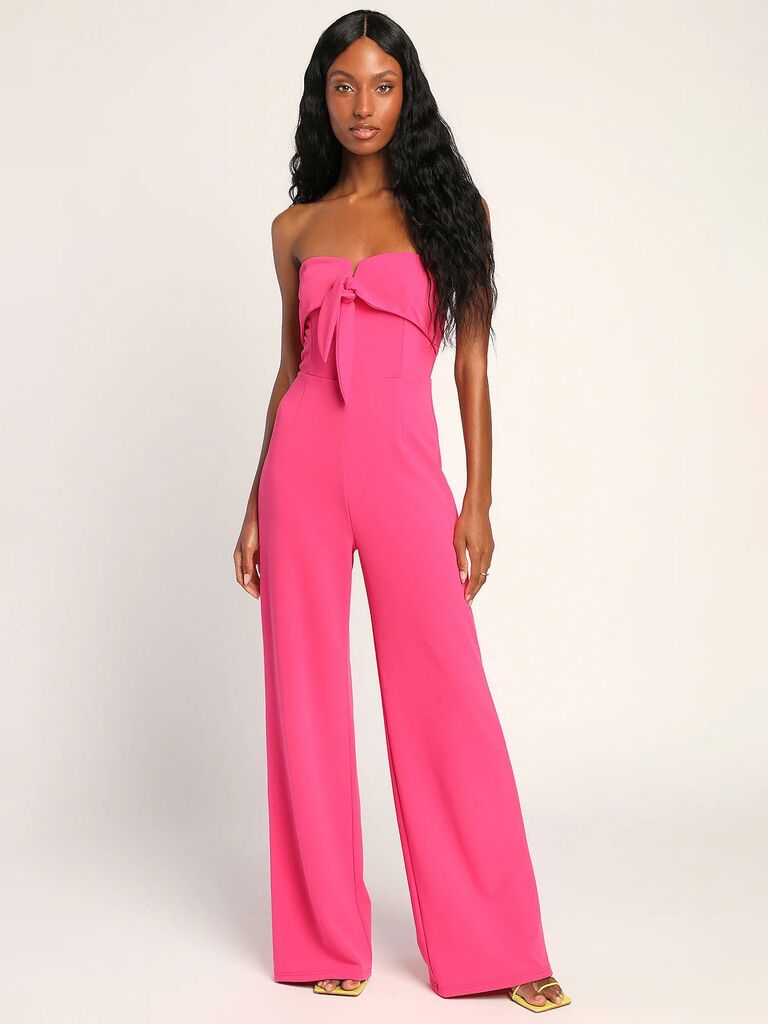 You also shouldn't feel limited to a skirt. A nice jumpsuit is an acceptable beach wedding outfit for women. This hot pink strapless jumpsuit with a front knot detail and wide-pant legs is a fashion-forward option.
Show Me Your Mumu Reese Ruffle Dress
If bright colors aren't your style, no worries! There are plenty of appropriate wedding guest dresses that are more muted. This tiered midi dress with flattering ruffles and a square neckline is a gorgeous option for a beach wedding. Plus, it comes in 12 different color options.
Old Navy Double-Breasted Linen-Blend Suit Blazer Extra High-Waisted Pleated Taylor Wide-Leg Trousers in Sliced Bread
Looking for a beach wedding guest look that's not a dress? This linen pantsuit is calling your name. The double-breasted blazer features a deep V-neckline and flap pockets while the pants have a comfortable elastic waistband and flattering wide-leg fit. We love this suit paired with colorful heels or sandals.
Lulus Totally Charming Royal Blue Satin Pleated Halter Midi Dress
How about a royal blue dress to match the ocean? This one even has elegant pleating for a nautical wavy look. It's made from lightweight satin fabric for a comfortable formal beach wedding outfit. Plus, it comes in a charming purple option.
ASOS DESIGN Halter Tiered Ruffle Maxi Dress in Pink
Hello halter top! This pink maxi dress was practically made to wear by the beach. A few standout features include its dramatic all-over ruffling and sexy open back. This pick is sure to be a favorite of yours throughout summer wedding season.
Aidan AIDAN MADDOX Pleated Colorblock Midi Dress in Red and Pink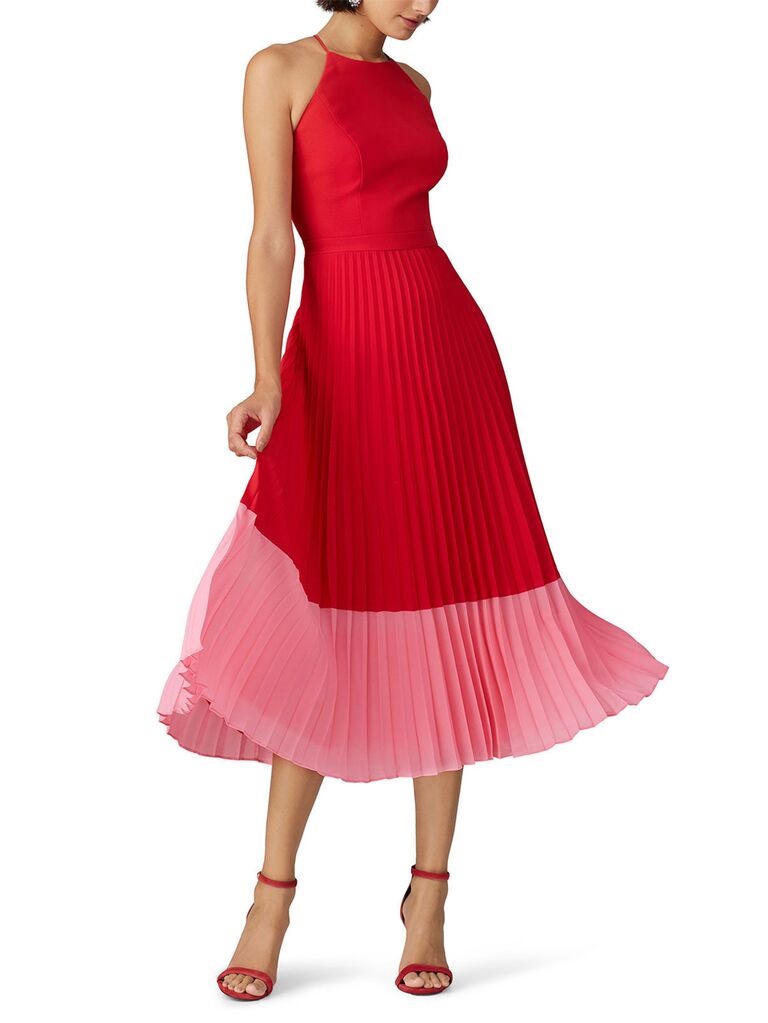 Not ready to make a purchase? Rent a dress instead. For fashion-conscious beach wedding guests, colorblock patterns are having a moment. This red and pink midi with a pleated skirt will be a delight on the dance floor. Plus, the bright hues are great for an oceanside ceremony.
Sarah Hanlon contributed to the reporting of this article.