What to Wear to a Wedding: Wedding Outfits for Men and Women
Invited to a wedding and not sure what to wear? We've got you covered with a few fashion dos and don'ts.
We have included third party products to help you navigate and enjoy life's biggest moments. Purchases made through links on this page may earn us a commission.
The most important thing to remember when shopping for a wedding is you want to look cool and stylish, but you don't want to distract from the couple or draw attention for the wrong reasons. That's why we recommend you use the wording on the invitation or the time of year to determine your wedding attire. But first, let us tell you the ground rules for dressing for a wedding. Rule number one: Don't ever, ever wear white to a wedding. You should also avoid wearing white to prewedding festivities, like the engagement party, shower or rehearsal dinner. The only exception to this rule is if there's an all-white dress code for one of the celebrations. Rule number two: Always be respectful of religious affiliations. If you know the wedding is going to be held in a Catholic church, it might not be a bad idea to cover bare arms with a sweater and avoid showing too much leg or cleavage. Rule number three: You can wear black to a wedding—it's not off-limits. It used to be taboo to wear black to weddings, but now a little black dress is totally appropriate for an evening affair. Rule number four: It's better to be overdressed than underdressed. If an invite says "black tie optional," err on the side of caution and wear a long dress or dark suit or tux. Like your mom always said, it's better to be safe than sorry. A final bonus tip: You don't have to spend big to look nice. There's nothing wrong with borrowing wedding guest attire—especially if it helps you adhere to a dress code. Need an evening gown for a formal affair? Sites like Rent the Runway can hook you up with designer options for well below retail price.
For women, a winter wedding is the perfect excuse to wear your most fun, festive dress. When shopping for winter wedding outfits, keep an eye out for head-to-toe sequins or luxe, jewel-toned fabrics like emerald green, ruby and royal blue. These colors work on almost every skin tone and you'll definitely find an excuse to re-wear them during the holiday season (office parties, anyone?). You'll also want to keep fabrics in mind. Wedding guest dresses made of heavy fabrics, like tweed or velvet, will keep you warm during a chilly evening celebration. Pair a shorter dress with opaque black tights and closed-toe pumps. Avoid wearing boots (even if they're heeled), as they can appear too casual. But in case of a freak snowstorm, it's definitely okay to wear your boots to the ceremony and change into your heels once you're inside. Men should follow similar guidelines and shop for a dark-colored wool suit to keep warm and stylish. Also try dressing in layers: Throw a zip-up sweater over your shirt and tie and under your jacket for extra insulation and warmth.
Women's Winter Wedding Attire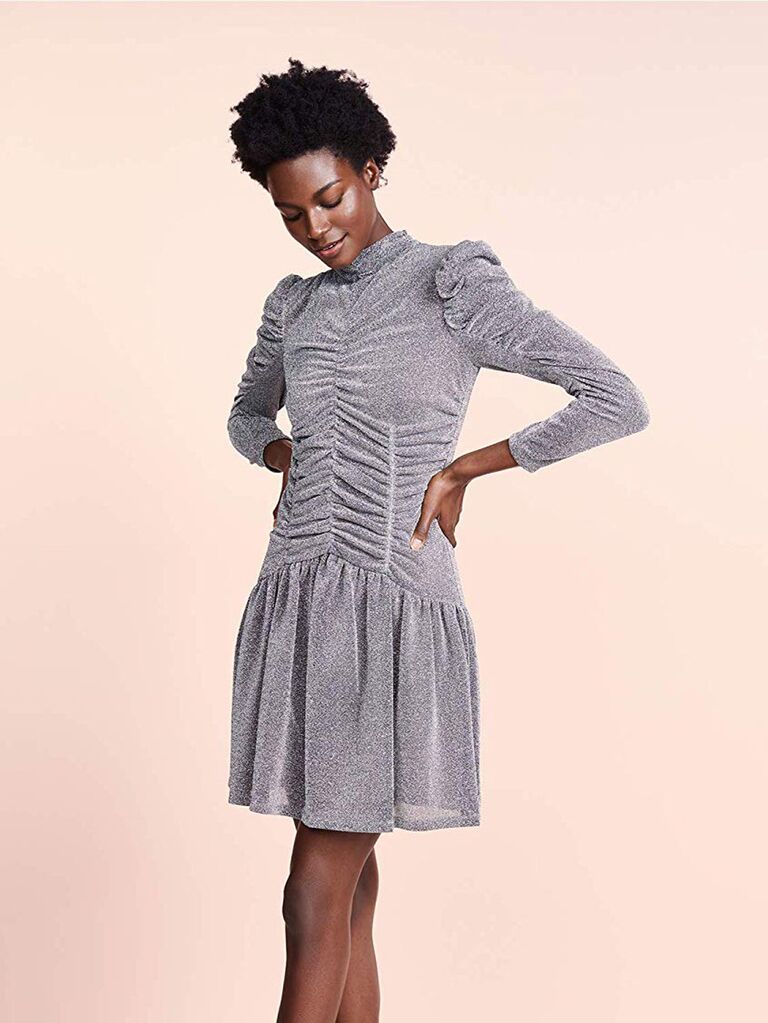 1. This mini is totally winter appropriate with its long sleeves and heavier fabric. Plus, we love that it's metallic.
Rebecca Taylor women's metallic dress, $228, Amazon.com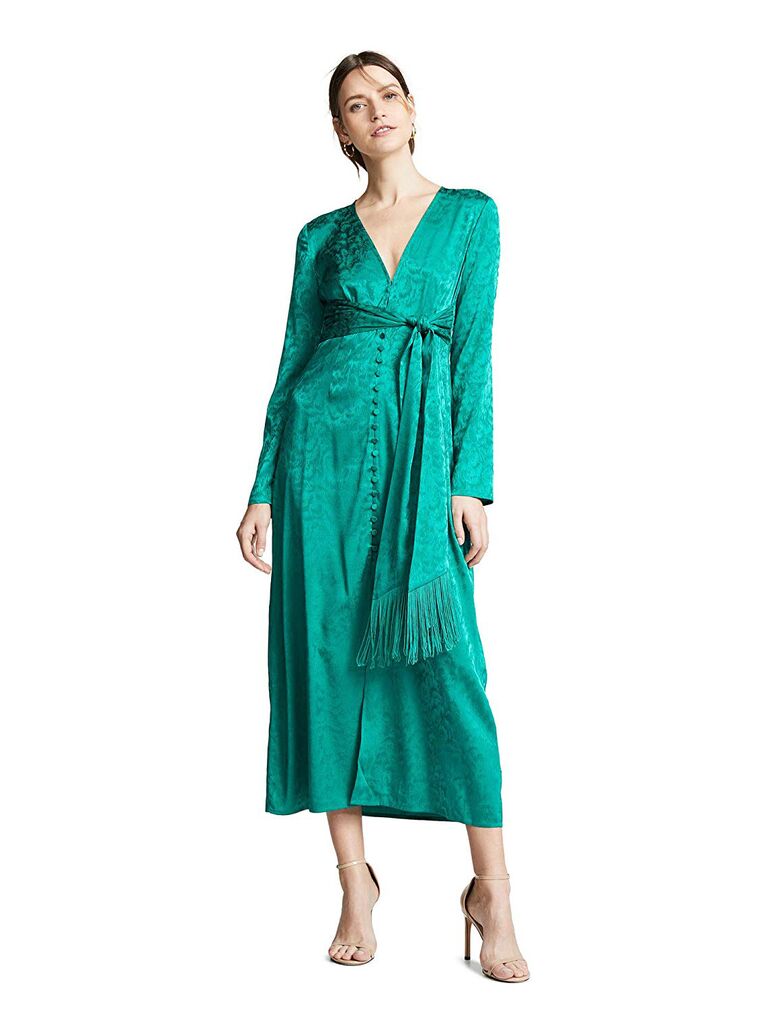 2. Long gowns are a perfect match for a winter wedding, as is this emerald green hue.
Thurley women's Violeta dress, $395, Amazon.com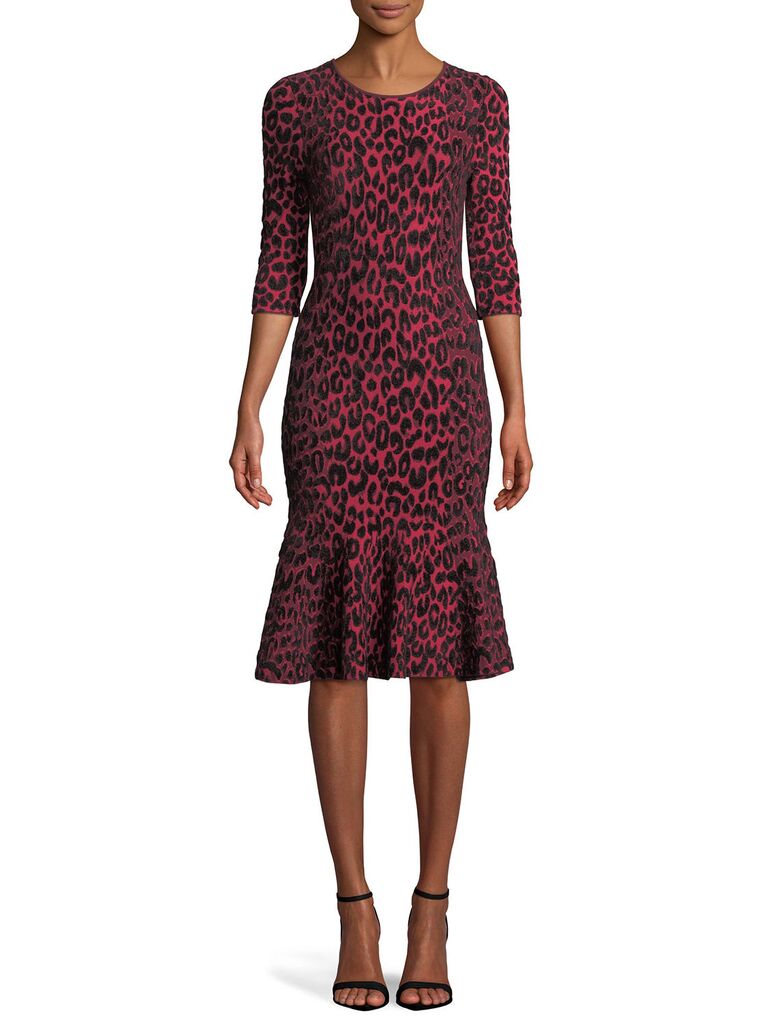 3. A body-hugging red dress is the perfect combination of sexy and festive for a winter wedding.
Milly textured leopard animal-print mermaid midi dress, $475, NeimanMarcus.com 
Men's Winter Wedding Attire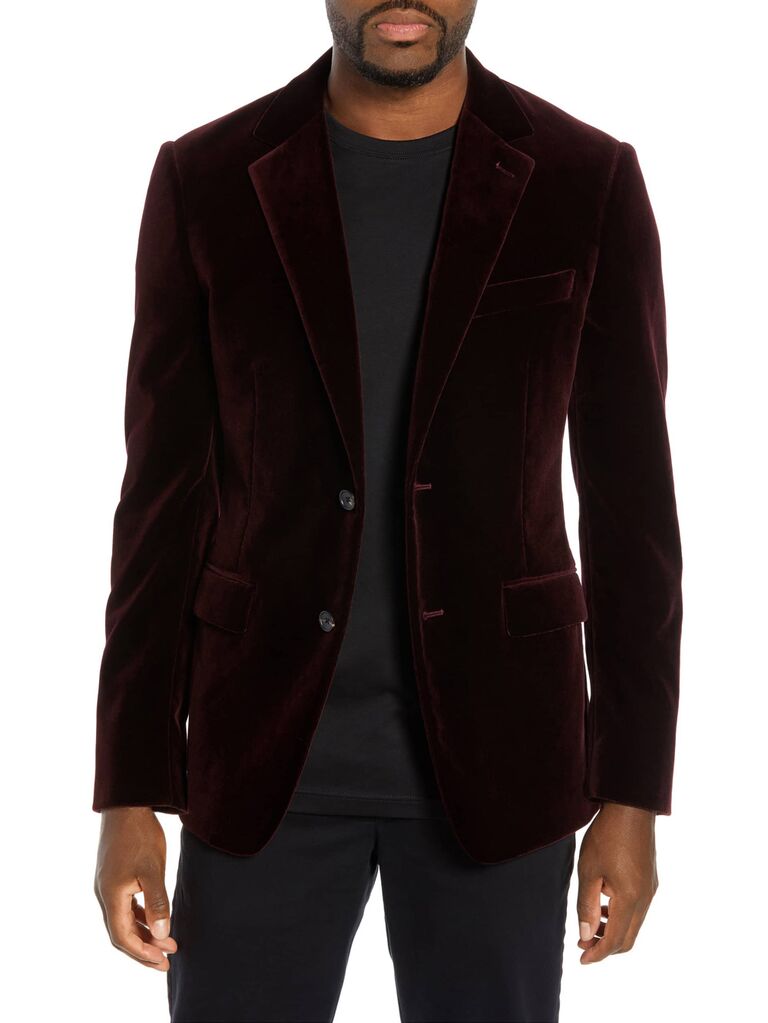 1. It's a winter wedding, so why not go all out in a burgundy velvet blazer?
Bonobos Jetsetter slim fit stretch velveteen blazer, $500, Nordstrom.com
2. This silky-smooth trim-fit navy jacket with black lapels is the perfect option for a man with stylish but sensible tastes.
Ted Baker London Josh trim fit navy shawl lapel tuxedo, $1,098, Nordstrom.com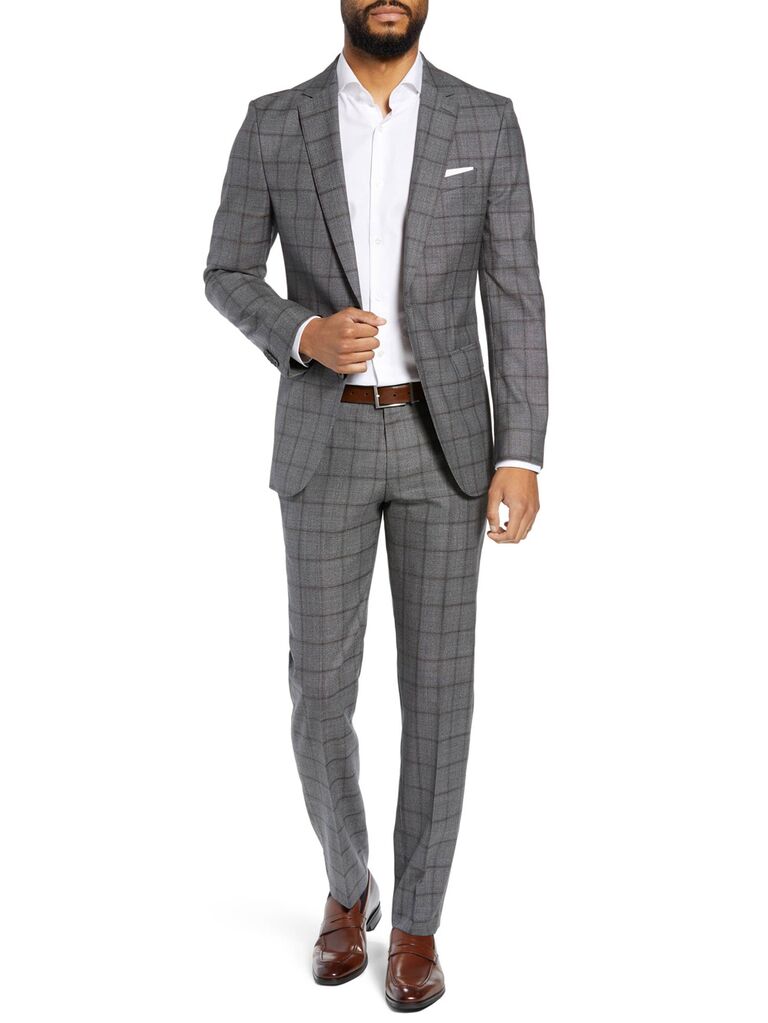 3. You can certainly wear a plain wool suit, but if the dress code is flexible, feel free to don a wintery pattern.
Boss Novan/Ben trim fit windowpane wool suit, $895, Nordstrom.com
Fall weddings can be hard to dress for since the weather can be so unpredictable. That's why the most important thing to remember is to dress in layers. Fall is finally the time you can break out your favorite little black dress and suede heels, but you really should wait until closer to the date to finalize accessories. Since fall tones tend to be dark and muted, try adding a pop of bright color with a bold statement necklace, scarf or lipstick. Pick a dress you could wear with or without tights for that unexpected September heat, and it's probably a good idea to throw a sweater in your bag in case the temperature drops at night. And since you could be wearing open-toed shoes, it's always smart to have a pedicure scheduled just to be safe—chipped nails at a wedding is a definite no-no. For men, try mixing and matching textures and patterns for a cozy look that doesn't look shabby or grungy. Pair a wool coat with a silk tie, and don't be afraid to wear some color. Just look at the invitation for hints of the couple's wedding colors so you don't end up looking like a member of the bridal party.
Women's Fall Wedding Attire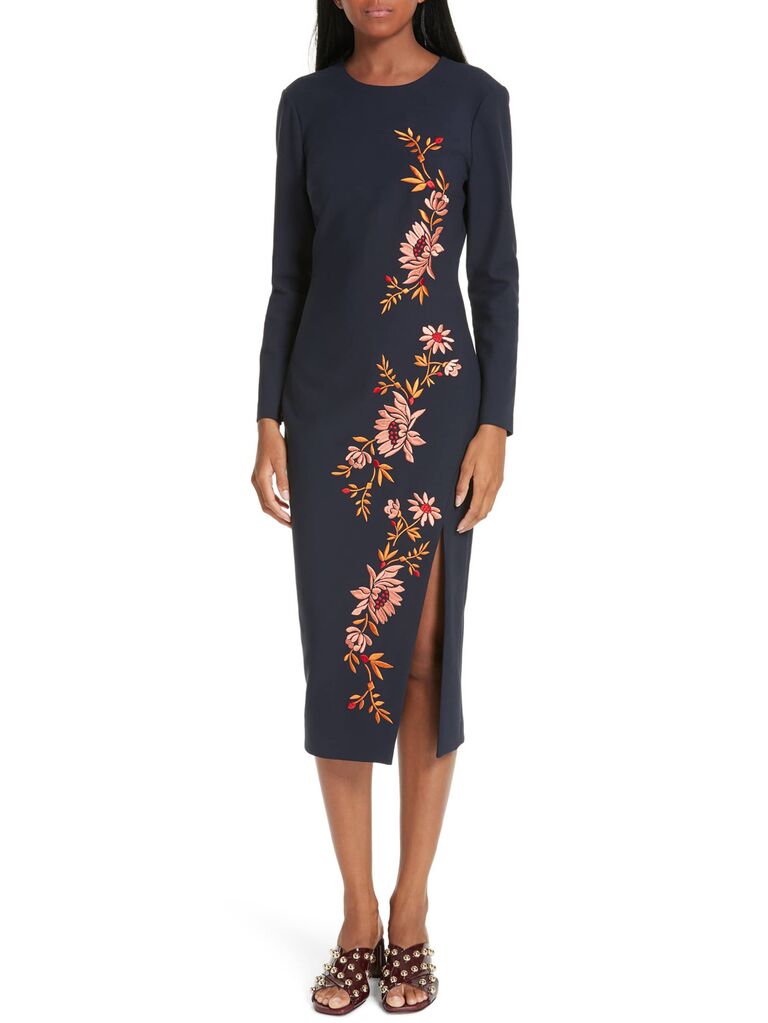 1. Rock some fun fall florals in this midi dress—the in-between length is great for transition months. 
Cinq à Sept Lexi embroidered dress, $595, Nordstrom.com
2. Nothing says fall quite like suede. This dress comes with a subtle (and totally on-trend) neckline cutout.
Raga Kiera faux suede dress, from $35 for a 4-day rental, RenttheRunway.com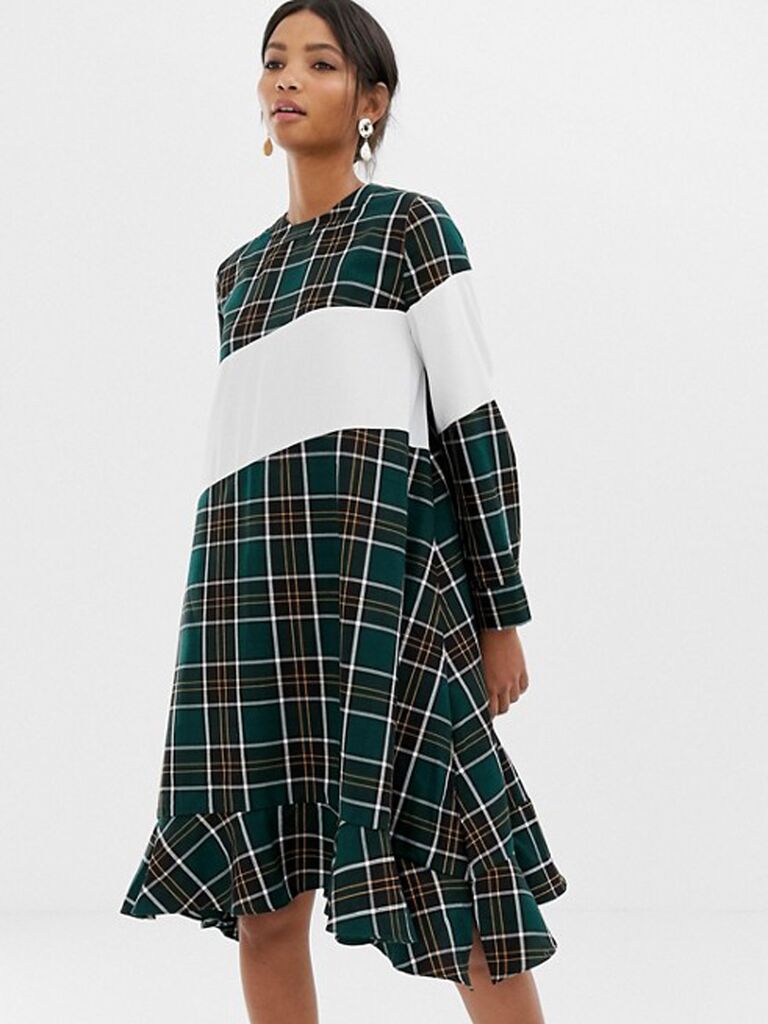 3. This modern smock dress lets you wear autumnal plaid without looking like a schoolgirl.
Ghospell oversized smock dress with contrast stripe in Check, $119, ASOS.com 
Men's Fall Wedding Attire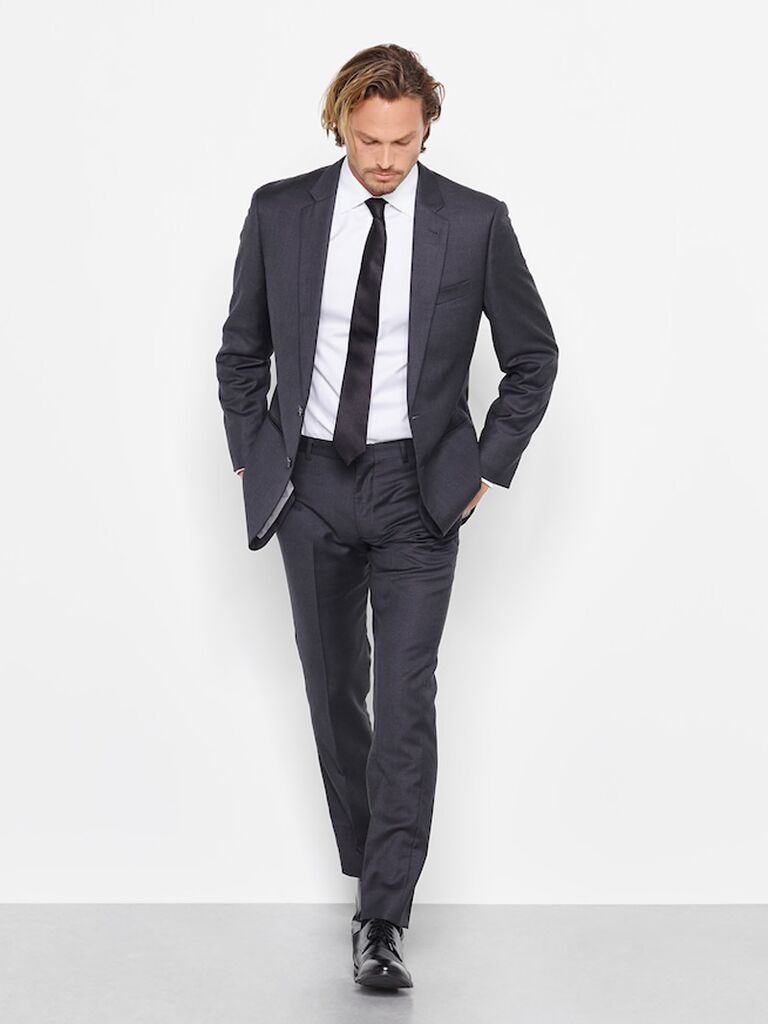 1. The rumors are true: Charcoal is the new black. What's more, this rental option is a budget-friendly way to enjoy a high quality suit.
The Black Tux charcoal suit, $110 to rent, TheBlackTux.com
2. A stylish man can't go wrong with a sophisticated navy suit. This sleek number will get you through any wedding on the couple's best-dressed list.
J. Crew Ludlow classic-fit suit jacket with center vent in Italian Wool, $425, JCrew.com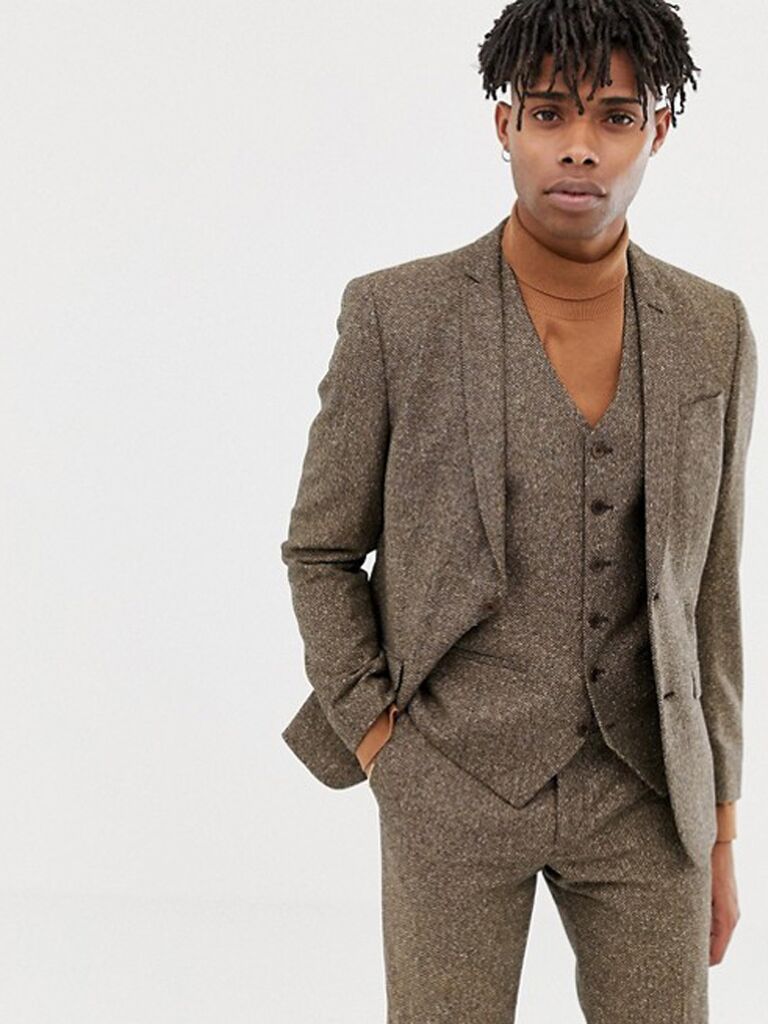 3. Brown may be a bit more unexpected, but still fits right in at an autumn affair.
Heart & Dagger slim suit jacket in Camel Wool, $182, ASOS.com
Dressing for a summer wedding is all about looking elegant while keeping it cool. Focus on wearing breathable fabrics so you don't overheat during an outdoor wedding. Fight off heat and humidity and still look put together when you wear a longer dress made with light and airy fabrics like silk, chiffon, cotton or linen. Those made with vibrant colors and unexpected textures will add a summery twist to a floor-length gown. Dress up a cute sundress with chic heels or wedges. Keep a lightweight pashmina on hand, since the AC will most likely be on full blast. Dressing in light layers is even more important for men, who tend to get overheated (read: sweat) more easily. In the summertime, it's definitely okay for guys to ditch the tie and keep it casual with a loose button-down—just make sure to wear a jacket. And for outdoor beach ceremonies, it's totally acceptable for men to forgo socks and just wear loafers or boat shoes with their slacks. But before you make any wardrobe decisions, pay attention to the dress code on the invitations. Even if it's taking place in the middle of July, if a wedding invite says "black tie," you're going to have respect the dress code and wear a bow tie and tux. Our tips: Stay hydrated and get there early to claim a seat in the shade.
Women's Summer Wedding Attire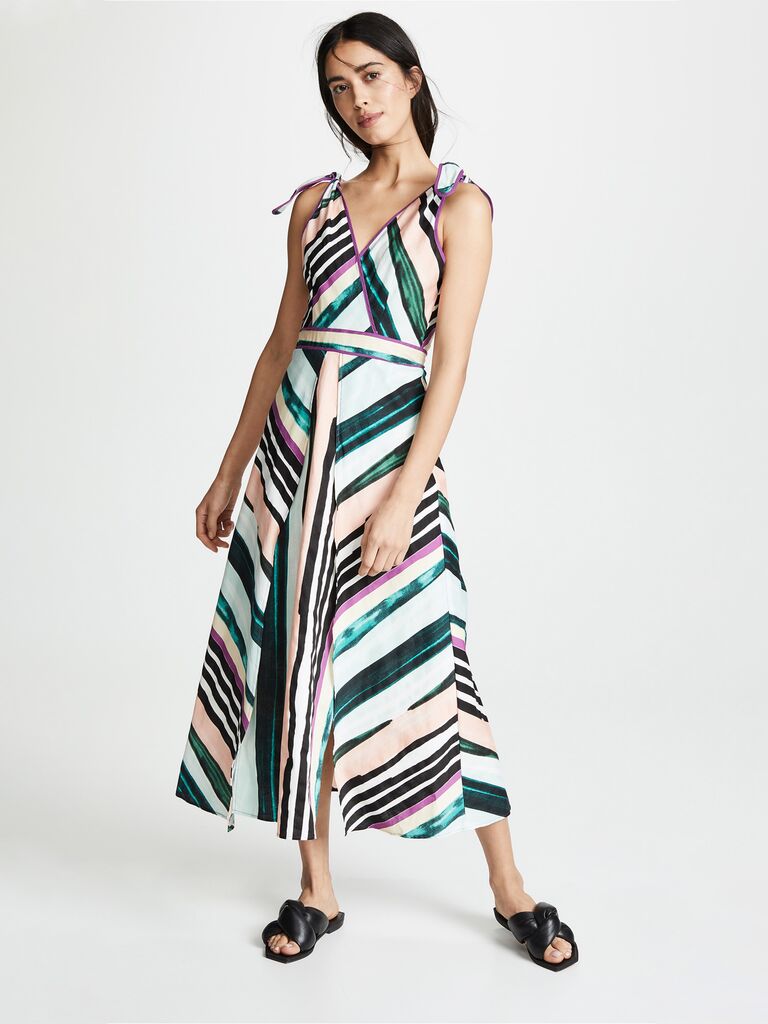 1. Chic stripes in tropical colors set this tie-shoulder dress apart.  
Red Carter Kinsley dress, $198, Shopbop.com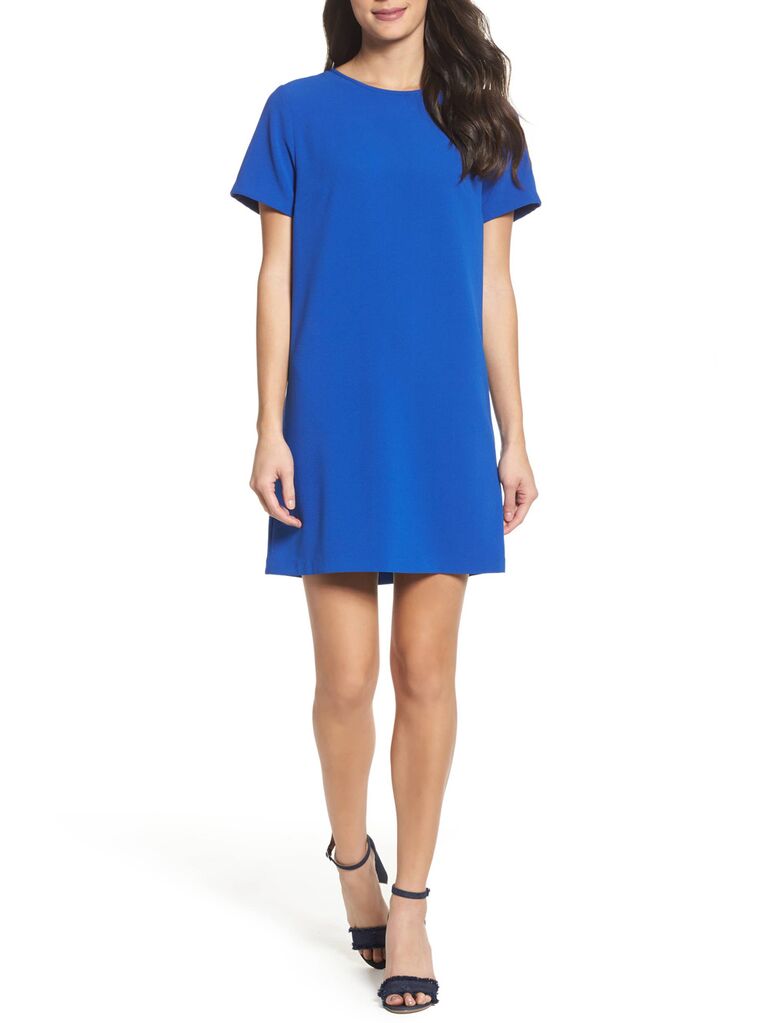 2. Go simple with this short sleeve shift dress that can be worn time and time again.
Felicity & Coco Devery crepe shift dress, $88, Nordstrom.com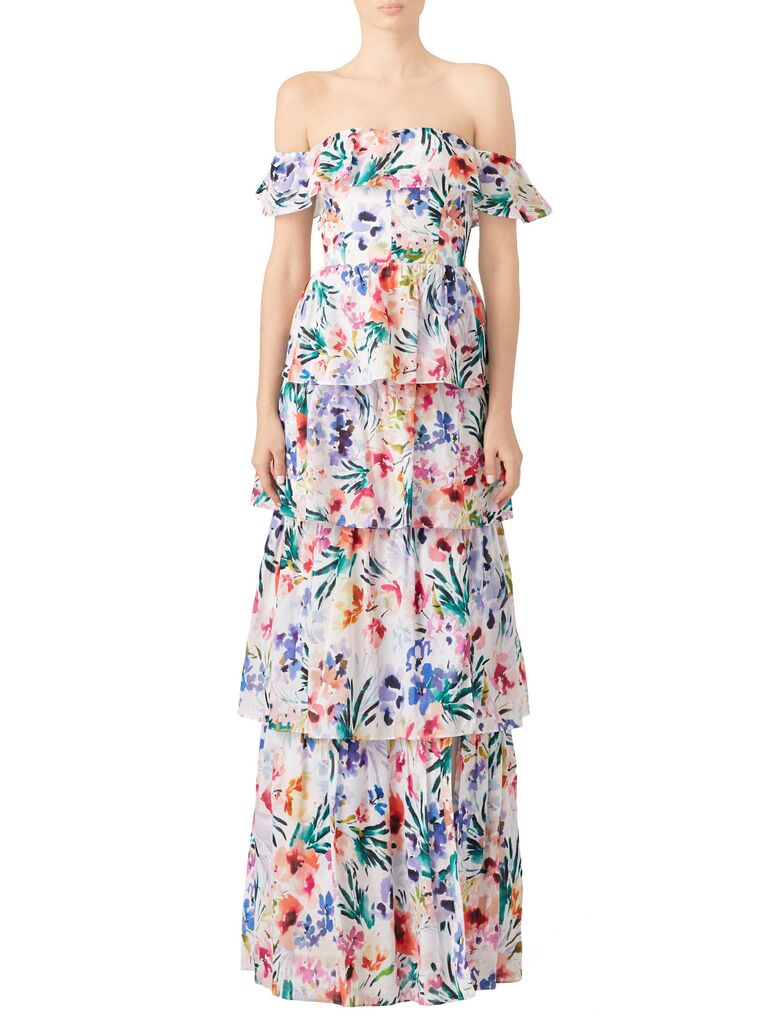 3. This bright floral gown adds a fun pop of color. Plus, the tiered skirt is so seasonal.
Amanda Uprichard floral Venezia gown, from $50 for a 4-day rental, RenttheRunway.com 
Men's Summer Wedding Attire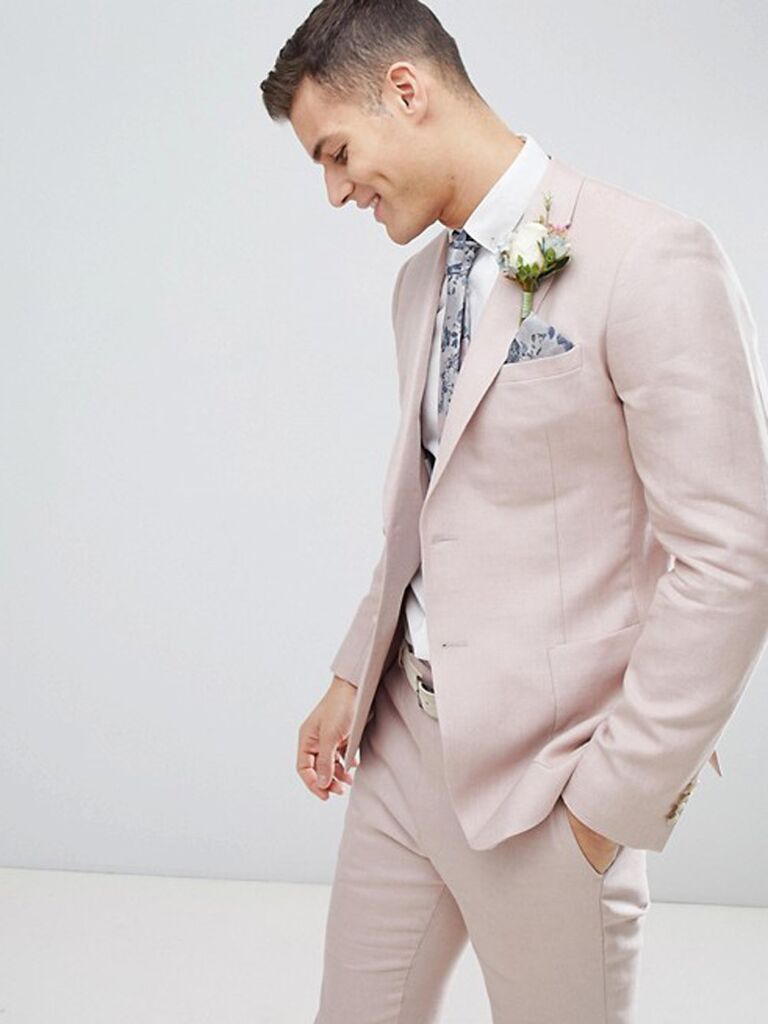 1. This lightweight linen suit comes in playful, summer-ready pink.
Reiss slim suit jacket in Light Pink, $520, ASOS.com
2. Love preppy attire? Now's your chance to wear a seersucker blazer.
Officine Generale Blue 375 slim-fit unstructured stretch-cotton seersucker blazer, $590, MrPorter.com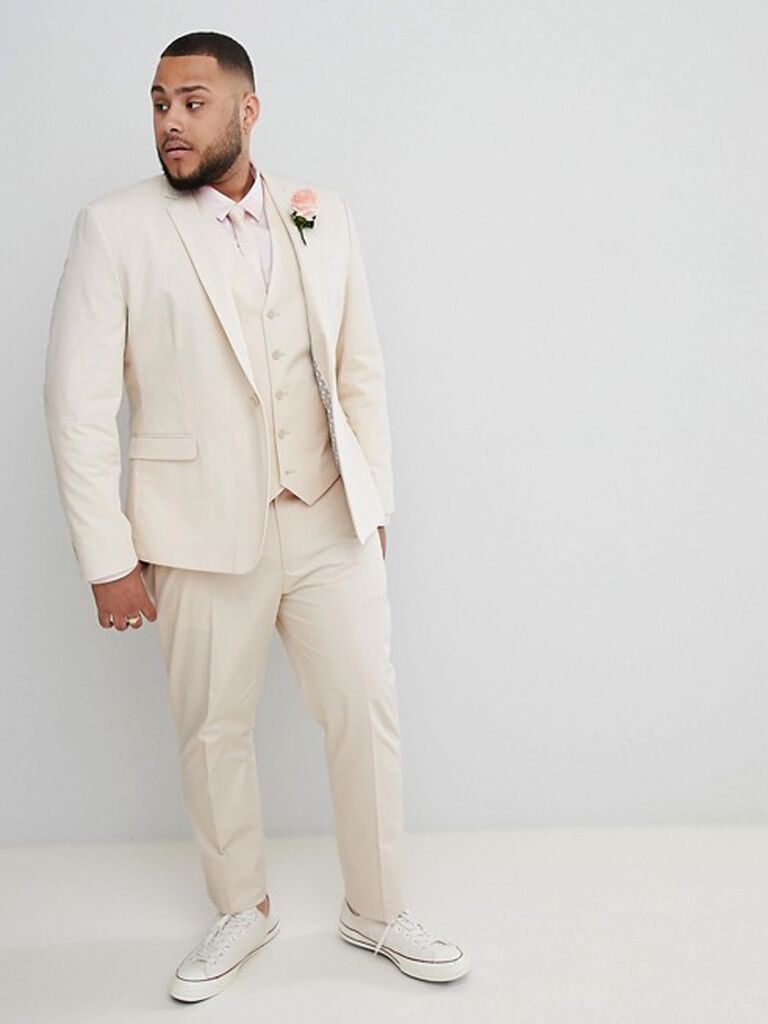 3. Light suits are more appropriate come summertime. We like this sandy shade.
ASOS Design Plus wedding skinny suit jacket in Stretch Cotton in Stone, $111, ASOS.com
Springtime affairs are beautiful with all the fresh blooms and green grass, but dressing for a spring wedding can be a challenge. Be wary of outdoor weddings when spring rain showers can cause wet grass and mud that your heels will undoubtedly sink into. We suggest shopping for outfits you know can survive an indoor or outdoor wedding, and plan ahead. Think of any problems that could arise. For instance, avoid long dresses that could drag in potential mud, always keep a pair of closed-toed flats on hand for unexpected outdoor cocktail hours and bring an umbrella for impromptu rain showers. And don't forget that along with the rising temperatures comes a rising humidity that can wreak havoc on your perfectly coiffed tresses. Keeping a mini bottle of hair spray and bobby pins in your bag will not only make you popular in the bathroom line but will keep your hair looking on point. For men, spring is the perfect time to subtly experiment with color—not too hot for dark hues and not too cold for pastels and neons. Layer brightly colored shirts under lightweight suit jackets and accessorize with slim ties or bold patterned socks. There are so many subtle ways for men to add color to their looks, so there's no excuse for a straight black-and-white ensemble.
Women's Spring Wedding Attire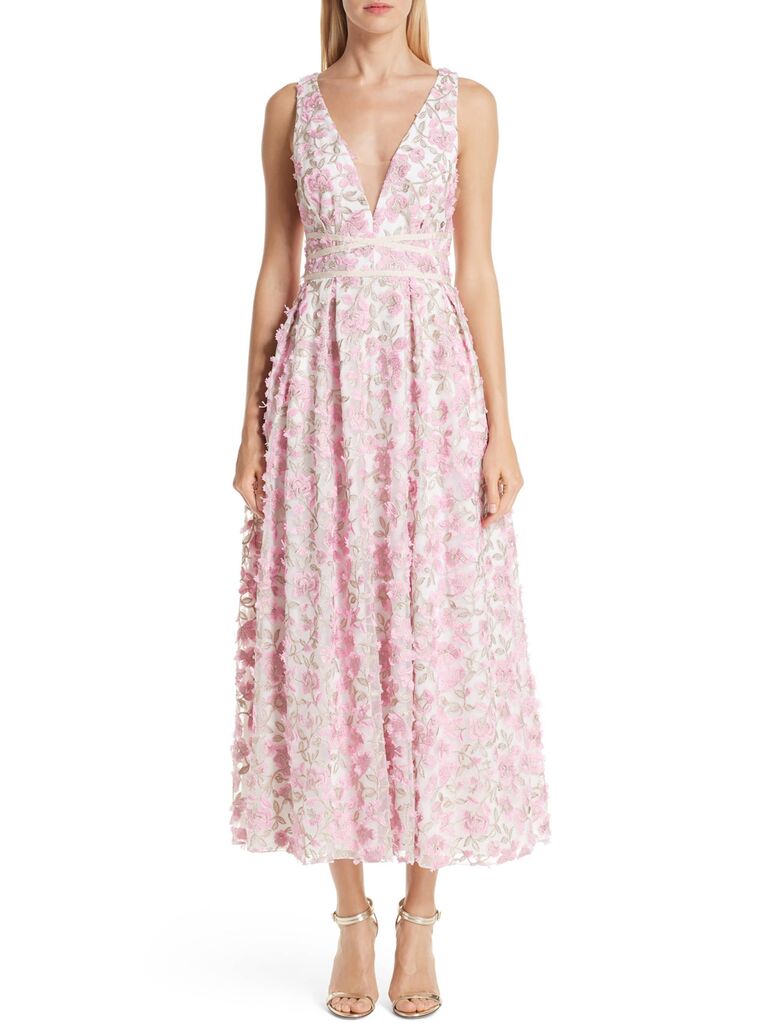 1. The intricate floral embroidery on this dress is to die for, and its tea length is ideal for spring.
Verdin floral midi cocktail dress, $1,285, Nordstrom.com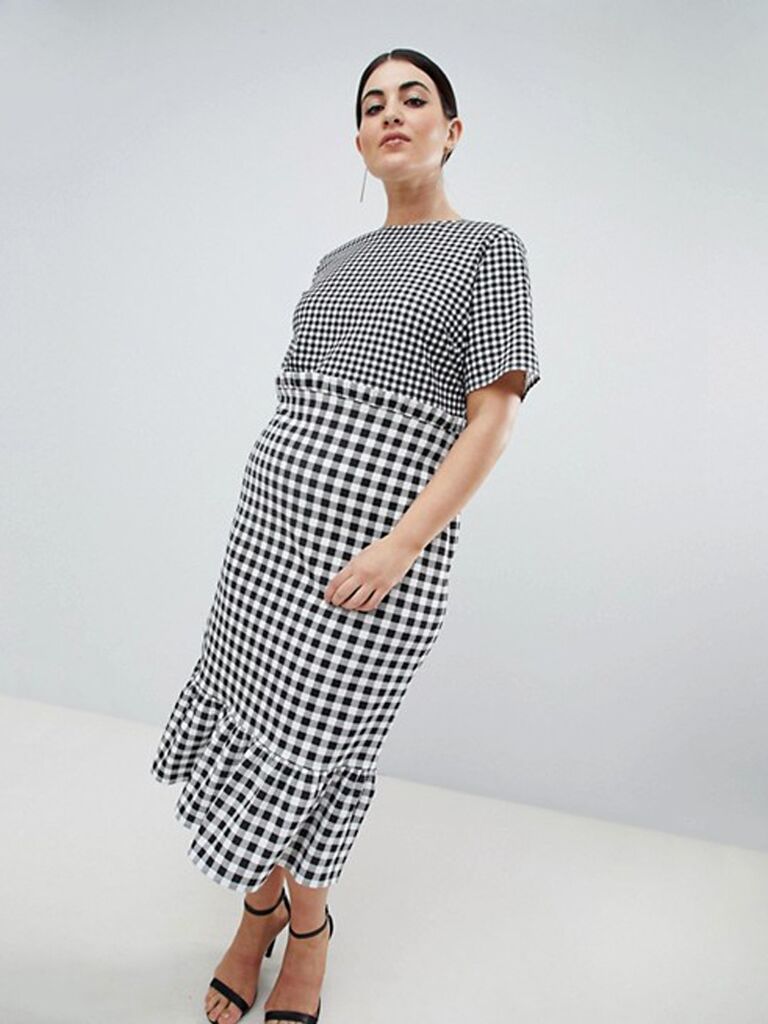 2. Make springy gingham even cooler with a stylish hemline.
ASOS Design Curve midi dress with pep hem in Contrast Check, $64, ASOS.com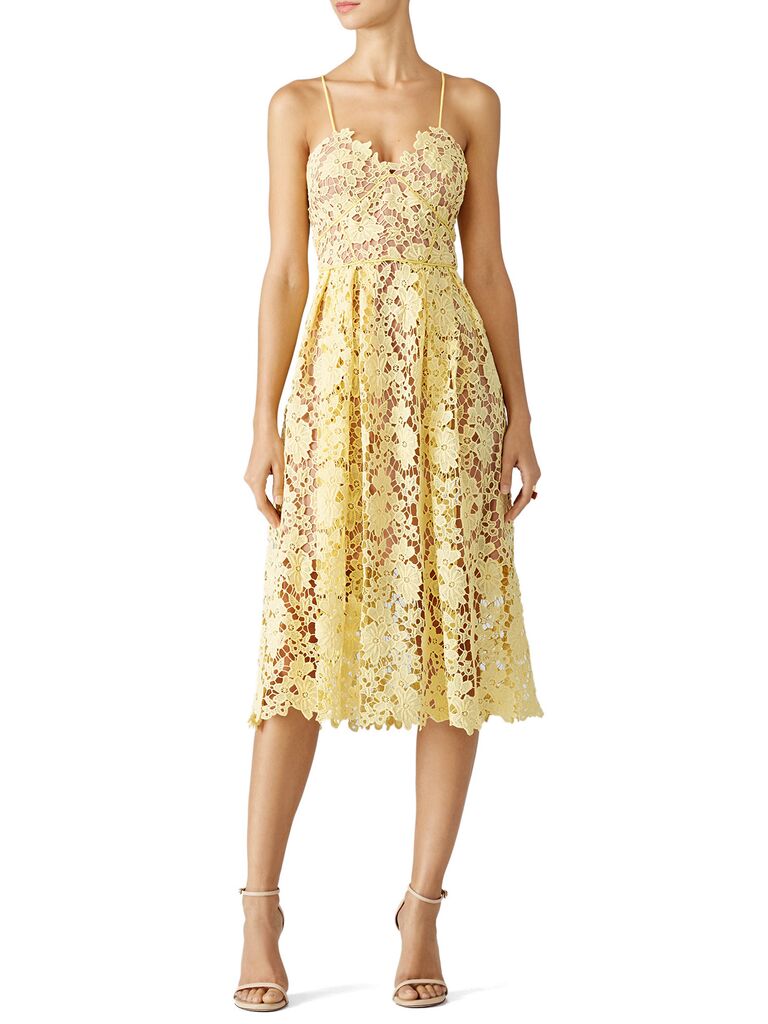 3. This cheery shade of yellow was made for spring weddings.
Slate & Willow yellow lace midi dress, from $30 for a 4-day rental, RenttheRunway.com 
Men's Spring Wedding Attire
1. While we love color, you can never go wrong with a sophisticated monochromatic look. Match a charcoal tie with your charcoal suit.
Emporio Armani trim fit solid wool suit, $1,495, Nordstrom.com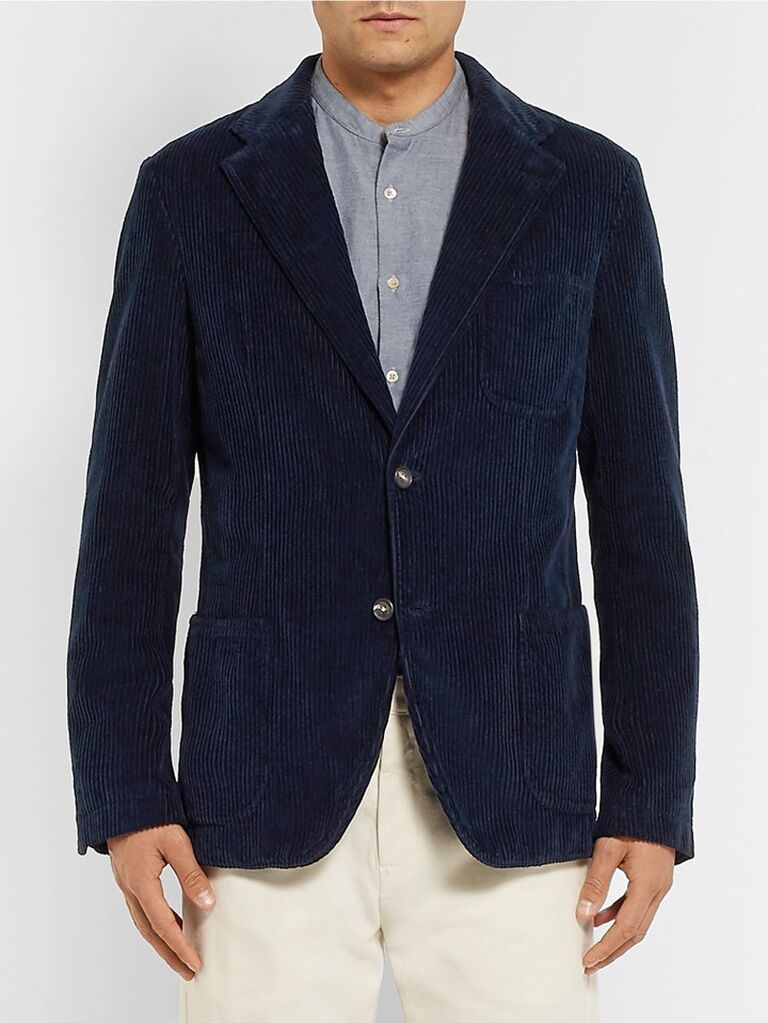 2. Combat early spring chills with a casual-cool corduroy blazer.
Massimo Alba navy unstructured cotton-corduroy blazer, $815, MrPorter.com
3. Light gray is incredibly versatile—try it with a pastel floral tie.
Selected Homme slim light gray suit with stretch, $222, ASOS.com
Hopefully the wedding invitation will specify whether the dress is "beach casual" or "beach formal," but a good rule of thumb for beach wedding attire is to wear something that you'd wear to a nice restaurant on a sunny day. Be mindful of the elements—sun, sand, wind and water—when you're shopping for something to wear to a beach wedding. It tends to be windy on the beach, so avoid short skirts and dresses that can blow up revealing (ahem) more than you wanted. A slightly more dressy midi sundress is the perfect option; pair it with flat sandals and a wide-brim sun hat. Rubber flip-flops aren't okay unless provided to you by the couple, so stick to leather sandals or T-strap flats. Most beach ceremonies actually encourage guests to take off their shoes, so make sure you'll be okay with showing off your toes. The sun and sand can be uncomfortable for a man in a full three-piece suit, so linen and lightweight cotton are your best options for keeping cool. For some midday beach weddings, it may even be appropriate for men to wear shorts and a jacket. As long as it's not the week before the wedding, feel free to ask the couple about any specific dress codes or look on their website for more information.
Women's Beach Wedding Attire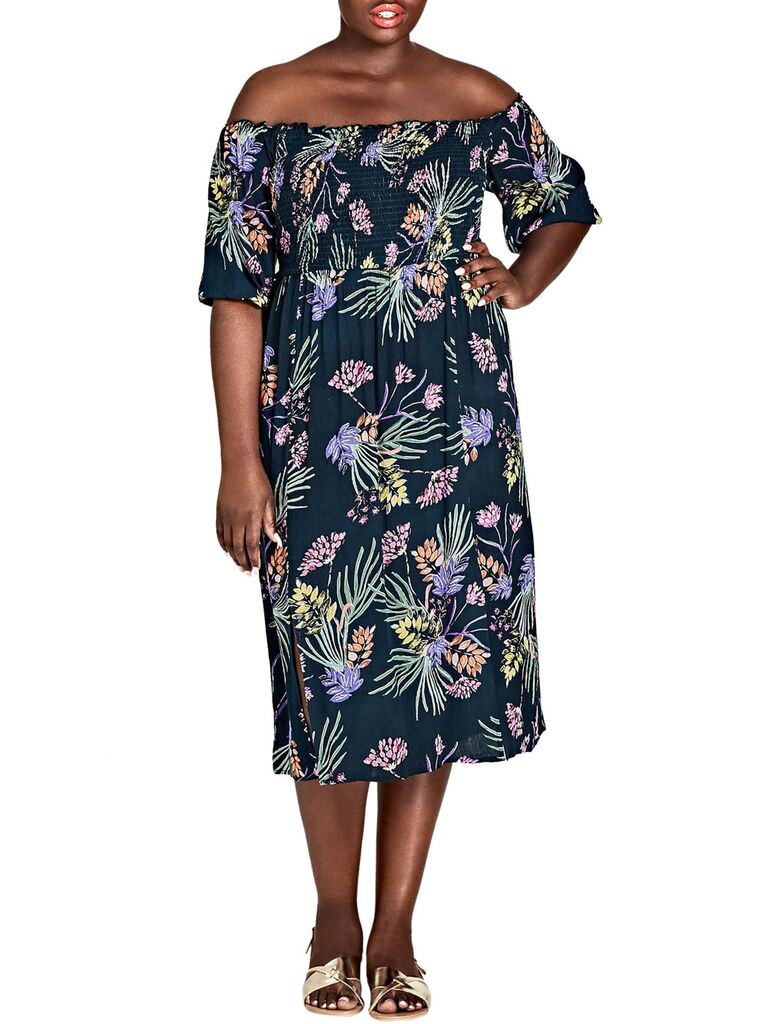 1. This comfy floral midi dress has an off-the-shoulder neckline and vented skirt to keep you cool. 
City Chic Island floral off the shoulder midi dress, $89, Nordstrom.com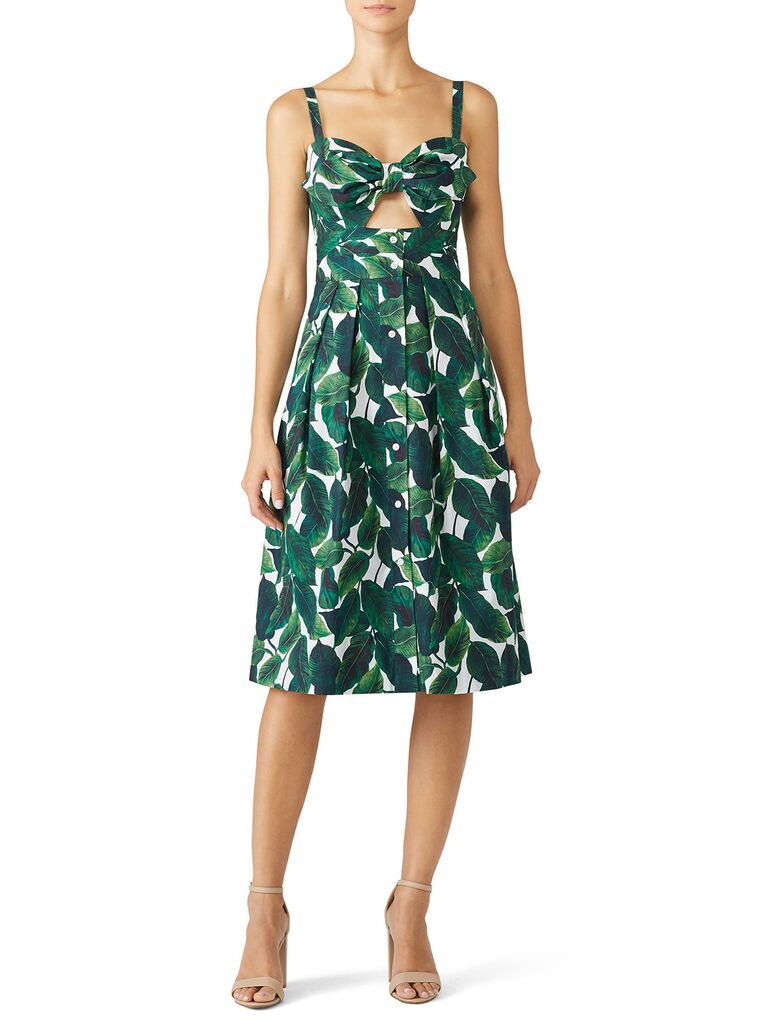 2. Make a statement in something location-inspired. We're obsessed with this bold tropical pattern. 
Milly banana leaf Jordan dress, from $65 for a 4-day rental, RenttheRunway.com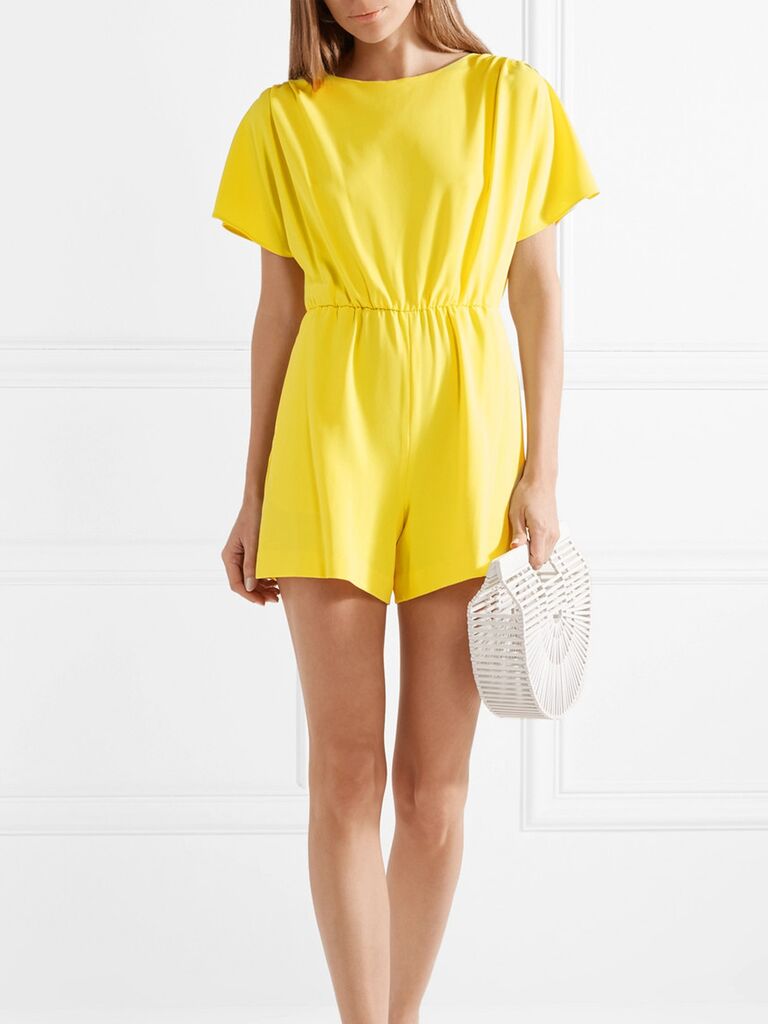 3. You're never limited to just a dress, but a romper may be especially fitting at a beach wedding. This one comes in a sunny color.
Alice + Olivia Ashlea crepe playsuit, $285, Net-a-Porter.com 
Men's Beach Wedding Attire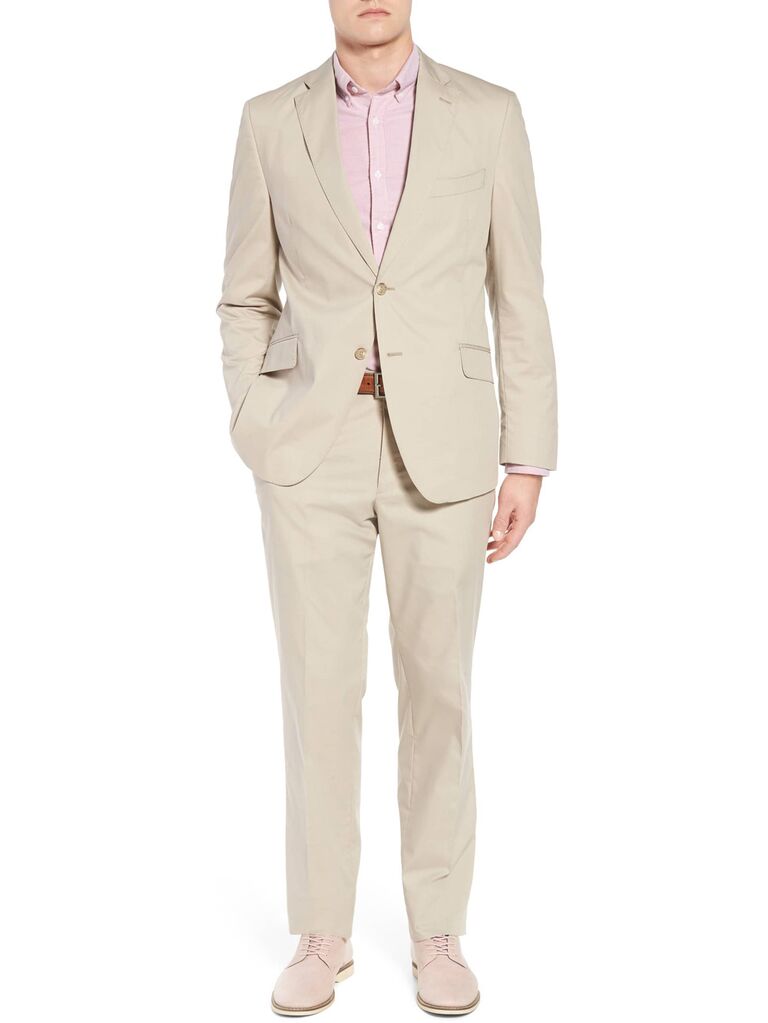 1. When guys think of a beach wedding, most immediately think of a tan suit. That's because it's classic and stylish.
Kroon Irons AIM classic fit solid cotton blend suit, $395, Nordstrom.com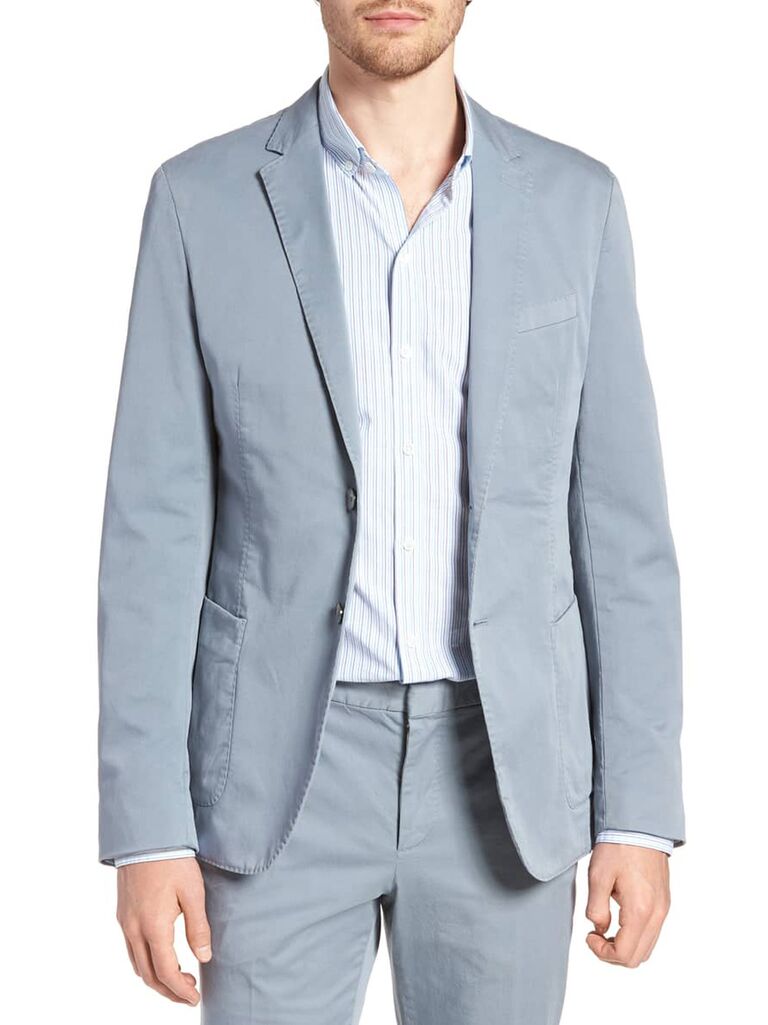 2. This jacket's subtle blue hue is perfect for any season, beach season included.
BOSS Hanry-D trim fit stretch cotton blazer, $595, Nordstrom.com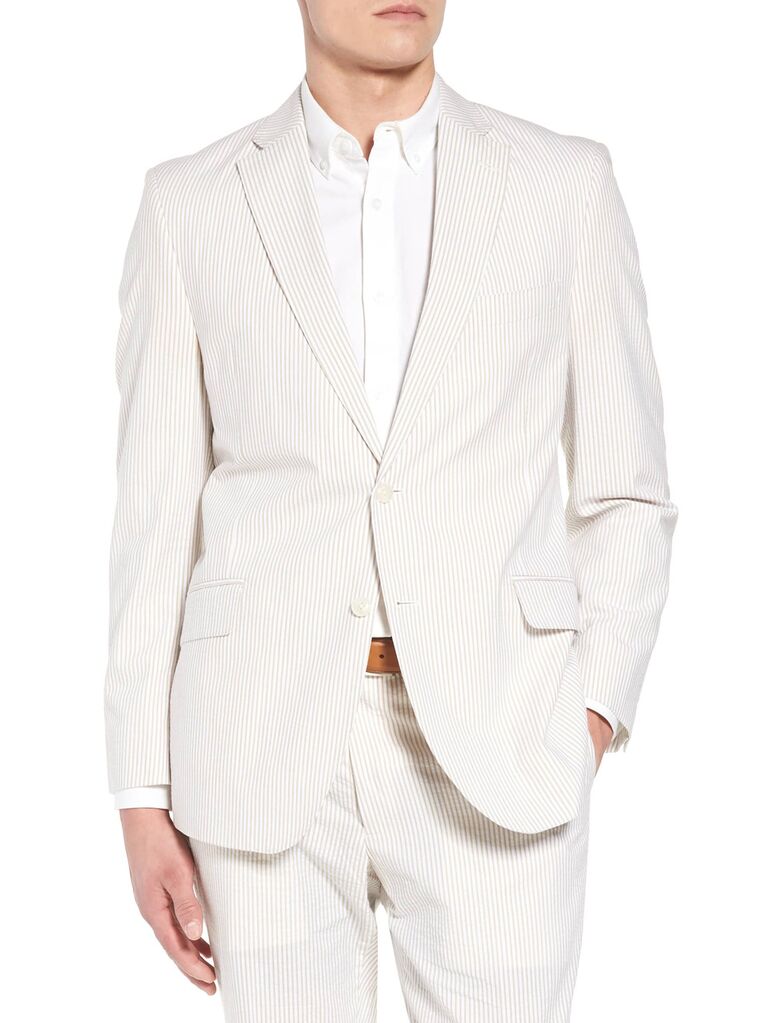 3. Seersucker is really the go-to warm weather suit style. Blue and pink styles are popular, but this tan option is more unique. 
Kroon Jack Aim classic fit seersucker sport coat, $299, Nordstrom.com
When an invitation says "casual dress," it usually means anything goes. That being said, jeans, shorts, tank tops and flip-flops are probably not appropriate unless they're specifically noted as acceptable on the invitation or wedding website. It's hard to wrap your head around casual wedding attire, but take cues from the location on the invite. For example, if it's on a farm somewhere in the middle of a field, it's a good idea to wear flats and bring bug spray. But if the location sounds like it could be indoors or outdoors, it's always better to dress a little bit more on the fancy side. When looking in your closet for something to wear, think business casual—otherwise known as "something you wouldn't be embarrassed to wear at work." A knee-length sundress and wedges are great options for women, while a pair of slacks and a sport coat are perfectly acceptable for men.
Women's Casual Wedding Attire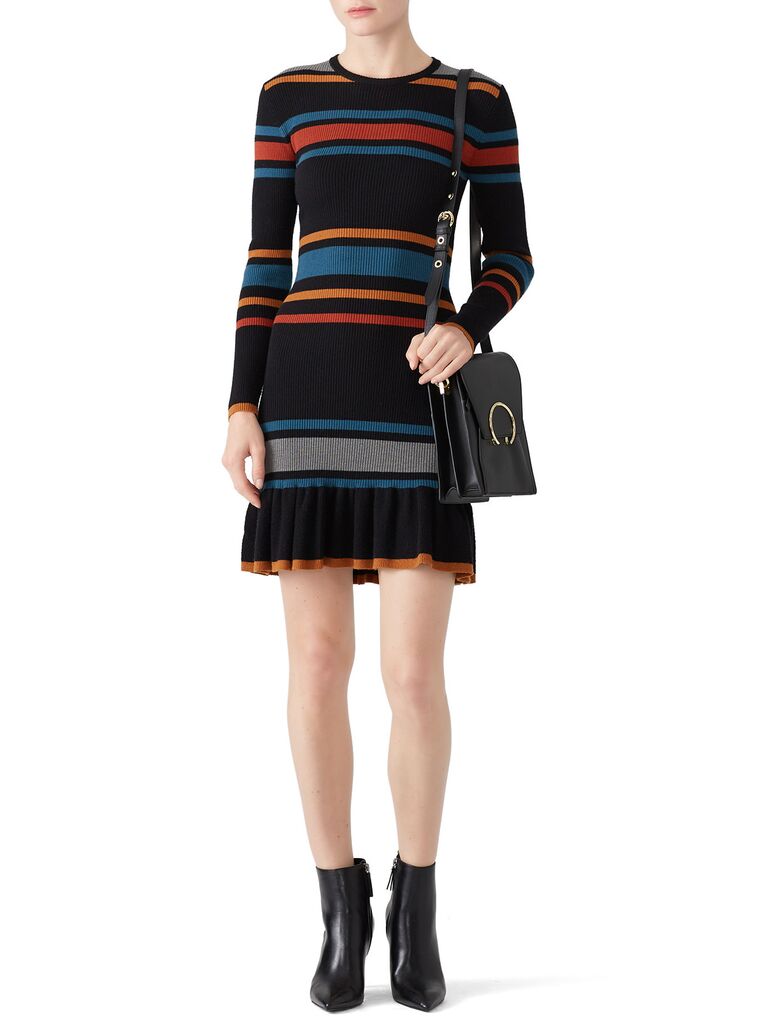 1. Try a stylish knit dress for a casual, cold-weather wedding.
Cupcakes and Cashmere Manet sweater dress, from $30 for a 4-day rental, RenttheRunway.com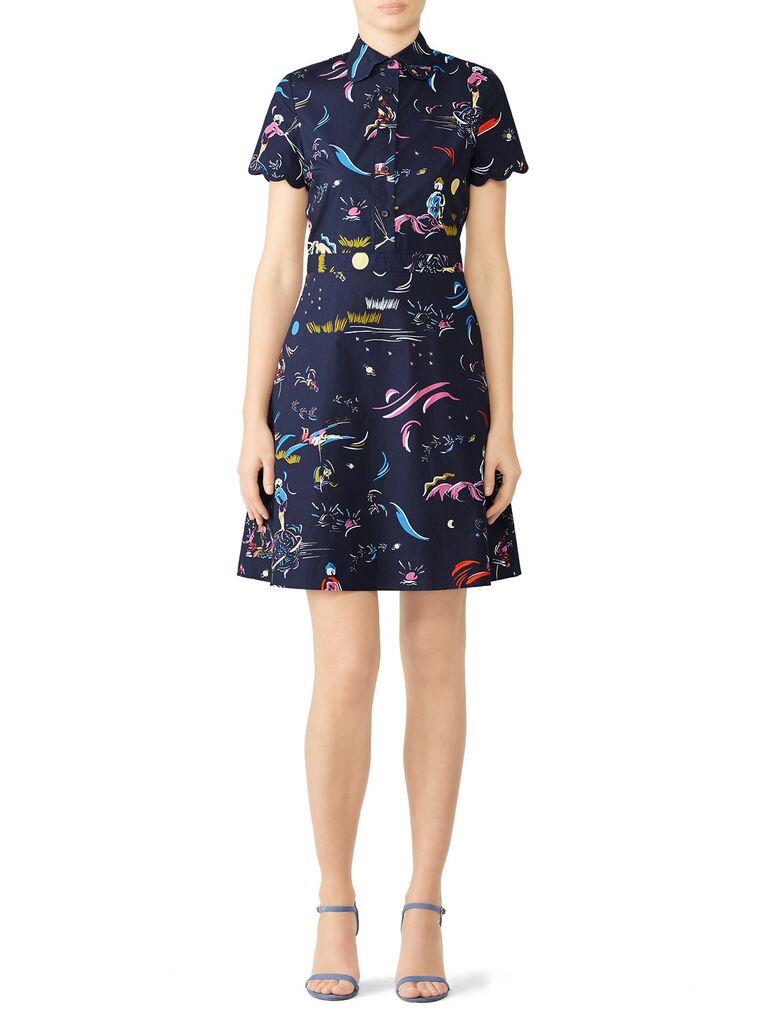 2. For a chic and easy casual option, go with a shirtdress. This flirty pattern is polished but fun.
Tory Burch scallop edge shirtdress, from $60 for a 4-day rental, RenttheRunway.com
3. The shorter skirt makes this strappy dress perfect for a casual affair. Pretty pleats are also always well-received.
ASOS Design color block tiered midi pleated dress, $64, ASOS.com 
Men's Casual Wedding Attire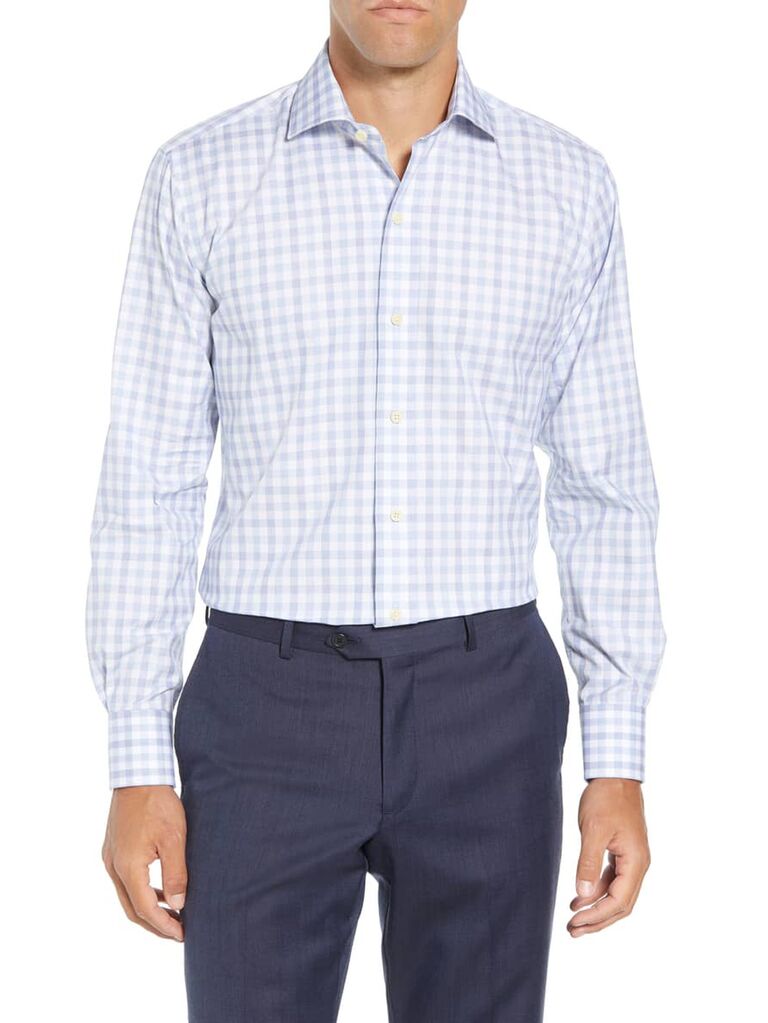 1. In simple terms, a casual wedding dress code means no tie for all you lucky guys. Wear a shirt with a simple pattern for a little added style.
Ledbury Corbly trim fit check dress shirt, $165, Nordstrom.com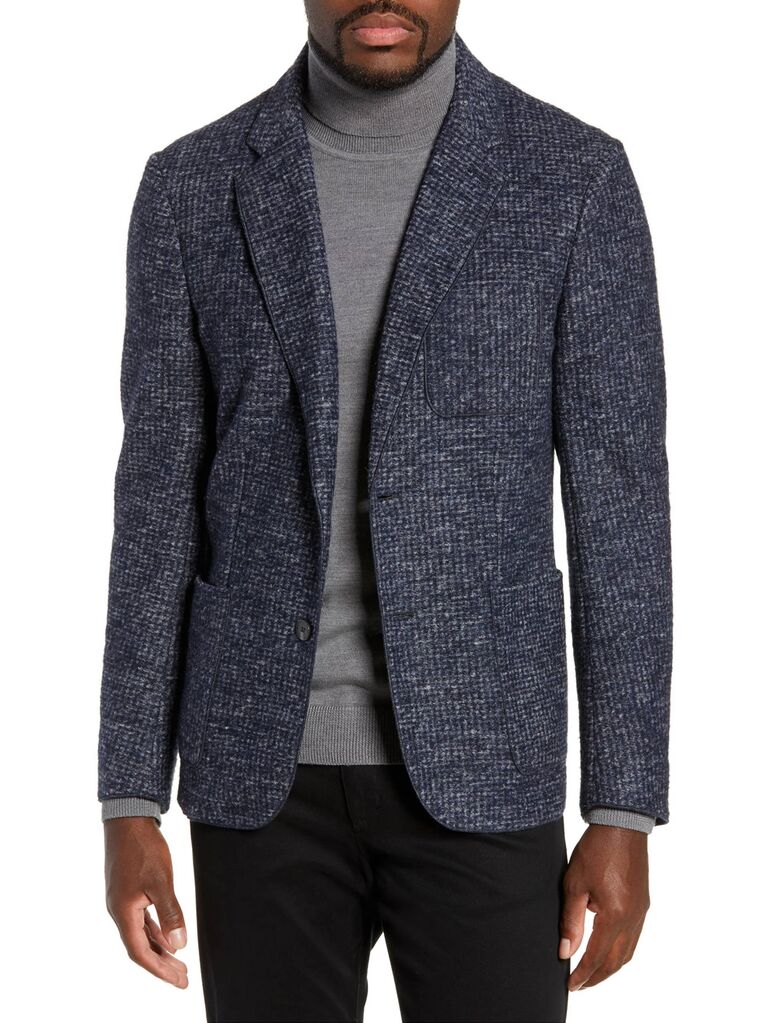 2. Attending a casual wedding in the fall or winter? A knit sport coat looks seriously dapper paired with a turtleneck. 
Zachary Prell Randolph houndstooth knit sport coat, $398, Nordstrom.com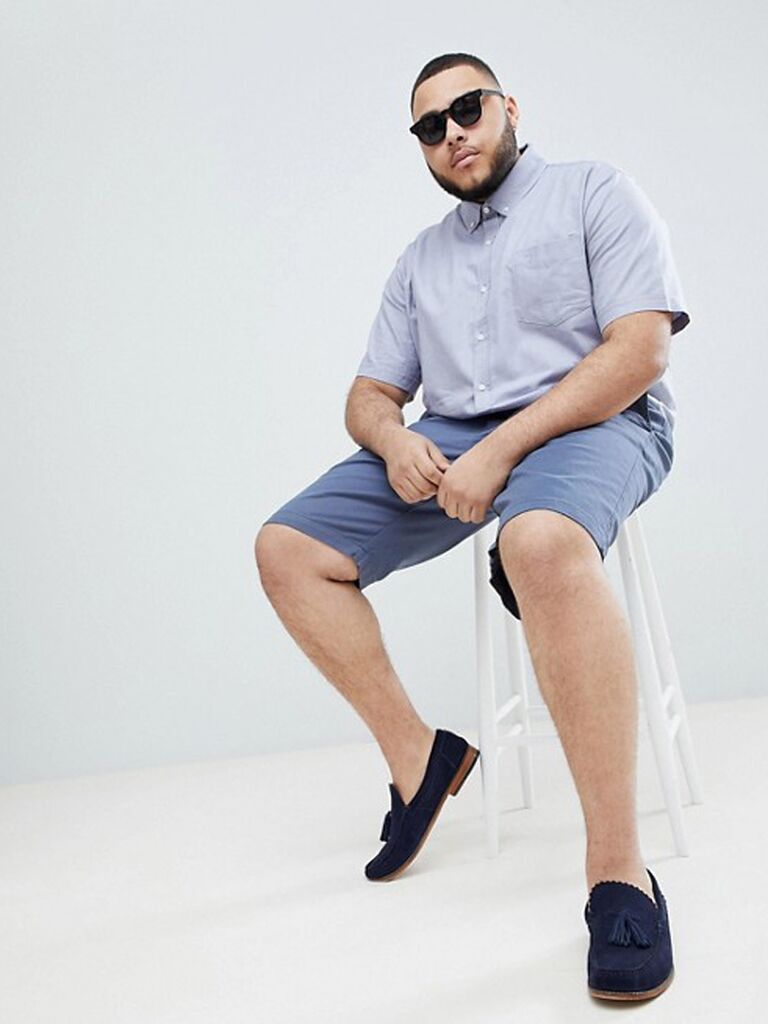 3. For a casual summer wedding, this lightweight short sleeve shirt is sure to keep you cool.
BadRhino big short sleeve button down oxford shirt in 100% Cotton in Blue, $35, ASOS.com
The word "formal" on an invitation can be stressful, but don't sweat it. The wording suggests something slightly less fancy than black tie. This means a tuxedo isn't required, but the event is still formal enough for one to be appropriate. Don't feel pressured into buying a brand-new dress for a formal wedding; an elegant cocktail dress and statement accessories will work just as well as a floor-length gown. But if you think the venue and setting call for something extra-special, then consider saving some money and renting a gown or tux from retail sites like Rent the Runway or The Black Tux. Both sites offer entire wardrobes for rent and usually have great customer service that works with you to get the size and outfit you need. For women, statement heels and a fancy clutch are the perfect accessories for a formal occasion, while men should consider investing in a pair of cuff links and a good shoe shine. A black tux or evening jacket with matching trousers should be the go-to for men at a black-tie or formal event. The most conservative option is a black tie, black vest or cummerbund and suspenders, but during the summer months a white dinner jacket and black tuxedo pants are also acceptable. You could also probably get away with wearing a conservative black suit as a substitute for the tux.
Women's Formal Wedding Attire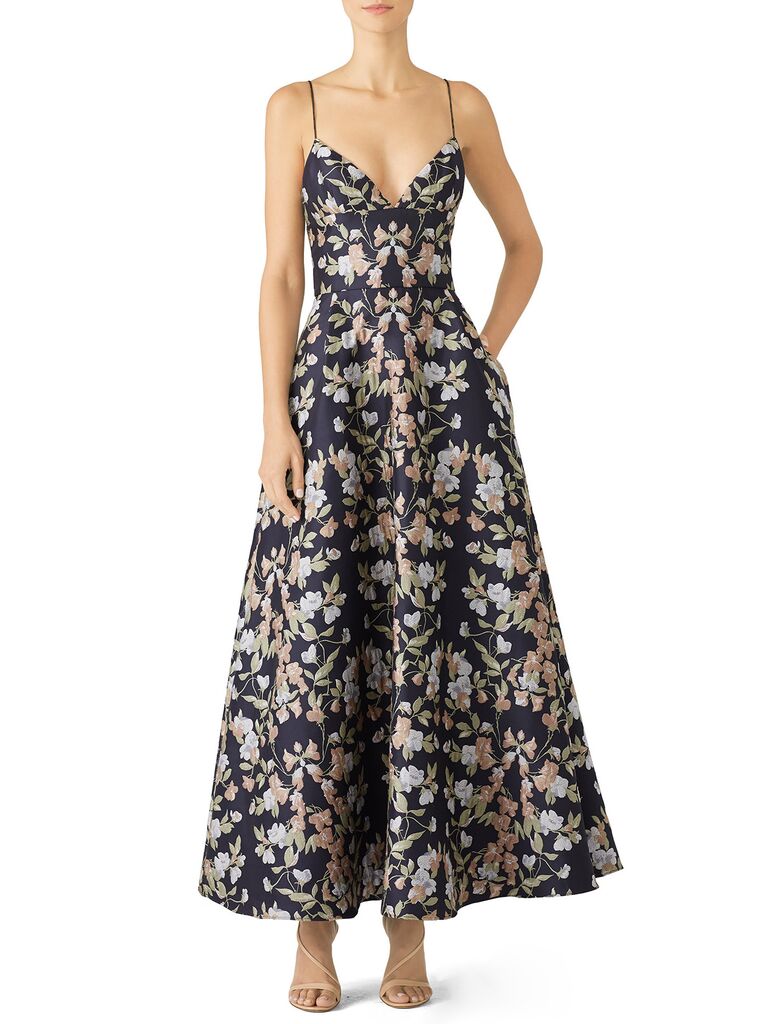 1. Turn heads at a garden wedding in this romantic floral dress. 
ML by Monique Lhuillier garden jacquard gown, from $85 for a 4-day rental, RenttheRunway.com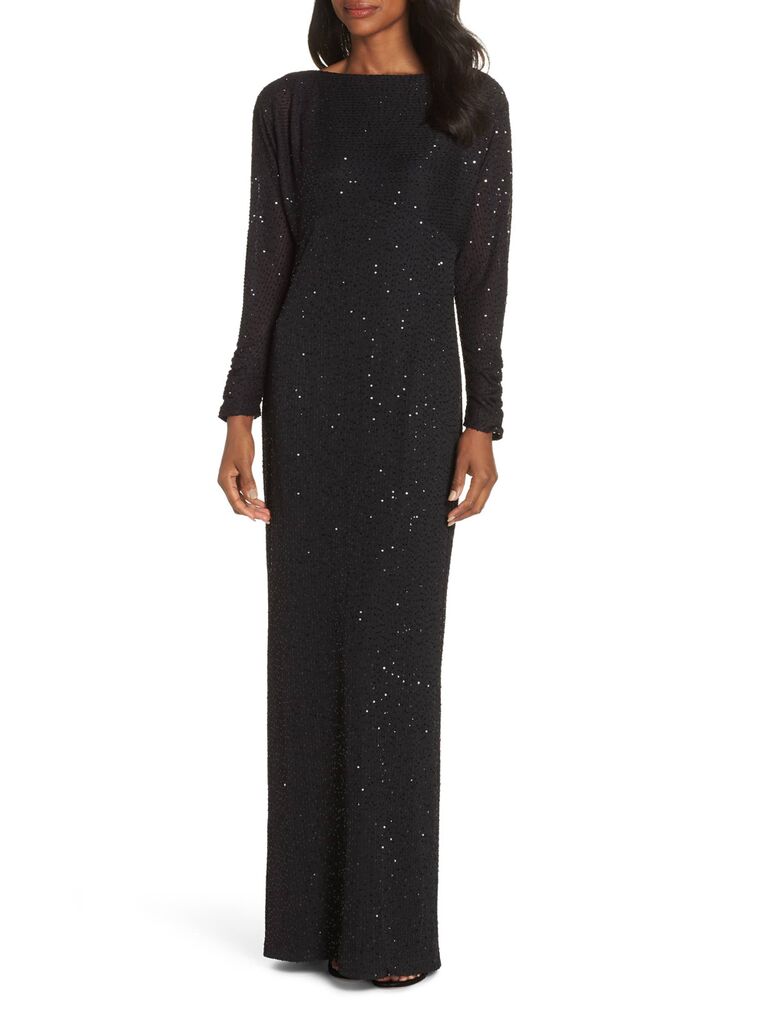 2. A black gown is timeless. Add subtle sequins for a little extra flair. 
Vince Camuto sequin gown, $248, Nordstrom.com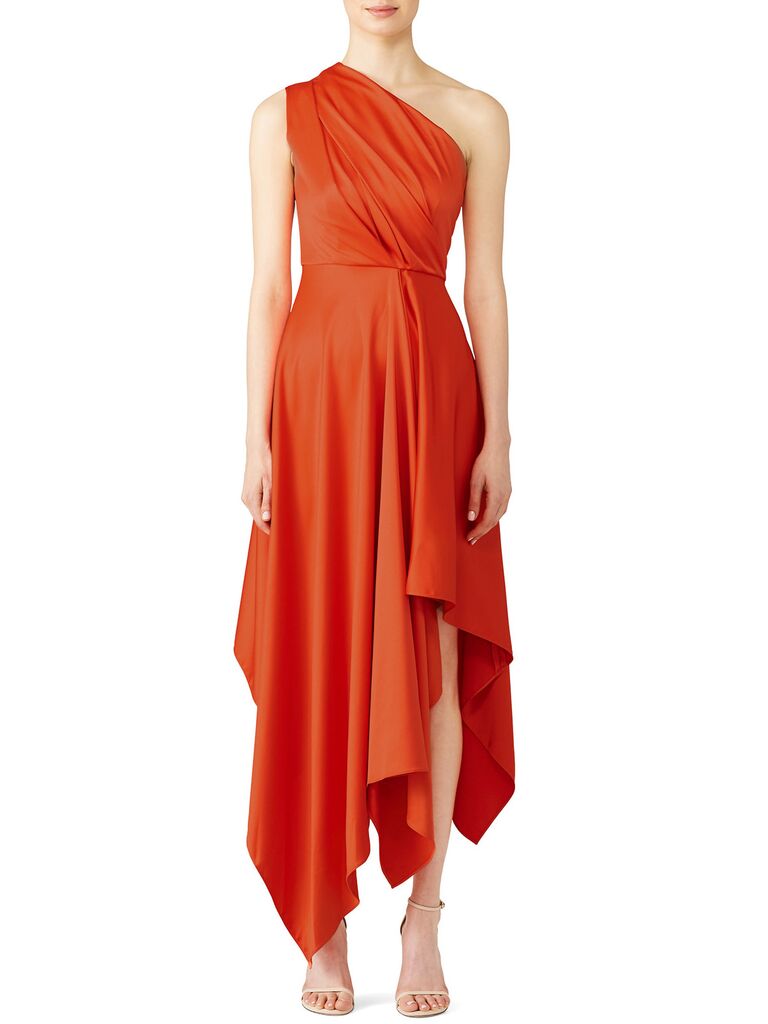 3. Red is one of those strong colors that really works for formal wear. We're also sweet on this dress' asymmetrical neckline.
Solace London Marine dress, from $80 for a 4-day rental, RenttheRunway.com 
Men's Formal Wedding Attire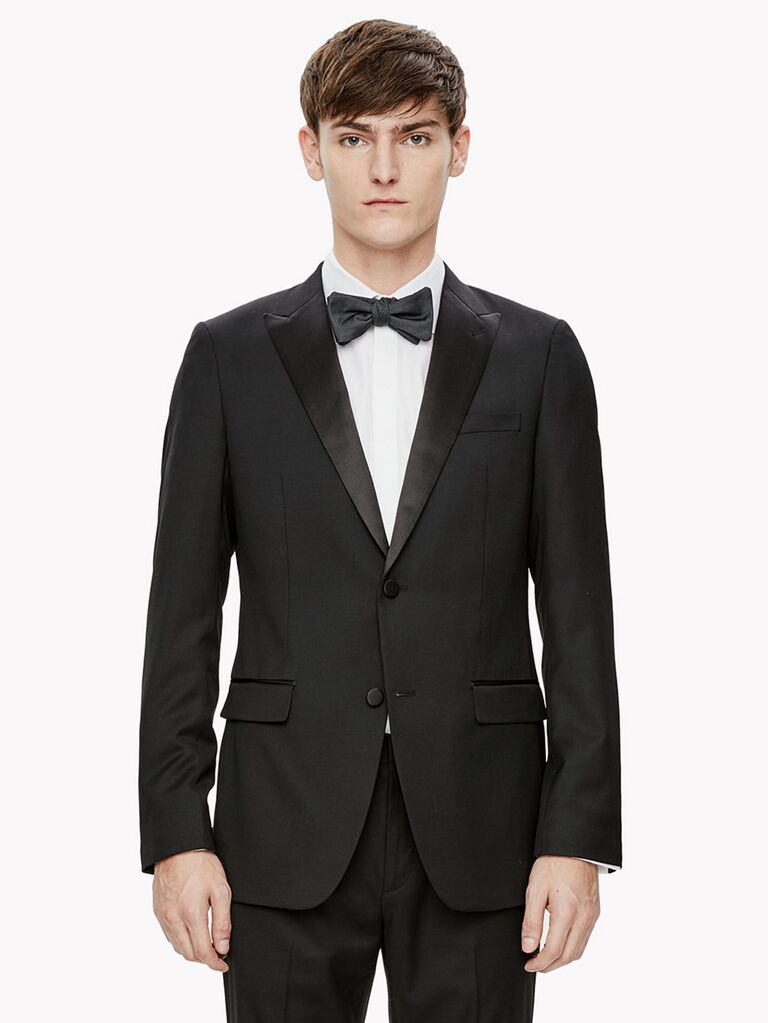 1. Look sophisticated and on point with this slim-fit tuxedo with satin details.
Theory wool Wellar tuxedo blazer, $695, Theory.com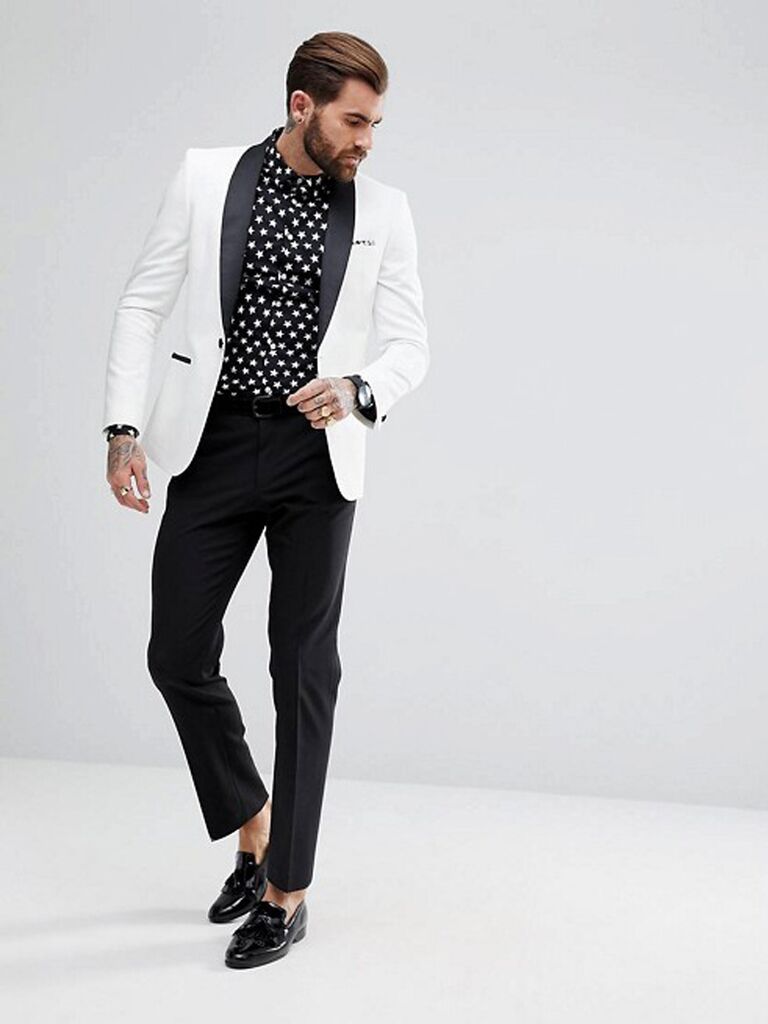 2. Nothing is more handsome than a man in a fitted white tuxedo jacket. We like the modern contrast lapels on this one.
ASOS Design slim tuxedo suit in White with Black Contrast Lapel, $199, ASOS.com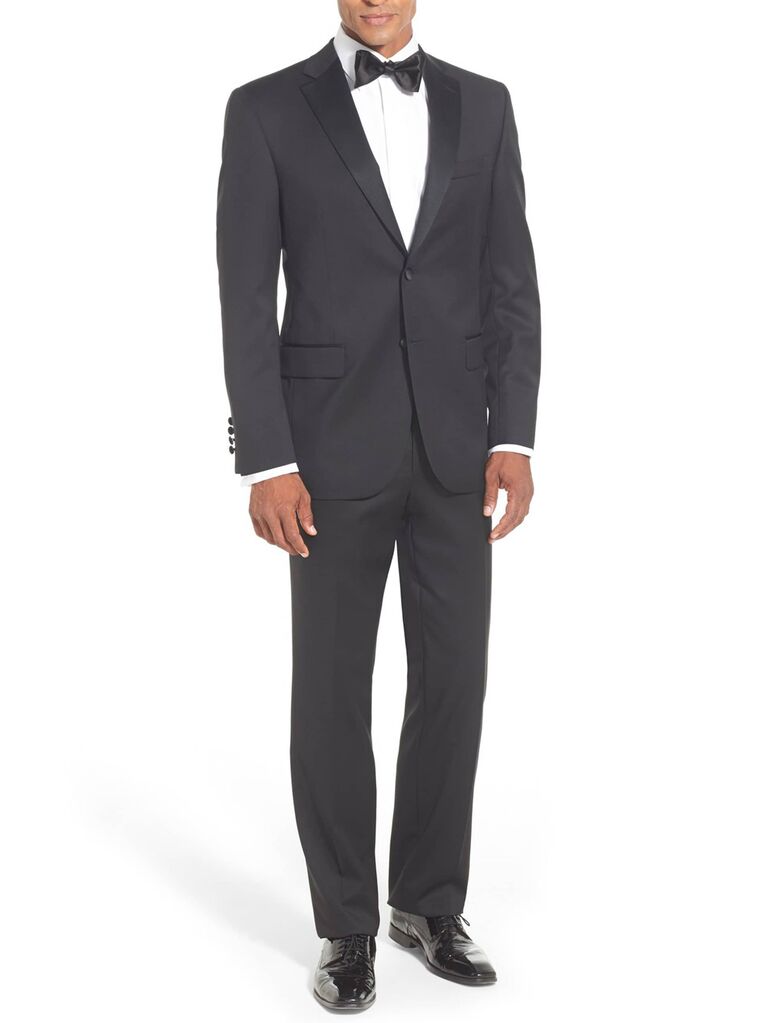 3. If you're looking for timeless as opposed to trendy, you really can't go wrong with a classic fit black tux.
David Donahue classic fit Loro Piana wool notch lapel tuxedo, $895, Nordstrom.com
What Not to Wear to a Wedding
No matter what the dress code on the invitation states, there are a few things you should never wear to a wedding. We've already covered the obvious ground rules (no white, duh!), but there are some other pieces in your closet you should probably stay away from unless specified in your invite.
Sneakers: Save your tennis shoes for the gym and wear a pretty pair of flats if comfort is your first priority. Sneakers send a very casual message, and even if your wedding invite says "casual dress," it doesn't mean you can look like you just came from running errands.
Short-sleeve shirts: Big caveat for this one: If you're planning on wearing a short sleeve button-down, make sure the wedding is super casual and you're dressing it up with a bow tie or a suit jacket with a pocket square.

Flip-flops: Rubber footwear is never okay for a special event like a wedding ceremony. That being said, no one would blame you if after a few hours of dancing in heels, you want to swap them out for something more comfortable. (The couple may even have a basket of flip-flops for their guests to wear at their reception, especially if it's at a beach.)
Distressed clothing: Clothing with holes, rips, tears or bleach stains is off-limits for a wedding. Even if it's a designer gown with an intentional tear down the side, it's not an appropriate sartorial choice for a wedding guest.