The Ultimate Guide to Black Tie Wedding Attire for Guests
Read up on etiquette rules and shop our favorite outfits.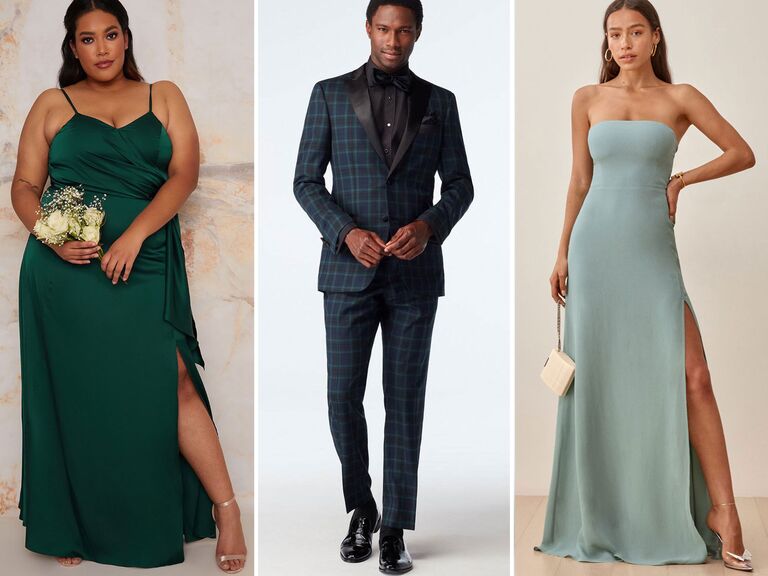 We have included third party products to help you navigate and enjoy life's biggest moments. Purchases made through links on this page may earn us a commission.
Receiving an invite to a black tie wedding might make you panic a little at first if you're unsure of what this dress code entails, but a rare opportunity to don your very best attire can actually be pretty fun. Who doesn't want to feel like royalty for a night in a floor-sweeping evening gown or suave tuxedo? We encourage you to go all out in your finest formal wear. (There's actually only one dress code that's a step above black tie in formality, and that's white tie.)
Confused about what exactly a black tie dress code means? You've come to the right place. We're breaking down the etiquette behind the upscale dress code, as well as answering wedding guests' biggest FAQs on the subject. But that's not all—we're also sharing some of our favorite black tie wedding attire for men and women to help inspire your search for new formal wear.
What is Black Tie Attire?
Typically, a black tie wedding requires guests to wear either a tuxedo or an evening dress. "The lines have been blurred over the years, but it is safe to assume that black tie means fancy, and you really can't be too over-dressed (short of wearing a white, floor-length dress yourself)," says Marteal Mayer, co-founder of sustainable Brooklyn bridal boutique Loulette Bride. A tuxedo should be your first choice, but if you want to wear a suit instead, a black tie event typically means wearing—you guessed it—a plain black necktie or bow tie. For those wearing a dress, a full-length evening gown is the norm. Guests are also expected to stick with darker colors like navy, gray and deeper jewel tones (think: emerald or burgundy).
What to Wear to a Black Tie Wedding (FAQs)
A black tie wedding doesn't just mean wearing a tux—guests should pair it with a cummerbund, tuxedo shirt, bow tie and polished pair of dress shoes. If you plan on wearing a dress, shoes should be kept classic and simple, whether you choose a heeled sandal, closed-toe pump or flats. Still have some questions about what a black tie wedding really means for your wardrobe? We've got you. Check out our answers to some of the most frequently asked questions about black tie formal wear.
Can you wear a short dress to a black tie wedding?
As a black tie wedding guest, you can't go wrong with a long formal gown (and if you don't get a lot of opportunities to wear one, you might want to go for it!). That said, it's not your only option, especially with a modern black tie dress code. "For women, a floor-length dress is great, but a more fancy cocktail-length dress can also work," says Mayer. It's acceptable to wear a tea-length dress to a black tie wedding, so long as it feels elevated enough and hits mid-calf or below. Opt for something with elegant embellishments (we're big fans of beading) and stick with darker hues.
Can you wear a suit to a black tie wedding?
Whether the dress code states "black tie optional," "black tie preferred," "black tie invited" or just "black tie," you can assume that a tuxedo is your safest bet. The couple and their wedding party will be wearing their best black tie attire on the big day, and it's respectful for guests to replicate that level of formality in their own outfits. That said, suits aren't completely out of the question. "Men can wear a tux, but are also fine to wear a nice black, gray or navy suit," says Mayer. If you're wearing a suit, you should plan to keep it minimal, choose a dark color and wear a bow tie.
Can you wear a jumpsuit to a black tie wedding?
Short answer: yes! Jumpsuits have come a long way in the last few years, and according to Mayer, there are plenty of options out there that are suitable for a formal black tie wedding. "It's 2021, not all women want to wear dresses, nor do they have to," she says. Similar to cocktail dresses, make sure whatever style you choose feels elevated enough for an upscale event. We'd recommend avoiding styles with busy patterns or bright colors.
Can you wear black to a black tie wedding?
It's 100% acceptable to wear black to a black tie wedding (and in a lot of cases, it's actually preferred for men to wear a classic black tuxedo). Darker colors are considered more formal, making them completely appropriate for a black tie event.
Our Favorite Black Tie Wedding Attire for Men and Women
As we've covered already, tuxedos and long evening dresses are the standard for this formal dress code. If you're in the market for some stylish new evening wear, we've got dozens of great suggestions below you can buy online. Shopping on a budget? There are plenty of companies that offer tuxedo rental services, like Men's Wearhouse. Similarly, Rent the Runway is a great place to rent an evening dress for a fraction of the price compared to buying.
Black tie wedding guest attire is more versatile than you might think. This gorgeous maxi dress checks all the boxes without feeling over-the-top fancy, meaning you'll likely be able to wear it again. Plus, the leg slit and sleek satin material add a sultry edge. Accessorize with a pair of dressy sandal heels and a coordinating clutch.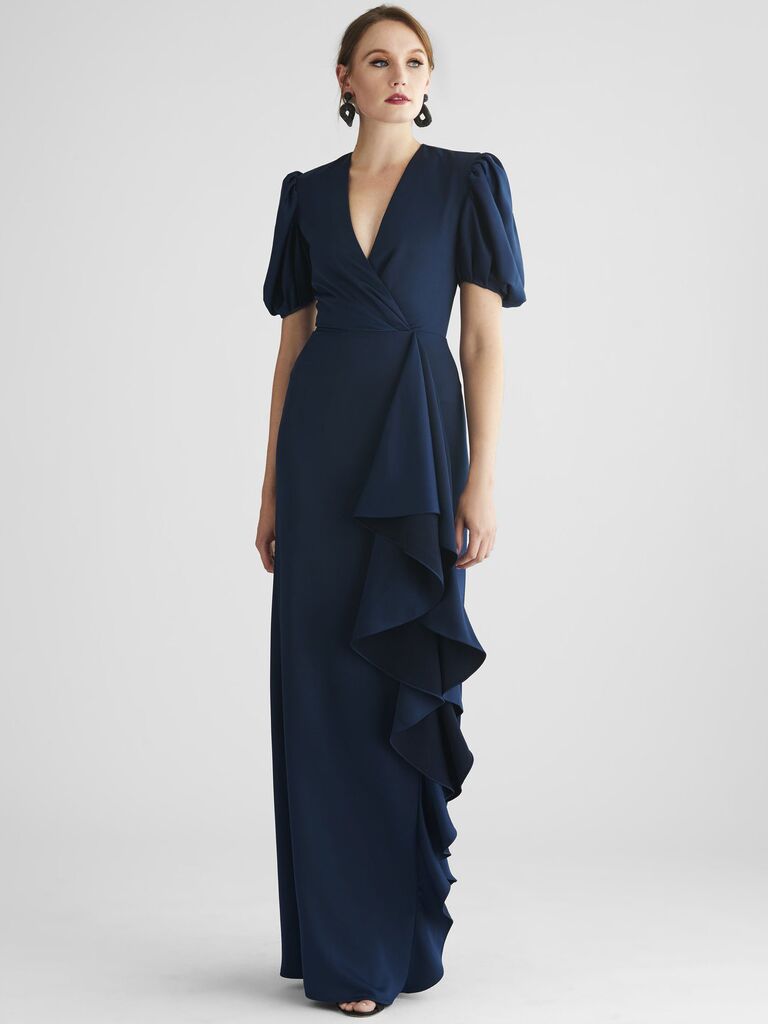 This deep blue evening gown is certainly elegant enough for a formal wedding. From the statement ruffles to the sophisticated column silhouette, there's a lot to love about it.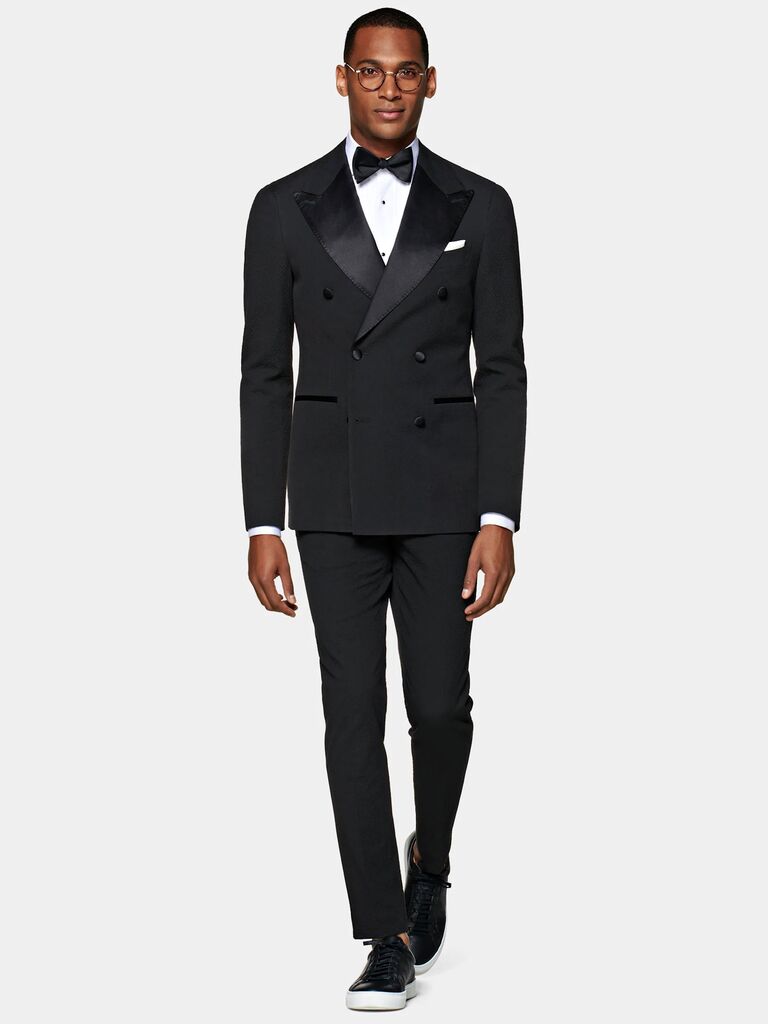 There's nothing wrong with wearing a simple black tuxedo in a classic fit. That said, if you want to put on a modern spin on your wedding outfit, that's okay too. This double-breasted ensemble will show the happy couple you really understood the assignment. Plus, it's made with lightweight seersucker cotton, making it a great pick for summer weddings.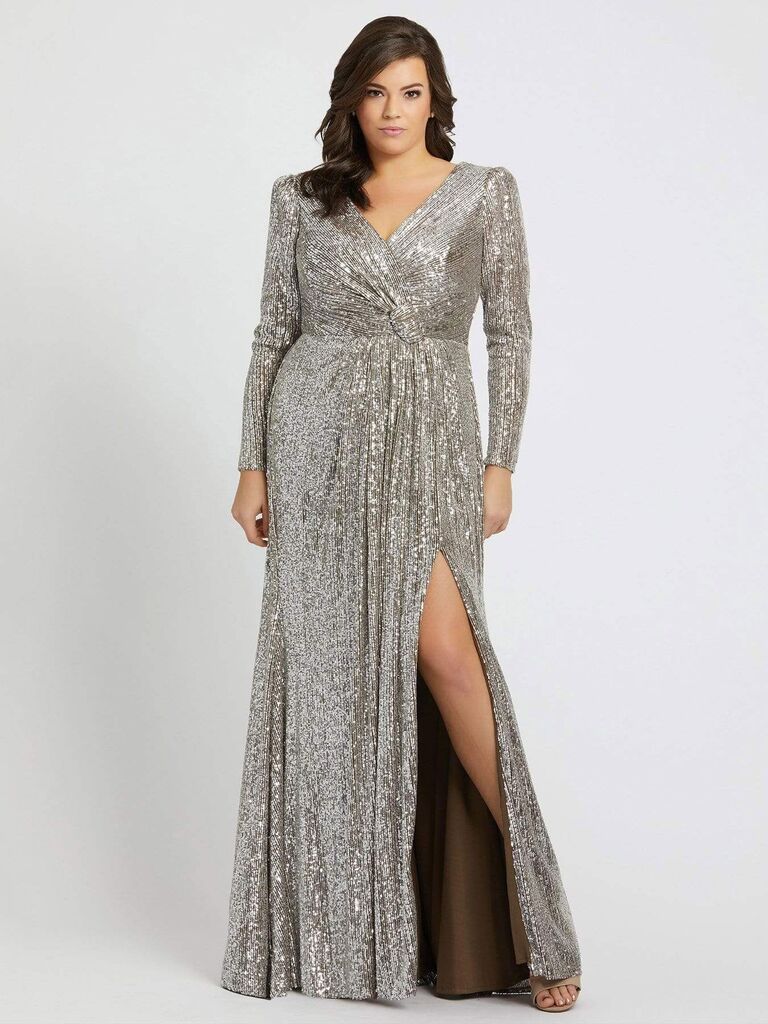 A black tie dress code for a wedding doesn't mean you can't have a little fun with your look. If you consider yourself something of a magpie when it comes to shiny things, you'll love this allover sequin gown by Mac Duggal. This silver floor-length gown features a leg slit and V-neckline as well as comfortable long sleeves.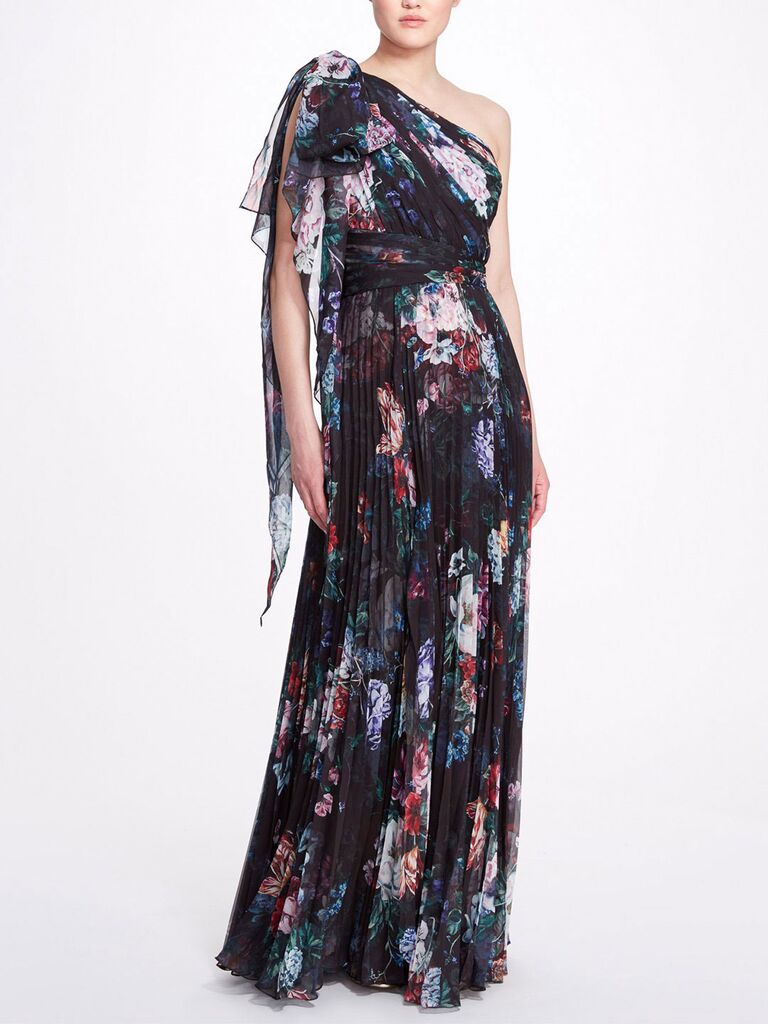 Looking for something with a little ethereal charm? Let us introduce you to this romantic floral print dress. Thanks to the darker hues, this botanical beauty isn't just for spring. It'll work all year round (yep, even for winter and fall weddings).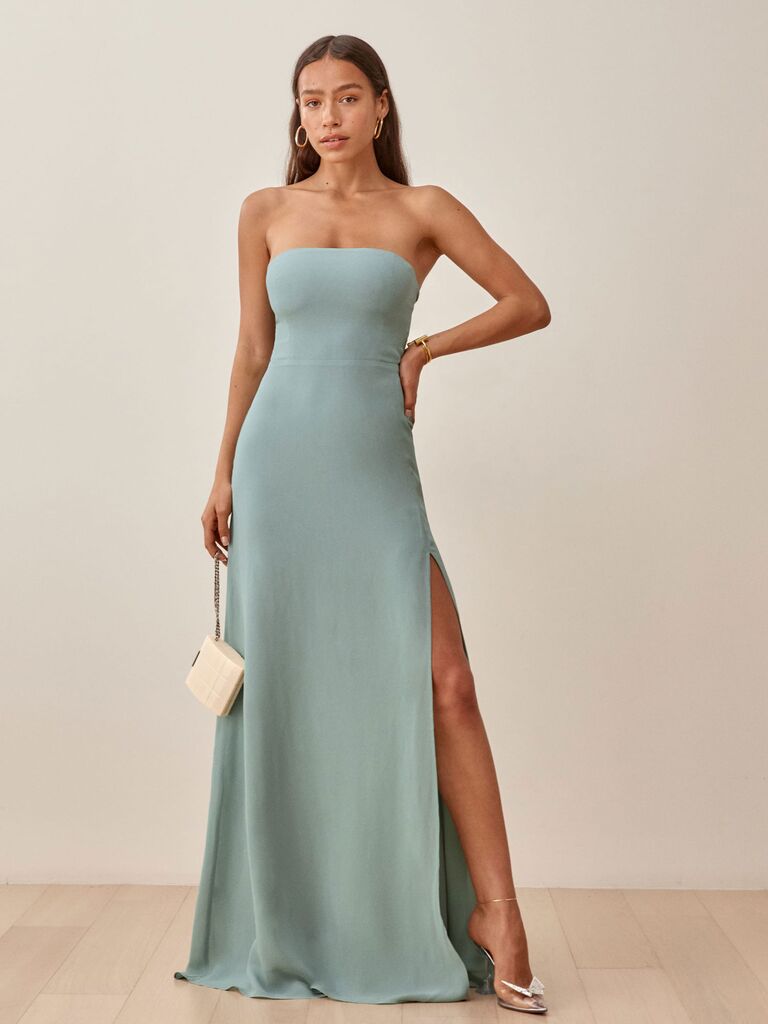 The light blue color of this minimalist maxi is great for guests attending a daytime black tie wedding. Daytime events allow for a little more freedom in terms of dress length and color. A dramatic pair of earrings or statement necklace will add a chic finishing touch.
While wearing a black tux is your safest bet, it can be appropriate to play around with different colors and textures depending on the couple's wedding style and the season. Both velvet and jewel tones are associated with winter, making this emerald velvet tuxedo perfect for a winter wedding.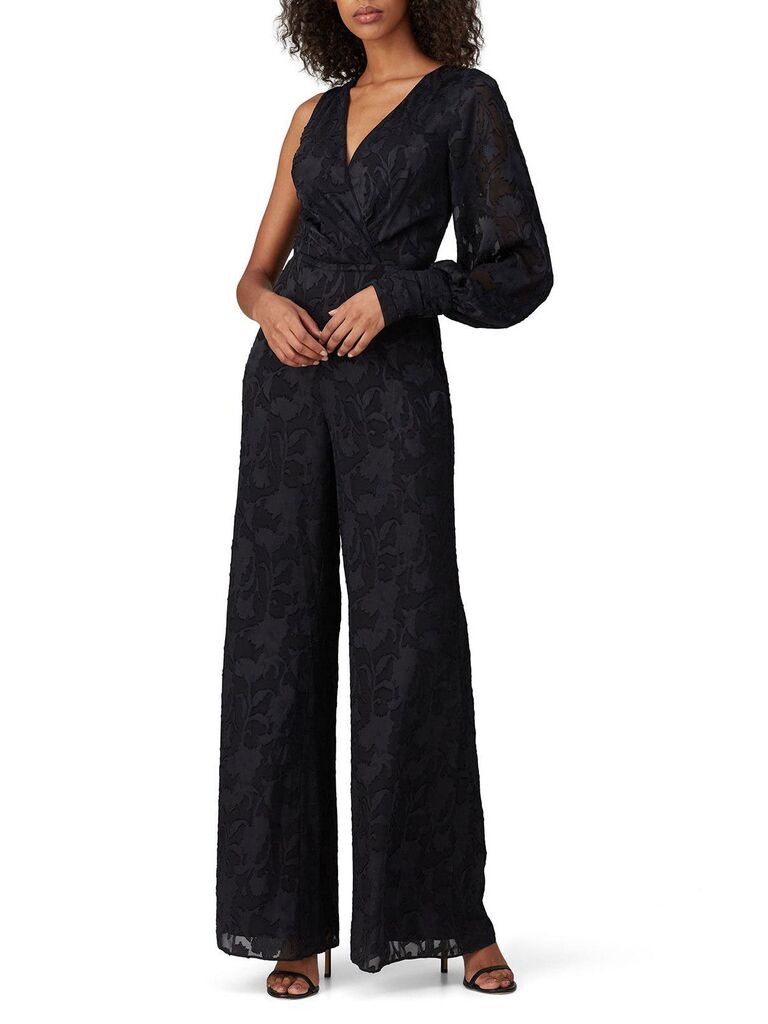 Like we said earlier, jumpsuits aren't off limits for black tie wedding guests. That said, you should avoid styles and materials that feel too casual, such as flowy florals or linen. This chiffon lace asymmetrical number is a serious upgrade from your everyday, run-of-the-mill jumpsuit.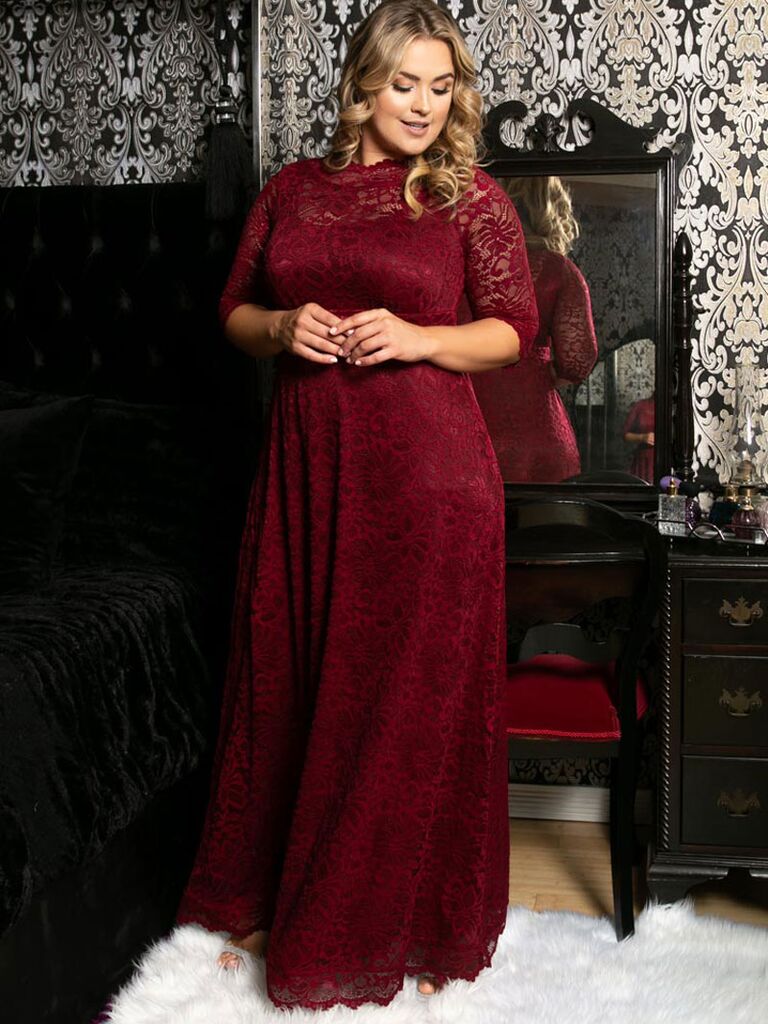 Such a special occasion is deserving of an equally special outfit. This long dress comes in four formal event-ready hues: navy, emerald, burgundy and black. And if romantic lace and an illusion neckline aren't enough to convince you, it also has pockets.
If you're buying an outfit for the couple's wedding day on a budget, you won't regret taking a look at what Lulus has to offer. This glamorous yellow maxi dress is another excellent pick for a black tie event taking place during the day or at a slightly less formal venue, like a barn. Alternatively, it's a fitting piece of cocktail attire you could wear to the rehearsal dinner.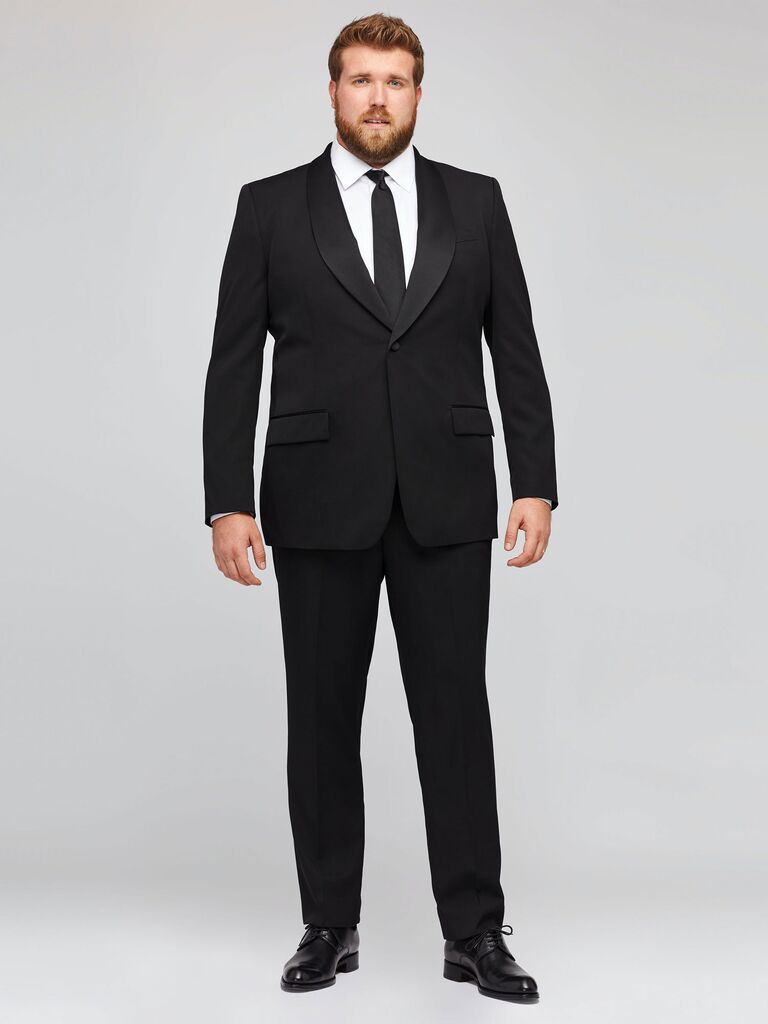 If you don't own a tuxedo already, we recommend picking up a quintessential style like this black Italian wool option. It'll work for black tie events all year round, and you can always swap out the tuxedo jacket for a snazzy patterned dinner jacket the next time you wear it (depending on the type of occasion, of course). A pair of black patent-leather shoes and a black tie or bow tie are essential to complete the look.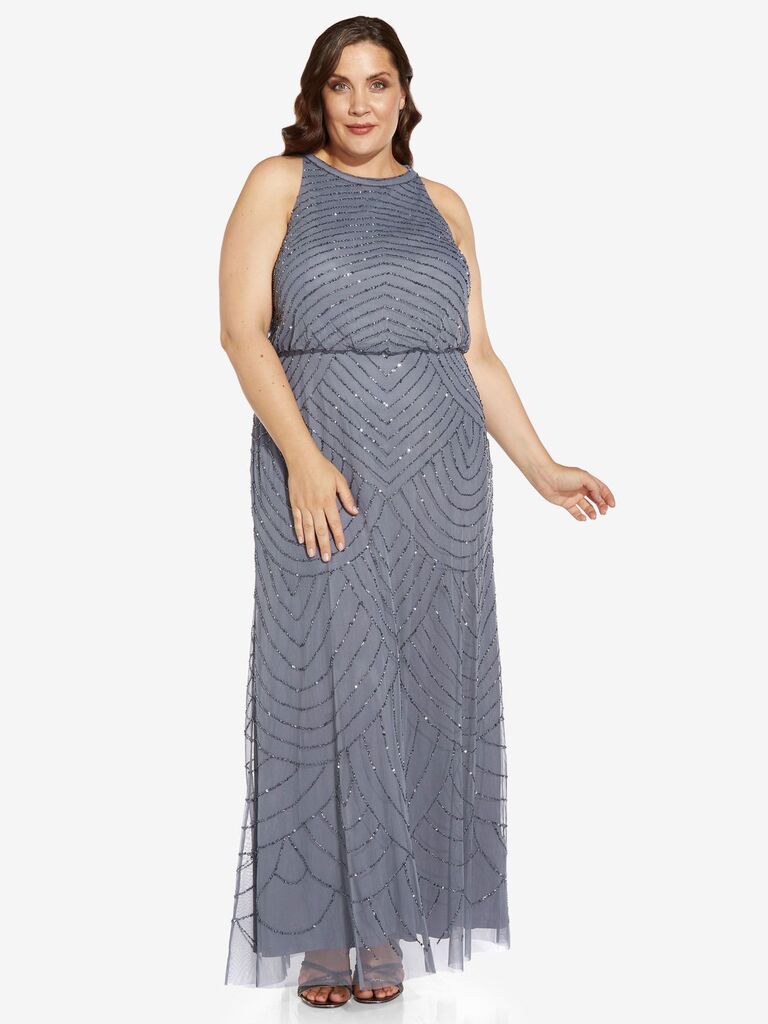 This beaded blouson gown has a flattering silhouette and eye-catching Art Deco design. It's available in extended sizing, including petite and plus sizes.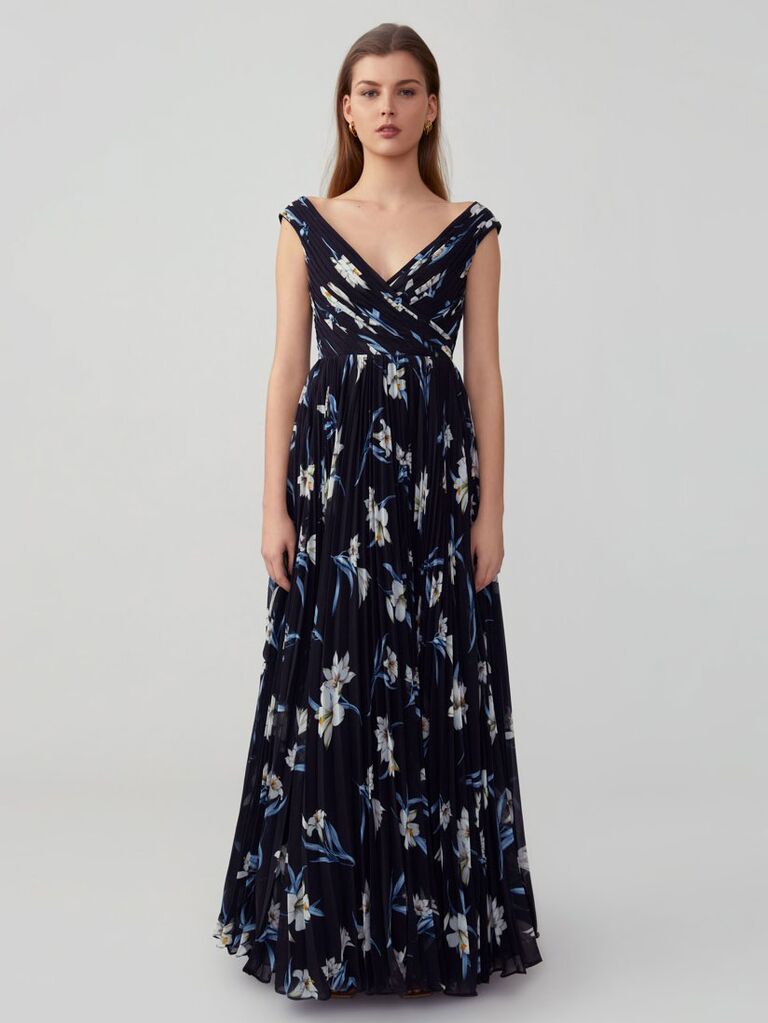 The best thing about Fame and Partners' beautiful designs is that they're tailored to your exact needs and measurements. For example, this elegant floral number is available as a midi dress, ankle-length dress, casual maxi dress or formal maxi. For black tie wedding dress codes, we suggest the formal maxi length.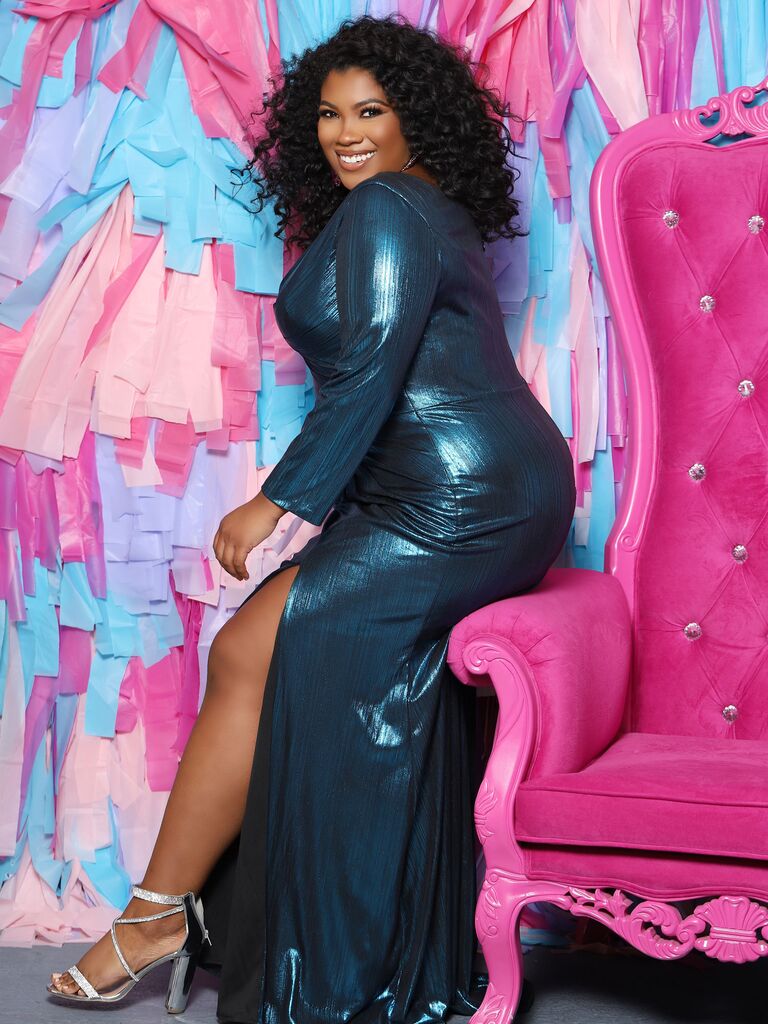 Sequins aren't the only way to add some shine to your wedding ensemble. This bold look is the epitome of glamour thanks to its shiny lamé exterior and thigh-high split.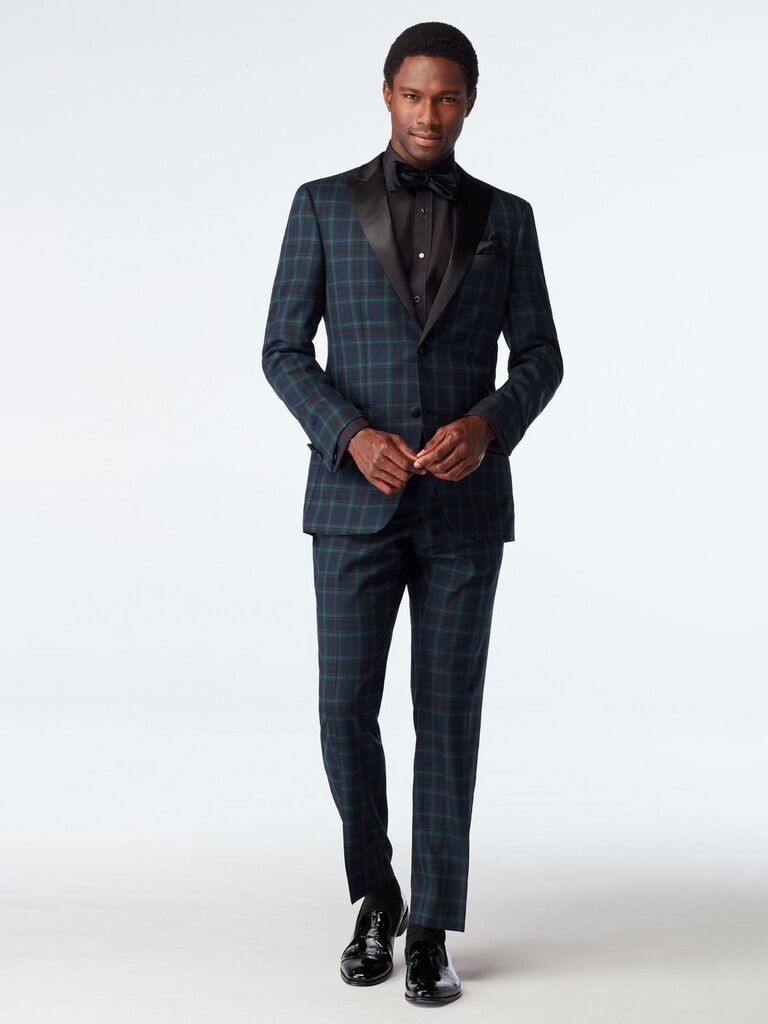 If the couple requested "creative black tie," the wedding is taking place during the day or the venue isn't super formal, you're more than welcome to play around with different prints and colors. This plaid tuxedo still feels stylish and elevated, but it allows you to show a little more personality. Pair it with a black bow tie and dress shirt for a contemporary twist.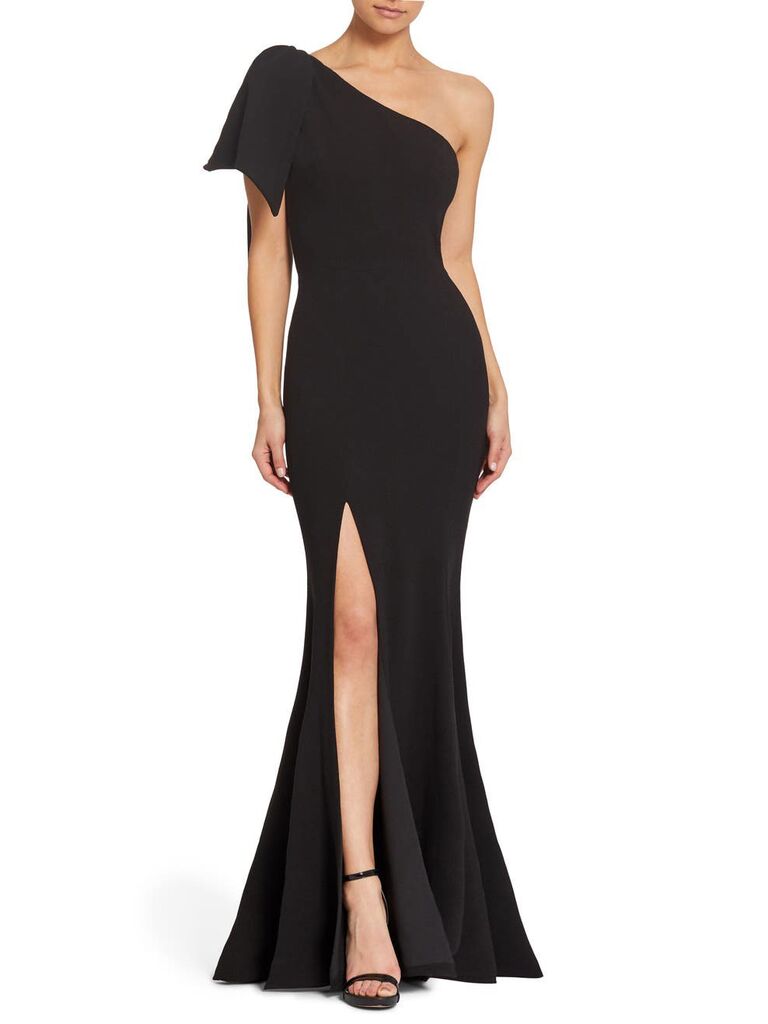 As far as black tie wedding guest dresses go, this one is incredibly versatile. While an LBD (read: little black dress) will always be a wardrobe staple, you can't go too far wrong having a long black dress on hand for those formal events where a mini skirt just won't cut it. Asymmetrical details on the skirt and shoulder give this crepe gown a fresh feel.
Dresses aren't the only option for women attending black tie weddings. We love a pantsuit moment, especially this dressy co-ord set made up of an oversized black blazer and matching wide-leg trousers.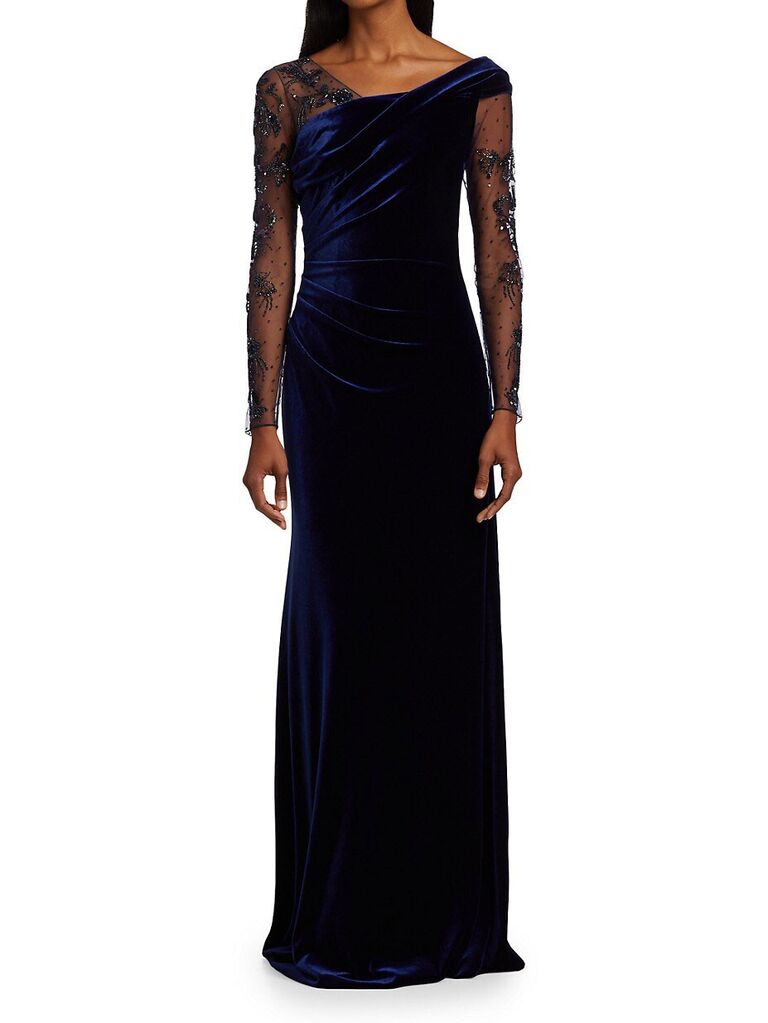 Velvet fabric instantly ups the level of formality no matter the outfit. Beaded illusion sleeves add a delicate touch to this floor-sweeping gown. It's pretty much guaranteed to garner compliments from other guests.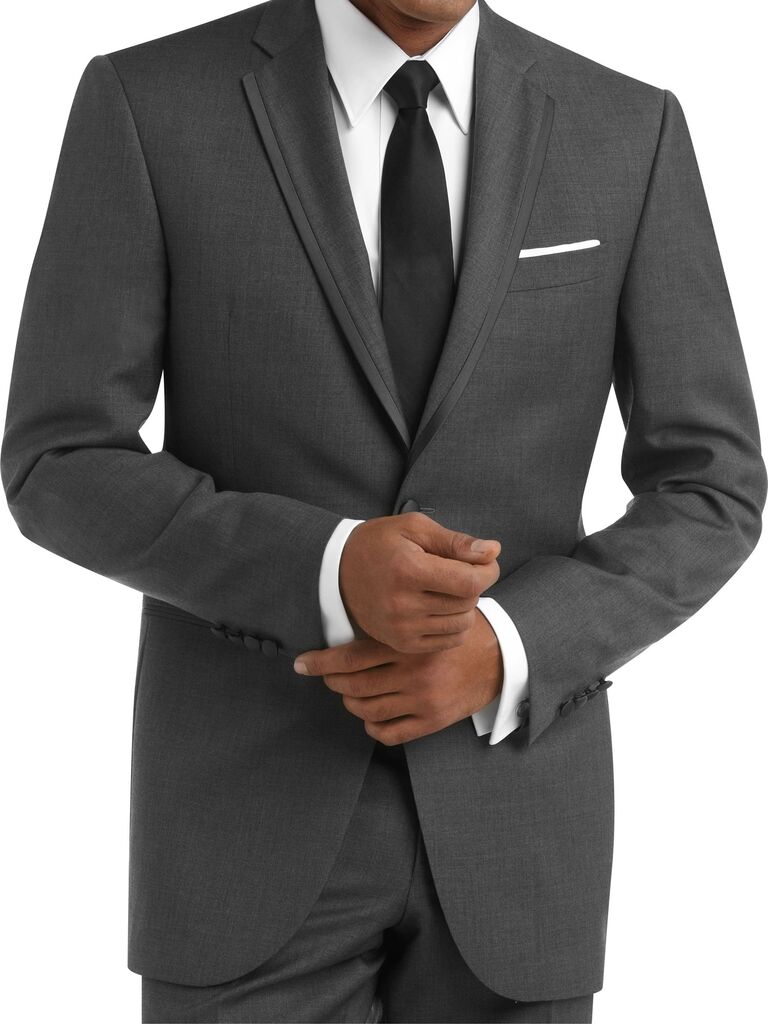 While the wedding invitation might say black tie, it's okay to go for another dark, neutral tone like gray or charcoal. This Joseph Abboud tux has a modern slim fit and double-pleated trousers with a satin stripe. All you have to do is add a tie, pocket square and shoes, and you're good to go.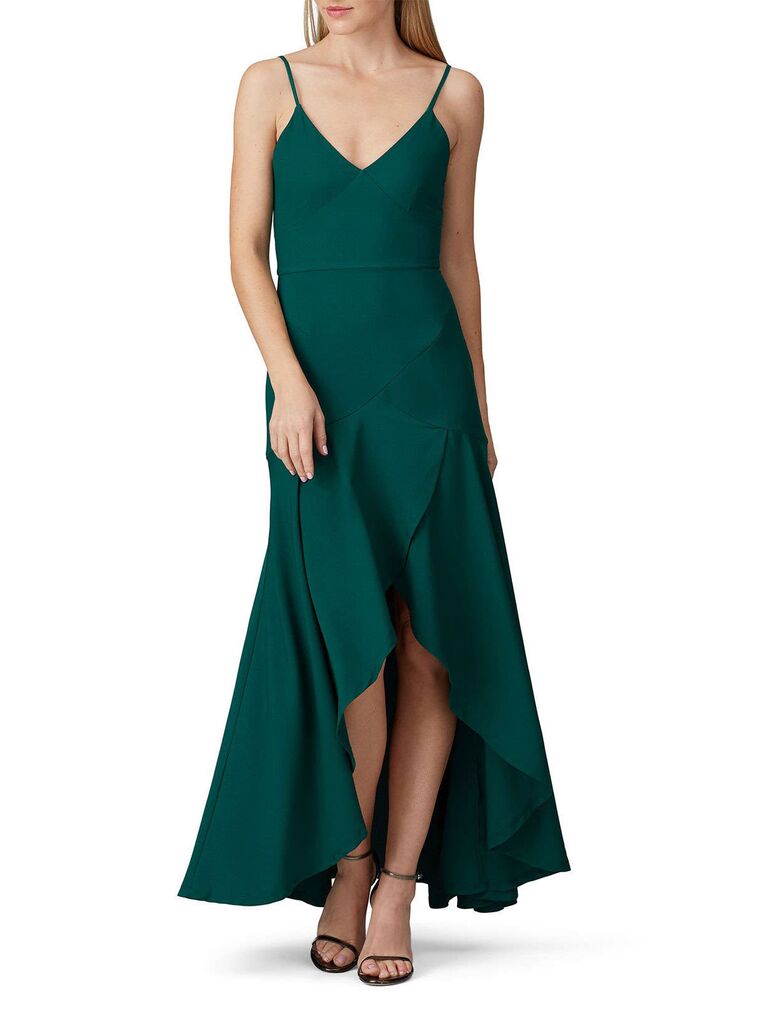 A high-low hem offers the best of both worlds between a knee-length and maxi dress, and the added ruffles on this outfit's hemline bring a flirty vibe.