The Ultimate Guide to Black-Tie Wedding Attire for Guests
Read up on etiquette rules and shop our favorite outfits.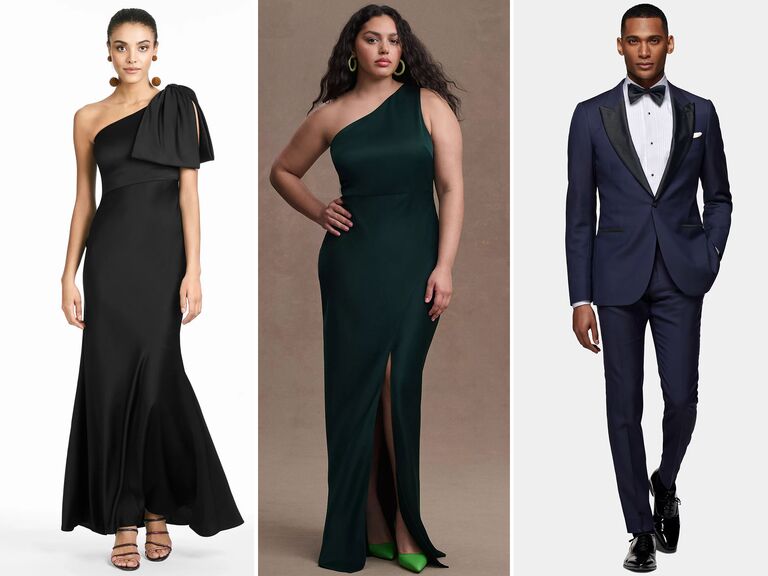 We have included third party products to help you navigate and enjoy life's biggest moments. Purchases made through links on this page may earn us a commission.
Receiving an invite to a black-tie wedding might send you into panic mode if you're unsure of what this dress code entails, but a rare opportunity to don your very best attire can actually be pretty fun. Who doesn't want to feel like royalty for a night in a floor-sweeping evening gown or dapper tuxedo? We encourage you to go all out in your finest formal wear for black-tie functions. (There's actually only one wedding dress code that's a step above black tie in formality, and that's white-tie attire.)
Confused about what exactly a black-tie wedding dress code means? You've come to the right place. We're breaking down the etiquette with the help of Marteal Mayer, co-founder of sustainable Brooklyn bridal boutique Loulette Bride. But that's not all—we're also sharing some of our favorite black-tie wedding attire looks for men and women to help inspire your search for new formal wear.
In this article:
What is Black-Tie Attire?
Typically, a black-tie wedding requires guests to wear either a tuxedo or an evening dress. "The lines have been blurred over the years, but it is safe to assume that black tie means fancy, and you really can't be too over-dressed (short of wearing a white, floor-length dress yourself)," says Mayer. A tuxedo should be your first choice, but if you want to wear a suit instead, a black-tie event typically means wearing—you guessed it—a plain black necktie or bow tie. For those wearing a dress, a full-length evening gown is the norm. Guests are also expected to stick with darker colors, like navy and gray, and deeper jewel tones, like emerald, sapphire or burgundy.
Black-Tie Dress Code Demystified
Now that you know what black-tie attire is, how does the dress code differ between men and women? Here's what you're expected to wear for upscale functions, as well as suggestions for shoes, accessories and more.
Black-Tie Attire for Women
If you plan on wearing a black-tie wedding guest dress (or a tux or jumpsuit), it's recommended that you pair your outfit with accessories to elevate the look even further. For shoes, options include heels, peep-toe stilettos, heeled sandals, dressy flats and loafers, depending on your preference. As for your accessories, you can't go wrong with sparkly jewelry (think: drop earrings, a statement neckline or a crystal bracelet) and an embellished clutch.
Black-Tie Wedding Attire for Men
For men, a black-tie wedding doesn't just mean renting a tux—guests should pair it with a plain tuxedo shirt and accessories, including a bow tie, a polished pair of dress shoes (appropriate tux shoes include patent leather loafers, dark derby shoes or velvet loafers) and an optional cummerbund to complete their outfit.
Your Black-Tie Attire Questions Answered
Still have questions about what a black-tie wedding really means for your wardrobe? We've got you covered. Read on for our answers to some of the most frequently asked questions about black-tie wedding wear.
Can you wear a short dress to a black-tie wedding?
As a black-tie wedding guest, you can't go wrong with a long formal gown (and if you don't get a lot of opportunities to wear one, you might want to go for it!). That said, it's not your only option, especially with a modern black-tie dress code. "For women, a floor-length dress is great, but a more fancy cocktail-length (midi dress) can also work," says Mayer. It's acceptable to wear a tea-length dress to a black-tie wedding, so long as it feels elevated enough and hits mid-calf or below. Opt for something with elegant embellishments (we're big fans of beading) and stick with darker hues.
Can you wear a suit to a black-tie wedding?
Whether the dress code states "black-tie optional," "black-tie preferred," "black-tie invited" or just "black tie," you can assume that a tuxedo is your safest bet. The couple and their wedding party will be wearing their best black-tie attire on the big day, and it's respectful for guests to replicate that level of formality in their own outfits. That said, suits aren't completely out of the question. "Men can wear a tux, but are also fine to wear a nice black, gray or navy suit," says Mayer. If you're wearing a suit, you should plan to keep it minimal; choose a dark color and wear a bow tie.
Can you wear a jumpsuit to a black-tie wedding?
The short answer is yes! Jumpsuits have come a long way in the last few years, and according to Mayer, there are plenty of options out there that are suitable for a formal black-tie wedding. "Not all women want to wear dresses, nor do they have to," she says. Similar to cocktail dresses, make sure whatever style you choose feels elevated enough for an upscale event. We'd recommend avoiding styles with busy patterns or bright colors.
Can you wear black to a black-tie wedding?
It's 100% acceptable to wear black to a black-tie wedding (and in a lot of cases, it's actually preferred for men to wear a classic black tuxedo). Darker colors are considered more formal, making them completely appropriate for a black-tie event.
Where to Get Black-Tie Attire
To make shopping for your next black-tie wedding outfit even easier, we're highlighting a few of our favorite retailers to jumpstart your search. Pro tip: Make sure to read the return/exchange policy and the conditions of your purchase or rental before you check out.
Saks Fifth Avenue
Brand type: Retailer
Shop for: Anyone
Saks Fifth Avenue carries an expansive collection of elegant evening gowns and luxe black tuxes from high-end and designer brands, including Mac Duggal, Zimmerman, Halston, Amsale and more. The best part? While you're shopping, look through their accessories for black-tie weddings, from fine jewelry to dapper ties to dress shoes. It doesn't get much better than that.
The Black Tux
Brand type: Rental
Shop for: Men
Renting is an easy and popular option that allows you to rock a nice tux at a stellar price. One option to consider? The Black Tux. Simply choose your favorite style, then fill out the corresponding fit survey that will recommend the best size for you. Or, if you want a more personalized experience, you can also visit one of their showrooms to get fitted in person.
Nuuly
Brand type: Rental
Shop for: Women
With Nuuly, you can rent black-tie wedding guest dresses from brands like Anthropologie, ASTR The Label, Urban Outfitters, Hutch, Halston and more. Here's how it works: Subscribe to rent any six styles, every month, for $88/month. Plus, we have an exclusive deal just for you: Use the code "THEKNOT20" to get $20 off your first order!
Men's Wearhouse
Brand type: Retailer and Rental
Shop for: Men
Men's Wearhouse is a classic choice for many wedding guests for a reason. You can buy a tuxedo or you can rent one with their convenient-to-use rental service. To rent, browse through their pre-styled designs, which you can further make your own with accessories. You can pick up the tux at a store or have it shipped directly to your home—the choice is yours.
Anthropologie/BHLDN
Brand type: Retailer
Shop for: Women
Anthropologie and its wedding shop, BHLDN, sell gorgeous wedding guest dresses for all dress codes, especially black tie. Check out Anthro's curated selection of black-tie dresses, which you can further filter by style, size, color, length and more, based on the venue and vibe of your event. While you're shopping, check out BHLDN's wedding guest accessories to dress up your black-tie outfit.
Editor's Picks: Black-Tie Wedding Attire for Men and Women
As we've covered already, tuxedos and long evening dresses are the standards for the black-tie wedding dress code. If you're in the market for some stylish new evening wear, we've rounded up great suggestions, below, which you can buy online with the click of a button.
Sachin & Babi Aubrey Gown in Black
As far as black-tie wedding guest dresses go, this one from Sachin & Babi is absolutely showstopping. This elegant style boasts a collapsible bow detail on the shoulder that's further embellished with hand-embroidered black caviar beading. Style your outfit with gold or silver jewelry and peep-toe heels.
SuitSupply Lazio Tuxedo in Navy
Dark navy is also an appropriate color choice for black-tie functions. The tuxedo suit, crafted from S110's wool by Vitale Barberis Canonico, is a luxurious option for upscale fall or winter affairs. It features a silk-covered peak lapel, silk-lined jetted pockets and lightly padded shoulders to seal the deal. How suave.
Size range: XXS-4XL
BHLDN Dylan Satin Charmeuse Maxi Dress in Dark Emerald
Black-tie wedding guest attire is more versatile than you might think. This gorgeous maxi dress checks all the boxes without feeling over-the-top fancy, meaning you'll likely be able to wear it again. Plus, the leg slit and sleek satin material add a sultry edge. Accessorize with a pair of dressy sandals with a heel and a coordinating clutch.
Size range: 0-26W
Bonobos Capstone Italian Wool Tuxedo Extended Sizes in Black Shawl Collar
If you don't own a tuxedo already, we recommend picking up a quintessential style like this black Italian wool option. It'll work for black-tie events all year round, plus you can always swap out the tuxedo jacket for a snazzy patterned dinner jacket the next time you wear it (depending on the type of occasion, of course). A pair of black patent-leather shoes and a black tie or bow tie are essential to complete the look.
Size range: 48S-54L
Adrianna Papell Plus-Size Sleeveless Asymmetrical Jumpsuit in Midnight
Like we said earlier, jumpsuits for wedding guests aren't off-limits. For black tie, you should avoid styles and materials that feel too casual, such as flowy florals or linen. This refined asymmetrical number is a serious upgrade from your everyday, run-of-the-mill jumpsuit. Most importantly, it comes in standard and plus sizes.
Size range: 0-26
Joseph Abboud Notch Lapel Black Label Slim Fit Tuxedo in Grey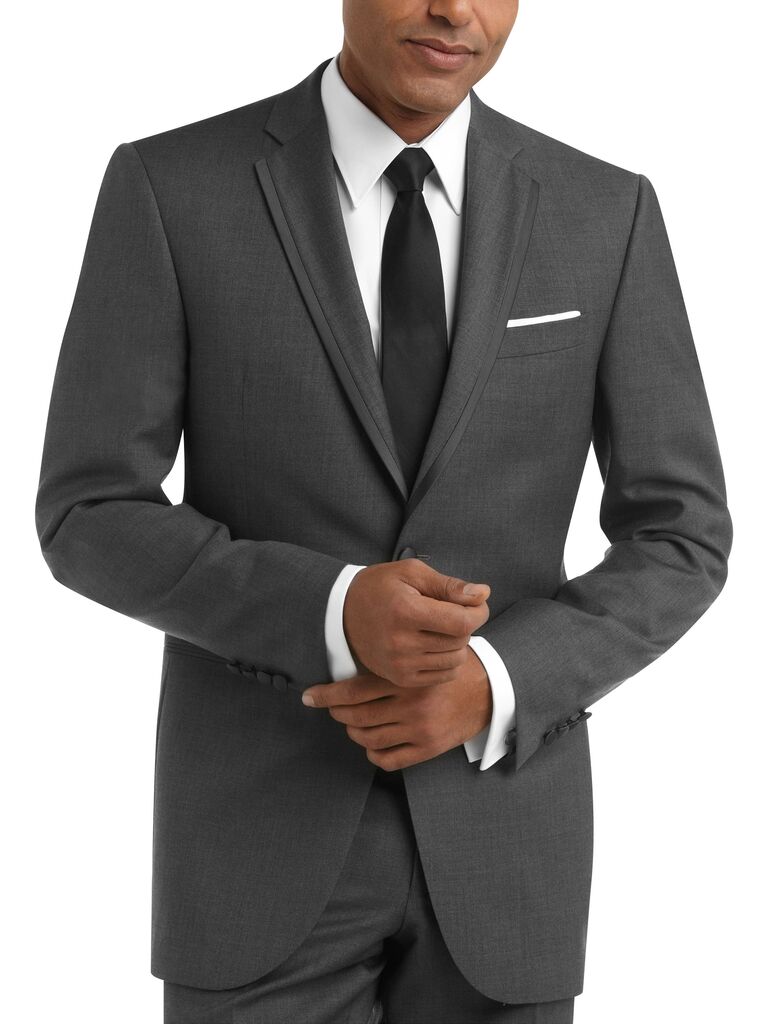 While the wedding invitation might say black tie, it's okay to go for another dark, neutral tone like gray or charcoal. This Joseph Abboud tux has a modern slim fit and double-pleated trousers with a satin stripe. All you have to do is add a tie, pocket square and shoes, and you're good to go.
Size range: 36-60
Saks Fifth Avenue Long-Sleeve Floral Chiffon Gown in Black Multi
Looking for something with an ethereal feel? Let us introduce you to this romantic floral wedding guest dress. Thanks to the darker hues, this botanical beauty isn't just for spring; it'll work black-tie attire all year round (especially for winter and fall guest dresses).
Size range: 2-18
The Black Tux Ocean Velvet Tuxedo in Blue
For some black-tie occasions, it can be appropriate to play around with different colors and textures depending on the couple's wedding style and the season. Both velvet and jewel tones are associated with winter, making this sapphire-like velvet tuxedo a suitable fit for a winter wedding.
Size range: Jacket 34–58, Pants 28–54
Indochino Hampton Tuxedo in Black
When it comes to black-tie attire for men, wearing a black tux is your safest bet. This luxe tux is crafted from cashmere and silk-blend Super 140s wool for a clean, fresh look. Indochino's made-to-measure styles allow you to customize the tux to your unique measurements, taking the guesswork out of finding your perfect size.
Size range: Custom
Reformation Ronda Silk Dress in Praline
The soft pink hue of this silk maxi is great for guests attending a daytime black-tie wedding. Daytime events allow for a little more freedom in terms of dress length and color. A dramatic pair of earrings or a statement necklace will add a chic finishing touch to this summery ensemble.
Size range: 0-12