Attending a Cocktail Attire Wedding? Here's What You Should Wear
Hint: it all comes down to standout accessories.
We have included third party products to help you navigate and enjoy life's biggest moments. Purchases made through links on this page may earn us a commission.
If you're attending a cocktail attire wedding and you're not sure what to wear, you've come to the right place. Though it's one of the most popular wedding dress codes, it's often used interchangeably with semi-formal attire and can sometimes be difficult to decipher. So, if you find yourself asking, "What is cocktail attire?" after receiving a wedding invitation, you're not alone.
Here, we explain exactly what cocktail wedding attire is and provide outfit inspiration for men and women. Keep reading to find out, and then browse our favorite cocktail attire wedding outfit picks.
In this article:
What is Cocktail Attire?
Generally, cocktail attire is suitable for formal and semi-formal occasions. However, there are a few nuances that help differentiate a cocktail attire wedding from a semi-formal wedding. For both dress codes, a suit is preferable for men, while women should opt for a cocktail dress or formal jumpsuit. But for cocktail attire weddings, guests should consider adding in a special accessory or two to make their outfit dress-code appropriate. Small details like a sleek tie, cufflinks, fine jewelry or elegant shoes can make a semi-formal outfit into one that's cocktail attire-appropriate.
"Cocktail attire challenges you to be creative," says Greg Shugar, CEO and Creative Director of Beau Ties Ltd. "No color is off limits. No pattern is off limits. And no specific mix or color or pattern is off limits." Shugar reiterates that accessories are the best way to make any semi-formal outfit cocktail appropriate. "There should be no shortage of accessories. It's events like these for which accessories for guests work best."
Simply put, cocktail wedding attire is a slightly more elevated dress code than semi-formal attire. If you do find yourself confused by a wedding dress code, allow the invitation to give you clues for what to wear. "Start with the location, time of day and time of year," Shugar suggests. "All should give clues right away." An upscale location, like a five-star hotel, would require a more formal outfit. But for a beach wedding, lighter colors and fabrics would be perfectly suitable, even for a cocktail attire dress code. Below, we break down how to dress for a cocktail attire wedding for men and women, and we share shoppable outfit ideas for maximum inspiration.
Cocktail Attire for Men
Though cocktail attire for men typically includes a suit and tie, guests have flexibility to experiment with colors, textures and prints. "Starting with the jacket, go for alternative fabrics and textures," Shugar advises. A linen suit would be ideal for summer weddings, while a heavier fabric like velvet, tweed or herringbone would be suitable for cooler months. Pair it with corresponding dress pants and a button down shirt. To finish off the look, add a tie (or bow tie), a pocket square, cufflinks and a pair of dress shoes (like Oxfords or loafers.)
Shugar also encourages men to experiment with pops of color or bold prints on their accessories to elevate a cocktail attire wedding outfit. "There is no color you can't build around," he says. "But the bolder the color, the less of it you should have." If you opt for a printed bow tie, your pocket square should be a solid color that matches the print—or vice versa. No matter your fashion taste, a pop of color will bring excitement to an otherwise formal outfit. Below, we've rounded up our favorite cocktail attire wedding outfit ideas for men.
Cocktail Attire Wedding Outfit Ideas for Men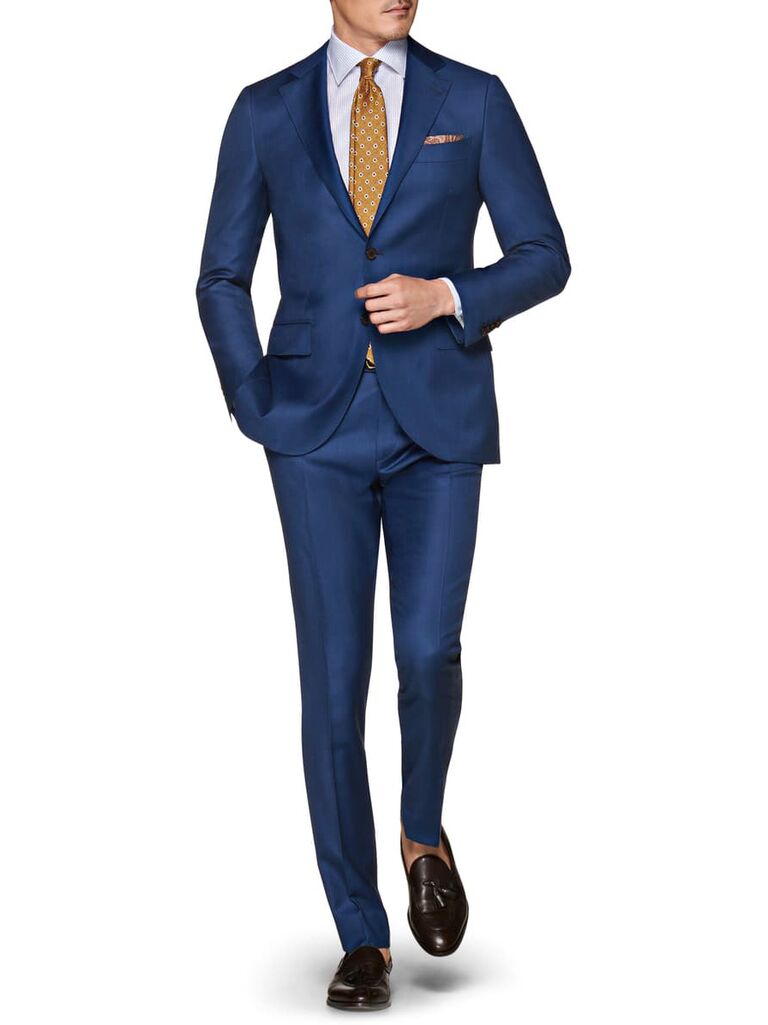 This versatile blue suit can be worn throughout the seasons, making it a must for your arsenal of formal clothing. Pair this jacket-and-trouser set with a light blue button-down shirt, cufflinks, and a tie (or bow tie) of your choice. Stick with solid colors if that's fit to your style, or go for a novelty print if you're not afraid to experiment with fashion.
Suitsupply Lazio slim fit solid wool suit in Blue, $569, Nordstrom.com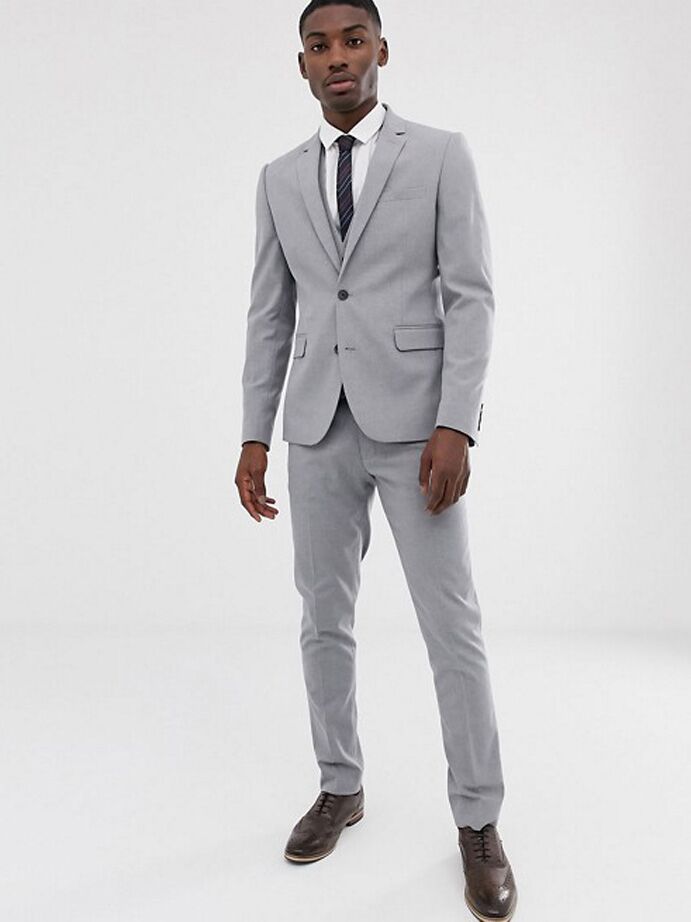 A light gray suit is a great outfit for a summer cocktail attire wedding. (A lightweight fabric is a must, especially if you'll be attending an outdoor ceremony.) But if you do opt for a lighter color, keep it dress-code appropriate with a darker tie and dark dress shoes.
ASOS DESIGN skinny suit in Mid Gray, $87 for the jacket, $40 for the pants, ASOS.com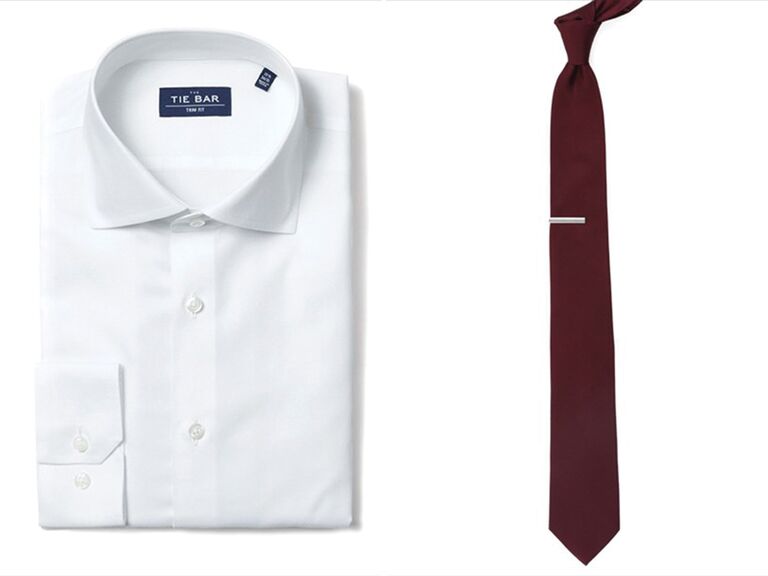 If you'd rather keep your look classic, stick with a no-fail option like a white button-down shirt with a solid tie. Pair this with a black suit jacket and black pants for a cocktail wedding attire outfit that's always appropriate, no matter the season.
The Tie Bar textured solid non-iron shirt in White, $55, TheTieBar.com; The Tie Bar grosgrain solid tie in Wine, $22, TheTieBar.com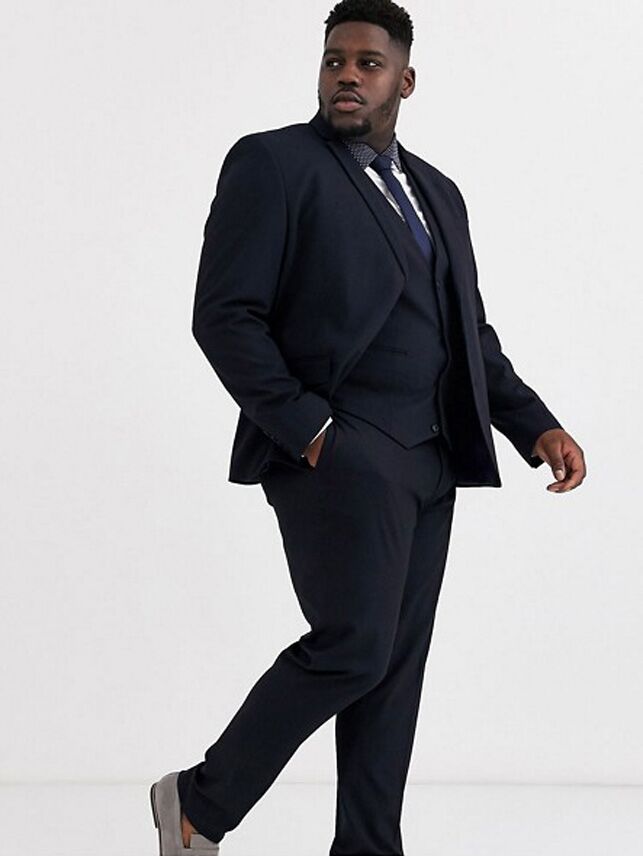 You'll look as stylish as can be in a sleek navy suit. If you do choose to wear something like this, feel free to ditch the suit vest—it might leave you feeling a bit overdressed, even for a cocktail attire wedding. Finish off this look with a white button-down shirt and brown dress shoes.
ASOS DESIGN Plus skinny suit in Navy, $87 for the jacket, $40 for the pants, ASOS.com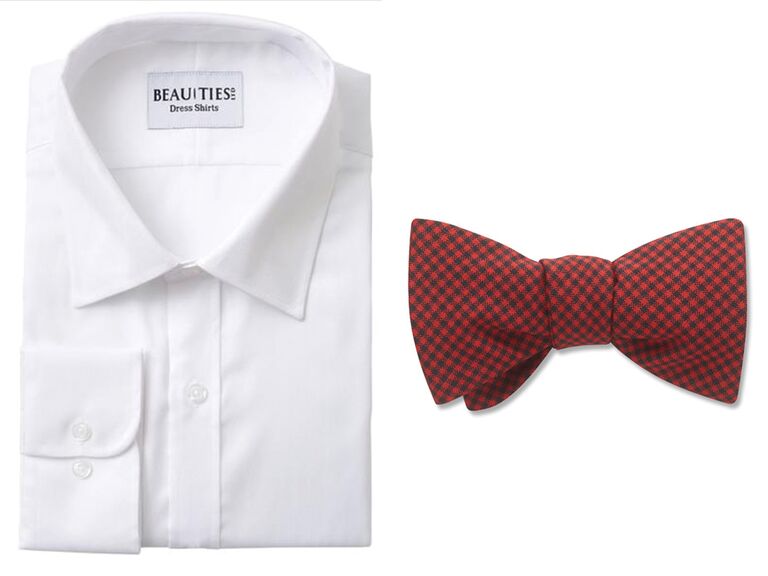 Style connoisseurs, this one's for you. Want an accessory (or two) that'll steal the show? Any Beau Ties selection will give your look a fun pop. A white dress shirt pairs perfectly with any of the brand's bold prints, like this black and red check bow tie. Be sure to complete the ensemble with a suit jacket, dress pants, cufflinks and dress shoes.
Beau Ties herringbone dress shirt in White, $58, BeauTiesLTD.com; Beau Ties Alagash bow tie, $48, BeauTiesLTD.com
Cocktail Attire for Women
Cocktail wedding attire for women traditionally skews on the formal side—but that doesn't mean you need to wear a floor-length evening gown. While you might want to leave the mini skirt at home, it's perfectly appropriate to wear a midi dress or something that hits just above the knee. To modernize the dress code, consider wearing a sleek jumpsuit or a trendy skirt-and-top combo. While darker colors are ideal, guests can opt for eye-catching prints or trendy necklines.
Accessories will elevate a semi-formal look to cocktail attire-appropriate. Consider pieces like statement earrings or trendy shoes to give your outfit a formal upgrade. When in doubt, a little black dress (or jumpsuit) is a consistent go-to. But for even more inspiration, check out our favorite cocktail wedding attire outfits for women below.
Cocktail Attire Wedding Outfit Ideas for Women
Don't want to add another cocktail dress to your wardrobe? No problem. Rent a trendy design instead. The details of this dress make it a standout cocktail attire wedding option, from the flared skirt to the bows on the straps. (If it's not totally your style, don't worry. We've got plenty more cocktail attire dress options right here.)
Likely Ellery dress, $45 for a 4-day rental, RenttheRunway.com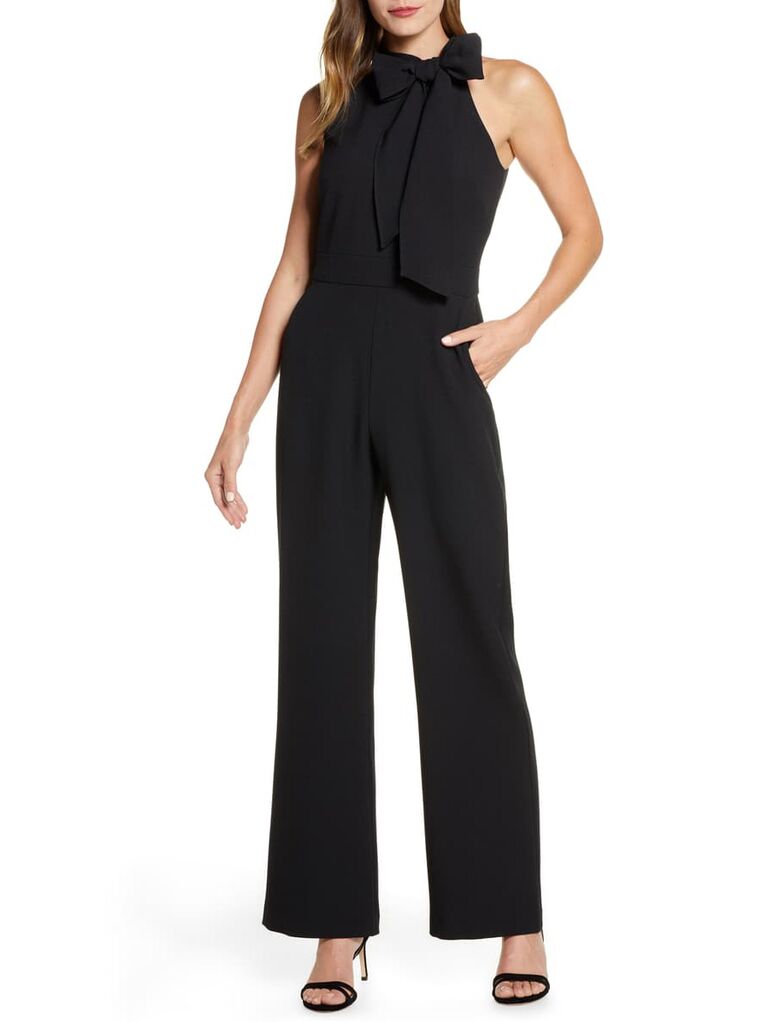 A formal jumpsuit is a great choice for a cocktail attire wedding. The bow detail on the neckline of this jumpsuit gives it an effortless cocktail-appropriate design. Wear it with your favorite heels (bonus points if they're a bright color) and a pair of sparkling earrings to finish off the look.
Vince Camuto bow neck stretch crepe jumpsuit in Black, $148, Nordstrom.com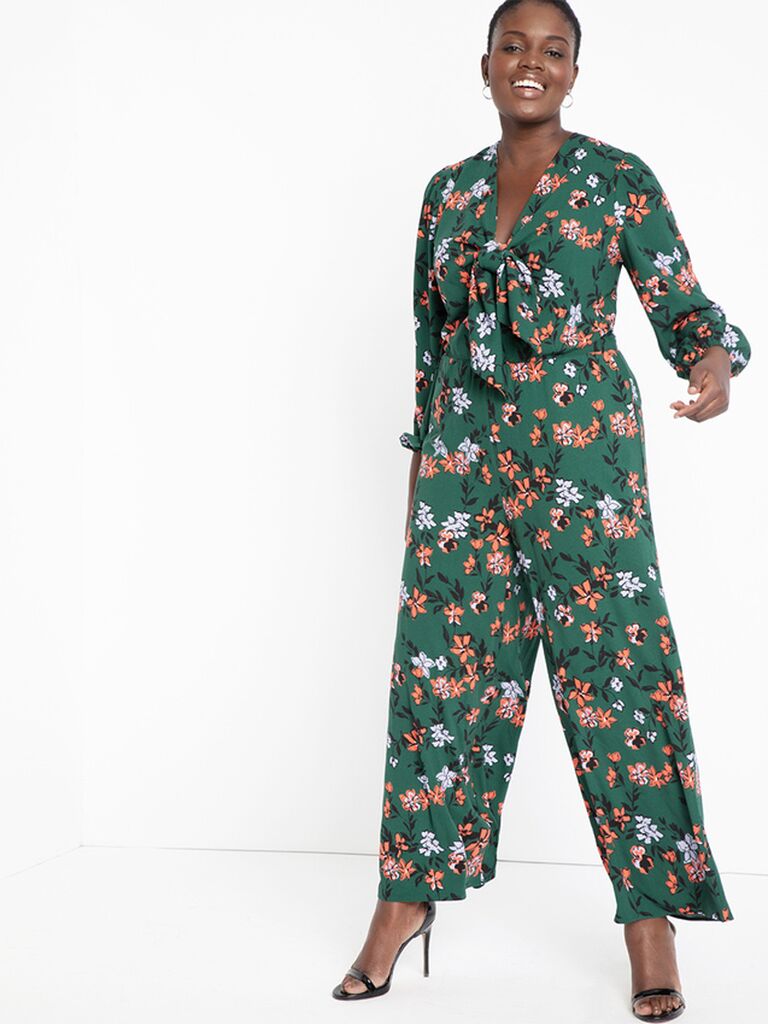 Cocktail wedding attire doesn't mean you have to sacrifice fun prints. This floral jumpsuit is perfectly appropriate for a wedding—just add a pair of nude heels and a shimmering bracelet to make this a great option for a spring or summer cocktail attire wedding.
ELOQUII tie front jumpsuit in Everfloral, $140, ELOQUII.com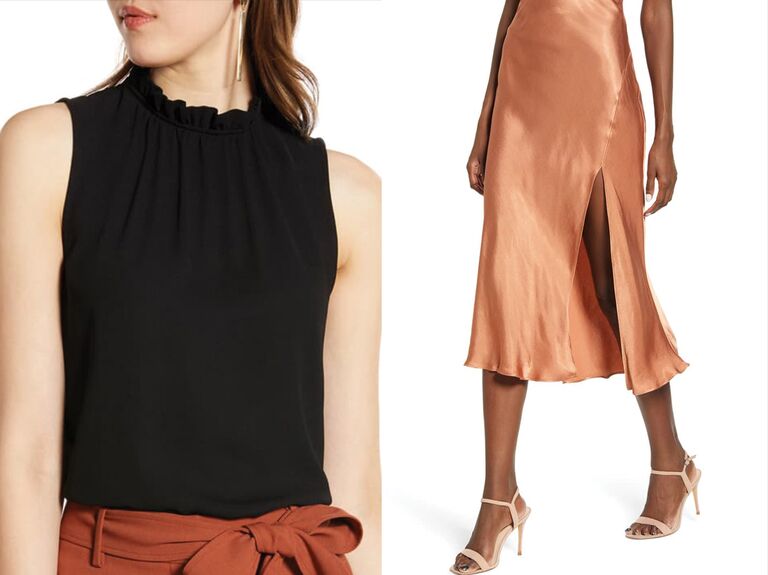 Satin midi skirts are seriously on-trend, and it's not hard to see why. This copper shade is a great cocktail wedding attire option. To make it fit the dress code, wear it with a formal top (fabrics like silk or linen are ideal), dress shoes and a statement clutch.
Halogen ruffle neck top in Black, $59, Nordstrom.com; Socialite bias cut satin skirt in Copper, $59, Nordstrom.com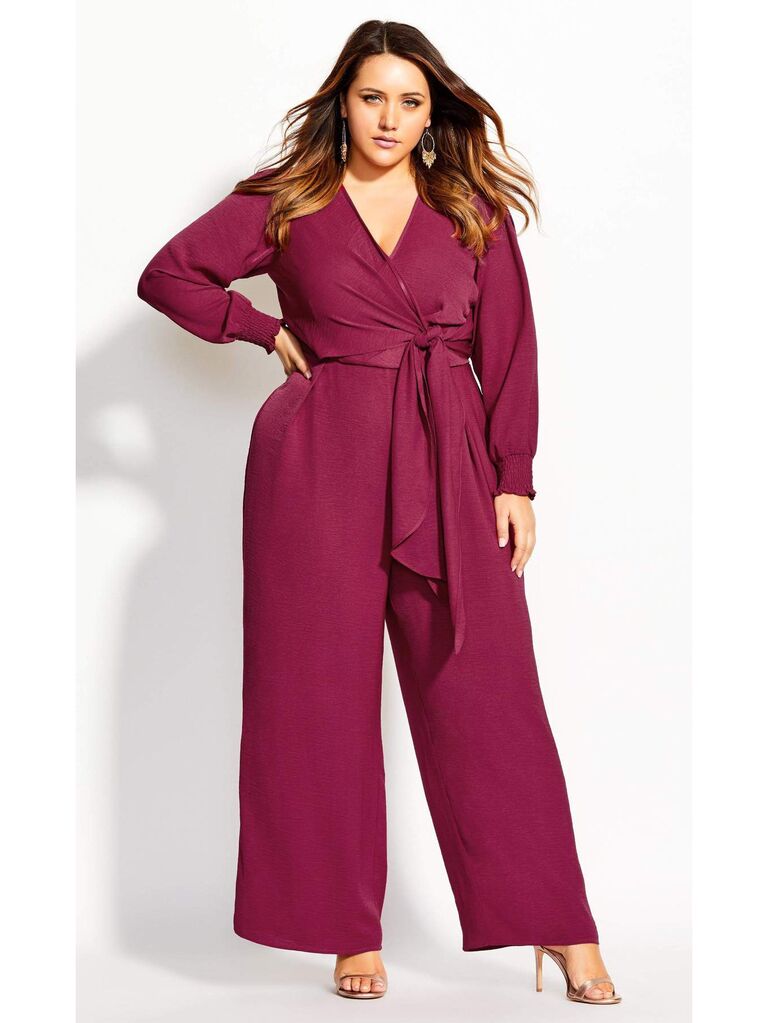 Statement details like an oversized tie instantly elevate any outfit. Paired with shimmering jewelry and block heels, this bold jumpsuit would be a great choice for a cocktail attire wedding.
City Chic Synthesis jumpsuit in Rose, $129, CoEdition.com