Attending a Cocktail Attire Wedding? Here's What You Should Wear
Hint: It all comes down to standout accessories.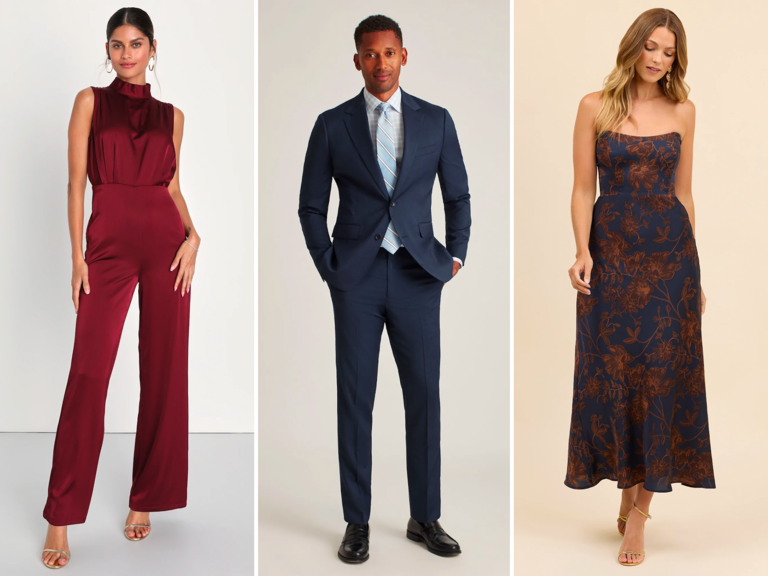 Photos, left to right: Lulus, Bonobos, Park & Fifth
We have included third party products to help you navigate and enjoy life's biggest moments. Purchases made through links on this page may earn us a commission.
If you're attending a cocktail attire wedding and you're not sure what to wear as a guest, you've come to the right place. Though it's one of the most popular wedding dress codes, it's often used interchangeably with semi-formal attire and can sometimes be challenging to decipher. So, if you find yourself asking, "What is appropriate cocktail attire?" after receiving a wedding invitation, you're not alone. With the help of experts, we're explaining exactly what cocktail wedding attire means and how to accessorize the dress code. Then, for your inspiration, we've handpicked our favorite cocktail attire wedding outfits that you can shop on the spot. Let's get started.
In this article…
What is Cocktail Attire?
Cocktail wedding attire is a slightly more elevated dress code than semi-formal attire but is less formal than formal wedding attire (also known as black-tie optional). However, there are a few nuances that help differentiate a cocktail attire wedding from a semi-formal wedding. For both dress codes, a suit is preferable for men, while women should opt for a cocktail dress or formal jumpsuit. "Cocktail attire challenges you to be creative," says Greg Shugar, CEO and Creative Director of Beau Ties Ltd. "No color is off limits. No pattern is off-limits. And no specific mix or color or pattern is off limits."
If you do find yourself confused by a wedding dress code, allow the invitation to give you clues for what to wear. "Start with the location, time of day and time of year," says Shugar. "All should give clues right away." An upscale location, like a five-star hotel, would require a more formal outfit, while lighter colors and fabrics would be perfectly suitable for a beach wedding, even for a cocktail attire dress code.
Cocktail Dress Code Dos & Don'ts
So, you recently received an invite to a cocktail dress code wedding. Before you finalize your look, let us help you out with some tips. Here, we're breaking down all the dos and don'ts of cocktail attire dress codes. Consider this your own personal attire cheat sheet.
DO: Err on the dressier side
Unless you're able to consult with every other guest beforehand, it's difficult to know exactly what the dress code will look like on the day of the wedding. Our advice? Always err on the dressier side when possible. After all, it's better to be overdressed than underdressed.
DON'T: Forget about footwear
It's no secret that footwear can drastically change the vibe of your look. Sandals, for instance, can give your look a laidback look, while stilettos can elevate it. Consider this when picking out your outfit. It's possible that the right pair of shoes can elevate a more casual look and make it appropriate for a cocktail event.
DO: Accessorize to the max
Similarly to shoes, accessories can be a great way to dress up an outfit and make it look more formal. When planning an outfit for a cocktail wedding, don't forget the accessories. Bold jewelry, a fancy clutch and even a festive pocket square all have the power to completely transform a look.
DON'T: Wear white
It should go without saying that you should never wear white to a wedding (unless the dress code encourages it). The reason being that you don't want to call attention away from the bride. However, to that same notion, we also recommend avoiding any items of clothing that could be considered distracting. Examples include bold patterns, neons and over-the-top sequins.
Variations of Cocktail Attire to Know
Let's be real: Dress codes are not always black and white. If you've recently received an invite to a cocktail event, it can be difficult to navigate what to wear. Luckily, we're here to help. Here, we're breaking down some of the most common cocktail dress codes for weddings, and what they mean. Read up on the details, then keep scrolling to shop our top picks for each dress code.
Formal Cocktail Attire
Just as the name implies, formal cocktail attire is a dress code that leans more on the formal side. Unlike a black-tie dress code, an evening gown or tuxedo is not necessary for a formal cocktail event.You might, however, consider opting for a full-length dress as opposed to a mini or midi length one. For men, we recommend a suit and tie in a classic color like black, navy blue or burgundy.
Elevated Cocktail Attire
Elevated cocktail attire is often used interchangeably with formal cocktail attire. Similarly, the term indicates a more formal-leaning dress code. Think: somewhere between semi-formal and black-tie. If you've recently received an invite with an elevated cocktail attire dress code, take it as your sign to dress to impress. When in doubt, you can't go wrong with a nice dress or a classic suit and tie.
Colorful Cocktail Attire
If you're attending a wedding with a colorful cocktail attire dress code, plan to sport an eye-catching ensemble for the evening. Chances are, the event will be taking place at a more relaxed location, such as the beach or another outdoor venue. If you're planning to wear a dress, feel free to embrace a festive pattern such as floral or plaid. Likewise, a patterned pocket square can be a great way to add a pop-of-color to your suit.
Evening Cocktail Attire
Like formal cocktail attire, an invite to an elevated cocktail event tends to imply a more formal dress code. For this type of event, steer clear of playful patterns that offer a more relaxed, daytime feel, like florals or plaid. Instead, opt for solid-colored pieces in darker shades. Pro tip: Satin and velvet are great fabrics for keeping comfortable while achieving a more elevated evening look.
Women's Cocktail Attire for Weddings
So, what is considered cocktail attire for a woman? It traditionally skews on the formal side—but that doesn't mean you need to wear a floor-length evening gown. While you might want to leave the mini skirt at home, it's perfectly appropriate to wear a midi cocktail dress or something that hits just above the knee. To modernize the dress code, consider wearing a sleek jumpsuit, a chic suit or a trendy skirt-and-top combo. Guests can opt for eye-catching prints, trendy necklines and vibrant hues depending on the venue, season and overall vibe of the wedding.
From formal embellished jumpsuits to casual floral frocks, we've gathered the trendiest cocktail attire outfits for women. Best of all, you can rewear any of these picks after the wedding concludes, so it's a win-win.
Reformation Barrow Silk Dress Artichoke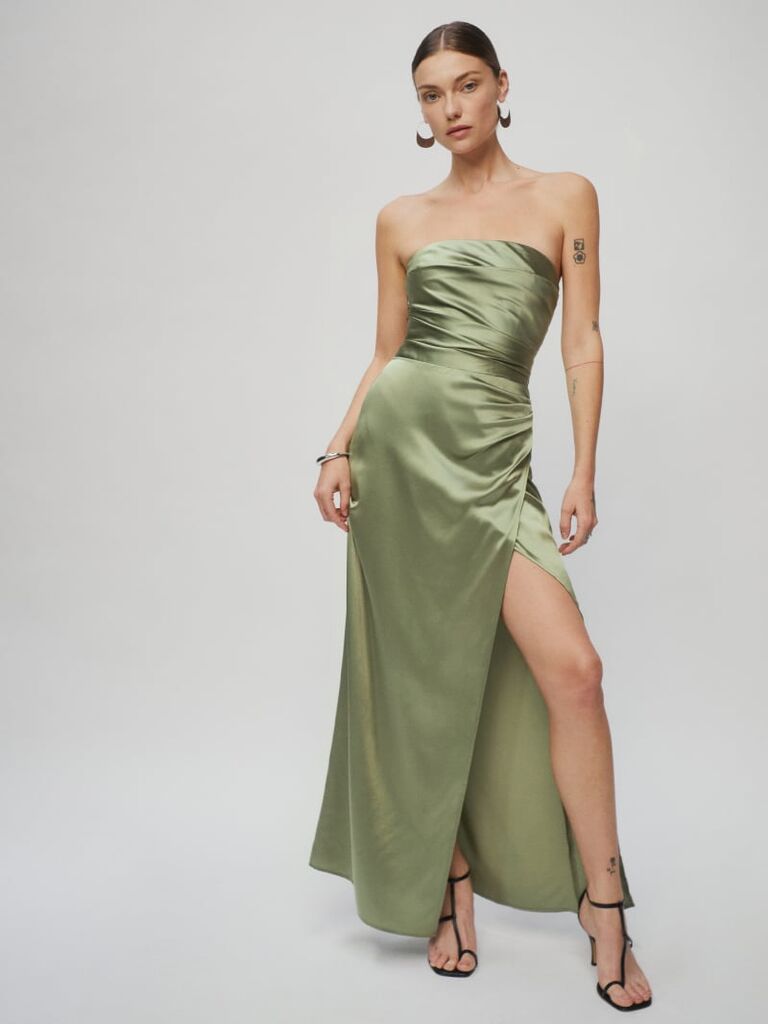 Here's a timeless look you'll love throughout wedding season and beyond. Made from 100% silk charmeuse, this strapless green dress offers an elated look you're sure to love for your next cocktail dress code event.
ASTR The Label Santorini Floral One-Shoulder Midi Dress in Lilac Multi Floral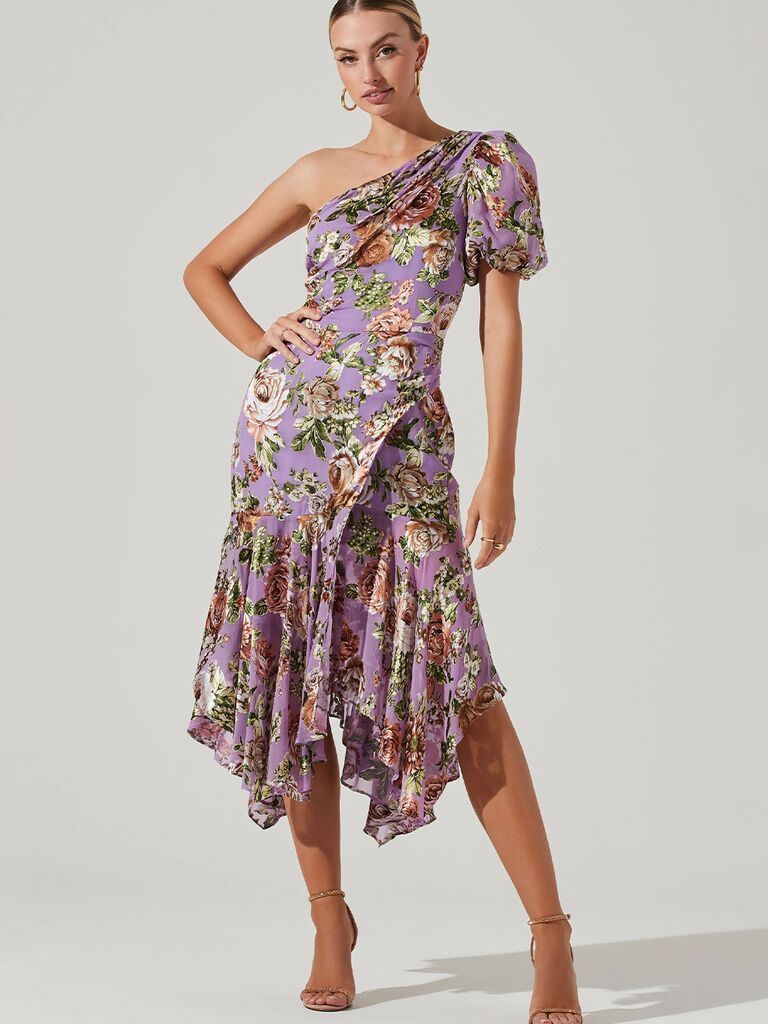 Cocktail wedding attire doesn't mean you have to sacrifice fun prints—in fact, you should lean into them when the dress code allows for it. This multicolored floral midi dress, for instance, is the perfect option for a variety of occasions.
ELOQUII Velvet Tie Waist Gown Black Onyx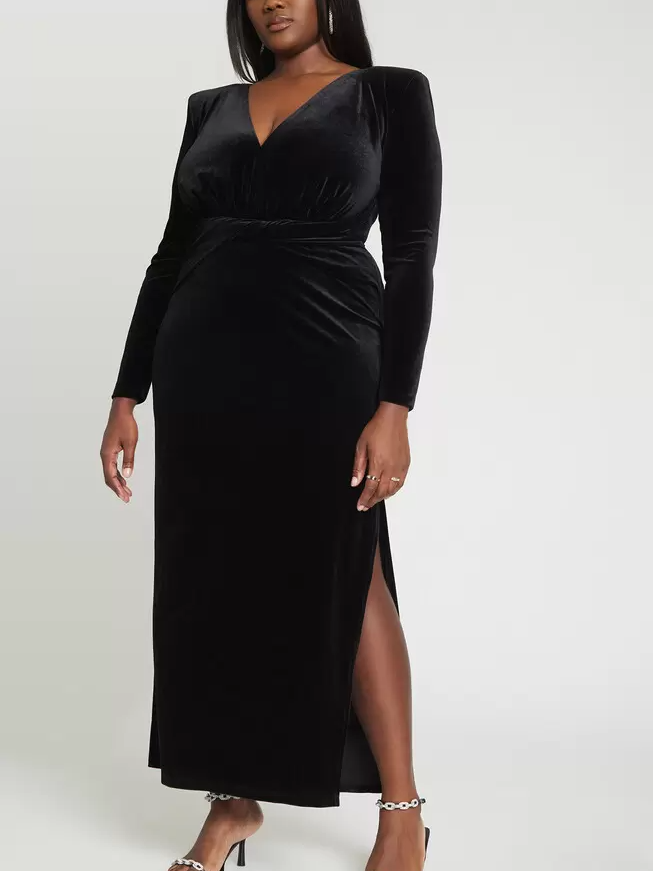 When in doubt, you can't go wrong with a little black dress. This velvet option, with a deep V-neckline and ruched waist, will look fabulous for an elevated cocktail event. Pair it with black pumps for a classic look you're sure to love.
Petal + Pup Floret Midi Dress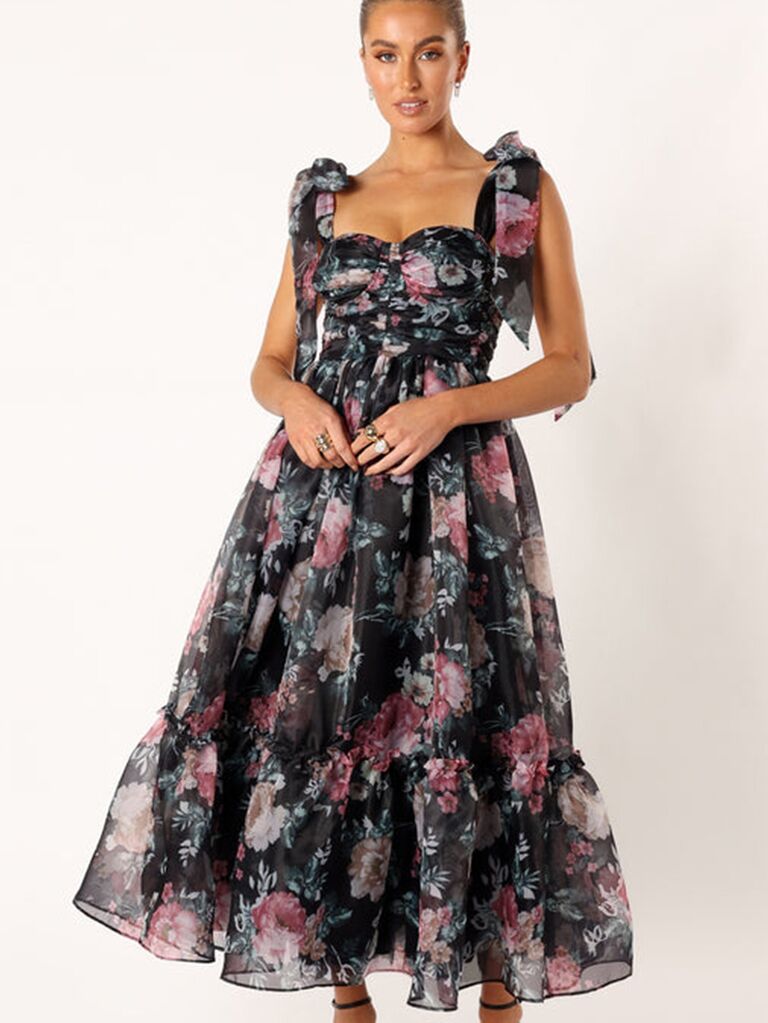 Attention boho lovers, this ethereal midi dress is a whimsical dream. It's available in a wide range of colors and designs, each featuring a bustier bodice and a tiered A-line skirt. Accessorize with an embellished headband, gold or silver jewelry and heeled sandals or pumps.
Lulus Classic Elegance Wine Red Satin Sleeveless Mock Neck Jumpsuit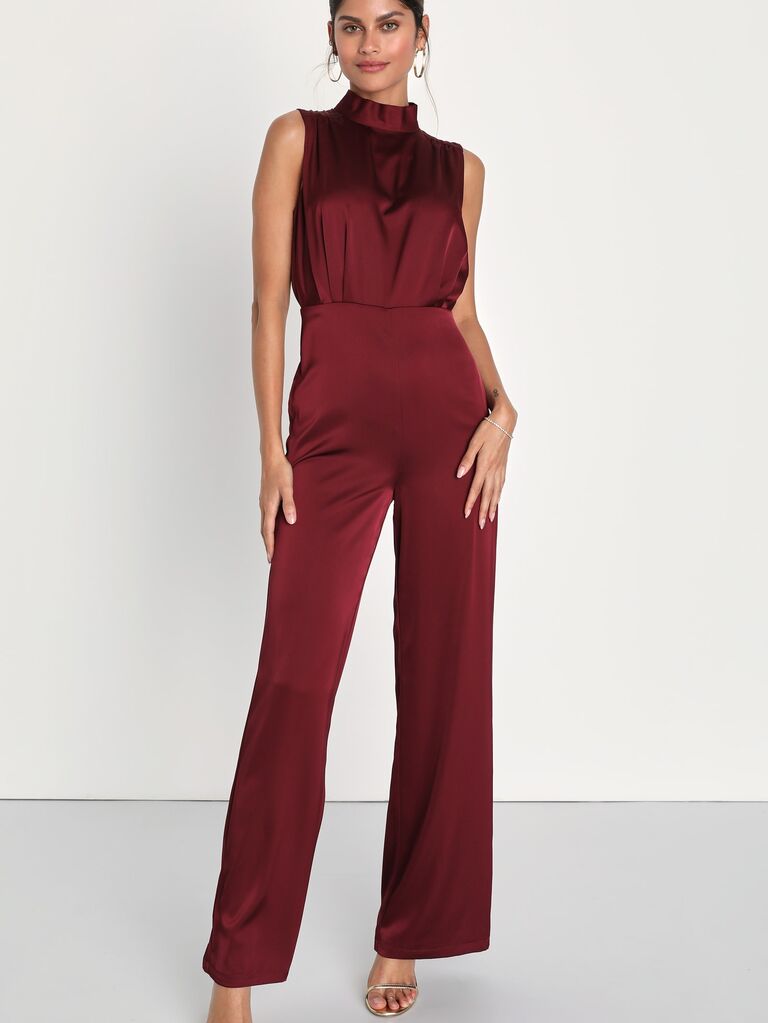 A formal wedding guest jumpsuit is an excellent choice for a cocktail attire wedding and this satin option is one of our favorites. Wear it with a pair of silver earrings and your favorite heels to finish off the look.
Park & Fifth Brodie Dress Penny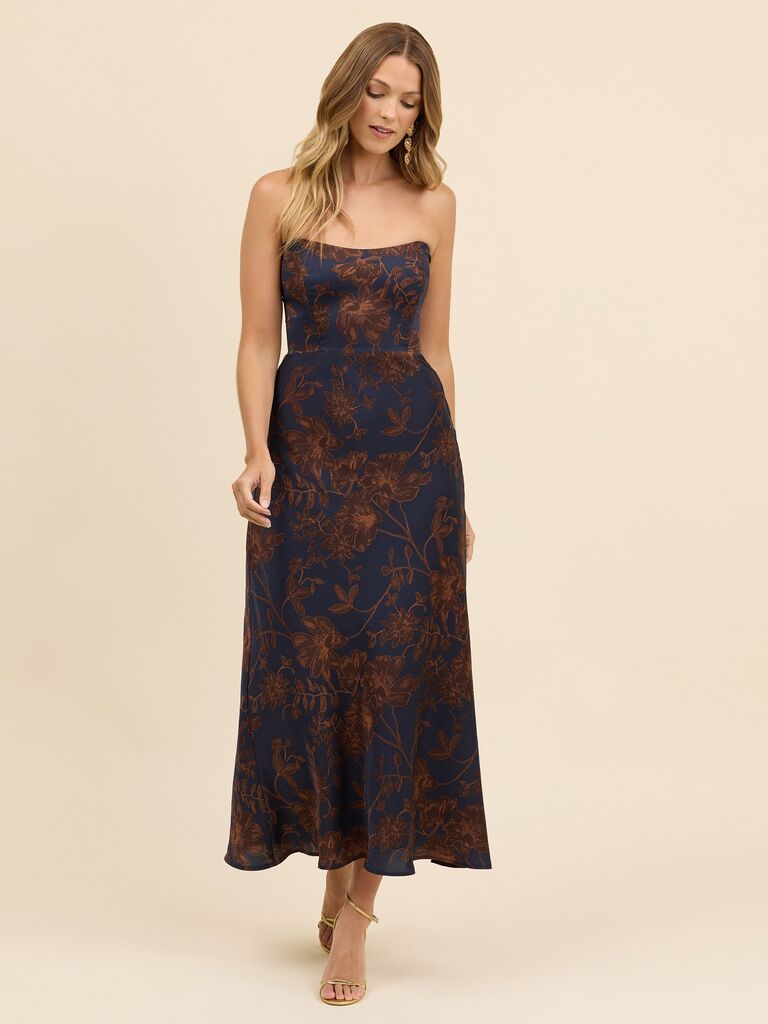 Other wedding goers will be captivated by this statement-making cocktail wedding guest dress. Its strapless silhouette is covered in charming floral details. Finish off your look with gold or silver jewelry, chic block heels and a stylish clutch.
Abercrombie & Fitch Giselle Pleated One-Shoulder Maxi Dress Red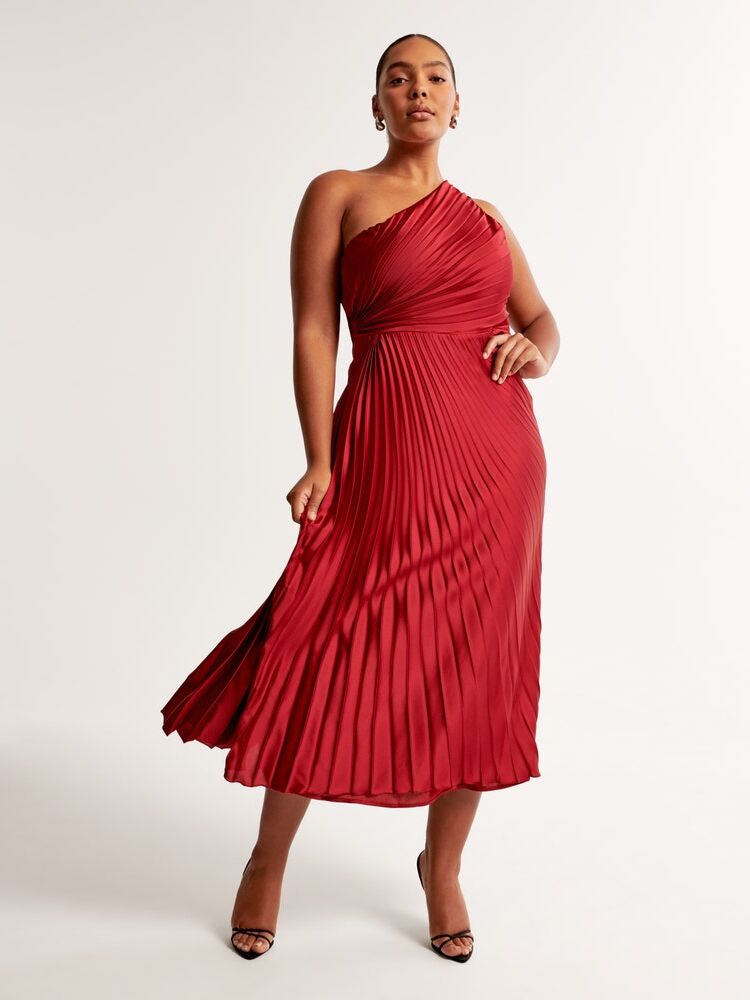 You'll bring the party in this one-shoulder cocktail dress. Available in standard, petite and tall lengths, the pleated skirt hits below the knee, making it an acceptable pick for cocktail wedding attire. And how eye-catching is its vibrant red hue?
Reformation Petites Sigmund Dress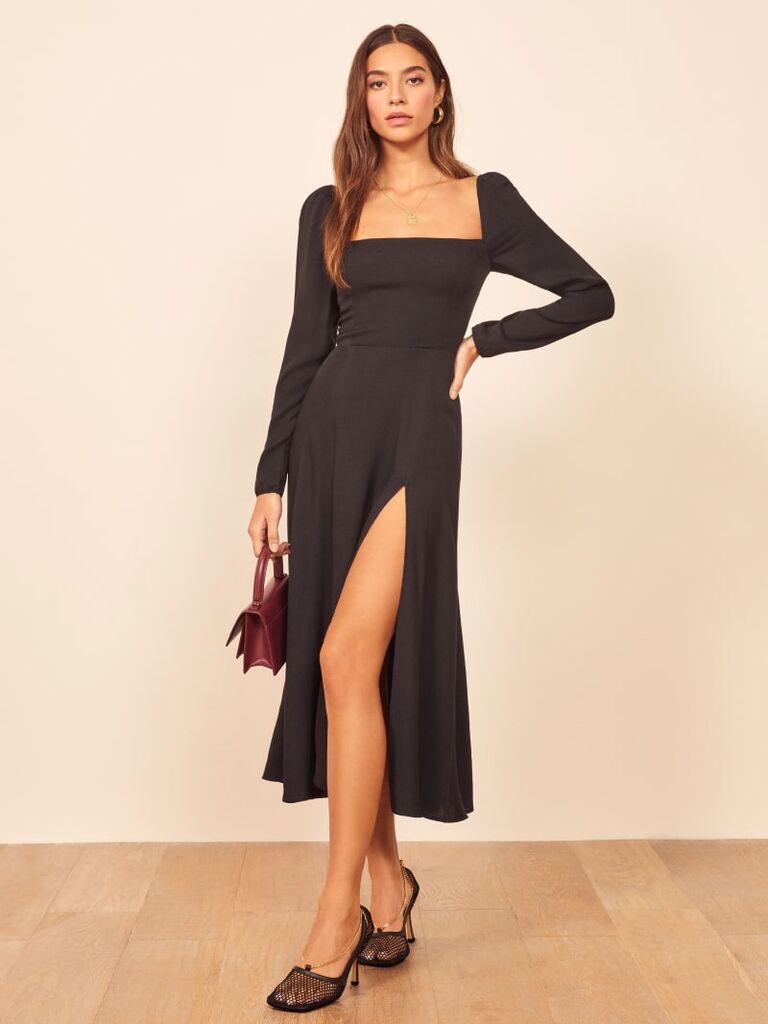 All the details of this petite dress for cocktail attire are totally fashion-forward, from its square neckline to its leg slit. Style your outfit with statement earrings, dress shoes and a sparkly clutch to add extra pizazz to your cocktail outfit.
Banana Republic Isa Italian Satin Blazer and Pant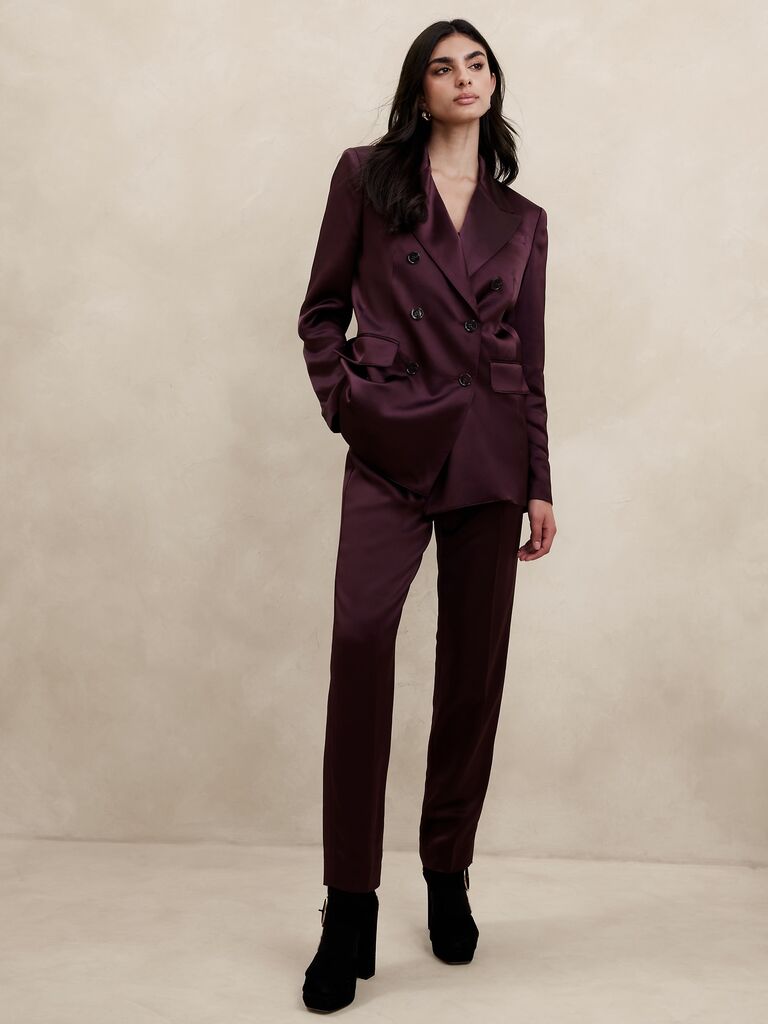 If you don't want to wear a dress or jumpsuit, you can't go wrong with a suit for cocktail attire, and we're simply obsessed with this sleek set. The jewel-toned number is crafted from luxe Italian satin. Style your outfit with metallic loafers to add some shimmer to your ensemble.
Show Me Your Mumu Greta Dress Emerald Stretch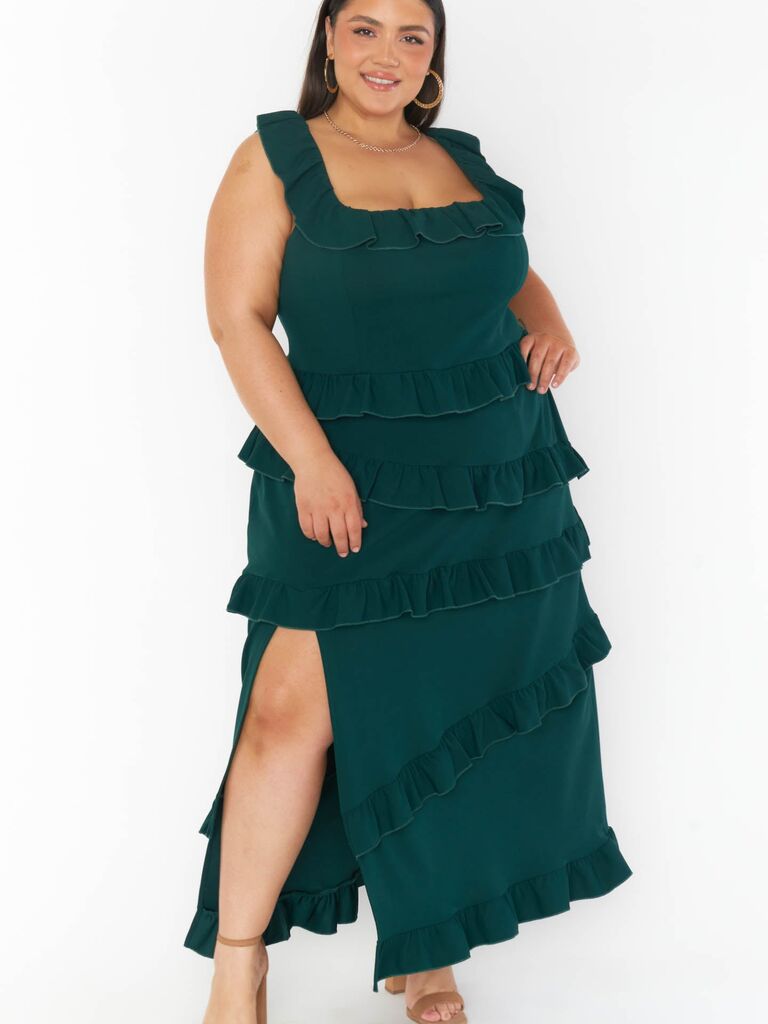 With whimsical ruffles and a side leg slit, this midi dress is one of our favorite cocktail wedding styles. The sophisticated design is elevated by fun, playful details, making it a great pick for a daytime event. Plus, it's available in a wide range of sizes and colors.
Men's Cocktail Attire for Weddings
Though cocktail attire for men typically includes a suit and tie, guests have the flexibility to experiment with colors, textures and prints. "Starting with the jacket, go for alternative fabrics and textures," Shugar advises. A linen suit would be ideal for summer weddings, while a heavier fabric like velvet, tweed or herringbone would be suitable for cooler months. Pair it with corresponding dress pants and a button-down shirt. For your accessories, you can also play with color and bold prints, especially if your suit is more neutral. "There is no color you can't build around," he says. "But the bolder the color, the less of it you should have." If you opt for a printed bow tie, your pocket square should be a solid color that matches the print—or vice versa. No matter your fashion taste, a pop of color will bring excitement to an otherwise formal outfit.
Read on for our go-to men's cocktail attire wedding outfits for all year round, from fun colorful suits to versatile black and navy numbers.
Indochino Hereford Cavalry Twill Black Suit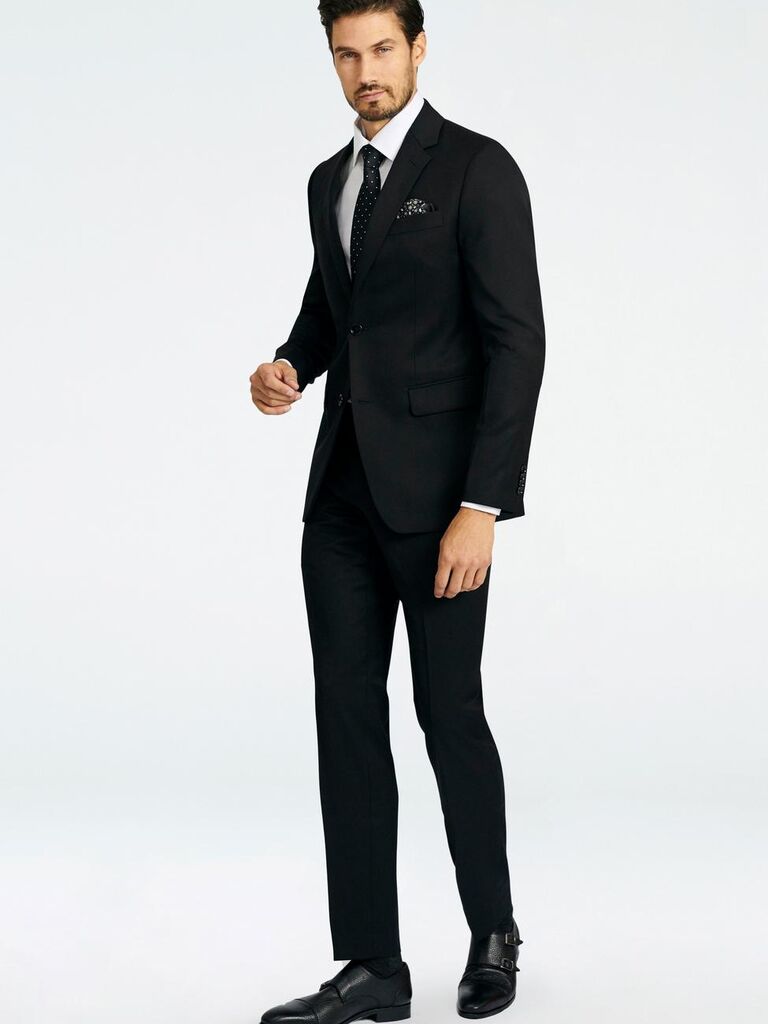 This versatile black suit can be worn throughout the seasons, making it a must for your wardrobe of formal clothing. Pair this jacket-and-trouser set with a white button-down shirt, cufflinks and a tie of your choice. Stick with solid colors if that fits your style, or go for a novelty print if you're not afraid to experiment.
Michael Kors Solid Non-Iron Stretch Dress Shirt in White
If you'd rather keep your look classic, stick with a no-fail option like a white button-down shirt paired with a solid tie. This dress shirt is specifically designed in big and tall sizes, plus it allows you to select your neck size and sleeve length. Throw in a black suit jacket and coordinating pants for a cocktail wedding attire outfit that's always appropriate, no matter the season.
New Look Slim Suit Jacket In Gray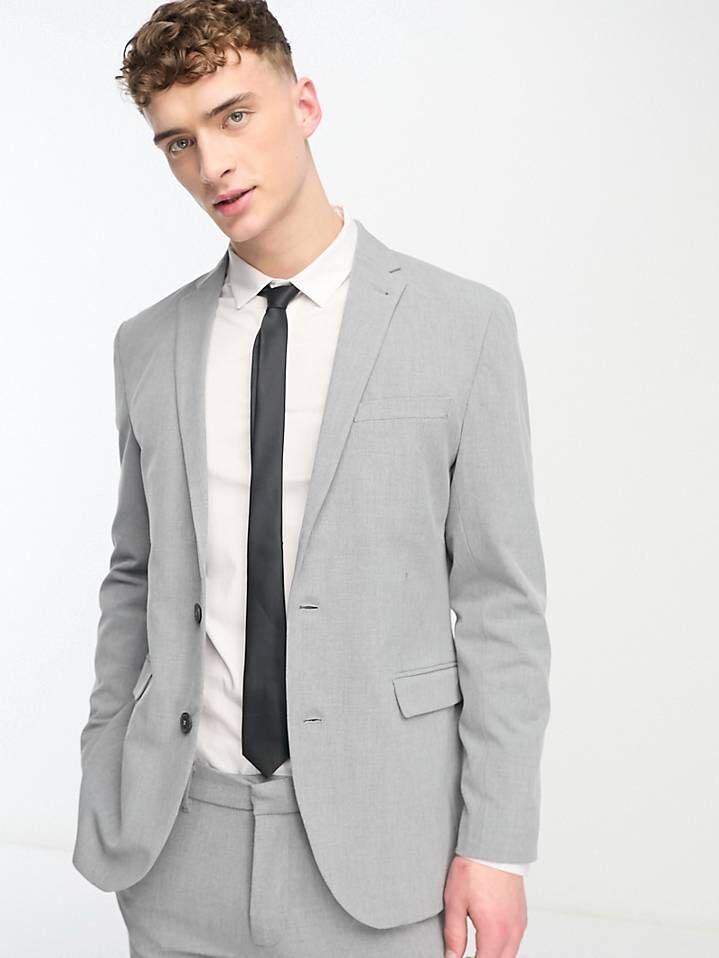 If the wedding falls during the warmer months, what about this light gray skinny suit jacket and slim suit pants set? Remember: If you do opt for a lighter color, keep it dress-code appropriate with a darker tie and dark dress shoes.
Bonobos Jetsetter Stretch Wool Suit Jacket in Light Navy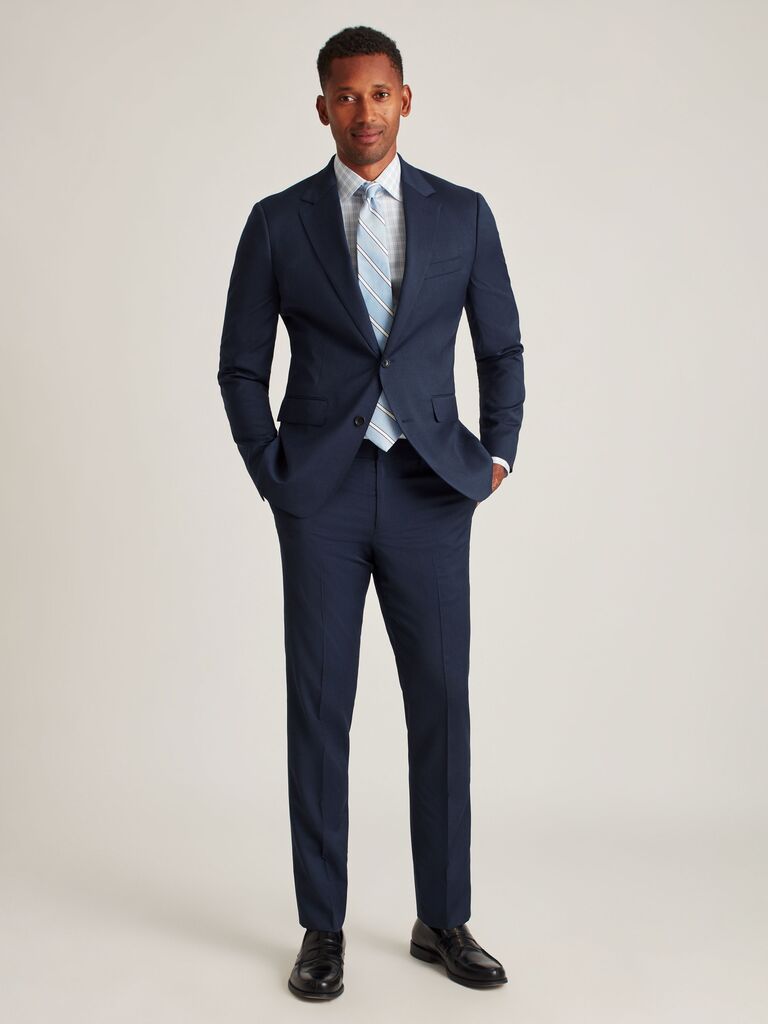 You'll look as stylish as can be in a sleek navy suit for wedding cocktail attire. The suit is equipped with modern notch labels, a double-button design and an interior pocket to store your essentials. Finish off this look with a white button-down shirt, a fun printed neck tie and brown or black dress shoes.
Indochino Barnsley Windowpane Hunter Suit in Green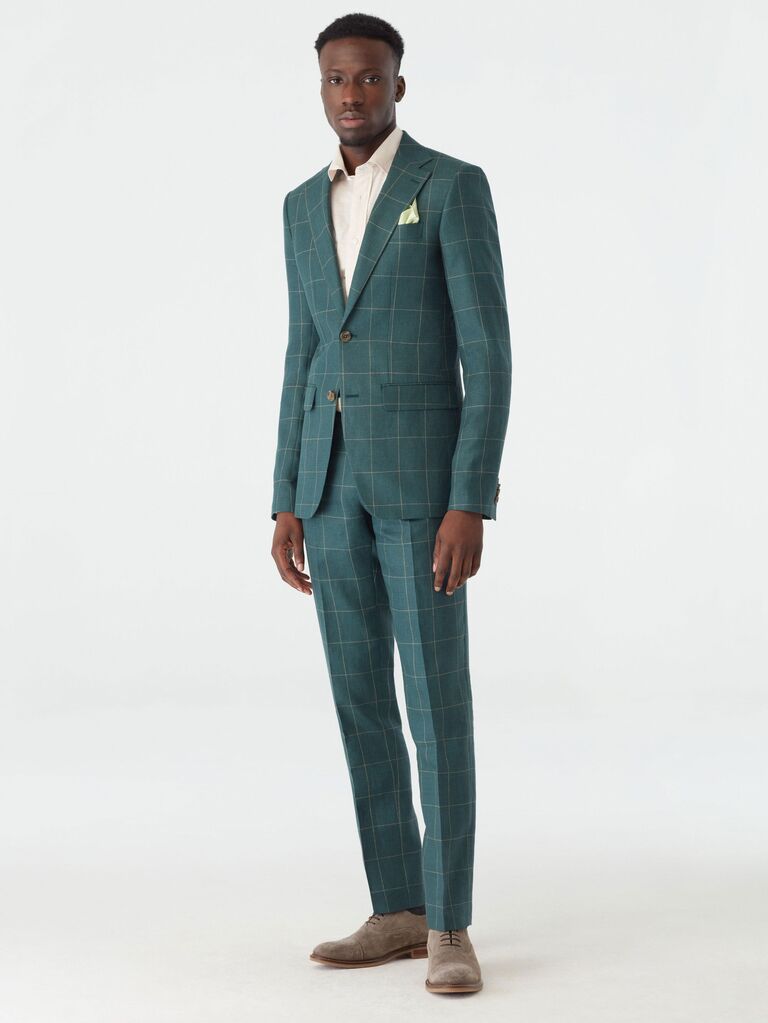 Depending on the vibe of the wedding, you can also play around with different prints. The windowpane pattern looks fun and sophisticated on this hunter-green suit. Better yet, it's crafted from a breathable wool and linen blend that's suitable for every season.
Oak Hill Perfect Fit Jacket-Relaxer Suit Jacket and Pleated Suit Pants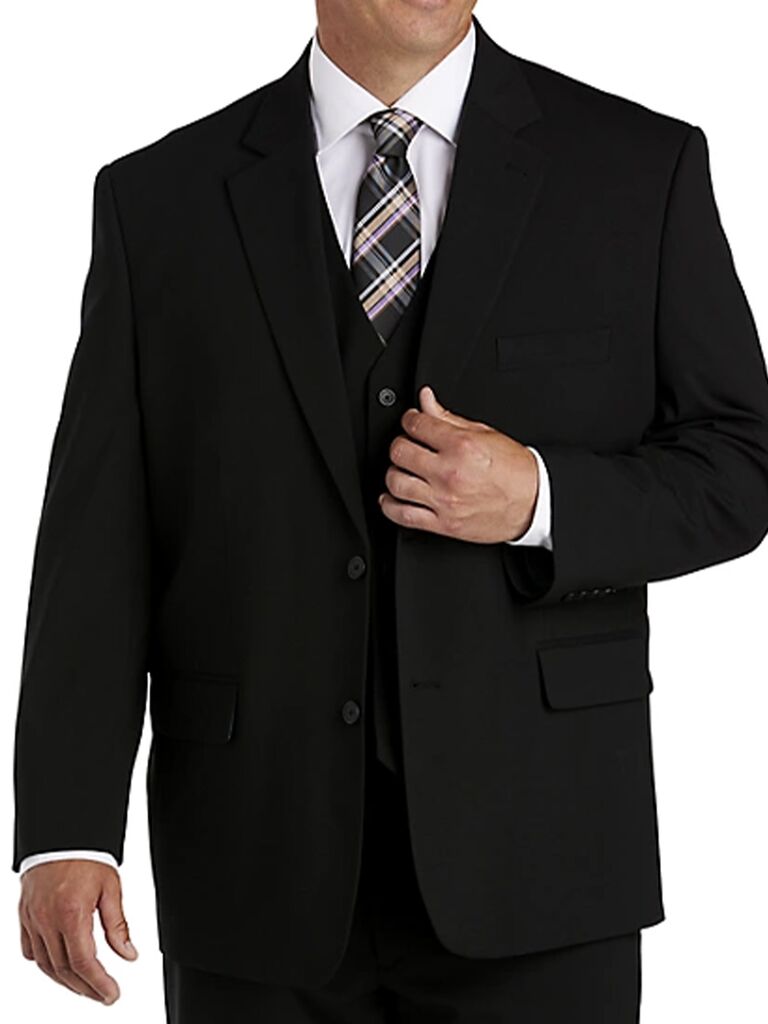 You'll be dressed to impress in this plus-size black cocktail suit for weddings. The suit includes regular-rise black suit pants and a tailored suit jacket with shawl lapels, padded shoulders and a skinny fit. All you need to complete your outfit is a pocket square, neck tie and dress shoes.
Indochino Hemsworth Suit in Burgundy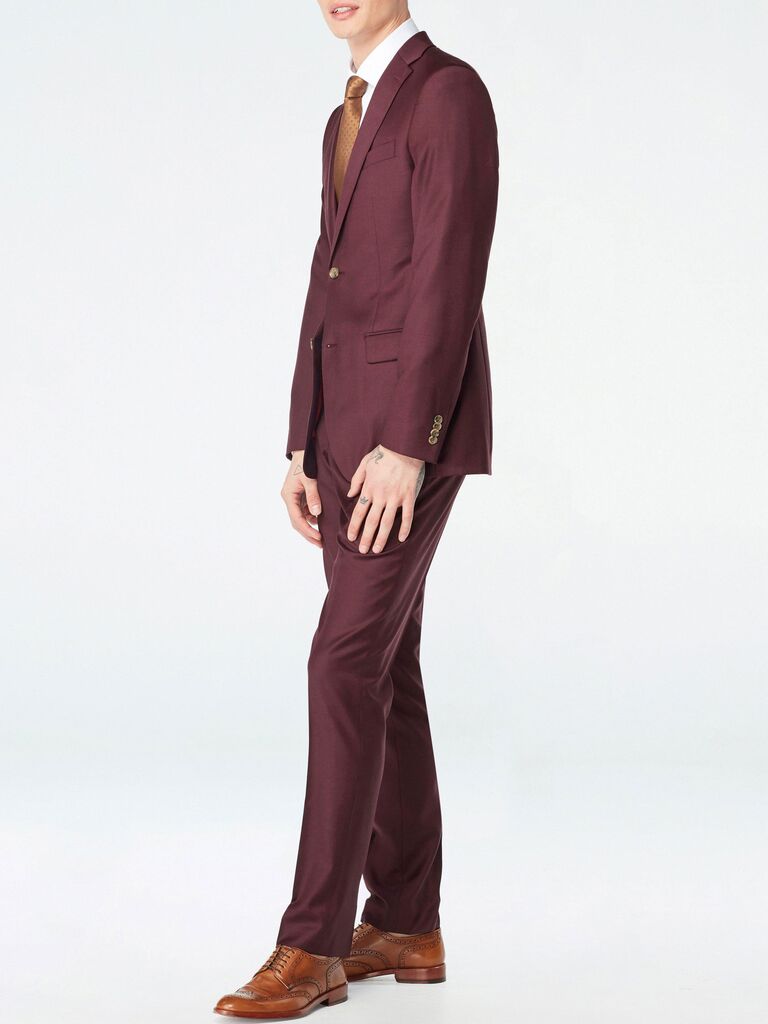 If you're looking for fall cocktail wedding attire, then this rich Burgundy suit is a real winner. Crafted from pure premium wool, this made-to-measure suit is crafted to your unique measurements, so you'll receive your best fit. Plus, Burgundy is a great color alternative to traditional black and blue suits.
Calvin Klein Men's Infinite Stretch Solid Slim-Fit Suit Jacket in Blue
You can't go wrong with a formal slim-fit suit for an upcoming cocktail party. This suave style is also suitable for formal and black-tie optional attire, so it's a worthwhile investment for future events. Choose from five versatile colorways, including Blue, Black, Light Grey, Navy and Charcoal.
Hugo Boss Patterned Slim-Fit Tuxedo Jacket in Cotton Jacquard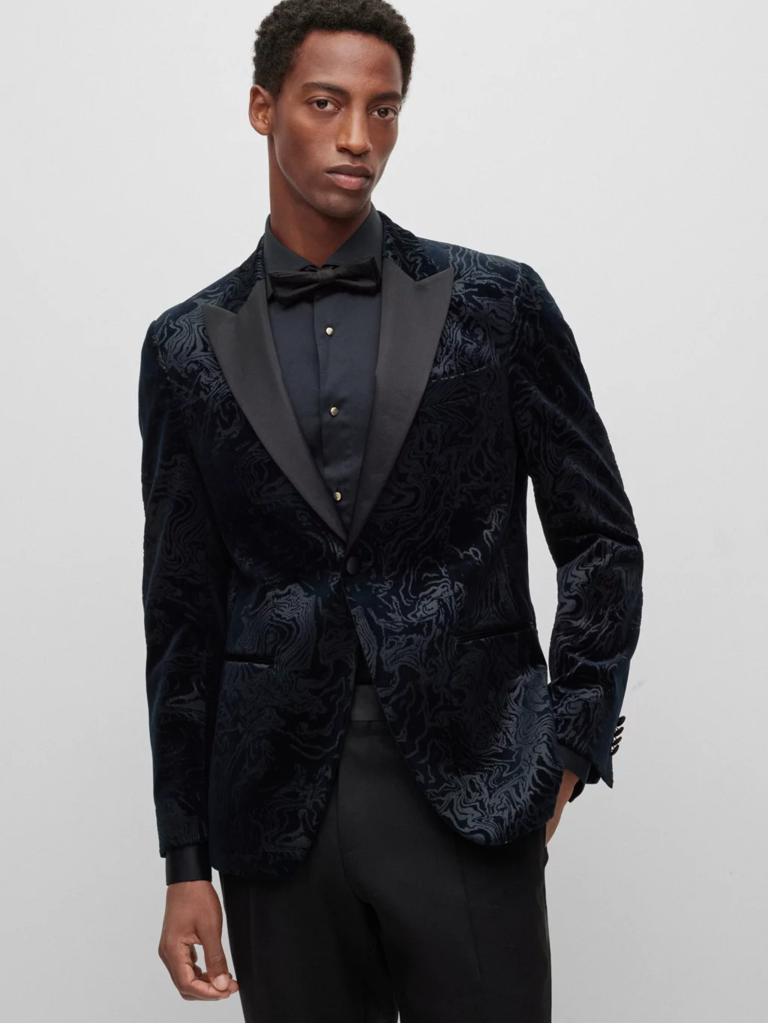 Incorporating a rich jacquard print is a fun way to spice things up, especially if the wedding falls in the fall or winter. Simply add a white or lightly colored button-down shirt, black dress pants and the dress shoes of your choice.
Bonobos Portuguese Stretch Chambray Suit Jacket
For outdoor cocktail weddings, finding a breathable suit is key. This slim-fit suit is made from a lightweight cotton fabric suitable for warmer climates. Plus, it's in a formal-yet-fun light blue shade that's perfect for outdoor parties.
How to Accessorize Cocktail Wedding Attire
When it comes to accessorizing cocktail attire, guests should consider adding in a special accessory or two to make their outfit dress-code appropriate. Small details like a sleek tie, cufflinks, fine jewelry or elegant shoes can turn a semi-formal outfit into one that's cocktail attire-approved. Shugar reiterates that accessories are the best way to make any semi-formal outfit cocktail appropriate. "There should be no shortage of accessories. It's events like these for which accessories for guests work best," he says. For women, consider pieces like statement earrings or trendy shoes to give your outfit a formal upgrade. While for men, add a tie (or bow tie), pocket square, cufflinks and a pair of dress shoes (like oxfords or loafers) to take your outfit up a notch.
Sofia Deeb contributed to the reporting of this article.