Home

Affordable Elegance Catering in Kansas City
About this Vendor
We make wedding dreams come true!
You've planned this day since you were a little girl. From casual hors d'oeuvre buffets to formal plated dinners, we offer high quality food, outstanding presentation, excellent service -- all at an affordable price. With Affordable Elegance, you can rest assured that your reception will be your dre
Details
American, French, Italian, Latin American, Fusion
Buffet, Catering Clean Up, Catering Delivery + Setup, Menu Tastings, Seated Meal, Servers, Food + Catering
Contact Info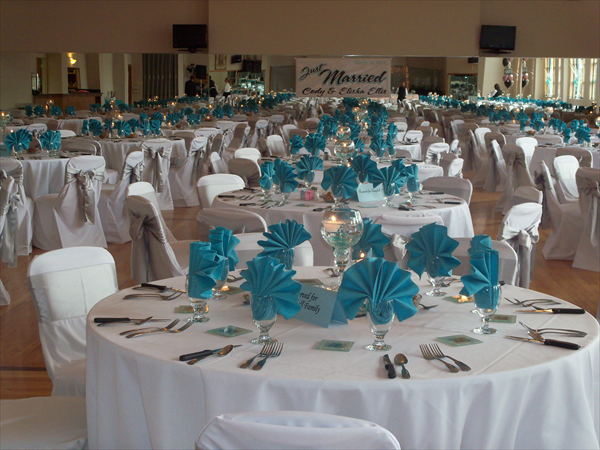 407 W Pine Street, Raymore, MO
Serving the Kansas City Metropolitan Area
My favorite vendor!
Reviewed on

9/10/2014
Justina J
When I was planning for a KC wedding from Michigan, I didn't think twice about choosing Affordable Elegance to be our caterer! I grew up in the Raymore area and was not only excited about supporting the local business, but had always heard such rave reviews over the years! I was able to coordinate multiple tasting with a couple different of my family members and we went with a BBQ-themed buffet menu. Through a few emails and phone calls, everything was set-up and my expectations were exceeded when it came to the comprehensiveness of their service (e.g. tracking down the exact chair cover sash color in champagne I wanted), their value, and their ease of working with. They also had extensive experience dealing with my venue and when a few miscommunications arose in coordinating the set-up and arrangement for the reception, they told me they would make it work and not to worry about anything. Dee-Dee, Camie, Brenda, and the head caterer Jeff were wonderful to work with and with all of the stress the comes with planning, I always looked forward to communicating with them. They were very flexible in terms integrating some of my own personal pieces and touches in with their set-up and design, all I had to do was drop off some of my items I wanted for the center pieces in advance. We went non-traditional and had pie instead of cake and the pies were delicious and a fun twist, again they were very happy to work with my ideas! I heard nothing but rave reviews about the food, all of the out-of-town guests just loved the BBQ, and the locals confirmed that it was indeed delicious. If you are looking for a caterer with years of experience, that is high quality, the best value you will find, and that will actually make your planning less-stressful and enjoyable, I highly recommend AE.
---
Excellent Service from Affordable Elegance Catering
Reviewed on

6/12/2015
We were totally pleased with the service from Affordable Elegance Catering and they exceeded our expectations! This company stood out from all of the other caterers that we had explored. They had very strong customer service skills, were detail oriented, and their food and services were excellent! They took time to customize the menu and personalize our wishes down to the napkin design that my daughter wanted. The reception was outstanding and the food excellent! They responded to all of my requests down to my daughters's choice of icecream brand! My guests commented on how good the staff was to work with and how nice everyone was. The night of the reception, two of them rapidly helped me get the glow sticks ready for my daughter and her husband's send off. The staff was a pleasure to work with from planning with Deedee and Cami to the actual event. If I have another need for a caterer, I will always call Affordable Elegance!
---
Affordable Elegance - check them out!
Reviewed on

4/02/2014
I selected Affordable Elegance based on reviews through The Knot, and I have to say that my husband and I were quite impressed! We were able to do a weeknight taste test of the foods and discussed our wedding and venue with Dee-Dee, who made several great suggestions based upon her experience with catering so many events. Once we booked the event, we ran into an issue with the linens we had secured elsewhere; Cami was able to quickly contact their local linen supplier in Raymore and arranged to pick up linens and deliver them to our venue in time for decorating. The pricing was very reasonable and her efforts to promptly help us out were top notch! The day of the event, I was blown away by the setup of the cake table - the groom's cake their baker made of a tailgating grill was fantastic and so realistic-looking!! The kids absolutely loved it! We heard so many compliments on the groom's cake, that the cupcakes were the best ever, and how good the Swedish meatballs and spinach artichoke dip were on the buffet table. I was very pleased with the fruit and veggies on the buffet as well! The only suggestion we have food-wise is that the sandwiches seemed to be a bit dry with a lot of bun compared to toppings. Otherwise, we couldn't have been happier. The wait staff was very friendly, professional and accommodating, and they looked sharp in their attire. Jeff, the lead caterer, was so on top of things...he and his crew made sure my husband and I were taken care of with beverages right away, and he let us know when someone walked out with a box of our alcohol without permission after the event ended (we were able to track it down before it left the premises and grateful Jeff let us know so promptly). Jeff and his assistant handled the final walkthrough and cleanup of the venue...that was music to our ears after such a long day!! We knew we could trust him and his assistant after all they had done for the evening, and the fact they had prior experience working at that particular venue. We were able to take home leftovers and had the option of donating them to a shelter had we not taken the food with us. They also offered us a complimentary Sunday brunch at their Gregory's location! I will most definitely recommend Affordable Elegance to others. We felt like valued customers from day one, and that is very important to us. I truly believe Affordable Elegance builds its reputation on a well-rounded customer experience from beginning to end. They are very friendly, professional, timely, flexible and all around good people. You should definitely check them out!!
---
Affordable Awesomeness
Reviewed on

6/12/2015
Don't even know where to begin other than to say everything was absolutely perfect. We used Affordable Elegance for our outdoor/tent wedding reception for 80 people, which can be a daunting task for most caterers. Dee-Dee, Greg, and the entire staff created a beautiful space that blended seamlessly with the natural outdoors. We had special requests (coconut shrimp) and wanted the sauce on the pasta dish tweaked just so...and each request was met with ease. Many guests commented on how good the food was, particularly the carved sirloin of beef and the chicken spiedini. We also wanted one of our wedding cakes to be a very specific flavor (chocolate mocha) and it was unbelievably delicious. Their 'basic' white on white wedding cake is also rich, moist, and to die for. The AE team was very attentive to us throughout the evening, keeping us hydrated and making sure we had plates of all the foods we had selected for the dinner. One of the things we chose to do for our reception was a candy buffet. Even though this was not part of our catering contract, Dee-Dee was so helpful in bringing glass blocks/risers as well as matching linens for us to use on the buffet. We could not have asked for a better caterer and would highly recommend them to anyone. Thanks again to everyone at Affordable Elegance for making our wedding day exactly what we had envisioned!
---
Amazing Service
Reviewed on

6/12/2015
Cayleigh G
Affordable Elegance made my wedding so easy! Anything that I need they were right there ready to do it. The food was amazing I am still getting compliments from guests. A big thing to me was communication I work all day and only really have access to e-mail and they were so responsive to all of my contact! The only negative thing I would have to say is that a lot of my guests did not get any cake because when they took it back to cut they never brought it back in the reception room they just left it in the entry. Other then that minor detail everyone of their staff is professional, food is great, and they are great to work with! I highly recommend them!!
---
Perfect
Reviewed on

6/12/2015
Becky B
From start to finish, everything was amazing. We worked mainly with Dee Dee the entire time and she was always professional and genuine. I loved working with her every step of the way. Anything we would miss or forget about she would always have suggestions and recommendations. I definitely recommend them!
---
May 30th Bride
Reviewed on

6/02/2015
Whitney B
Affordable Elegance Catering was excellent! Professional and timely! They were also right within our budget!!! Our guests enjoyed every bit of the meal!! Thanks so much!!!!
---
Stress Free Reception
Reviewed on

11/11/2014
They were very friendly we were allowed to go in to the event center that they owned where we had the reception two days before the wedding. There staff checked on us all through out the night making sure we didn't have any problems or questions about anything. I really enjoyed the food so did all of our guests. We also loved the fact when the reception was over they had a lot of people to help break down the centerpieces and all the things that we had brought in. It was a stress free night and it went very smoothly.
---
Overall great, but lacking attention to details
Reviewed on

10/28/2014
Tessa
Affordable Elegance helped us with not only our food, but also our other needs such as tent, tables and chairs, etc. They were easy to work with and got back to me quickly every time I had a question. Food quality was great; service of setting up the tent, lights, and catering was great. On the day of the wedding, things looked great but I just noticed a few details were not as planned. Nothing to make me mad, but I just noticed that some of the things we had discussed were not done the way we planned. For instance, I had green and pink napkins and was told not to place them at every other table setting as it could look circus-y; rather, do an entire table of green and an entire table of pink. A great piece of advice that I agreed with! But they placed them that way anyway. Also I was advised that the cupcake frostings should all be white so that the décor on top matched. Another great idea, as previously I wanted some to be chocolate icing! I agreed with this but then half were chocolate icing anyway. Also I wanted the linen table cloths to go to the floor/ground, and they didn't, that could have been my fault for not knowing what measurements I had agreed to -- all I knew was that I wanted floor length and since I said that, I thought it would happen. The day of the wedding they told me that they don't like to do floor length because it gets dirty in the grass. Good to know. We would have still liked to change to a longer linen but apparently the linen company they use is closed on Saturdays (???) so there was no chance to get longer ones. As you can see none of these things were deal breakers (to me) but just caused me a bit of irritation. There were a few other things like this. Also as you can see none of these things had to do with the food quality, which was great! The staff that served the meal was very professional and excellent. Also my father in law needed a heart healthy plate and they accommodated him, which I thought was very nice. I would recommend them but perhaps try to stay in contact with one person, maybe part of the problem was that I spoke with three or four people so maybe some of my comments were lost in the passing of notes.
---
Great planning & staff, good food
Reviewed on

10/22/2014
Whitney G
Planning was so easy and stress free, they were a pleasure to work with, arrived on time and didn't have to worry about a thing on my wedding day.
---
Amazing!!!
Reviewed on

10/21/2014
Courtney A
Affordable Elegance Catering is amazing! Amazing food, amazing service and amazing people! I'm go glad we picked them! Everybody loved the food and raved about it! I will recommend them to everyone! Thank you Greg and Dee Dee!!!
---
Great caterer
Reviewed on

10/21/2014
Alice R
My now husband and I chose AE Catering to do our cocktail hour and dinner for our wedding and couldn't have been happier. They were very helpful the entire planning process and were more than happy to answer all of my questions, and I had a lot. They were always very quick to respond to emails and let me add special details, like including my favorite bbq sauce, easily. They bartended for us also and made sure the bar area looked great. Of course their food was delicious too so I highly recommend them!
---
The Wedding Reception Of Our Dreams
Reviewed on

10/19/2014
Jessica M
The minute we met with Affordable Elegance Catering, we knew they had the perfect types of food and pricing for our big day. We first met with the Dee Dee and Jeff seven months before our wedding day. They made the entire process very easy, reviewing with us our different options and corresponding with us along the way. We changed our minds numerous times and they were so easy to work with. We couldn't have asked for better people to work with. Once our day finally came, they were incredibly organized, very well planned, and everything we wanted. We are still hearing reviews from guests saying how amazing the dinner was. It was a night we will never forget.
---
Amazing service!
Reviewed on

10/18/2014
Emily H
We had such a great experience working with Affordable Elegance for our wedding! They provided our buffet dinner, cupcakes, linens, and bartending. Their services really exceeded our expectations - things that we thought would cost extra, such as doing the room flip, were included! Dee Dee, Camie, and Brenda made sure every detail was in order before our wedding day, and Jeff and his crew made sure everything ran smoothly. I knew I didn't have to worry about anything. The food and cupcakes were delicious and the value was excellent. I can't think of even one little complaint about Affordable Elegance - I would definitely recommend them to anyone planning a wedding or other special event.
---
Delicious & Affordable
Reviewed on

10/02/2014
Heather K
We worked with Camie for our wedding. She was great! We chose brisket and parm chicken and everyone loved it and went back for seconds. At our tasting we were sold by the great food, affordable price and genuine friendliness of everyone we met. At our reception the staff was great. They cut the cake for us even though we went with a different baker. They helped clear the tables, scrape food off the plates at the end of the night and packaged up left overs. I was surprised to find a complimentary bottle of wine in my car at the end of the night with a nice note from the owners. It was a very nice touch that ended the night perfectly.
---
Perfect addition to our day!!!
Reviewed on

9/24/2014
Ryan Z
We recently used Affordable Elegance to cater our wedding. They worked diligently with us to set up the perfect menu and make our day special. The food was delicious and we received several compliments throughout the evening. We also used them to rent linens, tables, chairs, china, glassware, silverware, etc. We requested little details like having the water goblets filled prior to the guest arriving, the china being placed on the tables rather than the buffet and all those details were met without hesitation. The staff at Affordable Elegance was extremely professional and wonderful to deal with throughout the entire process. I would recommend them over and over.
---
3 months later and people are STILL talking about the food
Reviewed on

9/12/2014
Kelley M
It is so hard to put down all the great things about the poeple at Affordable Elegance. The food was so incredible that people were going up for 2nds and 3rds and everytime we see someone who came to the wedding they bring it up. Not only was the food incredible, they matched the cake picture I brought them perfectly and it was delicious. The staff is incredible. They helped us along through everything and were so easy to communicate with. The best part is that their food is not outrageously priced. You will not find a better caterer.
---
Amazing Catering and Service
Reviewed on

8/30/2014
Megan S
For our daughter's April 2014 wedding, we selected Affordable Elegance Catering in out hometown of Raymore Missouri. We had met DeeDee at a local Bridal Fair. She was very friendly and helpful. She invited us to a tasting during their Sunday brunch. They had prepared our pre-selected items as well as a few of her suggestions. Delicious! We secured them that day for our catering needs. The planning process was very easy and stress free. We had close to 300 guests for appetizers, open bar and dinner. The presentation was beautiful and well set up in plenty of time. Affordable Elegance also provided the bartenders. Those ladies were awesome! The wedding party and guests were treated like VIP's. Our guests raved about the food and service. They were on top of everything at all times. The cake was beautiful and tasted wonderful. Clean-up was made very simple and the leftovers were packaged up for us. I highly recommend Affordable Elegance for any catering needs. They went above and beyond all expectations.
---
My perfect wedding
Reviewed on

8/01/2014
The catering was amazing everything was great from the food to the service. They even matched their bow ties to my wedding colors. I would recommend them to anyone.
---
Fabulous!
Reviewed on

7/30/2014
Cassandra C
We highly recommend Affordable Elegance for any catering event you might have. Deedee, Jeff and Cammie are great to work with. They listen to your ideas, the give great advice and then they execute your plan to perfection. The food was excellent....great crabcakes! We would use them again in a heartbeat. Also, go to their Sunday brunch called Gregory's in raymore. Awesome!
---
Affordable elegance catering Kansas City is AMAZING
Reviewed on

7/14/2014
Amelia W
They truly went above and beyond to make the perfect wedding day. My guest raved about how delish the food was especially the chicken spindene...it was all fresh and hot and wonderful tasting. They use fresh herbs and ingredients. You can tell they really care about their brides day and making it special. They even did things that weren't required of them to help my day run more smoothly like set all the centerpieces up for me!!!! They were professional and personal making it super special. I truly don't know how they day would've gone without them there. They were friendly and genuine. They are affordable too. Look no further this is the caterer to use!!! I would use this vendor again in a heartbeat!!!!
---
Cupcakes!
Reviewed on

6/17/2014
Lisa F
We had several different flavors and all were very good! Red Velvet was our fav! Price was great compared to bakeries!!
---
Wonderful
Reviewed on

6/16/2014
Leann P
Thank you so much for the fantastic job you did catering our wedding. So many of our guests complimented on how good the food and service was! Thanks again!
---
Perfect Wedding Weekend
Reviewed on

6/03/2014
Alysha V
Affordable Elegance handled the rehearsal dinner and wedding reception of our son and new daughter-in-law and made the weekend just perfect. Friday nights rehearsal dinner was awesome from the venue to the food. The food was delicious and the staff excellent. Saturdays wedding reception surpassed our expectations. The presentation, the food and staff made the event a success. It was nice to know that everything was handled and we could enjoy the wedding without worries. The entire staff was friendly, helpful and went over and beyond for us. We look forward to using Affordable Elegance in the future.
---
Exceeded Expectations
Reviewed on

2/26/2014
Brianna R
If you are looking for a stress-free catering and bar experience, Affordable Elegance Catering will not disappoint! My wedding involved a tricky room flip, a cocktail hour, and a dinner, and everything went off without a hitch. The food was delicious, the cupcakes/cake were beautiful, and our full bar was a huge hit! The staff is so friendly and easy to work with; they return your calls/emails very promptly, and will provide as much or as little guidance as you need. At the end of the evening, I gave them all hugs because they were so sweet and helpful. They really know how to make your big day special! Several of my guests are still talking about how much fun they had talking with the bartender. I can't praise Affordable Elegance Catering enough!
---
Send Message