Home

Breathtaking Blooms
About this Vendor
Breathtaking Blooms, more bloom for your buck
Details
Aisle Decorations, Centerpieces, Pedestals, Plants, Vases, Wedding Arch, Decorations + Accents, Bouquet Wraps, Bouquets, Boutonnieres, Flower Delivery + Setup, Flower Arrangements
Contact Info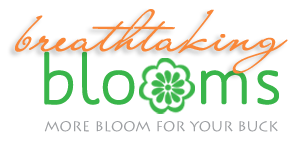 3304 Treadsoft Cove, Austin, TX
Reviewed on

7/25/2015
We learned about Linda and Breathtaking Blooms by word-of-mouth after attending a friend's wedding at which she had done the flowers. We knew immediately, without even interviewing other florists, that we wanted to go with Linda. Her designs are beautiful and personal, and we... Read More were especially pleased that all of our communication could be done via email since our daughter lived out of town during most of the planning; we provided pictures and descriptions of what we wanted, and Linda responded with pictures and pricing of her offerings. When we started down this path a year ago, I mentioned to Linda that our daughter's favorite flowers are peonies; she set realistic expectations, advising that they aren't typically available in July, but she made a point of having them for her bridal portraits in May. Then, amazingly, Linda surprised us on her wedding day last weekend by somehow obtaining peonies in July for her bouquet! What a treat! Linda was quick to respond to our every question and always made us feel like our business was her priority. She is both an artist and an astute business woman, and always a pleasure to work with.
---
Reviewed on

6/22/2015
Margaret N
Linda was the florist for my April 5th wedding!!! My fiancée & I had a meeting at her home in which she has her business at last summer! She was such a pleasure showing us pictures and taking us into her shed where she has flowers and showed us all the things she could do and... Read More giving us ideas!! We loved her so much my fiancée made me cancel our other 2 florist appointments!!! Every email we sent was responded quickly and she didn't hesitate when we changed our flowers & colors 5 months before we said I do!! Day of wedding she made our ideas and dreams come true. Everything was beautiful & the arch she put together where We got married was amazing!! Highly recommend her!!
---
Amazed
Reviewed on

3/22/2015
Amanda B
Linda was an absolute delight to work with! She has an infectious optimistic attitude! I just loved working with her. I told her the colors for my wedding and some of the flowers I like and she did the rest! I gave her absolute creative control over what the floral... Read More arrangements were to look like. I was absolutely delighted and floored with what she was able to do! When I arrived at the venue my bouquet and the bridesmaids bouquets were waiting for us in our room. They were just stunning! And, luckily for me, she threw in a few extra boutonnieres! I had a couple male relatives show and and surprise me! :) I would use Linda for ANY floral needs in the future. She is amazing! Make sure you contact her to have a meeting before signing with ANY other florist - she is also the MOST REASONABLY PRICED of ALL the florists I met with and looked at! (Including places like HEB!!!) SERIOUSLY, CHECK HER OUT!
---
SO TALENTED!
Reviewed on

12/17/2014
Katy M
Linda Manifol is one AMAZING LADY. We visited with her and some other florist to try to decide which vendor we were going to go with for the wedding. We actually took one of our centerpieces with us and had each person present us back with it done. While meeting with her, I... Read More thought she got my vision, but I was not really sure. I am not a flower person, so I really did not know names of flowers and the whole flower thing was not my expertise. A few weeks later, Linda called to let me know the centerpiece was ready for me to pick up. When she brought it out of the room, I was completely taken over by how incredible it looked. We made a few minor changes and at the moment, I knew I had nothing to worry about. As the wedding got closer, we talked more frequently, she is always such a delight to talk with. She gets to really know you and cares about you. On the big day, when she showed up and did her thing, I walked over while things were happening to check it all out. I was completely amazed. IT LOOKED MORE BEAUTIFUL THEN I COULD HAVE EVER IMAGINED!!! She did an incredible job! I would recommend her to everyone. She knows her stuff and once she sees your vision, You have absolutely nothing to worry about, she will make it exactly what you what and more! We are very thankful for this lady! She is amazing and I hope her the best! :) BREATHTAKING BLOOMS is AWESOME!!!!!!!!!!!!!!!!!!
---
SO BEAUTIFUL!
Reviewed on

11/09/2014
Haley B
I met Linda at the Bridal Extravaganza in Austin and instantly fell in love with her floral designs! I had a specific vision in my mind and Linda made it come to life. I emailed her back and forth numerous times, changing my mind about things and adding details here and there.... Read More Linda made sure to have everything I wanted and the flowers could not have looked more perfect! She was quick to respond to my emails as well as help me make decisions in regards to flowers for the reception. Linda is awesome and really loves what she does! She will definitely make your wedding look beautiful!!! :)
---
Linda is amazing!!
Reviewed on

7/01/2014
Vilissa T
I could not say enough great things about Linda and her amazing work. She is so talented and very fair in price! She will work with any budget and go above and beyond to capture the look that you are wanting at your wedding. Everyone that I have referred to her has been just... Read More as happy as I was! Breathtaking Blooms is the best!!!
---
Breathtaking Blooms
Reviewed on

6/30/2014
I am a wedding planner in Austin and have worked with Linda at Breathtaking Blooms many times. She always spends plenty of time with my brides at their consultations, she is very knowledgeable about flowers and works hard to know exactly what each bride wants, she has always... Read More provided beautiful flowers for my brides' weddings, and my brides who have used her have been very, very pleased. I have even chosen Linda to provide all floral for my son's wedding this year. That is how confident I am in her abilities, her product and ease to work with her. I would highly recommend Linda and Breathtaking Blooms to any bride looking for the floral for her wedding day.
---
Beautiful Arrangements
Reviewed on

10/18/2013
Shana P
We booked this vendor from the Bridal Extravaganza in Austin, Texas in January 2013. We loved her arrangements that she had on display and she produced the exact items for us at my daughter's wedding in October 2013. I would highly recommend and a week later all of the... Read More flowers are still just as beautiful as they were at the wedding and reception.
---
Easiest Wedding Vendor I Worked With
Reviewed on

9/27/2013
Amy P
Linda did all the flowers for my wedding last month and I couldn't have been more pleased! No only were all the flowers and center pieces even more beautiful that I could have imagined but Linda was so very easy and pleasant to work with. You will not go wrong with choosing... Read More Linda for your wedding!!
---
Perfect Florist
Reviewed on

6/30/2013
domenique d
Linda with breathtaking blooms did an absolutly fantastic job with decorating our venue. Our venue already had so much decor and neat nic nacs around the area, so we were looking for some minimal items, but things of great quality and style. Linda provided gorgeous flowers for... Read More every aspect of our wedding day. The signs and other decoration items were also fantastic. She had a vintage hat box that we used for people to put their cards into along with an old type writer that provided some great pictures. Linda also set up a picture booth with various hats and scarfs that guest used to take pictures. Everything was amazing and really fit with what we had envisioned!
---
Linda is fun and talented!
Reviewed on

5/21/2013
Ashley G
I used Breathtaking Blooms for our wedding on May 4, 2013. I met with Linda multiple times. She is fun, spunky, and seems just as excited as you for the wedding. She has a true passion for what she is doing and is so fun to work with. Unlike big time florist companies, with... Read More her, you do not know exactly what you are getting. You basically give her your vision and have to trust that she gets it. In my case, she did! Everything was so beautiful! She even makes suggestions on things to add to make it more beautiful, things to take out that are unnecessary to save money, and she also will suggest using more affordable flowers that will get the same effect as the ones you love. She definitely understands how to work with a bride on a budget! She also has lots of awesome rental items. I think I used like 15 of her items and it only cost around $40. Way cheaper than buying or renting from other places! There were a few things that I noticed at the wedding that were not exactly as we had discussed, but overall she did such a beautiful job, it doesn't even matter! I would definitely recommend her to anyone.
---
Linda at Breathtaking Blooms is a MUST HAVE
Reviewed on

4/07/2013
Heather B
Linda at Breathtaking Blooms did an amazing job of taking my vision and executing it into exactly what I wanted. I was able to rent decor (lanterns, pots, vases etc.) as well as have her do flowers, all in one place. What she put together was well beyond my expectations and I... Read More got numerous compliments on the beauty of my event. Her price was also the best I could find out of numerous florists - use her!
---
Bride's Beware.
Reviewed on

10/23/2012
Nicole W
Unfortunately, I did not not have a 5 star experience and would not recommend Breathtaking Blooms. My flower request was super simple, I wanted all red roses with rhinestones for everything. Linda wrote this in our contract. I also, requested a medium pomander of red roses with... Read More rhinestones and a small one as I expressed to Linda at our first meeting that my 7 year old sister requested to be a bridesmaid and she is small. Also, Linda charged us for a set up and take down fee of $100.00. Well, the day of, Linda shows up she is running late and seems very rushed. she had told my mom prior that she had two weddings on the same day. She did not seem like the friendly person we had met first meeting. My mom and I ended up setting up all of the tables and I found out later that Linda was running late to pick up her vases that night and my mom ended up taking down everything. None of the roses had rhinestones in them which was written in the contract. Also, I requested all red roses, after seeing pictures from my reception (such a whirlwind of a day) there was more greenery than roses in my centerpieces. I did not ask for greenery in the centerpieces either. She claimed that she received 100 more roses, therefore she made the pomanders bigger. The pomander balls were HUGE, and my sisters were unable to carry them down the aisle. The pomander was as big as my 7 year old sister and way to heavy. My other sister is petite and the pomander overwhelmed her. Also, Linda was supposed to go to my venue before my wedding day. So, on the day of she comes up to me and is telling me that the poseys are not fitting on the chairs and she doesn't know how to get them to fit and that we may just not get to use them. If she would have followed through with visiting the venue she would have known what kind of chairs the venue had. Before I wrote this review I e-mailed Linda expressing my dismay. She apologized and then proceeded with excuses. She said that she did not realize I wanted rhinestones in every item (the contract she typed up specifically has rhinestones written next to every item.) She also said she didn't realize the small pomander was for a smaller bridesmaid (but it was specified in the contract that I requested a small one) She tried to tell me that my wedding coordinator was not helpful? Not sure what my coordinator had to do with our flower contract. She did apologize for assuming and then she went on to tell me about how the poseys didn't fit the chairs in the ceremony and had to spend extra time in there and that someone asked her if they could set up the flowers, but the only people who set up the flowers were my mom and I. I wrote Linda back and sent her our contract which stated that I wanted red roses with rhinestones on everything, no where did it list greenery. She never wrote me back. Oh, Linda also said she put a crystal dangle from the vases and thought that that would work. (Again, I did not ask for this) After spending around $2000.00 for what Linda wanted and assumed for my wedding day, which was not what I wanted I felt that I should warn others. She was apologetic, but I feel like we completely got jipped. I felt that the flowers were thrown together in a rush and she did not listen to my requests that were specifically written in the contract. She didn't even offer to compensate for such sloppy-ness, not even for the pomanders she decided to make extra huge and that my sisters couldn't even use. Bride's Beware. Disappointment
---
Breathtaking Flowers
Reviewed on

10/22/2012
Isabel B
Linda was full of great ideas and she had a ton of decor/floral items that she was happy to loan out. All of our arrangements were beautiful and we were very happy with her work.
---
The most beautiful flowers!
Reviewed on

10/05/2012
Sarah C
I loved, LOVED my bouquet and bridesmaids flowers, also the table decorations, and the aisle decorations, the cake flowers as well. Pretty much everything Linda did was amazing and made our wedding beautiful, actually breathtaking! I would highly recommend Linda!
---
Beautiful!
Reviewed on

5/10/2012
Sara S
Linda was wonderful to work with and my flowers were perfect. She made the entire process fun and painless and the bouquets stayed beautiful for a whole week after the ceremony!
---
Amazing Price, Amazing Quality
Reviewed on

12/15/2011
Amy G
Linda is amazing and took my vision to the next level. She knew what I liked and sat down with me to create the perfect florals for my wedding. She knows her stuff so trust her and you wedding will be amazing!
---
Flowers!
Reviewed on

11/18/2011
CRISTINA G
Linda was fabulous!!! She is very reasonable with her prices and will work with you. Her work was gorgeous and she delivered. I worked with her from Ohio (got married in Austin). She listens to what you are looking for and did a better job than what I envisioned.
---
One woMAN Show
Reviewed on

10/11/2011
Cynthia A
We loved breathtaking blooms because we were working with Linda, and Linda alone. She did a great job with our 100 person wedding. We gave her a few things we liked and didn't like, and she did the rest. She let us be as involved, or in our case not involved, as we wanted.... Read More The arrangements were beautiful and unique. Everything was perfect.
---
Gorgeous work on budget
Reviewed on

9/22/2011
Carly K
Linda really knocked the flowers for my wedding out of the park. Every single arrangement and bouquet was absolutely beautiful. I gave vague ideas about "lots of mixed white flowers with some greenery" and she did exquisite work that went above and beyond my expectations.... Read More Linda's work was very affordable compared to other florists I considered, and, as a bonus, she's a delightful person to work with.
---
Eccentric Florist
Reviewed on

7/12/2011
Caitlin N
Linda is a great florist. She can mix and match flower patterns to cater to any wedding style. However, she is a little bit eccentric and likes to do things her way.
---
Breathtaking Blooms
Reviewed on

8/12/2010
heather h
Linda's flowers were beautiful and the arrangements were very unique and suited to our theme. She listened to all of my requests and made the venue sparkle. Her attention to detail was wonderful and she went above & beyond to make everything look perfect.
---