25 Ideas to Keep Your '70s-Themed Bachelorette Party Filled With Good Vibes
Cool beans.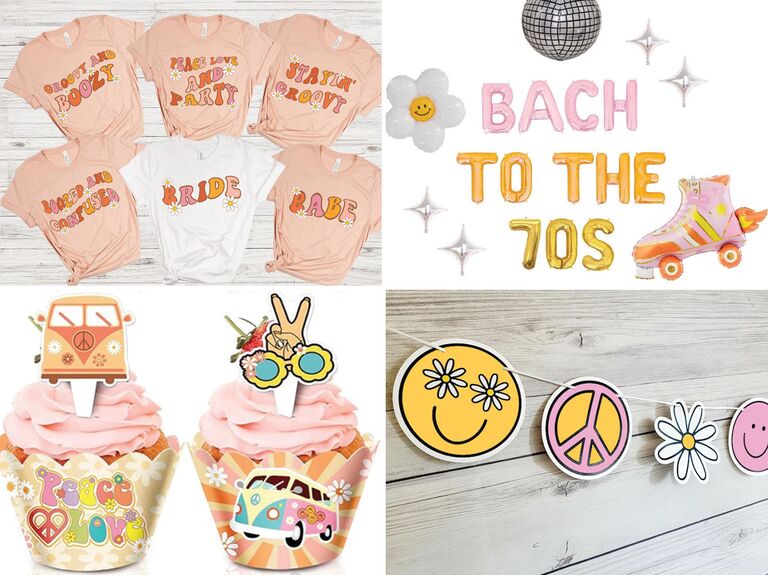 Photos from clockwise: BenandJetsShop, CherCanDoIt, CrafttimebyCristina, CraftyCue
We have included third party products to help you navigate and enjoy life's biggest moments. Purchases made through links on this page may earn us a commission.
A '70s-themed bachelorette party is great for a group that's always looking for peace and good vibes (and can never watch Mamma Mia"enough times). It also happens to be one of the trendiest bachelorette party themes right now. And why wouldn't it be? The '70s brought lots of unique things to the forefront of society including disco, bell-bottom pants and Star Wars. Whether you're heading to a popular bachelorette party city or hosting it at home, continue reading for some of our favorite '70s bachelorette party must-haves that you can add to your bachelorette party planning checklist and cart right now. From games and decorations to cake toppers and welcome bag supplies, these items will make this special event fab and funky.
In this story:
'70s-Themed Bachelorette Decorations
A '70s bachelorette party theme should have spot-on decorations that guests will recognize and love from the moment they arrive. Add some of our favorite decor picks from daisy flower balloons to groovy tablecloths to your cart now, so all you have to do is hit "buy now" later.
1. Flower Power Daisy Balloons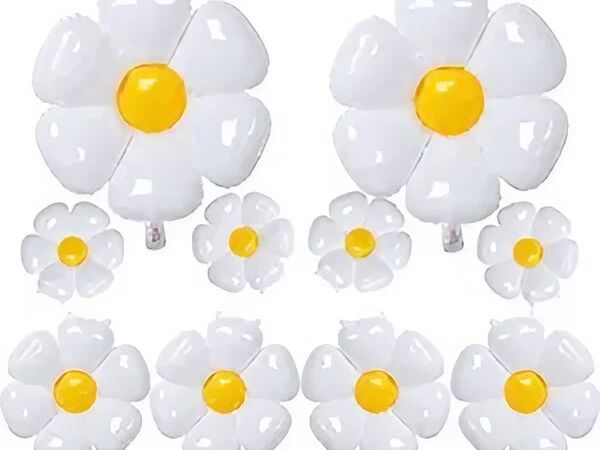 Balloons are a must when it comes to '70s bachelorette party decor. These daisy flower balloons can be tied to chairs, used to spruce up the walls or can be held in photos to make them extra gram-able.
2. "Bach To The '70s" Balloon Banner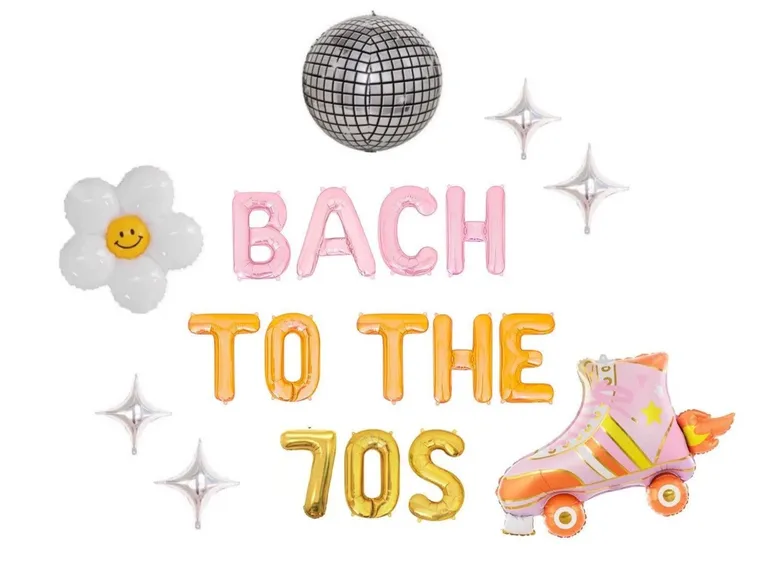 Take your bachelorette party "bach to the '70s" with this '70s-themed balloon banner. This balloon kit can be customized depending on what your vision is for the '70s-theme bachelorette party you're throwing. You can add a star curtain as well as all of the pictured balloons. Or, you can pick and choose the ones you'd like in addition to the letters.
3. Festive '70s-Themed Bachelorette Party Banner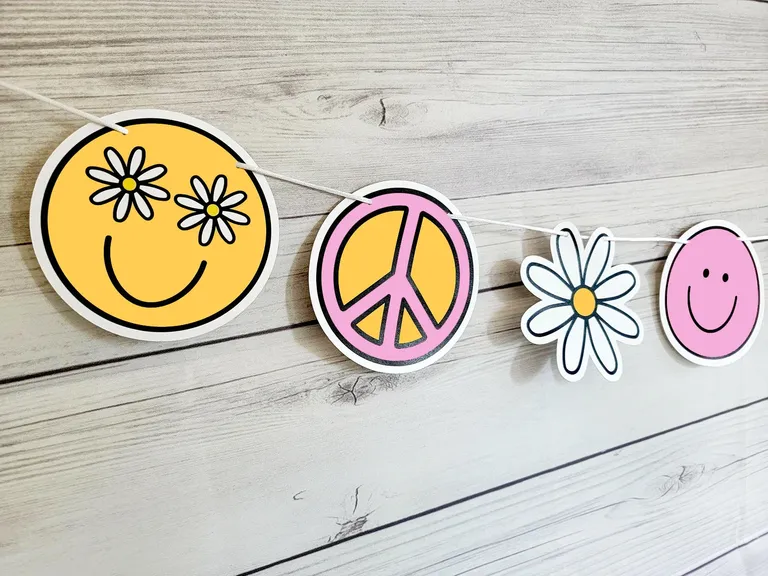 Hang this '70s-themed banner horizontally on the wall for an extra groovy vibe. Each set includes nine four-inch cutouts that can adorn the walls.
4. Totally Groovy Peach-Hued Tablecloth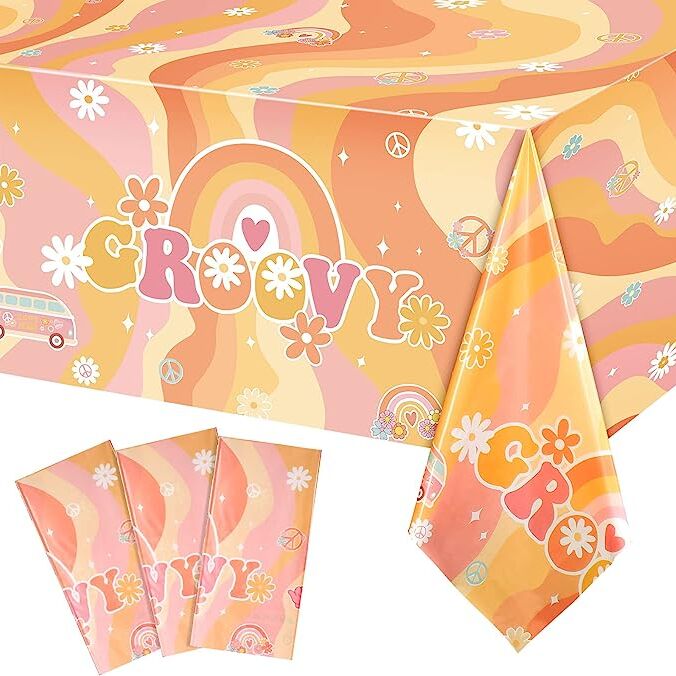 Deck out your bachelorette party's tables with these hippie tablecloths decorated with peace signs, daisies and rainbows. And, they are waterproof so they'll withstand a couple of raindrops or a drink if accidentally spilled.
'70s-Themed Bachelorette Party Games
Games at bachelorette parties add to the fun, especially when they're 70s-themed. These are some bachelorette games that will have your guests talking (and sometimes laughing) for hours.
5. Fun 1970s Disco-Fever Party Games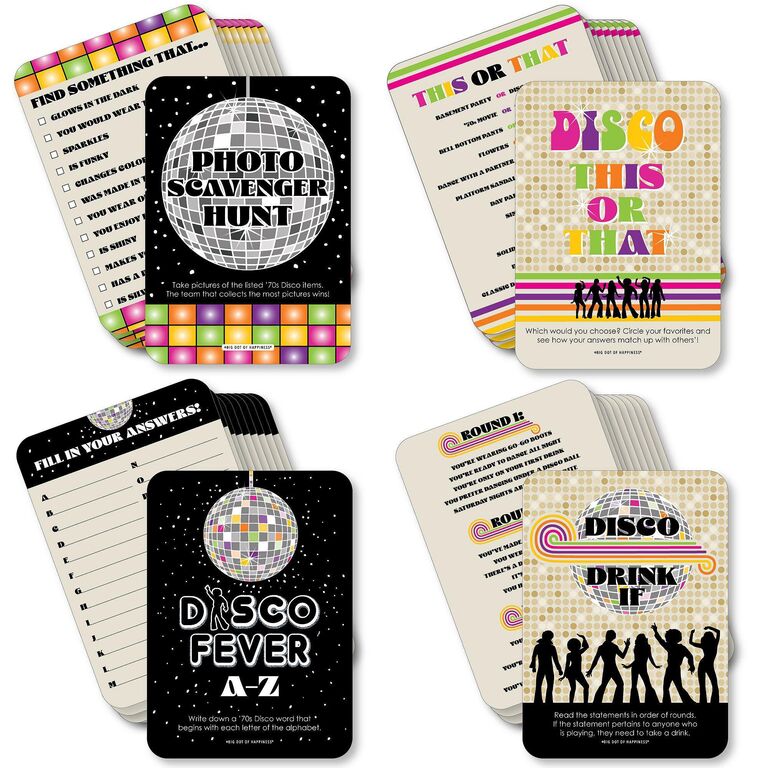 This pack of four '70s disco bachelorette party games will be sure to keep your wedding party entertained. Whether you play "This or That," "Photo Scavenger Hunt," "Disco Drink If" or "Disco Fever A-Z," this set of games is a relatively inexpensive way to keep your guests engaged while staying in theme.
6. "Born in the '70s" Printable Trivia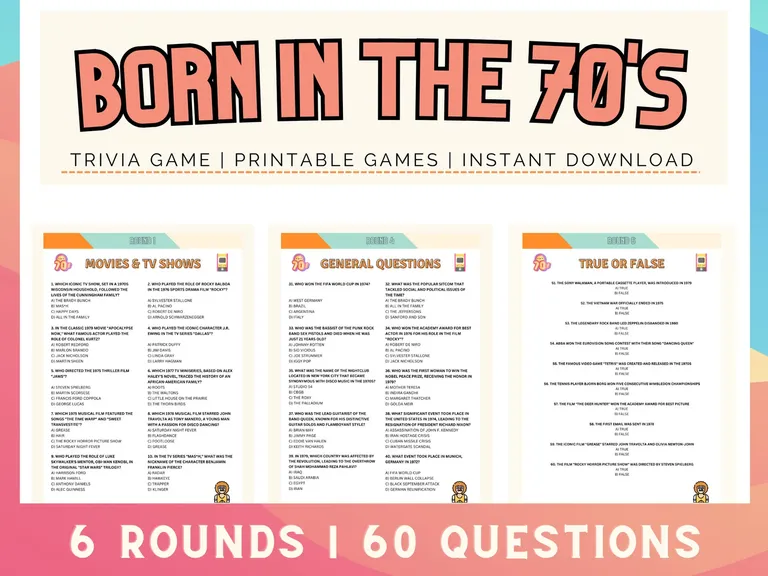 Test your '70s knowledge with these printable trivia questions. From movies and television to general knowledge about the decade, these questions will bring some friendly competition to your party–and, you'll likely learn a fact or two.
7. Interactive Card Game for '70s-Themed Bachelorette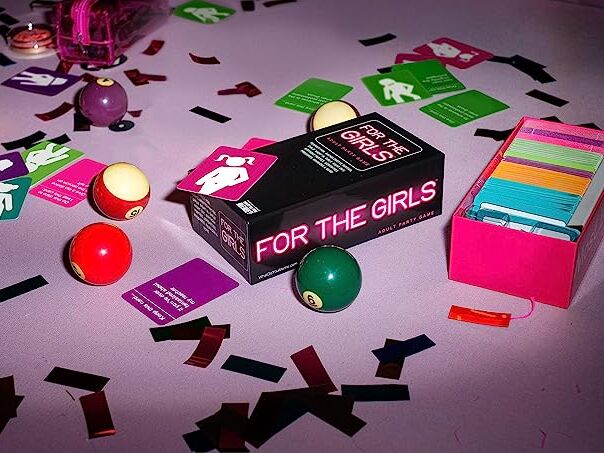 If you're looking for a game to play with your girls, this is it. This party game featuring more than 400 vibrantly colored cards is sure to get everyone to "go bananas."
'70s-Themed Bachelorette Party Cake Decorations
From icing decorations to themed cupcake wrappers, these decorations will keep your dessert table looking groovy.
8. Woodstock-Worthy Hippie Party Cupcake Toppers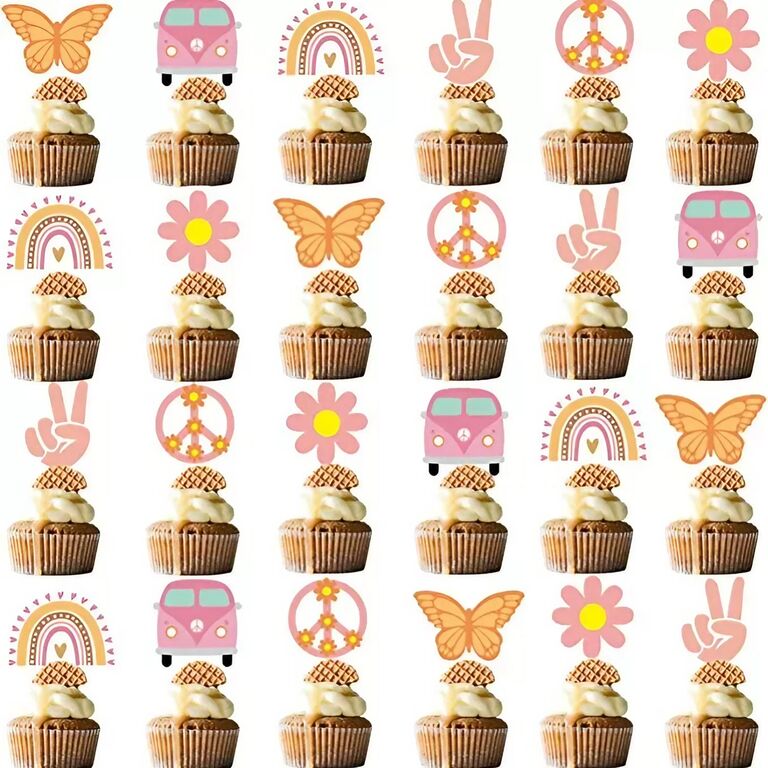 If you choose to go the cupcake route as opposed to a cake for your '70s-themed bachelorette party, these cupcake toppers featuring butterflies, rainbows and peace signs are the way to go. The set includes a total of 48 cupcake toppers, so you don't have to worry about any cupcakes being left out of the fun.
9. Flower Child Pastel Bachelorette Cupcake Decorations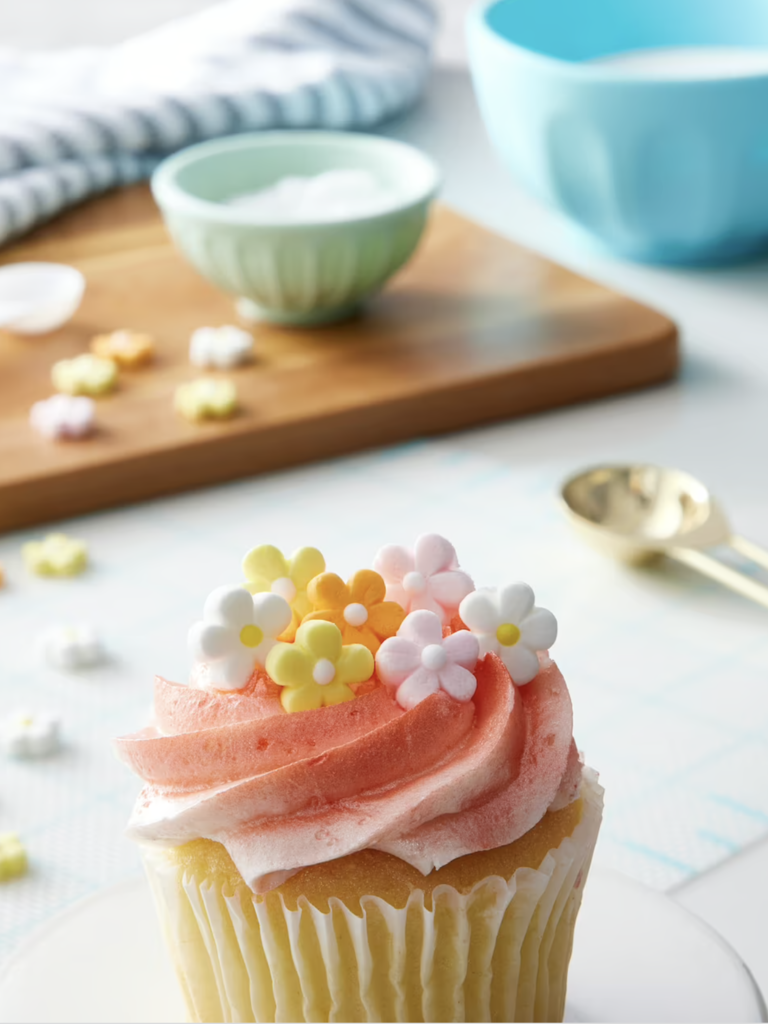 Decorate your desserts with these edible floral pieces. The pack features a variety of pastel-colored flowers including white, yellow, orange and pink (there are six of each color).
10. Groovy Cupcake Wrappers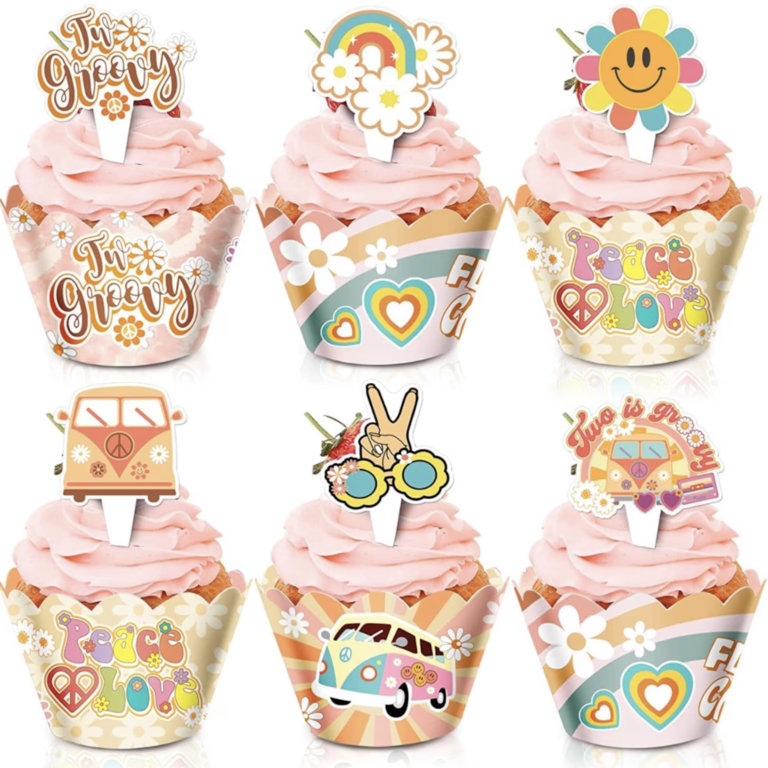 If you want to take your cupcakes to the next level, these groovy cupcake wrappers will do the trick. They can be purchased singularly or in groups of three, six, nine or 12. These wrappers are a simple yet sweet way to make your bachelorette party even radder.
'70s-Themed Bachelorette Party Shirts
Matching bachelorette party shirts are an unofficial staple of bachelorette parties which is why we've compiled some of our favorite '70s themed ones below for you to buy for you and your best girls. Whether you'd prefer to keep things traditional with a white shirt for the bride or choose a more vibrant color, we've got options for you.
11. Hippie Bachelorette Party Shirts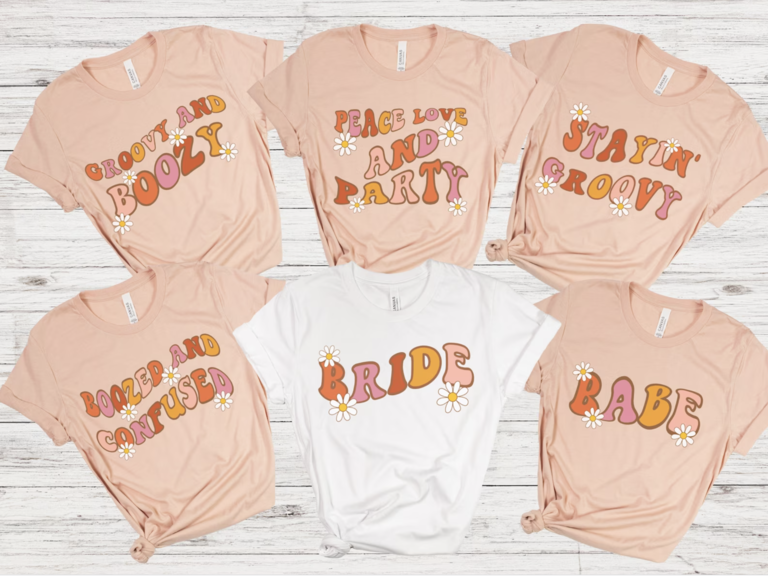 If you're looking for funky shirts for the bride-to-be and bridesmaids, consider these hippie bachelorette shirts. If you want to keep things traditional, the bride-to-be's can have "Bride" written on it. However, other sayings that can be engraved onto the shirts include "boozed and confused," "peace love and party" and "babe" to name a few. And, there are more than 10 colors to choose from–so, it's unlikely you won't find one that will match the color scheme of the bachelorette party you're hosting.
12. Retro Bachelorette Party Shirts for '70s Bash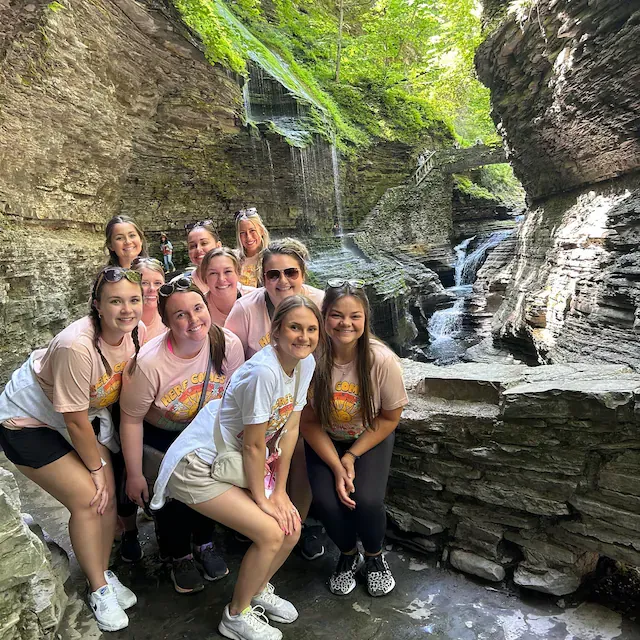 Here comes the bride and the fun shirts. These retro bachelorette shirts can be customized to say "here comes the bride" and "here comes the bach." We love their hippie style and peaceful vibe with their design filled with daisies and sunshine.
13. "Wife of the Party" Bachelorette Party Shirt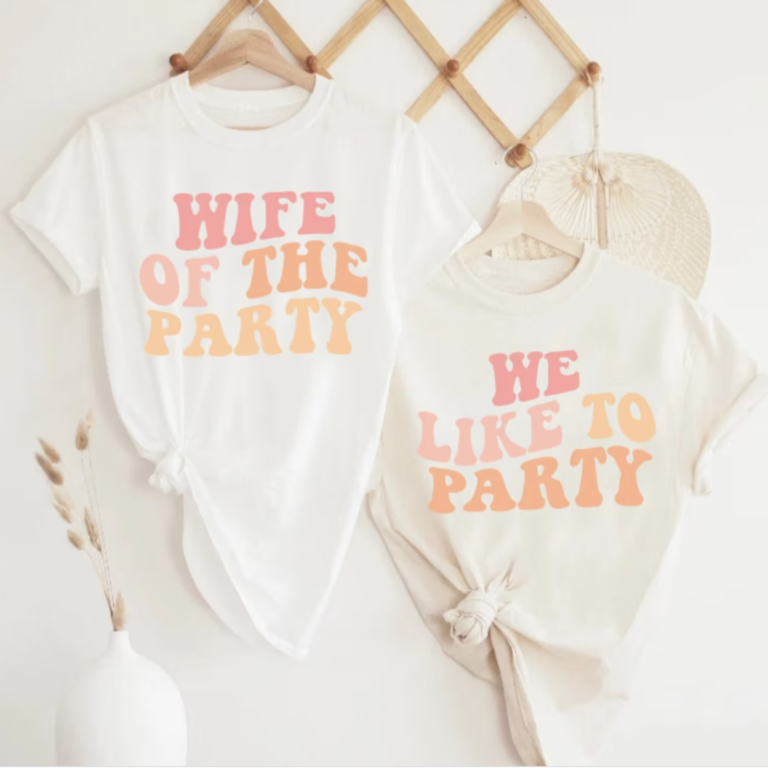 It's pretty clear that if you're reading this article right now that you're going to party hard at this bachelorette party you're planning, so why not wear it proudly? These shirts can be customized for the bride and the bridesmaids. And, there's lots of colors available to meet your preferences.
'70s-Themed Bachelorette Party Welcome Bag Accessories
Although welcome bags and bachelorette party favors aren't a requirement, they are a kind gesture to thank your guests for coming to celebrate you. From rings to tumbler cups, here are some doodads you can fill these bags with to show your appreciation.
14. Groovy Personalized Canvas Bags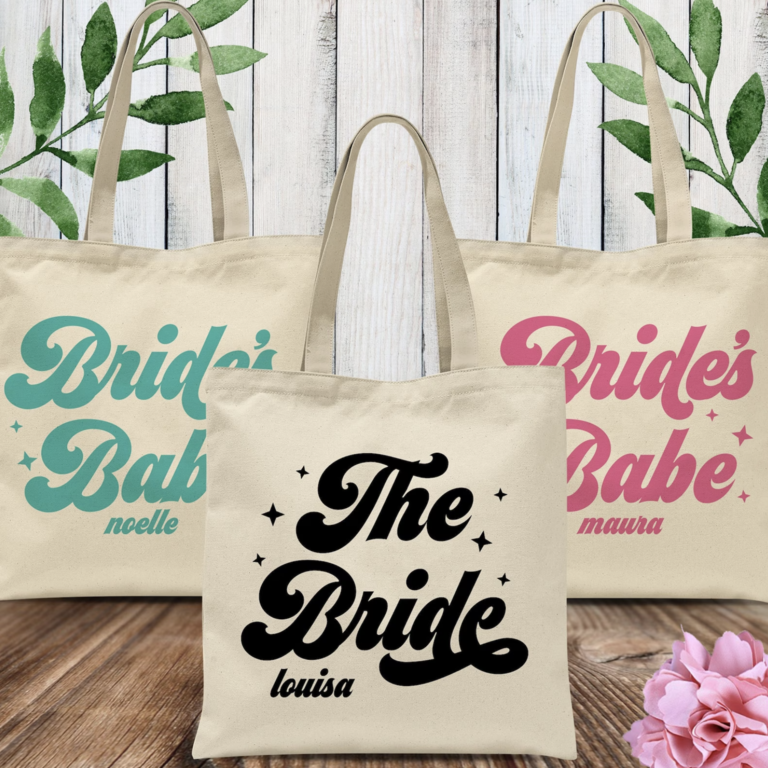 Thank your brides babes for attending your party with a canvas bag. And, whether you prefer a drawstring or tote bag, there is a variety to choose from. Not only will this bag be useful for holding some other gifts you may place in the bag, but it can be used for a day at the beach or when running errands. Your guests will always be reminded of the great time they had at your bachelorette party.
15. Chasing the Rainbow Ring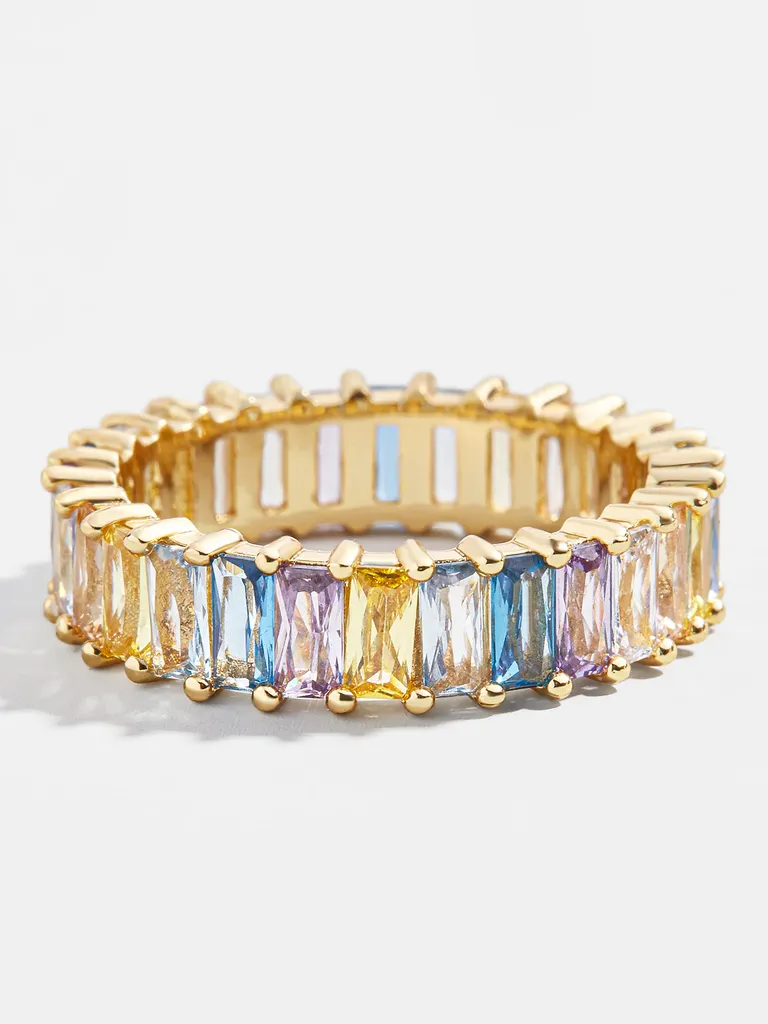 Rainbows were big in the '70s which is why treating your bridesmaids to rainbow rings would be a sentimental gift. Each time they wear this ring, they'll think of you and of love–we can't think of anything better.
16. Flowers and Smiles Nail Art Stickers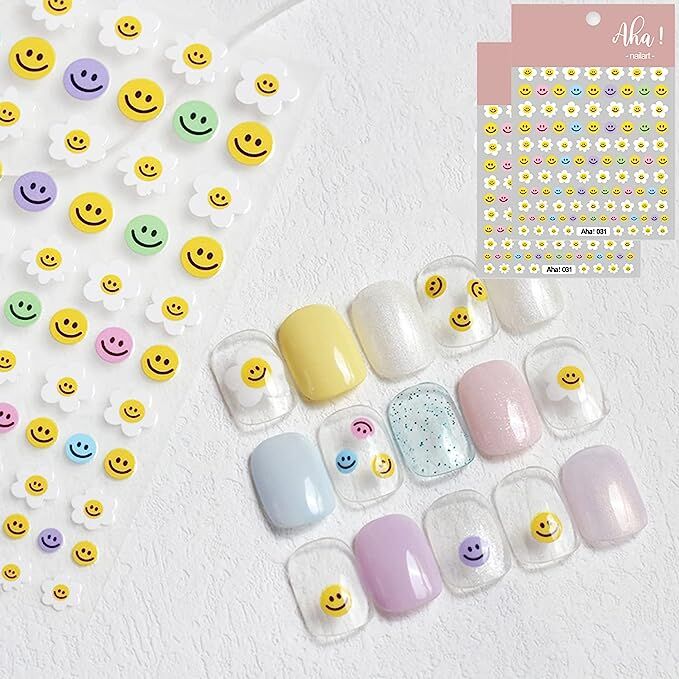 Treat your bridesmaids' nails to some extra happiness with these nail art stickers. Plus, they are easy to apply so they can be put on at the start of the party and will add some extra smiles.
17. Retro Custom Phone Case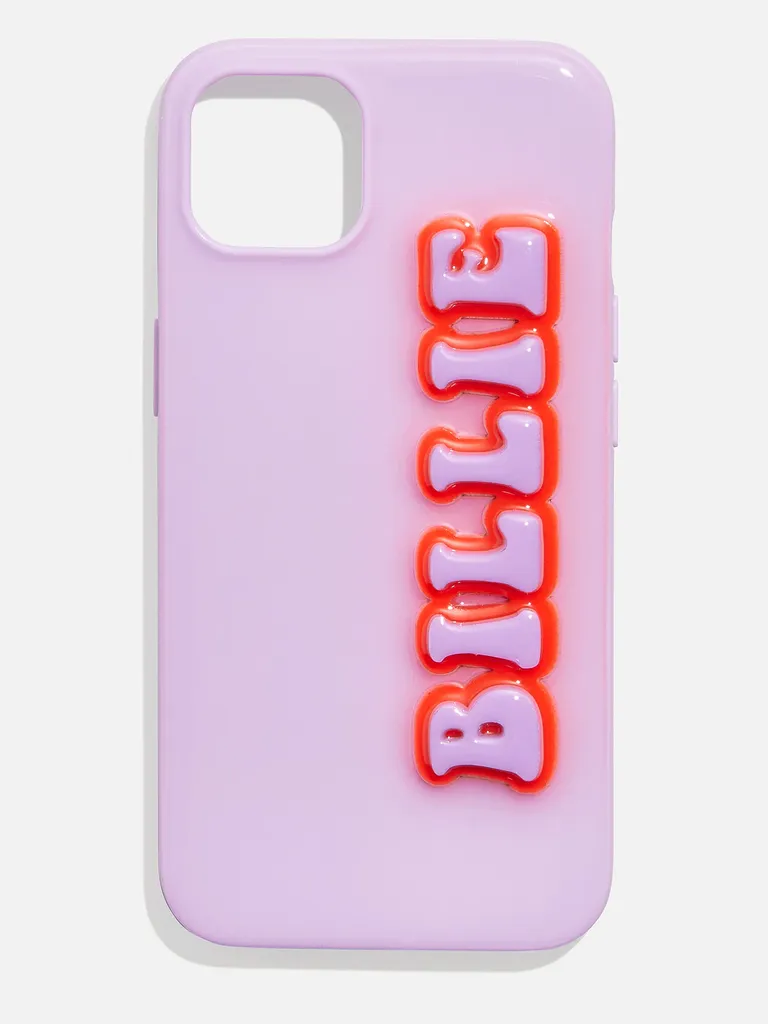 If your entire bachelorette party owns an iPhone, a vibrant and personalized phone case will make a great addition to your welcome bags. We love bubble lettering and think a personalized gift with a name on it (and a peace sign if you choose) is a great way to show your besties how grateful you are to have them by your side throughout this next chapter.
18. Throwback Rubik's Cube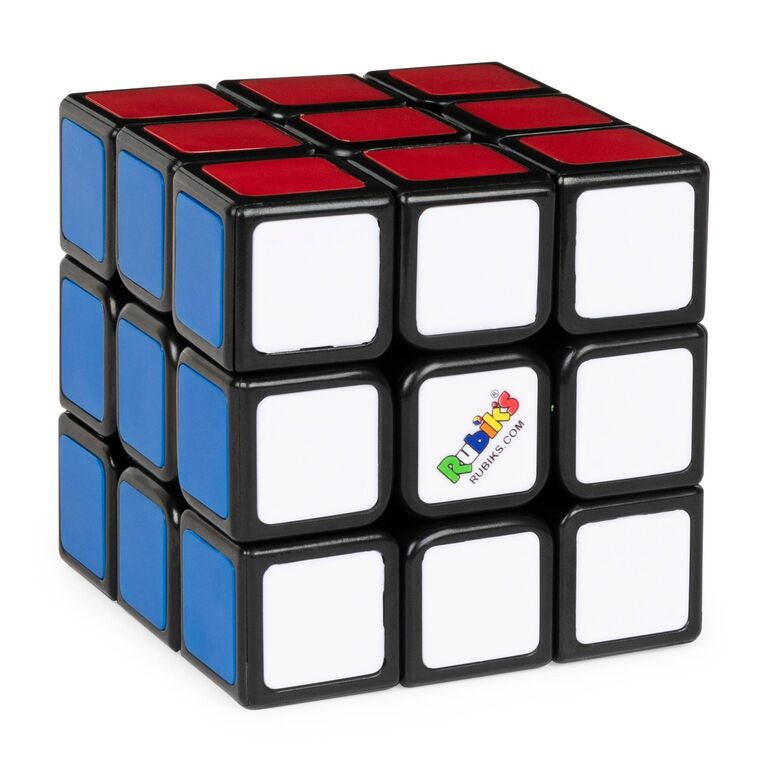 Want to take your bridesmaids by surprise? Put a Rubik's Cube in their welcome bags. Then, challenge them to see who can figure out this '70s puzzle first.
19. Tie-Dye Swirl Tumblr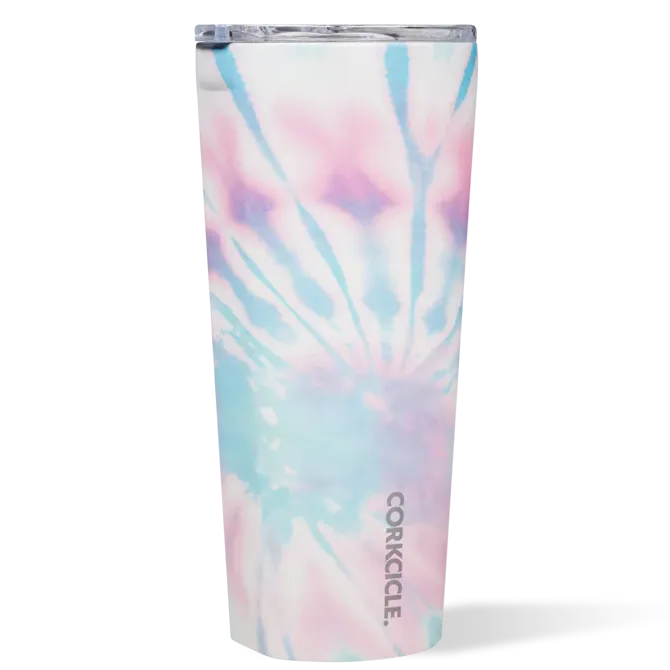 These tumbler cups will make a great addition to any welcome bag for your bachelorette party. We love their tie dye swirl pattern as it's subtle enough to be taken on the go for daily use, but vibrant enough to give off '70s energy.
20. Groovy Hippie Flower Crowns, Glasses and Tattoos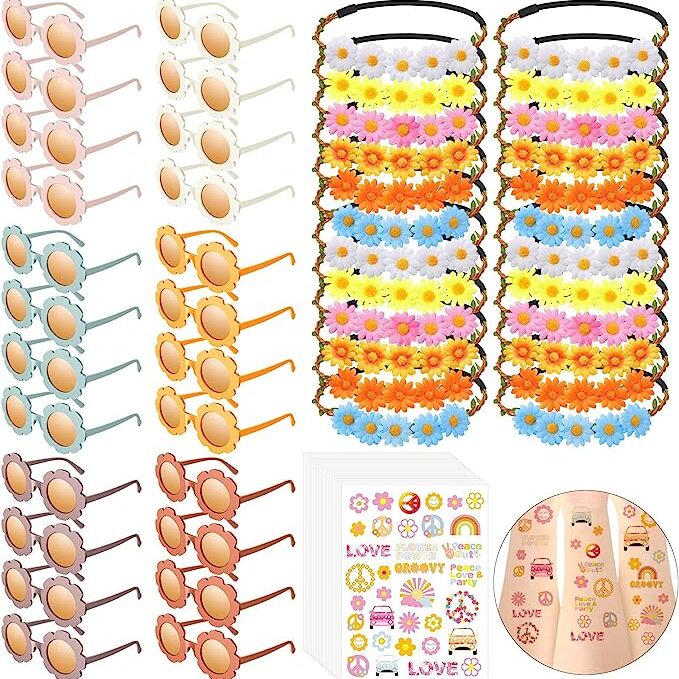 Get the bridesmaids in the spirit by including a hippie inspired flower crown, pair of glasses and some removable tattoos in their welcome bags. We love that each item is a different color and think the bridesmaids will, too. Whether you want to buy a six, 24 or 48-pack is up to you and how many bridesmaids you have.
21. Rainbow Tie-Dye Scrunchie Hair Tie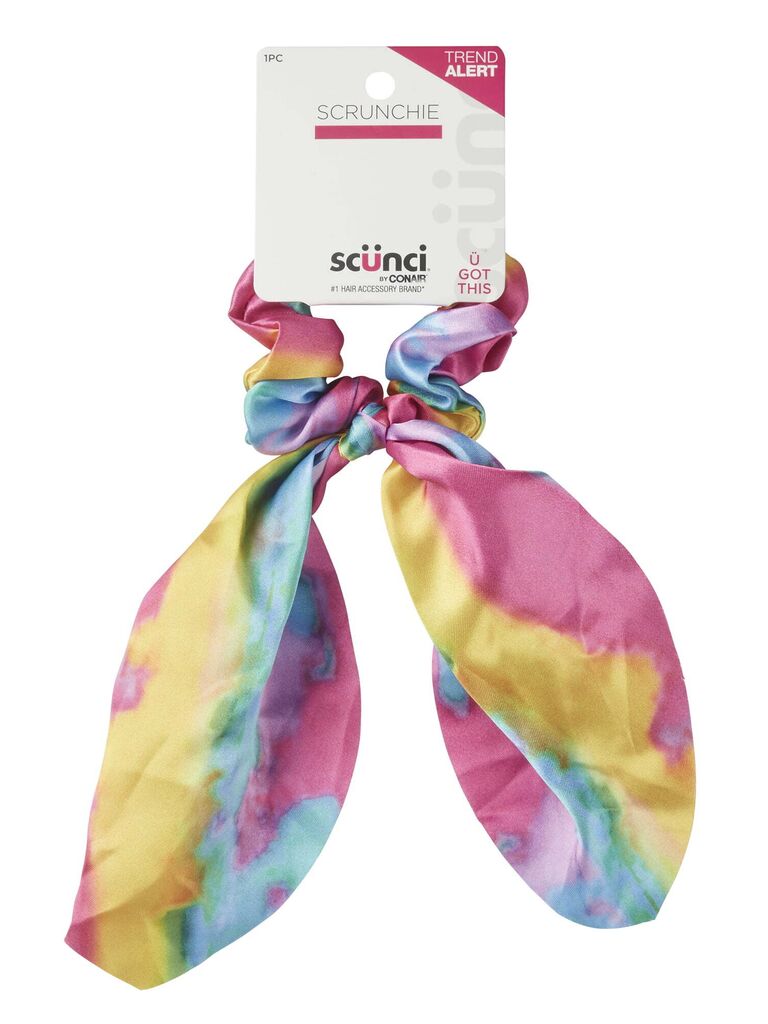 Tie dye should be incorporated into any '70s bachelorette party and an easy way to do that is by giving your bridesmaids a tie dye hair tie. Not only will it be useful if your party happens to take place during the warmer months, but it is also great for working out and adding a pop of color to most outfits.
Additional '70s-Themed Bachelorette Party Supplies
Make sure to keep your '70s theme consistent throughout your party, even down to the little details.
22. Groovy Good Vibes Napkins
Even the napkins at your '70s-themed bachelorette party should be groovy and Xo, Fetti understood that when creating its 24-pack of multicolor and multi-design napkins. From those packed with peace signs to those with "good vibes only" written on them, your guests will adore them while enjoying the eats at your party.
23. '70s Theme Bachelorette Party Koozies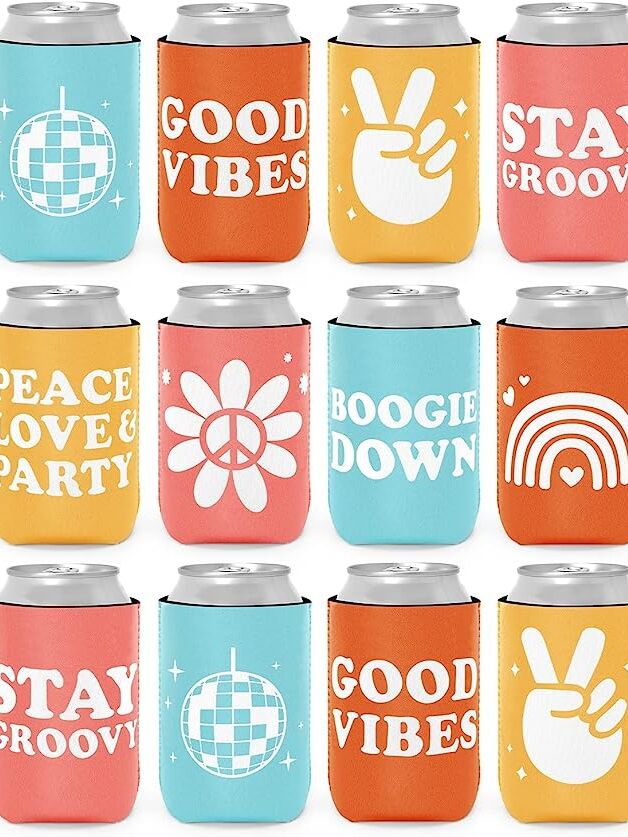 Regardless of what you and your girls choose to drink, this pack of 12-can cooler sleeves will keep them cool and in-theme while you're dancing the night away. Now, that's rad.
24. Groovy Hippie Tableware Set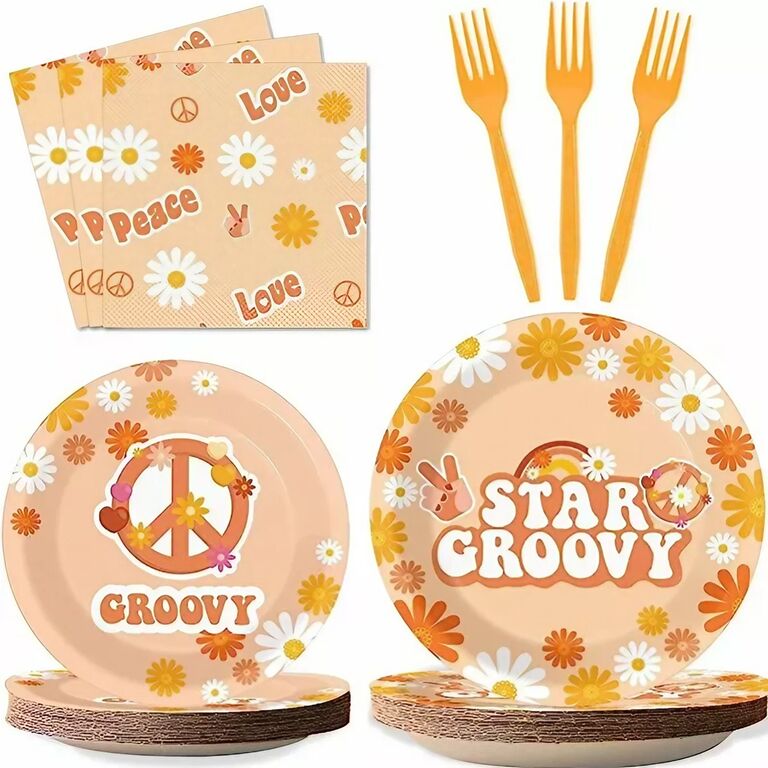 Spread peace and love over dinner with these '70s decorated items. The best part is that the pack is designed to serve 24 guests, so you won't have to worry about not having enough to serve your guests.
25. Funky Roller Skate Curly Straws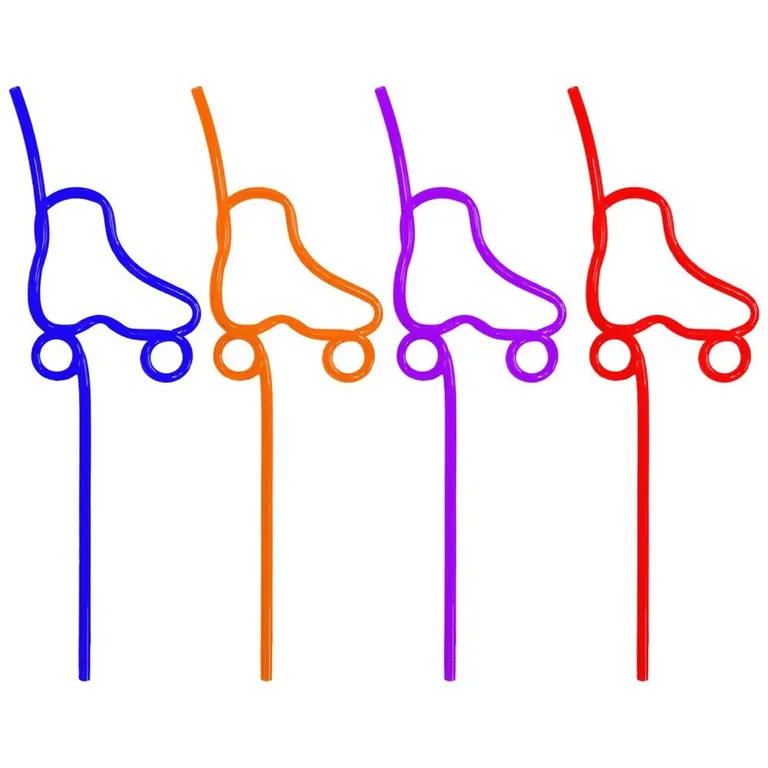 Don't be afraid to go a little crazy for your bachelorette party with the addition of crazy straws shaped like roller skates. Not only are these straws reminiscent of the '70s, but they will add some more fun to your guests' drinking experience–you can thank us later.