27 Cute and Funny Bachelorette Shirts for Every Party Squad
Shop matching tops for every theme, from beach to country.
We have included third party products to help you navigate and enjoy life's biggest moments. Purchases made through links on this page may earn us a commission.
It's time for the bachelorette party! Whether the plan is a weekend getaway to Vegas or a staycation in your hometown, bachelorette party shirts are a fun way to mark the occasion. Surprise your squad with matching swag in their goodie bags, then pick a day to wear it. It's a cute way to identify the bridal party when you hit the town, plus it creates great photo moments. That's why we've rounded up our favorite bachelorette party tank tops, T-shirts and sweatshirts for you to shop on the spot. From destination-inspired motifs and iconic pop culture references to funny puns, we've found all the best designs for a cute, coordinated crew.
1. Bridesmaid Squad V-Neck T-Shirts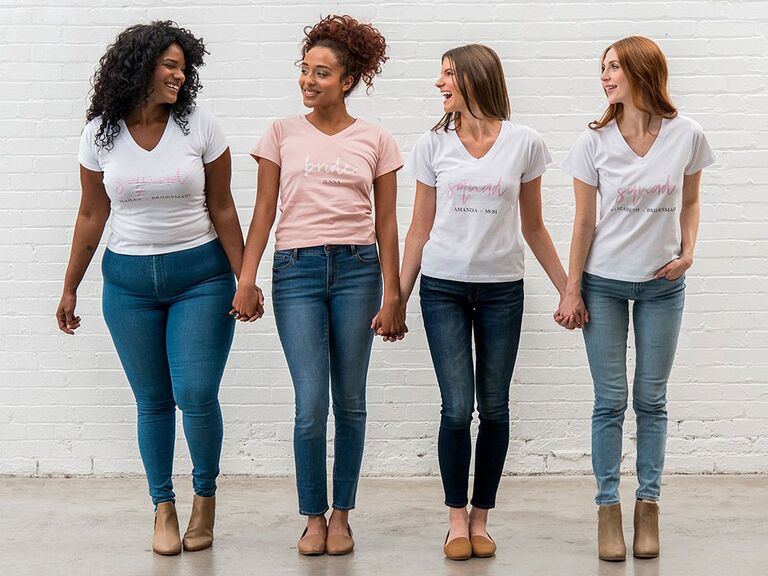 No matter your bachelorette party theme, these classic "squad" shirts will be a hit. Add a line of custom text to call out bridal party roles or the celebration's destination. Guests can choose between white, black or pink V-neck T-shirts, while the guest of honor can pick out a tee that says "bride" in matching script.
2. Beach-Themed Bachelorette Tees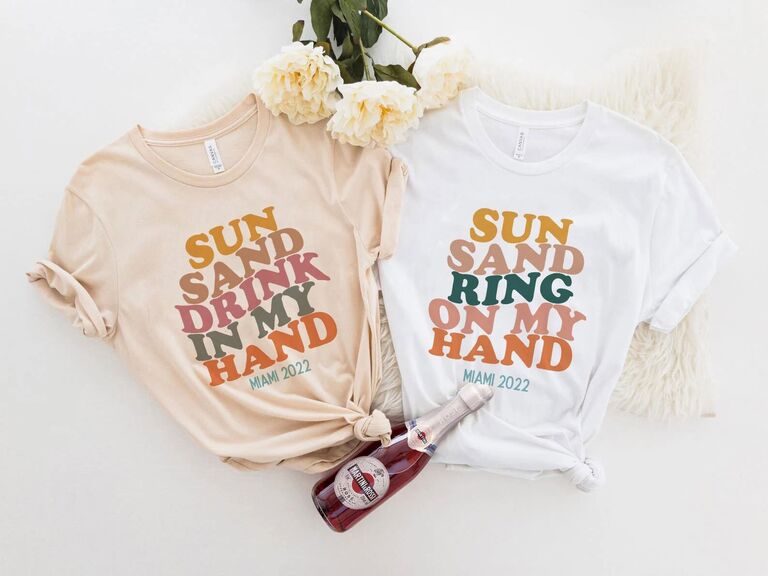 Gather all your beaches for a celebration in the sand. These custom bachelorette party shirts feature the phrase "sun, sand, drink in my hand" or "sun, sand, ring on my hand." They come in five summery colors and, of course, bridal white.
3. Harry Potter-Themed Bachelorette Party Shirts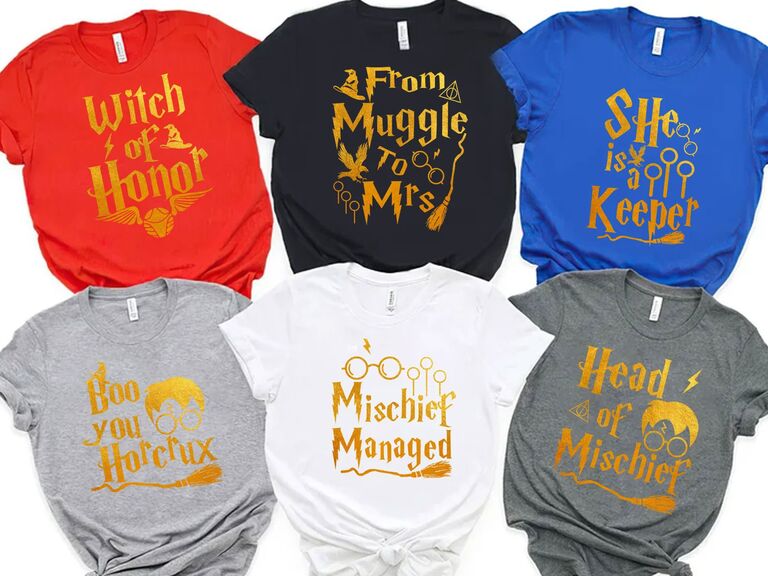 Celebrate the milestone of going from muggle to Mrs. with these Harry Potter-themed bachelorette party shirts. Designed with a few creative plays on iconic phrases and themes from the series, they're perfect for a book-loving bride and her crew. Here's a creative idea: Give each guest a shirt in their house color.
4. Retro Bride and Babe Bachelorette Shirts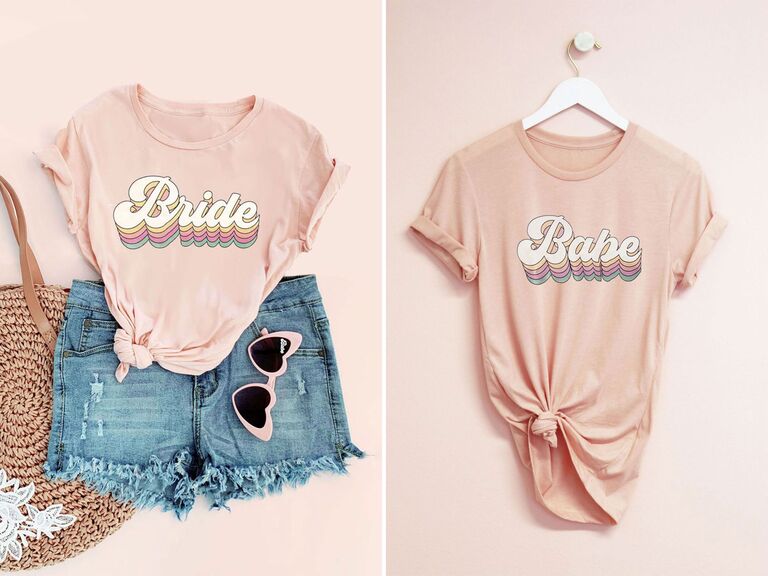 This retro-style bachelorette party T-shirt is one of our favorites. The peachy pink top flaunts the word "babe" or "bride" in a colorful '70s-inspired font. Size up for a looser fit, then roll up the short sleeves for a classic old-school look.
5. Nashville Bachelorette Party Shirts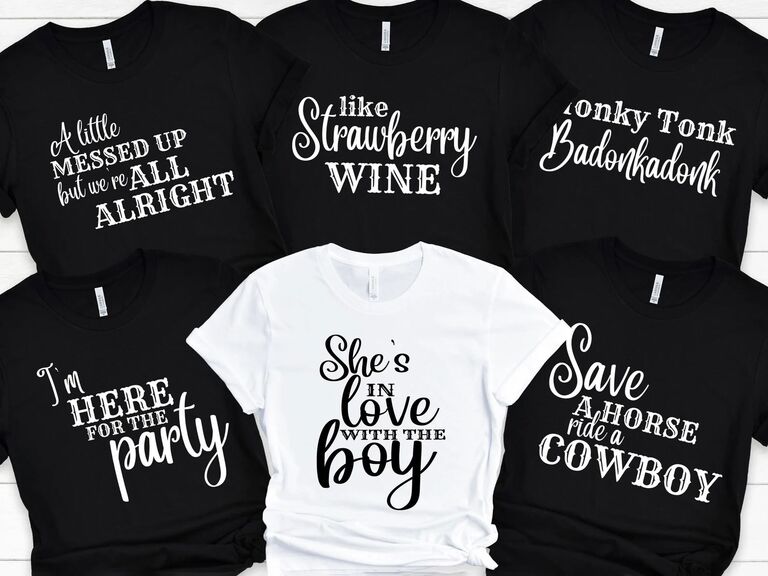 Planning a bachelorette party trip to Nashville, the Country Music Capital of the World? These bachelorette party T-shirts pay tribute to famous country songs. Customize each tee with thematic lyrics, like Trisha Yearwood's "she's in love with the boy" or Little Big Town's "take me down to the little white church."
6. Mountain Weekend Bachelorette Party Shirts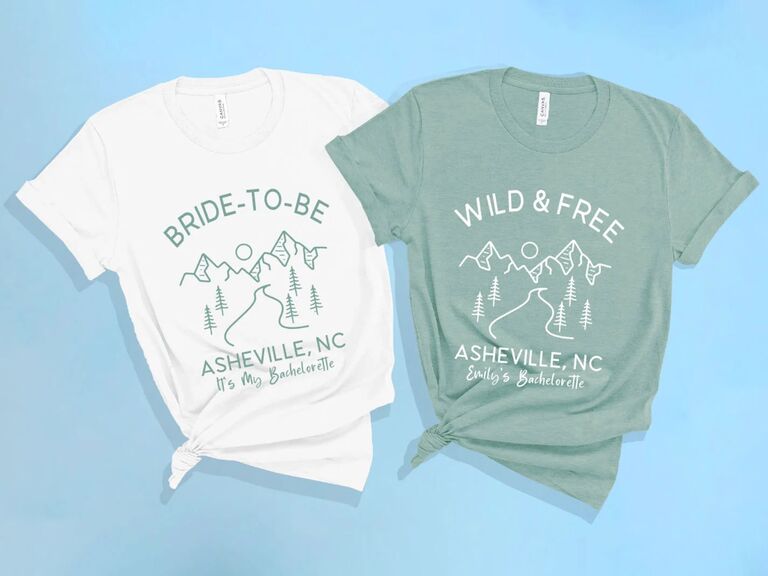 Planning a mountain retreat for your bachelorette party? Whether you escape to the Colorado Rockies or Asheville, North Carolina, these nature-themed bachelorette party T-shirts are perfect. They're printed with a mountain scene and customized with the event's details. Grab a white tee with the phrase "bride-to-be" and a few dusty blue tees with the phrase "wild and free" for everyone else in the bridal crew.
7. Vegas Bachelorette Party Tank Tops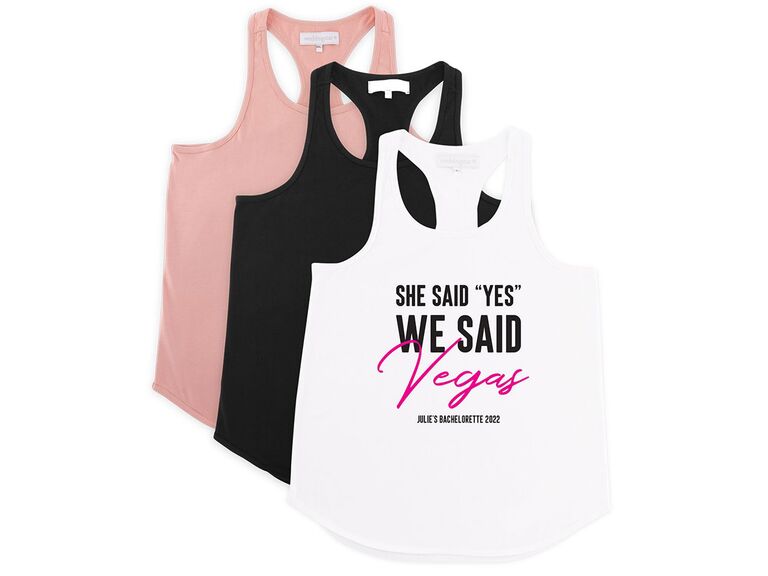 If you're going to the quintessential bach party destination, Vegas, you'll definitely want matching shirts for your bridal party. These tank tops are perfect for a casual day by the pool before changing into cocktail dresses to hit the strip at night. They say "she said 'yes,' we said Vegas" and they can be customized.
8. Bridesmaid Bachelorette Party Sweatshirts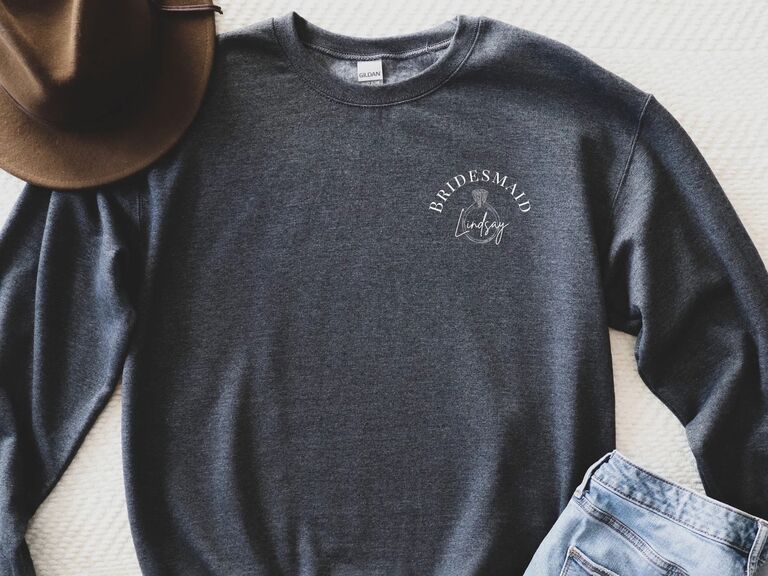 Keep the bridal party warm all trip long with cozy bachelorette sweatshirts. These custom crewnecks feature each guest's name and wedding party role over a simple diamond ring graphic. Choose between pink, blue, gray, sand or black for the bridesmaids, then buy white for the bride.
9. Taylor Swift-Themed Bachelorette Shirts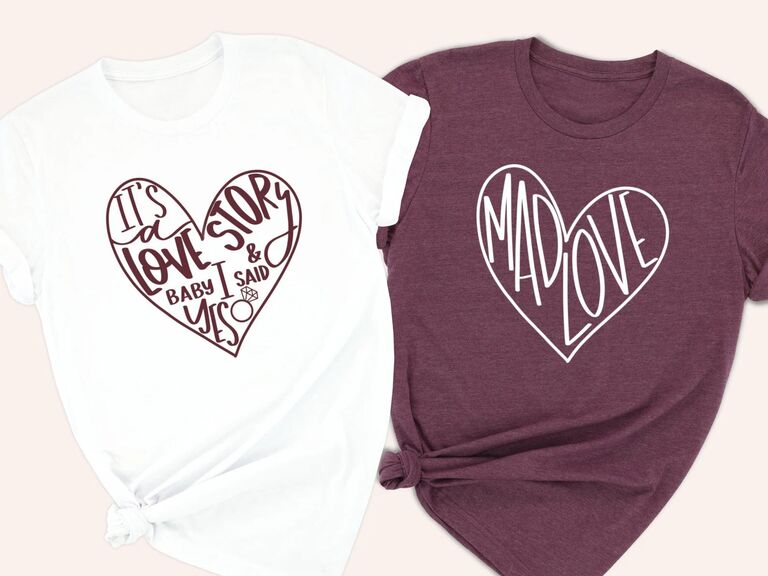 If the bride-to-be is a Swiftie, these bachelorette party shirts will help celebrate their Lover era. Choose between a few shirt phrases inspired by Taylor Swift song lyrics, including "it's a love story and baby I said yes" for the bride. The text is creatively fitted into hearts for a unique bridal party shirt design.
10. Desert Bachelorette Trip Shirts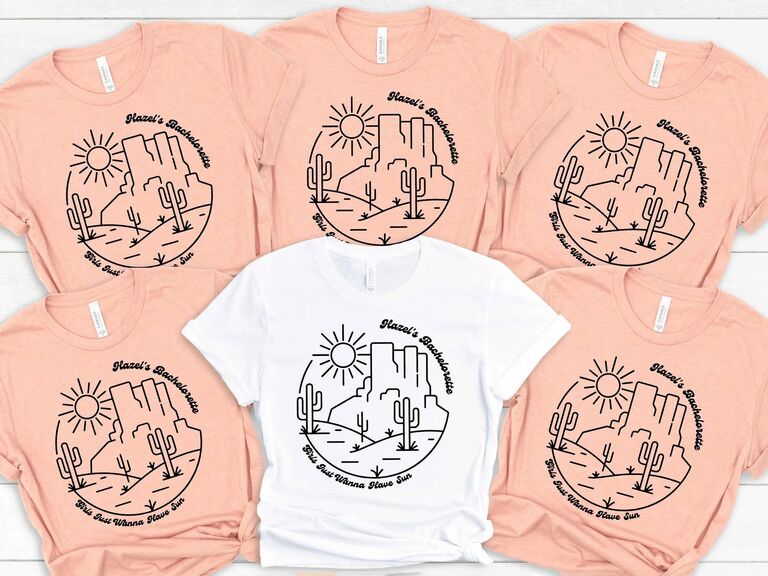 Scottsdale, Arizona is rising in popularity as a bach party destination. With quality restaurants, stylish boutiques and guaranteed sunshine—plus cute bridal party T-shirts like these—what's not to love? Customize the desert art design with the bride's name at the top. On the bottom, it's framed with the phrase "girls just wanna have sun."
11. Sorry Not Single Bridal Party V-Necks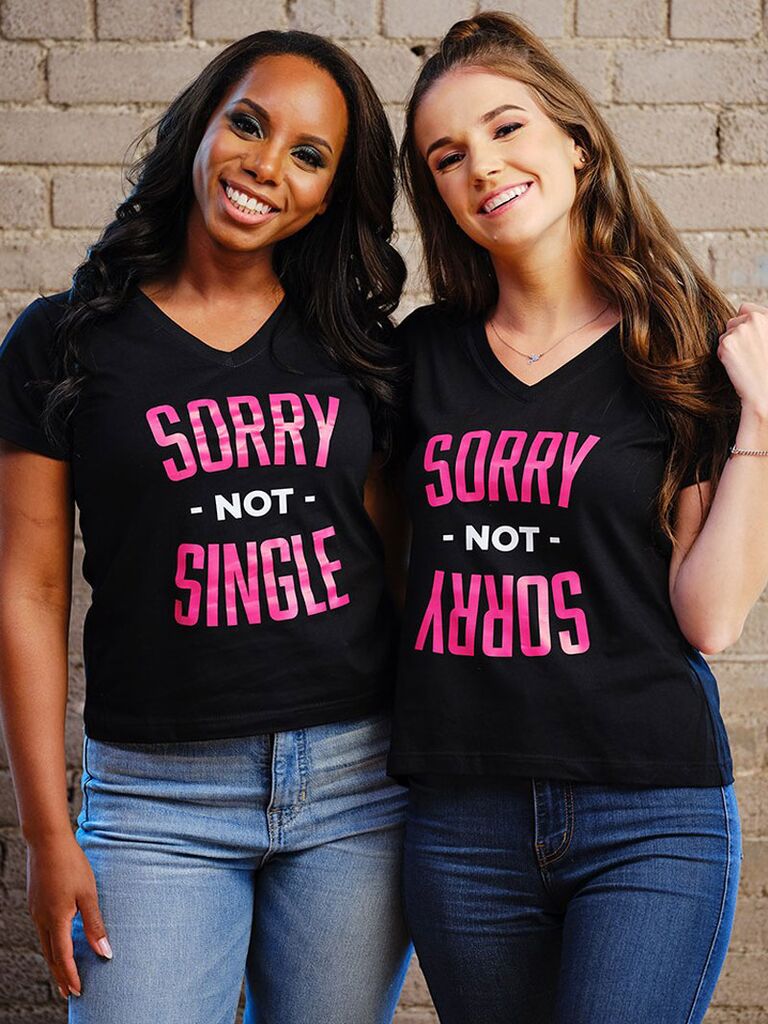 Politely tell potential suitors that the bride's taken and couldn't be more excited about it. These bachelorette party T-shirts read "sorry not single" for the bride and "sorry not sorry" for all her supportive bridesmaids. The hot pink text pops against white, black or light pink shirt color options.
12. Shania Twain-Inspired Bachelorette T-Shirts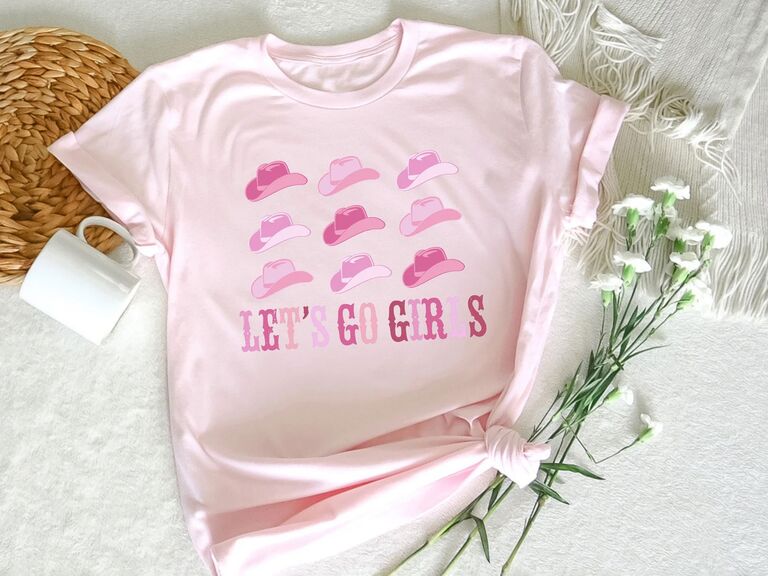 Shania Twain said it best! If you're planning a country-themed bach party, these pink bachelorette shirts decorated with western hats and the iconic phrase "let's go girls" will be crowd-pleasers. For the guest of honor, there's a coordinating tee that reads "man I feel like a bride." And for those who prefer a long-sleeve tee, hoodie or sweatshirt, the shop sells those too—simply select your preference at checkout.
13. The One Where… Bachelorette T-Shirts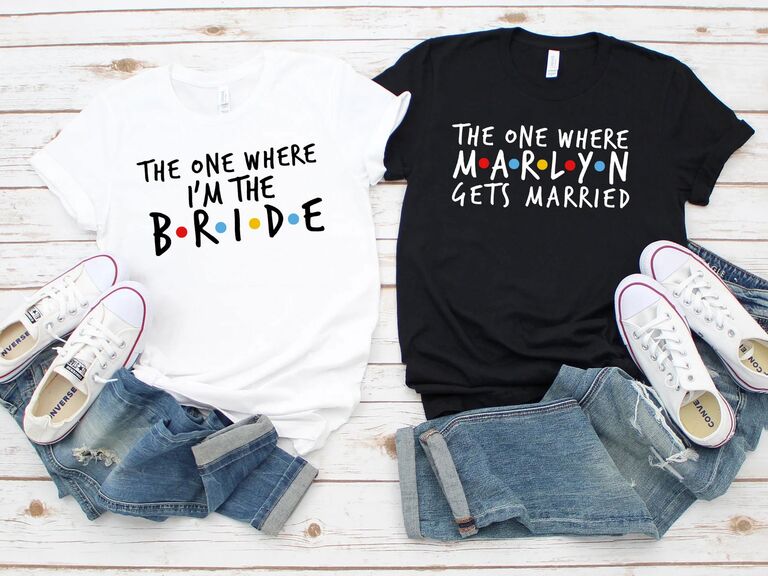 They've found their lobster, now it's time to celebrate. These bachelorette party shirts nod to the '90s hit TV show Friends. The bride wears a shirt that says "the one where I'm the bride" while guests wear "the one where [bride's name] gets married." Choose from sizes XS to 3XL and a range of color options.
14. Nautical Bachelorette Tank Tops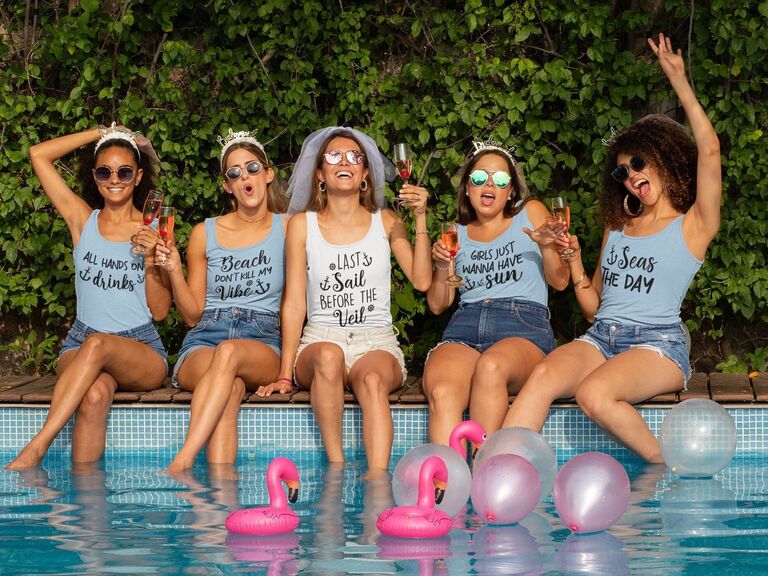 Bachelorette party boat day? If you're looking for nautical bachelorette party shirt ideas, try these pun-filled tank tops. From "last sail before the veil" to "all hands on drinks,'' these cute tops will complete your maritime party theme. They come in a dozen different colors, but we're partial to the Tahiti Blue or Navy color options.
15. Tie-Up Bachelorette Party Shirts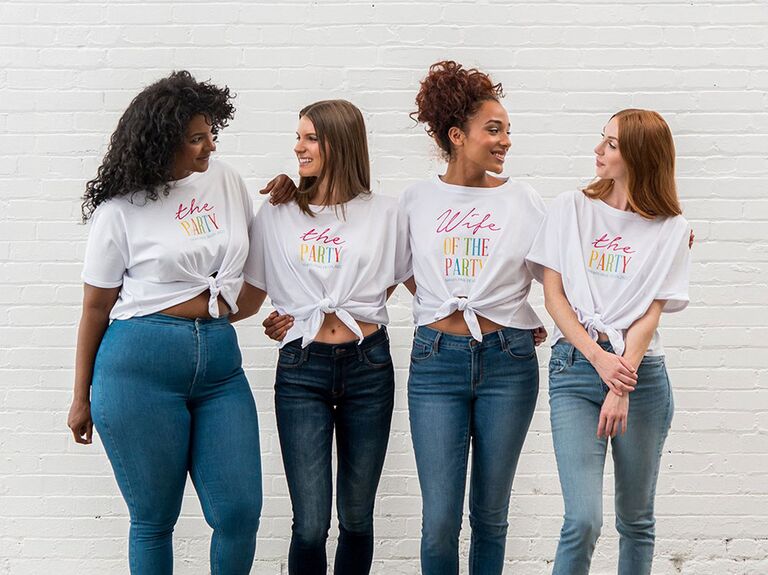 If your squad is the life of the party, get them bachelorette T-shirts to match. These white shirts read "the party" in rainbow and have a unique knot tie at the hemline for a trendy, cropped style. For the bride, pick up the "wife of the party" shirt.
16. Bachelorette Party Baseball Tees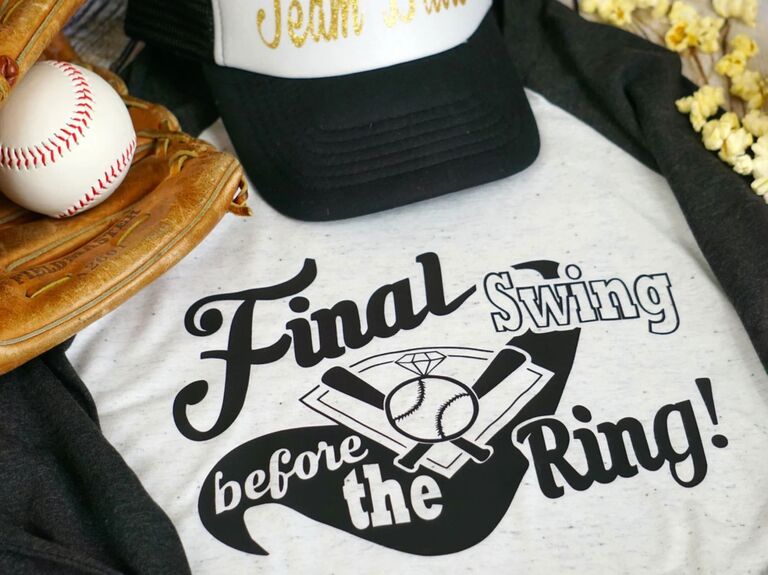 Who's on your bridal team? Style your squad in these cute three-quarter-sleeve baseball tees. The front reads "final swing before the ring" and the back can be personalized with your bridal party's names and wedding roles.
17. Spice Girl Lyric Bachelorette T-Shirts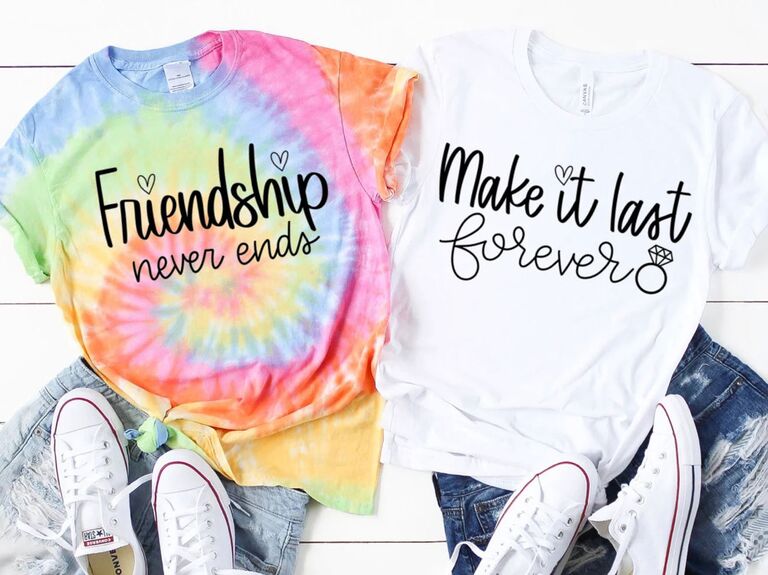 Throwing a '90s-themed bachelorette party? You can't go wrong with tie-dye T-shirts for your bridal crew—especially ones that pay tribute to the Spice Girls. The bride's white tee reads "make it last forever" while her squad wears "friendship never ends."
18. NSYNC-Inspired Bachelorette Party T-Shirts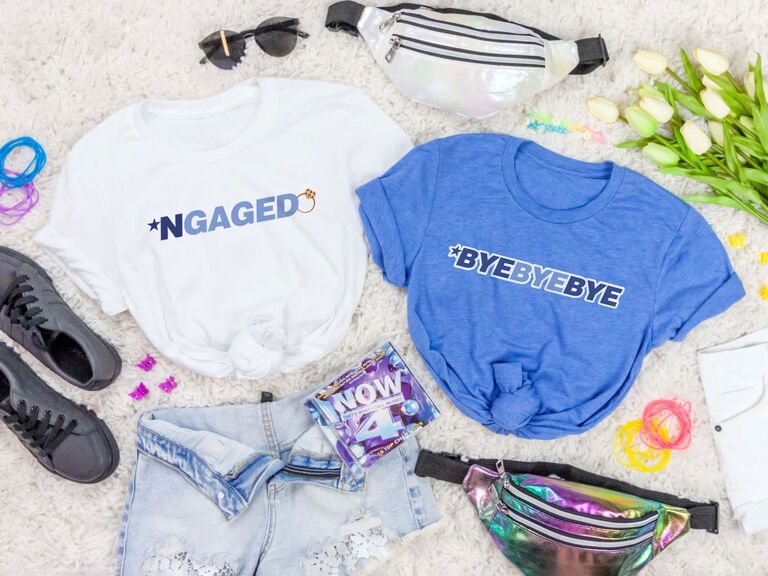 We couldn't forget about '90s boy bands! If you're throwing a throwback bachelorette party, these NSYNC-inspired T-shirts are a must. They come in dozens of colors and phrases, though we personally love "'NGAGED" for the bride and "bye, bye, bye" for the bridesmaids.
19. Tropical Flamingo Bachelorette Tank Tops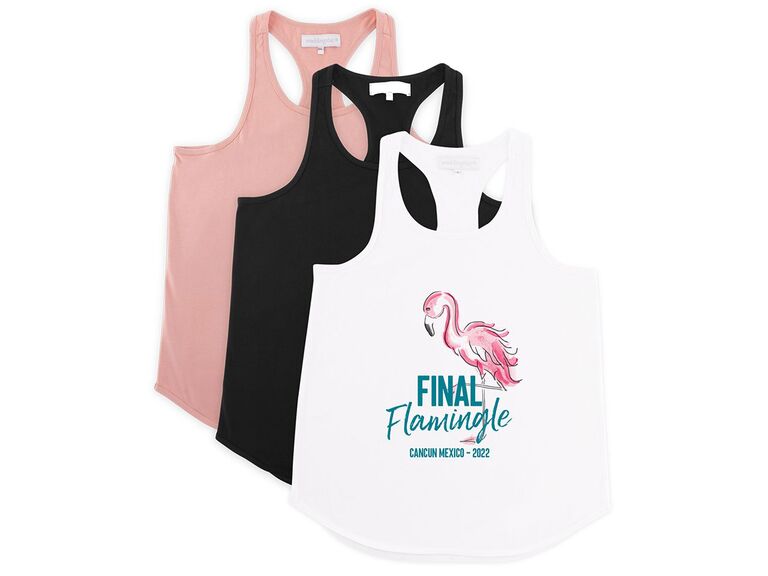 If it's a bachelorette party at the beach, you can't go wrong with a tropical pun. These bachelorette party tank tops will help beat the heat and look cute doing it. Each tank displays the phrase "final flamingle" in turquoise lettering. Accordingly, they're decorated with a pink watercolor flamingo plus an optional line of custom text.
20. Rock 'n' Roll Bridal Party Shirts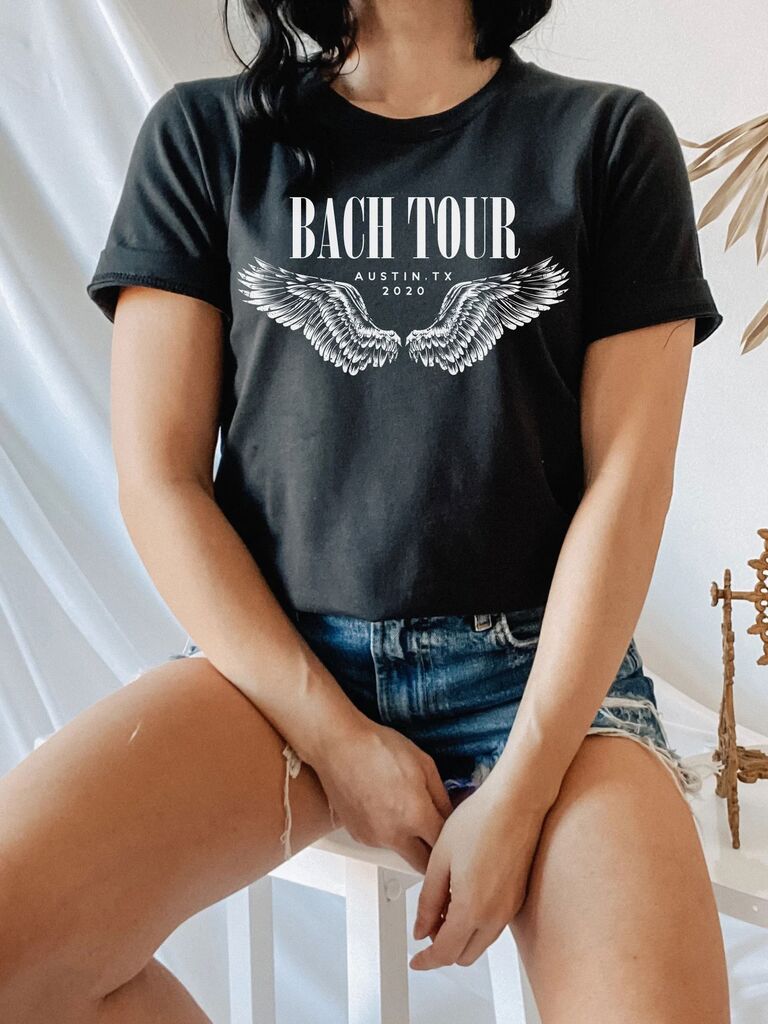 Shopping for something a little more edgy? These cropped "bach tour" bachelorette shirts will ramp up any rock and roll party theme. Your squad will love to style these short-sleeve T-shirts with denim or leather for a fun night of live music.
21. Cards Against Humanity-Inspired Bachelorette Tees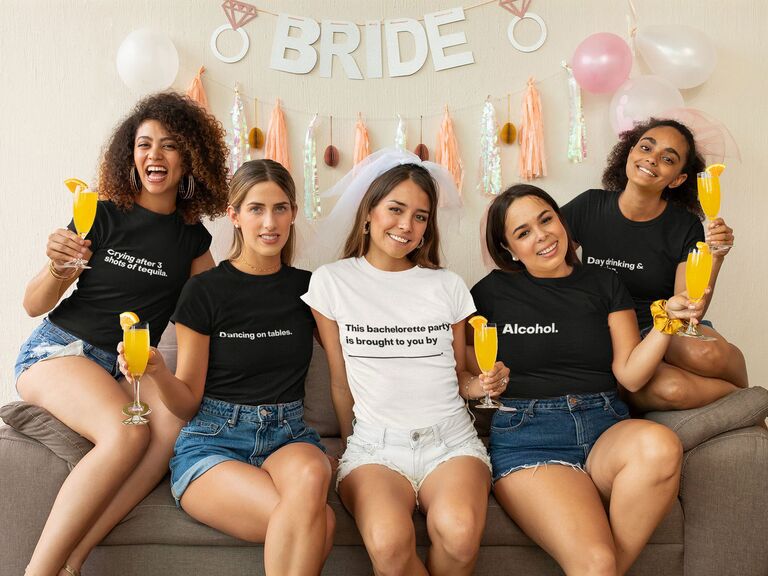 Shopping for a bridal crew with a good sense of humor? These bach shirts are inspired by the game Cards Against Humanity. The bride wears the shirt "This bachelorette party is brought to you by..." then each guest fills in the blank with a custom shirt that calls out their quirky habits. Don't be afraid to get clever—after all, that's what makes these bachelorette shirts funny and your bridal party unique.
22. Mermaid-Themed Bridal Party Tanks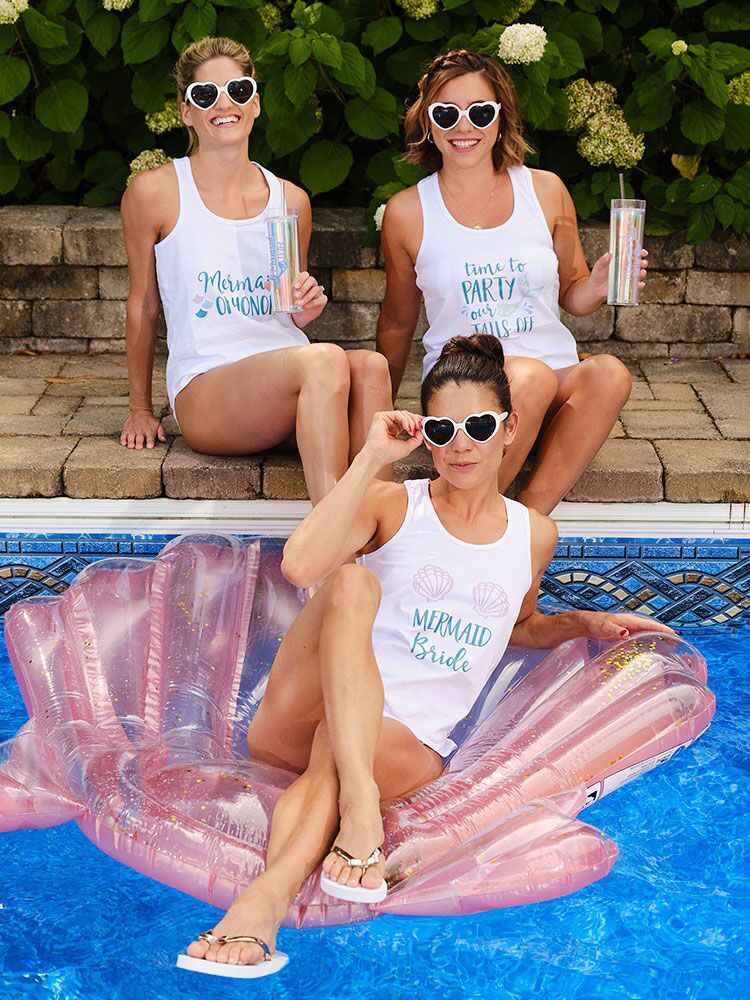 Looking for more beachy bachelorette shirt ideas? Grab tank tops that read "time to party our tails off" with a cute mermaid tail motif. The bride can wear a matching tank that reads "mermaid bride" with seashells across the chest.
23. Y2K Bridesmaid Sweatshirts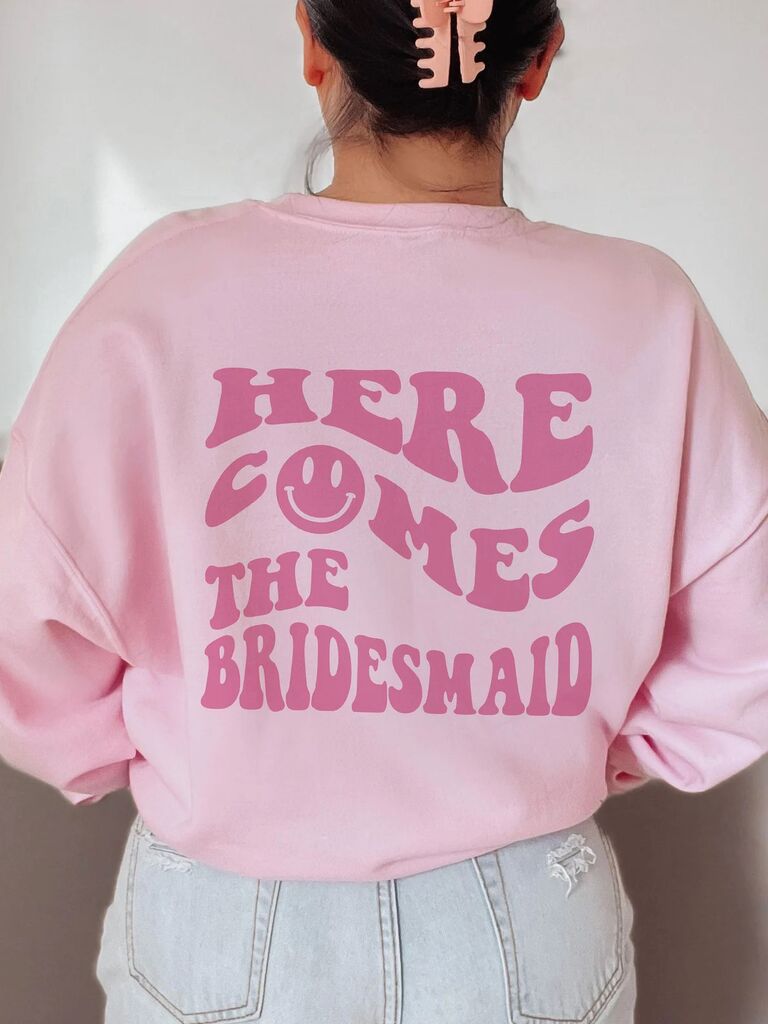 Searching for unique bridesmaid shirts for the bachelorette party? How about trendy Y2K sweatshirts? This one reads "here comes the bridesmaid" in a big, bubbly font with a smiley face. Find it in light pink, white or black and extended sizing. For the bride, snag the matching sweatshirt that says "here comes the bride."
24. Funny Wine-Themed Bachelorette Shirts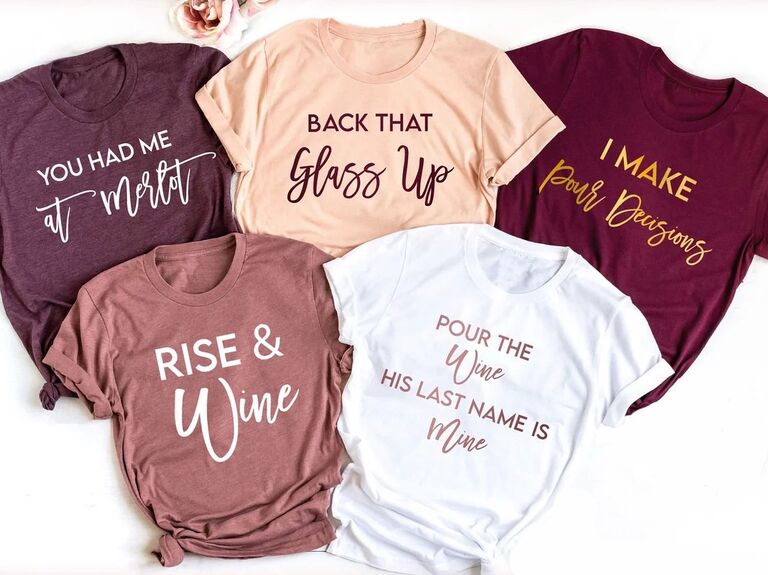 Here's a fun bachelorette party idea: a trip to a winery complete with themed bachelorette shirts. These funny T-shirts aren't just colored like vino; everyone in the bridal party can choose between 50 wine puns to be printed on them. Our favorites include "pour the wine, his last name is mine" and "you had me at merlot."
25. Metallic Fitted Bridal Party T-Shirts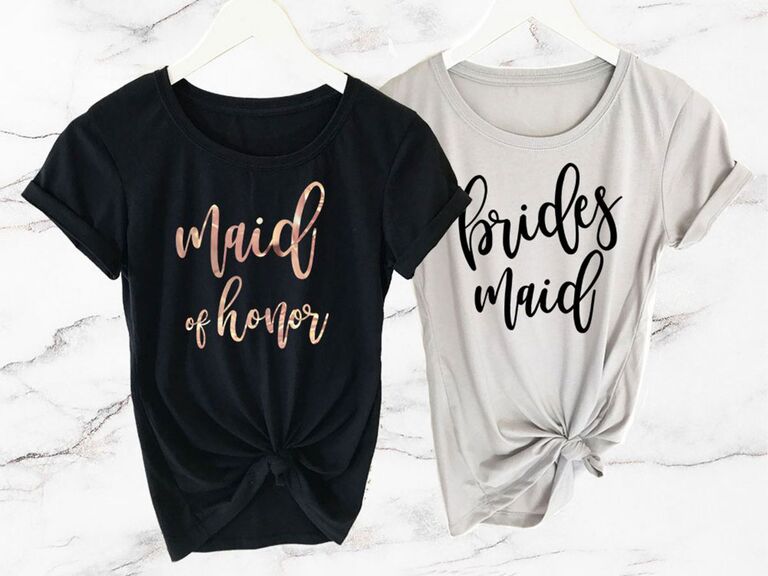 Give everyone in your bridal party a special shirt with these soft, fitted tees. Not only do they have "bride" and "bridesmaid" options, but also "maid of honor," "matron of honor," "mother of the bride" and "mother of the groom" options. Pick between white, black, gray or navy tops then add silver, gold or rose gold foil writing.
26. Cinderella-Themed Bridal Party V-Necks
Bibbidi, bobbidi, bachelorette party! Weddings are a magical occasion and so is every moment leading up to them. If you're looking for Disney-themed bachelorette party shirt ideas, you can't go wrong with these fairy dust-inspired T-shirts with "bibbidi bobbidi bride" or "bibbidi bobbidi crew" printed in metallic foil.
27. I Do Crew Bachelorette Party Shirts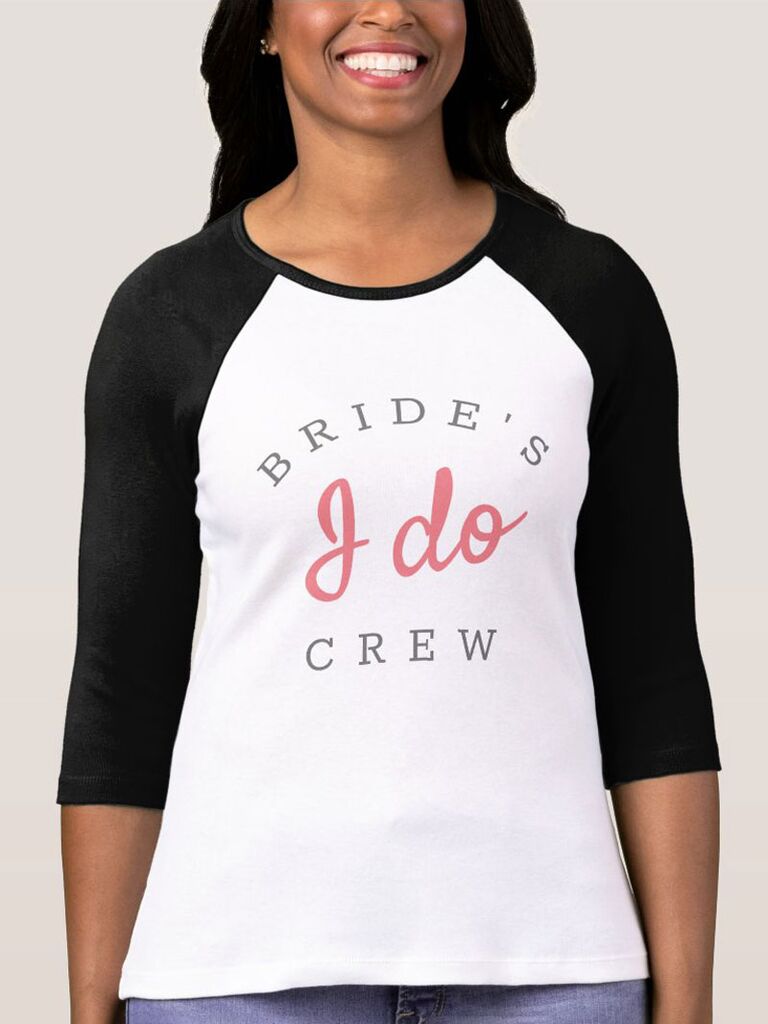 Keep it sweet and simple with these bridesmaid bachelorette party shirts that read "I do crew." Customize the text with the bride's name, then choose a shirt color and style. Options include matching tank tops, V-necks, baseball tees and sweatshirts. Buy more than 10 for bulk order savings.