Creative Bachelorette Party Shirts for Every Squad
From mermaids to muggles.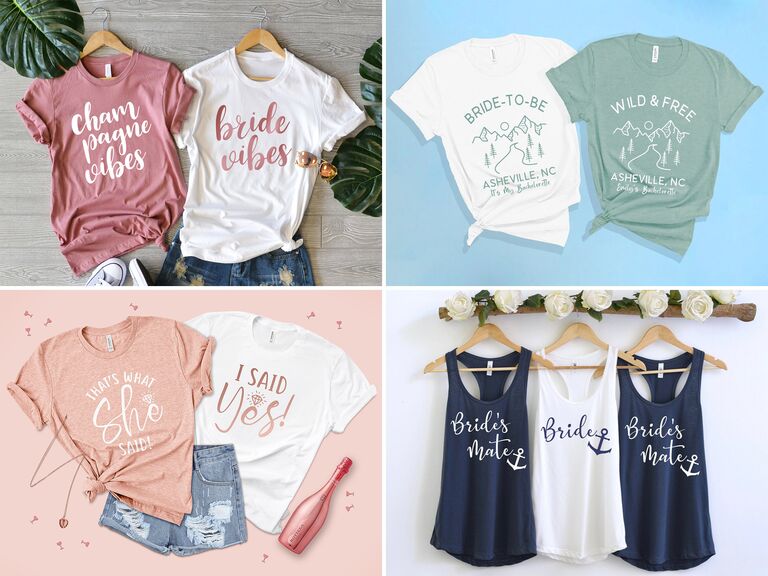 We have included third party products to help you navigate and enjoy life's biggest moments. Purchases made through links on this page may earn us a commission.
Do you have a tropical destination bachelorette party planned with your crew? Maybe just a staycation with a movie marathon and wine? Whatever your celebration theme is, there's a bachelorette shirt design out there for you. Here, find some of our all-time favorite options on the market, from the too-cute to the totally hilarious. We've even thrown in a few tank tops!
(Psst—if you want to go fully custom, we have this list of bachelorette phrases to personalize blank tees with. And once you've got your bachelorette party shirts, don't forget your floaties.)
For Flock's Sake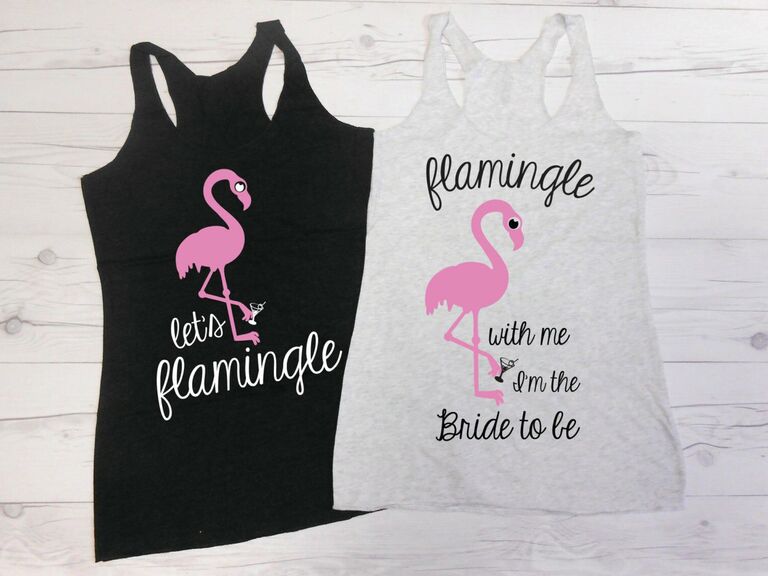 There are so many ways to label your bachelorette crew, but we're especially big fans of "flock." And these funny "let's flamingle" bachelorette tank tops will have everyone else flocking to your group.
Bride Bikini Let's Flamingle bachelorette party shirts, $19 each, Etsy.com

Princess Pack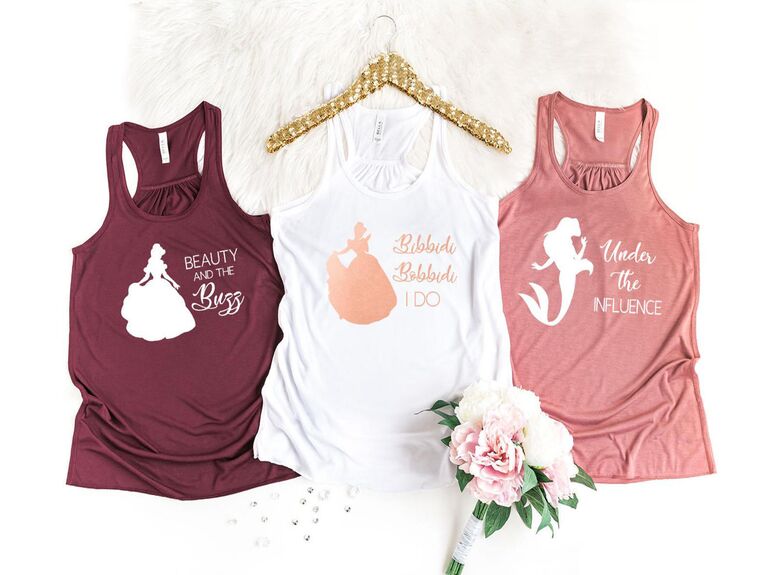 Love Disney? The bride can channel a princess on her wedding day and at the bachelorette party with the help of these silly shirts.
Pineapple Bun Apparel Disney-inspired bachelorette shirts, from $19 each, Etsy.com
A Bride and Her Babes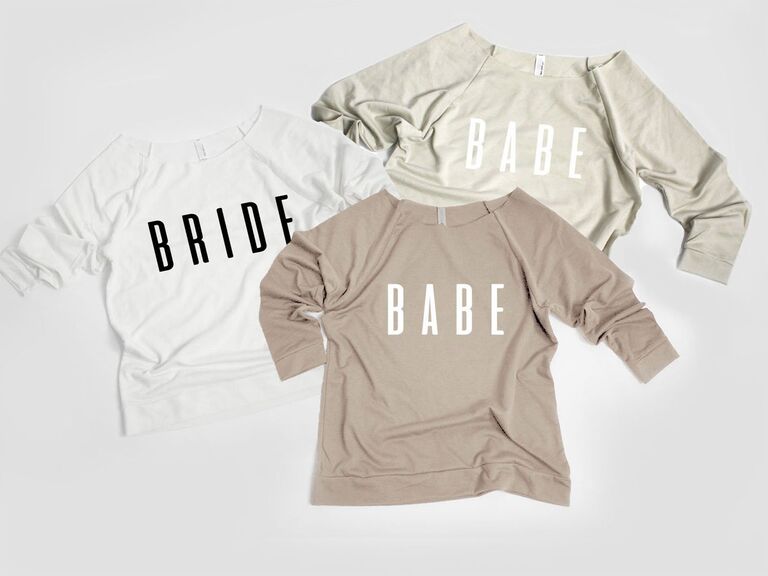 Maybe bachelorette T-shirts aren't your thing? These cute sweatshirts are perfect for parties looking for more casual (and warmer) attire. They're available in a variety of colors, but naturally the bride's comes in white to reflect her status.
Shop Luv Olive Bride and Babe sweatshirts, $27 each, Etsy.com
Feisty Wifey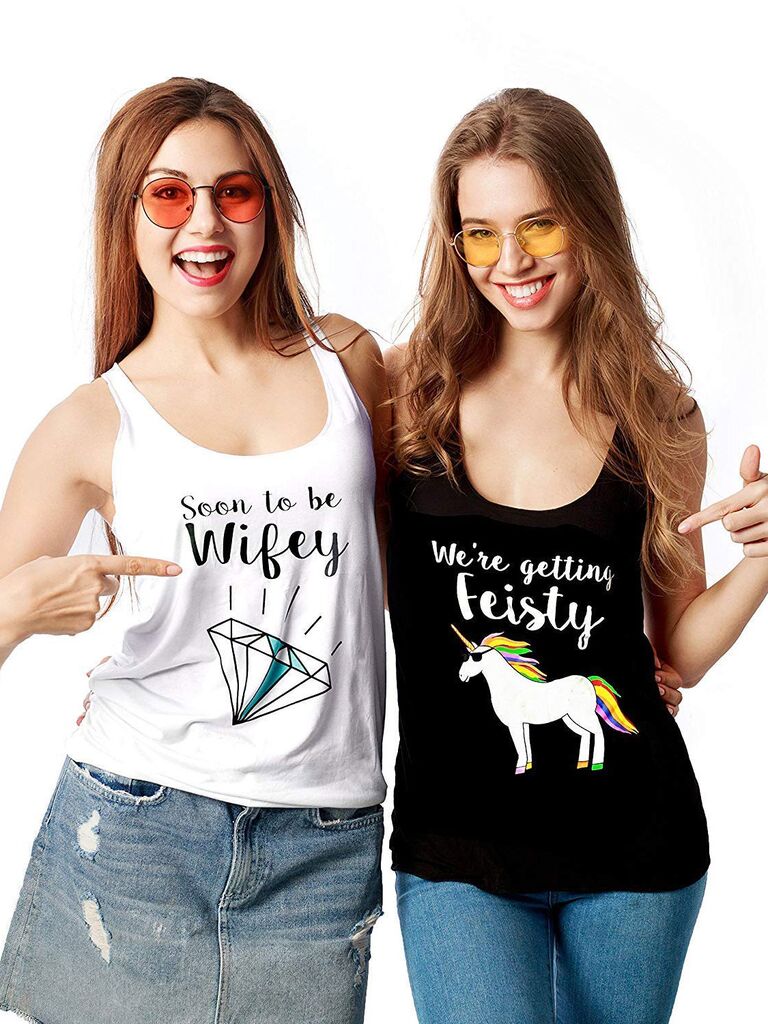 True friendship is rare, just like the diamonds and unicorns on these cute shirts for your squad.
Sterling James Co. Feisty and Wifey triblend racerback tanks, $13 each, Amazon.com
Drinking Buddies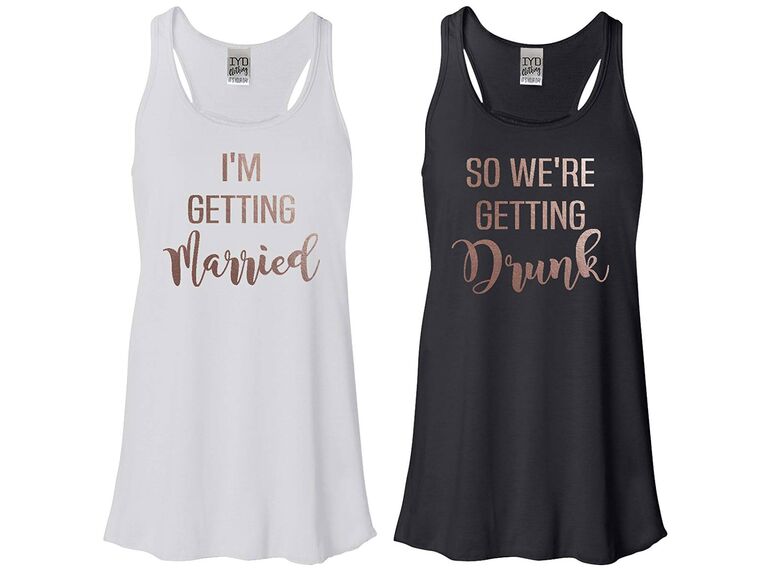 Hey, it's not like you weren't all thinking it! These funny bachelorette shirts cut right to the chase.

It's Your Day Clothing I'm Getting Married So We're Getting Drunk women's flowy racerback tank tops, from $19 each, Amazon.com
Casual Cool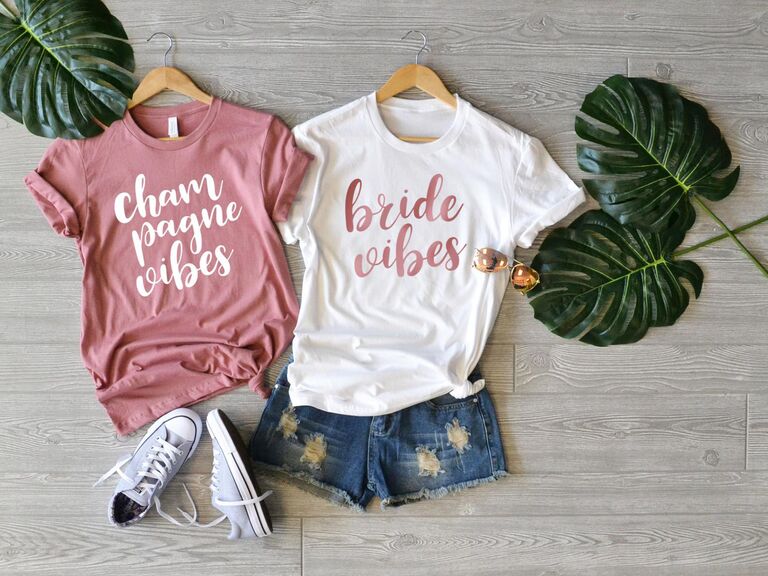 We're vibing with these fun bachelorette party tees.
Hello Bridal Clothing Bride Vibes and Champagne Vibes shirts, from $15 each, Etsy.com
Punny Humor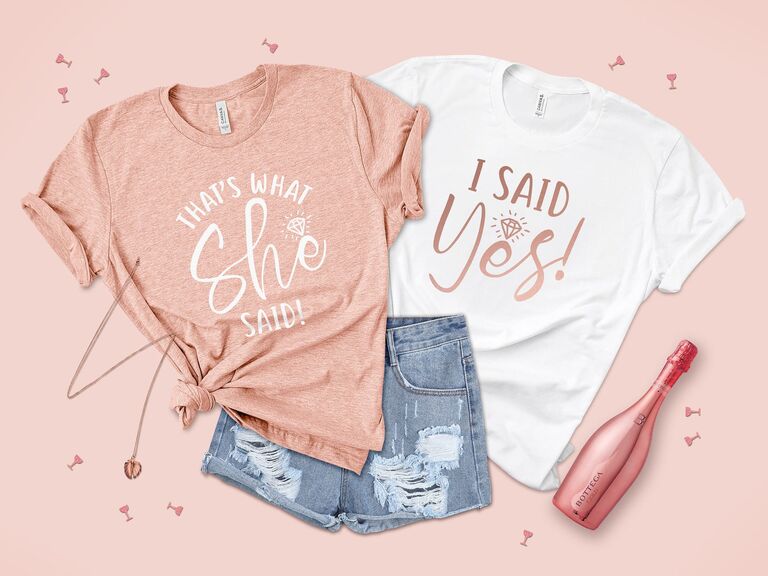 These "I said yes" and "that's what she said" bachelorette shirts are the perfect mix of funny and sassy. Michael Scott would be proud!
Faabric Shop I Said Yes and That's What She Said bachelorette party T-shirts, from $19 each, Etsy.com
The Best of Friends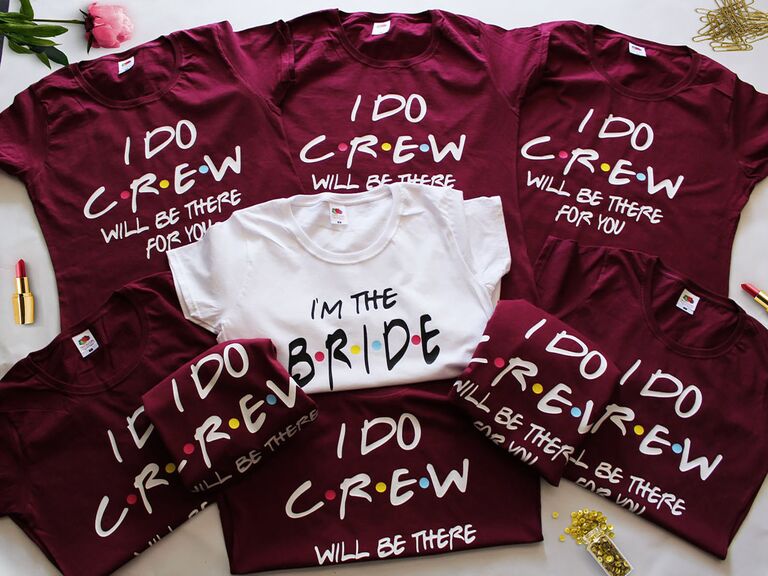 These clever bachelorette shirts are where it's at if you're celebrating a Friends binge-watcher.
Bachelorette Shop Tee Friends-inspired I Do Crew wedding party shirts, from $23 each, Etsy.com
Partying Your Tails Off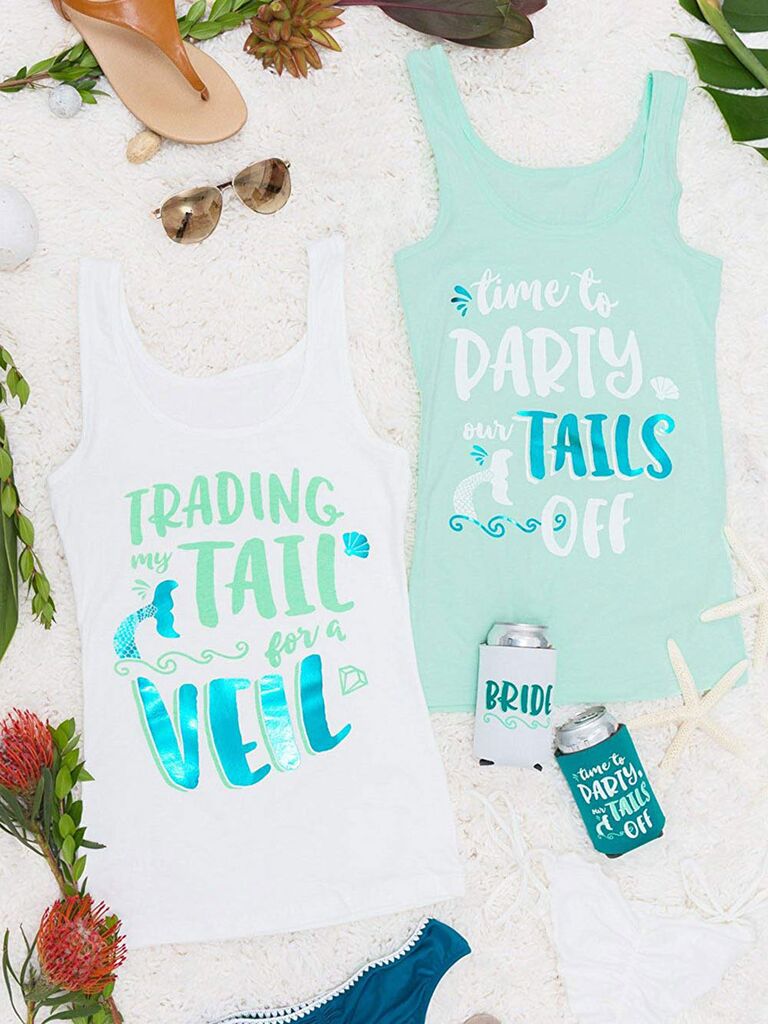 Embrace your childhood fantasies with these mermaid-inspired bachelorette party shirts.

Bachette mermaid bachelorette party shirts, $26 each, Amazon.com
Pop the Bubbly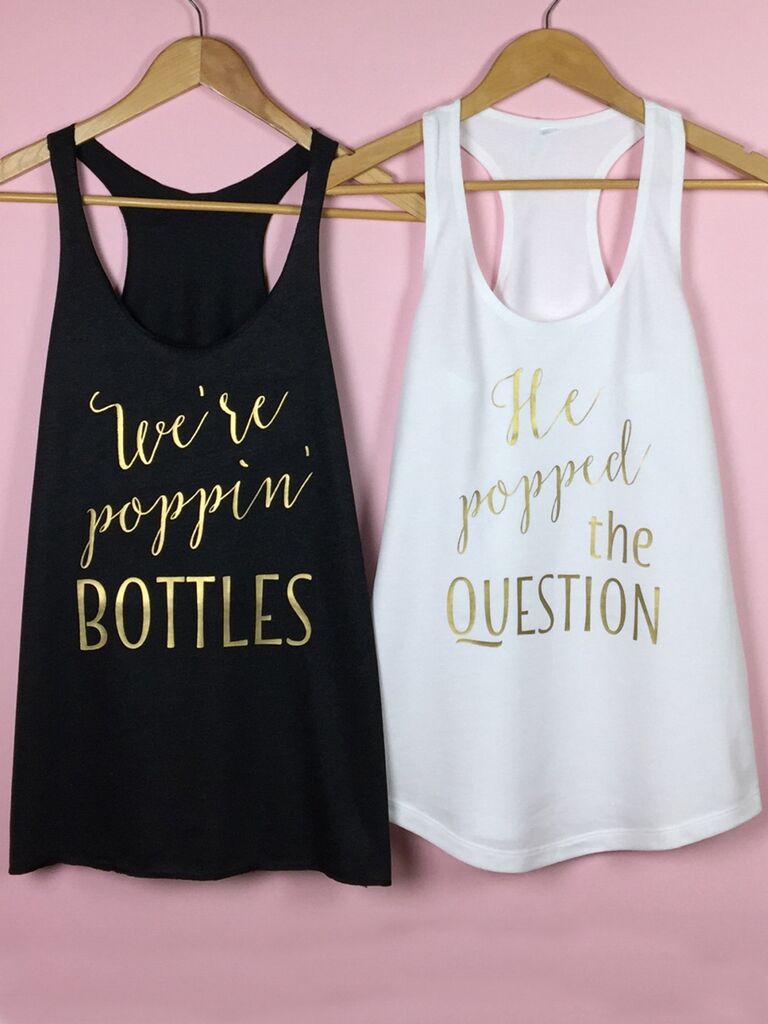 Make your bachelorette party intentions clear—popping bottles, of course.

Trex and Unicorn We're Poppin' Bottles and He Popped the Question bachelorette shirts, $21 each, Etsy.com

Bride's Mates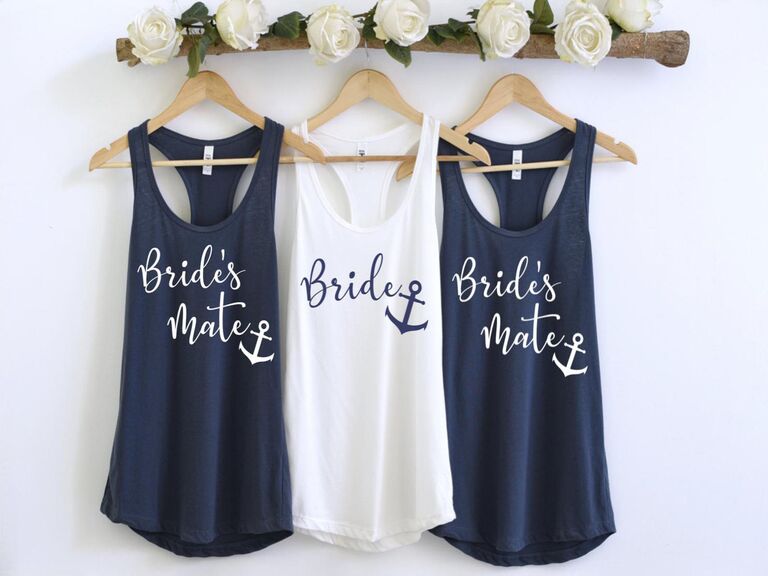 A beach bachelorette bonanza would benefit from this genius play on the word "bridesmaid." If you're throwing a nautical bash, these bachelorette party T-shirts are for you and your mateys.
Craftyholic Anonymous Bride & Bride's Mate bachelorette party nautical themed tanks, from $14 each, Etsy.com
Harry Potter Fans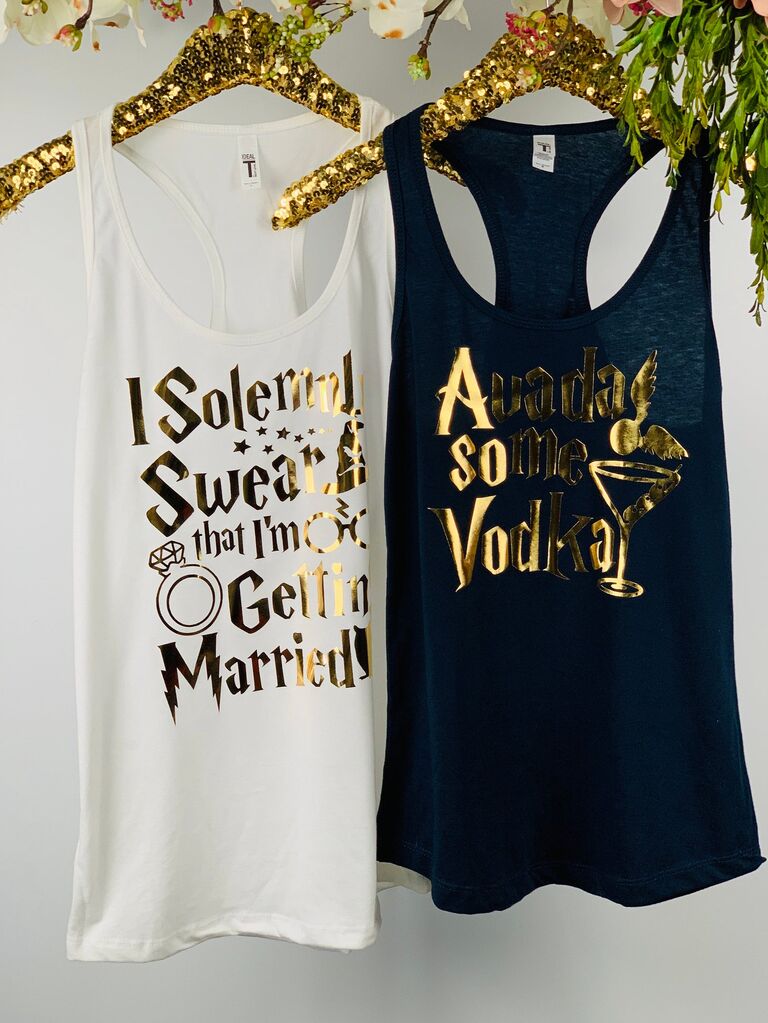 Ditch your house robes for these magical bachelorette tank tops, which are perfect for enjoying a butterbeer with your favorite witches.
Bride's Flock Harry bachelorette shirts, from $10 each, Etsy.com
Country Girls
If you prefer cowgirl boots to going-out heels, these bachelorette party shirts are for you and your crew. Yee-haw!
Blondarazzi Designs country music bachelorette party tank top shirts, $26 each, Etsy.com
Tiger Queens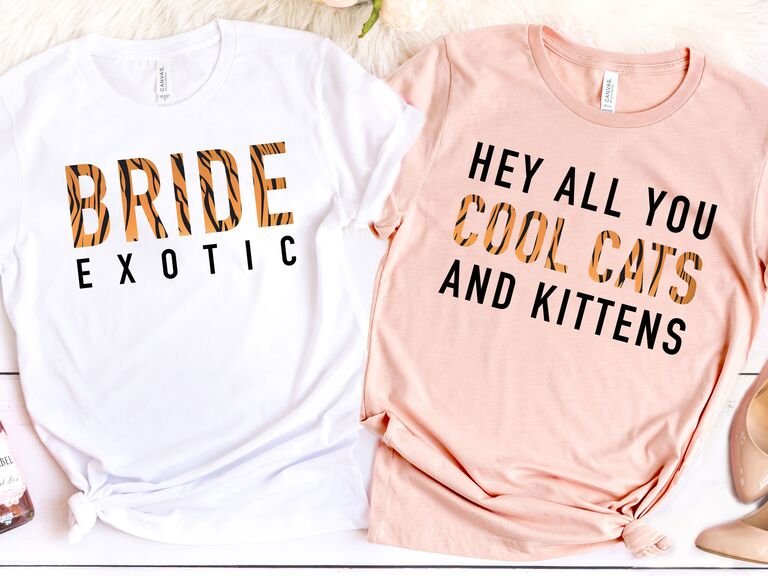 Channel your exotic side with these fun Tiger King-themed bachelorette shirts.
Stag & Hen Tiger King-inspired bachelorette party shirts, $25 each, StagandHen.com
Vegas Bachelorette Trip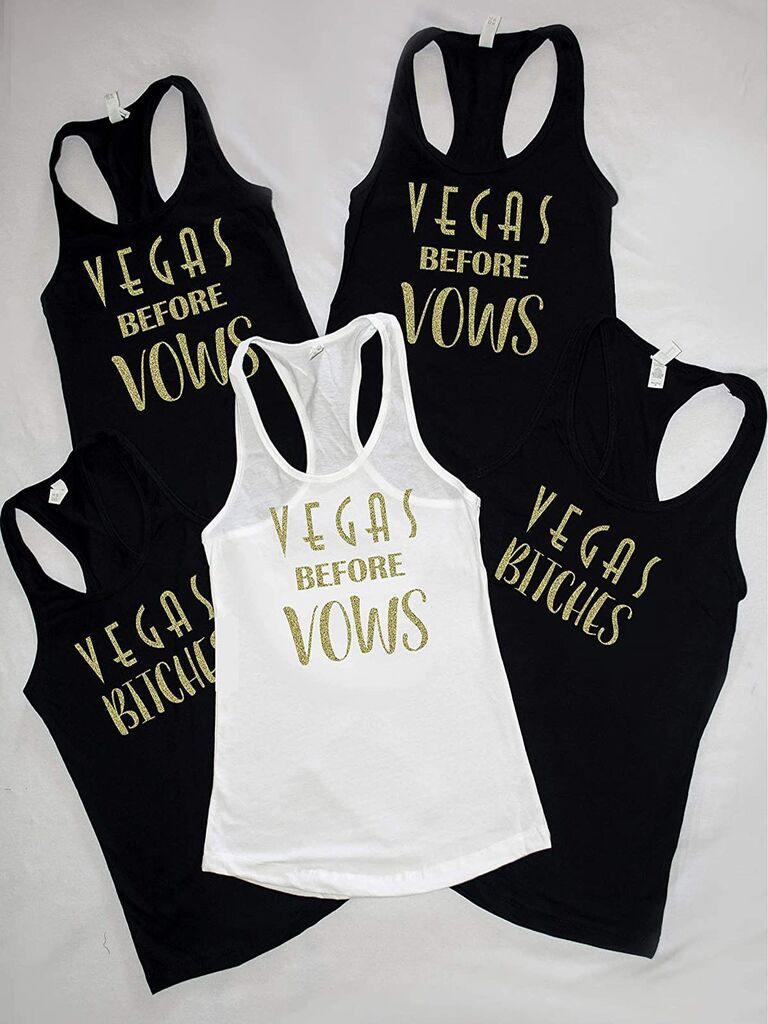 Go all out for a Sin City getaway with Vegas-themed bachelorette party shirts.
Glitter Get Up Vegas Before Vows bachelorette party shirts, $15 each, Amazon.com
Laid-Back Ladies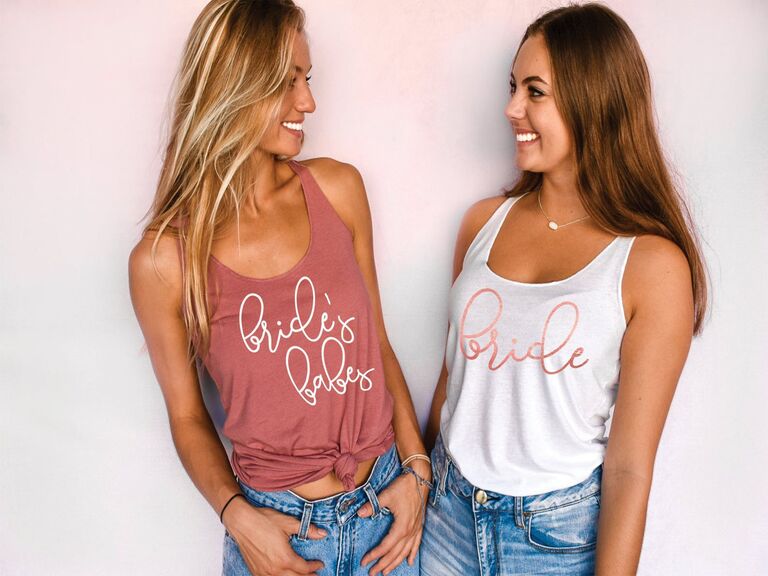 Looking for comfy bachelorette shirt ideas? These cozy tanks top our list.

Bride 2 Be Designs Bride & Babes tanks, from $17 each, Etsy.com
Hubby and Bubbly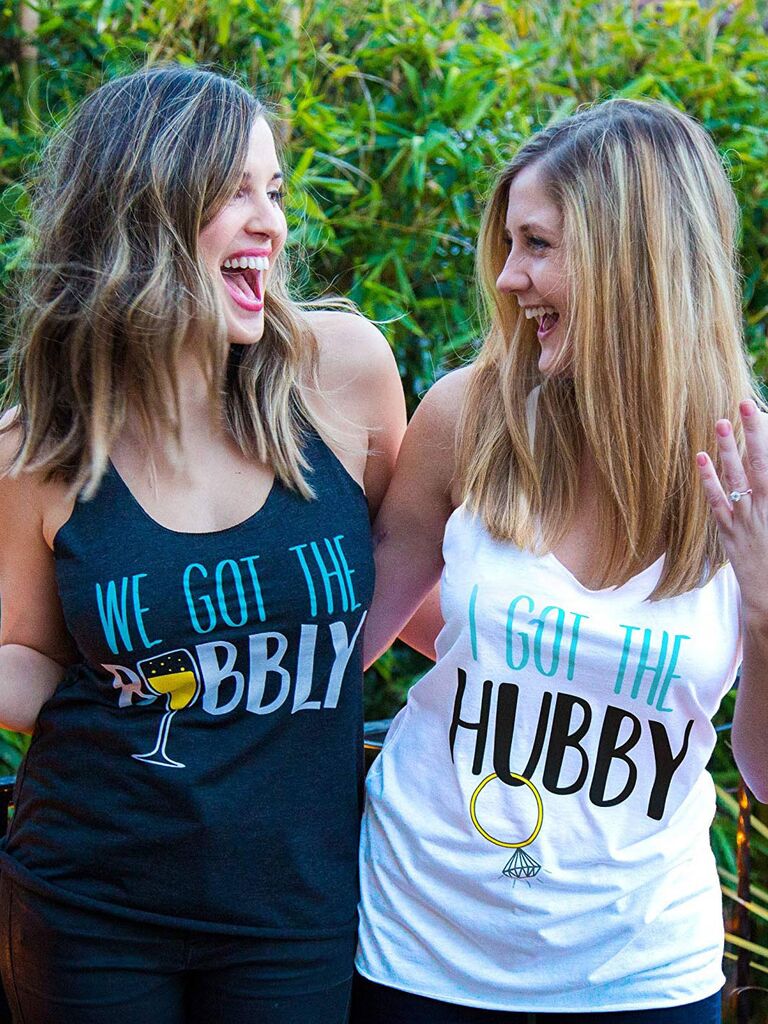 We'll raise a glass to these coordinating tanks.

Sterling James Co. Hubby and Bubbly triblend racerback tanks, $13 each, Amazon.com
Beach Bachelorette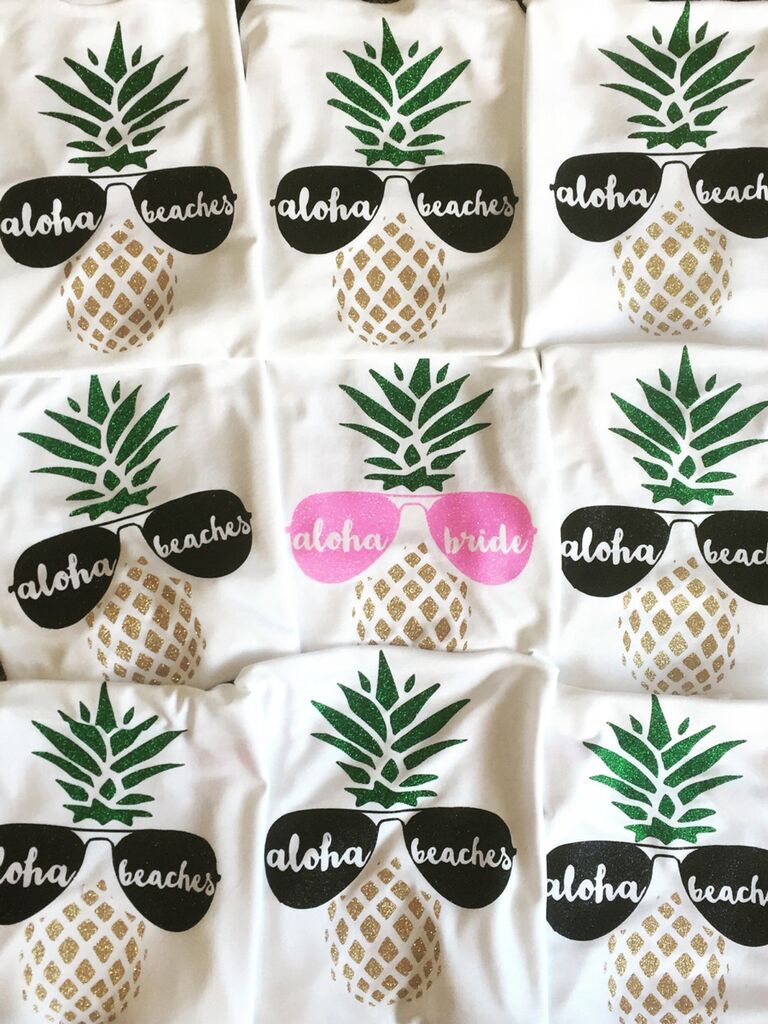 Gather all your beaches for a celebration in the sand.

Sparkled with Grace Co. Aloha Bride and Aloha Beaches bachelorette party shirts, $18 each, Etsy.com
Squad Moves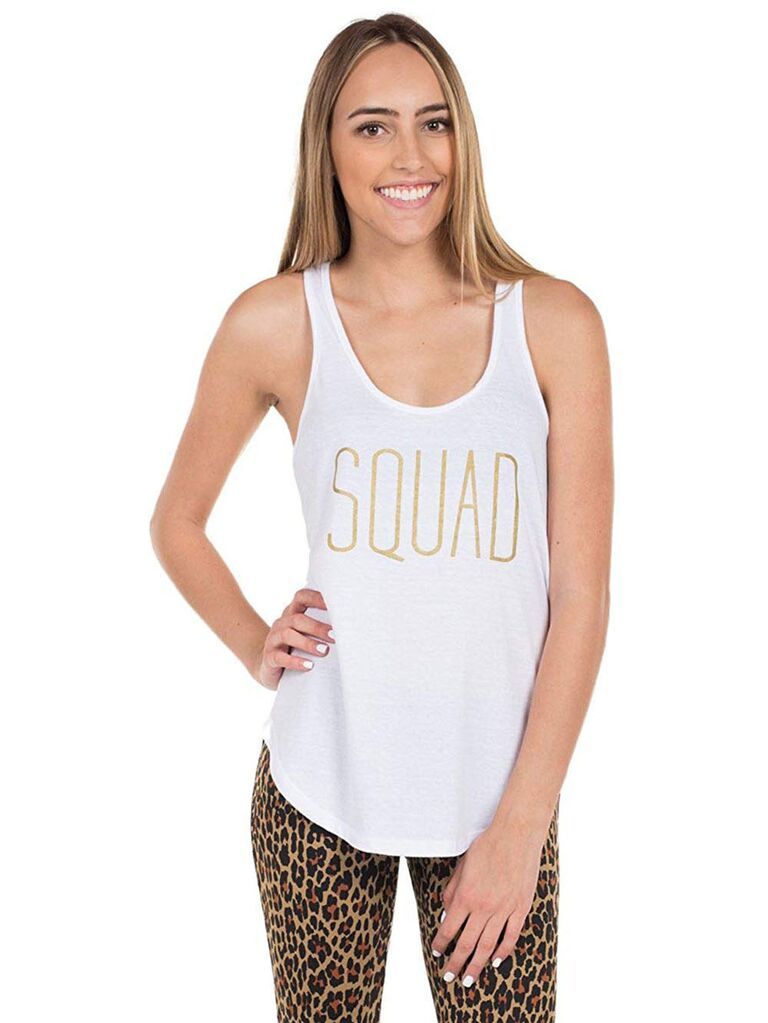 Keep it simple with matching bachelorette party shirts that signify your squad.
Tipsy Elves Squad bachelorette party shirt, $17, Amazon.com
Wife of the Party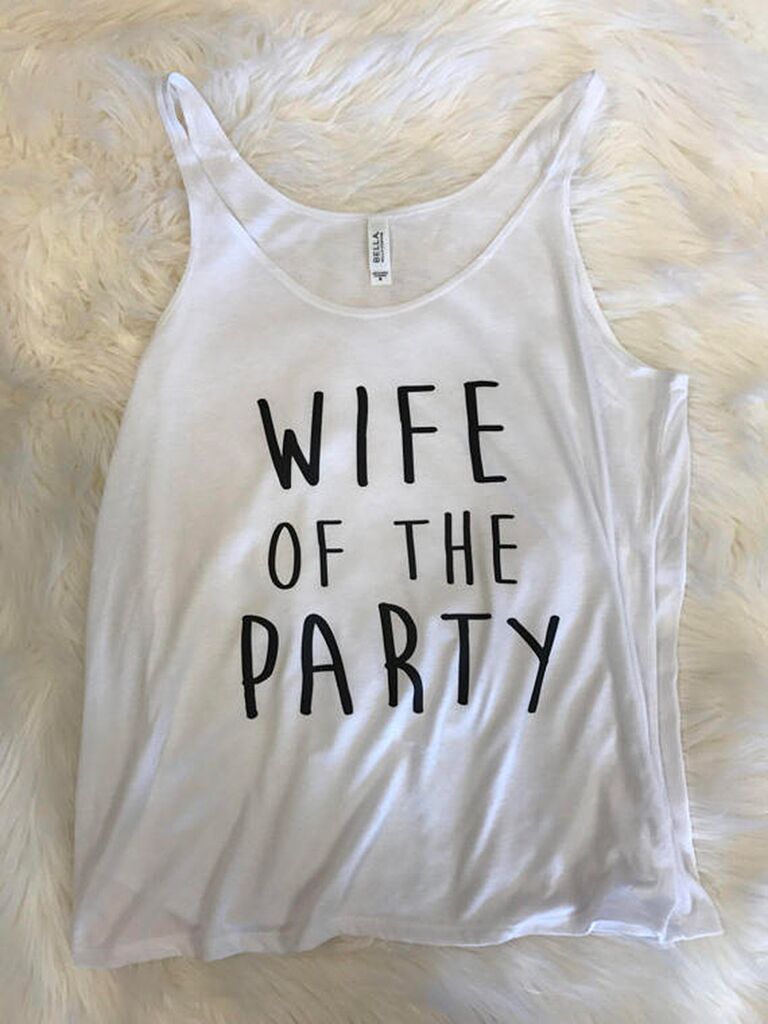 Stand out from your crowd with a punny tank that nods to your future title.

Official PGP Apparel Wife of the Party womens slouchy tank, $20, Etsy.com
Wild and Free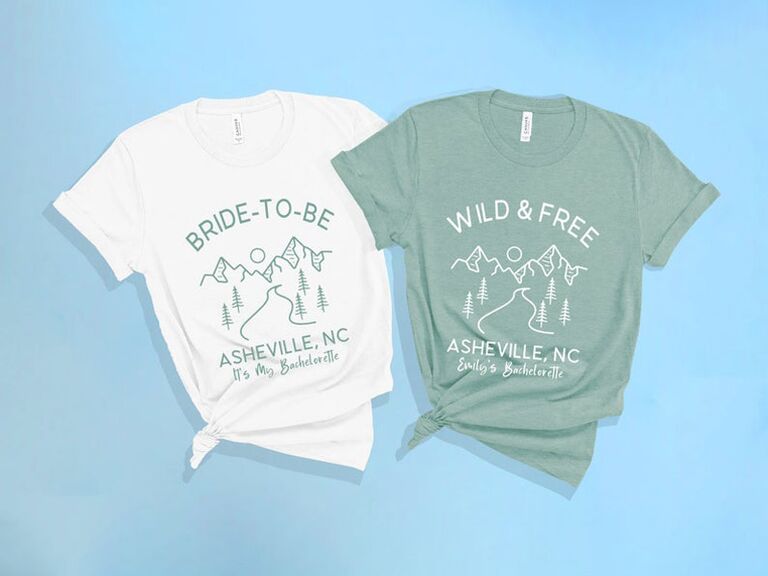 These cute and customizable bride and bridesmaid shirts are perfect for a wild outdoor weekend in the heart of nature.

Be Everthine Wild & Free and Bride-To-Be customizable location bachelorette party shirts, from $25 each, Etsy.com
I Do Crew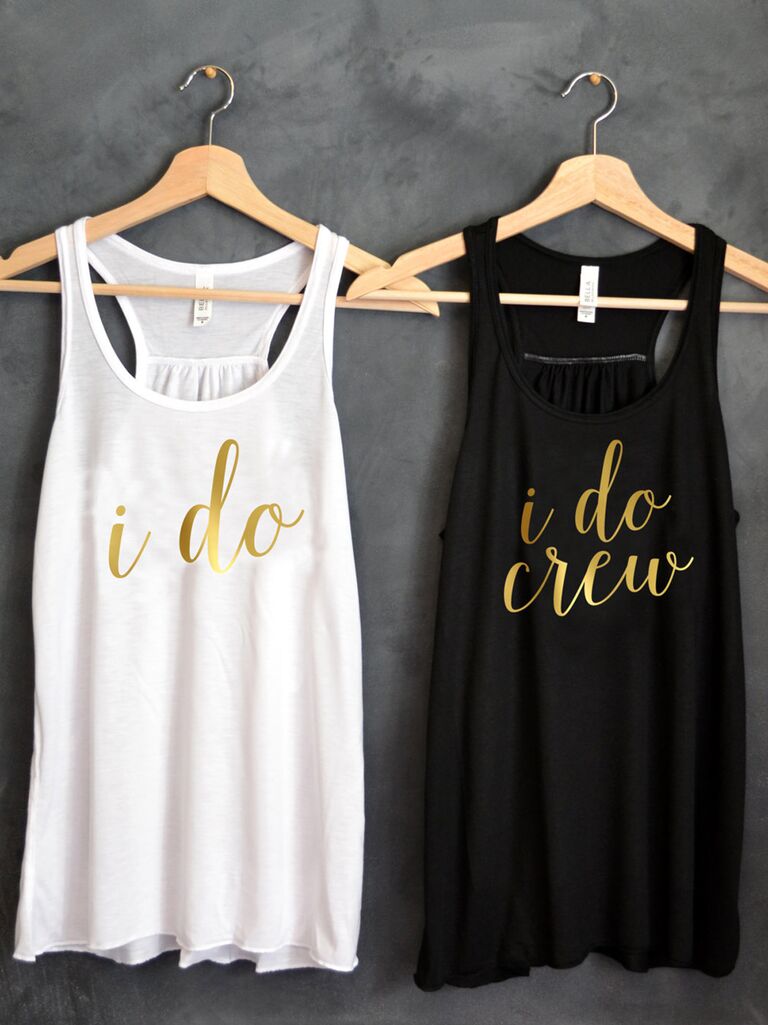 Here's another "I do crew" bachelorette shirt idea. We love these tanks' metallic text.

Hello Handpressed I Do and I Do Crew bachelorette party shirts, from $27 each, Etsy.com
I'm Getting Meowied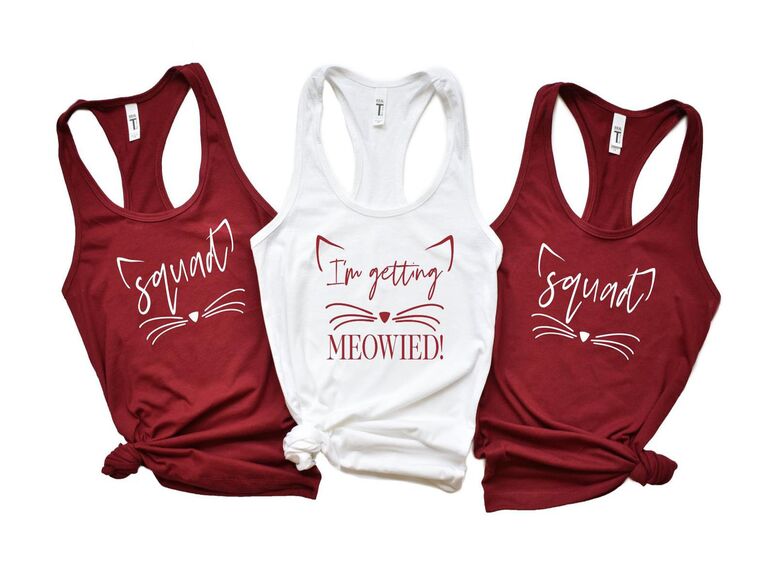 These adorable cat-themed T-shirts are the purrrrr-fect way to add some feline fun to any bachelorette party.
IcecreaMNlove I'm Getting Meowied bachelorette party shirts, from $14 each, Etsy.com