The Ultimate List of 90s Wedding Songs (Throwback Thursday!)
by Simone Hill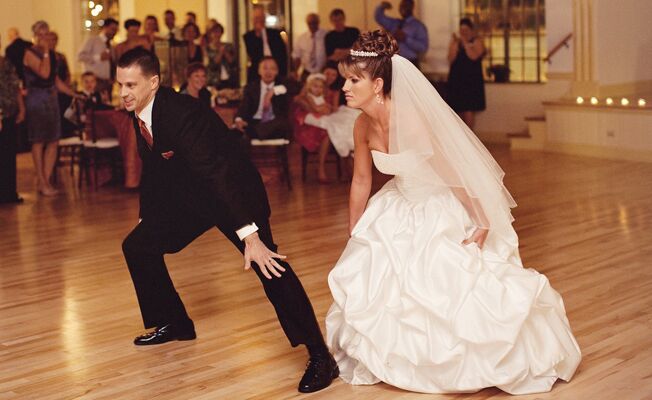 If you want to party likes it's 1999 on your wedding night, make sure to these classic 90s jams on your playlist!
"Always Be My Baby," Mariah Carey
I'll take 90s Mariah over American Idol Mariah any day.
"All My Life," K-Ci and JoJo
Can't get anymore 90s than this. Where are K-Ci and JoJo now? I wonder if they're playing weddings…
"Because You Loved Me," Celine Dion
Since My Heart Will Go On only reminds us of our favorite 90s heartthrob freezing to death and then sinking into the icy depths of the Atlantic, Celine's more warm and gooey "Because You Loved Me" is our go to Celine jam for a wedding.
"Truly Madly Deeply," Savage Garden
All those adverbs say it all.
"I Will Always Love You," Whitney Houston
RIP Whitney, girlfriend knew how to sing a love song!
"Hold My Hand," Hootie and the Blowfish
It just wouldn't be a 90s playlist without Hootie!
"From This Moment," Shania Twain
A sappy song we just can't resist.
"Crash Into Me," Dave Matthews Band
For the couple who won't go a summer without sprawling out with a picnic blanket for at least one DMB concert.
"It's Your Love," Tim McGraw and Faith Hill
The perfect country duo, singing the perfect country love song!
"The Macarena," Los del Rio
If you're a diehard 90s fan you wouldn't even think of ending the reception without playing the Macarena at least once!
"I'll Make Love To You," Boyz II Men
You'll probably want to save this one for towards the end of the night — when your grandparents have retired to their hotel room.
Did we miss any 90s wedding songs you love? Let us know in the comments!
> Check out more 90s songs here!