A Toasting Guide for the Bride and Groom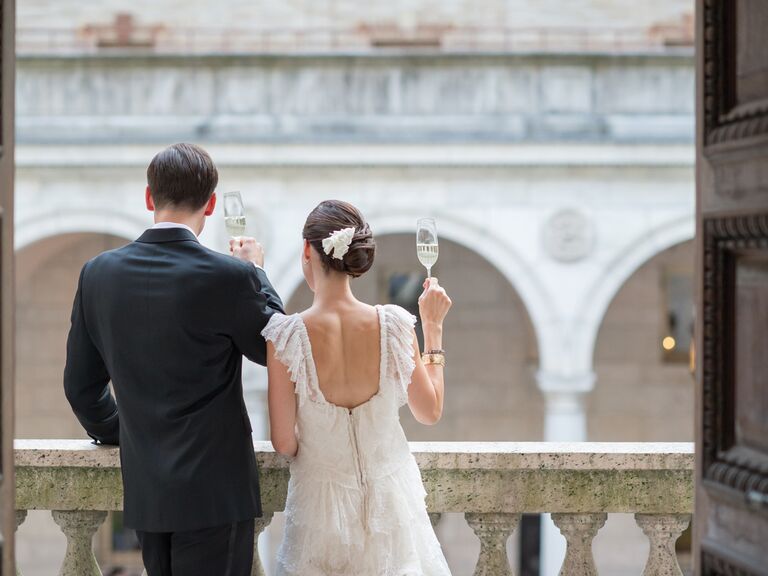 Ned Jackson Photography
You've spent months planning, dreaming, arguing, and waiting. So why would you waste this enormous opportunity to address those guests who have gathered to celebrate the two of you? (Hey, they're not there for the best man, and he's up on his feet with a clever speech.) It's time for both groom and bride to speak up, to raise a glass to their guests and new spouse, and to share a few words from the heart on this singular day. Take the stage for a moment or two, and your celebration will be warmer and more festive for the effort.
Why Should I Make a Toast?
Well, why not? You are, after all, the entire reason all these people have come to this celebration (great hors d'oeuvres notwithstanding). JoAnn Gregoli, a New York- and New Jersey-based wedding consultant, routinely encourages couples to toast. "The couple making a toast gives the guests a sense of appreciation," she says. Besides, a wasted opportunity can leave a tinge of regret. Chances are, this particular collection of old college buddies, distant grandaunts, and in-laws' cousins is not likely ever to be together again. Seize the moment: You are more likely to feel sorry for not speaking than for saying a few simple words of welcome and gratitude.
Aw, Do I Have To?
No bride or groom with severe social anxiety should be forced to make a toast. If the very thought of raising your glass and saying a few words makes you feel ill, skip it. No one likes to see a person making a toast squirm. The only one really expected to make a speech is the best man, and even he can be replaced by, say, the maid of honor if he is truly uncomfortable.
But My Knees Will Be Knocking
Everyone is at least a little nervous before they speak to a group, but this can actually be a good thing if you use that energy to create some momentum and excitement for yourself. Sounds silly, but breathing deeply is very calming. So is remembering this: You are preaching to the converted. These people love you; after all, they're your wedding guests, not some howling mob. Basically they are going to adore anything you say to them. Which brings us to the next point...
How Do I Break the Ice?
You'll probably want to start off by making your guests chuckle, to get them engaged. No need to tell a true knee-slapper, but do start with something light and amusing. Some people are not great joke-tellers, but you don't have to be Conan O'Brien to be funny. Tell a story about your new spouse that always makes you grin (but nothing embarrassing!). Or describe the first time your parents met your intended, if it was offbeat. The things that will make people smile are those that are personal but never mean-spirited. Bonnie Kowar, a wedding consultant from Vail, Colorado, will never forget the toasts of one particular couple: "One bride told the 200 friends and family gathered that she never thought she would get married because there just wasn't any man as wonderful as her golden retriever. When the groom had his moment in the spotlight, he approached the microphone, looked out at all of the guests for a moment, and in a deep voice said, 'Woof, woof.' That brought down the house!"
What Should I Say?
Whatever you say, say it simply and say it quickly. Two or three minutes are sufficient for this toast, especially if both the bride and groom are planning to speak. Be sure to thank your parents and your in-laws. Next, thank all your guests for coming. Finally, toast your new wife or husband. Don't tell long stories about your childhood or growing up or whatever. Don't thank a long list of people: You have not won an Academy Award here. Don't say a single thing that you would not repeat to your mother-in-law or your grandmother if she were the only one in the room. This is not the time for anything even slightly raunchy. Don't tell inside jokes in order to make your old college roommates guffaw: It's rude not to be inclusive of the entire group. For example, don't say, "And thanks to Shirley and Steffi. Don't worry, the cotton candy came out." But you can say, "I especially want to thank my bridesmaids for the trip to the amusement park we took last week. It was great being a kid again with you guys -- and I did manage to get that cotton candy out of my hair."
I Think I Need a Drink
Yes, several of those chocolate martinis may make it easier for you to gather the courage to get up there and do your part. But keep in mind that drinking may also make you difficult to understand, boring, or -- worst of all -- inappropriate. There are lots of reasons why you should not get inebriated on your wedding day. The chance of making an embarrassing toast is just one of them.
Where's My Teleprompter?
While index cards may have worked nicely in your high school civics class presentations, at your own wedding, this technique lacks that warm, personal touch. Your toast should feel spontaneous and sincere -- which is not what comes across when you whip out that stack of 3x5s. But hey, you can't be spontaneous and sincere without practice. The key is to practice but appear unrehearsed. In fact, you may have to practice at appearing unrehearsed. One way to accomplish this is not to write anything down, except perhaps for a list of single words or names so that you don't forget anyone. Bonnie Kowar tells the story of a bride who made everyone laugh by thanking her hairdresser for making the day possible. Alas, the same bride failed to toast her groom. Get set in your mind the general gist of what you want to say, who you want to thank, and the few little anecdotes you intend to sprinkle in. Then at the right moment, let the spirit of the celebration inspire you.
When Do I Take the Stage?
Your moment can come after the traditional speeches from the best man and bride's father (often other people, including the groom's father or maid of honor, will also speak) before or during the meal. But many wedding consultants, including Jean Picard of California, urge couples to speak just before the cake-cutting. "This time works well," she says, "because it's not just 'one more toast' along with the other toasts; and at this point the bride and groom already have everyone's attention."
Finally, don't forget to clue the photographer in to the big moment. You'll want a photo of the bride raising her glass to her groom, with the wedding cake in the background.
-- Lisa Carse