41 No-Fail Wedding Toast Quotes
Need a wedding toast? We've got you covered with no-fail wedding toast examples.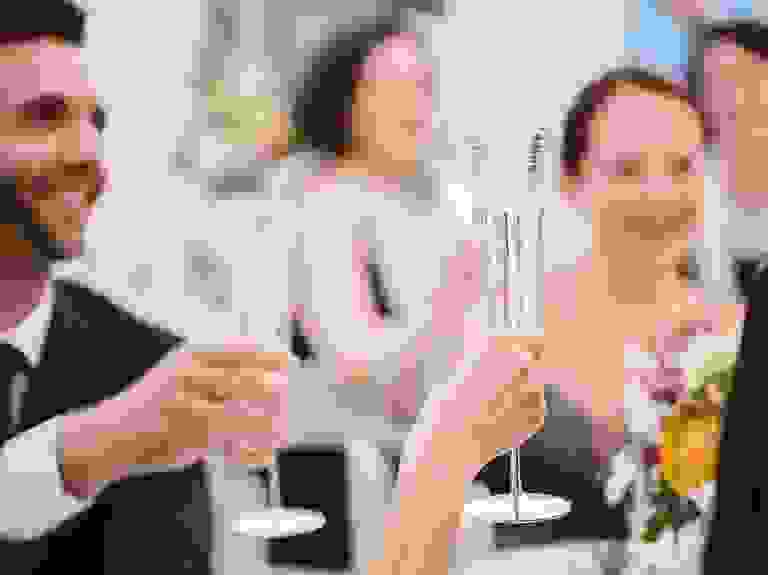 Marisa Blair

The backstory on the wedding toast? Well, that stems from France. As tradition dictates, when a piece of bread was placed in a wine glass and passed around to all the guests, the first person to get to the bread was bestowed good luck (and a whole lot of backwash—gross!). It's since come to mean the best of luck to the newlyweds. Below, consider incorporating these no-fail quotes into your wedding toast.
Cultural Proverbs 
"Where there is love, there is no sin." 
—Montenegrin proverb 
"When the husband drinks to the wife, all would be well; when the wife drinks to the husband, all is."
—English proverb 
"Marriage has teeth, and him bit very hot." 
—Jamaican proverb 
"Love is like a baby; it needs to be treated gently." 
—Congolese proverb 
"Deep love is stronger than life." 
—Jewish proverb 
"Try to reason about love and you will lose your reason."
—French proverb 
"Love and eggs are best when they are fresh." 
—Russian proverb 
"The heart that loves is always young." 
—Greek proverb

Cultural Blessings

"May the road rise up to meet you,
May the wind be always at your back,
The sun shine warm upon your face,
The rain fall soft upon your fields,
And until we meet again
May God hold you in the hollow of His hand."
—Irish blessing
"Ten thousand things bright
Ten thousand miles, no dust
Water and sky one color
Houses shining along your road."
—Chinese blessing
"May you grow old on one pillow."
—Armenian blessing
"May their joys be as bright as the morning, and their sorrows but shadows that fade in the sunlight of love."
—Armenian blessing
"Happy the bride and bridegroom and thrice happy are they whose love grows stronger day by day and whose union remains undissolved until the last day."
—African-American blessing
"May your love be like the misty rain, gentle coming in but flooding the river."
—African blessing
"May your love be as endless as your wedding rings."
—Traditional blessing
"May their joys be as deep as the ocean
And their misfortunes as light as the foam."
—Armenian blessing

"Let's drink to love, which is nothing—unless it's divided by two."
—Irish blessing

"May your joys be as sweet as spring flowers that grow.
As bright as a fire when winter winds blow,
As countless as leaves that float down in the fall,
As serene as the love that keeps watch over us all."
—Old English blessing

Traditional Toasts

"Ka mau ki aha. (May you never thirst again.)"
—Traditional Hawaiian wedding toast
"A toast to love and laughter, and happily ever after."
—Traditional toast
"Ad multos annos—to many years!"
—Latin toast
"Here's to the bride and the groom!
May you have a happy honeymoon,
May you lead a happy life,
May you have a bunch of money soon,
And live without all strife."
—Traditional toast
"Here's to the groom with the bride so fair,
And here's to the bride with groom so rare!"
—Traditional toast
"Here's to the husband
And here's to the wife;
May they remain
Lovers for life."
—Traditional toast
"Let us toast the health of the bride;
Let us toast the health of the groom;
Let us toast the person that tied;
Let us toast every guest in the room."
—Traditional toast
Traditional Graces
"Bless, O Lord, this food to our use, and us to Thy service, and make us ever needful of the needs of others, in Jesus' name. Amen."
—Traditional Protestant grace
"Bless us, O Lord, and these Thy gifts which we have received out of Thy bounty, through Christ our Lord. Amen."
—Traditional Catholic grace
"For what we are about to receive, the Lord make us truly thankful, for Christ's sake. Amen.
What we are about to receive, may the Trinity and the Unity bless. Amen."
—Grace before meal
"Barukh atah Adonai Elohaynu melekh ha-olam ha-motzi lechem min ha-aretz.
Blessed are You, Adonai our God, Source of the Universe, who brings forth bread from the earth. Amen."
—Traditional Jewish blessing over challah bread (Ha-Motzi)
Famous Quotes
"Insomuch as love grows you, so beauty grows. For love is the beauty of the soul."
—St. Augustine
"Blessings
Be present at your table, Lord.
Be here and everywhere adored.
Those mercies bless, and grant that we
May feast in paradise with Thee."
—John Cennick
"All love should be simply stepping-stones to the love of God...Blessed be His name for His great goodness and mercy."
—Plato

Biblical Blessing
"The Lord bless you and keep you!
The Lord let His face shine upon you, and be gracious to you!
The Lord look upon you kindly and give you peace!"
—Numbers 6:24-26
Shakespearean Toasts and Blessings
"A flock of blessings light upon thy back."
—Romeo and Juliet, Act III
"Fair thought and happy hours attend you."
—The Merchant of Venice, Act III
"Look down you gods,
And on this couple drop a blessed crown."
—The Tempest, Act V
"I wish you all the joy you can wish."
—The Merchant of Venice, Act III
"The best of happiness, honor, and fortunes keeps with you."
—Timon of Athens, Act I
"God, the best maker of all marriages,
Combine your hearts in one."
—King Henry V, Act V
"Love comforteth like sunshine after rain."
—from "Venus and Adonis"
"Honor, riches, marriage blessing,
Love continuance, and increasing,
Hourly joys be still upon you!
Juno sings her blessings on you."
—The Tempest, Act IV

Frequently Asked Questions About Making a Wedding Toast
1. Who gives a wedding toast?
The host often gives the first wedding toast at the beginning of the reception. Next, the best man traditionally gives the toast during the meal, followed by the maid of honor or other members of the wedding party. There are no hard and fast rules about who can give a wedding toast, though, so if your wedding isn't particularly traditional, your toasts don't need to be, either.
2. How do you propose a wedding toast?
Wait until everyone is eating, then get the guests' attention by asking for a turn at the microphone. Try to avoid clinking your glass—it's hard to hear and risky. You want to be remembered for a great toast, not for breaking your glass. Once you have everyone's attention, you can say, "May I propose a toast?" or "I would like to toast the couple."
3. How do you make a good wedding toast?
Explain your relationship to the couple and be as heartfelt and authentic as you can. Tell a sweet story or share one of the wedding toast quotes above. Remember to keep it clean and polite (the couples' parents or grandparents don't need to know about your college hijinks).

4. How long should a toast be at a wedding?
Keep your wedding toast short—just a couple minutes at the most—since there are likely to be several toasts before or after yours. Even the shortest toast can be impactful, though, as long as it comes from the heart. The wedding toast examples above are brief but deeply meaningful.

5. How do you end a wedding toast?
End with the toast itself. Raise your glass, invite guests to do the same, and end with well wishes or one brief quote. (Hint: any of the wedding toast quotes above are perfect). Then clink your glass with someone nearby, take a sip and head back to your seat!