These Epic Wedding Reception Decorations Live Rent-Free in Our Minds
*Picks jaw up off the floor.*
Want a wedding that your guests absolutely can't stop talking about? Epic wedding reception decorations are key. You've gathered your closest loved ones together for a festive party and your venue deserves to be as well-dressed as your guests.
To get your creative juices flowing, we've gathered the very best wedding decoration ideas that'll inspire you. From dramatic tabletop decorations to statement installations and floral arrangements that'll have everyone swooning, you're sure to find a wedding reception decor idea here that piques your interest. Plus, we connected with some of our favorite wedding experts to answer frequently asked questions about how to decorate for a wedding reception to ensure you've got your bases covered while planning.
Wedding Reception Decoration Ideas in This Story: Simple | Rustic | Elegant | Modern | Creative | FAQs
Simple Wedding Reception Decoration Ideas
Simple wedding reception decoration ideas aren't synonymous with plain. Sometimes the most effective reception designs are ones that are streamlined and don't feel too busy, as evidenced by these simple wedding reception decoration ideas.
1. Whimsical Orange Hanging Wedding Reception Decor Idea
Simple wedding reception table decoration ideas don't need to be limited to the table itself. Feel free to get creative and look upward with your decor. By hanging some decor you'll minimize the number of items on the table itself so everything stays pared down and clean.
2. Neutral Wedding Reception Decorations With Disco Balls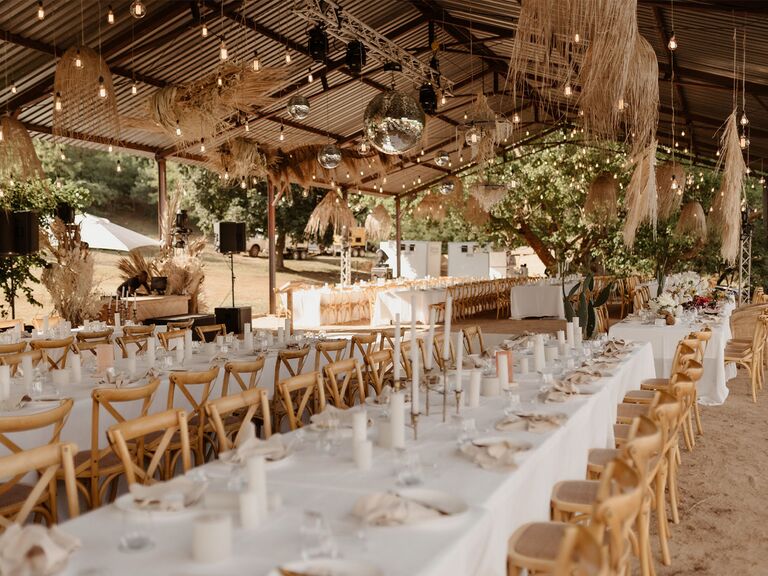 Sticking to a neutral palette is a great option if you're dreaming of simple wedding reception decor ideas. This couple leaned into beige decor, but added a pop of shimmer with some disco balls.
3. Minimal Black and White Wedding Reception Decor Idea
What's more simple and classic than black and white? Minimalist black chairs complemented this tablescape's white linen and the result was breathtaking.
4. Uncomplicated Velvet Lounge Wedding Reception Decoration Idea
You don't need a cluttered lounge area in order for it to feel cozy. Need proof? Just look at this simple seating area with velvet furniture. The setting is clean, yet inviting.
5. Industrial Lounge Seating Wedding Reception Decor
An industrial wedding venue lends itself nicely to a simple, refined aesthetic. The juxtaposition between the warehouse's concrete walls and the soft, plush furniture is so eye-catching and inviting.
6. Simple Wedding Reception Decorations With Green Linens
Opting for just a few long tables, instead of lots of smaller round tables, is a great way to simplify your wedding reception floor plan. This couple seated all their guests at three parallel tables with green linens and the result was beautiful.
7. Marquee Letter Wedding Reception Decor Idea
How fun are these clean and simple oversized marquee letters? To embrace their Hawaiian venue, this couple rented light-up letters spelling out Ohana.
8. Simple Marquee Letter Decoration Idea
Need more proof that marquee letters are a great option for couples with a simple vibe? At this wedding in Hawaii, marquee letters spelling out 'aloha' welcomed guests to the reception.
9. Refined Black and White Wedding Reception Decorations
There weren't a ton of elements to the wedding reception decorations here, but the less-is-more approach created maximum impact. The recipe? Black bentwood chairs, white linens and hanging greenery, simple as that.
10. Tropical Wedding Reception With Simple Woven Lanterns
A selection of white and woven lanterns hung about the farm tables at this waterfront wedding. While the overall design was simple and didn't involve too many elements, the effect was stunning.
11. Wedding Reception Barn Entrance With Lavender Balloons and Drapes
Don't underestimate the power of first impressions. To welcome guests into the barn venue for their wedding reception, this couple outfit the entrance with simple drapes and a balloon installation.
12. Greenhouse Wedding Reception With Simple Pink Draping
Yet again, draping wins the day as the simple, but beautiful, way to decorate a wedding reception. The draping at the entrance to this greenhouse wedding venue was simple, yet highly effective.
13. Tented Wedding Reception Idea With Black Chairs
Black and white is one the simplest, but most striking color palettes you can choose. While the overall design of this reception tent was simple, the choice of striking black residential-inspired chairs elegantly elevated the entire look.
Rustic Wedding Reception Decoration Ideas
Rustic wedding reception decoration ideas are having a resurgence in popularity due to how trendy events inspired by the American West have become. And guess what? Modern rustic wedding decor isn't what you might be thinking. You don't have to limit yourself to burlap, twine and mason jars. These of-the-moment rustic wedding reception decor ideas are going to wow you, we promise.
14. Wood Farm Tables With Pink Runners as Reception Decor
Rustic doesn't have to mean everything is brown and masculine. Quite the opposite—this couple brought in elegant feminine touches of pastel pink to their rustic wedding reception decor to give it an updated feel.
15. Rustic Greenery Runner Wedding Reception Decoration Idea
One of the best parts about rustic farm tables is that they're stunning on their own and don't need to be covered with linens. If you want to accessorize your farm tables without covering them in linens, a greenery runner is a beautiful solution.
16. Rustic-Meets-Glam Barn Wedding Reception Decor
For couples who want a hybrid of rustic and glam wedding decorations for their reception, this wedding is the perfect source of inspiration. Velvet linens and gold chairs elevated this otherwise bucolic setting.
17. Wedding Reception Decoration Idea With Wildflowers and Wood Charger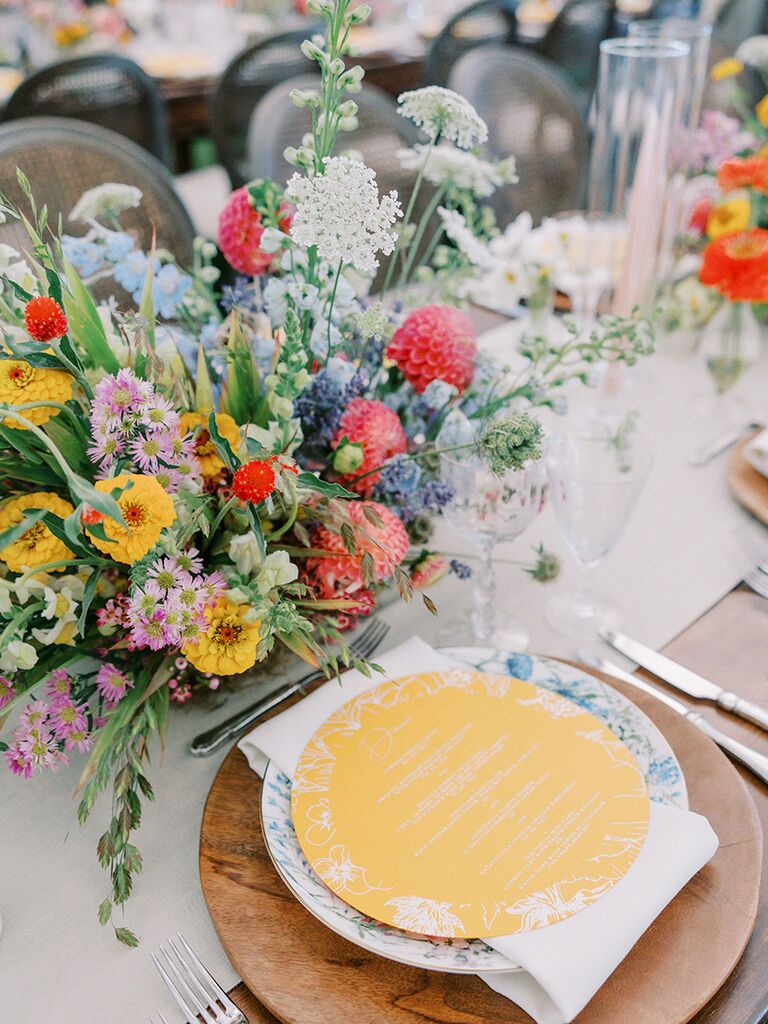 File this one away under "wedding reception table decorations that absolutely slay." The balance between whimsical wildflowers and sturdy wood chargers is homey in the very best way.
18. Burnt Orange Wedding Reception Decor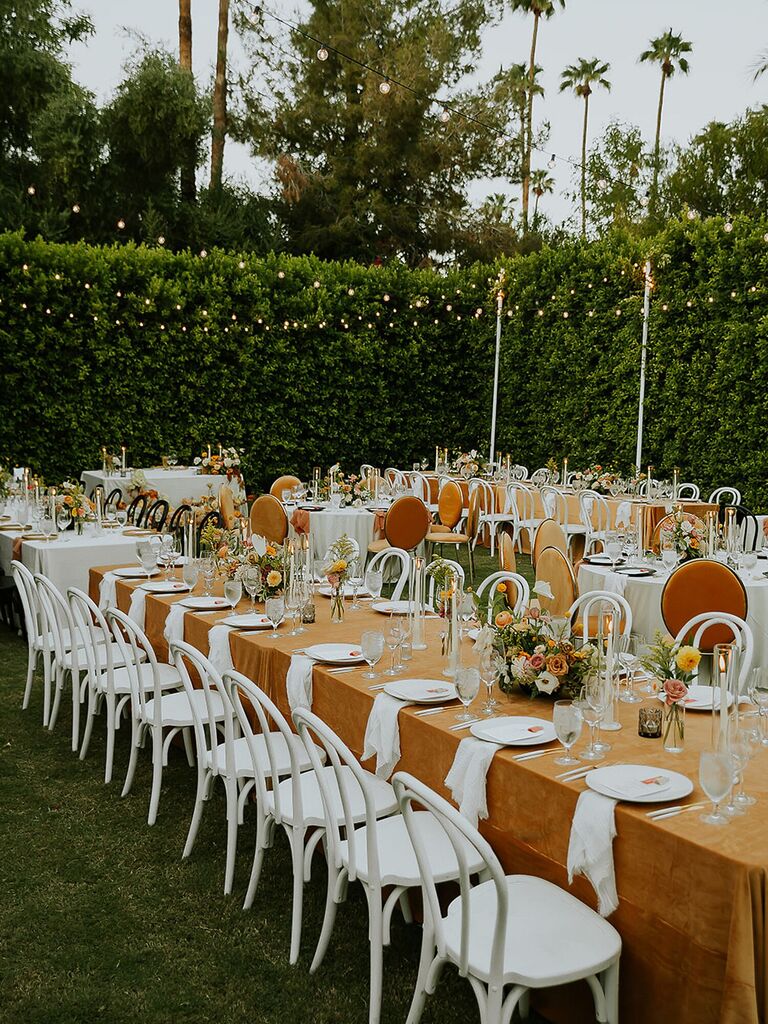 Burnt orange is having its moment and we're here for it. The color is absolutely breathtaking and works especially well with wedding decorations for receptions with a rustic, bucolic bent.
19. Rustic Terracotta Wedding Decoration Idea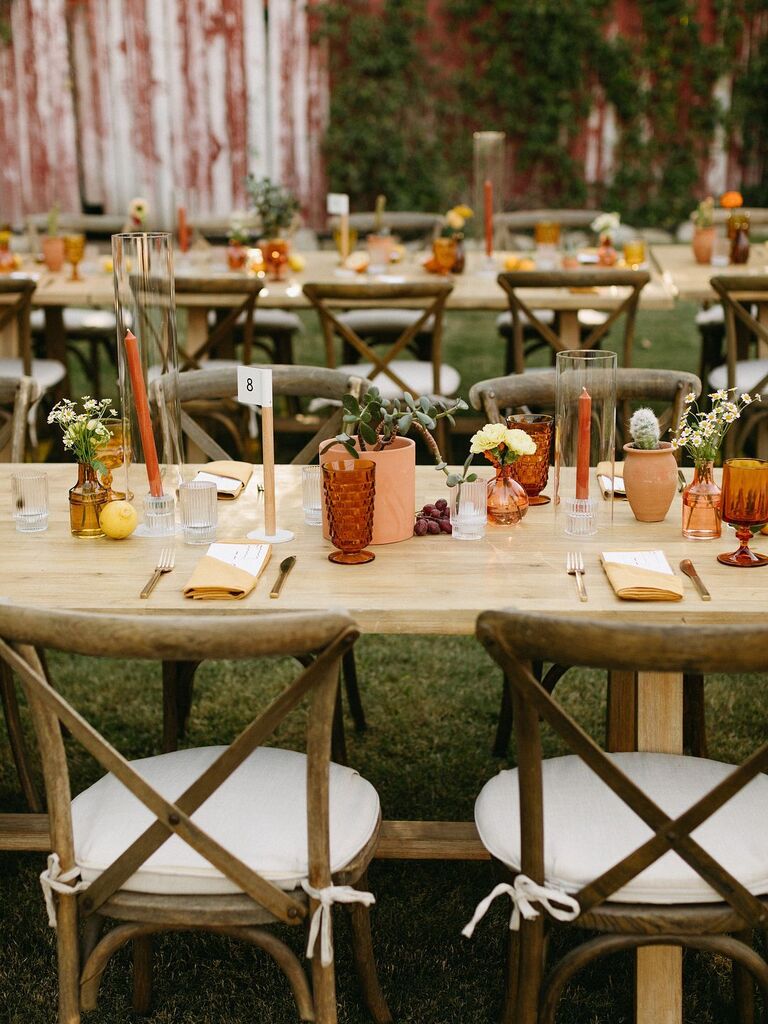 Using terracotta vessels instead of standard glass containers for your centerpieces is a great way to bring a country vibe to your tablescape. To add even more personality to their tablescape this couple places amber glass water goblets at each place setting.
20. Bucolic Wedding Reception Decor With Foliage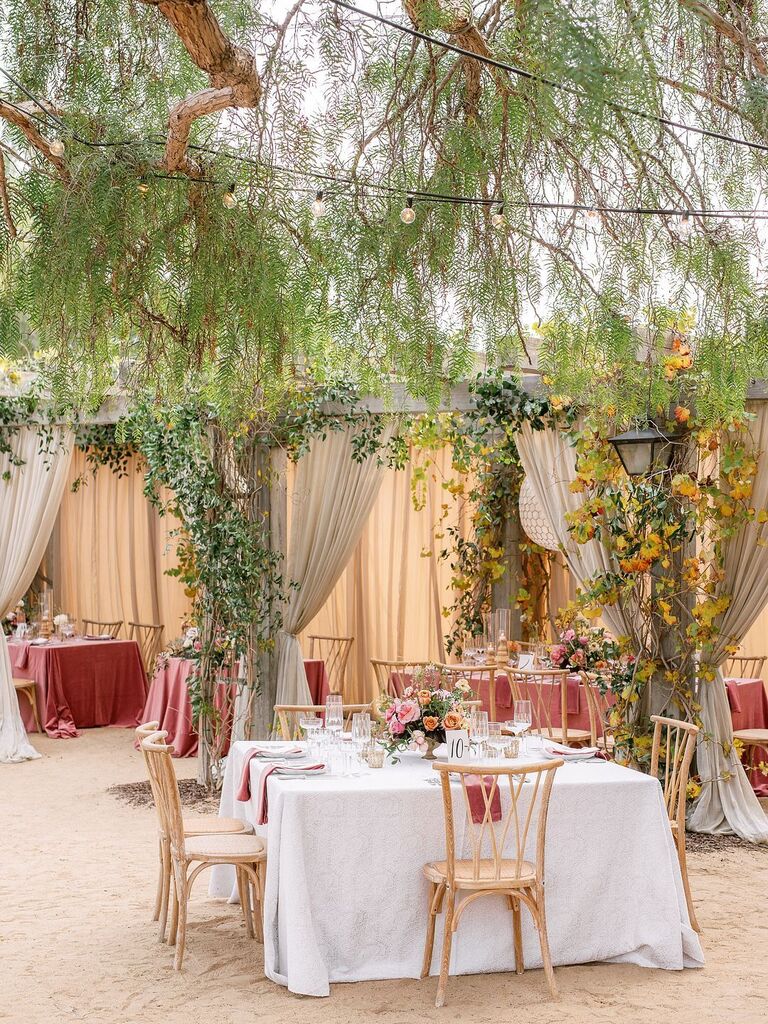 Don't overlook your venue's existing decor when making your plans. This couple made the most of their venue's foliage-covered pergolas and highlighted the architectural feature with draping. Similarly, if you're marrying at home and looking for backyard wedding reception decor ideas, pay attention to your home's existing features and work to complement them with your choices.
21. Eclectic Arrow Wedding Reception Decoration Idea
What's more woodsy and natural than a bow and arrow moment? This quirky couple played homage to Wes Anderson with their outdoorsy wedding decorations.
22. Yellow and Blue Rustic Wedding Reception Decor
Yellow and blue work beautifully together, especially as part of a rustic wedding color palette.
23. Bucolic Wedding With Pampas Grass and Edison Bulbs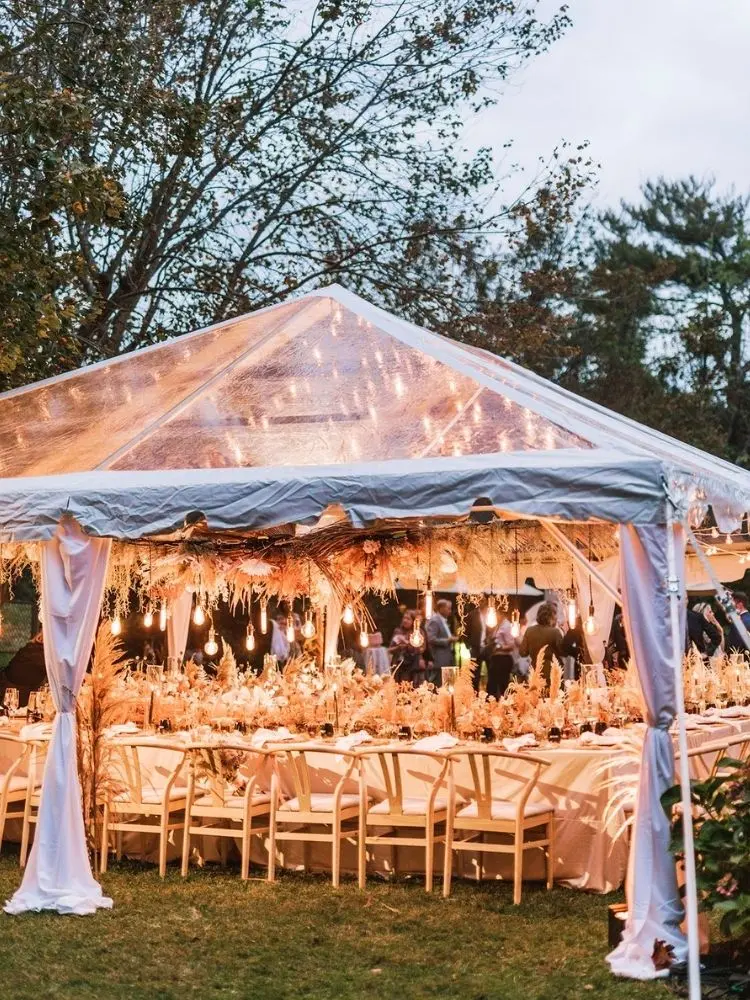 Backyard weddings don't have to be boring. This couple brought in a clear-top tent and filled it with pampas grass and eclectic Edison bulbs for their backyard wedding reception decorations. .
24. Rustic Backyard Wedding With Orange Linens
This is the pinnacle of a refined, elevated take on rustic wedding decor. This couple selected seasonal wedding colors that fit seamlessly into their fall wedding.
Elegant Wedding Reception Decoration Ideas
Calling all romantic with a love of all things timeless: These elegant wedding reception decoration ideas are perfect for you. They're classic without being stuffy, trendy without being cliché, and all-around elegant, full stop.
25. Stylish Greenery-Filled Tent Wedding Decoration Idea
Wow, just wow. This tent was exquisitely draped in greenery garlands and finished off with elegant chandeliers for an unforgettable look.
26. Graceful Wedding Reception Decor With Crystal Chandeliers and Hanging Roses
Roses and crystals are a delicate combination. This couple decorated their elegant wedding reception with mirror-topped tables, lots of roses (both on the tables and hanging) and crystal chandeliers that tied the entire look together.
27. Pink Draping Wedding Reception Decoration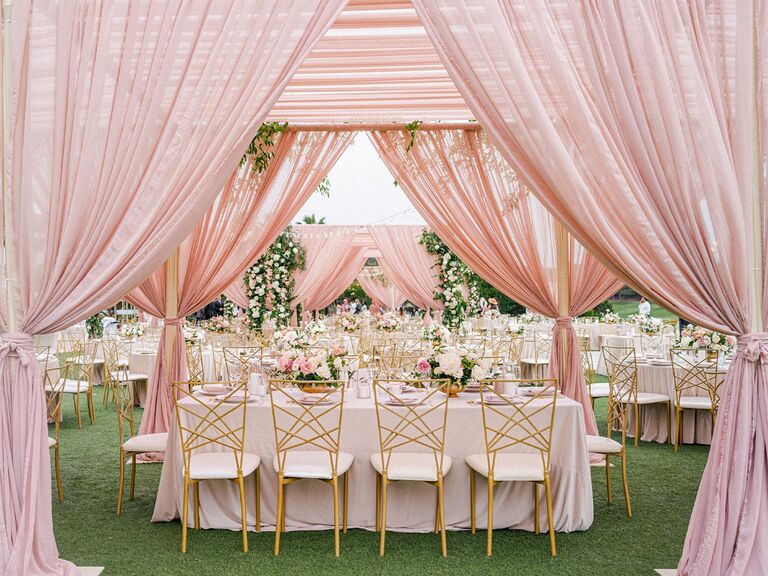 Is this not the most swoon-worthy setup you've ever seen? Pink drapes added a cozy feel to this outdoor wedding reception while gold chairs further reinforced the elevated aesthetic of the event.
28. Ralph Lauren-Inspired Wedding Reception Bar Decor
Does it get any more elegant than a custom pattern inspired by Ralph Lauren? This couple commissioned a custom bar front for their reception with patterned detailing inspired by the iconic American designer.
Find your kind of venue
From barns to ballrooms, discover reception venues that feel like you.
29. Residential-Inspired Outdoor Wedding Reception Decoration Idea
There's something so elegant about residential-inspired design. But, having that Restoration Hardware catalog-worthy look at an outdoor venue can be a bit tricky. This couple creatively created pergolas over their reception tables to bring the inside out.
30. Elegant Pink and Gold Wedding Reception Decor
Pink and gold are not a new color combo, but there's a reason this timeless pairing is still popular: they're stunning. This couple outfit their luxurious wedding reception with pink drapes, gold chairs and plenty of roses.
31. Exquisite Fucshia and Aqua Wedding Decoration Idea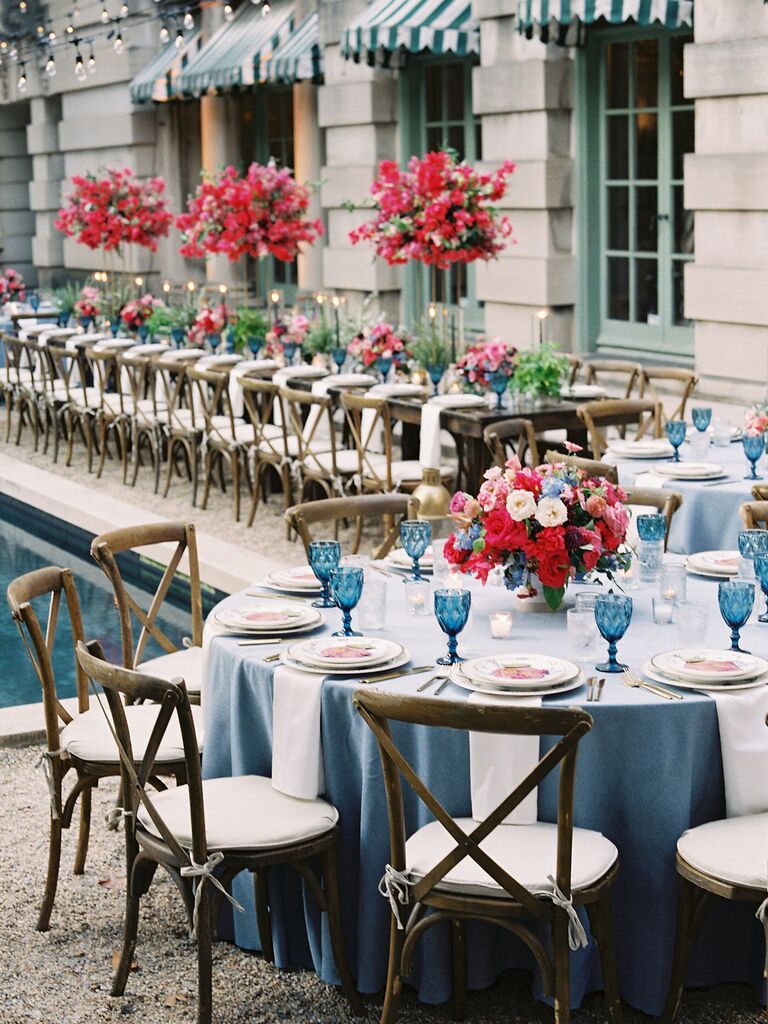 Another timeless color combo to consider for your elegant wedding reception decorations? Fuchsia and aqua. These jewel tones are especially great for a winter wedding. Plus, one look at this couple's reception should be enough to convince you just how striking the hues are.
32. Greek-Inspired Wedding Reception Favor Decor With Bougainvillea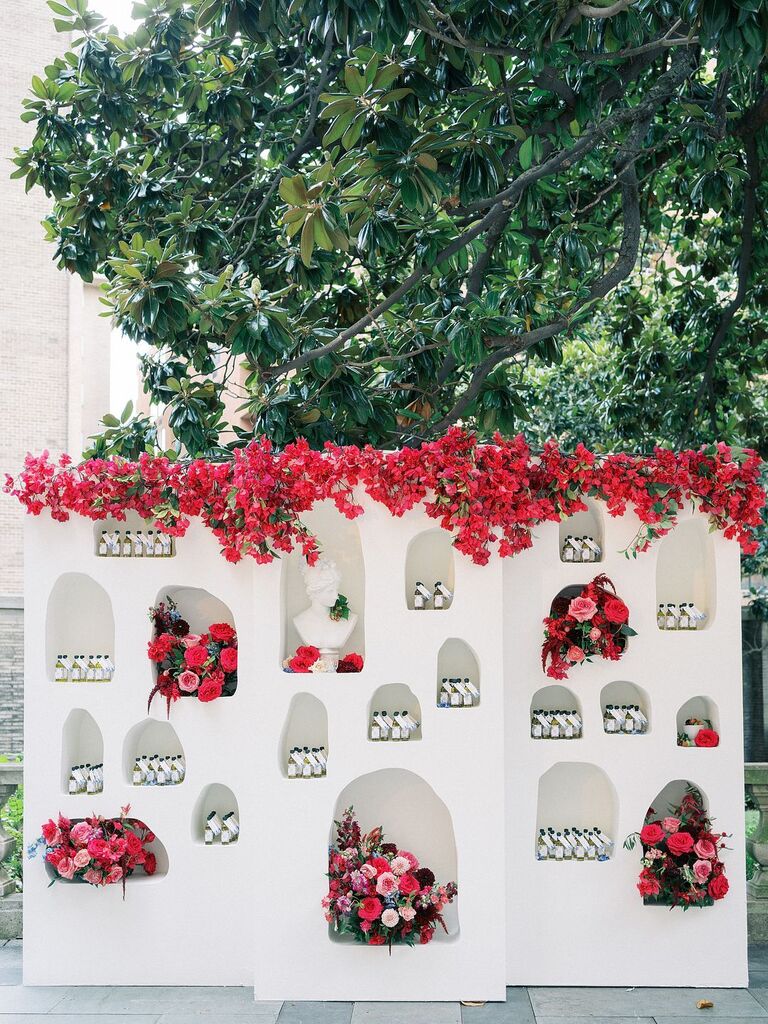 Are you giving your loved ones wedding favors? Make the most of the gifts by turning them into wedding decor. This couple placed their olive oil favors in a plaster wall display reminiscent of Greece.
33. Sage Green Wedding Reception Decorations With Audio Guest Book
In the same way that your wedding favors can become part of your decor, so too can your guest book. This couple creates an elegant sage vignette to showcase their inventive audio guest book.
34. Pergola Wedding Reception Decor With Velvet and Wicker Chandeliers
It's like this couple gracefully brought a dining room outside. Wicker chairs and an assortment of chandeliers lend a stylish feel to this polished wedding reception.
35. Artistic Yellow and Blue Wedding Reception Decoration Idea
What I love about this design is that it utilizes the same chandeliers and chairs from the previous decor idea, but has a totally different vibe. If you're looking for something summery and cheerful, as opposed to stately and romantic (like the mauve seen previously) then this look is for you.
36. Romantic Wedding Dessert Bar Decor
There are cake tables and then there are epic cake tables, like this one. Since this couple was such a huge fan of desserts, they designed a dessert bar inspired by pastry store windows to entice guests and make a decor statement at the same time.
37. Marvelous Velvet Wedding Reception Decoration Idea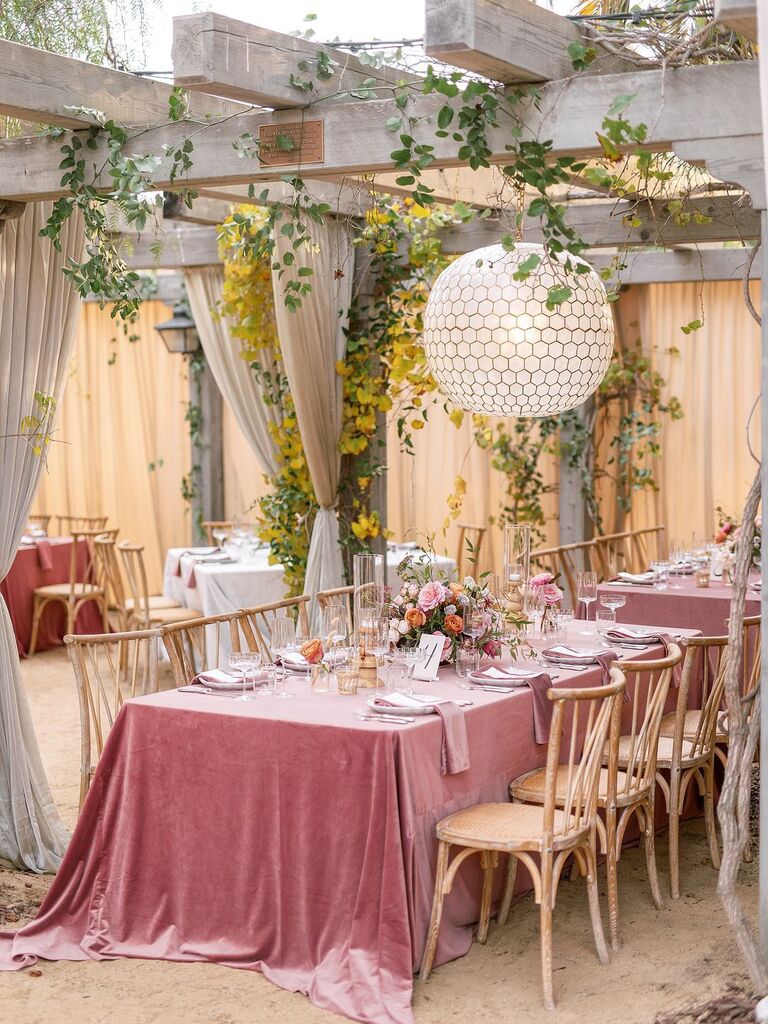 Velvet is always a good idea, but it's an especially great move if you're planning to host a romantic, elegant wedding. This couple paired wood chairs with dusty mauve velvet linens and the result was dazzling.
38. Monogrammed Velvet Napkins as Wedding Reception Decor
If you aren't sure that you want to commit to an entire table covered in velvet, take a cue from this couple. They placed monogrammed velvet napkins at every setting as part of their elegant wedding reception table decorations.
39. Effortlessly Beautiful Wedding Decoration Idea With Greenery
This exquisite idea has a little bit of all the decorations we've seen so far—velvet, greenery, gold chairs, and roses. Talk about a delightful combination of decorations.
40. Wedding Band Stage Decor Inspired by Garden Wall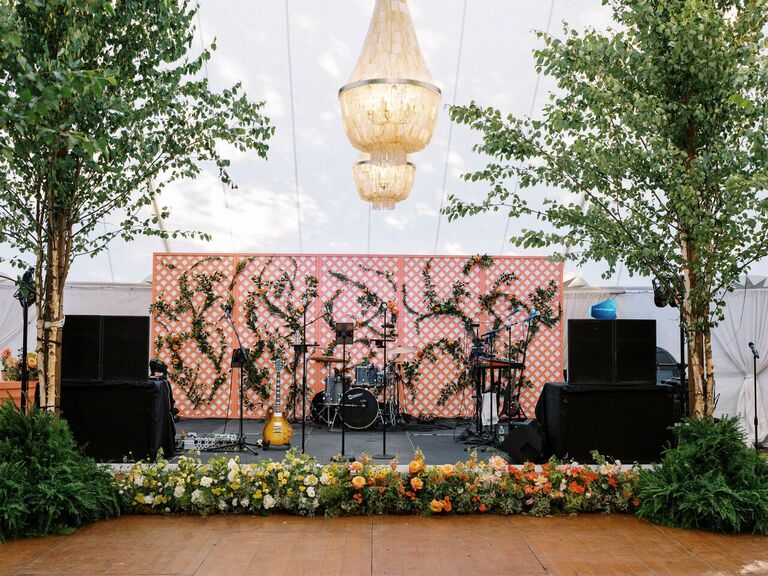 If you're having a live band at your wedding reception, don't overlook the stage design. Guests will be staring at the band for a good chunk of the evening. You can take advantage of that fact by turning the stage into a decor moment like this couple did at their garden-inspired wedding.
41. Garden-Inspired Wedding Reception Decorations With Trees and Chandeliers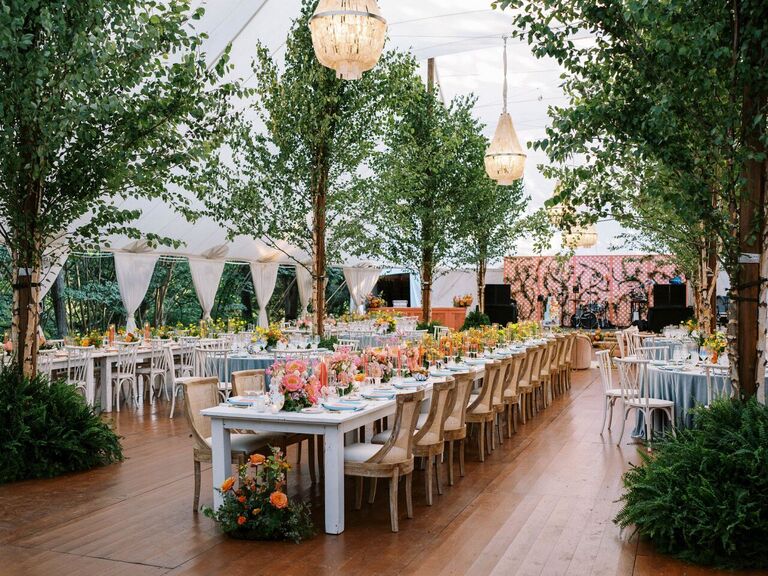 Although this wedding reception took place under a tent, guests were made to feel like they were in a secret garden. Trees surrounded the tent poles and created the illusion of a dazzling woodland event.
42. Elegant Neutral-Hued Backyard Wedding Decor
A traditional ballroom isn't the only place you can host a classic, elegant wedding. As this backyard wedding is proof, a timeless event can take place just about anywhere.
43. Romantic Wedding Reception Decor in Historic Venue
If your wedding venue is beautiful on its own, like the venue this couple chose for their winter wedding in Philadelphia, make sure that your wedding decor complements the space, rather than trying to compete with or overpower the existing architecture.
44. Moody Wedding Decor With Draping and Uplighting
Never underestimate the role that event lighting can play in bringing your wedding vision to life. The draping and greenery of this reception space looked beautiful on their own, but dramatic uplighting illuminated the space and made it look even more eye-catching.
45. Wedding Dinner Table Under Canopy of Twinkle Light Decor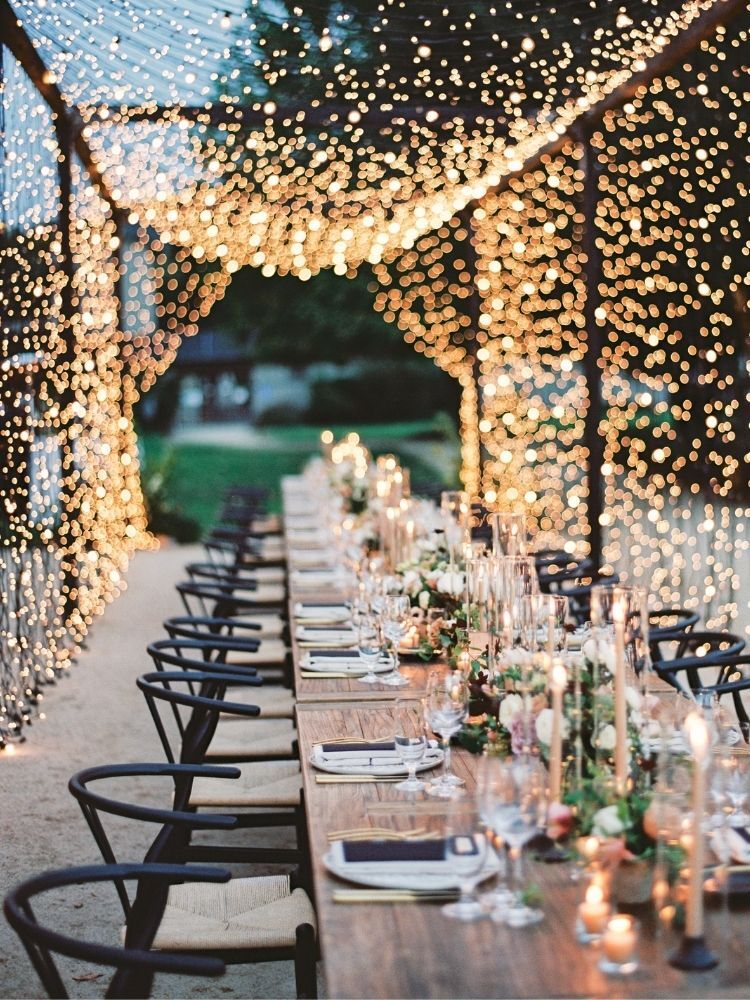 To ensure this dinner felt cozy and intimate, the couple had a canopy of twinkle lights engulf their reception dinner table. The best part about using twinkle lights at an outdoor wedding is that they only get more beautiful as the evening progresses.
46. Residential-Inspired Wedding Decor Idea With Lamps
Candles aren't your only option when it comes to tabletop lighting. This tablescape showcased a beautiful residential vibe with ornate lamps interspersed in the decor.
47. Sophisticated Black-and-Red Decor at Garden Wedding
Cue the confetti, we're obsessed with this look! Black chandeliers, which matched the black napkins and black taper candles atop the tables, wowed wedding guests at this outdoor wedding.
48. Romantic Wedding Reception With Greenery Garland
To bring an outdoor garden vibe inside for this ballroom wedding, the couple had their florist drape the windows with greenery garlands.
49. Open-Air Wedding Reception Structure Decorated With Greenery
This is a memorable wedding decoration idea guests will surely be talking about for ages. Dinner at this classic wedding took place under an open-air structure that was decked out with elegant greenery.
50. Delicate All-White Wedding Decor Idea
There's something so timeless about an all-white color palette, especially when it comes to decorations for weddings. White dried foliage arrangements, white linens, white chairs and neutral accents wowed at this wedding reception.
51. Lush Decorations for Wedding With Woven Chandeliers
Texture is just as important as color when it comes to curating a wedding design, as evidenced here. Woven chandeliers, burlap runners and wood pergolas brought visually stimulating texture to this decor.
Modern Wedding Reception Decoration Ideas
If you and your partner are planning a trendy, modern wedding then you're going to be absolutely obsessed with these wedding decoration ideas. Whether you lean into a sleek and minimal look or go with of-the-moment colors and textures, modern wedding decor details are never a bad idea.
52. Edgy Wedding Decoration Idea With Colorful Streamer Backdrop
If I attended a wedding where this was the bar design, I'd be coming back for more all evening long. A modern white bar bore the word "¡salud!" However, the real star of the show was the voluptuous backdrop made of colorful streamers.
53. Shades of Pink Decorations for Wedding
Why have just one shade of pink in your wedding decor when you can have a whole assortment? Tone-on-tone palettes are especially popular in contemporary weddings and this is a prime example of why the style is so popular.
54. Modern Wedding Reception Decor With Abstract Fabric Banners
Calling all art-loving couples: this wedding decoration idea is for you. A great way to embrace modernity in your decor is to rely on other materials beyond just flowers. This couple creatively hung abstract banners on their venue's wall.
55. Edgy Disco and neon Wedding Reception Decorations
I can only imagine how fun it would've been to be a guest at this wedding. Hanging icicle-style lights brought a glow-in-the-dark vibe to this epic dance floor design.
56. Eclectic Wedding Reception Decor With Colorful Mobile
Mobiles aren't only for babies—this couple proved that abstract hanging installations look amazing at grown-up weddings. When working with bold colors, balance is key. Since the hanging installation was so vivid, the couple opted for sleek black and white for the tables and chairs.
57. Colorful Wedding Reception Lounge Design Idea
This velvet lounge area felt especially modern thanks to the punchy, bold colors used throughout. Bright orange, yellow and teal made a splash.
58. Stylish Wedding Reception Pool Decor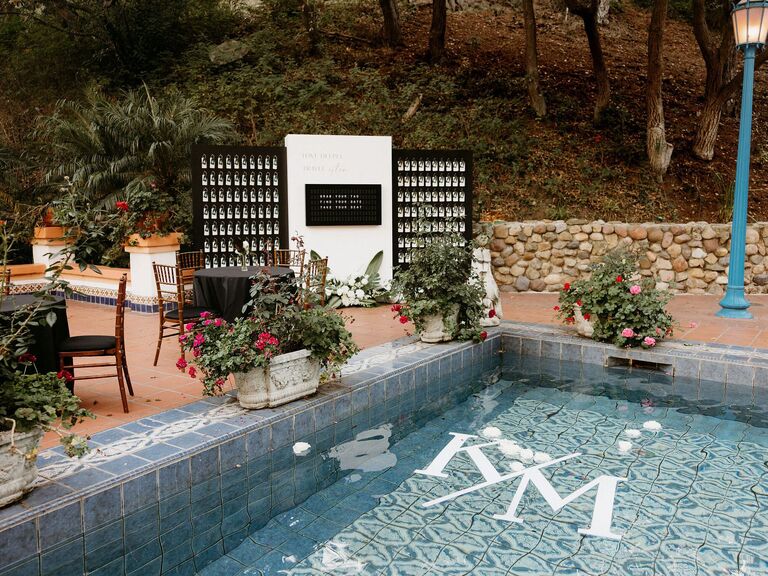 Wedding decor in a pool? Yes, please! This couple had a custom monogram created that they used throughout their wedding decor. But the most notable place it made an appearance was in their pool as a decoration floating on the water's surface.
59. Trendy Modern Wedding Reception Decoration Idea
Honestly, these ultra-modern chairs are so cool that I want them in my own home. Since this couple's wedding venue walls were highly decorated, they kept the other decor that they brought in minimal and sleek so nothing felt overwhelming.
60. Vibrant Pink Wedding Reception Seating Decor
If Barbie was getting married today, this is the lounge space she'd have at her wedding. Uber-bright colors, like the hot pink seen here, work well at outdoor weddings where the surrounding nature can temper the look so nothing feels overwhelming.
61. Dramatic Wedding Reception Decor With Twinkle Lights
Want to eat dinner under the stars without having to contend with the elements? Just take a cue from this couple's breathtaking wedding decor.
62. Modern Black and White Wedding Reception Decoration Idea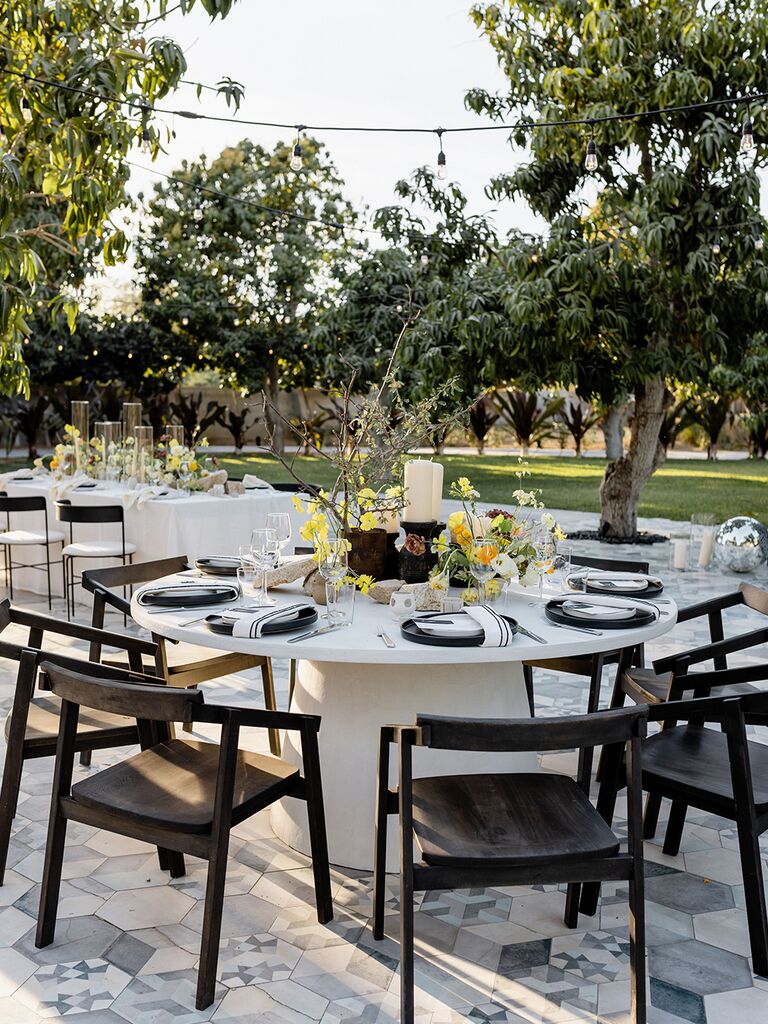 While the modern black chairs here are beautiful, the real showstopper is the dramatic stone table. Forgoing linens is a great way to bring a modern vibe to your wedding decorations, as evidenced here.
63. Contemporary Wedding Decor With Marquee Lights and Paper Lanterns
Paper lanterns and giant marquee lights spelling out 'love' softened this industrial loft space with exposed brick. Since the couple's venue was mostly brick, the white decor did a nice job of brightening and softening the space.
64. Contemporary Woven Chandeliers at Outdoor Wedding
Sophisticated chandeliers, accented by greenery, brought a fun residential vibe to this wedding while complementing the beige and mauve wedding colors for the big day.
65. Greenhouse Wedding Decor With Neon Sign and Disco Balls
To complement their eclectic wedding theme, this couple decorated their modern wedding reception space with silver disco balls and a custom neon wedding sign.
66. Trendy Wedding Bar With Illustrated Floral Backdrop
As a modern alternative to a fresh flower backdrop, this couple commissioned an oversize printed floral backdrop to anchor their gold-and-white reception bar.
67. Modern Orange Tablescape With Acrylic Decor
Acrylic can be used for more than just signage. This couple created a hip, modern installation to hang above their dinner table with warm shades of acrylic that seamlessly complemented the orange velvet tablecloths they utilized.
68. Modern Indigo-and-Black Tablescape Decoration Idea
Gold candle holders, a mix of black and white taper candles, a black-and-gold table number, gold-rimmed glassware and modern pink wedding flowers sat atop a black marble table at this chic wedding.
69. Reception Table Decor With Black Taper Candles
Instead of a simple table runner paired with centerpieces, this couple decided to have a plethora of sleek black taper candles running the length of the reception table. While taper candles can sometimes ready as romantic and classic, this couple selected black ones to ensure everything felt edgy and modern.
70. Mid-Century Modern Decorations for Wedding
Because of the minimalist feel of many mid-century modern designs, the era lends itself nicely to couples who want a pared-down reception space. Wood tables with hairpin legs and white bentwood chairs created a sophisticated take on mid-century modern design in this backyard.
Creative Wedding Reception Decoration Ideas
Want to really make a memorable statement with your wedding reception decor? Don't just think outside of the box, abolish the box completely like these creative decor ideas did. The sky is genuinely the limit when it comes to decorating for a wedding and these imaginative ideas are the perfect inspiration to couples looking for ideas.
71. Colorful Streamer Tunnel Reception Welcome Decoration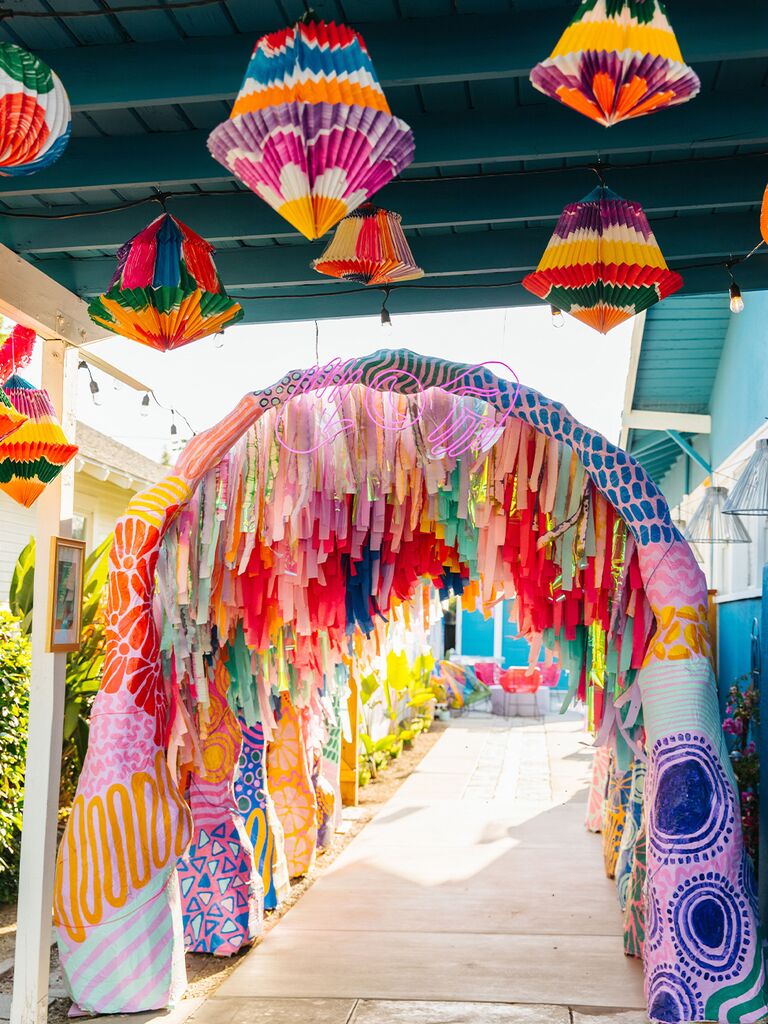 This couple kicked their reception off with a bang by ushering guests through an amazing streamer tunnel installation upon arrival.
72. Imaginative Hand-Painted Wedding Bar Decor Idea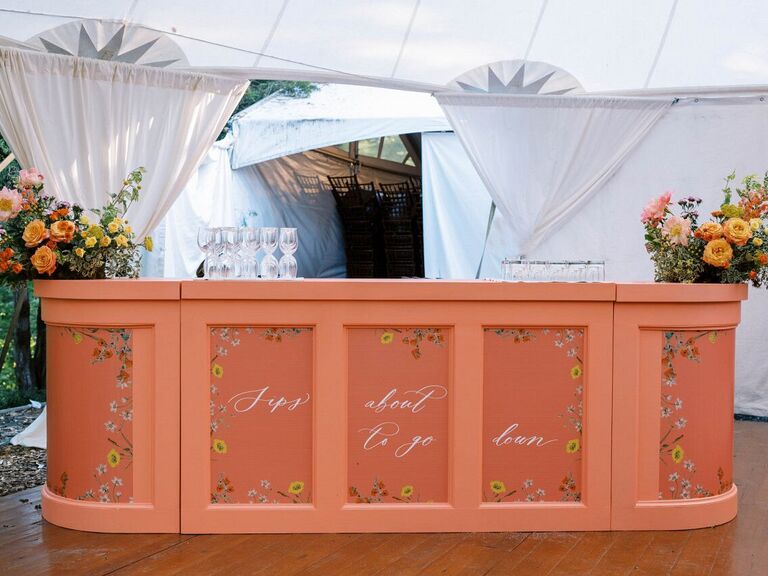 When it comes to thinking about high-impact wedding decor, take a moment to consider where guests will spend the most time throughout the evening. This couple had a custom bar created and I'm sure it was next to impossible for them to keep guests away from the stunning piece.
73. Escort Card Flower Wall Reception Decoration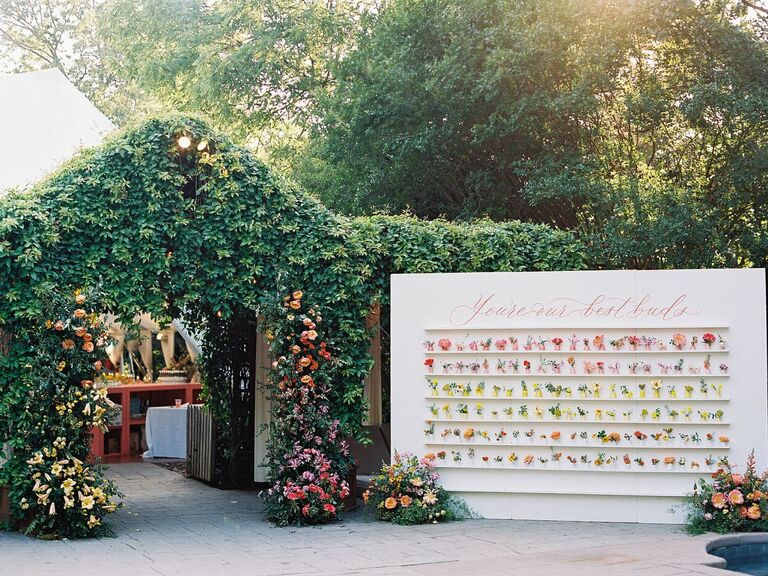 Since this couple planned to gift their attendees flowers and colorful vases as wedding favors they took it as an opportunity to also use the gifts as decor. When arriving to the wedding reception, an oversized wall with the flowers stunned attendees.
74. Impressive Wedding Reception Hanging Decoration Idea
Being creative with your wedding decor means thinking broadly about how guests will experience the space you create. It's about more than just the tablescape. This couple created a unique environment for their attendees with help from a dramatic hanging floral installation.
75. More-is-More Wedding Reception Hanging Floral Decor
Why have just a few flowers when you can have an absolute explosion of blooms? This couple creatively put flowers just about everywhere at their reception.
76. Innovative Wedding Reception Decor With Melting Disco Ball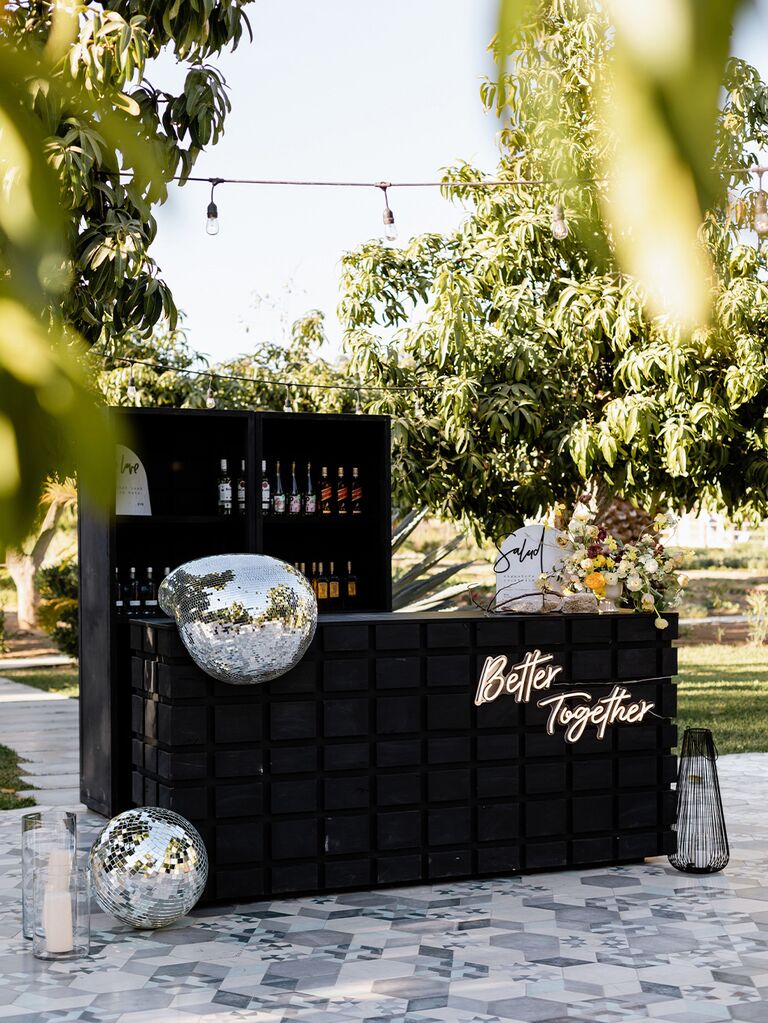 Have you ever seen a melting disco ball? Disco balls in spherical form are cool, but these abstract ones are next-level epic.
77. Creative Carnival-Inspired Wedding With Ferris Wheel
Everything is bigger in Texas, even the backyard weddings. For their private estate wedding, this couple brought in carnival rides, like a ferris wheel, for guests' entertainment.
78. Inventive Horse-Themed Wedding Tablescape Idea
While the model horse table number (which matched the model horse wedding favors attendees received) was the star of the show in this design, each element was also stunning in it's own right. Simple place cards in metal card holders directed wedding guests to their seats. Upon arrival, they were greeted by leather placemats, crystal glassware and dusty blue dishware.
79. Eclectic Serpentine Dinner Table Decor Idea
This couple thought outside of the [rectangular table] box for their reception. Instead of simple circular or square tables, guests at this wedding reception dined at curvy serpentine tables.
80. Innovative Pampas Grass Decor Installation Above Reception Table
We love how a boho pampas grass arrangement was suspended above this reception table.
81. Funky Stage Decorated With Inflatable Animals and Edgy Lighting
Inflatable pool floaties, a patterned backdrop and eclectic lights gave this wedding stage setup a funky, club-like vibe.
82. Stunning Celestial-Inspired Wedding Stage Design
A blue backdrop and a crescent moon gave this wedding stage an ethereal, celestial feel.
83. Dazzling Marble-Inspired Wedding Stage Design
A marble-like design anchored this band stage while black accents gave it a modern edge.
84. Superb Tented Fall Wedding Decor With Assorted Chandeliers
An assortment of beaded and woven chandeliers, accented with dried foliage garlands, hung above the reception tables at this tented rustic wedding.
85. Magnificent Tented Wedding With Velvet Chairs and Beaded Chandeliers
Navy and gold wedding colors worked together harmoniously under the tent at this wedding reception. Beaded chandeliers, accented by string lights, illuminated the space while wedding guests sat on navy velvet chairs to enjoy dinner.
86. Glam Black-and-White Wedding Reception With Chandeliers
An open-air structure was decked out with white draping, crystal chandeliers and gold chandeliers at this California wedding.
87. Marvelous Tall Rose Wedding Centerpiece Decor Idea
Instead of having the wedding flowers sit on the table as part of the reception table decorations, the centerpieces at this wedding were dramatically elevated while simple taper candles, votives and tea lights sat directly on the table.
89. Romantic Red-and-Gray Wedding Reception Decorations
Gray anchored this reception space, while pops of red seen throughout the design, from the linens to the wedding arch framing the cake, added a pop of personality to the design.
90. Glam Decorations for Wedding With Hot Pink Velvet Chairs
We're loving the hot pink velvet chairs this couple selected for their reception tables. As a bonus, they match the roses used in the floral arrangements beautifully.
Wedding Decoration Ideas Frequently Asked Questions
Now that you have enough wedding decor inspiration to last a lifetime, you're probably wondering how to make all your wildest concepts a reality. That's where the pros come in. (Psst: you can find talented pros on The Knot Vendor Marketplace).
To provide you with the best possible advice for wedding decoration ideas, we spoke with four expert wedding planners. Wedding planner Katherine Brown is the owner of Clover Events & Productions in the Chicagoland area which she founded in 2009. Philly-based wedding expert Caitlin Kuchemba is the owner of Clover Event Co. which she founded in 2015. Based in Southern California, Heather Balliet is the owner and lead planner of Amorology Weddings which she founded in 2003. Based in the Washington, DC, area, Laura Ritchie is an expert wedding planner and has owned Grit & Grace since 2009. Below, these four experts weigh in on common queries related to wedding decor. Keep these wedding decoration FAQs in mind while you're wedding planning.
Does my reception decor need to match my ceremony decor?
While your reception doesn't necessarily have to match your wedding ceremony decor, it can be a good idea to have them coordinate so that the entire celebration feels cohesive.
Do I need to consider my guests when planning out wedding decorations?
It is a smart idea to keep guests in mind when planning your wedding decor. Kuchemba encourages to-be-weds to "think not only about how you want your wedding to look like, but more importantly how you want it to feel. What do you want guests to walk away feeling? How do you want them to feel in the space?" Brown also emphasizes the importance of considering guests: "It's important to think about the guest's experience as this is what they'll remember most about your wedding."
You can start creating that experience for your guests by creating a wedding website that matches the vibe of your wedding decor. This will create cohesion and give guests a peek at what's to come.
How do I start decorating for my wedding?
First things first, you want to decide on a wedding vibe and build a team of pros to help you achieve your vision. There are a myriad of elements and decorations that go into an overall wedding design. Centerpieces, linens and place setting rentals will comprise your tabletop design. However, there's no reason to stop there—the sky's the limit. A dramatic entryway arch, epic escort card display, inventive sweetheart table design, and even a cool step-and-repeat photo booth moment are just a few of the many other decoration ideas for receptions you can utilize.
How can I decorate with a limited budget?
If your budget for the wedding day is limited, plan to prioritize your budget by spending on high-impact design items that can be reused or are multifunctional. For example, ask your floral designer about creating a dramatic floral arch for the wedding ceremony that can double as a backdrop for the cake table during the wedding reception. Or see if wedding party bouquets can be utilized in the reception decor to make your budget stretch a bit further. While it can be tempting to assume that DIY weddings will save you money, that's often not the case. Experts are going to know what can be repurposed and how to do so successfully, so enlisting a vendor's help will ultimately ensure your budget is spent most effectively.
Ritchie encourages to-be-weds to "keep in mind budget and impact. Lots of little moments don't necessarily add up to more wow. We want to focus on the bigger picture and build upon a handful of really awesome things. Consider guest experience too as a way to make sense whether you should put your money toward something."
The pro goes on to note that "choosing the top three things that you have experienced at previous events that felt impactful goes far in an exercise to weed out all the extras," explains Ritchie. "It can be overwhelming and also overkill to try and check all the possibilities." Brown echoes Ritchie's suggestion of focusing on a three-item priority list. "When planning, focus the majority of your attention on those three things and do your best not to overthink the rest."
How can I make my decor stand out? Where can wedding decor inspiration come from?
"Don't focus on recreating something you've seen at another wedding or on the internet, focus on creating something that feels like you," advises Kutchemba. "Take inspiration from your home, your wardrobe and places you love to visit as a good starting point. If your home has a set color palette, that probably means it's your favorite and is the most comfortable and soothing for you—consider bringing that same palette into your wedding and your wedding guests will feel like your wedding is an extension of your home and you as a couple. If you have a favorite place to travel, can you bring that in as inspiration for the feel of your wedding and your wedding palette?" Balliet adds that "we love designing weddings that make our sweet couples' personalities shine through! We encourage them to think about the things that make them happiest, always keeping in mind their essence and personalized style. A great place to find inspiration is by following wedding blogs, interior designers, and brands that emanate the things they love most!"
Can I decorate my wedding myself? Is it cheaper to decorate your own wedding?
In short, no. While it might seem like a good idea to DIY every wedding decoration idea, the truth is that relying on wedding professionals is your best bet.
If you're wondering how to decorate a wedding venue yourself then technically, yes, some simple wedding setup designs can be undertaken with DIY projects. However, most wedding reception ideas are better left to the pros for execution. Professional wedding planners, event designers, lighting technicians, florists and rental specialists know how to expertly turn your wedding reception decoration dreams into reality. Plus, the pros have access to suppliers that everyday people can't shop from so, not only are you going to benefit from vendors' expertise, but you'll likely end up with better design details if you enlist pros.