All the Ways Influencer Kris Cherie Infused Armenian Traditions Into Her Wedding
The couple wanted to honor their heritage and roots. See photos.
A jewelry convention and a mutual friend brought Kristine Agabaian and Jivan Najarian together. Both parties came from entrepreneurial backgrounds (she's a fashion vlogger and he's the CEO of Tidy Tools) and discovered their mutual affection for their Armenian community. "We became good friends after that weekend," she recalls. "Then, we started dating a year later."
It was during a romantic getaway to Palm Springs in March 2019 that Najarian decided to propose. "We knew we were going to be together, but I'd never talk about the type of ring I liked," says Agabaian, who goes by Kris Cherie on Instagram. "Jivan's father is a jeweler so he made my ring and it's perfect."
The couple waited two years to throw their dream Armenian-American wedding, delaying the first round of events due to the pandemic. On September 7, 2021, they married in a COVID-compliant, outdoor wedding at Hummingbird Nest Ranch in California. The couple wasn't taking any risks and requested their guests disclose their vaccination status, undergo rapid tests, and stay home if they were unwell. They even cross-referenced their seating charts ("85% of our guests were fully vaccinated," says the bride. "Organizing the seating chart and final guest count was very difficult, but we both didn't want to jeopardize the health and safety of all of our guests.")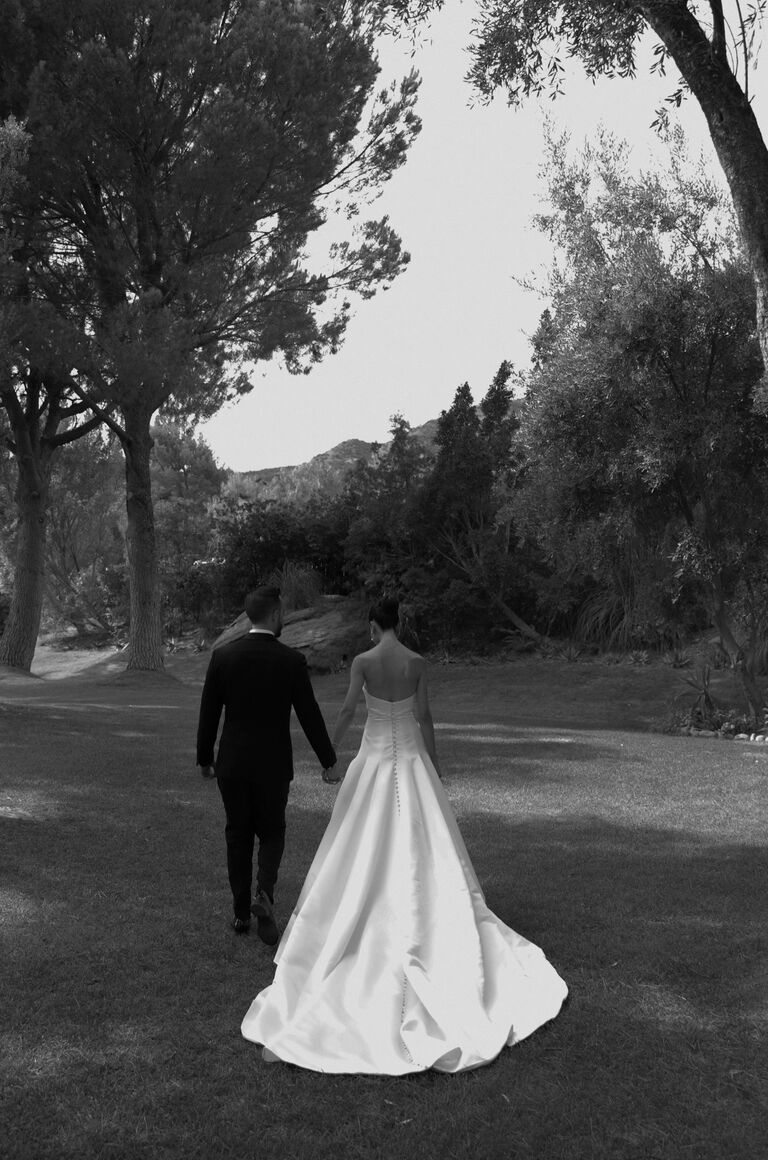 Their vision to infuse their wedding day with culture only grew over time. "Jivan and I were both raised to respect our Armenian heritage and to never forget our roots," says Agabaian. "We've always stayed true to that, so we wanted to incorporate those traditions into one of the most important days of our lives as well. Apart from that, we knew it was very important to our parents that we incorporate traditional elements somehow." Here, the couple breaks down the Armenian wedding traditions they infused into their nuptials.
They Had a 'Mini' Church Ceremony
Armenian weddings are typically held within a church setting, which resulted in the couple holding an additional ceremony to honor the tradition. "An Armenian Orthodox priest isn't allowed to carry out a wedding ceremony outside of a church unless the couple gets married inside the church beforehand," says Kris. "To respect this rule and still be able to have our ceremony outdoors, Jivan and I had our mini church ceremony with our family just before our rehearsal dinner a couple of days before our big Saturday wedding."
Their decision accounted for their loved ones. "It was important to our families that we get married following the rules of the church, so we both wanted to respect that. Plus, it was a fun way to kick off our wedding weekend," she recalls. "The priest also came out to our venue on the actual big day and performed the ceremony with the rest of our friends and family around to witness."
They Focused on Family First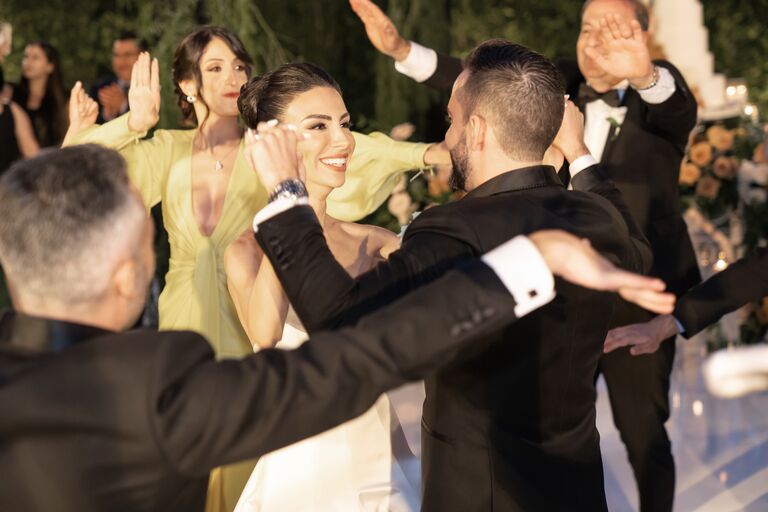 Armenian weddings often involve family every step of the way, and the couple lovingly integrated theirs in various ways. "We didn't necessarily break any tradition," she says. "We wanted our wedding to be a reflection of who we are as a couple, while still respecting tradition and our parents' wishes. Both of our parents were so happy with the way everything turned out."
The family also participated in the wedding, including the groom's cousins (who stepped in as musicians) and their three flower girls. "The youngest one… When it was her turn to walk down the aisle, she got nervous and refused to walk," Kris laughs. "So she flipped over the basket and dumped all of the petals in one spot. She looked up after and said in Armenian, 'There, I did it.' Everyone laughed and cheered her on, which encouraged her to walk down the rest of the way. I had a puddle of petals in one spot of the aisle. We still look at videos of that moment and laugh."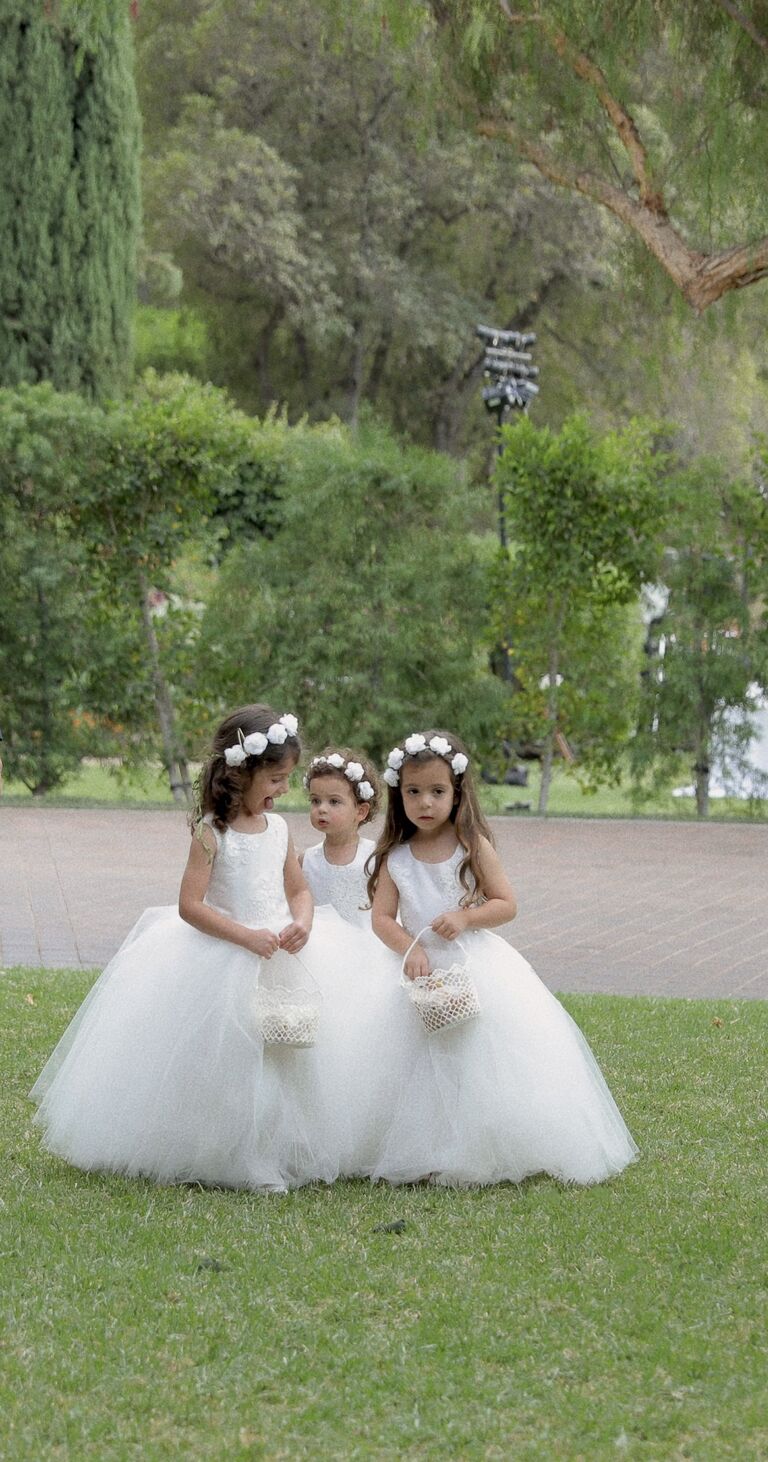 They Shared a Traditional Armenian 'First Look' (With a Twist)
Armenian weddings are often marked by a grand "first look" between the bride and groom. The moment will take place at the home of the parents of the bride. She'll get ready there, and the groom and his loved ones will head over to the home with baskets, filled to the brim, with gifts for the bride. During the lively celebration, the father of the bride will then escort her out to greet the groom. There's revelry, traditional folk music and the first look sets the tone for the day. Then, the couple and their party head to the church.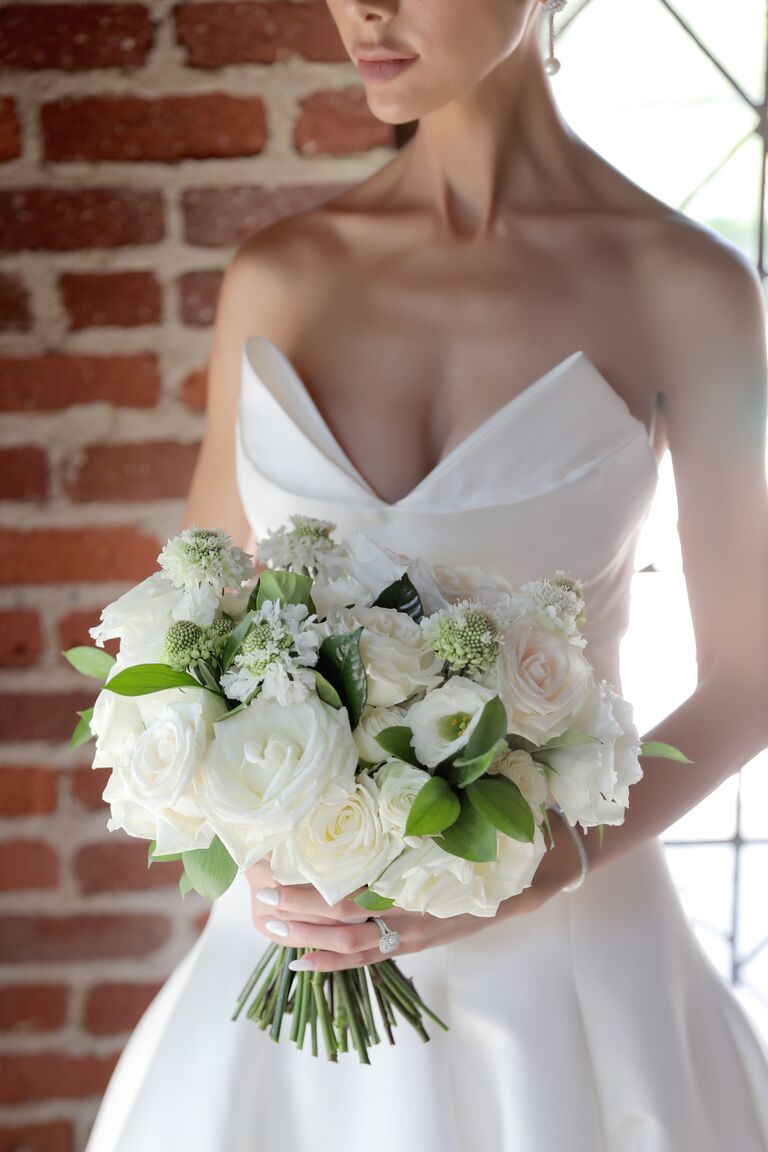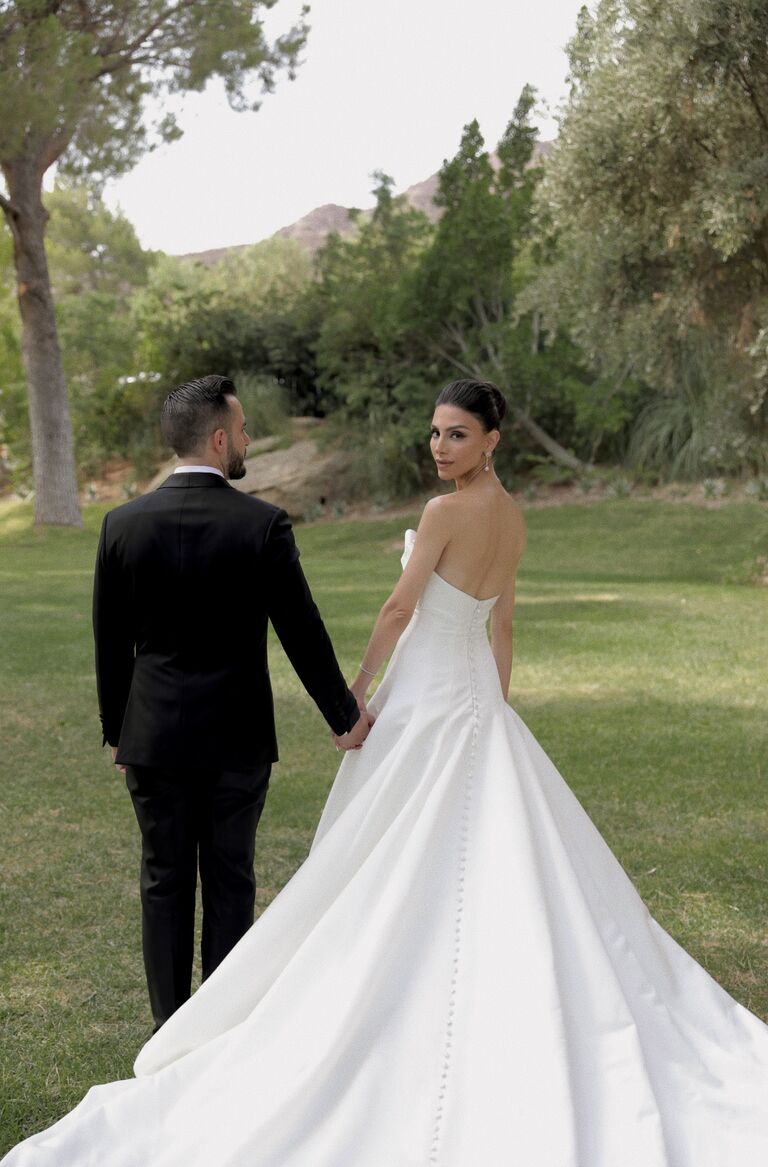 "We did it a little differently," says Agabaian, who wore Monique Lhuillier on her wedding day. "The antiquity and charm of the bridal suite and pool area at Hummingbird Nest Ranch are absolutely beautiful! We wanted to utilize the space as much as possible. So, instead of doing it the traditional way, we decided to do our first look there with the live musicians playing and our friends and family around. It was without the gift-wrapped baskets and all of the other extra stuff. We wanted to keep it simple and more 'us' and it worked out perfectly. Our parents ended up loving the way we did it even more."
The Couple Hired an Armenian Caterer
Abundance and culture are both commonly showcased during an Armenian wedding reception. The couple, naturally, hired an Armenian wedding caterer to showcase their native cuisine through 16 different appetizers, four main dishes, all served family-style.
"Anoush Catering served the traditional family-style Armenian and Middle Eastern Mezze (a selection of small dishes served as appetizers), along with main dishes," she recalls. "But they switched up the recipes and presentation a bit. For example, the traditional Mezze platter typically includes dips like hummus, baba ganoush, along with fresh veggies and lavash. We used these dishes and also incorporated a charcuterie plate with an assortment of different salads, along with a few other non-traditional dishes. Our guests loved it… It was a 'must' for both of our families that the catering was Armenian."
…And An Armenian Pastry Chef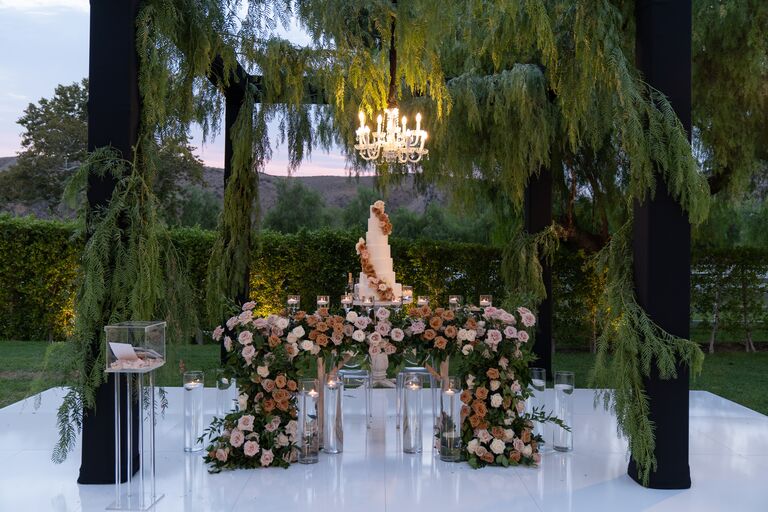 The couple tasked Rafi Dekraminjian of Rafis Cakes in Glendale, California, with creating their show-stopping wedding cake. The pastry chef is well-known for his elevated designs and twists on traditional Armenian confections and bread. "The design was very simple with flowers spiraling down," says Kris Cherie. "We had two flavors: hazelnut and pistachio."
Hospitality Through Tiny Gestures
An unspoken Armenian wedding tradition is putting guests at the forefront of the experience. "Our wedding favors were custom-made thank you notes from The Knot Invitations," she reflects. "We wanted our guests to know how much we appreciated their love and support. Every single guest who attended went above and beyond for us. We wanted them to know that we didn't take that for granted."
They Stayed Until the Very End
There was no fancy exit for the spouse. It is tradition for the couple to stay at the wedding until their final guest departs the reception. "We didn't leave," says Kris. "In Armenian weddings, the bride and groom do not leave before any of the guests. Hummingbird Nest Ranch also provided a suite to use after the celebration was over, so we spent the night at our venue."
The couple chose the Santa Susana venue after their wedding was postponed from 2020. "We also decided to go with this venue because it's outdoors and was a safer choice," she says. "Always stay calm and plan with a positive mind, even when things are tough. In the end, everything will always fall into place and work out exactly the way it was meant to be. I remember when our wedding got canceled the first time, I was devastated. Now, I can't picture our wedding day any other way."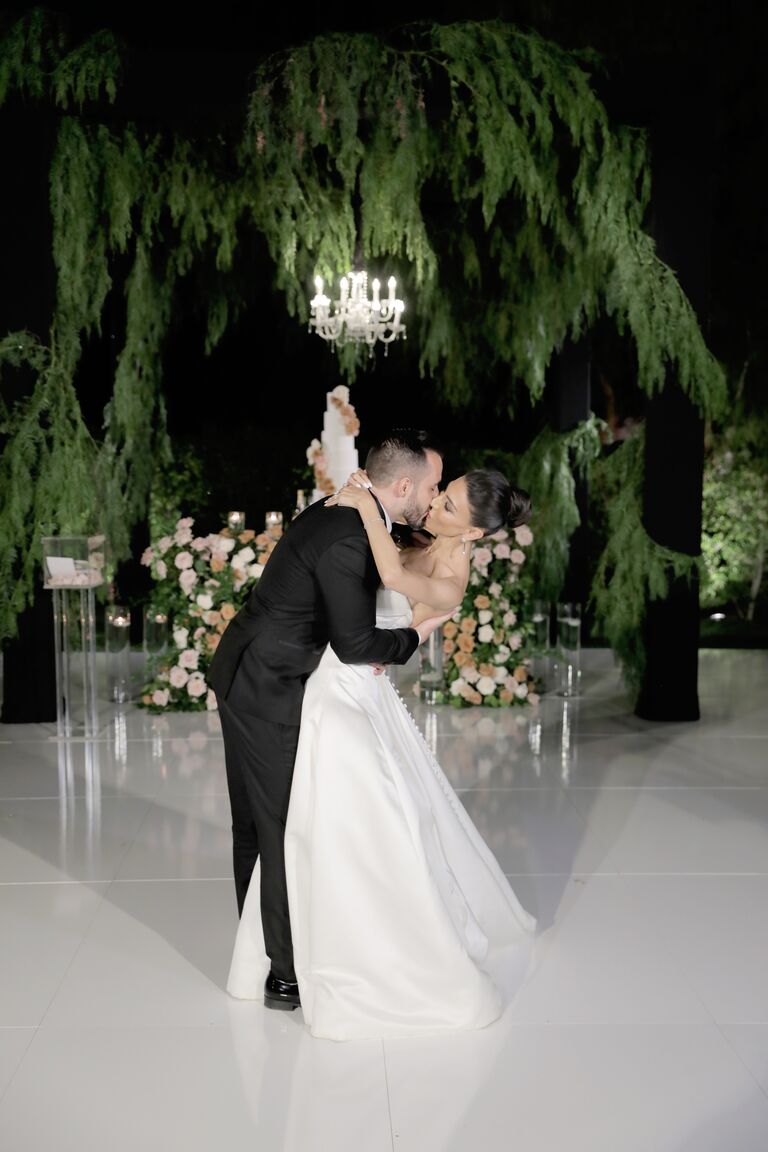 Additional Armenian Wedding Traditions
Of course, every couple is encouraged to take traditions and make them their own. "Every single minute of my wedding, from beginning to end was my favorite moment. I remember waking up that morning and just feeling so calm. The rest of the day just reflected that," concludes Agabaian. "If I had to choose one moment out of the entire day, it would be Jivan's reaction when I stepped out. It was with all of our friends and family standing around with Jivan being at the end facing me. I stepped out and remember seeing him mouth 'wow.' That was my favorite moment." For more background about Armenian wedding traditions, read below.
A Family Tea Proposal (Khosk-Arnel)
During the engagement process, a family tea party is held for formal introductions. The time-honored tradition, known as the Khosk-Arnel, is typically held at the home of the parents of the bride. The groom's side of the family will arrive with treats, flowers and more. Once an agreement has been made, everyone drinks tea to toast to the engagement.
Crowns at the Ceremony
Orthodox Church weddings in Eastern European countries and beyond will involve the crowning of the couple. After the priest's blessing, the couple will exchange rings, much like Western weddings. Then, the couple will wear crowns to represent their reign over their tiny kingdom.
Bread on the Shoulders
In some instances, the church wedding is followed by festivities at the home of the parents of the groom. There, the couple will break a plate before entering the home as a sign of luck in their marriage. Once the couple crosses the threshold, the traditional Armenian lavash will be placed by the mother of the groom on the couple's shoulder. It is a gesture of sweetness and luck.