10 Unique Wedding Ceremony and Reception Entrances From Cultures Around the World
These entrance ideas usher in the celebration beautifully.
WeddingTok is a corner of Tiktok with an abundance of creative wedding ideas. Unique wedding ceremony entrances are one such concept that's been highlighted endlessly on the platform—the hashtag #weddingentrance has an astounding 1.5B views. So, what's the big deal with unique wedding ceremony entrances? Do you need to plan a unique wedding ceremony entrance for your own nuptials?
The entrance, or processional, is what gets things started. And we all know what they say—first impressions matter. As such, it's no surprise that many cultures around the world have their own unique spin on ceremony (and reception) entrances. We've diving into the beautiful ways that ten different cultures globally have made their mark on weddings with creative wedding entrance traditions.
Cultural and Traditional Wedding Entrances to Know:
Baraat | Wedding March | Bridal Chorus | Zaffeh | Congolese Wedding | Kanya Aagaman | Khan Maak | Hawaiian Pū Blowing | Nigerian | Nikkah
1. Baraat Wedding Entrance
At weddings throughout the Arab world and South Asia, it's typical to see grooms enter the wedding ceremony amid much fanfare as part of a tradition known as the baraat. This wedding tradition is seen in Muslim, Sikh and Hindu weddings, and is especially common at Indian weddings. Baraat is the Hindi term (known as Varayatra in Sanskrit) for the celebratory groom processional which involves music (traditionally a dhol drum) and dancing. Historically, the groom would enter while riding a horse, but modern to-be-weds often get creative when it comes to modes of transportation. Some grooms may enter in a convertible car while others may simply walk and dance while escorted by their wedding guests.
2. Felix Mendelssohn's "Wedding March" Wedding Entrance
Especially for weddings in a church or chapel that has an organ, Felix Mendelssohn's "Wedding March" in C major is a common wedding ceremony processional song choice. While couples can choose just about any song they want for the ceremony processional, the Mendelssohn wedding march is the song that most often comes to mind when people think about entering a wedding ceremony. The iconic "Wedding March" was written in 1842. However, this tune is not to be confused with the 1850 song "Bridal Chorus" by Richard Wagner which is also often called "Here Comes the Bride."
3. "Bridal Chorus," by Richard Wagner Wedding Entrance
While "Wedding March," by Felix Mendelssohn may be used for the processional of other wedding party members, "Bridal Chorus," by Richard Wagner is an iconic tune for brides to enter into the wedding ceremony, especially in church settings. The song was made famous when it was used as the processional music for Victoria the Princess Royal in her 1858 wedding to Prince Frederick William of Prussia.
Find your kind of venue
From barns to ballrooms, discover reception venues that feel like you.
4. Zaffa Wedding Entrance
The zaffa (alternately spelled zaffah, zaffet or zaffeh) is a festive groom wedding entrance popular throughout the Arab world, especially at Egyptian, Lebanese and Persian weddings. The most recognizable part of this wedding entrance is the musical fanfare, particularly dhol drums. The iconic dhol wedding entrance dates back to the Middle East in the 14th-century when celebratory events were marked by music, dance and ample attendee participation. Historically, wedding zaffa entrances would begin at homes of each to-be-wed, but modern weddings typically just have them at the wedding venue.
5. Congolese Wedding Entrance Dance
While many trademark cultural wedding entrances involve the ceremony, Congolese wedding entrance dances are most typically seen as a kick-off to the wedding reception. Typically with beautiful Congolese wedding entrance dances, there will be a line of bridesmaids parallel to a line of groomsmen and each line with have a leader that directs the dance and serves as a hype-person. "Bokoko," by Roga Roga, is an especially popular song used with the best Congolese wedding dance entrances. Another popular Congolese wedding dance song is" Afro Mbokalisation," by Afara Tsena.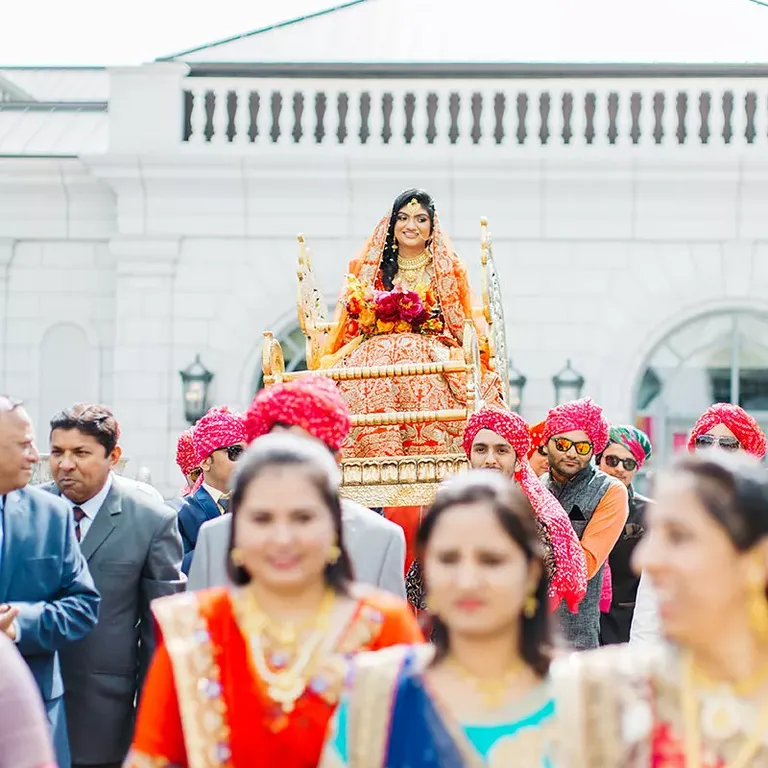 6. Kanya Aagaman Wedding Entrance
Kanya aagaman is the Sanskrit word for "arrival of the bride" and is the traditional bridal wedding entrance seen at historically Indian, specifically Hindu, weddings. During the kanya aagaman wedding entrance, the bride is escorted to the wedding mandap by her maternal include and aunt as a symbol of the bride's maternal family accepting the marriage and union. However, exactly who escorts the bride can change depending on where her family is from. During the procession, the bride may be escorted underneath phoolon ki chadar (an ornate canopy) or may even be carried in a doli (a small carriage) which is usually carried by male relatives from the bride's family.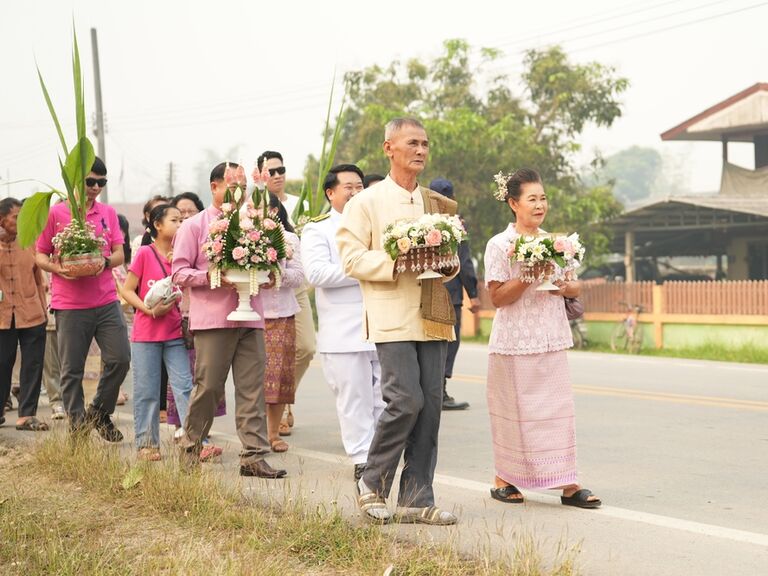 7. Khan Maak Procession Wedding Entrance
Historically, khan maak was the procession associated with a Thai couple's engagement and took place long before the wedding. However, in modern Thai weddings, the khan maak procession wedding entrance may take place in conjunction with the main wedding ceremony. The procession traditionally begins with the groom's arrival at the bride's house. The groom will have an entourage with him and the parade of people will be carrying banana leaves and sugar cones as good-luck gifts for the new couple. They typically are also be led by drummers.
8. Blowing of the Pū Wedding Entrance
Traditional Hawaiian weddings often begin with the blowing of the Pū, a tropical conch shell trumpet, to start the wedding. From there a chant known as "Oli Aloha" will further usher in the wedding ceremony.
9. Nigerian Wedding Entrance
It's time to dance! Nigerian wedding entrances are festive ordeals packed with plenty of music and dancing. Typically, the bridesmaids will have a group entrance and the groomsmen will have another entrance of their own. During the bridesmaid entrance, the women will typically enter in two parallel lines while dancing. They may also be carrying fans. Popular Nigerian wedding dance entrance songs include "Iyawo Mi," by Timi Dakolo, and "Salambala," by WizBoy.
10. Nikkah Entrance
For the nikkah (alternately spelled nikah), or the ceremony portion of a Muslim wedding, the bride will typically enter under a veil. Once the bride arrives at the altar (especially at Pakistani weddings), there may be a screen between the bride and groom to start. With this nikkah entrance idea, the groom will part the screen during the ceremony proceedings and lift the bride's veil. Popular nikkah entrance songs include "Khairiyat," by Pritam, Arijit Singh, and "Kaun Tujhe," by Armaan Malik.