Unique and Beautiful Engagement Traditions From Various Cultures Around the World
From matchmaking to salty coffee, here are just a few wedding proposal customs from around the world.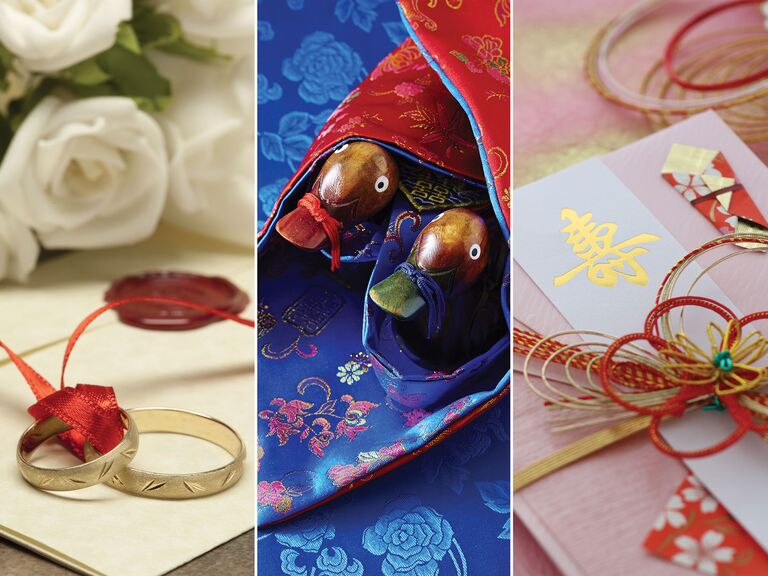 Photos, from left to right: Basileus, mnimage, sogane / Shutterstock
Religion, respect and culture all heavily influence engagement traditions around the globe. As people of different heritage mingle and get married, more and more cultures are mixing than ever before. Perhaps you are one of these couples figuring out how to start a new family as a fusion of two (or three or four) different cultures or maybe you just want to learn more about marriage proposal traditions around the world. Either way, we've spoken with expert planner Jesse Reing, the owner and CEO of Events by Jesse, to learn about the beauty of engagement and proposal traditions in different countries and cultures.
While these rituals, ceremonies and engagement gifts are common in the cultures they originate from, many modern couples forgo them or adapt them to meet their needs and desires. With this, couples are constantly creating new ways of celebrating their heritage and building a healthy life together that reflects the culture they grew up with and that of their future spouse.
Engagement Traditions Around the World to Know in This Story: Armenian | Chinese | Egyptian | French | Japanese | Korean | Mexican | Turkish
Armenian Engagement Traditions
Tucked between Georgia and Turkey lies Armenia, a nation with deep traditions and a culture heavily centered around the Armenian Apostolic Church. A popular engagement ritual is the Khosk-Kap, an event where the future groom brings gifts, such as flowers and chocolate, to the to-be bride's family to ask for their blessing on the engagement. Once the parties officially agree to the marriage, they enjoy tea together as they look forward to the future.
Chinese Engagement Traditions
While matchmakers are not commonplace anymore in Chinese culture, there are other Chinese proposal traditions still around. Typically, the families of the to-be-weds exchange betrothal gifts that show respect and appreciation to their partner's parents. This may include a dowry of practical items to set up the couple's new house, such as linens, furniture and the to-be-wed's favorite personal items.
A traditional Chinese couple will likely confer with monks, fortune tellers or the Chinese almanac to pick the best date to tie the knot according to their birth dates. By avoiding unlucky dates, they can be more confident in having a prosperous future together.
Egyptian Engagement Traditions
Arranged marriages are few and far between these days in Egyptian culture, but many of the traditions surrounding these arrangements continue. Modern Egyptian couples typically choose if they would like to exchange a shabka, a gift of gold given to the bride, or mahr, a dowry presented to the bride's family.
After this, the couple and their families agree on a written marriage contract and read part of the Qur'an together. Once everyone is on the same page, the to-be bride's family hosts an engagement party publicly announcing the pair.
French Engagement Traditions
While some people enjoy keeping their engagement quiet, that route is certainly not the traditional French way. A French engagement, known as a fiançailles, kicks off with a large romantic gesture during the proposal that is often combined with a big trip. During this time, the couple hosts an engagement party with their families, close friends and those who will be witnesses on their wedding day before they make their engagement public.
Japanese Engagement Traditions
Japanese culture runs deep with tradition, although modern couples have been influenced by the West and often pick and choose which Japanese proposal traditions best serve them as a pair. For example, traditional Japanese proposals tend to be quiet and understated, but many couples are now opting for the all-out romantic proposal more commonly seen in the West.
Japanese Matchmaking or Omiai
Japanese matchmaking, known as omiai, is a tradition where a matchmaker, known as the nakoudo, chooses the couple based on their family's desires, personality and compatibility. While this is less common in modern Japan, some people still use a matchmaker to find a partner and date before making a traditional Japanese proposal.
Engagement Ceremony or Yuinou
When a couple has chosen to unite their lives in Japanese culture, they often hold a yuino, an engagement ceremony where their families get together and give certain gifts. These presents are symbolic and often include dried seafood, a pair of hand fans, a white hemp thread, bridal money and at the end, engagement rings. Each one is meant to bring the couple something, such as luck, a long life, fertility or prosperity. After this, the traditional Japanese marriage proposal is complete.
Korean Engagement Traditions
Marriage is not just about joining two people together but also two families. Korean culture celebrates this, and this influence can be seen in Korean proposal traditions.
Meeting the Parents
In the Western world, it is common for partners to meet their significant other's parents multiple times while dating. This is not the case in Korea. Instead, parents usually only meet a partner when an engagement is imminent during a special gathering known as sang gyun rye (상견례). According to Jesse Reing, this is "a sweet chance for the couple to introduce themselves and make a connection with their future parents." Reing also notes that "proposals are more like happy celebrations or confirmations of the couple's agreement to tie the knot" in Korean culture.
Bringing Gifts in a Hahm
After a couple has agreed to marry, friends of the groom fill a box (or multiple boxes), known as a hahm, with gifts like jewelry. They sing and dance outside the bride's home until her family comes out and begins bribing the groom's friends to hand over the hahm. This is a fun and lighthearted Korean engagement tradition.
The Engagement Party & A Goose
According to Reing, Korean engagement often involves a "lively" engagement party where the families formally meet each other for the first time. Attending this meal is a confirmation from both families that they support the couple getting married. Traditional parties will have music, dancing and singing, and the bride-to-be will wear a traditional dress known as a hanbok.
During or shortly after the engagement party, the groom may present his future mother-in-law with a wild or wooden goose. As geese are thought to mate for life, this is a symbol that he is committed to his bride-to-be.
Mexican Engagement Traditions
Mexican culture has a strong emphasis on family, and this can be seen in Mexican proposal traditions. Typically, someone desiring to propose will go to the father of their partner and ask for permission to get married. This is a sign of respect and appreciation. Once approval has been granted, the families get together to select the best date for the wedding.
Padrinos and Madrinas
At the start of the engagement, the couple will choose padrinos and madrinas, or sponsors, to counsel, encourage and assist the pair with wedding planning and marriage. The sponsors often fund aspects of the wedding and reception as well.
Turkish Engagement Traditions
According to Jesse Reing, engagement customs and rituals in Turkey are rich in tradition. While not all modern couples will follow each of these Turkish proposal traditions to a T, they may aspects of them to create the engagement they want.
The Kiz Isteme
When a potential groom is ready to propose, he gathers his family and walks to the bride's home with gifts, like flowers, candy and other presents. Reing says this gesture symbolizes a desire to "eat sweet and than talk sweet" and that "in some regions, relatives may request cash for a symbolic door-opening ritual upon entering the house." After a bit of small talk, the oldest male from the groom-to-be's family asks the head of the household of the bride-to-be for his daughter's hand.
Before official approval is given, the bride-to-be will bring a cup of coffee to her partner that she has seasoned with salt (and sometimes pepper) instead of sugar. If her probable groom can sip the coffee without making a face, it is seen as a good sign and a blessing is given to move forward with the engagement.
The Söz Kesmek
Soon after the kiz isteme, close relatives of the couple get together for the söz kesmek. During this promise ceremony, the couples each wear rings on their right hand that are connected by a red ribbon. Then, an older male relative speaks to the couple and gives their well wishes. When he is done, he cuts the ribbon and the pair is officially engaged. At the wedding ceremony, the rings are moved from the right to left hands.