41 Quotes From the 'Barbie' Movie To Use In Your Instagram Captions
Here are the quotes from Barbie you'll want to memorize instantly.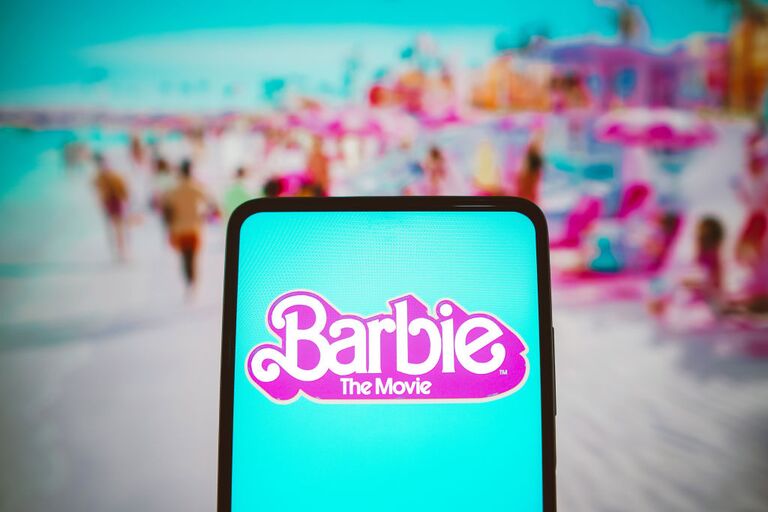 SOPA Images | Getty Images
Greta Gerwig's Barbie movie has been dubbed by critics and fans as one of the most delightful (and viral) cinematic experiences of the year. Brimming with pop culture nods, dazzling sets and brilliant Barbie and Ken outfits, it's evident that every scene has been meticulously crafted. As for the script? It's chock-full of hilarious and inspiring quotes from Barbie you'll want to memorize instantly. From Ken's one-liners to Gloria's empowering speech, Barbie is destined to etch itself into the hearts of fans, becoming one of those cinematic gems you can recite from start to finish. If you've already had the pleasure of flaunting your best Barbiecore outfit and watching this admirable film, we've compiled 41 stellar Barbie quotes for your prewedding event captions–and everything in between.
Barbie quotes in this article:
Barbie Quotes That Are Cute, Insightful and Hilarious
Whether you're reminiscing about your favorite Barbie moments or looking for Barbie bachelorette inspiration for IG captions, invitations and decorations, here are some quotes from Barbie by Stereotypical Barbie (played by Margot Robbie) that take the cake.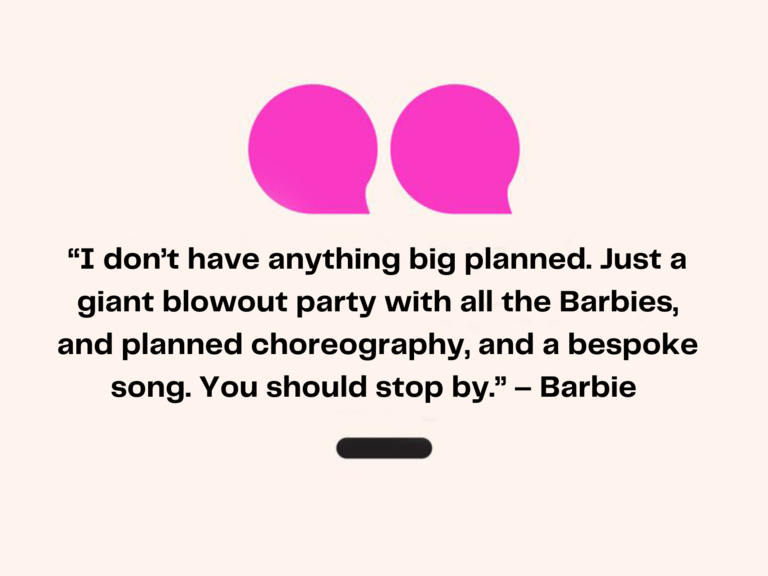 "Every night is girls' night." — Barbie
"I would never wear heels if my feet were shaped like this." — Barbie
"Either you're brainwashed or you're weird." — Barbie
"And what a good job you do at beach." — Barbie
"Basically, everything that men do in your world, women do in ours." — Barbie
"She thinks I'm a fascist? I don't control the railways or the flow of commerce!" — Barbie
"I don't have anything big planned. Just a giant blowout party with all the Barbies, and planned choreography, and a bespoke song. You should stop by." — Barbie
"We fixed everything in the real world so all women are happy and powerful." — Barbie
"I'm not Adventure Barbie, I'm Stereotypical Barbie!" — Barbie
"The real world is forever and irrevocably messed up." — Barbie
"I want to be a part of the people that make meaning, not the thing that is made." — Barbie
"By giving voice to the cognitive dissonance required to be a woman under the patriarchy, you've robbed it of its power." — Barbie
Ken Quotes From the Barbie Movie
Revisit Ken's Mojo Dojo Casa House with these memorable quotes by the iconic Stereotypical Ken (portrayed by Ryan Gosling). They're the perfect balance of ridiculous and charming, much like the horse-loving Beach Professional himself.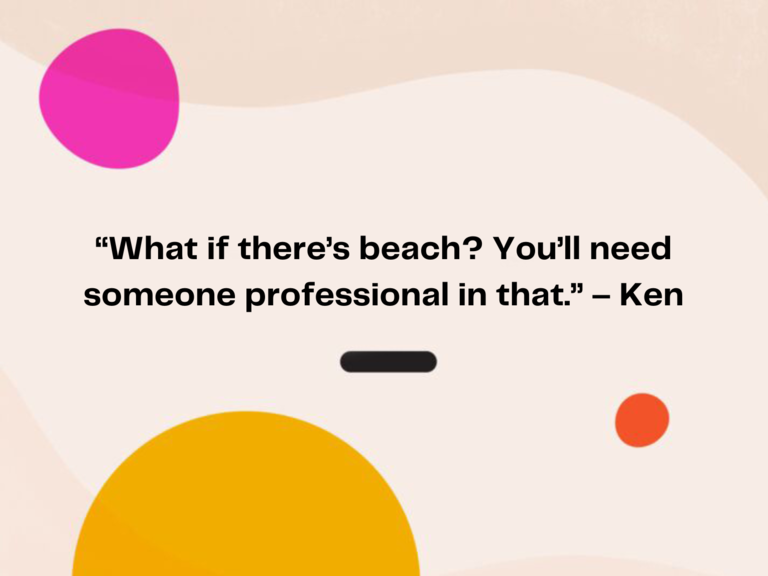 "I'm trained to stand confidently here." — Ken
"Shredding waves is much more dangerous than people realize." — Ken
"Horses are just men extenders." — Ken
"I have all the genitals." — Ken
"I am Kenough." — Ken
"What if there's beach? You'll need someone professional in that." — Ken
"Why didn't Barbie tell me about patriarchy?" — Ken
"I'm a liberated man. I know crying's not weak." — Ken
"To be honest, when I found out the patriarchy wasn't about horses, I lost interest anyways." — Ken
"Sublime!" — Ken
"I will beach you both off." — Ken
"Here I'm just a dude and that's enough." — Ken
"You guys are not doing patriarchy very well." — Ken
More Memorable Quotes From the Barbie Movie
While Barbie and Ken had a ton of the film's greatest dialogue, there are plenty of Barbie quotes by the movie's other glamorous characters that are worth mentioning — including:
"Humans only have one ending. Ideas live forever." — Ruth
"Barbie has a great day every day, but Ken only has a great day if Barbie looks at him." — Narrator
"We mothers stand still so our daughters can look back to see how far they have come." — Ruth
"There are no multiples of Allan. He's just Allan." — Narrator
"I'm a man with no power, does that make me a woman?" — Aaron Dinkins
"We have to always be extraordinary but somehow we're always doing it wrong." — Gloria
"Please call me Mother." — Mattel CEO
"I'd like to see what kind of nude blob he's packing under his jeans." — Weird Barbie
"We sell dreams, imagination, and sparkle. And when you think of sparkle, what do you think of next? Female agency." — Mattel CEO
"Women hate women. And men hate women. It's the only thing we all agree on." — Sasha
"All of NSYNC? Allans!" — Allan
"Thanks to Barbie, all problems of feminism have been solved." — Narrator
"It's literally impossible to be a woman." — Gloria
"I worked very hard, so I deserve it." — Nobel Prize Barbie
"I can do the splits. I have a funky haircut and I smell like basement." — Weird Barbie
"Baby, you can find me under the lights, Diamonds under my eyes, Turn the rhythm up, don't you wanna just
Come along for the ride?" — Dance The Night; Dua Lipa Somg Lyrics
Gloria's Speech From the Barbie Movie
Gloria's speech has so many poignant, quotable lines–perhaps ones you can include in your cards to your bridesmaids or to the bride, if you're a guest. Our editors found it impossible to select just a few. So instead, we've decided to include the whole speech for you to read in its entirety. You're welcome.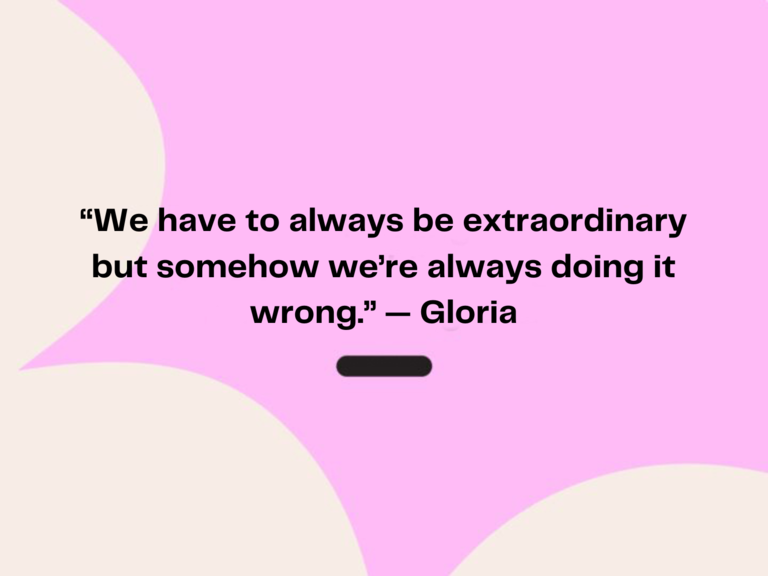 "It is literally impossible to be a woman. You are so beautiful and so smart, and it kills me that you don't think you're good enough. Like, we always have to be extraordinary, but somehow we're always doing it wrong.
We have to be thin, but not too thin. And you can never say you want to be thin — you have to say you want to be healthy, but also you have to be thin. You have to have money, but you can't ask for money because that's crass. You have to be a boss, but you can't be mean. You have to lead, but you can't squash other people's ideas.
You're supposed to love being a mother, but don't talk about your kids all the damn time. You have to be a career woman, but also always be looking out for other people. You have to answer for men's bad behavior, which is insane, but if you point that out, you're accused of complaining.
You're supposed to stay pretty for men, but not so pretty that you tempt them too much or that you threaten other women because you're supposed to be a part of the sisterhood. But always stand out and always be grateful. But never forget that the system is rigged, so find a way to acknowledge that — but also always be grateful.
You have to never get old, never be rude, never show off, never be selfish, never fall down, never fail, never show fear, never get out of line. It's too hard! It's too contradictory and nobody gives you a medal or says thank you! And it turns out in fact that not only are you doing everything wrong, but also everything is your fault.
I'm just so tired of watching myself and every single other woman tie herself into knots so that people will like us. And if all of that is also true for a doll just representing a woman, then I don't even know." — Gloria (played by America Ferrera)