The 21 Best Beatles Songs to Play on Your Wedding Day
All you need is love—and a few Beatles songs on your wedding playlist.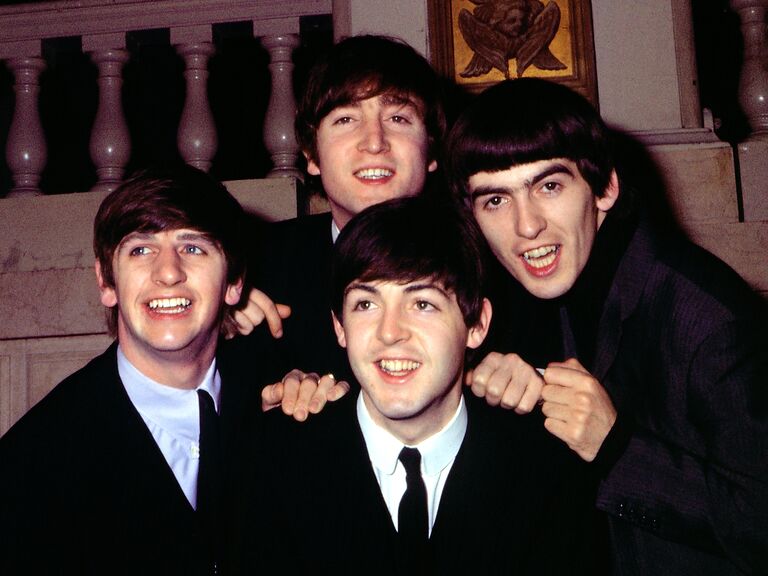 Getty Images

How to throw a wedding to end all weddings? All you need is love! And a killer playlist filled with iconic songs to get the guests feeling feelings, cutting rugs and signing along, of course. Enter: The Beatles. The Fab Four is one of modern history's most enduring bands, with all the cachet to delight just about everyone on your wedding guest list. With an ever-evolving catalog of songs fit for everything from your ceremony to your recessional to your first dance and beyond, The Beatles really bring it when it comes to wedding day music. Maybe even more than Bruno Mars—and that's saying something. Browse this list of top Beatles hits with your wedding DJ or band to curate the grooviest playlist ever for your best day ever. (And, no, these are not in any specific order, because it's impossible to try to rank Beatles songs.)
"All You Need is Love," Single
Lyrics you'll love: "Nothing you can make that can't be made/No one you can save that can't be saved/Nothing you can do, but you can learn how to be you in time/It's easy/All you need is love"
OK, I lied when I said this list wasn't ranked. Because this is the ultimate Beatles wedding song! The lyrics are all about how you can achieve anything with love (something to remember during those tough times later down the line in your marriage) and the chorus is impossible not to sing along to, which would make it the most cheerful and upbeat recessional song to wrap up your ceremony.
"Good Day Sunshine," Revolver
Lyrics you'll love: "I need to laugh, and when the sun is out/I've got something I can laugh about/I feel good, in a special way/I'm in love and it's a sunny day"
Hello, most adorable entrance song ever. If you and your partner are trying to keep things light and sweet for your big intro as a married couple, the positive vibes of this hit are worth considering. Way to kick off your reception on a high note.
"Love Me Do," Please Please Me
Lyrics you'll love: "Love, love me do/You know I love you/I'll always be true/So please/Love me do/Whoa, love me do"
Not only was this the Beatles's first single ever(!), it's also one of their most iconic. A simple and sweet love song, it's tidy and short enough to be a great transition song for your wedding—either to get guests from the ceremony on their way to cocktail hour, to greet guests as they arrive at their venue, or to play as your guests are seeing you off as you hop into your getaway car and zoom off to your honeymoon.
"Yellow Submarine," Revolver
Lyrics you'll love: "And our friends are all aboard/Many more of them live next door/And the band begins to play/We all live in a yellow submarine/Yellow submarine, yellow submarine"
Add a little levity to your wedding reception dance party with this funky and irresistible Beatles hit. It's low-key the perfect dance floor bop—it's a little silly, a lot of fun and most people inexplicably know the lyrics. Plus, it's all about community! And it'd be a nice treat for the older folks who can't quite find their groove to Avicii, but really want to cut a rug after all that champagne.
"Dear Prudence," The Beatles
Lyrics you'll love: "Dear Prudence open up your eyes/Dear Prudence see the sunny skies/The/wind is low the birds will sing/That you are part of everything/Dear Prudence won't you open up your eyes?"
A gentle song perfect for swaying, Dear Prudence would be a great pick for a parent dance during the reception, especially if any party involved is a huge Beatles fan! The lyrics sound like they could be a parent speaking to their child about embracing the beauty of the world, which is a beautiful message for a father-daughter or mother-son dance (especially since so many of the typical parent dance songs have positively cringe-y lyrics!).
Find your kind of venue
From barns to ballrooms, discover reception venues that feel like you.
"With a Little Help from My Friends," Sgt. Pepper's Lonely Hearts Club Band
Lyrics you'll love: "What would you think if I sang out of tune?/Would you stand up and walk out on me?/Lend me your ears and I'll sing you a song/And I'll try not to sing out of key/Oh, I get by with a little help from my friends"
You don't just get by with a little help from your friends—you get married with a little help from your friends! Celebrate your bridesmaids and groomsmen and thank them for their commitment to your friendship by playing one of the most iconic rock songs ever during their big entrance to the reception. It'll for sure start the party off on a high note.
"Two of Us," Let it Be
Lyrics you'll love: "You and I have memories/That stretches out ahead/Two of us wearing raincoats/You and me chasing paper/Getting nowhere/On our way back home/We're on our way home"
This pretty, short-and-sweet track would be just as appropriate for a first dance between the newlyweds as it would be for a father-daughter or mother-son dance, because the lyrics are tender and meaningful without being outright romantic.
"Here Comes the Sun," Abbey Road
Lyrics you'll love: "Little darling, the smiles returning to the faces/Little darling, it feels like years since it's been here/Here comes the sun do, do, do/Here comes the sun/And I say it's all right"
Great song for your wedding ceremony recessional or processional, great song for your wedding party entrance, great song for the mother-son dance or father-daughter dance, great song all around! You can't help but smile at this track's gentle acoustic strumming and poetic lyrics. Heck, it's even a great song to play during the stressful throes of wedding planning to give yourself a moment of Zen.
"Got to Get You Into My Life," Revolver
Lyrics you'll love: "I was alone, I took a ride / I didn't know what I would find there/Another road where maybe I/Could see another kind of mind there/And suddenly I see you/Did I tell you I need you/Every single day of my life?"
Such a fun jam with a great beat, this song will inject that retro rock-and-roll feel into your reception and get the whole dance floor moving. It's a classic Beatles love song that doesn't skimp on style or energy.
"Eight Days a Week," Beatles for Sale
Lyrics you'll love: "Hold me, love me, hold me, love me/I ain't got nothing but love, babe/Eight days a week"
Up there in the top tier of the most enduring John Lennon/Paul McCartney collabs in all of Beatles history, this classic encapsulates that feverish feeling of young love (aw!) in a fun-filled jam your guests won't be able to help but dance to. It'd also make a quirky-cool recessional song that'd be almost too much fun to dance back up the aisle to with your crew!
"Don't Let Me Down," Past Masters
Lyrics you'll love: "I'm in love for the first time/Don't you know it's gonna last/It's a love that lasts forever/It's a love that had no past/Don't let me down"
Earnest and moody, this jam would make a beautiful slow dance track to capture the attention of your guests and juxtapose a memorable moment of sincerity amidst your big day bash. John Lennon wrote it as a plea to Yoko Ono, so you know it speaks to only the most epic of love stories—like yours.
"When I'm 64," Sgt. Pepper's Lonely Hearts Club Band
Lyrics you'll love: "Give me your answer, fill in a form/Mine for evermore/Will you still need me, will you still feed me/When I'm sixty-four"
If you don't want to take your first dance too seriously, this Beatles hit would be a great choice that brings a smile to everyone's faces and gives you the freedom to dance together as goofily as you like—while underscoring your lifelong commitments to one another! This song would also make a fun choice if you're thinking of including a parents' dance during your reception itinerary or as a background song for cutting the cake.
"All My Loving," With the Beatles
Lyrics you'll love: "Close your eyes and I'll kiss you/Tomorrow I'll miss you/Remember I'll always be true/And then while I'm away, I'll write home everyday/And I'll send all my loving to you"
The rambling beat and cheerful see-ya-later vibes of this hit would make the sweetest soundtrack to your wedding exit after the reception wraps. Feel free to crank up the retro factor even more with a classic 60's-style rice toss. Of course, if you want your DJ to just play this very danceable track during your reception, that works too!
"Across the Universe," The Beatles
Lyrics you'll love: "Sounds of laughter shades of life are ringing/Through my open ears inciting and inviting me/Limitless undying love which shines around me like a million suns/It calls me on and on across the universe"
Another dreamy, sway-worthy first dance song from the Beatles, coming right up! This one's especially rich with that swingin' late-60s grooviness, adding thematic texture to any boho wedding. The vibes are strong.
"Drive My Car," Rubber Soul
Lyrics you'll love: "I told a girl I can start right away/And she said, 'listen, babe, I got something to say/I got no car and it's breaking my heart/But I've found a driver and that's a start'"
Rock-and-roll couples, get your wedding DJ on the line and make them play this cheeky song when the dance floor gets drowsy. It's fun, sexy and cool—exactly what a wedding should be. And with such a great beat, it'd be just as fun as a recessional song as it would be for cutting the cake or closing out the night!
"She Loves You," Twist and Shout
Lyrics you'll love: "You think you've lost your love/Well, I saw her yesterday/It's you she's thinking of/And she told me what to say/She says she loves you/And you know that can't be bad"
A real crowd-pleaser that'll get everyone on your dance floor singing at the top of their lungs, this early Beatles smash will bust out all the best dance moves (get your photographer ready!). It'd also be a high-energy choice for the ceremony, either to kick it off or to wrap it up.
"I Feel Fine," Past Masters
Lyrics you'll love: "I'm so glad that she's my little girl (ooh-ooh)/She's so glad she's telling all the world (ooh-ooh)/That her baby buys her things, you know/He buys her diamond rings, you know/She said so/She's in love with me and I feel fine"
An unexpected yet perfectly suited little ditty for either your processional or recessional song or even your cake-cutting, I Feel Fine has a delightful rock beat to get guests bopping in their seats. That the lyrics evoke diamond rings, which is, of course, what weddings are all about (kidding!), is just a wonderful bonus.
"A Hard Day's Night," A Hard Day's Night
Lyrics you'll love: "It's been a hard day's night, and I've been working like a dog/It's been a hard day's night, I should be sleeping like a log/But when I get home to you I'll find the things that you do/Will make me feel alright"
Strategizing last dance songs that'll wrap the party on an epic note? This Beatles banger might be just the thing—it's high-energy, everyone knows the words, and it'll probably still be buzzing in guests' heads as they drift off to sleep in their hotel rooms after their hard day's night celebrating your nuptials!
"Come Together," Abbey Road
Lyrics you'll love: "He roller coaster/He got early warning/He got muddy water/He one mojo filter/He say, 'one and one and one is three'/Got to be good looking 'cause he's so hard to see/Come together, right now, over me"
This song is the epitome of cool. If you and your partner are the leather-jacket-instead-of-a-veil, Converse-sneakers-instead-of-heels types, or if local microbrews are on tap instead of signature cocktails, or if neon signs are in any way part of your wedding decor, I'm willing to bet this badass classic will be right at home with your crew on the reception dance floor.
"I Want to Hold Your Hand," Meet the Beatles!
Lyrics you'll love: "Oh please, say to me/You'll let me be your man/And please, say to me/You'll let me hold your hand"
From a recessional song, to a reception entrance song, to an ending-the-night exit song, this one is far too adorable to not incorporate somewhere into your big day. And since it's short and simple, it'll fit just about anywhere on your wedding playlist.
"Twist and Shout," Please Please Me
Lyrics you'll love: "Come on and work it on out/You know you twist, little girl/You know you twist so fine/Come on and twist a little closer now/And let me know that you're mine"
No comprehensive Beatles songs for your wedding day list would be complete without this must-have! It's a wedding fave for a reason—it comes prepackaged with its very own dance, it's a cinch to sing along to on the dance floor, and it's undeniably fun. Have your DJ play it later on in the night, when the champagne has worked its magic and people are looking to really get down.