The 23 Best Piano Wedding Songs for Your Big Day
Add these songs to your ceremony or reception playlist.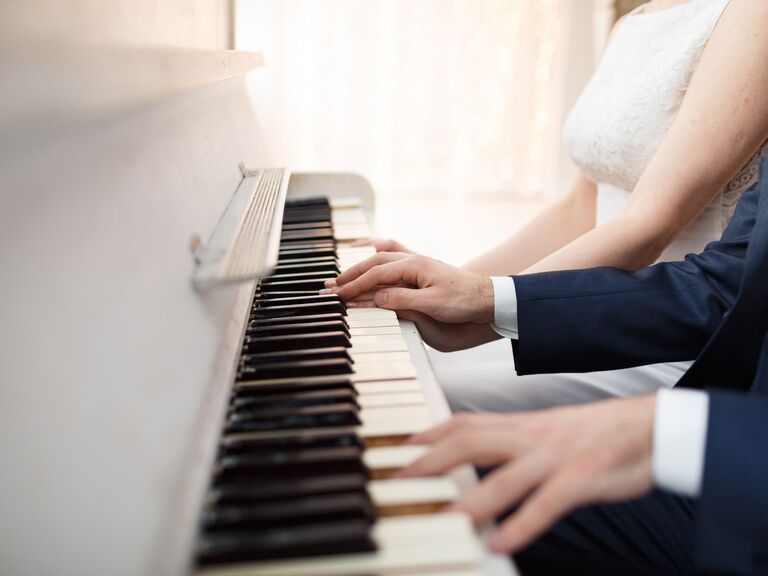 Myronovych / Shutterstock

Is there anything more enchanting than the sound of a melodic piano track as you walk down the aisle or perform your first dance? If you and your partner are fans of the classic, soothing sounds of piano songs, these instrumentals will be the perfect additions to your wedding playlist. We highly recommend hiring a pianist to perform these songs live during your event, though these songs are also available on Spotify or YouTube if you opt for a recording. Either way, piano music is sure to bring an even more romantic ambiance to any part of your big day.
If you're still on the hunt for the perfect musician, band or DJ to play your wedding, look no further than The Knot Marketplace. You can search hundreds of music pros, and select the vendors to create the right vibe for your special day.
"Engagement Party," Justin Hurwitz
This instrumental soundtrack from 2016's acclaimed musical movie, La La Land features beautiful piano pieces, many of which are without lyrics. "Engagement Party" is also a fitting title for a wedding song! Add this to your prelude playlist, or play it during cocktail hour or dinner.
"Mystery of Love/Visions of Gideon," Moisés Nieto
This cover of "Mystery of Love" from the soundtrack to the movie Call Me by Your Name focuses on the piano with light notes throughout. The lyrics themselves are more on the tragic side, so this cover will give you all of the music and maintain the ethereal feel of the song. Another fantastic song to walk into the ceremony with!
"Amore Mio Aiutami - Main Theme," Piero Piccioni
The main theme from the 1969 Italian movie Amore Mio Aiutami ("Help Me, My Love") has sweeping instrumentals and twinkling piano chords that provide an elegant backdrop to any part of your wedding. It's a lovely piece for a prelude as your guests are arriving to the ceremony.
"Thinking Out Loud," Pianella
Ed Sheeran's "Thinking Out Loud" is a wedding favorite, and all of your guests will know the words. This piano cover makes a perfect first dance song.
"Clair de Lune, L.32" Claude Debussy
The delicate, emotional keys of "Clair de Lune" make it one of Debussy's most popular. It makes for a beautiful wedding processional song or even a first dance.
"I Won't Give Up," Welder Dias Piano
Jason Mraz knows how to write love songs, and "I Won't Give Up" is perhaps one of his best. This piano cover makes for a beautiful song to play during cocktail hour, dinner or even a first dance.
"So This is Love," Emile Pandolfi
Also called "The Cinderella Waltz" and featured in Disney's Cinderella movie, "So This is Love" is a recognizable and enchanting instrumental. Imagine this playing as you or your spouse walks down the aisle.
"Liebesträum (Love Dream)," Franz Liszt
The soft and ever-popular "Liebesträum" from 1850 is one of Franz Liszt's most popular works. It's mostly solo piano, and feels enchanting and ethereal all at once—truly like a dream. It's absolutely whimsical for a ceremony setting and processional.
"A Thousand Years," The Piano Guys
Released as part of Breaking Dawn's soundtrack, Christina Perri's "A Thousand Years" is so romantic that it has collected over 900 million streams on Spotify. This piano cover is a great wedding reception song for a first dance or a slow dance.
"Ave Maria," Franz Schubert
This piano wedding song is perfect for church wedding ceremonies. It's the perfect traditional song for your wedding day, no matter which part of the ceremony you use it for.
"Isn't She Lovely," Yohan Kim
Stevie Wonder's "Isn't She Lovely" is all about love, specifically the love parents have for their children. Play this piano cover is ideal during a special dance with your and your spouse's kids, if you have them.
"Rêverie," Claude Debussy
Another one of Claude Debussy's more popular pieces, "Reverie" is a soft, dainty piano piece that is simply beautiful. It's a great option if you and your spouse are considering a classic first dance.
"Can't Help Falling in Love," The Piano Guys
A classic for wedding ceremonies and receptions alike, this 1961 Elvis hit is sure to please your guests as much as it does you and your spouse. It's one of the most romantic, popular songs of all time, so this piano cover will be a great addition to your wedding music, especially for a dreamy first dance.
"To a Wild Rose," Edward MacDowell
Edward MacDowell's "To a Wild Rose" is a pretty simple piano piece. The song feels very hopeful and romantic, bringing the perfect mood to any part of your wedding ceremony.
"Jesu, Joy of Man's Desiring," Johann Sebastian Bach
A staple of classical music, '"Jesu, Joy of Man's Desiring" (also sometimes just called "Joy") emits the kind of beauty and positivity anyone will want at their wedding. It's a popular choice for a processional.
"All of Me," Costantino Carrara
Modern poet and king of love songs John Legend's most popular tune is emotional and hopeful all at once. Not to mention, with 1.5 billion streams on Spotify alone, a good number of your guests are sure to sing along during the reception. We love this piano cover for a classical twist.
"Canon in D," Johann Pachelbel
Often accompanied by a cello, "Canon in D" is a classic piece, supposedly written for Johann Sebastian Bach's brother's wedding by Pachelbel. Whether that's true or not, the uplifting and joyful piece is a wedding essential for classical-music lovers.
"Une Barque Sur L'Océan," André Laplante
This alluring song is another piece from the Call Me by Your Name movie soundtrack. The title translates to "A Boat on the Ocean" in English, and the piece itself has a joyful, serene nature like being out on the water on a sunny day. It's a nice prelude piece, but can fit anywhere in your wedding!
"Wedding March," Felix Mendelssohn
Often thought to have accompanied Shakespeare's "A Midsummer Night's Dream," Mendelssohn's "Wedding March" is aptly named to be perfect for your wedding ceremony. It makes for a very traditional and grand wedding processional song.
"Trumpet Voluntary," Jeremiah Clarke
No, you don't necessarily need to have a live trumpet to perform this famous entrance song—it also works well as a piano solo, or with a string quartet.
"Love Story," Riyandi Kusuma
This song definitely differs from classical music and canons, but Taylor Swift's "Love Story" is a Romeo and Juliet piece that you shouldn't discount for your wedding reception. It's romantic, recognizable and a fun piece for any reception.
"Roses Montage," Elmer Bernstein
Bernstein's "Roses Montage," from the soundtrack to the film Age of Innocence, is a simultaneously deep and uplifting instrumental. The world will feel like it's going in slow motion when you play this song during your processional.
"Ode to Joy," Ludwig van Beethoven
This traditional wedding song from Beethoven is widely used during ceremonies, especially processionals, and it's easy to see why. With a simple score and catchy melody, it's a song full of hope, which is probably why it's still so popular centuries after it was first composed.