Plan a Creative Boat Proposal to Wow Your Partner
Set sail toward your future with these romantic ideas.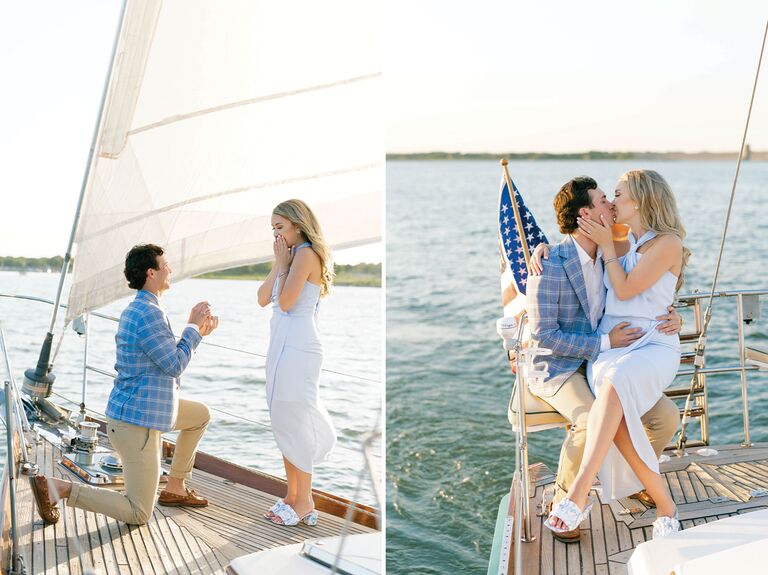 Photo: Megan Kay Photography
You're ready to propose to the love of your life–congratulations! If you and your partner love to be out on the water, consider a boat proposal. You'll have a beautiful view from your vessel and an opportunity to share a private moment away from crowds. Choose from several romantic proposal on a boat ideas including cozying up on a canoe or waiting until you sail past a waterfall to get down on one knee. Afterward, share a picnic and a glass of champagne as you look toward the future. We've put together what you need to know about proposing on a boat including creative ideas and how to plan your proposal.
In this story:
12 Romantic Boat Proposal Ideas
Whether you want to pop the question from the luxury of a private yacht or as you paddle together via kayak, we've gathered 12 of our favorite boat proposal ideas to inspire your romantic moment.
Sunset Boat Ride
There are few things more romantic than proposing to the love of your life at sunset. Add a picturesque view and the sound of water splashing along your boat and you have a moment you'll remember forever. It's also a gorgeous time to take photos as the sunset gives your pictures a warm, dreamy glow.
Charter a Private Yacht
Arrange a yacht proposal for a luxurious option on the open sea. A yacht gives you the option to include just the two of you or invite family and friends for an intimate party that ends in a proposal. Pack snacks and a bottle of champagne if you plan to spend extra time on the water to enjoy your upscale amenities.
Pop the Question From a Kayak
For the adventure-seeking couple, take a kayak ride together that ends with a surprise proposal. Paddle up to your sweetie at the perfect moment, whether it's at sunset or as you pass your favorite spot on the river and pop the question. This boat proposal idea is best for avid kayakers and at a familiar location for both of you.
Propose on a Pontoon Boat
A pontoon boat proposal provides a relaxed atmosphere on the water. These fun party boats are great for get-togethers with family, or you can decide to rent a boat for just you and your partner. Plan a day that includes a fun playlist and your partner's favorite foods and ends with asking a very important question.
Take a Waterfall Boat Ride
Whether you're heading to Niagara Falls or your local state park, take a boat trip that passes right by a waterfall. Time it just right so you drop to one knee as you pass by the falls. Not only is this a creative and romantic proposal, but results in some amazing photos from your photographer.
Propose Near a Bridge
This boat proposal idea is also all about timing. As your boat is passing near a bridge, take that moment to pop the question. You'll get some incredible pictures from your photographer as they wait on the bridge, and you can steal a moment together under the bridge after your love says, "Yes!"
Head Out on a Sailboat
Show off your sailing skills, or hire a professional to take you and your partner on a romantic boat ride. The beauty of a sailboat is you can make it a day of adventure, or take it easy for a relaxing journey. Plan your sailboat proposal to take place on a day with a calm wind and clear skies.
Move to the Bow
Depending on the type of vessel you choose for your proposal, consider getting down on one knee at the bow of the boat. This allows you to have unobstructed views of your surroundings and gives you a little privacy if there are others aboard. Your proposal photos will also have that great view in the background and less of the boat.
Take a Canoe for Two
Whether you're channeling Noah and Allie in "The Notebook," or simply want a private boat ride for just the two of you, consider proposing on a canoe. Scout out a serene lake that provides a calm and quiet location where you can ask your partner to spend forever with you. Stop for a picnic on the bank afterward to extend your perfect day.
Sail Through a Cave
Plan a magical and unexpected proposal with a cave boat tour. Coast under stalactites and marvel at the formations that date back thousands of years. Ask your tour guide ahead of time about the most romantic spot in the caverns and plan to propose near that section.
Gondola Ride Proposal
You don't have to travel to Venice to take a romantic gondola ride (unless that's part of your proposal plan). There are several gondola ride companies throughout the US including in Central Park in New York and San Diego Bay in California. Pop the question as you're escorted on the water through a lovely state park or past historic buildings.
Propose on a Ferry
A ferry proposal is a great way to catch your partner off guard. If you've booked an upscale dinner reservation or weekend getaway that requires a ferry ride to get there, propose before you reach your destination. You'll also likely have gorgeous views of a city skyline or a quaint beach town as your backdrop.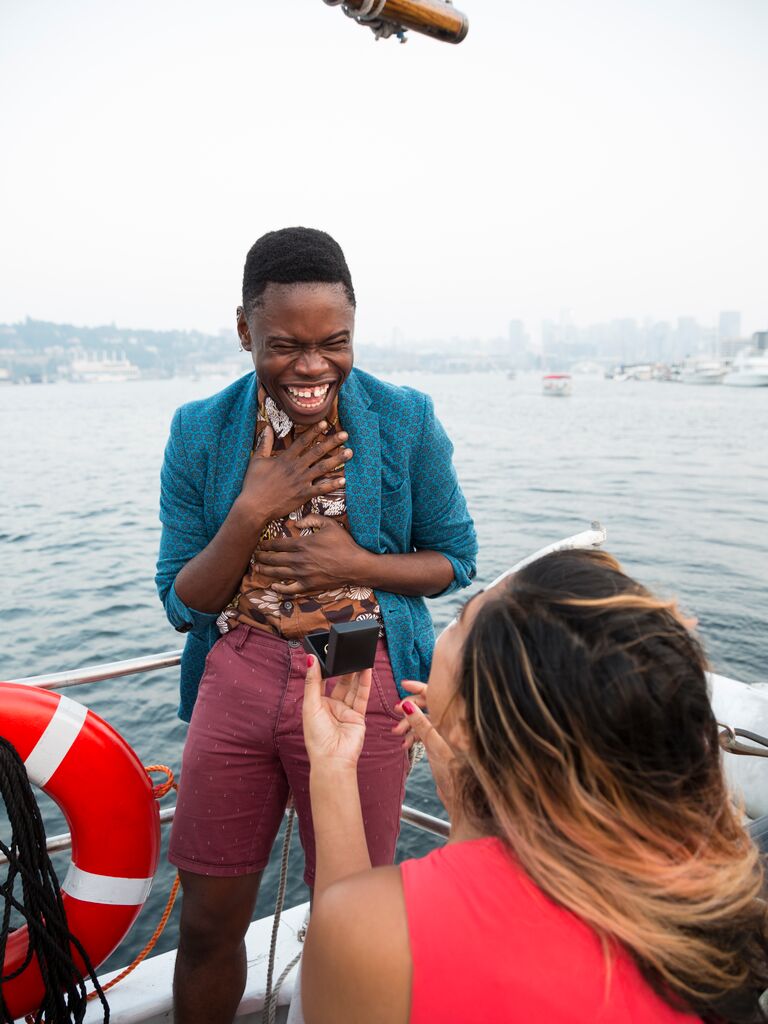 How to Propose on a Boat in Five Steps
Asking your partner to marry you also means following a proposal checklist to ensure you don't miss a thing. Follow these steps if you're planning a proposal on a boat.
1. Make Sure Your Partner Loves the Water
Before you start planning a boat proposal, make sure it's something your partner would enjoy. Have the two of you spent time on boats in the past? Are they excited when they step on a boat or get in a canoe, or do they always seem a bit nervous? Keep this in mind before you propose on a boat.
2. Rent a Boat or Book a Boat Tour
Depending on the type of boat you choose, you'll need to plan ahead by booking a private charter or buying tickets for a boat tour. Keep in mind that weather is a big factor in whether or not you'll set sail on your desired date. Stay flexible and have a couple of backup dates in mind.
3. Hire a Photographer
Capture this magical moment by hiring a professional photographer. They can hide in plain sight if you've booked a public boat tour, or keep a lookout for you as your boat passes by. You can find a great photographer in your area by heading over to The Knot Vendor Marketplace.
4. Plan What You'll Say
Take a moment to write down all of the things you adore about your partner–their witty sense of humor, kind heart, brave spirit, etc. Then think about your future together and what that might look like. Use this inspiration to plan what you'll say to your love when you ask them to marry you.
5. Make a Plan for the Day
Now that you know where and when you'll propose, start working out the other details of the day. Invite family and friends if you want them to share the moment with you, head to the grocery store if you plan to pack a picnic, and book a dining reservation or romantic outing as the cherry on top of your day. You can also work with your photographer to create a brief itinerary for your proposal.