A Venice Honeymoon for Foodies, Romantics and History Buffs
Head to this magical floating city in Italy for your dream getaway.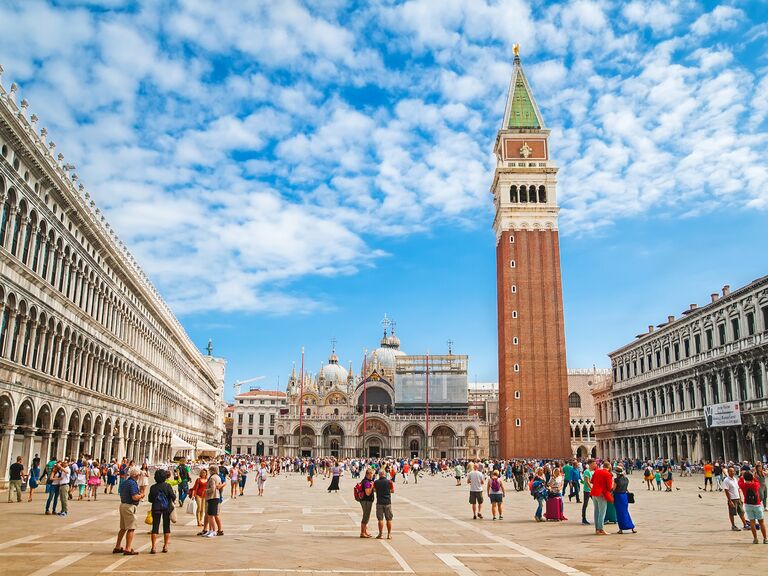 Pani Garmyder/Shutterstock
We have included third party products to help you navigate and enjoy life's biggest moments. Purchases made through links on this page may earn us a commission.
Sipping wine in an old-world luxury hotel. Riding a gondola through canals lined with colorful Renaissance buildings. Dining on fried seafood and gelato after strolling hand in hand through narrow streets and exploring Gothic palaces. For ultra-romantic experiences like these, consider taking a Venice, Italy, honeymoon.
Built on more than 100 islands in the Adriatic Sea, "Venice is one of the world's great sights, an impossibly romantic, must-see-before-you-die destination," says Joan Roca of The Essentialist. "Venice is like no other place on Earth, and there is charm and beauty that honeymooners can discover throughout."
Is Venice Good for a Honeymoon?
With boats instead of cars and a wealth of Renaissance and Gothic architecture, this city will transport newlyweds to the past. "It's the perfect place to wander in, as the main tourist area is car-free," says Ruchi Harnal of Harnal Travel. "Honeymooners can walk hand in hand without having to worry about traffic, discovering streets with small shops and little piazzas tucked into alleys."
Pros of a Venice Honeymoon
Thanks to its waterways, gondolas, bridges and colorful buildings, Venice is one of the world's most beautiful cities—the ultimate backdrop for a honeymoon. It's also an ideal destination as part of a larger trip that includes Rome, Florence and other cities in Italy and Europe.
To arrive, just fly into Venice Marco Polo Airport, which is only four miles from the city, says Ashley Gallo of Royal Travel and Tours. Couples can catch nonstop flights from New York, New Jersey, Philadelphia and Atlanta from May to October, Harnal says. Alternatively, newlyweds can fly into Milan and take the train to Venice's Santa Lucia station in the Cannaregio district.
Cons of a Venice Honeymoon
During the summer months (peak season), Venice can be crowded and pricey, Gallo says. It can also be very hot.
The Best Times of Year to Go on a Venice Honeymoon for Good Weather
Overall, couples should visit in April, May, September or October, Gallo says. Just be aware that the city can get busy during Easter and the Venice Film Festival in September.
For couples looking for a party scene, visit during New Year's Eve or for Carnival (in February and March), Harnal says. Avoid October through December if you mind rain and cold.
Places to Visit in Venice on a Honeymoon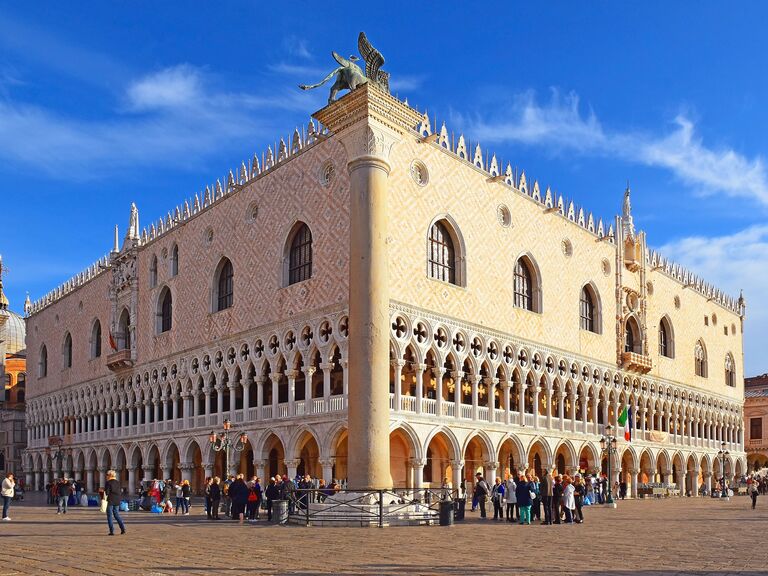 Piazza San Marco (St. Mark's Square)
Located in the heart of the city, this square dates back to the 9th century, Harnal says. Architecture buffs will appreciate the majestic beauty of Saint Mark's Basilica (Basilica di San Marco), built in 1092 and tiled with Byzantine mosaics. Watch the pigeons (and people) and listen to live music.
Doge's Palace
This classic Venetian Gothic building is lavishly decorated. Harnal recommends taking a tour.
Ponte di Rialto
At sunset, walk over this bridge on the Grand Canal in the San Polo district, Gallo says. Built in the 16th century, it offers beautiful views, plus ample shopping.
Bridge of Sighs (Ponte Dei Sospiri)
Couples like to kiss under this bridge built in 1600, Harnal says. According to rumor, it got its name because it offered the last view of Venice convicted prisoners saw before being executed.
Palazzo Contarini Del Bovolo
Ascend the exterior staircase to savor the views from this small palace, Harnal says.
Verona
Known as the "city of love," Verona is famed for being the setting of Shakespeare's Romeo and Juliet. Located a little over an hour from Venice, it's tranquil and romantic, Harnal says.
Things to Do During a Venice Honeymoon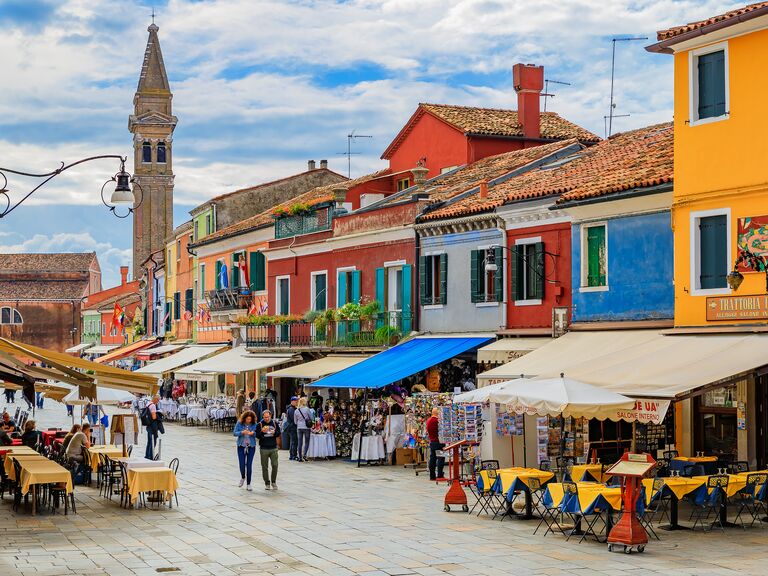 Go on a Gondola Ride
You can't visit Venice and not go on a gondola ride. Schedule your trip for early evening to watch the sunset. Harnal suggests bringing a bottle of wine, bread, cheese and meats to picnic while a gondolier serenades you.
Visit the Outer Islands
Honeymooners can take a vaporetto (Venetian public water bus) or hire a boat for the day and visit some of the islands located just offshore.
Sant'Erasmo is home to farms and vineyards, while iconic Lido is where in-the-know locals go for beach time. Low-key Giudecca, just a few minutes' ride from St. Mark's, offers restaurants and urban farms.
The picturesque fishing village of Burano is known for its colorful homes and lace-making tradition. About five minutes from Burano, Torcello features rural scenery, the Cathedral of Santa Maria Dell'Assunta (built in 639), and Attila's Throne, an ancient stone chair. On Murano, famed for its glassmaking, you can take a factory tour or visit the Museo del Vetro.
Explore the Food Scene
Take a street food tour and sample cicchetti (tapas-like finger food), suggests Reco trip designer Fabio Fasone. Then, visit the lively and colorful food markets around the northwestern corner of the Rialto Bridge, Roca says. For a fun alternative, take a morning stroll along Via Garibaldi in the city's Castello district until you reach the canal. Then, buy fruits and vegetables from the produce boat.
See Art
Explore the Guggenheim Museum, Accademia Fine Art Museum and Scuola Grande di San Rocco (for work by famed Renaissance painter Tintoretto).
Best Hotels and Resorts in Venice for a Honeymoon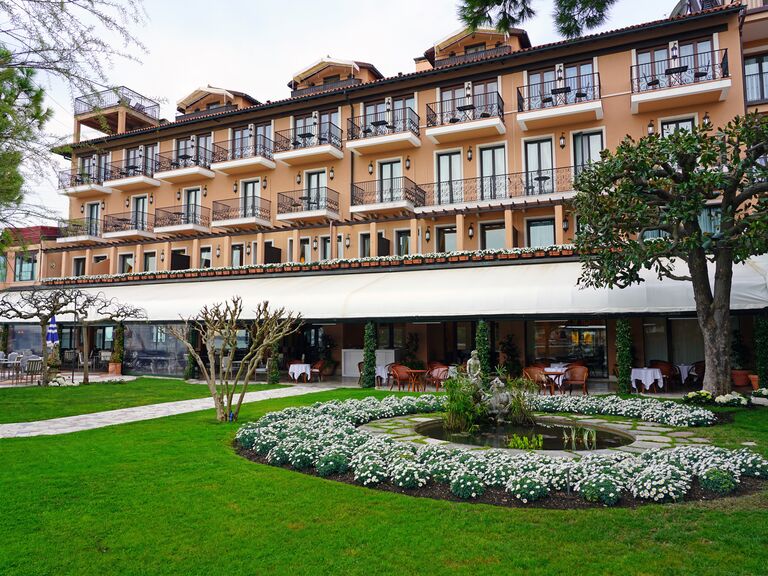 A member of the "Leading Hotels of the World," this hotel has served as a monastery, a noble palace and the quarters of the Knights Templar, Harnal says. Located right in the heart of Venice, it offers spacious rooms.
Situated next to the Doge's Palace and just steps away from Piazza San Marco, this hotel's buildings date back to the 14th, 19th and 20th centuries. Reserve a room in the main palace Harnal says. Instead of hallways, it features a large foyer opening to a courtyard.
Just 15 minutes from central Venice, this hotel is on a private island, Isola Delle Rose (Republic of Rose Island). Thanks to its position on the Venetian lagoon, it has its own microclimate and features palm trees and a small olive grove. Newlyweds will appreciate the child-free quiet zones and sleek suites with plunge pools, Harnal says.
With just 12 rooms that are all decorated differently, this boutique hotel is known for its romantic atmosphere.
With a private dock, gardens, a floating terrace, a spa and a swimming pool that's nearly Olympic-size, this five-star hotel is situated on Giudecca Island, away from the crowds. Still, it's just a five-minute boat ride from St Mark's Square. Couples can dine at the on-site Michelin-starred restaurant.
Overlooking the Grand Canal and the Basilica of Santa Maria, this luxury hotel boasts an outdoor terrace and serves up textbook-perfect bellinis (a cocktail featuring peach nectar and Prosecco), Gallo says. Dating back to 1475, it features a private jetty, precious antiques and original Murano chandeliers.
Built in 1550, this stunning waterfront palace on the Grand Canal has a private garden and only 24 rooms and suites. The site of high-society events since the 16th century (including George Clooney's wedding), this property boasts stunning interiors.
This palatial property by the Grand Canal overlooks some of the city's most iconic landmarks, Roca says. Built in 2019, it offers an on-site restaurant and bar, a spa and fitness facilities.
What to Pack for a Venice Honeymoon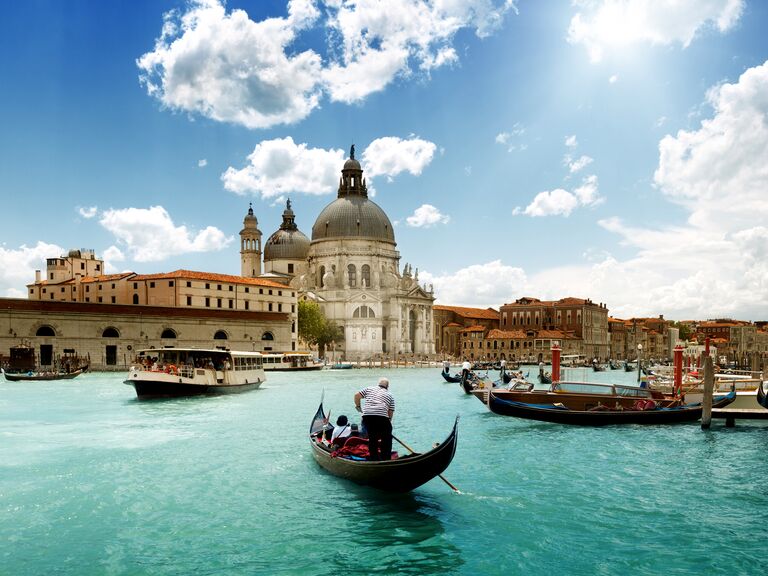 "No matter how you arrive, at some point, you might have to wheel your baggage along alleys, so keep it lightweight," Harnal says. "If you take a water taxi, they'll often charge extra for more than one piece of luggage."
Since you'll be walking most of the time, bring comfortable shoes, Gallo says. For touring churches and keeping warm during cool evenings, tote a shawl or scarf. (Saint Mark's Basilica strictly enforces a dress code prohibiting bare legs and shoulders.)
You'll need a rain jacket or umbrella in the spring and fall, as well as a warm coat, sweaters and boots from December through February. All year long, rain boots are a must due to rising sea levels, Roca says.
To blend in with locals, wear sophisticated and stylish clothing, especially at night. Think fitted suits for men and glamorous cocktail dresses for women, Harnal says. She recommends avoiding cargo shorts, sweatpants, camisole tops, T-shirts and see-through tops.