Venice Honeymoon: Weather and Travel Guide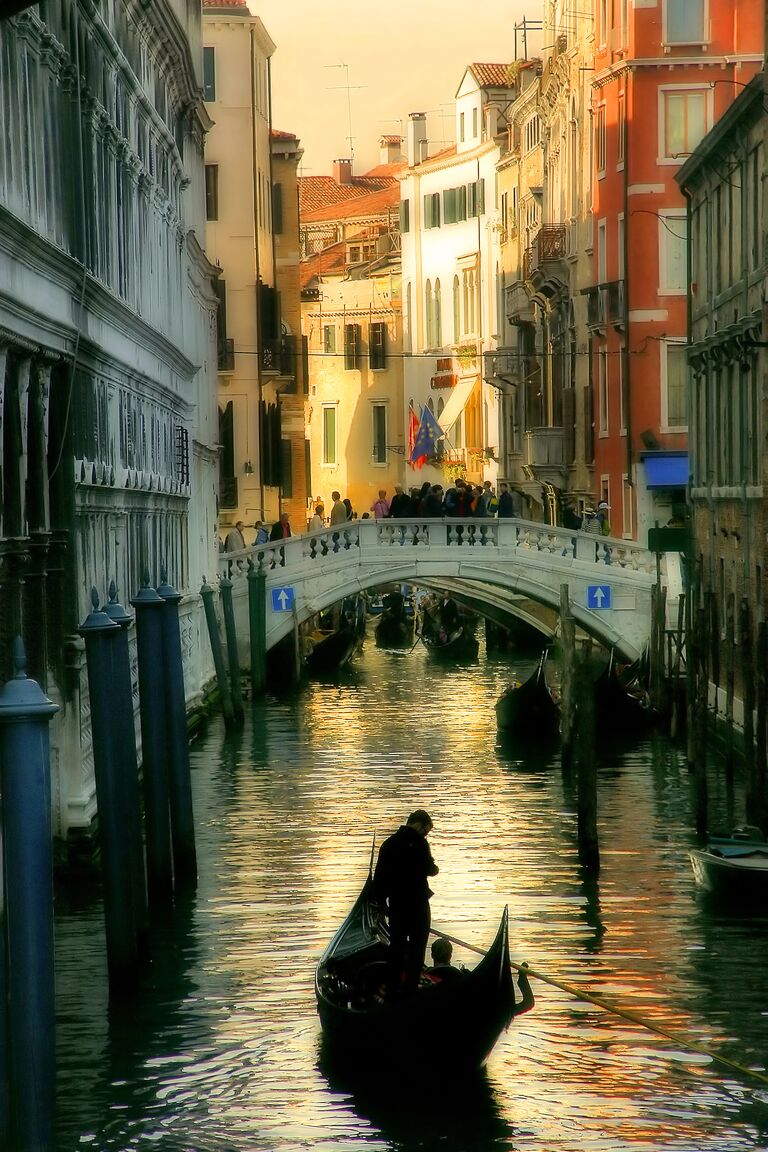 Shutterstock
Visiting Venice is like unwrapping a present for the senses: the toll of church bells, beribboned gondoliers churning their oars, the sharp scent of coffee, glass chandeliers twinkling, and slender, twisting streets suddenly turning onto sun-filled market squares. The elegant piazzas and glistening waterways of this northern Italian city breathe ancient urban grandeur and romance.

Before You Go: Need-to-know info
Entry requirement: Passport valid for three months post-departure
Language: Italian
Currency: Euro
Flight time: 8.5 hours from New York City; 14 hours from LA
Getting around: Vaporetto, traghetto (a gondola with fixed stops), gondola and water taxi

When to Go: Venice at its best
Best weather: April to June, and September to November. July and August are the hottest months, which may make the canals smell. Tourism swells June through August.
Best prices: Winter (excluding the Christmas holidays and Carnevale week), early spring and late autumn.

What to Do
Take a canal tour: No trip is complete without a gondola ride, so cuddle up and glide through the enchanting Venetian canals (it'll run you at least $60 for an hour-long ride).
Visit Piazza San Marco: Pigeons, tourists and street entertainers flock to this lively plaza, home to the glittering gold and mosaic-embellished Basilica di San Marco and the fresco-filled Palazzo Ducale. Tour the palace and cross the Bridge of Sighs, so named because it was the last view Venetian prisoners had before facing their fate.
Get lost: You're likely to get turned around in Venice, but getting lost was never so much fun. Labyrinthine streets will reveal new discoveries at every turn. Don't pass up that off-the-beaten-path shop selling candy, Carnevale masks or marbled paper.
Travel by vaporetto: These boats, which carry Venetians just as city buses carry passengers in less liquid locales, are the best way to see the Grand Canal.
Eat fine Italian cuisine: Water, water everywhere provides some of the best seafood in Europe, and the Italian touch creates risotto beyond compare. Best bets include Trattoria Madonna, canal-side Ristorante Da Raffaele and Harry's Bar, where the Bellini was invented and still reigns supreme.
See Ponte di Rialto: This bridge over the Grand Canal also serves as a marketplace, the perfect spot to buy a gondolier's hat or assorted souvenirs.
Take day trips: Just a short vaporetto ride away are: Murano, the birthplace of Venetian glass; Burano, known for its candy-colored houses and fine lace; and Torcello, site of a lovely 7th-century church and plenty of prime picnic spots.