What You Need to Know About Hosting a Fabulous Boat Wedding
Before you sail off into the sunset, check out our helpful guide for planning your wedding on a boat.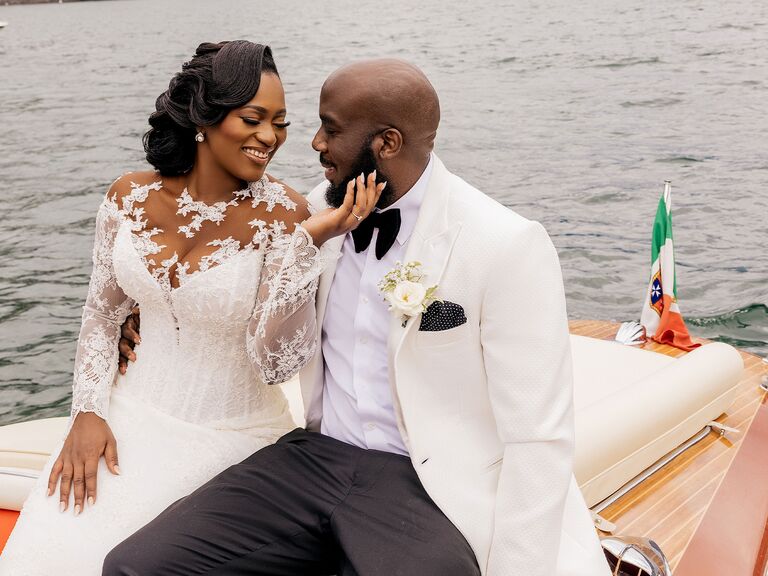 Photo: Stanlo Photography
Celebrate love on the open seas by hosting a boat wedding your loved ones won't forget. If you melt at the sight of stunning views, love the sound of crashing waves, and have a soft spot for an ocean breeze, a wedding on the water could be exactly what you're looking for. Whether you're hosting an intimate ceremony on a sailboat or a grand event on a luxury yacht, there are a few things to keep in mind when planning a boat wedding. We spoke to Annie Lee, principal planner at Daughter of Design and founder of Plannie.com, to get all the details you need to know about hosting your wedding on a boat. The wedding planning expert, who boasts more than 17 years of experience, opens up about everything you need to know for the perfect wedding on a boat.
In this story:
How to Plan a Boat Wedding
Planning a boat wedding isn't quite the same as hosting your celebration at a traditional venue. There are several things to consider if you decide to host your ceremony or reception on the water.
1. Decorating Your Boat Wedding Venue
Most wedding venues have rules about decorating, but boats have a lot more. On a boat, a lot of the furniture is bolted down. This means you aren't able to rearrange the layout, including the reception tables. Also, choose decor items that are stable and not prone to falling over. "Obviously, you're on the water, so just keep in mind when you decorate that things may sway or there might be a lot of wind," Lee said. "So, no push-over bud vase arrangements."
2. Follow the Captain's Rules
Boat rules depend on if you're chartering a commercial vessel or a private yacht. Check with the captain to find out which rules apply to your venue. This can include whether or not guests must take off their shoes upon entry, your guest count maximum (including your staff too), types and colors of food, and more.
3. Make Sure Your Ceremony is Legal
Ensure your ceremony is legally binding by checking several factors. If the boat is registered in a country different from your own, you may be beholden to that country's laws. Different laws could apply if you're in international waters or a specific jurisdiction. "It's best to talk to your captain about the location of the ceremony and the boat's registration to determine how to make it legal," Lee said. Also, keep in mind that a boat captain can't marry you unless they are also recognized officiants. If you want to hold your ceremony on a boat, but are worried about legality, you have the option to marry legally in your hometown, then hold a symbolic ceremony during your boat wedding.
4. Have Flexibility with Your Pick-Up Location
Where your boat departs matters, especially when it comes to cost. If you've chosen a private charter, where the boat picks you up can determine the cost of taxes on the rental, which can be several thousand dollars. "Check the jurisdiction's tax rate and see if there is a lower option nearby where you can start your charter," Lee said. "One time we were able to save several tens of thousands by simply changing the pickup spot!"
5. Mind Mother Nature
A wedding on a boat surrounded by nature provides a backdrop like no other. However, keep in mind that you're nature's guest, and you have to be ready for any mood she may have on the day of your wedding. This could include rain, wind and strong currents. The current also determines your scenery for the day, and there isn't much you can do to change it. "Like when I asked the captain if we can point the bow towards the ocean rather than land for a better backdrop for the ceremony, his facial expression said it all – like I asked him to move the sun a little to the left, " Lee said. "It doesn't work that way."
6. Unique Circumstances
A boat wedding includes a few unique circumstances different from a traditional venue on land. If you're planning to set sail during your event instead of staying at the marina, it's important that guests arrive on time and don't need to leave early. Once you leave, everyone is along for the ride until the conclusion of the event. It's also a good idea to have motion sickness remedies on board in case the water's current makes your guests a little queasy. When you plan out your dinner menu, also keep in mind that storage and kitchen space can be limited, depending on the size of the boat.
Boat Wedding Ideas
Find inspiration from ocean waves and beach days for your boat wedding decor and color scheme. Include a few subtle touches, or fully lean into a nautical-themed wedding.
Nautical Escort Cards
These fun and creative escort cards are tied to adorable mini glass bottles for a true ocean-inspired vibe. Consider adding a personal message in each bottle for your guests to read.
Blue and White Color Scheme
From your wedding party to your flowers and linens, a blue and white color scheme gives a timeless nautical look to your boat wedding. Go for classic navy and bright white throughout your decor.
Wooden Oar Guestbook
Instead of a traditional guestbook, display a wooden oar for guests to sign during your boat wedding reception. This doubles as a beautiful memento to hang in your home after you're home from your honeymoon.
Boat Dock Cake Stand
We love this chic cake stand that looks like a rustic boat dock. The platform is perfect for a small cake and sturdy enough for a multi-tiered confection.
Vintage Boat Wedding Decor
Who said you can't have a boat at a wedding venue on dry land? A vintage wood canoe decked out with flowers added a nautical feel to this cocktail hour on land.
Boat Bar
Looking for a really creative wedding bar idea? We love how a boat was transformed into a cooler for drinks at this casual outdoor wedding.
Boat Wedding Invitation Liner
Talk about a memorable wedding invitation suite. This couple hinted at their fly-fishing wedding theme from a the onset with a creative invitation suite that even included an illustrated envelope liner with a canoe.
Inviting Throw Pillows
Decorate boat furniture with comfy pillows to invite guests to relax and enjoy the open sea view. Pillows in shades of blue and crisp white perfectly match a nautical theme. Include coordinating drapery to create a welcoming lounge area.
Marriage Advice Stair Decals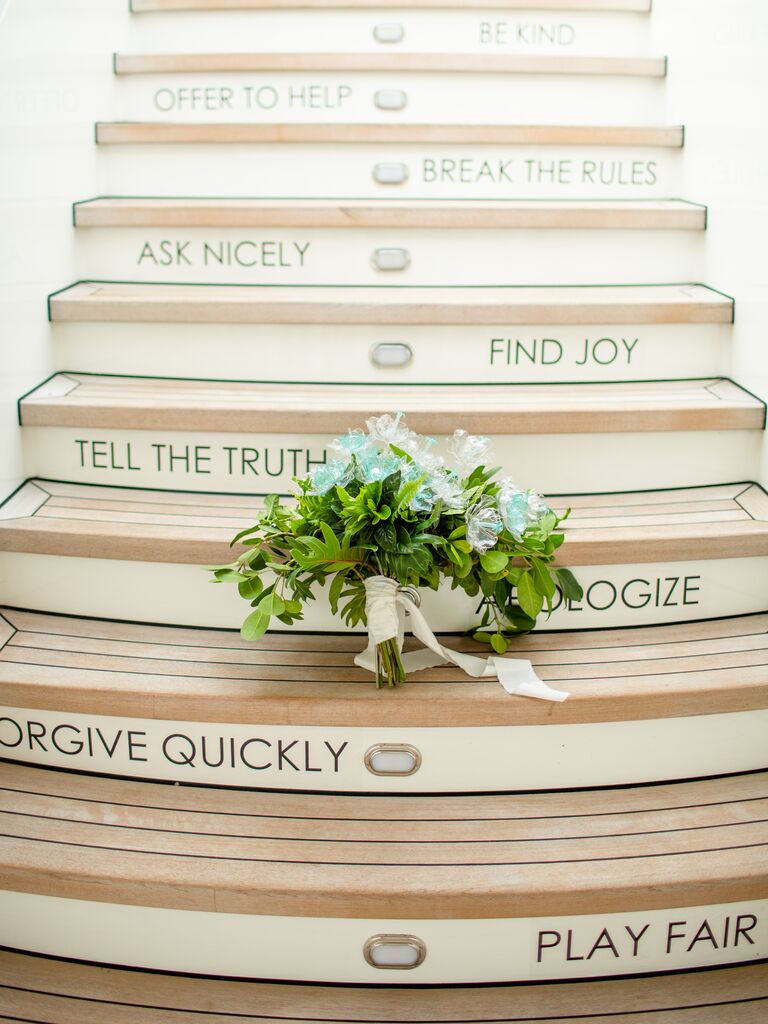 Collect your favorite marriage advice from family and friends as inspiration for custom decals. Add these wise words to the stairs of the ship for a memorable photo. Ensure the decoration is easy to remove at the end of your event.
Boat Wedding Venues
Whether you want to set sail on a romantic riverboat, or a posh yacht, The Knot Vendor Marketplace is your spot to find your dream boat wedding venue. Check out a few of our favorite boats to get married on throughout the US.
Lake Geneva Cruise Line in Lake Geneva, Wisconsin
Get your guests out on the lake for a romantic wedding reception boat ride. Enjoy serene water views with a backdrop of the tree-lined shore as you celebrate with family and friends. With eight different boat options available, Lake Geneva Cruise Line can accommodate up to 225 guests. The fleet includes boats of different sizes and styles to match your wedding day vision.
City Cruises in Norfolk, Virginia
Set sail on the Elizabeth River with views of Norfolk's skyline and the U.S. Navy's Atlantic fleet. With room for up to 320 guests, City Cruises offers all-inclusive wedding packages to make planning your boat wedding a breeze. Multi-level ships include climate-controlled spaces and open-air outdoor decks. Their private charter boat, the Virginia Elite, is a cozy option for small weddings with up to 66 guests.
Savannah Riverboat Cruises in Savannah, Georgia
Red, white and blue paddle-wheel riverboats offer a taste of southern charm mixed with nautical vibes. The fleet at Savannah Riverboat Cruises includes the grand, 1,000-passenger Georgia Queen and the 600-passenger Savanna River Queen. Both feature climate-controlled dining decks, views overlooking River Street and plenty of room for both your ceremony and reception. The Georgia Queen includes three grand ballrooms, an open-air top deck and a passenger elevator. The Savanna River Queen features a partially covered third deck and a private VIP suite.
The Carolina Girl Yacht in St. Johns, South Carolina
Treat your guests to an upscale experience aboard the luxurious Carolina Girl Yacht. This stunning vessel boasts a chic dining room with large windows and panoramic views of the Charleston Harbor, Charleston historic district, Arthur Ravenel Bridge and Ashley River Bridge. After dinner, watch the sunset then dance under the stars from the top deck dance floor. The Carolina Girl Yacht provides tables, chairs and lounge furniture for your event, as well as access to an in-house coordinator to help your wedding day sail smoothly.
Triton Charters in San Diego, California
Celebrate with family and friends on this chic catamaran that features a trampoline, slide and easy access for a dip in the water. Docked on Shelter Island, the venue offers unique city views of San Diego. Guests will love the open-plan seating area perfect for a ceremony or mingling, as well as the glamorous 13-seat bar. The bow of the boat can be lowered into the water for guests who want to go for a swim. Triton Charters also keeps safety in mind with a Coast Guard-certified captain on board. The spacious, well-equipped and modern boat has space for up to 100 guests.
Waterways Cruises in Seattle, Washington
Waterway Cruises offers a luxury yacht experience off the shores of Seattle with space for up to 150 guests. Kick off your celebration with a champagne toast as you board the vessel. During your wedding ceremony, exchange vows at the stern of the boat with the Seattle skyline behind you, a refreshing breeze on your cheeks and the sound of the waves off Seattle Lake. Afterward, host your reception in the dining room with floor-to-ceiling windows offering a stunning view of the water. The three-hour cruise includes friendly staff and linens, china, and glassware for your reception.
SeaFair Miami in Miami, Florida
Step onboard this 200-foot mega yacht for a unique celebration with spectacular views. The SeaFair Miami has several event spaces for your ceremony, cocktail hour and reception. The View Sky Deck offers a view of Biscayne Bay and the skyline of downtown Miami. The vessel's open-air patio is a great spot for dinner and dancing for up to 300 guests. Grab a drink at the Aft Reception and Coffee Bar and marvel at the live green walls and bamboo accents that mimic a Zen garden. The Grand Reception indoor banquet hall has space for up to 200 guests. Dine on mouth-watering cuisine prepared by Le Cordon Bleu trained chefs as you take in the view of the bay via the 360-degree windows.
Yachts For All Seasons in New York, New York
Experience jaw-dropping views of New York City on one of the many upscale yachts from Yachts For All Seasons. With the plethora of venue options available in the city, chartering a yacht with spectacular city views offers a unique experience. There are nearly 60 charter options available, and the planners on staff can help you select the one that's best for you. With space for up to 1,000 guests depending on the boat, your views may include iconic bridges, the Manhattan skyline, the Statue of Liberty and Ellis Island. All-inclusive wedding packages include decor, catering and entertainment.
BB Riverboats in Newport, Kentucky
Say your vows on a luxury riverboat on the Ohio River when you book BB Riverboats. Views of downtown Cincinnati and Northern Kentucky serve as your wedding day backdrop throughout the day. Choose from three boat options depending on your guest count. The Belle of Cincinnati is the largest vessel with Victorian decor, three climate-controlled decks and space for 300 guests. The smallest option is the River Queen featuring a spacious dining room, full bar, covered third deck and room for 110 guests. The River's Edge can accommodate 225 people and is the only event center directly on the Ohio River.
Naples Princess in Naples, Florida
This first-class venue offers gorgeous views of Southwest Florida. The Naples Princess is a 105-foot yacht with a classic, nautical interior, large windows, leather chairs and space for up to 150 guests. Exchange vows on the open-air deck, watch the sun set on the Gulf of Mexico, and maybe even see a few friendly dolphins splashing around during your celebration. The venue offers several wedding packages and their experienced staff can help you choose the option that works best for you.
Majestic by Atlantic Cruises in Honolulu, Hawaii
Take in the splendor of the Waikiki coastline from the panoramic windows or open-air deck of the Majestic by Atlantic Cruises. This 150-foot luxury yacht features three spacious levels, a posh cocktail lounge, and a climate-controlled dining room. Host your reception with a backdrop of the Hawaiian sunset and watch the Waikiki skyline light up at night. Experience Hawaii's beauty from a different perspective aboard the Majestic.