A Boston Bachelorette Party City Guide to Plan Your Weekend
Make your own sort of history in Beantown.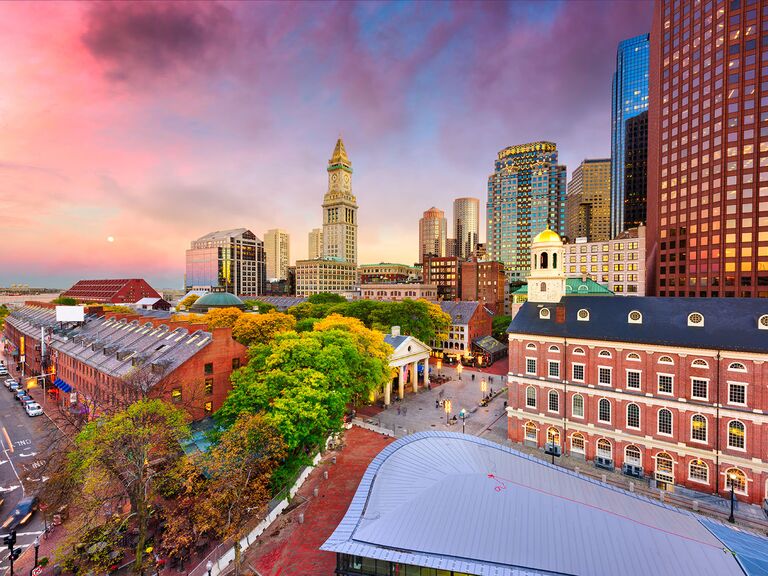 Sean Pavone/Shutterstock
We have included third party products to help you navigate and enjoy life's biggest moments. Purchases made through links on this page may earn us a commission.
Boston may not be the first city to come to mind for a bachelorette party—but maybe it should be! Especially if you live on the East Coast or in a short drive from the city, a Boston bachelorette party has plenty to offer—including a killer restaurant game, a respectable nightlife scene, and plenty to see and do during the day—from waterfront jaunts to relaxing spas.
What Are Some Boston Bachelorette Party Ideas?
Whether you're looking for a fun night out, delicious seafood, a good game day, or just some R&R, a Boston bachelorette party has it all. Just don't forget to outfit your tribe in plenty of gear from The Knot Shop on arrival.
For the Party Girls
Boston has its fair share of nightlife to take part in— from rooftop bars and craft breweries to cocktail bars and a very Vegas-style nightclub. Whatever you're looking for to party and drink the night away, Boston has something to offer.
For the Sports Fan
If your bride loves sports, this is a city meant for her. Schedule her bachelorette party around one of several major sports teams who play their games here, including the Patriots (football), Bruins (hockey), Celtics (basketball), and Red Sox (baseball).
For the Seafood Aficionados
Boston is a mecca for foodies, with a top-notch beer scene to its own Little Italy and Chinatown. And of course, there's its seafood scene. Find delicious bites from lobstah chowder to scallops and freshly-shucked oysters throughout the best eateries in the city.
What Do You Do at a Bachelorette Party in Boston?
With just a few days to spend in Boston, it's hard to figure out where to start. Here's a three-day itinerary to help you get the most out of your Boston bachelorette weekend.
Da
y 1
Morning: After checking in to your stay, grab a quick breakfast at The Friendly Toast in Back Bay for a delicious and bold menu (breakfast is served all day). Choose from egg sandwiches and breakfast burritos, as well as pancakes and cinnamon buns. Fuel up for your day of exploring ahead.

Afternoon: After walking the city a bit, hop aboard a duck boat tour, the quintessential way to see all the major landmarks of the city—from on land and in the water. Make sure you and your crew are looking good (and in your The Knot Shop gear) because while you're on the waterfront you may as well take the opportunity to have a photo shoot of you and your best gal pals. Hire a local photographer through Flytographer and take advantage of the beautiful scenery that surrounds you. And if you need a bite to eat while you're exploring, stop in at the famous Boston Public Market where you can nibble and sip on treats from local vendors like the Bon Appetit Creperie, Bon Me, and Boston Beer Alley.

Evening: After resting your tired feet and getting dolled up for a night on the town, head to cocktails at the Lookout Rooftop Bar, where you can watch the sunset over the city's skyline and Boston Harbor while drinking craft cocktails or sharing a bottle of wine. Then its off to Neptune Oyster for a delicious dinner of, you guessed it, oysters—as well as other seafood delights like yellowfin tuna, seared scallops, and whole lobsters. Then for a fun way to start the weekend, make your way to Jacque's Cabaret, for its nightly drag show and karaoke—a party you certainly won't want to miss!
Day 2
Morning/Afternoon: Start the day with a dim sum brunch at Myers + Chang, James Beard Award-winning Joanne Chang's "Asian-ish" outpost with delicious bites. Then take advantage of the city's beer scene—if you're a drinker—with a Sip of Boston Tour, a three-and-a-half hour excursion through Boston's best local craft breweries. For the bride that prefers wine, head to Boston Winery, where you can sample, make, and taste from a variety of vintages. Or if your bride prefers sports over sips, consider a tour of Fenway Park, even if there isn't a game playing. The iconic home to the Red Sox opened in 1912 and is a must-see spot for any sports fan.

Evening: Tonight start with dinner and cocktails at Yvonne's, a Boston must-do where the cocktails are just as impressive as the food menu. Try the Tea Service Cocktails, a shareable treat for two or more to share, with your choices of the Cleopatra (vodka, peppermint, and white crème de cacao) or Antoinette (scotch, chamomile, aperol, and honey) presented as if you were enjoying a luxe high tea. Then it's off for the big night out—head to Boston's premier nightclub, The Grand, where you can enjoy bottle service, live DJs, light shows, and more. It's as if you were in Las Vegas.
Day 3
Morning/Afternoon: For your last day, give the bride something she's been missing during wedding planning: A stress free day of pampering. Start with brunch at The Beehive, which includes a bellini bar and tasty offerings like coffee cake with honey butter, duck hash, and blueberry ricotta pancakes. Then it's off to the pampering: At the G20 Spa and Salon, where you can enjoy massages, facials, and mani and pedis in a calm, top-of-line setting.
Evening: For your last night, start with drinks at Roxanne's, where you can enjoy delicious cocktails and an extensive wine menu. Then choose between dinner in Boston's North End—a mecca for Italian food—at Mamma Maria, which offers private dining rooms for larger parties in a chic 19th-century row house. Or go all out at Toro Boston, on the South End, for an award-winning Spanish tapas dinner. End the night at Less Than Greater Than, a speak-easy style cocktail bar (you can also take cocktail classes here, if that's up your bride's alley).
Where Should I Stay in Boston for a Bachelorette Party?
Downtown Boston is pretty walkable, and for anything you can reach by foot, Ubers and cabs are easily accessible. So don't worry about prime locations when it comes to booking your stay—though Harbor views are always a plus. And don't forget to check TripAdvisor for ratings before you book anything.
Best Boston Bachelorette Hotels
The Godfrey Hotel Boston: Overlooking the Boston Common, this centrally-located hotel has plenty of luxury with affordable pricing, plus an onsite bar.
The Westin Boston Waterfront: Easily walkable to downtown and overlooking the water in Boston's Seaport District, the Westin is a luxe option just blocks from the Boston waterfront.
DoubleTree by Hilton Hotel Boston-Downtown: For a mid-range budget, the DoubleTree in Boston's historic downtown offers plenty to do in walking distance and comfortable accommodations.
There are lots of other hotels for your Boston bachelorette party, it all depends on your budget and the neighborhood where you'd like to stay.
Best Boston Bachelorette Party Airbnbs
Classic Three Bedroom: For smaller groups (up to 7 guests), this three bedroom, four bed apartment offers luxury furnishings in Boston's West End, an easy cab-ride away from the action.
Trendy Upscale Duplex: Up to 16 guests can stay in this 7-bedroom home, which has a full kitchen and is close to public transportation and the South End.
Luxe Designer Home: With 8 beds available, this beautiful mid-century modern home is in South Boston, so a bit farther from the downtown life, but comes with the perks of being by the beach surrounding Pleasure Bay.
For other home rental options, we've found success using sites like VRBO and HomeAway.com.