The 20 Best Bach Party Destinations for Foodies
Your besties will want to save this list of the best destinations and local restaurants for foodies.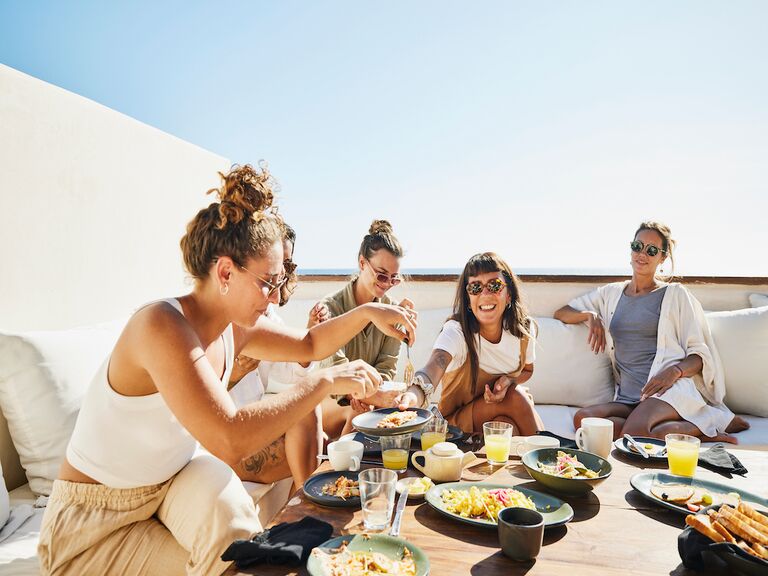 Thomas Barwick / Getty Images

We have included third party products to help you navigate and enjoy life's biggest moments. Purchases made through links on this page may earn us a commission.
During the planning of your bachelorette or bachelor parties, some see food and restaurant options as a big priority (if not the biggest area of focus) when narrowing down the destination. Exploring the country through shared meals and experiences is a centering factor for large groups, making it a more enjoyable trip for everybody.
If the to-be-wed is a gourmet cuisine critic, these foodie bachelorette destinations and restaurants need to be on your radar–especially if you're in charge of planning the party. Once you have the chosen spot, you can determine a theme (and the captions you'll later want to upload on social media).
Austin, Texas
They say everything is bigger and better in Texas, so why not start with the capital and see if it's true? Austin is known for their live music scene, beautiful parks, city life, and of course, food.
Where to Stay: Check into Austin Proper Hotel for a beautiful place to stay with a spa, multiple pools, bike rentals, and more. Arrive Austin is another great option in the city.
What to Do: If you don't know exactly where to start as far as exploring Austin's incredible food scene, a food tour is a great place to kick it off. Austin Eats Food Tours has been helping visitors and locals explore Austin's food scene, trying to find off the beaten path places that are special and noteworthy. I highly recommend the food truck tour in Austin.
What to Eat: The city is known for their wide variety of food trucks serving everything from cocktails to some down south Texas barbecue. Bufalina Due is a great spot for some Neapolitan pies with high quality toppings and you have to try a sandwich from Bird Bird Biscuit loaded with juicy fried chicken while in town. Komé: Sushi Kitchen is a great spot for classic Japanese dishes.
Boston, Massachusetts
Just like Portland, some New England destinations deserve their own section, and Boston is definitely one of those locations.
Where to Stay: Upon arrival to the city, check into the Omni Boston Hotel at the Seaport and splurge for a room with a soaking tub overlooking the city.
What to Do: There's always so many wonderful activities going on in Boston whether it's pop up art exhibits over the years like Frida Kahlo and Van Gogh: The Immersive Experience or sports related tours through The Sports Museum at TD Garden or taking a tour of Fenway Park. In the winter, enjoy plenty of ice skating and curling.
What to Eat: For food, check out some amazing Italian dishes at Tony and Elaine's like their jumbo mozzarella sticks or grab a pizza from Regina Pizzeria. Explore Time Out Market Boston to try the delicious nori sushi tacos from Gogo Ya. Grab a pint at Turtle Swamp Brewing and explore the new food hall, High Street Place opened by celebrity chef seen on Chopped, Tiffani Faison. Not only are there incredible dishes to try, but there is a champagne vending machine. Grab a crème brûlée donut from Kane's Donuts in Boston while in town before grabbing a cocktail at Clink, a bar that was once a jail and still has the original cells and bars.
Buffalo, New York
Buffalo has more to offer than just wings. The city runs the tailgating gamut. Not only are there friendly locals cooking up all kinds of food that they'll willingly share (you're in the city of good neighbors), but they're known for next level tailgating if you're into raucous sightseeing.
Where to Stay: Stay at Highbanks at the West Barn. You can head to Ellicottville for a ski vacation, staying at the Tamarack Club where there are hot tubs overlooking the mountains. Go for a mountain coaster ride, ski and snowboard all day, go tubing nearby, and then head out for drinks at Balloons Restaurant & Night Club or The BANQ Cocktails and Lounge. The downtown Buffalo area has some lively bars on Chippewa, Allen, and Elmwood Avenue to experience, paired with an overnight stay at the Curtiss Hotel with an urban hot spring.
What to Do: Explore Visit Buffalo Niagara's Wing Trail to try some of the best wing spots in the city or time your visit around the National Buffalo Chicken Wing Festival.
What to Eat: Grab a slice from La Nova or Bocce to try the grease pool, cup and char pepperonis or stop into Jim's Steakout for a chicken finger sub. Grab a beef on weck sandwich from Charlie the Butcher with some Loganberry to wash it down.
Charleston, South Carolina
Charleston is full of rich history and southern charm, with plenty to explore. The dining scene is top-notch and caters to a younger demographic. Groups will have no trouble narrowing down bachelorette party restaurant options or bachelor party steakhouses.
Check into the French Quarter Inn for a short walk to the City Market where you can try fresh baked biscuits from Callie's Hot Little Biscuits or grab some pickled goodies and hot sauce at Gita's Gourmet. The Harbourview Inn is another great option, along Charleston's beautiful waterfront near the Pineapple Fountain. If you love oyster shooters, you have to visit Darling Oyster Bar for their 22 ingredient oyster shooter mix that's top-secret. Park and Grove's menu is a bit small, but their fried oysters are to die for and their shrimp roll is incredible. Head to Husk for a cocktail at the bar before dinner.
Cincinnati, Ohio
Sure, Cincinnati is known for their chili dogs, but there's a lot more to this foodie city. While in town, check into The Lytle Park Hotel, Autograph Collection for an overnight stay in the heart of Cincinnati. After getting settled, check out the city's accessibility to international ingredients. Jungle Jim's International Market has nearly any ingredient you could think of from all around the world. The store is separated into countries, and visitors can explore different ingredients, candies, snacks, and more. Not only does Cincinnati have their famous chili cheese dogs, but there's chili cheese spaghetti at Camp Washington and it's actually delicious. Be sure to check out Findlay Market, an open air market in the city with all different food options from Turkish delight and fresh squeezed lemonade to produce, meats, and cheeses.
Denver, Colorado
Denver, Colorado is a great location for a foodie-based bachelor or bachelorette trip.
Where to Stay: Check into the Catbird Hotel for a simple design structure that makes the most of a small space. If you're looking for another option, The Ramble Hotel is not only comfortable and chic, but houses Death & Co, one of the most well-known bars with their own series of cocktail books out and it's walking distance from the Denver Central Market.
What to Do: Head over to the Denver Central Market to explore street art through the Denver Graffiti Tour of RiNo neighborhood before heading inside to explore the wide selection of food options.
What to Eat: At the Denver Central Market, enjoy cocktails from Curio, pastries from Izzio Bakery, poke bowls and hand rolls from Tammens Fish Market, pizza from Vero, and more. Explore the shops and restaurants at The Source Hotel + Market Hall before enjoying a bachelorette party dinner at Safta, serving modern Israeli food. Go for all of the spreads and dips paired with plenty of fresh naan to soak it up, and the pomegranate lamb.
The Hamptons, New York
When Ina Garten, aka the Barefoot Contessa, highly recommends the Hamptons, you know you're going to get good food.
Where to Stay: Check into the Montauk Beach House for modern, simplistic, and comfortable rooms, pools, and bikes available to scoot around town or take to the beach (just a 5 minute walk). For private cottage accommodations, consider the posh and recently-renovated EHP Resort in East Hampton.
What to Do: Check out the drive through Wine Stand at Wölffer Estate to grab some of their Summer in a Bottle Rosè to have at the beach. Montauk Brewing Company has some incredible beers, especially their seasonal ones, like the Watermelon Session Ale.
What to Eat: After a day at the beach, get ready for a lovely dinner at the famous Sí Sí Mediterranean Restaurant (make a reservation far in advance during peak season). The restaurant is situated on the bay in East Hampton, perfect for sunset viewings and trendy bach parties. Elaia Estiatorio over in Bridgehampton has fresh Greek food like plenty of spreads, dips, and full fish dishes. Duryea's Lobster Deck is a must for lobster rolls, though you will pay more because of the views. Get dumplings and bubble tea from Street Food or stop into Loaves & Fishes Food Store in Sagaponack (an Ina recommendation) for prepared salads to go like their mozzarella tomato salad and fresh breads. Cavaniola Gourmet Cheese in Sag Harbor (another Ina recommendation) has some incredible options when it comes to cheese and desserts. Stop into Tate's Bake Shop in Southampton (an Ina recommendation) for fresh cookies or a cookie ice cream sandwich. The Seafood Shop is the spot for quick and easy seafood meals.
Las Vegas, Nevada
If you're not a huge gambler or big into partying, Vegas probably hasn't been on your radar, but if you're a foodie it definitely should be for Las Vegas' bach party restaurant options.
Where to Stay: Vegas has a variety of hotel options for all different price ranges. If you're looking for something more basic, just a place to crash, Park MGM Las Vegas doesn't have many frills, but it has transportation along the strip and comfortable beds. There are bars and restaurants right inside the hotel like On the Record, with a speakeasy and amazing music. If you're looking to splurge, The Bellagio is the place to be. It puts you right in the action along the strip and you'll have access to the fountain show, the atrium, amazing restaurants, and comfortable rooms.
What to Do: For a special dinner and a show, The Mayfair Supper Club at the Bellagio is a special experience. Everything is next level, like the smoked cigar dessert or the caviar and wagyu hand rolls topped with a sprig of gold leaf, all while watching live cabaret singers, big bands, and performances with the Bellagio fountain dancing in the background.
What to Eat: One of the buzziest Japanese options in town is the award-winning restaurant WAKUDA, perfect for big or small groups. Din Tai Fung also has incredible dumplings that you can see being made as you walk into the restaurant. The establishment's sweet-and-sour pork baby back ribs are phenomenal and you have to save room for their chocolate dumplings. Brunch at The NoMad Library or is next level with their Fruit Cocktail, a series of juice Jell-O shots and spirit soaked fresh fruit pieces. The bagels and lox at Sadelle's Cafe is a must and the uni rice at Best Friend is something you have to experience. This is on top of all the buffet options the city has to offer. Near the strip, there are other things to explore, as well, like SunBuggy Fun Rentals at Nellis Dunes, The Valley Of Fire State Park, Seven Magic Mountains, and even the Grand Canyon through Maverick Helicopters.
Maui, Hawaii
Hawaii is an incredible option for food and adventure lovers, especially if your wedding party is largely based on the West Coast. After a day of hiking, surfing, or exploring the local beaches, you're going to want to fill your stomach with some delicious food. The Westin Maui Resort & Spa, Ka'anapali is a great option for an overnight stay. Maui hosts Hawaii's Food and Wine Festival with events based around champagne, cheese, and talented chef's. When the festivals aren't happening, there's still so much to explore like a Maui Chocolate Tour through local cacao farms or amazing poke from Eskimo Candy or even Foodland. Look for the raw, marinated kimchi blue crab at Foodland and give it a try. You actually eat the blue crab raw, and the texture is so silky with a slightly sweet and spicy taste. Of course, you'll need to have some traditional shaved ice from Ululani's Hawaiian Shave Ice - Kihei.
The Mid-Atlantic, US
When staying in Ocean City, Maryland, check into the Princess Royale Oceanfront Resort right on the beach. You can enjoy plenty of sunshine and walk along the boardwalk. Fager's Island is a must while in town to try the chicken liver water chestnuts wrapped in crispy bacon with a horseradish sauce that they've been doing since the 70s and a bowl of their crab soup. Rent a bike from Bike Rental from Bike World and explore the boardwalk and all there is to offer, including fresh boardwalk German dogs topped with sauerkraut and plenty of taffy from Dolle's. Head to Seacrets Distillery for a tour of their distillery and to have some drinks on the beach. After enjoying OC, head to Baltimore for an overnight at the Sagamore Pendry Baltimore. Right on the harbor, the Sagamore Pendry Baltimore is in a location where it's much calmer and low-key than the city limits, but you're still within a close range. The walkable cobblestone neighborhood is full of restaurants and bars. Baltimore is prime for some amazing street art along graffiti alley and throughout the city. The Hampden neighborhood has cute shops to explore and antiques to browse through. Ekiben is one restaurant you absolutely have to hit up for the most amazing fried chicken sandwiches on fluffy bao buns. Nick's Fish House is the perfect place to grab a bunch of Maryland crab and smash them open with a little mallet. Thames Street Oyster House has amazing specials and seafood dishes, including The Paris Brown, a 5 lb lobster packed with shrimp, blue crab, and scallops. The restaurant is walking distance from the hotel, so you can have a couple crushes (crushed ice, vodka, and fresh squeezed juice) before walking back to the hotel.
New England, US
Whether you're traveling to Cape Cod, Martha's Vineyard, Provincetown, or Narragansett, there's an overload of fresh seafood to try throughout the New England region. With gorgeous bluffs and coastal hangout spots, bachelorette parties and bachelor parties will enjoy the fare–and the fun in New England.
Where to Stay: Book an overnight stay at Ocean Edge Resort & Golf Club for private beach access, pools, tennis courts, and your own little sanctuary right in Cape Cod. If you're feeling a change of scenery, you can take a drive out to Provincetown for the day or take the ferry over to Martha's Vineyard.
What to Do: Head there for the day to explore the gingerbread cottages on mopeds in Oak Bluffs and jump off of Jaws Bridge (at your own risk) or watch others do so at Joseph Sylvia State Park where the famous shark attack scene was filmed.
What to Eat: In Cape Cod, stop by Spanky's Clam Shack for an order of steamers, lobster bisque, and their Lobster Cesar Salad piled high with lobster meat. Spanky's has a drink called 'Slap My Clamshell and Call Me Spanky' with a limit of two per person that tastes like punch, but is essentially a Long Island Tea… perfect for bachelor or bachelorette parties. Enjoy a nice night out at 19 Raw Oyster Bar or opt for a casual dining experience at Larsen's Fish Market. Larsen's is the kind of place where you order at the window before parking it on lobster crates seats in the back overlooking the ocean where you can watch the lobster boats coming in.
Narragansett, near Newport, Rhode Island, is a great place to go if you're looking for a little adventure mixed in with some good oysters. The Matunuck Oyster Bar is a must if you're in the area. Not only do they do tours of their oyster farm, giving each guest a pour of champagne and a dozen oysters for the tour, but their restaurant is always packed, offering a wide variety of seafood dishes and oysters, cooked and raw.
New Orleans, Louisiana
New Orleans is known for some incredible nightlife, art, music, voodoo, history, and of course, plenty of amazing food. It's a no brainer for incredible bachelorette party restaurants and bachelor party hangouts.
Where to Stay: Check into One11 Hotel for a centrally located option, a little offset from the hustle and bustle of Bourbon Street, while still being within walking distance.
What to Do: Explore Bourbon Street and The French Quarter to experience a lot of the bars the city has to offer. Check out some local shops like Marie Laveau's House Of Voodoo on the way to tour or drink your way through the Sazerac House. After an intimate concert at Preservation Hall Jazz Concert in the French Quarter, stop next door to Pat O'Brien's for a traditional hurricane and live music.
What to Eat: Definitely stop at Café Du Monde for beignets and a coffee. Head over to Deanie's Seafood for some fried seafood and gumbo. Check out Tujaque's Restaurant for southern turtle soup and delicious shrimp and grits. For raw, barbecued, or chargrilled oysters, go to Superior Seafood. You have to taste the Oyster Pan Roast from Tableau with both fried and poached oysters topped with brie, cherry wood-smoked bacon, apples and Herbsaint-infused cream on ciabatta. For the most amazing fried chicken, stop into Willie Mae's Scotch House and pair it with mouthwatering side dishes.
New York, New York
The Big Apple has to be on the list when it comes to top foodie destinations for bach parties.
Where to Stay: If you're in town during the holiday, spend the night at The Plaza with incredible experiences like its Home Alone 2: Lost in New York package where guests can live out the Kevin McAllister dream. The package is complete with a cheese pizza just for you, a limousine ride around New York City, and an outrageous Home Alone sundae with 16 scoops of assorted ice cream, whipped cream, and toppings like maraschino cherries, M&M's, brownie bits, chocolate, caramel, and raspberry sauce. For centrally-located, luxurious options, stay at The Lowell on the Upper East Side for quick and easy access to the city's biggest landmarks. If you prefer the downtown scene, opt for the Beekman Hotel, known for its gorgeous interiors, as well as the Four Seasons down the street.
What to Do: Explore all of the amazing hole-in-the-wall places in Chinatown or amazing midtown places like Mr. Sun for the best Peking duck with crepes and dumplings.
What to Eat: You can create your own pizza tour by visiting various famous pizza places like Scarr's Pizza, Vinnie's Pizzeria, and many more to compare cheese slices. Explore the Chelsea Market and make sure you get fresh noodles smothered and spicy sauce from Very Fresh Noodles and tacos from Los Tacos No.1. Great bachelor and bachelorette party restaurants can be found across the city–stick to Meatpacking, Soho, the East Village and the West Village for seamless dining-to-dancing action. If you prefer Brooklyn, Williamsburg is home to numerous trendy bars and hotels.
Philadelphia, Pennsylvania
Philly might originally be known for amazing cheesesteaks from Geno's or Pat's, but there's a lot more to this city than cheesesteaks.
Where to Stay: Splurge on a stay at The Four Seasons Hotel Philadelphia at Comcast Center. It's not just a hotel, but a landmark in the city and the Philly one is special thanks to their high-rise infinity pool that looks like it's jetting out directly into the city lights, exquisite dining experiences with Vernick Fish and Jean-Georges Philadelphia right in house, and beautiful suites overlooking the city.
What to Do: Head over to Christmas Pop Up Bar, Tinsel on 12th Street for seasonal cocktails around the holidays. Check out Graffiti Pier and the Love Letter Murals around the city. Head over to Pizza Brain for a slice and explore the pizza museum that holds the world record for the largest collection of pizza stuff.
What to Eat: For foodies, Reading Terminal is an incredible place to explore. There are plenty of places to try a variety of foods or grab ingredients to go to snack on later. Grab a decked-out corn dog from Fox & Son, Georgian-inspired cuisine from Saami Somi, and peking duck from Sang Kee, among other tasty options at the market. Pick up a cheesesteak or a fresh pizza from Angelo's Pizzeria. Throughout Little Italy there's plenty of cured meats, pickled goods, cheeses, and delis to explore like Di Bruno Brothers.
Portland, Maine
Portland, Maine is the spot if you and your crew love lobster, seafood establishments and beautiful lighthouses.
Where to Stay: Start by checking into the Portland Regency Hotel & Spa, a historic hotel built in the 19th century, right in the heart of Old Port District near some great entertainment. Another option is the Portland Harbor Hotel for a modern, comfortable hotel option. After settling in, explore some of the bars and nightlife on Exchange Street and Commercial Street.
What to Do: Don't forget to explore the original L.L. Bean store, and stop into Linda Bean's Maine Kitchen & Topside Tavern for some Blueberry BBQ Wings with Maine Blueberry BBQ.
Where to Eat: Stop at The Shop by Island Creek Oysters to share some oysters on the half shell, raw bar items, fresh crudo, fresh anchovy toast, trendy tinned fish, and pair it all with local beers on tap. You have to check out the Portland Lobster Company for some of their Lobster Stew with huge claws and chunks of lobster meat and a fresh buttery Lobster Roll, washed down with some Maine Root Blueberry Soda. Grab a few donuts from The Holy Donut on Exchange Street made with an unusual ingredient, locally grown potatoes.
San Diego, California
San Diego is the perfect destination for a bachelor or bachelorette party, especially with the Mediterranean climate and beautiful weather the majority of the year.
Where to Stay: The Hotel Solamar is a great option when choosing a place to stay in the East Village Gaslamp Quarter. Immersed in the city life, there's a lot to explore nearby. If you're looking for more of a secluded, relaxing option, The Lodge at Torrey Pines is perfect for that. Puesto at The Headquarters is the spot for fresh tacos (go for the crispy fish tacos) and margaritas. They use fresh juices in their margaritas, so they're not too sweet and very refreshing. Civico by the Park has Aperol spritz on tap.
What to Do: In between all of the amazing meals you'll have in San Diego, head to the San Diego Zoo Safari Park where you can do the Flightline Safari over the animals. Go ocean kayaking with Everyday California and explore Balboa Park if you're looking for a truly unique experience, a San Diego-based company, Shark Diver, will take a group from California to Ensenada, BC, Mexico, to board a small liveaboard through Nautilus Dive Adventures. You'll spend a few days on the boat in Guadalupe Island with catered meals through the onboard chef after spending the day diving with great white sharks. Talk about a memorable bachelor/bachelorette party.
Where to Eat: Parakeet Café La Jolla is a great place to stop in to grab something healthy. They have lattes, drinks made with fresh herbs, and colorful dishes catering to a variety of dietary needs. Breakfast Republic is known for their pancake flights and George's at the Cove has incredible views and the most amazing gazpacho. After a night of drinking and partying, a burger animal style with chopped chilis from In-N-Out Burger is a necessity.
Seattle, Washington
For dynamic food and dining experiences, with scenic add-ons for bachelor and bachelorette parties, turn to the birthplace of Starbucks in the Pacific Northwest.
Where to Stay: Along the west coast's Puget Sound, you'll find Seattle where you can stay overnight at The Edgewater, with views of Elliot Bay and Mount Rainier. If you're looking for something with more of a city feel, the W Seattle Hotel is very music focused with live entertainment and happy hour events.
What to Do: When visiting Seattle, you have to visit Pike Place Market. The market and surrounding neighborhood is full of delicious options like red bean paste buns sesame sweet buns from Mee Sum Pastry, freshly made ginger beer from Rachel's Ginger Beer, a wide variety of seafood chowders from Pike Place Chowder, fresh homemade naan made right in front of you at Saffron Spice, and Greek yogurt with toppings from Ellenos Yogurt. Sample a selection of foods before buying yourself a traditional flower bouquet at the market and sticking some gum on The Gum Wall.
What to Eat: Stop into Goldfinch Tavern at the Four Seasons for some of their sweet dungeness crab chowder. RockCreek Seafood & Spirits has amazing bloody mary's and oyster shooters, among other dishes like tender octopus. The Flour Box is the place for small batch donuts. They post their flavors on their Instagram, only making about five or six flavors at a time, and once they're gone, they're gone, so get there early. Taylor Shellfish Farms is the perfect place to stock up on tin fish like smoked oysters, while also trying some of their raw platters and small plates to share. Their smoked oyster dip is out of this world and you have to try their dungeness crab and geoduck sashimi with soy sauce. Ray's Boathouse is a great spot to find seals on the dock before heading inside for some of their deep fried oysters on crispy pork belly with a white barbecue sauce and jalapeño. They're known for their Applewood Grilled Sake Kasu which practically melts in your mouth.
The Smoky Mountains & Eastern Tennessee
It seems like every bachelorette party goes straight for Nashville, but there's a lot more in Tennessee to explore–especially for hip bachelorette party restaurants and cool bachelor party dining establishments.
Where to Stay: In Knoxville, check into the Hyatt Place Knoxville Downtown. It once was the James Brown Radio Station and has an amazing rooftop bar right on site to enjoy. Along the foothills of the Smoky Mountains, check into Little Arrow Resort to camp for the evening. The site has a beautiful heated pool and hot tub, along with mountain bike trails on site at Vee Hollow.
What to Do: Gatlinburg and the Smoky Mountains National Park have a lot to offer with the Rocky Top Mountain Coaster, canopy bridges, and ziplining. Ruby Falls is a stunning underground waterfall in the Appalachian Mountain Chain. Stop into Adventure Sports Innovation to rent SWINCAR e-Spiders and go off-roading, Get a good workout after a night out at the High Point Climbing & Fitness.
What to Eat: Along the Smoky Mountains, grab a juicy pimento bacon burger at Clifftop. In Knoxville, there's no shortage of coffee shops for a little pick-me-up in the morning like Status Dough, Coffee & Chocolate, and KBrew. Adopo has delicious wood-fired pizzas and if you're looking for some incredible tacos, Chivo Taqueria is the spot. Finally, head into Chattanooga and check into the Kinley Chattanooga Hotel across from the Chattanooga Choo Choo filled with restaurants and small shops. Main Street Meats is the place for cured meat boards and unique foods like head cheese, spreads, and pickled goodies in addition to delicious burgers. Head over to Flying Squirrel to taste their spicy Korean "candy" chicken. In the morning, be sure to stop at Niedlov's Bakery & Café to try some of their soft pretzels and pastries. Enjoy a plate of creamy shrimp and prawn grits from Whitebird and definitely don't leave Chattanooga without exploring some adventures nearby.
Sonoma, California
If you want to visit wine country, but don't want to pay Napa Valley prices, Sonoma is a great option. In northern California, Sonoma Valley is known for its incredible wineries in addition to some amazing food.
Where to Stay: Check into MacArthur Place for a beautiful, Mediterranean-style layout and complementary bike rentals. Kenwood Inn & Spa is another great option, just a short drive from Sonoma and has outdoor soaking hot tubs to relax in at night.
What to Do: There are multiple tour options when it comes to food and wine discovery in Sonoma, making the planning process easier on a group for a bachelor or bachelorette getaway. Sonoma Food Tours takes guests to a variety of hidden gems throughout Sonoma, sampling different cuisine, wine, cheeses, and more. It's a great way to try a bunch of different places to see what you like. Sonoma Wine Tours designs custom wine tours based on your group's interest and even offers opportunities to potentially meet the winemakers, ask questions, tour the vineyards, and more.
What to Eat: Enjoy some classic French dishes like duck confit and quiche lorraine at The Girl & The Fig. Try a selection of Portuguese and Mediterranean plates like Portuguese Cinnamon Flan and Fried Spicy Pig's Ears at Tasca Tasca.
Toronto, Canada
Toronto isn't necessarily a domestic location, but it's easily one of the top foodie destinations, hands down.
Where to Stay: Check into the Broadview Hotel. The boutique accommodations, filled with natural light, vintage wallpaper, and plenty of character is the perfect choice while in Toronto.
What to Do: If you're visiting in the winter, check out the Toronto Christmas Market and Winter Village for some unique bites, artisan crafts, and shopping. Explore the city's food scene with the Culinary Adventure Company. They run a variety of tours based around different neighborhoods, taking guests to local coffee shops, off-the-beaten-path restaurants, markets, and bakeries. Of course, don't leave town without ordering poutine loaded with cheese curds and drenched in salty brown gravy.
What to Eat: Chef's Hall near Nathan Square in the Financial District brings together some of the city's top chefs under one roof. The St. Lawrence Market has been around for over 200 years, and is filled with 120 vendors selling everything from cheeses and olives, to more obscure things like turtle meat and camel.